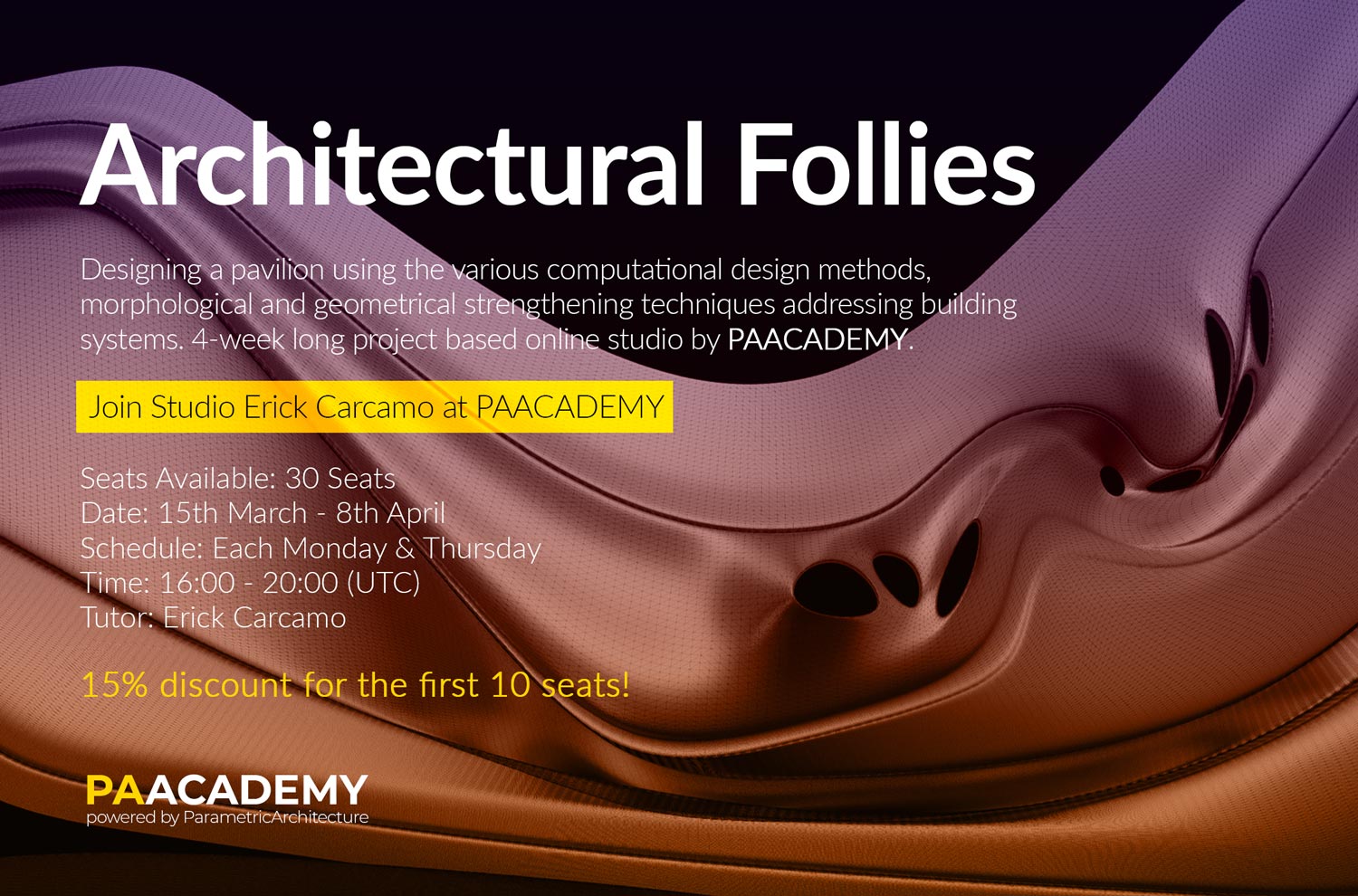 Topic: Architectural Follies
Time: 15th March – 8th April 2021
Location: ZOOM hosted by PA
Format: Online
Total Sessions: 8 Sessions
Total Hours: 32 Hours
Workshop Type: Online project-based studio
Registration Deadline: 10th March 2021
Seats Available: 30 Seats
Fee: €300 EURO
First 10 Seats: €250 EURO (15% Discount for the first 10 seats) (Closed)
Organized By: PAACADEMY
Studio: Studio Erick Carcamo
Tutor: Erick Carcamo
Course Introduction:
In this course of Architectural Follies, you will be designing a pavilion using the various computational design methods, morphological and geometrical strengthening techniques addressing building systems.
The purpose of this assignment is to introduce you to alternative ways in which the articulation of digital geometry, digital materiality, and human activities define a relationship between site, space, and program. This necessitates a logic between morphological, geometric, and material characteristics of the structure, program, and environmental performance. The notion of performance will be understood as the integrated task of producing form and structure.
This class intends to engage design strategies that would allow for the further manipulation of the building enclosure by assuming a thickened poche, one that will add a solid sense to the building mass. As a way of moving away from thin, continuous surfaces, we will investigate techniques that deal with structure, mass, volume, material, color, and animation.
Course Objectives:
This class will be organized into two combined parts: tutorials and theory lectures. By mixing the highly specific realm of software tutorials and the more expansive cultural framework, students will be asked to articulate their design processes in both manners, by achieving high expertise in the tools and by understanding the role of those tools within the culture of architecture at large.
In current times it is expected that contemporary architects have the highest degree of expertise in a large array of tools and technologies, there is no doubt that technology has revolutionized the way we design nowadays, but at the same time, students must engage both technology and theory in a way that coherent thinking goes through all design processes, instead of merely relying on rule-based systems that only follow steps instead of ideas.
Objective 1: To investigate novel forms of tectonics by means of 3D computational design modeling.
Objective 2: To expand on the notion of color beyond the metaphoric or banal.
Objective 3: To develop advanced technical skills within contemporary software (Autodesk MAYA & RHINO).
Objective 4: To understand the genealogy of an architectural problem.
What is folly:
The folly is an architectural form that grew out of well-manicured landscapes in 18th-century Europe. 
Typically, follies were created primarily as forms of decoration, and often served no functional purpose. A lot of their designs were purely sculptural, or even out of place within their context; their scale and proportions were arbitrary. Yet despite classicizing and orientalizing themes, despite attempts to make these structures appear to be from "other" places or "other" realities, traditional vegetated follies were symptomatic of the time and place in which they were made. Many of these structures evoked architecture of the past, while many suggested could suggest timeless origins. Some could also be designed to appear as though miraculously preserved, others were built as ruins.
Ironically, these idiosyncratic structures have become referents for contemporary follies. Yet the role of follies has transformed along with the philosophies held by those who create them.
In this Design Studio, we will create a project taking on different approaches towards this folly legacy, with varying degrees of loyalty towards tradition. All will take inspiration from individual aesthetics within a garden or urban landscape, yet some projects may deny the possibility of a structure with purely a decorative role. Collectively, they will embrace the ability of architecture to create, so the discussions of beauty, grotesque, whimsy, and parametric can be placed in a contemporary architectural setting.
Important Notes:
Studio Erick Carcamo by PAACADEMY will start on 15th March on Monday at 16:00 UTC and will continue each Monday and Thursday till the last session on 8th April.
Start date: Monday, 15th March 2021
End date: Thursday, 8th April 2021
Total sessions: 8 Sessions
Weekly schedule: Each Monday & Thursday
Daily schedule: 16:00 – 20:00 UTC (4 hours each session)
Each session and the entire studio will be recorded and videos will be available for participants just a day after the class.
The studio has limited seats. Tickets are non-transferable & non-refundable. Please read before you purchase.
Tutor:
Erick Carcamo (SCI_Arc, GSAPP, Penn Design, Cal Poly LA Metro)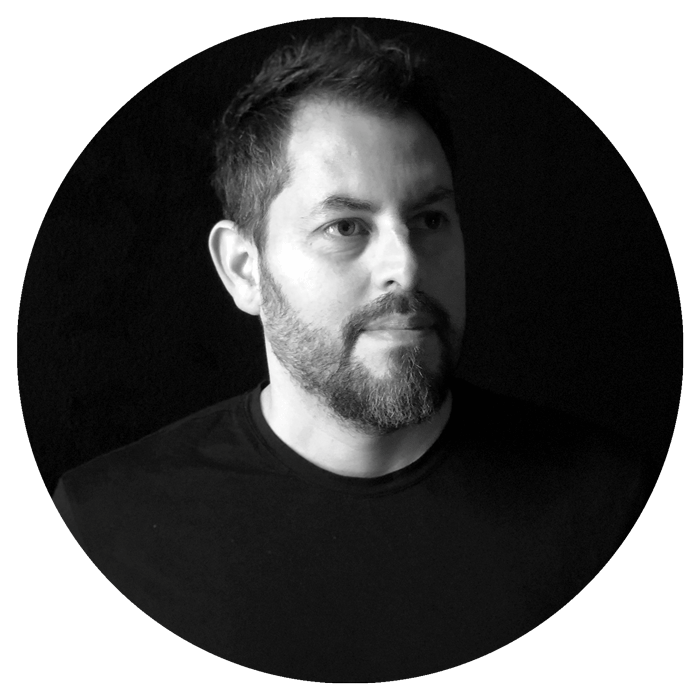 Principal and co-founder – As an educator and designer, Erick has been in pursuit of innovation and technology in the field of architectural thinking and teaching processes; his expertise, expanding his graduate thesis at GSAPP, is based on researching digital experimental techniques and strategic thinking for the manipulation of Form in design, which he uses these design abilities in the services of thoroughly generating spatial and organizational issues central to architecture. Born in El Salvador, Erick holds a master's degree in Advanced Architectural Design from Columbia University, GSAPP, and a bachelor's degree from The Southern California Institute of Architecture, SCI_Arc.
PA Talks 38 – Erick Carcamo
Watch Erick Carcamo talking about the studio and Architectural Follies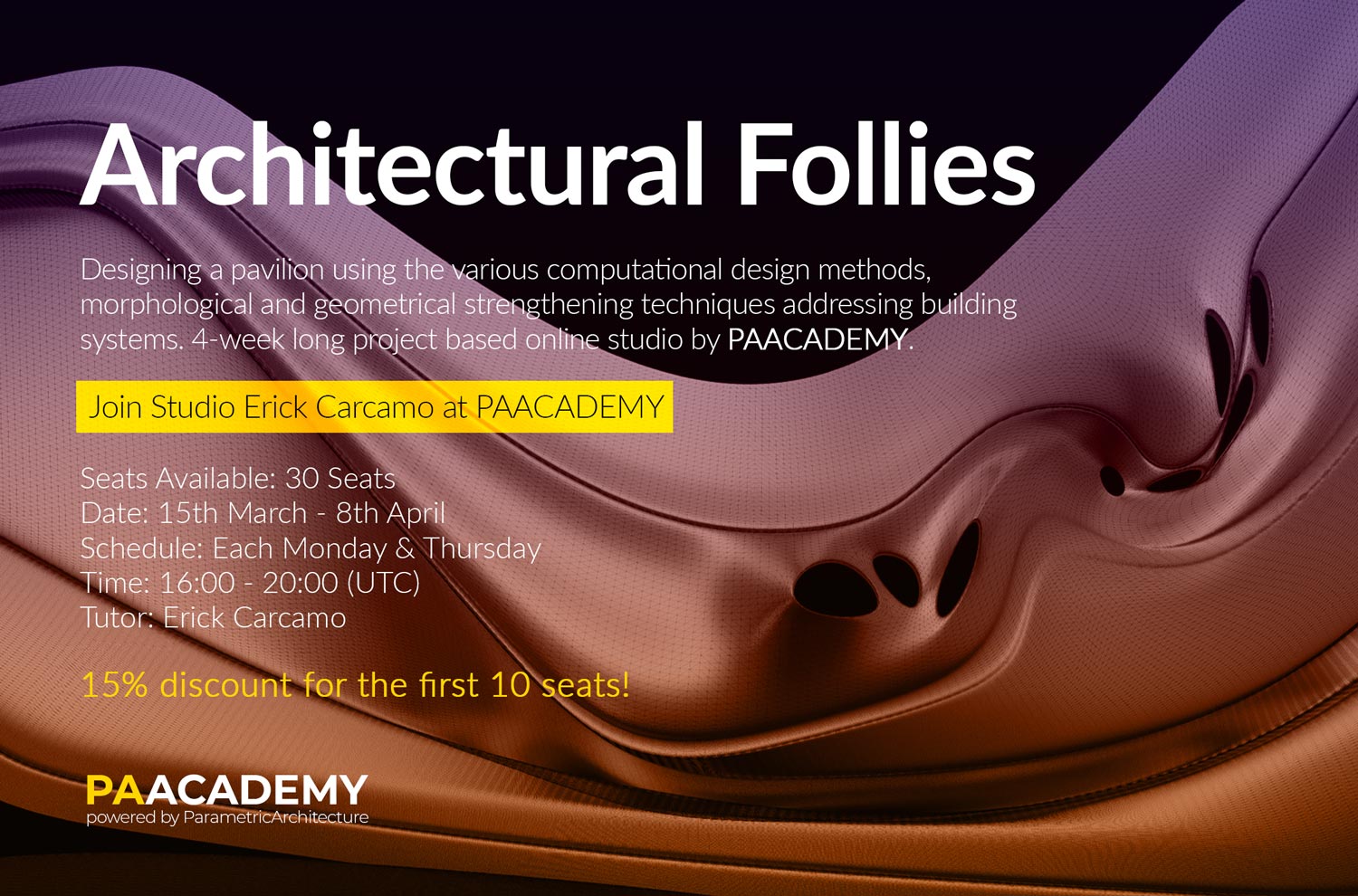 Topic: Architectural Follies
Time: 15th March – 8th April 2021
Location: ZOOM hosted by PA
Format: Online
Total Sessions: 8 Sessions
Total Hours: 32 Hours
Workshop Type: Online project based studio
Registration Deadline: 10th March 2021
Seats Available: 30 Seats
Fee: €300 EURO
First 10 Seats: €250 EURO (15% Discount for the first 10 seats) (Closed)
Organized By: PAACADEMY
Studio: Studio Erick Carcamo
Tutor: Erick Carcamo