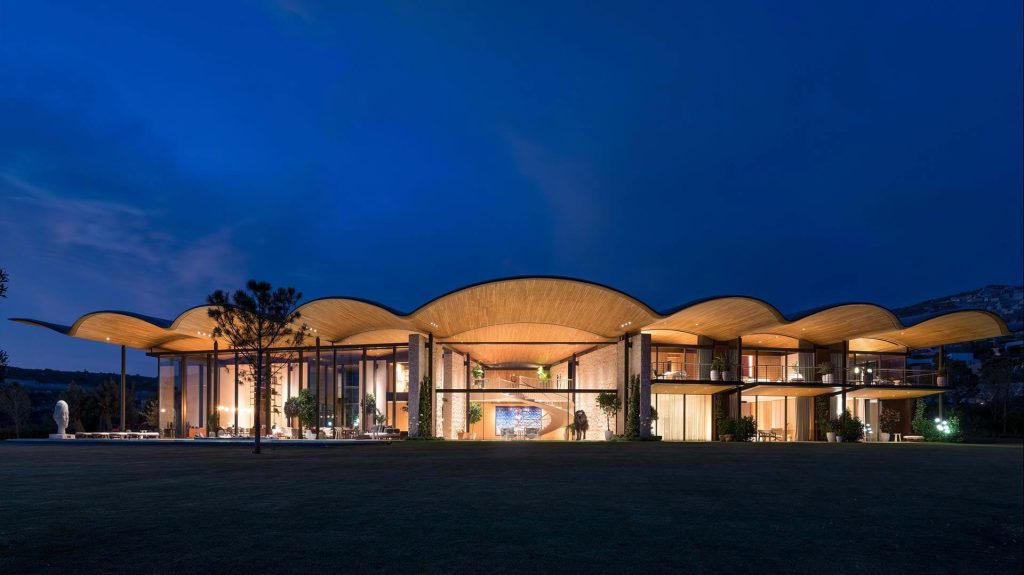 Dolunay Villa, designed by Foster + Partners in Mugla, Turkiye in 2019 and is an original design that blends modern architecture and handicrafts.
The form and location of the building, which is located on a mountainous land by the Aegean sea, was determined by considering the terrain conditions. The villa is accessed from the north via a mountain road. Since the villa is positioned by taking advantage of the slope of the land, when viewed from here, the building gives the impression of a single-story house.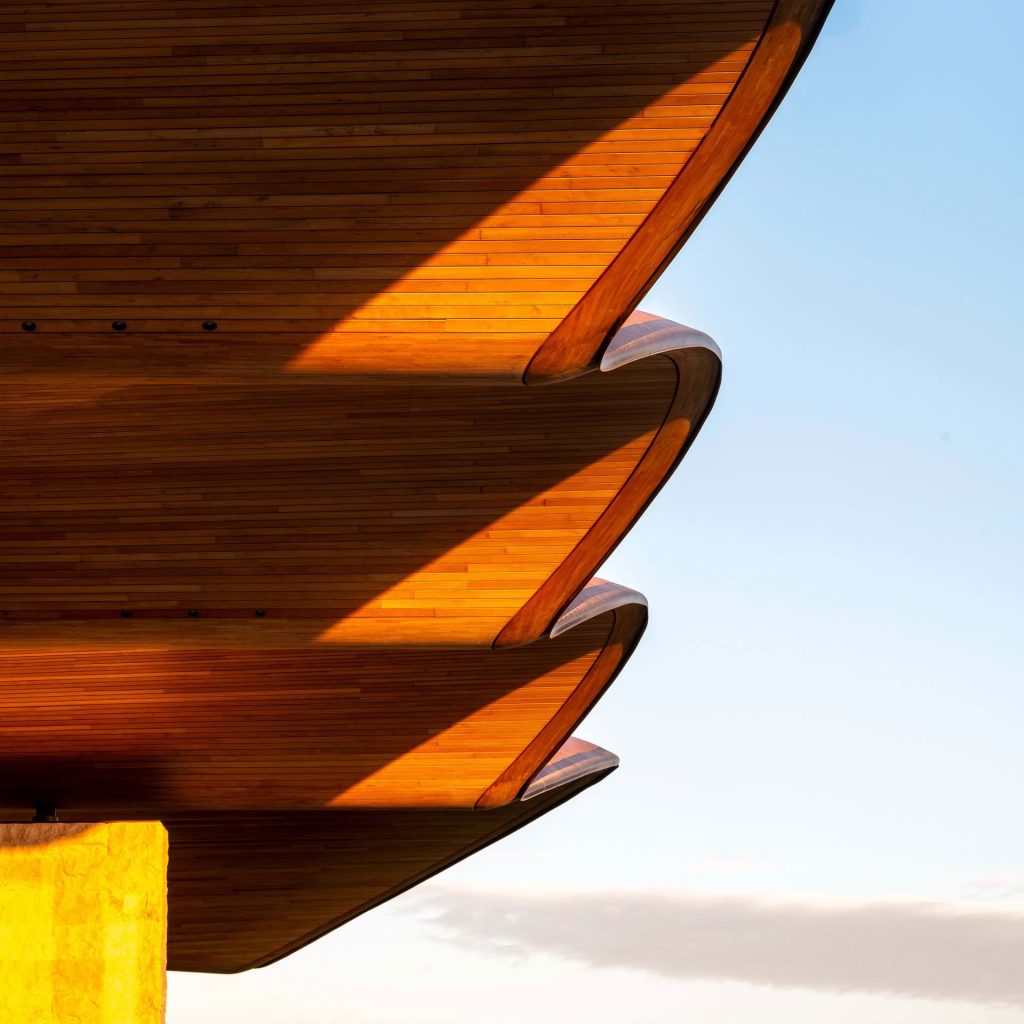 The interiors of the house are placed in wings on either side of this center. While there are private bedrooms in the east wing of the house, common living and dining areas are placed in the west wing.
Dolunay Villa benefits from all the opportunities of the natural heritage on which it sits. A unique view of the Aegean Sea can be enjoyed from every south-facing point of the house. Located in a garden where Mediterranean plants such as lavender and thyme grow, Dolunay Villa is also surrounded by centuries-old olive trees.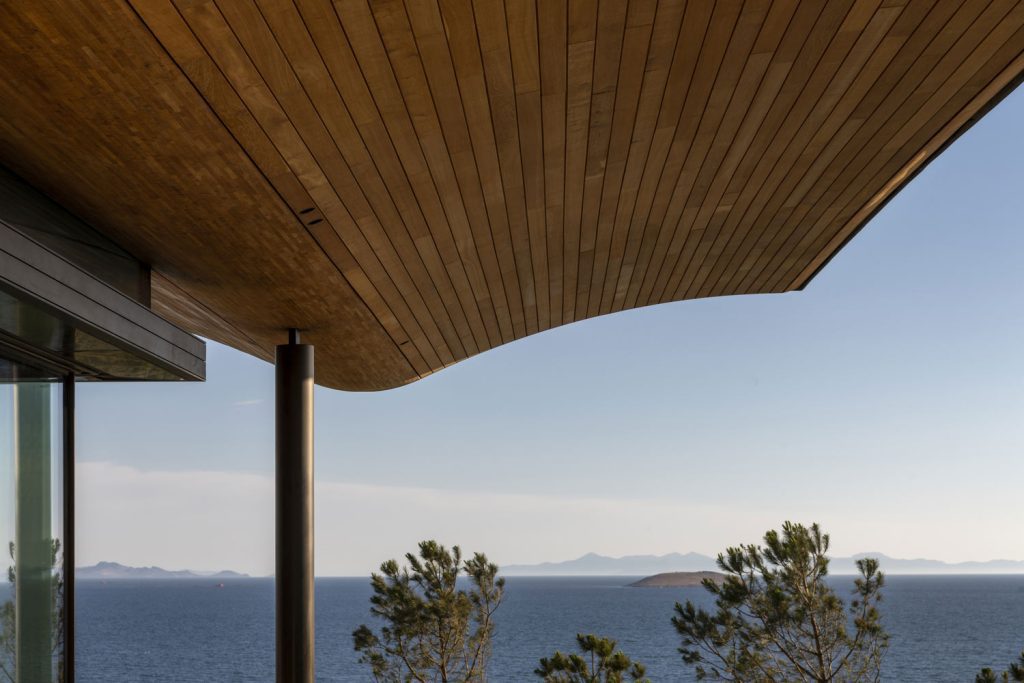 The large glass doors that separate the interior of the house from the garden can be opened by sliding and the interior can be made a part of the garden completely.
The undulating wooden roof was designed in collaboration with the Swiss office Blumer Lehmann. This wooden prefabricated structure, which also has a carrier feature, has much less carbon compared to a reinforced concrete roof plate. The wooden roof carried by oak beams placed on the steel columns rises to a 7.5-meter cantilever, creating shaded terrace areas on the south side of the house and covering the courtyard on the north side.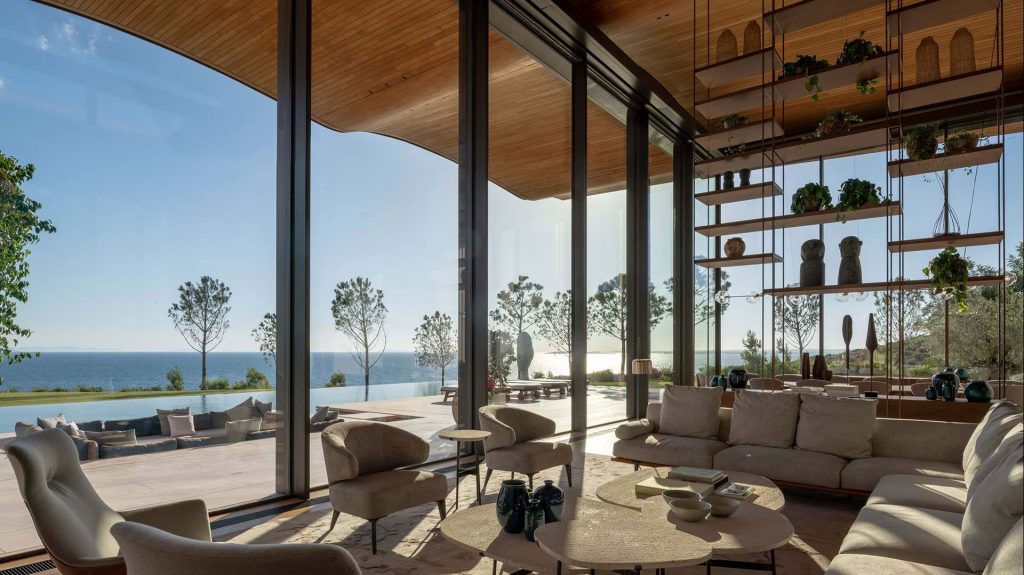 The spiral staircase in the center of the house is one of the striking architectural elements of the building. The staircase connecting the two floors of the house was produced using limestone brought from Portugal.
The spiral staircase, which does not have any bearing support in sight, is supported by structurally post-tensioned ropes. Glass and wood were preferred in the railings of the stairs in order to accompany the light and simple appearance of the staircase.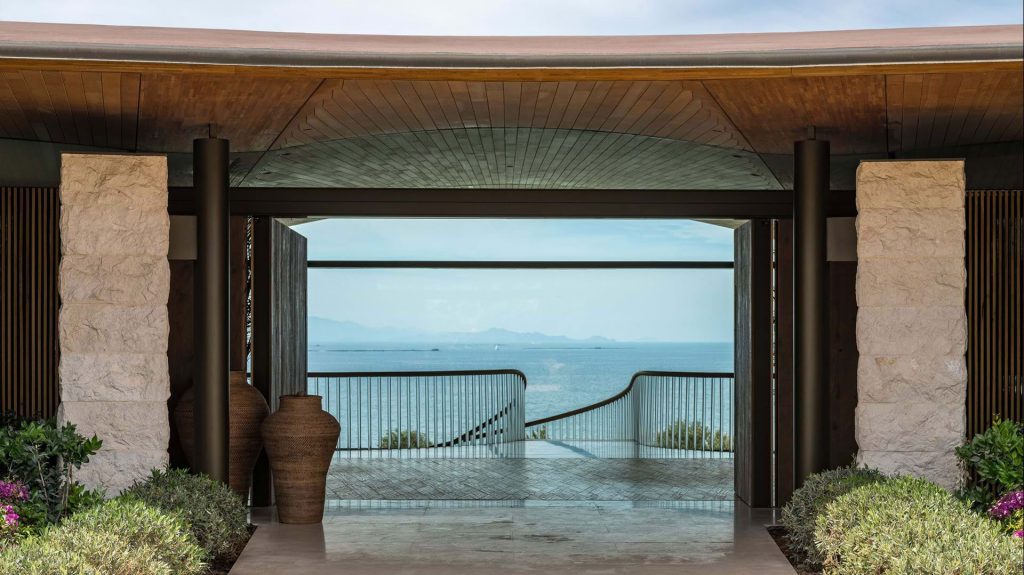 The handwork at Dolunay Villa is not limited to the handcrafted roof. At the request of the client, there are special handicrafts in many details, from the wooden doors that decorate the entrance of the house to the ceramic tiles in the bathrooms.
The color and material used in the interior of the house were inspired by the natural texture of Mugla. Natural stone, wood, and bronze-weight interior decoration are in harmony with the mountainous terrains and sandy beaches of the region. The wooden joinery and leather coverings that dominate the common areas give the house a calm and elegant character.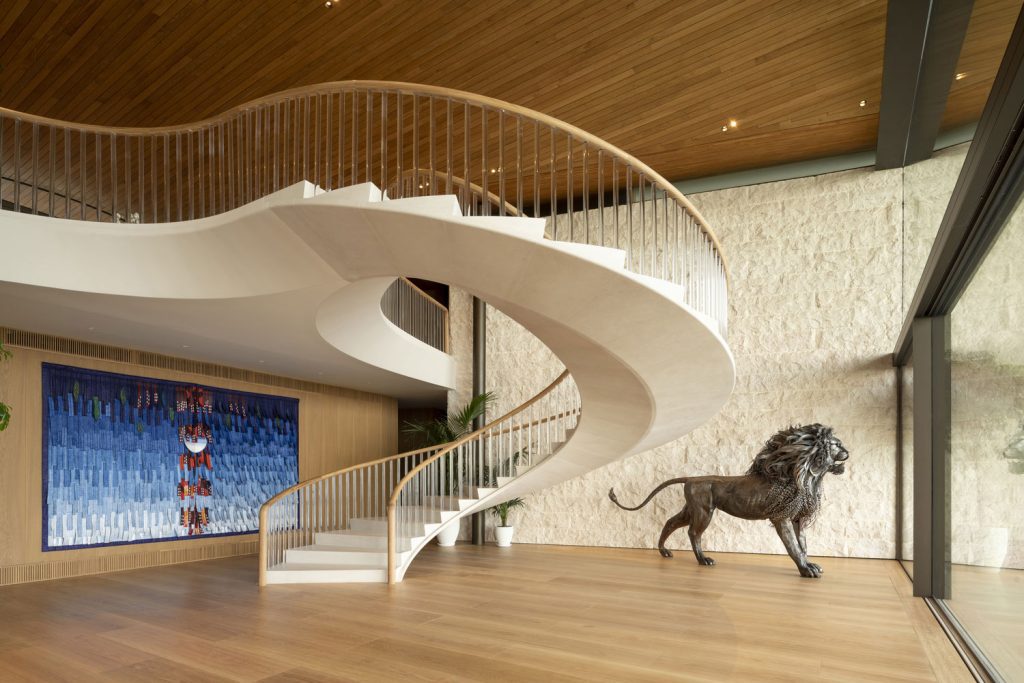 Project Info
Area: 1,668 sqm
Height: 7.60m
Collaborating Architect: Design Group Istanbul, Artiko architects
Structural Engineer: Design Group Istanbul, Matte Construction & Design
Environmental Engineer: Okutan Muhendislik, Ankara
Landscape Architect: Exterior Architecture, Jan Muse Landscape Designers
Lighting Engineer: Foster + Partners, Design Group Istanbul