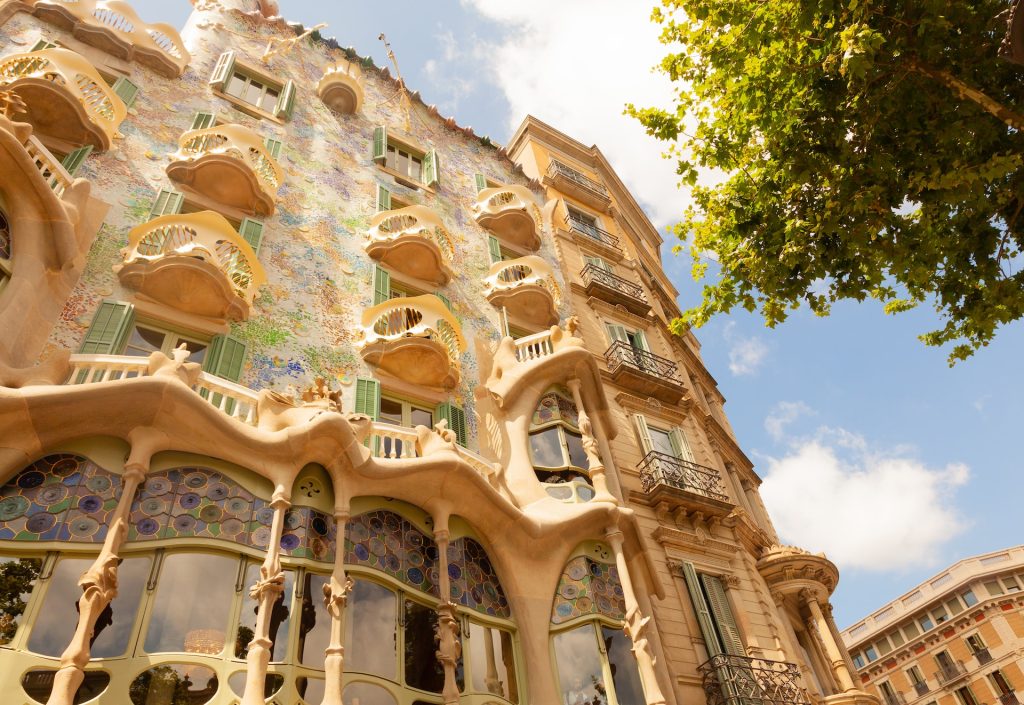 Antoni Gaudi was an architect who changed the face of architecture and is considered the pioneer of Art Nouveau or Catalan Modernist architecture style. The masterpieces designed by Gaudi are an inspiration to every architect or individual in the design. The structures designed by Gaudi; several projects are a part of the UNESCO World Heritage Site "Works of Antoni Gaudi".
About Antoni Gaudi's life
Architect: Antoni Gaudi Cornet
Region: Catalan Architect (Catalonia – Spain)
Birth/Death: 25 June 1852 – 10 June 1926
Design style: Organic Architecture | Art Nouveau | Modernisme
The Catalan architect Antoni Gaudi Cornet is considered to be the greatest architect of the twentieth century. He is known for creating architectural masterpieces which have an artistic/creative design innovation. The majority of all his designs have been influenced by nature (Organic). He was also admired for his technical and construction innovations with climatic-responsive applications (Sustainability/Climate responsive designs).
Design Features & Philosophies of Antoni Gaudi
Some design features/characteristics of Antoni Gaudi's design;
1.Organic Designs (Nature inspired designs)
Antoni Gaudi often integrated his designs with organic (nature-inspired) and free-flowing design forms. The structures designed by Gaudi take inspiration from nature such as plants or animal forms. Some nature-inspired architectural elements by Gaudi are spiral stairways, catenary arches, honeycomb gates, gargoyles, and tree-inspired columns.
2. Vivid colors and Textures (Multiple color buildings with varied textures)
Architecture designed by Gaudi is noticed or recognized by a person due to his distinct color palette used for the buildings. The structures designed have multi-color applications in both the exterior and interiors of the building. He designed vibrant and multi-colored buildings that use mosaic tiles and various textures.
3.Religious pride (His pride for his Catholic tradition was reflected in his church designs)
Antoni Gaudi was an individual with strong religious beliefs which were translated into his designs. His pride in Roman Catholic tradition was quite evident in the churches designed by him. He designed several churches and buildings of religious importance, which were decorated with biblical images or patterns.
Architecture Applications Introduced: By Antoni Gaudi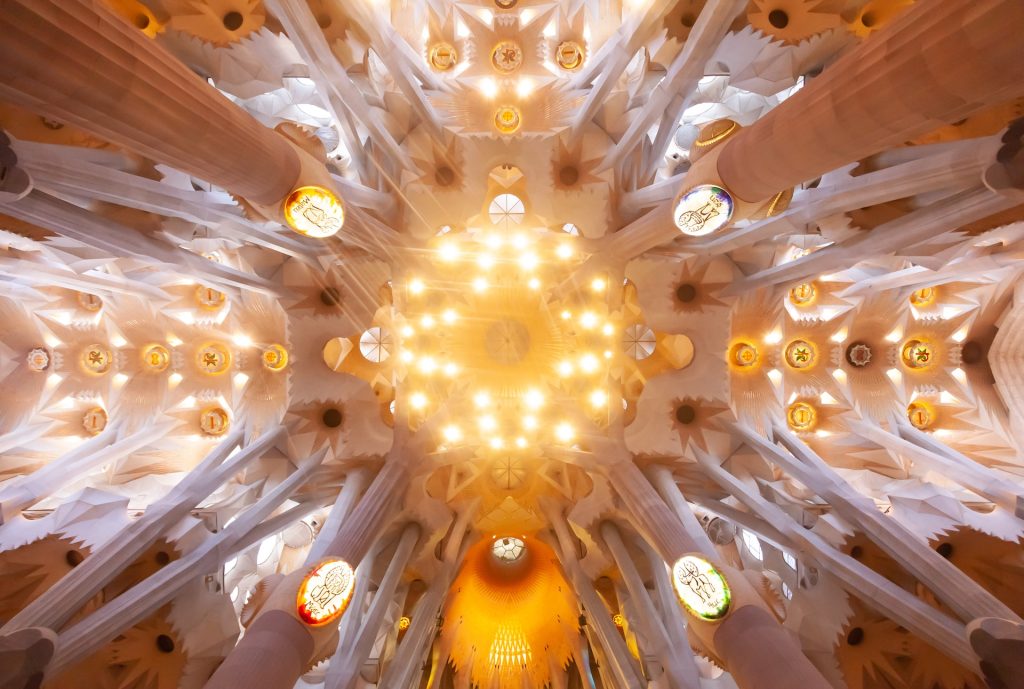 1.Biomimicry (Nature as a source of inspiration)
Antoni Gaudi uses nature as a source of inspiration in his design in terms of the working of the structure and also nature-inspired elements implication. Several structures designed by Antoni Gaudi have an element of Nature inspiration.
For example, his design of the Casa Mila (Apartment) around a central courtyard has a design application that helps in climate regulation. The central courtyard acts as a thermal regulator for the apartment and its surroundings. It also acts as an opening of enormous light entry into the structure.
2.Parametric Architecture Application
One of the earliest applications of Parametric Architecture was the "Upside-down model" by Antoni Gaudi for churches. Gaudi proposed a design by creating a model of the upside-down Church of Colonia Guell to create a complex vaulted ceiling.
Another application of the Upside-Down model for the Sagrada Familia Basilica's ceiling design. The vaulted ceiling design was designed as a parametric form that is seen as a hanging rope from the ceiling. Each parametric element of the model is a Catenary arch suspended.
Some architectural masterpieces by Antoni Gaudi
Listed here are five architectural masterpieces designed by the Catalan Architect Antoni Gaudi;
1.Sagrada Familia, Barcelona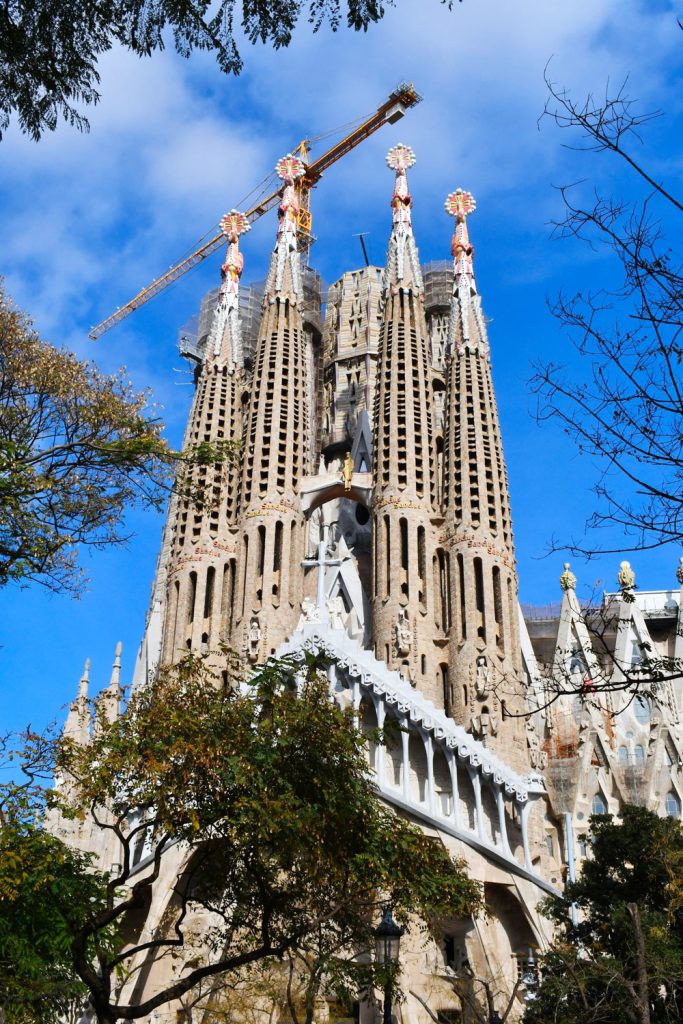 Location: Barcelona, Catalonia, Spain
Design Typology: Religious
Construction: Expected to be completed by 2026
One of the iconic and ambitious projects designed by the Catalan Architect is the Sagrada Familia located in Barcelona. This unfinished masterpiece is an architectural product of styles inspired by Gaudi's designs in a combination of Art Nouveau and Gothic architectural styles. In the year 1883 Gaudi took over the construction of the Basilica as the primary architect. The construction of this Roman Catholic Basilica has been passed on to five generations who have overseen the process. The majority of Gaudi's design was destroyed in the Spanish Civil war.
The temple is well known for its organic form making it the most famous landmark in Barcelona. The Basilica is built to accommodate a capacity of 9,000 people. The temple consists of 18 Spiers (Spindle shape towers) that rise to the skies that symbolize biblical figures (At present 11 spiers are completed -2022). The three façades that are covered in biblical sculptural decoration are;
Nativity Façade
Passion Façade
Glory Façade
2.Casa Batllo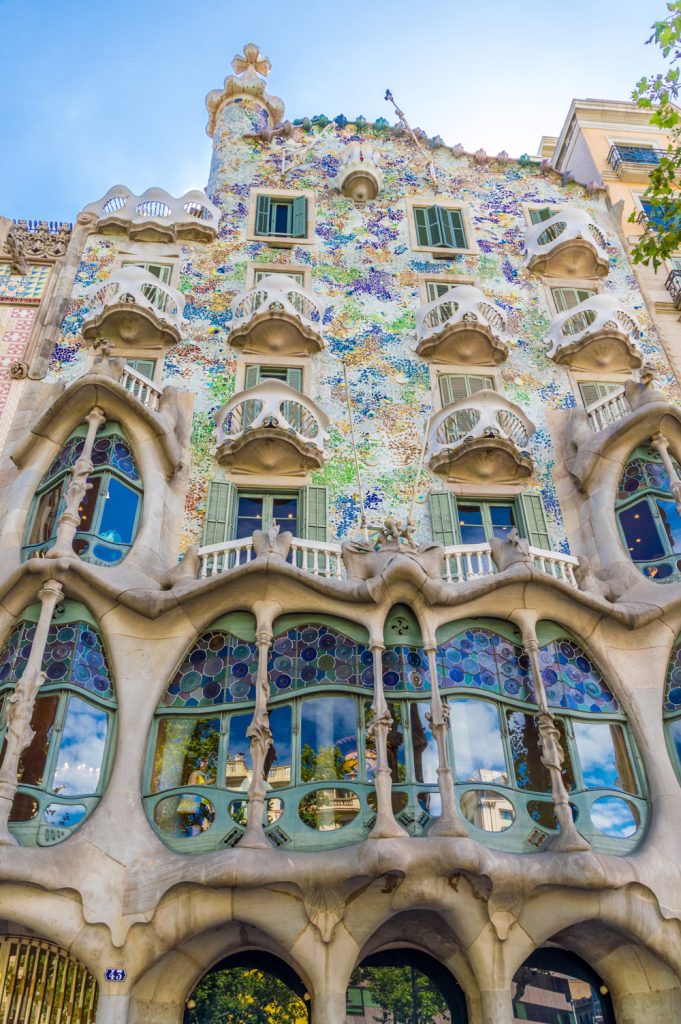 Location: Barcelona, Spain
Design Typology: Residence
Construction: Completed in 1906
The Casa Batllo is an artistic and creative masterpiece by Antoni Gaudi located in central Barcelona. Antoni Gaudi as an architect was given full freedom by Mr. Josep Batllo, to express his design skills to put the residence on the map as a one-of-a-kind structure. The structure is a product of the remodeling of a private residence work done by Antoni Gaudi and refurbished several times after the architect by his assistants'. Casa Batllo is an example of a structure that expresses Art Nouveau or Modernism architectural style.
The building has gained the nickname "The House of Bones" since Gaudi's unique design showcases the artistic color application, animal forms, and especially hints of bones and skeletons. The façade of the structure was designed with colorful mosaics and ceramic tiles.
3. Casa Mila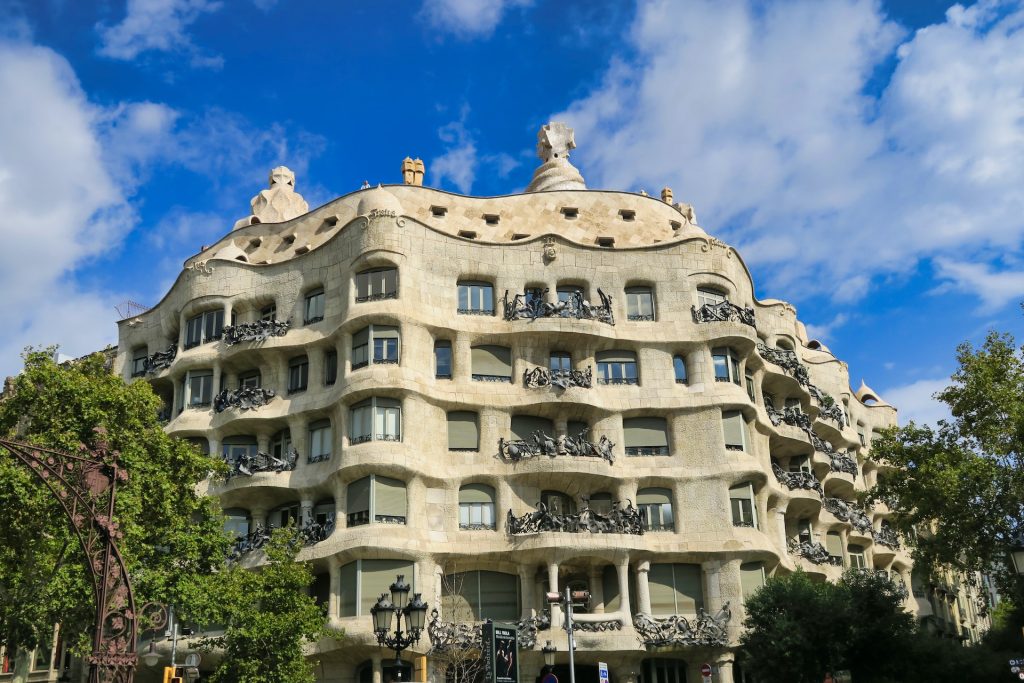 Location: Passeig de Gracia, Barcelona, Spain
Design Typology: Residence (Apartment)
Construction: Completed in 1912
Casa Mila is an apartment building designed by Gaudi located in Barcelona, Spain. It is known as La Pedrera due to its appearance of a quarry and the open floor plan which is under the ownership of the prestigious Mila family. The building is built into nine levels; Basement, Ground floor, Mezzanine, Main level, Four upper levels, and the attic.
The façade is composed of an organic stone design with twisted iron railings (Designed by Josep Maria Jujol) and naturally inspired elements. The structure is composed of two buildings with a central organic form courtyard (Heps climatic regulation) for nine levels.
4.Güell Palace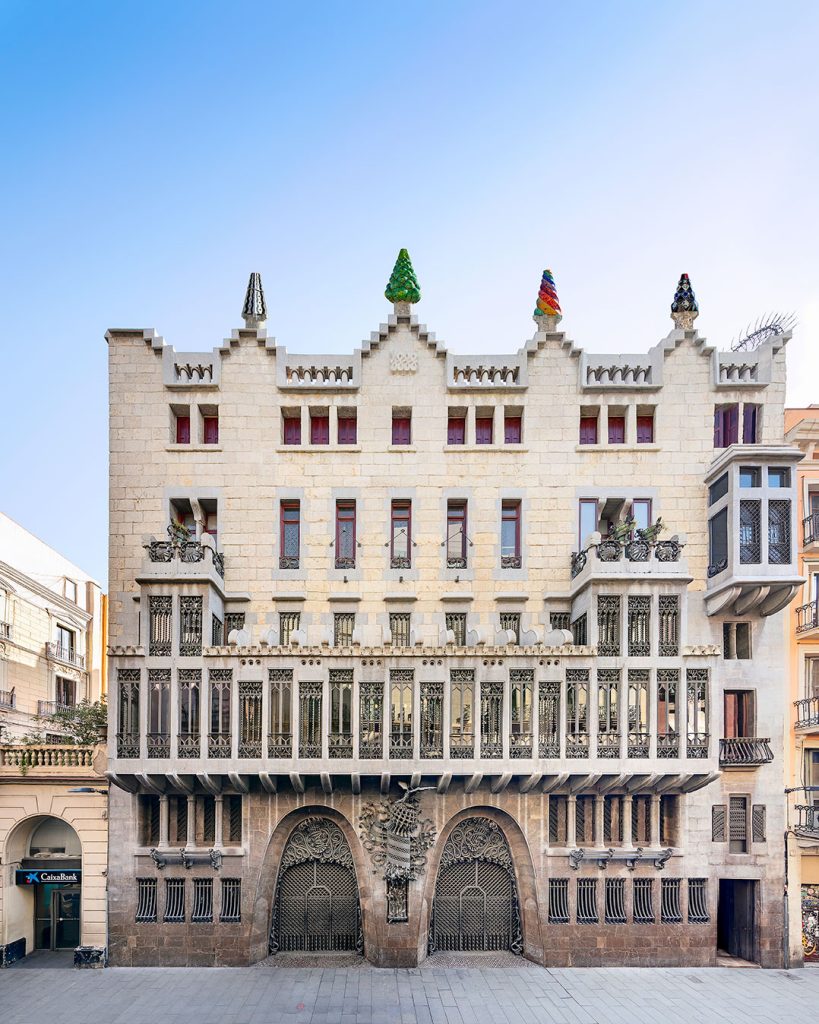 Location: Barcelona, Spain
Design Typology: Residence (Mansion)
Construction: Completed in 1888
The Palau Guell is a mansion designed by Gaudi and is now recognized as a part of the UNESCO World Heritage site ("Works of Antoni Gaudi"). The mansion was designed for Eusebi Guell, an industrial tycoon located in the El Raval neighborhood of Barcelona.
The mansion is centered around the main room used to entertain high society guests. The house was entered by the guests by horse-drawn carriages through the parabolic archways. The arch was covered with intricate details in iron.
5.Casa Vicens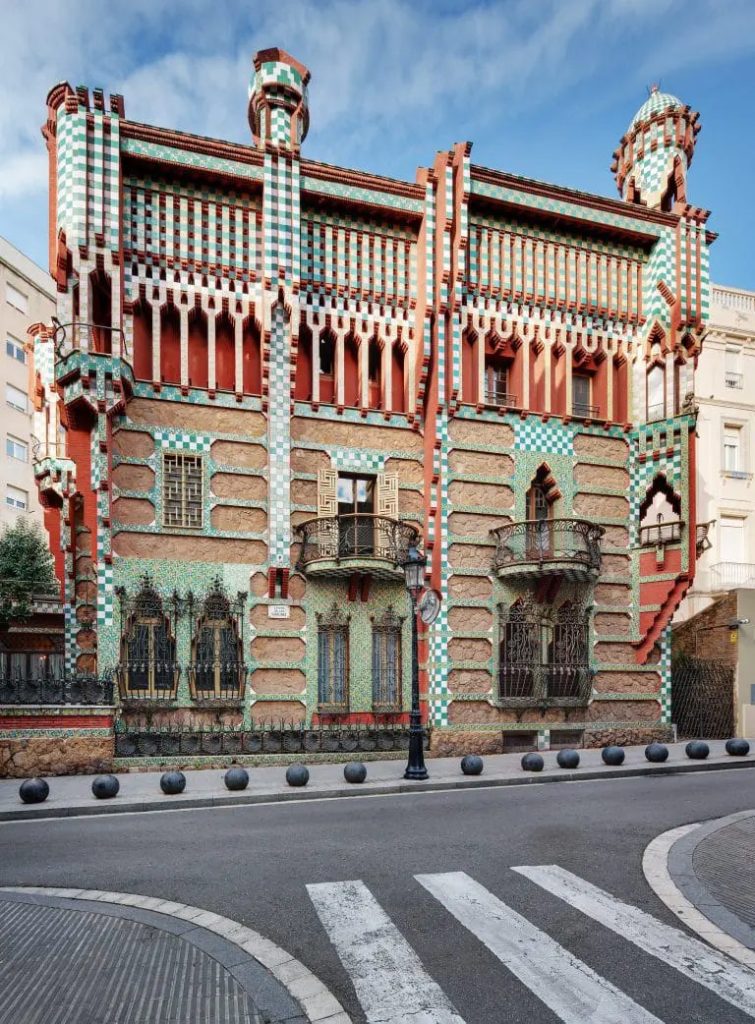 Location: Barcelona, Spain
Design Typology: Residence
Construction: Completed in 1885
Casa Vicens located in Barcelona is considered one of the first houses designed by Gaudi. The design of the residence was a part of the oriental architectural style interpreted in Gaudi's own personal style. It showcases his creative and unique architecture by implementing an artistic façade and form design.
Gaudi's Casa Vicens was the first successful big project that put him on the map of architecture. The structure displays a rather simple design style using straight lines for the design. The primary material utilized is brick which is designed and ornamented with abstract and vibrant colors and textures. Restoration works were done on the exterior and interior of the Casa Vicnes with time.