The Stereotomic Project
The Stereotomic Project developed by the architect and engineer Aris Kastorinis at the PAACADEMY's "Stone Architecture" studio workshop, comprised of a stone structure with multiple tubular columns supporting a canopy on a continuous smooth surface.
The Stone Architecture Workshop
The Stone Architecture Workshop was held from March 24 – May 19, 2022, and organized by PAACADEMY on the online platform, aiming to highlight and express the potential of stone architecture and digital stereotomy for contemporary architecture. The workshop with the total of 28 hours in 7 sessions was led by Prof. Giuseppe Fallacara, Maurizio Barberio, Ilaria Cavaliere, and Dario Costantino.
The studio focused on the use of Rhinoceros3D, and Grasshopper3D in the form-finding process of the geometry. Software and plugins such as Ngon, Mesh+, LunchBox, Pufferfish, Weaverbird, Leopard, and Mesh Edit were used to analyze and calculate the stability of the structure with the stone material as a structural element. To present the project for the final presentations and add it into a virtual environment, Dario and Ilaria showcased the amazing capabilities of the TwinMotion software.
Click here to register and watch the recordings.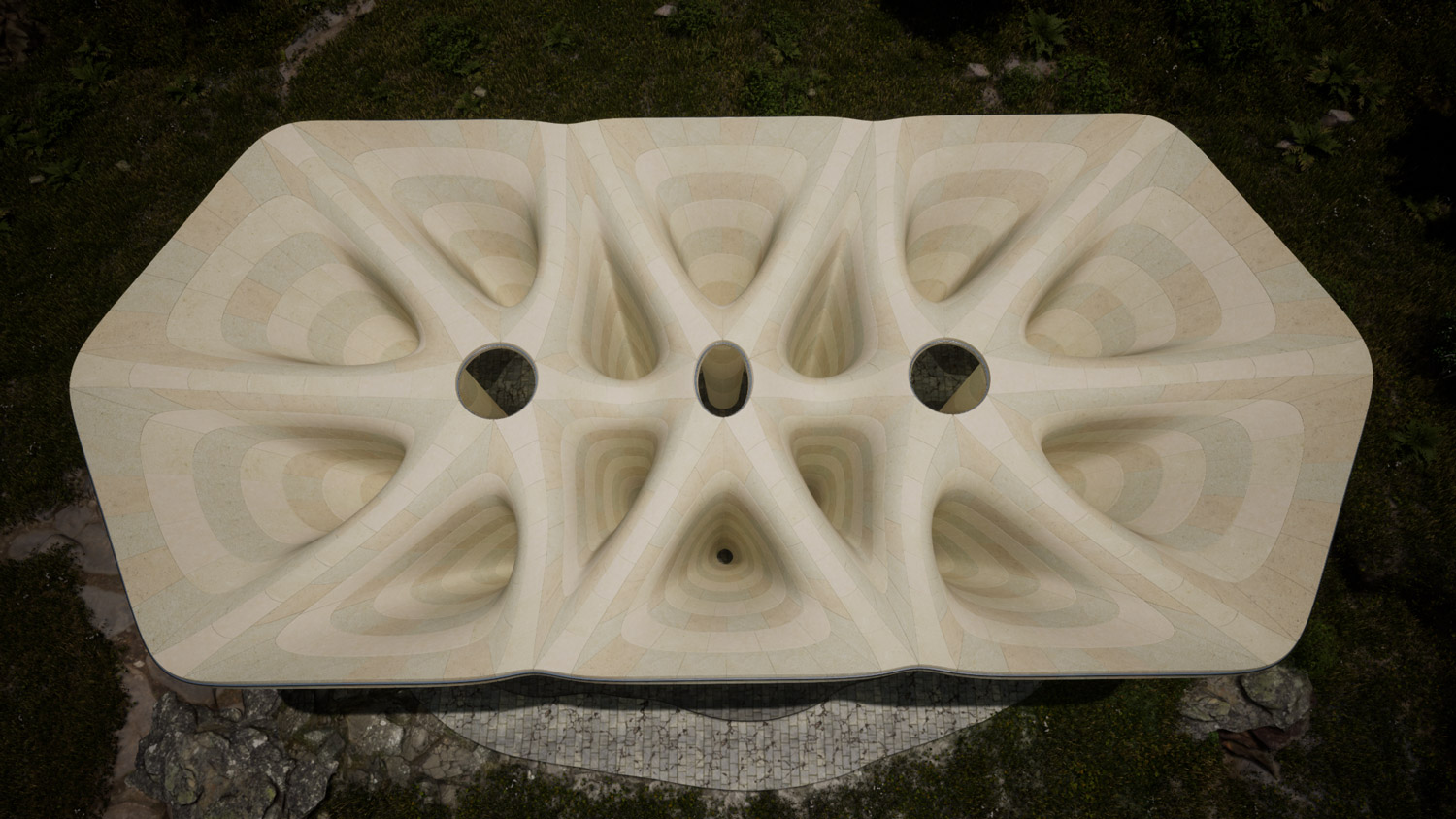 For the building to resist gravity, parallelepiped-like blocks with double-curved faces, compression rings around the canopy's perimeter, and three holes were used. It is possible to simply adjust a variety of characteristics, including the number of columns, the height of the building, and the thickness of the blocks since the design process is completely parametric and produced using the Grasshopper3d and Kangaroo2 plug-in.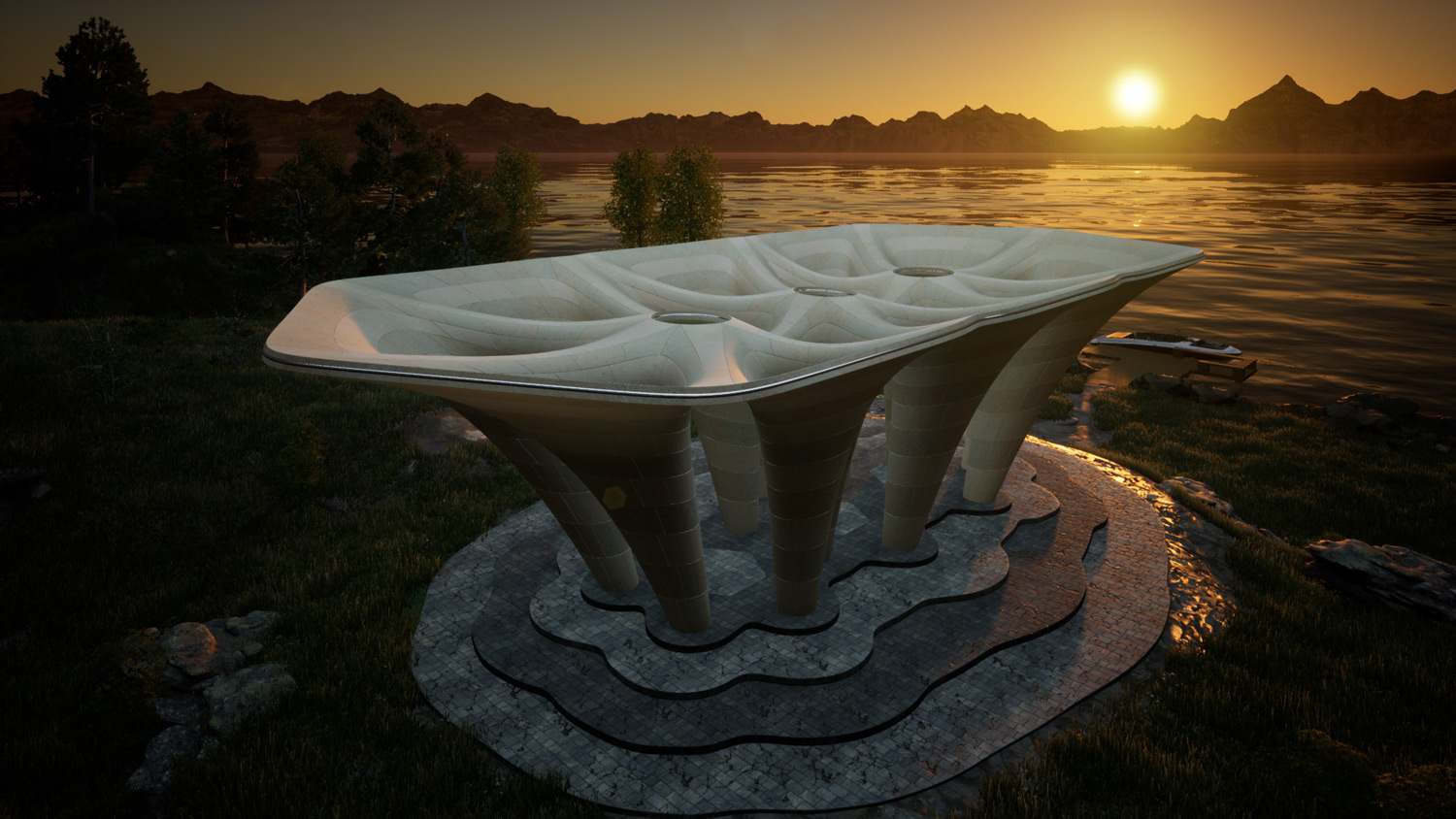 Nature serves as a major source of inspiration, particularly the organic forms of corals, mushrooms, and asteroidean fauna. Also, it must be acknowledged that one source of inspiration is the work produced at the Noumena-organized workshop "Synthesis of Strip Pattern" in 2017, particularly the strip division of complex geometry for rationalization porpoise.
The Kangaroo2 plug-in, a Live Physics engine for interactive simulation and form-finding, is used to produce a highly "clean" and ordered mesh that is important for the following parts of the process. The resulting mesh is then rationalized using a unique paneling approach and transformed into a highly smooth sub-shape. To create the final blocks, the geometry is specifically separated into rows and transformed into various striped surfaces.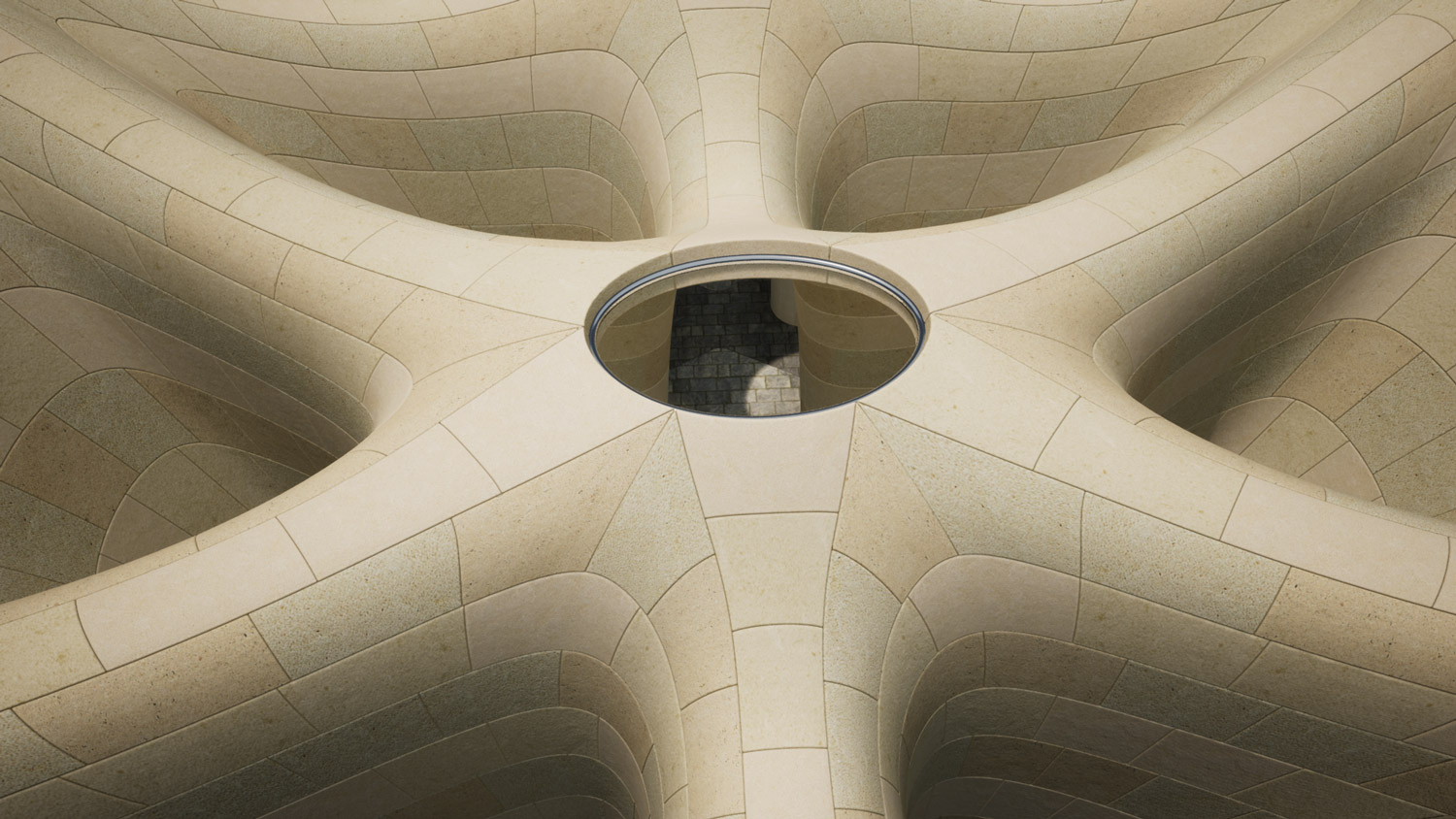 Jumping between various geometries, such as meshes, subs, NURBS surfaces, and Breps, and using each one's unique qualities to accomplish the desired result is the key to the whole design process. The project's final phase included a visualization process using the Twinmotion program. Click here to register and watch the recordings.
Credits:
Studio workshop by PAACADEMY
Studio title: Stone Architecture
Lead by: Prof. Giuseppe Fallacara, Maurizio Barberio, Ilaria Cavaliere, and Dario Costantino
Project name: The Stereotomic Project
Student: Aris Kastorinis
Date: From March 24 to May 19, 2022