Vincent Callebaut Architectures designed The Greenhouses at Chavannes-Près-Renens, Ouest Lausannois District, Canton of Vaud, Switzerland. The goal is to make a peaceful eco-district that has no cars on the surface. This will be done by making a large urban park on the open ground that is only for pedestrians and cyclists. Here, people can live and have fun in the middle of lush nature.
So, this eco-district takes its identity from this new public park by planting it densely to show the Genius Loci of these Old Greenhouses, which were once used for horticulture and bring back the tradition of growing flowers.
Vincent Callebaut says that water is also an important part of the structure of this new park, which is meant to be porous. It is in a large valley along the North-South mall, which flows into a beautiful body of water along the Route de la Maladière. It makes phyto-purification lagoons and basins between the buildings that can be used for aquaponics, permaculture, and urban agriculture.
All of the apartments are perfectly arranged, like the teeth of a comb, so that the living areas face the lake and the south.
These landscaped balconies have string planters on them, which make it possible to grow plants that will last and give people a place to grow vegetables as an extension of their living rooms.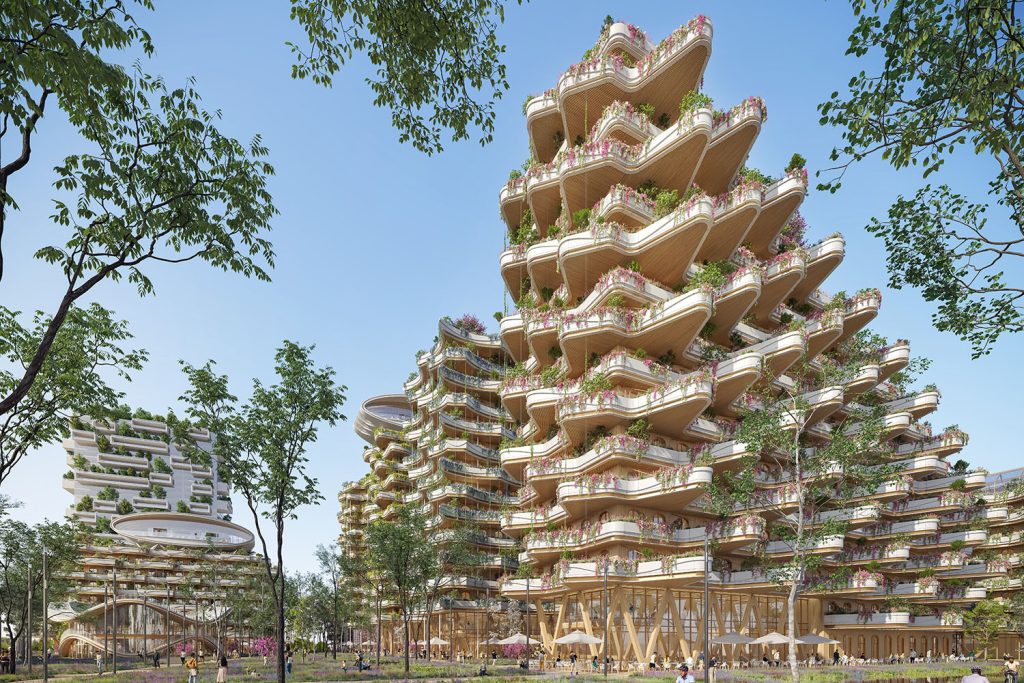 The Greenhouses project plans to offer a variety of experiences by spreading the built volumes from level 5 on the Avenue de la Gare side and its villas to level 14 on the North-South pedestrian mall side of a public park. These stepped buildings are neither a tower nor a bar. They have architectures with one step, three steps, five steps, or even ten steps. The cascading roofs give a cone-shaped view of Lake Geneva.
Even though this architecture is getting bigger and bigger, it shapes and enlarges the views of the great landscape. The proposed building method is called "CLT," which stands for "Cross Laminated Timber." The Greenhouses project is a real carbon sequestration sink because it was made from trees cut and harvested in a short circuit in the heart of eco-responsible Swiss forests. One cut tree equals one replanted tree, so one cut tree equals one replanted tree.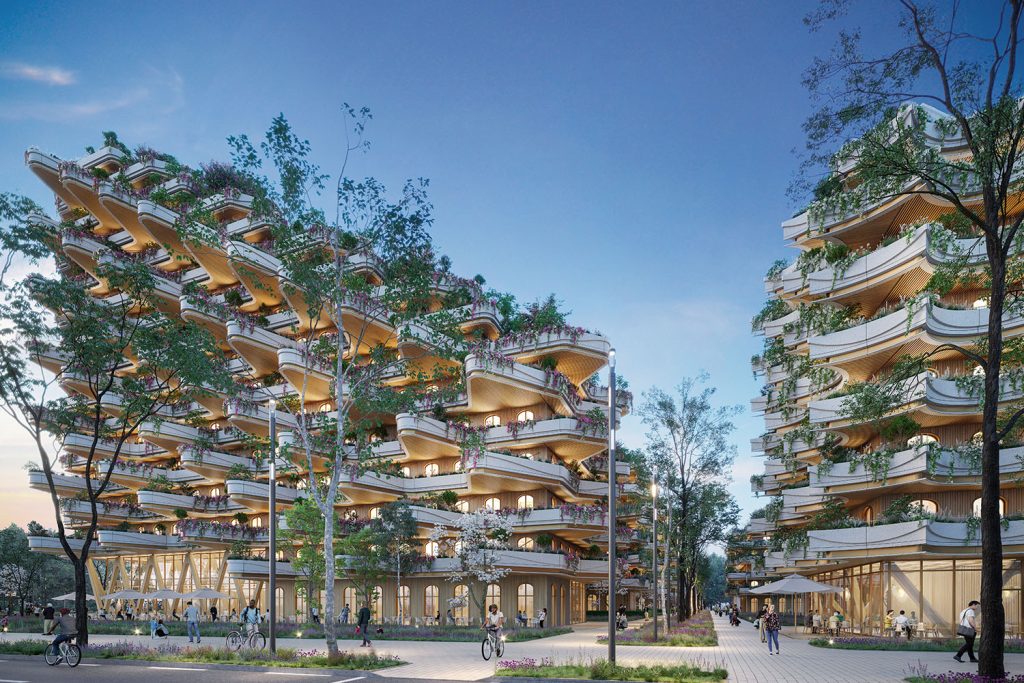 The idea of "reasoned vertical greening" is to give each building a specific color when choosing plant species. This would create a rainbow gradient on the scale of the eco-district and give everyone pride in their home, which is different from their neighbor's in both shape and color.
After choosing solid wood construction to reduce the carbon footprint of the whole project by a large amount while it was being built, we focused on integrating passive systems and renewable energies to reduce the carbon footprint of the building while it was being used.
To make sure that each apartment has natural ventilation, wind chimneys cross the vertical circulation cores all the way up. In terms of Urban Agriculture, there are many standard greenhouses, real small urban aquaponic farms, and permaculture gardens on the buildings "Les Tremplins," "Les Créneaux," "Les Arcs," and "Les Roches." There are also vegetable pots on the balconies of the apartments.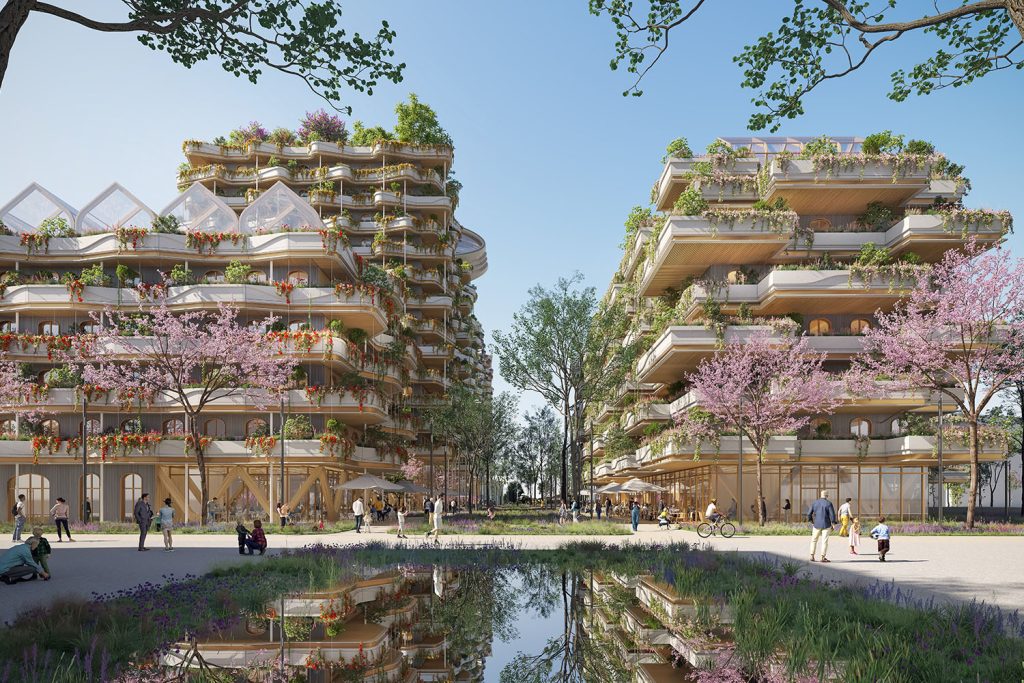 The green roofs on top of the tallest buildings include biodiversity gardens and real fifth facades. This makes it possible to create ecological corridors that are good for many different kinds of endemic plants and animals.
Vincent Callebaut says that The Greenhouses project is a prototype of a fully bio-sourced eco-district that respects the four pillars of the ecological city of the future. This is part of the new circular economy.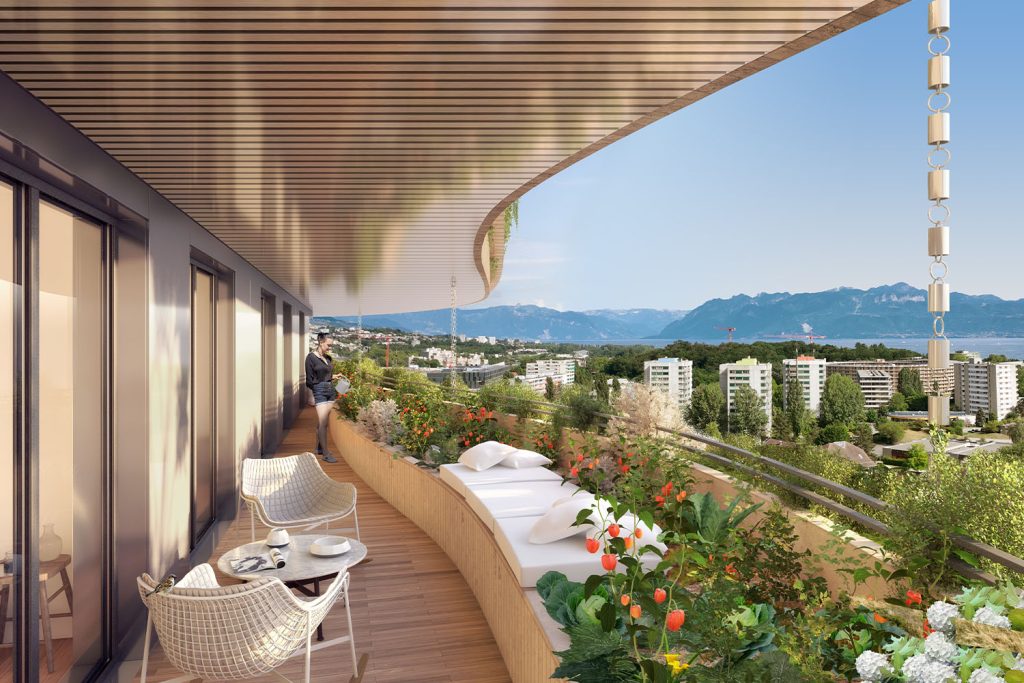 Project Info
Project name: The Greenhouses
Architect: Vincent Callebaut Architectures
Location: Chavannes-Près-Renens, Ouest Lausannois District, Canton of Vaud, Switzerland
Design year: 2023