An Italy-based Company, WASP blends sustainability with 3D Printing to create designs that are both thought-provoking yet humane.
WASP's Vision
Their core being into 3D Printing, WASP envisioned a small as well as fats printer that could materialize an object made from bioplastic, silicone, clay, and biocompatible materials while milling wood and aluminum. This was done to create mini-productions by the user by themselves.
This vision was further enhanced to create a research group that rethinks the traditional building methods and creates a new one, using eco-friendly, sustainable as well as functional materials through an innovative approach. WASP aims to build large-scale 'zero miles' homes using local materials which can be built by using portable machinery that uses infinite resources i.e. sun, wind, and water.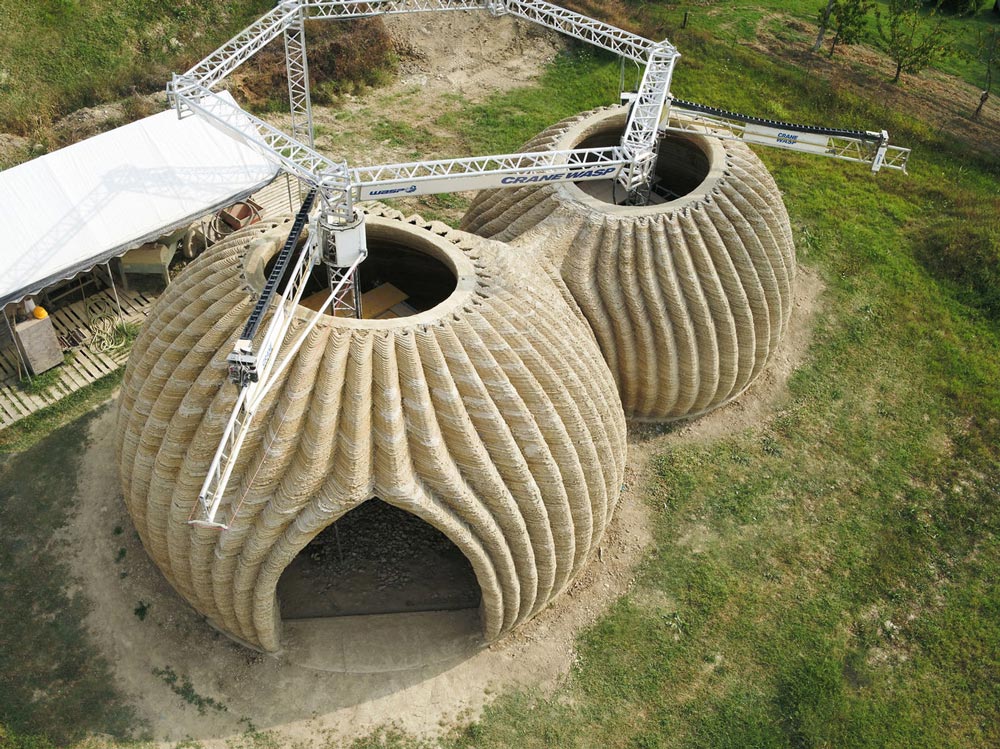 This Vision was further broadened when they created BigDelta, a 12-meter high giant printer in 2015. This was to be used to build entire homes. Followed by this, in 2016 WASP made a Maker Economy Starter Kit which was a giant construction system that could create large dynamic designs through 3D Printing. In 2018, Crane WASP a collaborative 3d printing system was able to print entire houses at one go.
"WASP takes inspiration from the potter wasp. We build 3D printed houses using earth found on the spot, under a sustainable perspective. The oldest material and a state of the art technology merge to give new hope to the world. Gaia, our first 3D printed house made with raw earth, was born a year ago. Today with our partners we are printing TECLA an entire eco-sustainable habitat. The planet is asking for a joint project that we share with Mario Cucinella.", says Massimo Moretti, founder of WASP. (Archdaily)
After this, a range of 3d printers was created by them, each with a dynamic sense of precision and digital craft with minimum use of energy. PowerWASP a fast, versatile and economical 3D printer could also print ceramic mixtures, followed by the 3D Delta WASP Printers.
After a string of 3d printers, WASP grew into varied departments of research to customize their 3d printing technology in an array of domains. Here are a few of them:-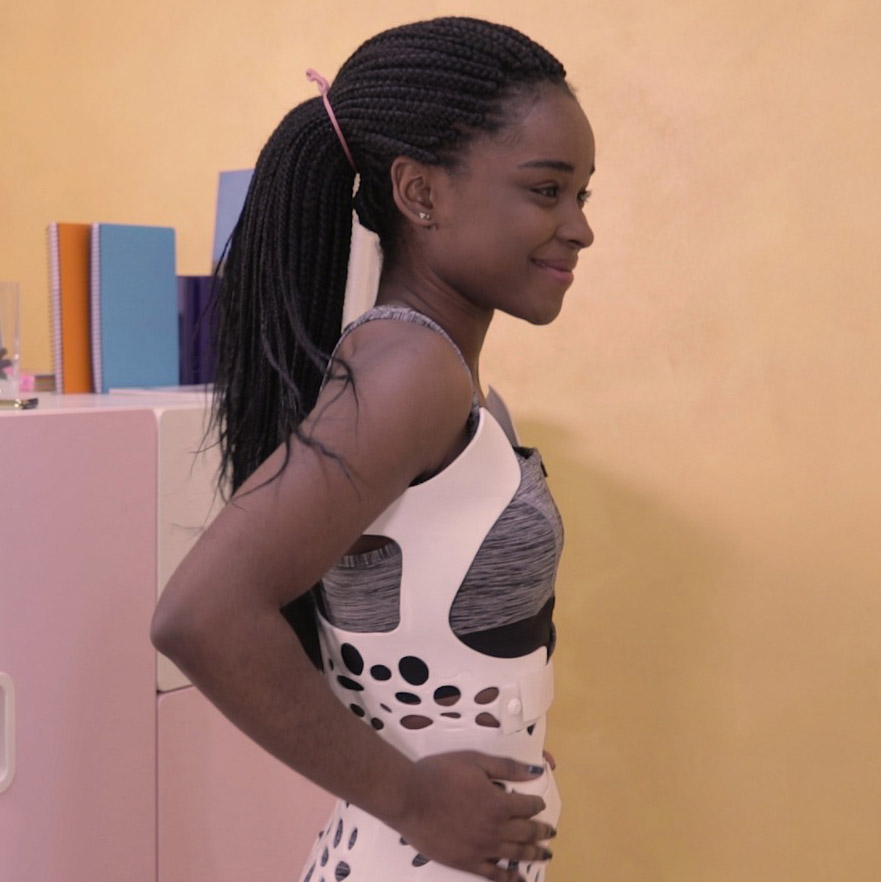 WASP Med has formed four years ago with a collaboration of doctors, bio-engineers, orthopedic experts, manufacturers, etc to create 3d printing services in the health sector.
The digital orthopedic laboratory was thus created to have a low-cost solution to offering skills and instruments for advanced medical devices. The DeltaWASP 4070 INDUSTRIAL 4.0 was another by-product of WASP Med that is a professional 3D printer that prints up to 70 cm high to create new technical materials in the health sector.
The use of ceramic materials has always been one of the core factors in WASP. A core of additive manufacturing, the WASP team laid down fluid dense materials like clay through a Liquid Deposition Modeling process creating massive designs that are no less than a work of art!
Diverse materials like clay, aluminum, porcelain, zirconium, and advanced ceramic were explored to improve the craft further.
Ceramic Art and 3D printing thus formed a crossover that led to collaborations with many artists internationally to create art pieces. The English artist Jonathan Keep along with Ivo Sassi, a ceramist, and celebrity wanted to cook and decorate 3D Printed items with WASP. The Artist Francesco Pacelli also experimented with WASP Laboratories.
To spread the awareness of 3D printing services, WASP also started their very own academy for customers as well as the user group who wished to diversify their skills. From basic courses to advanced workshops and alternative courses, there is one for everyone.
There are also Clay 3d printing courses and coursework related to the medical sector.
WASP created the Feel the Peel, in which you can drink orange juice from an orange peel cup. To create the cups the bio-plastic is melted to form a 3D Printed filament. Here the Delta WASP 2040 INDUSTRIAL 4.0 was used.
"The principle of circularity is a must for today's objects," explains Carlo Ratti.
"Working with Eni, we tried to show circularity in a very tangible way, by developing a machine that helps us to understand how oranges can be used well beyond their juice." (WASP)
Along with this, they have also created a 3D Printed Stove that has zero carbon emission.
3D Printing in Architecture
WASP with their 3D giant printers has diversified their expertise to create houses with materials that are found on-site and have a zero cost tending. One of their recent projects was TECLA, which is a prototype of a 3D Printed habitat that is launched near Bologna, Italy. Designed by Mario Cucinella Architects, this innovative model intends to create future housing by requesting the prerequisites through sustainable, efficient, and low-cost methods.
The project was printed on-site using the Crane WASPin the most sustainable way to create this eco-housing. Thus, TECLA became the first house fabricated by using multiple 3d printers helping to create the broad vision of an autonomous city shortly.
As its developers explain, "each printing unit has a printing area of 50 square meters, making it possible to build independent living modules of any shape and in a few days".
About The Founders
Massimo Moretti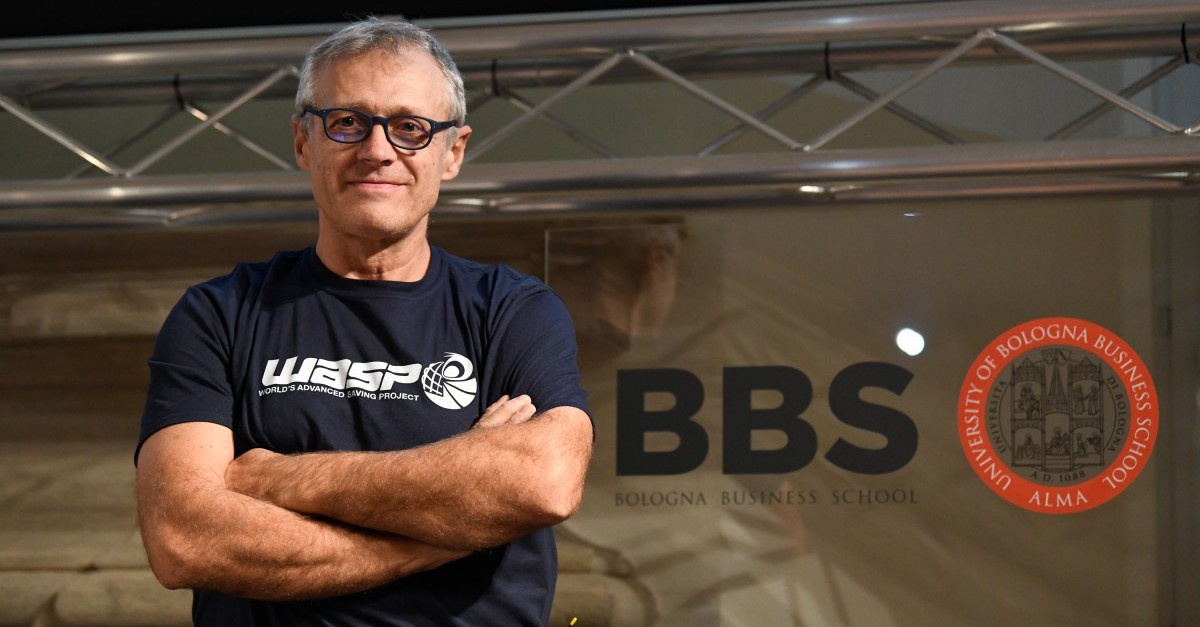 The CEO of Wasp, Moretti grew up in a small mechanical laboratory at home and later graduated as an electronic technician. He started developing products in collaboration with various research centers, universities, R & D, and companies to create industrial automation projects, 3D modeling in the field of interior designs, cosmetics, and chemistry.
He started approaching 3d printing in 2000, in 2012 he put together a team of young designers to create an innovative organization called WASP (World's Advanced Saving Project)
"Together with WASP, we aim at developing an innovative 3D-printed prototype for a habitat that responds to the increasingly urgent climate revolution and the needs of changes dictated by community needs. We need a paradigm shift in the field of architecture that gets closer to the needs of people, thus finding an answer for the "Earth" within the "earth". A collaboration that becomes the union between empathic architecture and the application of new technologies.", says Mario Cucinella, founder of Mario Cucinella Architects. (Archdaily)
Awards
2020 – Fondazione SYMBOLA premia WASP fra le 100 Italian Architectural Conservation Stories
2020 – EIT Manufacturing premia WASP nella BoostUp Regional Final, categoria TRANSFORM
2019 – Fondazione SYMBOLA premia WASP fra le 100 Italian stories for future building
2018 – WASP fra le 100 Europe's Digital Champions secondo il Financial Times
2016 – Delta WASP 2040 sul podio nella 3D Printer Guide di 3D Hubs
2016 – Premio Aquila d'Oro a Massimo Moretti
2015 – Delta WASP sul podio di 3dhubs.com
2015 – Crowdy Award per la migliore stampante 3D italiana Delta WASP 2040
2013 – Wasp vince Green Award al Printshow di Londra.
2013 – Premio a Massimo Moretti – Imprenditore 2.0
About the Series
ParametricArchitecture in this series explores global 3D Printing organizations and firms that are building the future of computational design most astoundingly and innovatively. From ICON to AI SPACE FACTORY, and much more.
About the ParametricArchitecture
Parametric Architecture is a reputed publishing platform that has taken an innovative approach to reach and inspire our thoughts of a future, where we design to co-exist in functional, productive, and comfortable surroundings. PA is a media company that researches art, architecture, and design that are visualized through computational, parametric, and digital design paradigms. These tools define and distinctly delineate how a system interacts in a coded language that will lead to envisage better environments for a better tomorrow.