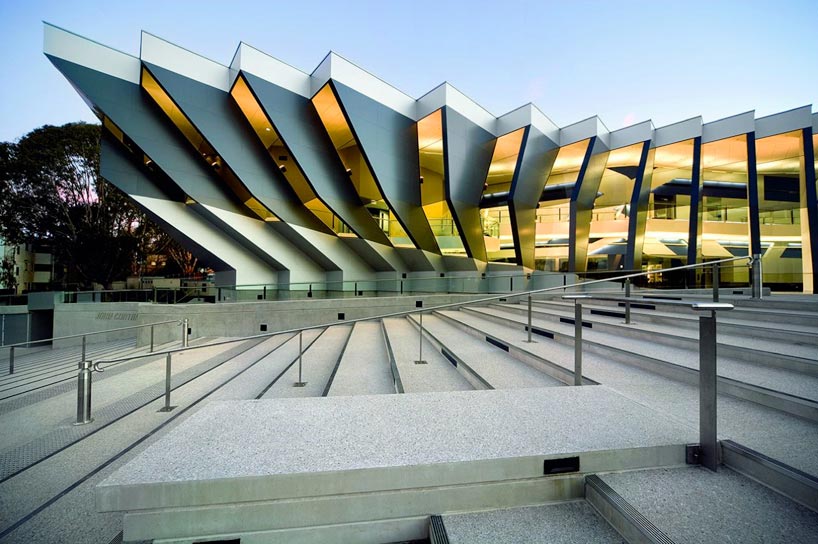 The boisterous edifice of 'John Curtin School of Medical Research' basks in a structural drama enveloped about its complementing landscape. Australian architecture firm Lyons creatively conceived the research laboratory to enrich interaction and collaboration. Based at the Australian National University, the building strikingly located in Canberra evokes an intrinsic form staggered yet organically weaved as a low-rise structure.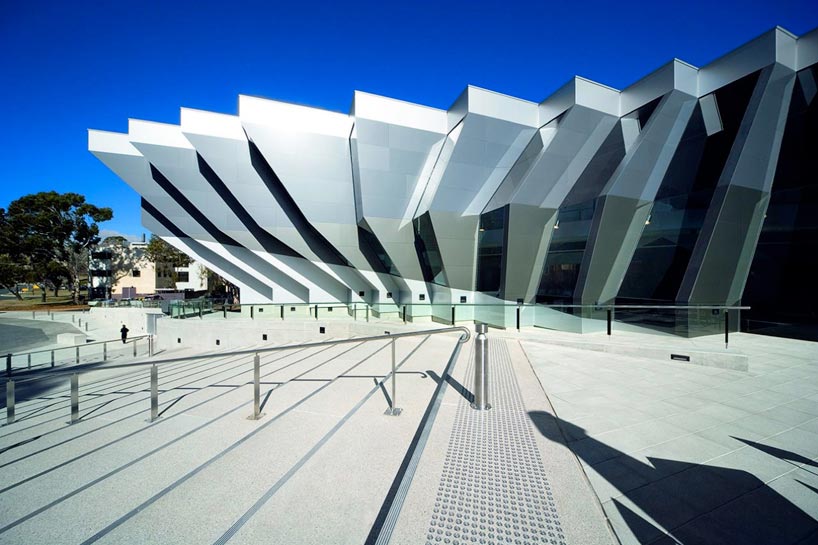 The research centre integrates research facilities, exhibition areas, and a 200-seat public lecture theatre stretched linearly. As you enter, vast atria enfold the visitors booming in a voluminous aura to promote social exchange and fraternization. In addition, the building features a series of internal zones interweaved by stairways and voids.
The exterior shell ascribes angular glass and steel fins expanding and streaming outwards, channelling the form a spirited sense of movement and orientation. Alternating panels slashed along the zigzagging façade indeed gradually reveal the spaces' inner-drama, marvelling the viewer as they approach.
Furthermore, digitally rendered concrete panels tailored on the side and rear elevations epitomize the school's research work as conceptually simplified icons of molecules and codified representations of the DNA strand.
Flexibly designed interiors instil laboratories that can accommodate small and large groups. Moreover, these spaces consent to undertake research adhering to various protocols. Alongside, office areas coupled with zones for independent analysis and support staff spaces confers next to the labs. Lyons Architects arrangement and skilful planning of the research centre deliver as a structurally integrated and highly efficient workplace.