ICON, an Austin – based startup, by using the advances in 3D Printing robotic, materials, and software, develops construction technologies that are helping advance humanity. Also, their innovative ways of looking at futurist architecture have managed to catch global attention. However, their core resorts in their innovative and generative methods. From making their 3D printed home designs to collaborating with Bjarke Ingels Group (BIG), ICON has enhanced its 3D Printing technology to a newfound level.
They say, "accelerate the development of its printers, create a variety of home types and designs and enhance its core technology stack to further its mission". (Archdaily)
This 3D printing company has a mission to reimagine the generic approach towards home design and construction by making it affordable. Therefore, they also have the vision to provide dignified housing solutions to every stratum of society throughout the world. With a vision that advanced, no doubt ICON has been leading the extraterrestrial mission with its Off-World Construction known as 'Project Olympus'. Also, it is funded by NASA for researching and developing a space-based construction system. Here, these advances are envisioned to support future exploration of the Moon. Therefore, the project as a whole has a collaborative vision of vexing problems that are faced on the earth.
ICON's Vision
Going back to their inception, the stagnancy in home building and construction didn't always sync with the growing demand and population. Therefore, this gave rise to housing-related crises and unhygienic living conditions. ICON started addressing these critical problems seeing the outdated and inefficient traditional housing techniques. Whereas, they also realized that these traditional home building construction techniques are driving up the cost of affordability for the average person to survive.
From there on, the ideation moved forward, towards a passionate goal to advance and cater to the generic home construction. However, they provided solutions to a large number of people which is much needed in this GenZ in architecture. They identified three critical problems – Affordability, Sustainability, and Availability.
As a solution, ICON moved to make the first permitted 3D Printed Home in America in March 2018 in Austin, Texas. Jason Ballard, co-founder and CEO of ICON says, "in early 2018, there were no 3D-printed homes in North America and today, there are almost twenty."
He further continues, "We anticipate more high-velocity progress in the years ahead to help bring housing and construction into the modern world and in-line with humanity's highest hopes". (ArchDaily)
Following that year, in 2019 ICON launched their very own next-generation Vulcan Technology. With this, they delivered some of the most iconic projects in the US as well as Mexico. In 2020 they created the 3D print resilient homes in Mexico. They also created several houses for the homeless in Austin, Texas.
About the Founders
Jason Ballard
The co-founder and CEO of ICON, Ballard has been at the forefront in tackling the global housing crisis and also preparing builds on other worlds. Prior to ICON, Ballard served as a CEO of an eco-friendly home upgrading company. It had the vision to normalize sustainability. Ballard hails from East Texas and studied conservation biology at Texas A&M University.
Alex Le Roux
Alex Le Roux, The co-founder, and CEO of ICON initially co-founded Vesta Printers where he built large-scale affordable 3D Printers that brought automation and customization to the industry. However, this venture then led Le Roux to join forces with Ballard to create ICON. Le Roux graduated from Baylor University with a bachelor of science in Mechanical Engineering. He resides in Austin, TX.
Evan Loomis
Co-founder of ICON, Loomis oversees the Business development. He began his career as an Investment Banker and then co-founded Wedgwood Circle which was focused on the media and entertainment sectors. In the year 2010, he co-founded Home Upgrade Company which is focused on eco-friendly methods of home improvement. Evan is a graduate of Mays Business School at Texas A&M University where he earned his BBA in finance.
Even now, ICON is considered the GenZ organization that is set to revolutionize 3D printing. Currently, ICON is in collaboration with BIG on a robotic construction project on the Moon known as 'Project Olympus'.
Works by ICON
Artemis Generation Students Design 3D-printed Rocket Pad For Lunar Missions with NASA & ICON
3Strands – Country's First 3D-Printed Homes for Sale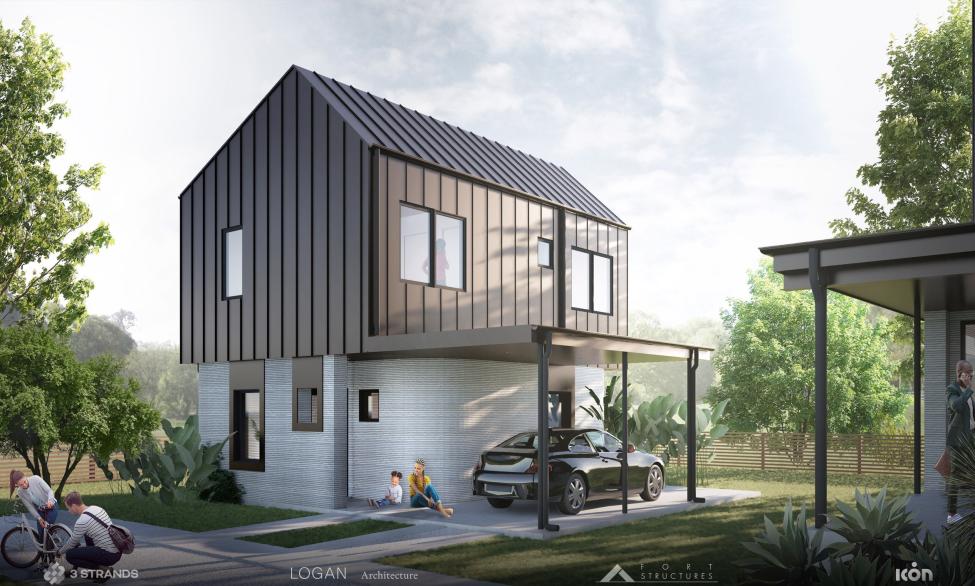 PROJECT OLYMPUS – Off-world Construction System for the Moon
United States Marine Corps and ICON 3D Print Structure at Camp Pendleton
Printing Homes for the Homeless in Austin
Awards and Recognitions
ICON Named to Fast Company's Annual List of the World's Most Innovative Companies for 2021
Co-founder and CEO of ICON Named to 'TIME 100 Next'
Co-founder & CTO of ICON Named to Forbes 30 Under 30 Class of 2021
Fast Company Selects ICON's Vulcan 3D Printer as Winner of its World Changing Ideas Awards for General Excellence
ParametricArchitecture in this series explores global 3D Printing organizations, firms, products, etc that are building the future of computational design in the most astounding and innovative way. Also, From ICON to 3D WASP, AI SPACE FACTORY, and much more.
About the ParametricArchitecture
Parametric Architecture is a reputed publishing platform that has taken an innovative approach to reach and inspire our thoughts of a future. Here, they emphasize a future where we design to co-exist in functional, productive, and comfortable surroundings. Also, PA is a media company that researches art, architecture, and design that are visualized through computational, parametric, and digital design paradigms. Along with this, these tools define and distinctly delineate how a system interacts in a coded language. In turn, this will lead to envisage better environments for a better tomorrow.