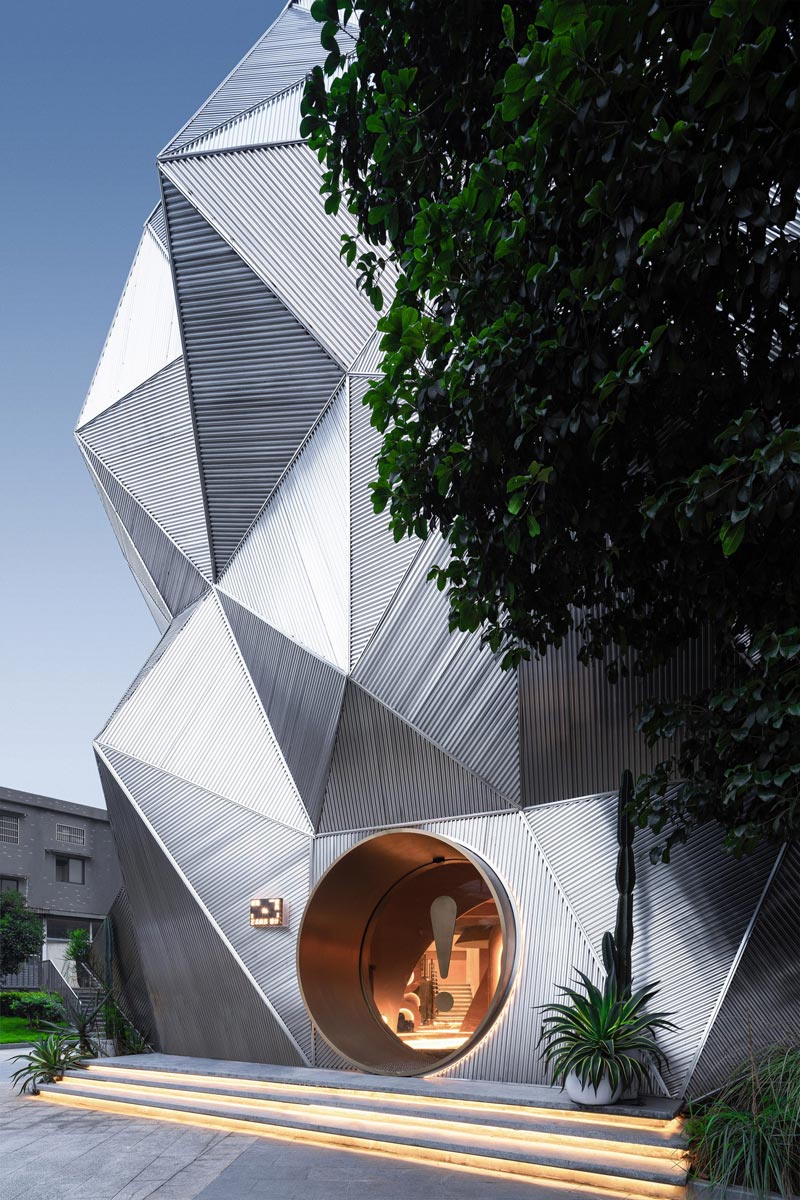 Invoking the Memphis ambience in glory, Studio PIG Design, based in China, fashioned a showroom for the Memphis Milano furniture brand in Hangzhou, China. Dashing and vibrant interiors ingeniously crafted to evoke a feisty setting of the 'Memphis' to the customers.
Towering two-storeys, named Ya Space! The design captivates from its angular façade that screams as an exhibition space and furniture showroom denoting the Italian design and architecture group. In addition, the idea of a cliff informed on the building's façade uses corrugated stainless steel sheets. The name inspired by the city's nickname Bluff city refers to several nearby bluffs or cliffs on the Mississippi River. Besides, cliff, pronounced as Ya in Cantonese, echoes the nickname and conveys an incredible feeling.
The design configures unpredictable sensory experiences of Memphis furniture. Coupled with a spherical doorway sliced into the stainless steel facade primes into the showroom, which induces the Memphis Group's image.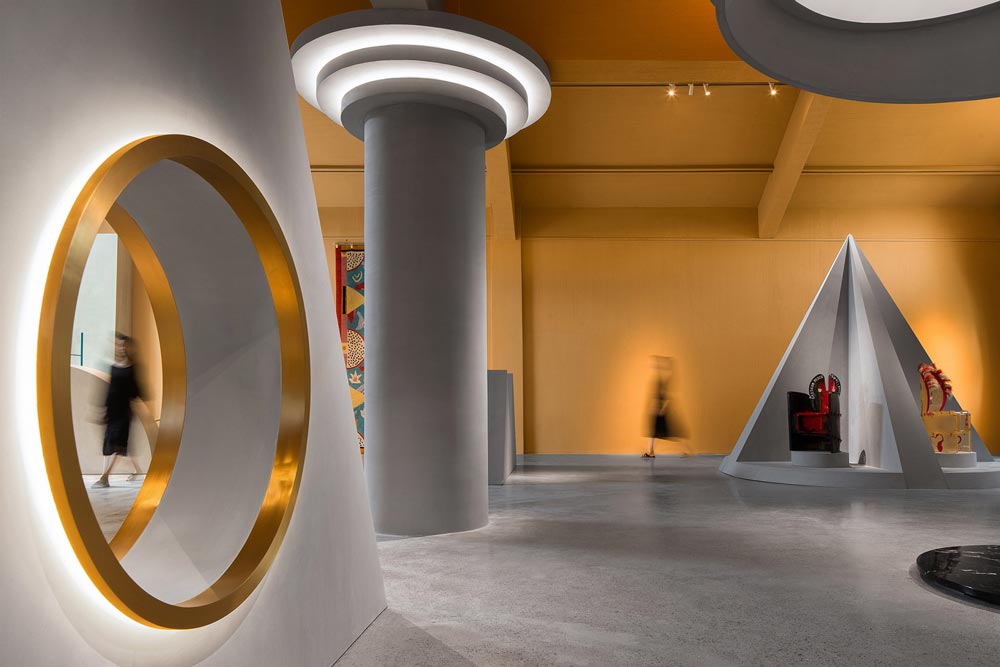 Li Wenqiang, Founder of PIG Design, says, "We hope that what customers feel in the space is not the ordinary white box exhibition hall but a totally different perception, one that makes the customers feel the atmosphere of Memphis,"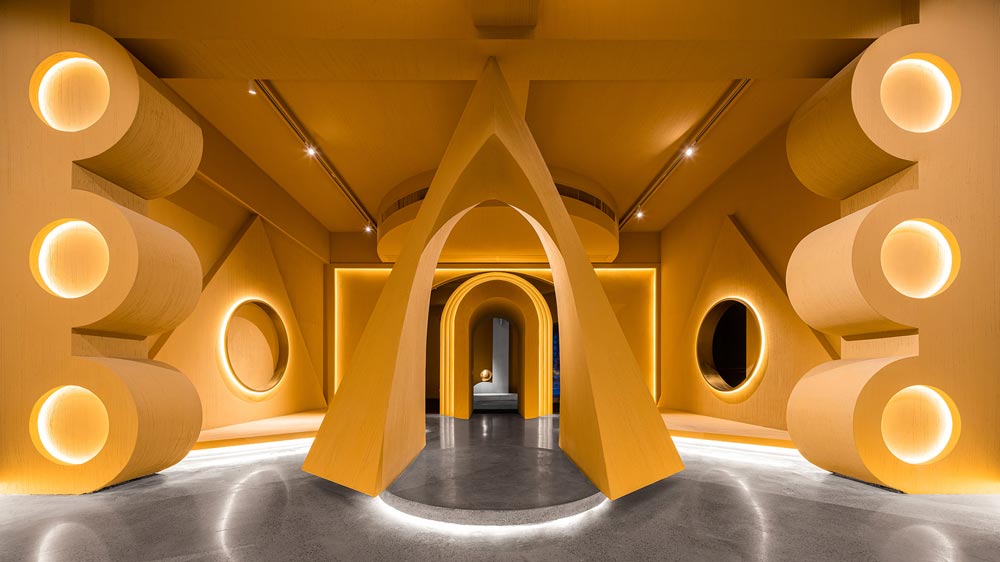 Dashing & Vibrant Interiors
Inside the Ya Space, the designers have enrolled a series of spaces separated by archways and geometric forms, complementing and contrasting their yellow, grey, and black colour schemes. Patrons arrive in the foyer space chiselled using the black-stone floor. Simultaneously a trail runs along, sculpting three grey geometric blocks slashing into the main exhibition area.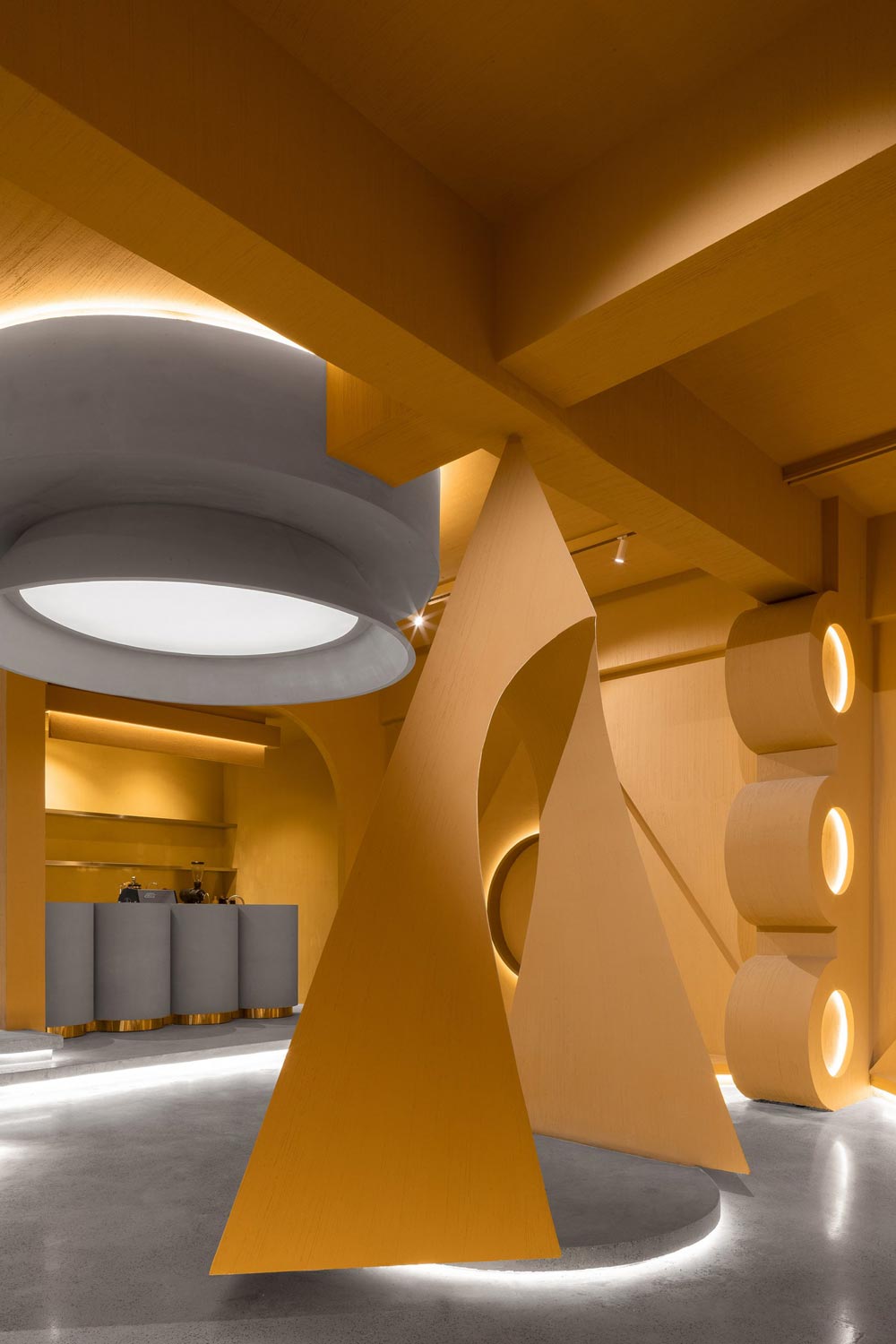 The main gallery entered through a grey archway elates over a triangular archway at the room's centre. Four raised platforms triangularly expanded from the walls exhibit furniture items matching those forms. A small counter for a coffee shop is provided at the rear, abutted by four stout grey pillars. A grey staircase runs alongside, incorporating a golden bannister elevating to the first-floor level.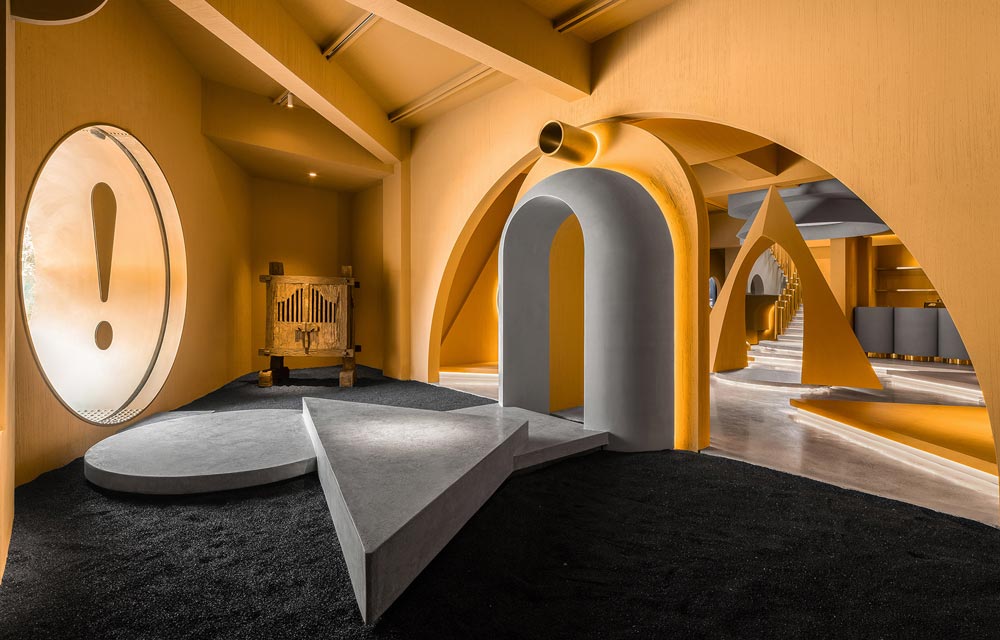 The upper space flaunts a series of geometric forms in grey. The exhibits ensembles about a central grey column with triangular, curved and pyramid shapes dividing the volumes.
The Memphis Group highlights the design as a homage. Wenqiang believes that the showroom will flaunt as a compelling alternative to plentiful minimal exhibition spaces that have risen in recent years.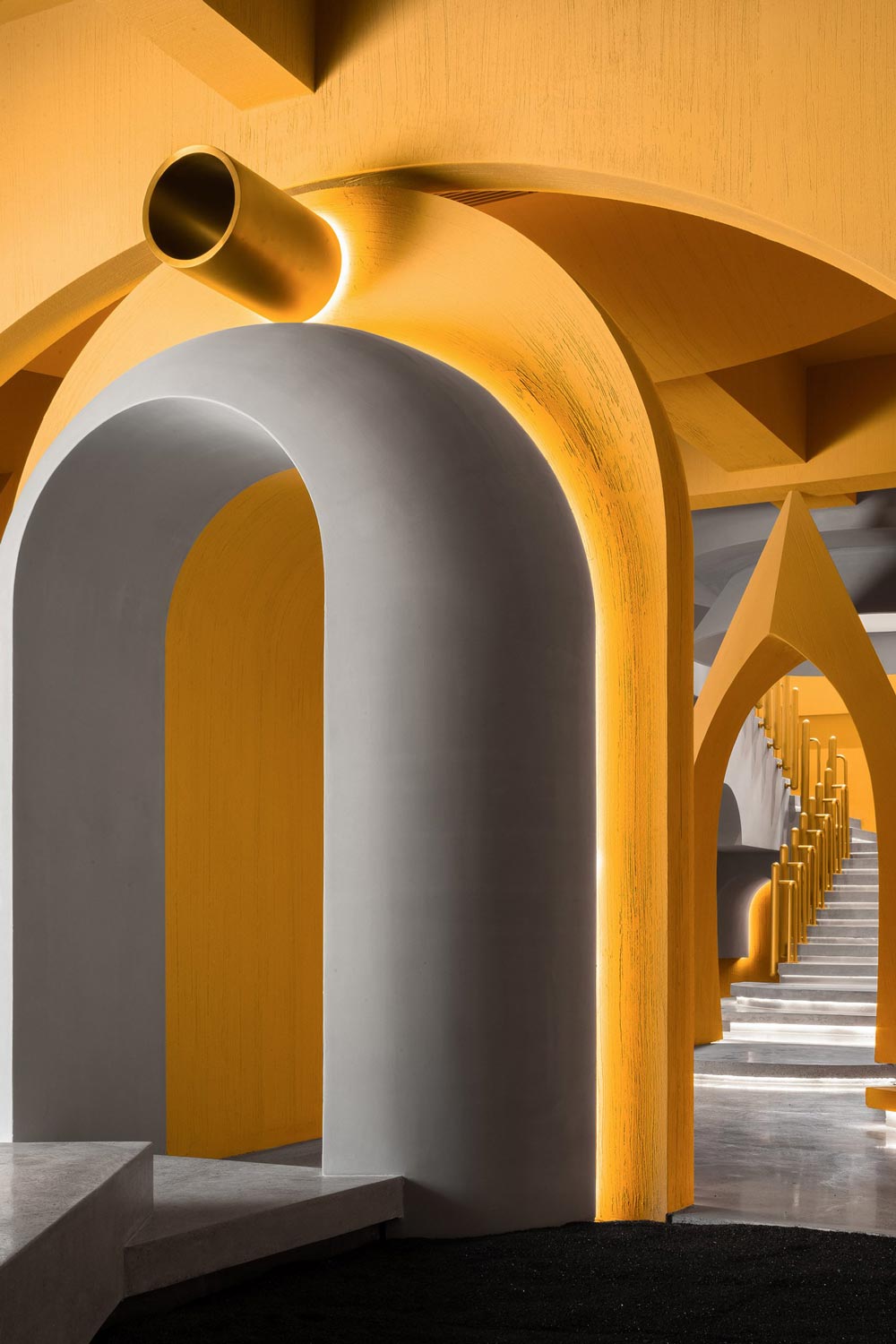 The concept of Ya Space being bounded by the frigid Nordic panache blended with neutral elegance and chic minimalism creates a visual splash, and the Memphis style fashions a solid dramatic impact.
Project Details:
Design firm: PIG Design
Chief designer: Li Wenqiang
Design firm: Tan Shijie, Cheng Liang, Zhu Yiyun, Chen Yunyun, Liu Ruonan, Wang Keke
Construction firm: Hangzhou Dianchang Decoration Engineering
Photography: Shao Feng
Lighting Design: Hangzhou Licheng Lighting Engineering / Young Lighting Design
Furniture brand: Memphis
Lighting fixture design: Li Wenqiang