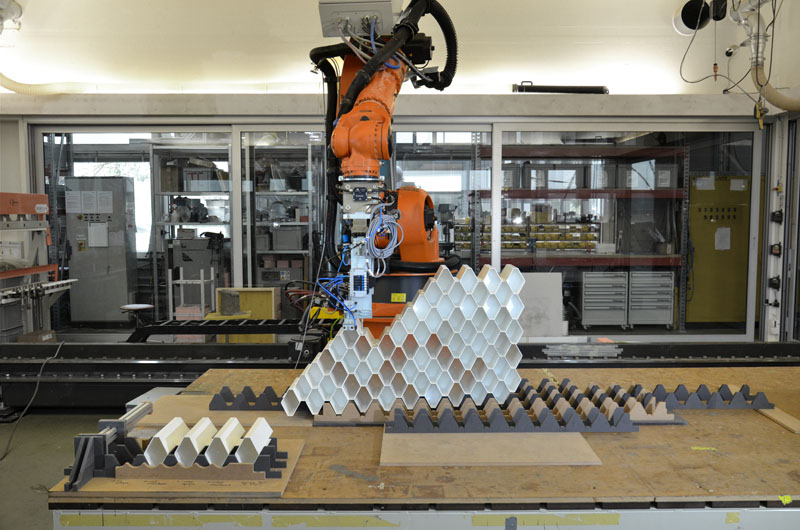 From the dawn of human civilization, we have continuously strived to push the boundaries of architecture and construction. With the advent of cutting-edge technology, a new era has emerged, bringing forth the symbiotic relationship between robotics and the AEC industry; in a rapidly evolving world, where the lines between imagination and reality blur, a silent revolution is underway. This uprising can potentially revolutionize the very fabric of how we conceive, shape, and engage with the spaces we call home.
With urban expansion and a growing global population, the construction sector needs a new outlook, moving away from traditional methods and embracing the limitless potential of robotic construction techniques. Traditional construction practices, with their inherent limitations, struggle to keep pace with the demands of our modern world. The need for change has become more apparent than ever before.
Robotic techniques have emerged as a beacon of hope in the construction industry, heralding a new era of inventive approaches and perspectives. These advanced machines, driven by new technology and propelled by artificial intelligence, are redefining the limits of what can be achieved.
Benefits of Using Robotics in the AEC Industry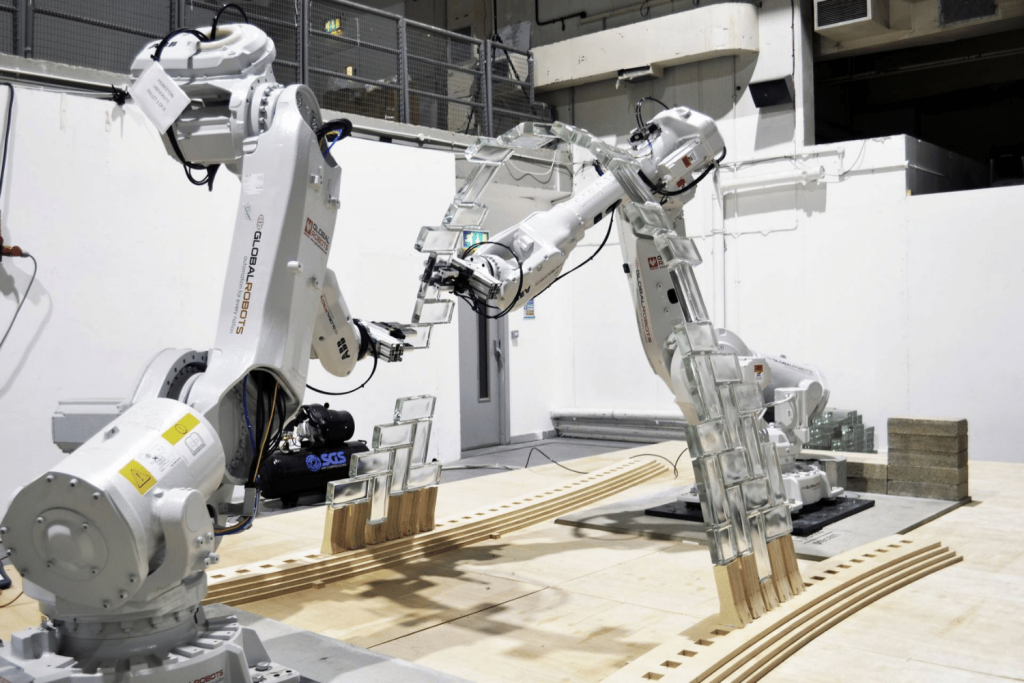 The integration of robots in the construction industry brings forth a multitude of benefits that surpass traditional methods. Firstly, robots excel in repetitive and laborious tasks, allowing for faster construction timelines and enhanced productivity. They are capable of working tirelessly, without fatigue, resulting in increased efficiency and cost savings. Moreover, robots offer unrivaled precision, ensuring accurate measurements and minimizing errors that can lead to costly rework. By automating certain processes, human workers can focus on more complex and creative tasks, fostering innovation and pushing the boundaries of design.
Let's explore 10 such remarkable buildings that stand as a testament to the capabilities of robotic construction techniques.
1. ICD/ITKE Research Pavilion
Designer: ICD/ITKE University of Stuttgart
Year: 2013-2014
Developed by the Institute for Computational Design (ICD) and the Institute of Building Structures and Structural Design (ITKE), the ICD/ITKE Research Pavilion 2013-14 showcases a robotically woven pavilion project conceptualized based on the lightweight shell of a beetle. Collaborating closely with biologists and paleontologists, they identified the geometric morphology and mechanical properties required for the double-layered system, which was then translated into glass and carbon-fiber-reinforced polymers.
Spanning an area of 50 square meters, the structure boasts a double-domed design featuring web-like walls and ceilings, weighing just 593 kilograms. The project employed a robotic winding method, where robots wound the fibrous modules around custom-made steel frames, infused with resin for added strength.
2. SkilledIn Office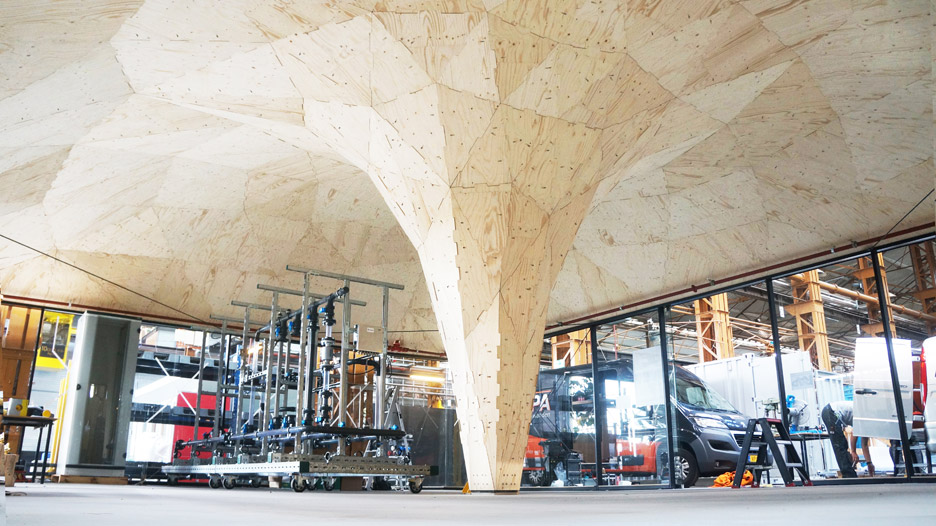 Designer: RAP Studio
Year: 2015
Studio RAP's SkilledIn Office in Rotterdam is the first robotically fabricated building in the Netherlands. It stands as a multifunctional space, serving as both an office and a training area for aspiring tech students and ambitious entrepreneurs.
Using a large robot and RhinoVAULT- a plugin for the 3D modeling program Rhino, the team constructed a wooden structural system with 225 unique panels that support a compression-only roof using a central column and surrounded by glass walls. It boasts a compact yet dynamic design, covering an area of 130 square meters, and accommodating an office, presentation space, and a training center.
3. Wood Pavilion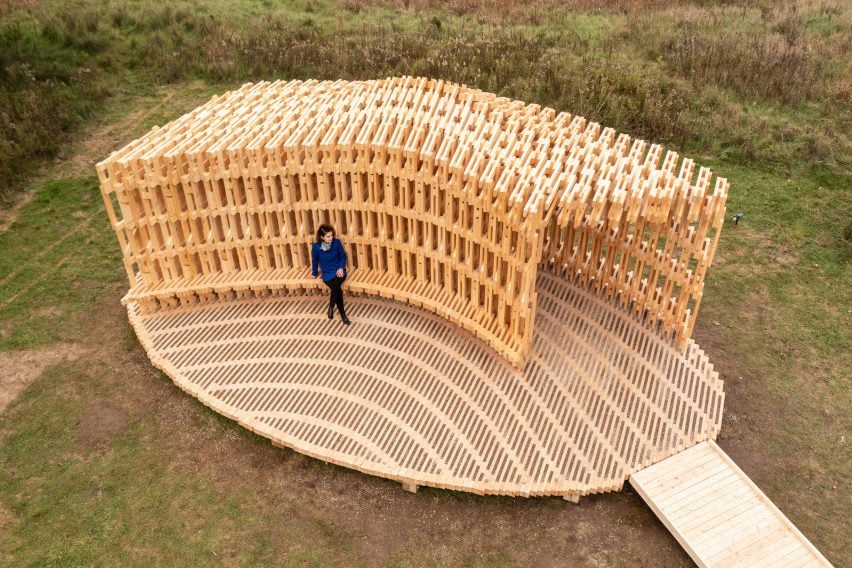 Designer: University of Michigan
Year: 2021
This Robotically Fabricated Structure takes the form of a curved tunnel, elevated on an oval-shaped platform that also features a bench along one of its edges. It was created by the Adel Design Research Laboratory at the University of Michigan, showcasing the use of robots to construct an intricate pavilion using locally sourced timber. The project aims to promote low-carbon construction and features custom algorithms for optimal timber arrangement.
The pavilion's design consists of 20 robotically fabricated frames, each composed of various components, seamlessly joined together manually on-site. The uniform wood thickness allows for easy fitting, reducing the need for additional fixings and minimizing material waste.
4. Tongji University Bridge – Hybrid Bridge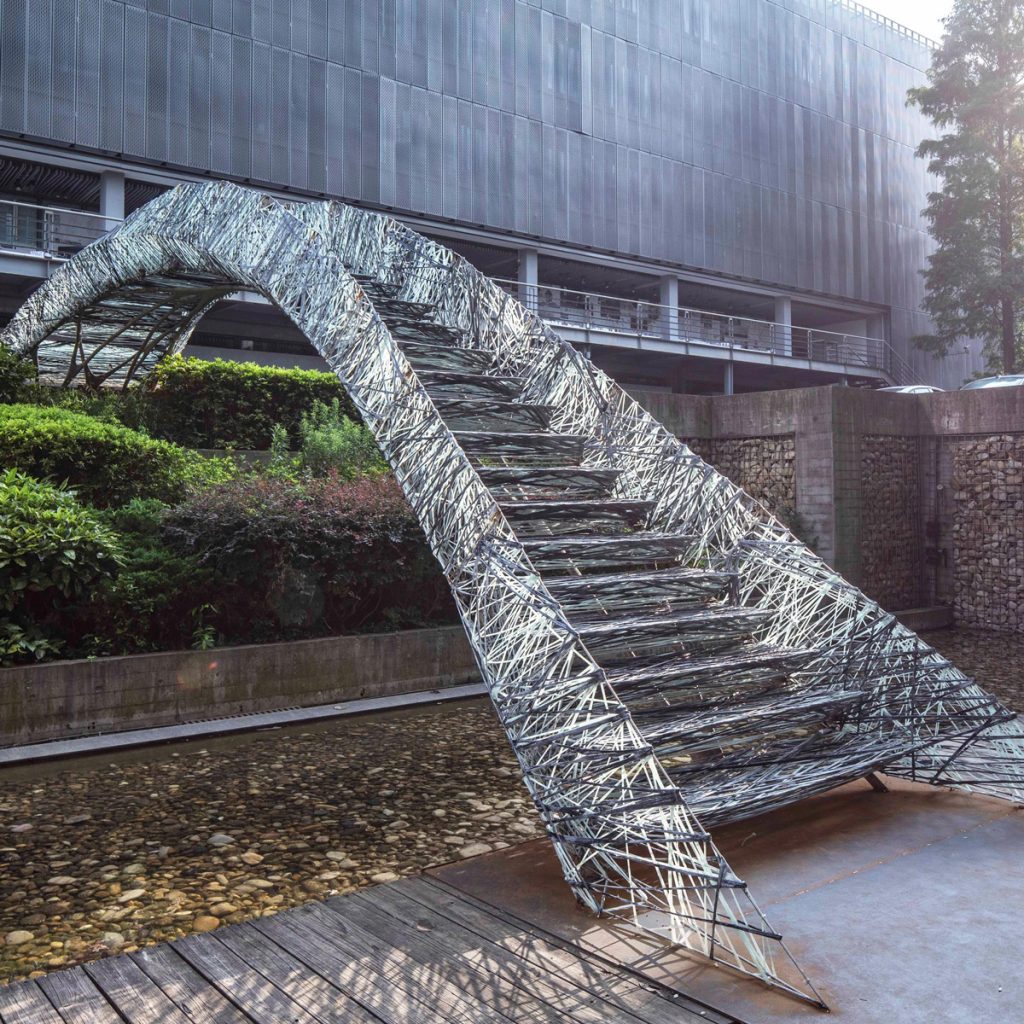 Designer: DigitalFUTURES International 2019 summer workshop at Tongji University participants
Year: 2019
The robotically fabricated Hybrid Bridge, a collaborative project by Shanghai students and Fab-Union research studio, combines large-scale metal 3D printing and filament winding techniques to create an innovative arch bridge. It involves additive and subtractive manufacturing techniques, symbiotically saving costs, materials, and energy while offering design freedom by eliminating formwork or molds.
The bridge features a skeletal steel base built with 3D printing, web-like steps, and handrails made of carbon and glass fibers. Utilizing topology optimization software, the design minimizes material usage, resulting in a slender 11.4-meter-long bridge with a 20-centimeter-thick steel frame at its thinnest points.
5. Delas Frères Winery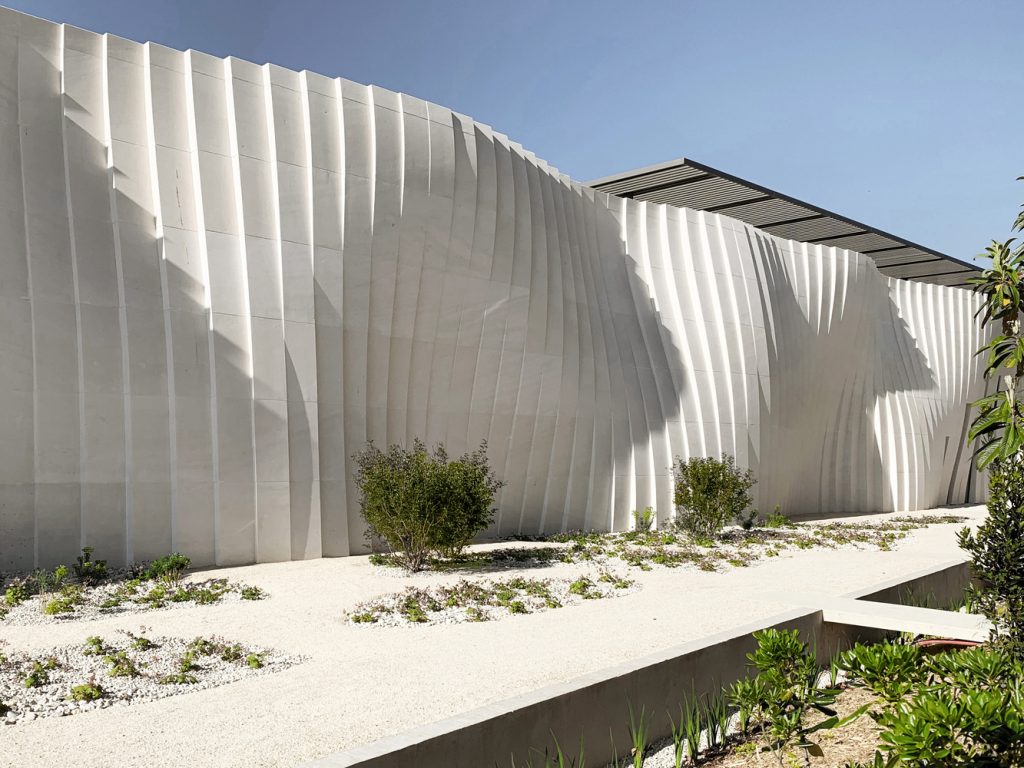 Designer: Carl Fredrik Svenstedt Architecte
Year: 2019
Designed by Carl Fredrik Svenstedt Architecte, the Delas Frères Winery in France's Rhône Valley features a curving sandstone facade carved by a robot. The winery showcases an eighty-meter-long, seven-meter-high main wall constructed from half-meter-thick stone blocks, individually carved by the robot to minimize waste.
The porous and thermally inert stone creates an ideal environment for winemaking and deflects sunlight from the hall where wine tanks and barrels are located. The winery's design integrates ramps for visitors to observe the winemaking process and a roof terrace with vineyard views, emphasizing a harmonious blend of tradition and modernity.
6. Woodchip Barn
Designer: AA School of Architecture – Project and Make Studio (Mohaimeen Islam, Zachary Mollica, Sahil Shah, Swetha Vegesana, Yung-Chen Yang)
Year: 2015-2016
Designed by the students from London's Architectural Association (AA), The Hooke Park Woodchip Barn stands as a successful attempt to reclaim traditional knowledge and generate architectural forms directly inspired by nature. The barn utilizes locally harvested timber to explore the potential of irregular and complex natural materials.
The arched roof structure is composed of 25 forked beech branches that were 3D scanned and milled using a robotic arm, allowing for precise interlinking connections. The use of these non-standard shapes and materials adds to the barn's character and emphasizes the importance of working with the inherent qualities of the materials.
7. 3D Printed Steel Bridge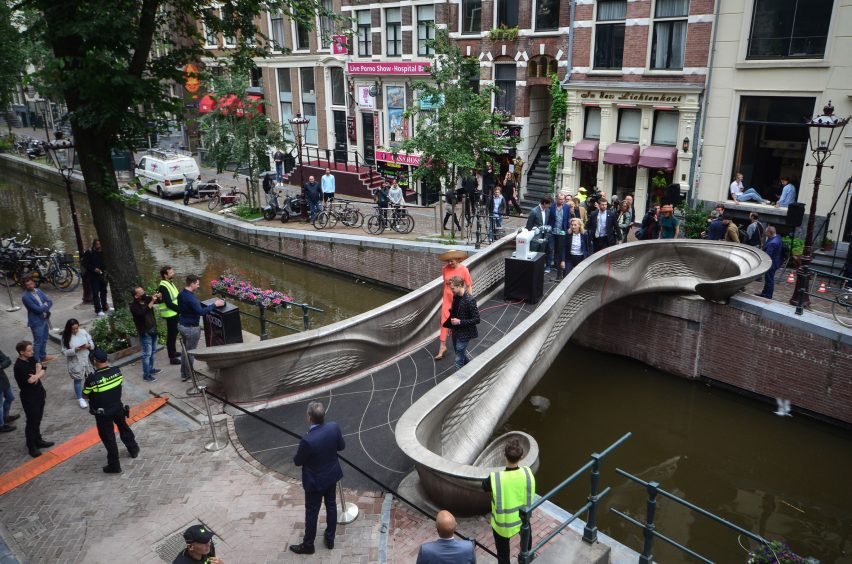 Designer: MX3D
Year: 2021
The MX3D Bridge is a 12-meter 3D-printed pedestrian bridge in Amsterdam's Red Light District, designed by Joris Laarman and built by the Dutch robotics company MX3D.
The bridge was created using six-axis robotic arms to assume an S-shaped form with balustrades consisting of lattice-style perforations, that were designed using parametric modeling software. Robots utilized 3D printing technology to construct a stainless steel structure for over 6 months in a factory, which on completion, was then positioned over the canal. The bridge is equipped with sensors to collect data and build a digital twin, enabling continuous monitoring of its performance, health, and environmental conditions.
8. Venue B Conference Center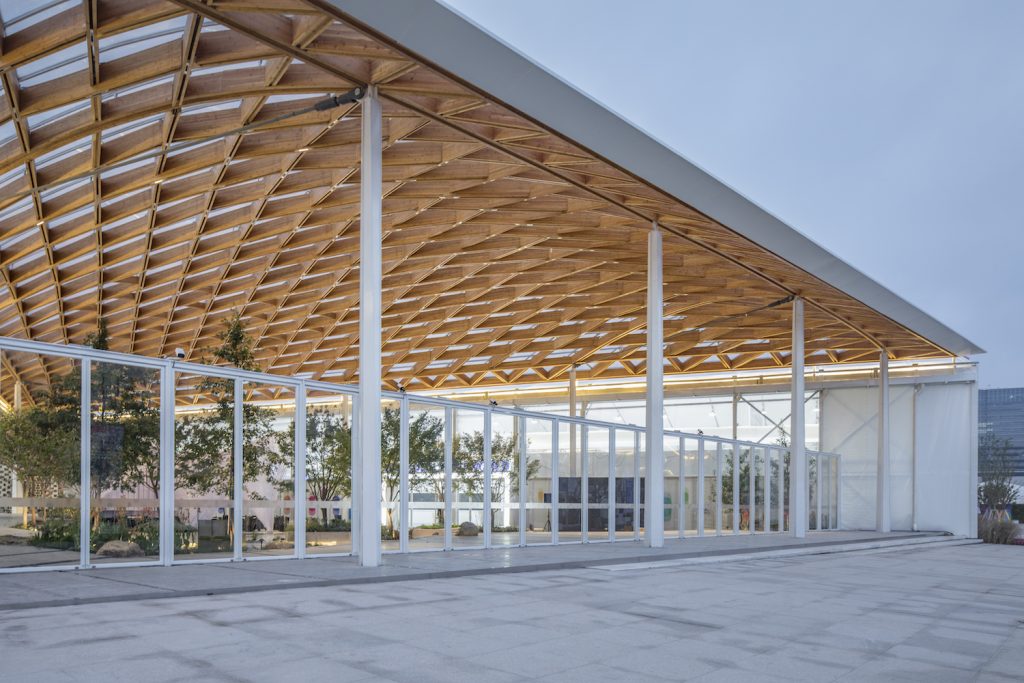 Designer: Archi-Union Architecture
Year: 2018
Archi-Union Architects has constructed Venue B, a conference center in Shanghai's West Bund, using robotic techniques and AI-inspired design in just a span of 100 days. The lightweight structures were achieved through a combination of algorithmic planning and prefabricated construction methods, featuring a design language that blends with the modernist form and pale color palette of the surrounding public buildings. It comprises of three angularly positioned conference halls with garden courtyards, blending seamlessly with the area's modernist buildings.
The venue's inventive features include a prefabricated timber vaulted roof, a world-record-setting inter-supported steel-wood roof, and a 3D-printed coffee pavilion. Algorithmic planning ensures optimal weight distribution, while digital fabrication techniques facilitate the construction of printed building areas, chairs, and tables.
9. Concrete Stereoform Slab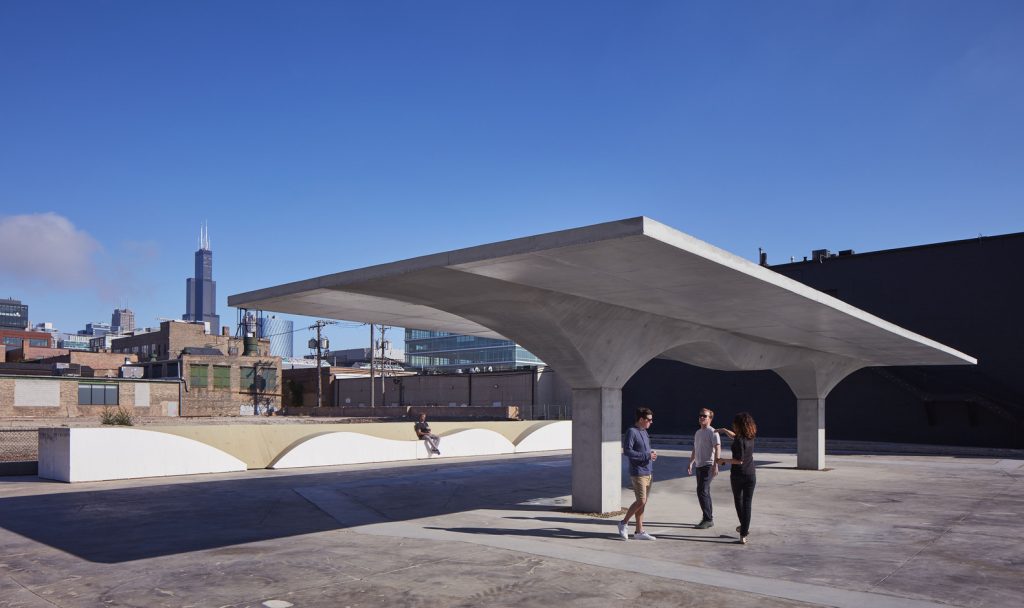 Designer: Skidmore, Owings & Merrill (SOM)
Year: 2019
Architecture firm SOM has constructed the Stereoform Slab pavilion using a robotic fabrication method that it claims can reduce the carbon footprint of high-rise concrete buildings. The prototype pavilion, showcased at the Chicago Architecture Biennial, focuses on a single-story concrete bay found in high-rise structures.
The curving form of the pavilion was achieved through a robotically crafted Expanded Polystyrene (EPS) mold, reducing material waste and offering a 20% carbon reduction compared to conventional systems. SOM believes the method can pave the way for a more sustainable future in architecture by rethinking conventional building types while maintaining ease of implementation.
10. Flight Assembled Architecture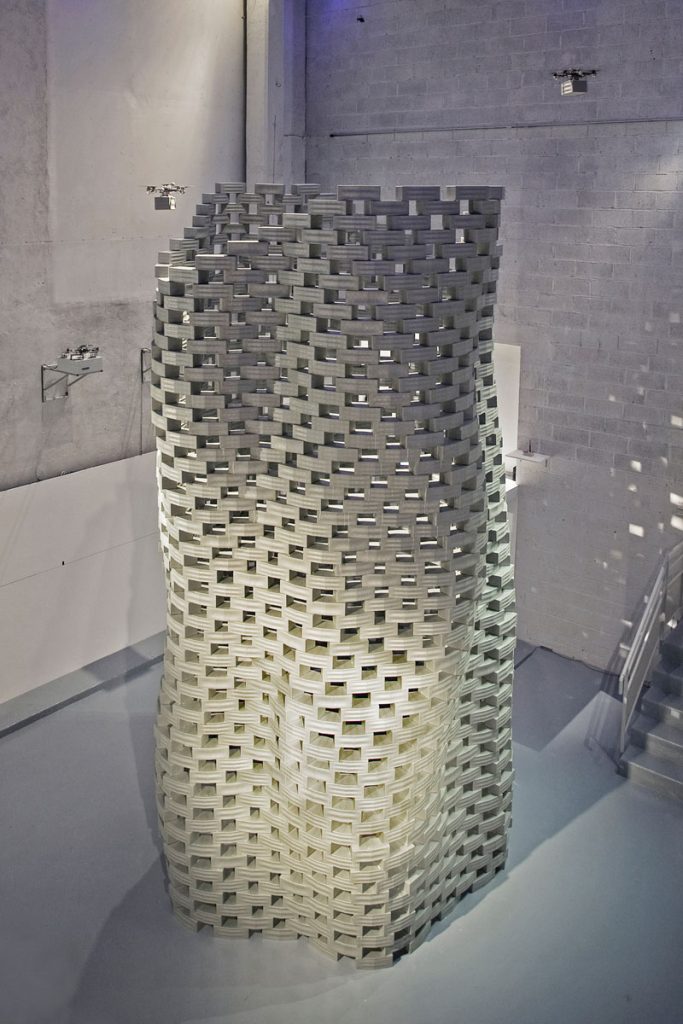 Designer: Gramazio Kohler Architects, Raffaello D'Andrea, and ETH Zürich
Year: 2011-2012
Flight Assembled Architecture is a collaborative project by Gramazio Kohler Architects, Raffaello D'Andrea, and ETH Zürich, that utilizes a fleet of drones to lift and stack thousands of polystyrene bricks, resulting in the construction of a six-meter-tall tower at the FRAC Centre in Orléans, France.
This pioneering project showcased the first-ever instance of flying machines building a differentiated structure made out of 1,500 elements. With their freedom of movement, drones offer a significant advantage, facilitating the construction of taller and more intricate architectural designs that were previously unattainable through traditional methods.
Conclusion
The construction industry is experiencing a paradigm shift with the integration of robotic techniques. The buildings showcased in this article merely scratch the surface of what is achievable when human ingenuity collaborates with robotic precision. As the AEC industry continues to evolve, embracing these technologies will be crucial to address the need for improved efficiency, sustainability, and innovation, and usher in a new era of construction excellence. The future holds limitless possibilities, and it is our responsibility to embrace and refine these technologies to shape a better-built environment.