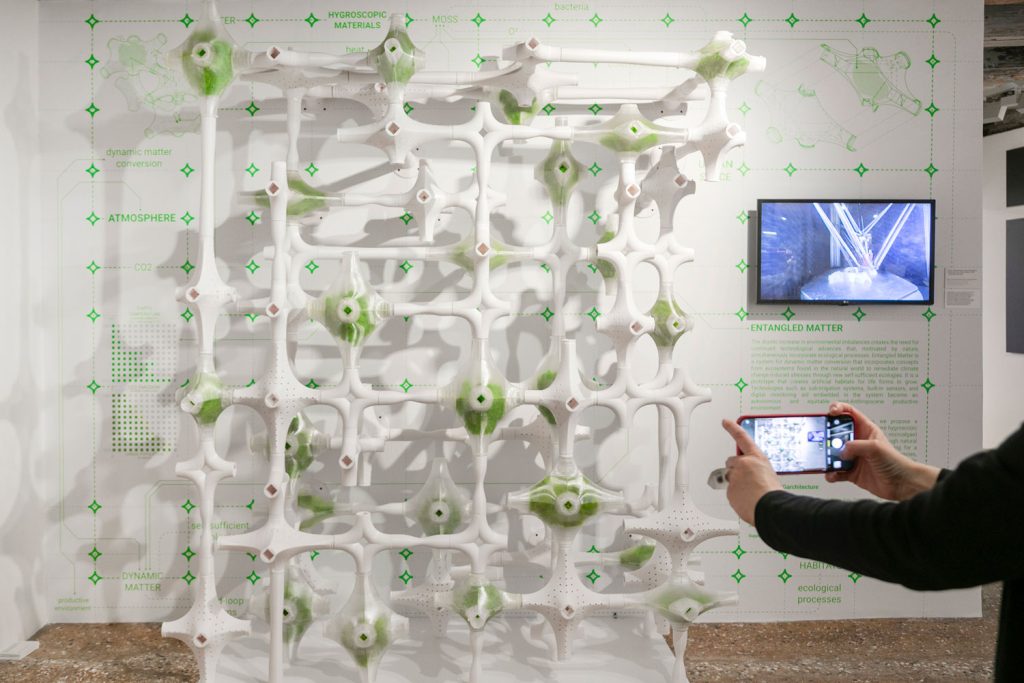 The dramatic increase in environmental imbalances caused by resource extraction, mass production, and an insatiable desire for consumption will inevitably destroy our environment. This necessitates continued technological advancements that, inspired by nature, visualize and productively employ the required convergence with existing ecological processes. Entangled Matter is a modular system for dynamic matter conversion that combines natural cycles with human habitats in a symbiotic and productive way. The project employs natural ecosystem concepts to alleviate climate change-induced stresses via new self-sufficient ecologies.
Entagled Matter designed by X-Topia and CRGarchitecture (Marcella Del Signore, Cordula Roser Gray, Tatiana Teixeira), is a multidisciplinary design team based in New York, New Orleans, and Rio de Janeiro also, and the project 3D printed by LaMaquina by Noumena.
Designers propose a combinatorial network of scalable entanglements in which hygroscopic materials are combined with organic life forms to filter the air around us and cool our surroundings through natural processes to re-establish healthy microclimatic conditions. Entangled Matter replaces adverse interactions and consciously provides direct access to make natural processes visible and accessible through closed-loop systems, allowing for a symbiotic relationship between human and non-human species.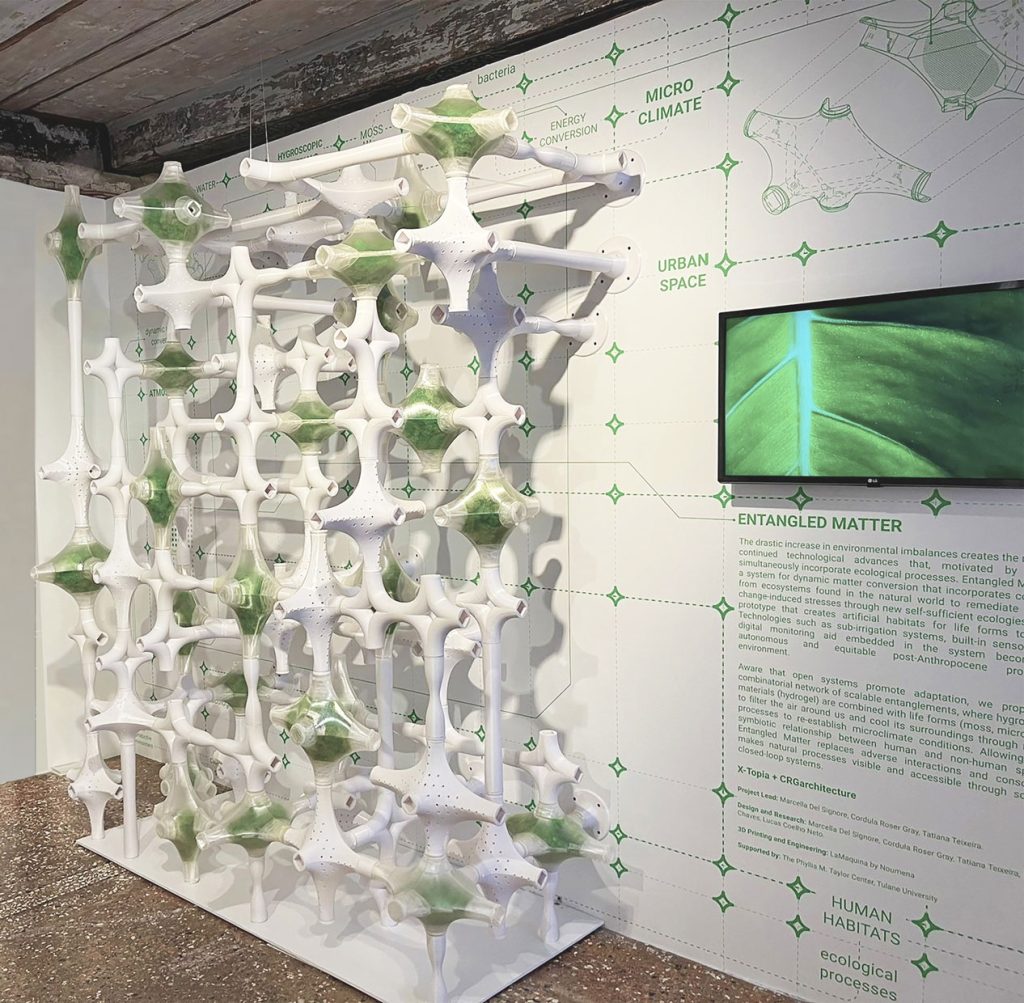 Different aggregations of performative and structural elements can flexibly generate different scales of intervention – pavilions, canopies, facade units, coral nurseries, micro-agronomy structures, and various other configurations – with all parts easily and quickly manufactured and manually assembled.
Entanglement begins in a state of co-dependence: modular clusters, primarily made up of five differently programmed 3D-printed 'capsules' with specific performative and structural functions, can be aggregated into an infinite matrix to harvest energy and filter air – an act of remediation while creating new self-sufficient ecologies and microclimates. Absorptive materials (hydrogels) absorb water from the air to provide matter for the growth of bacteria and vegetative species (moss, microalgae), which in turn filter air through photosynthesis, produce energy to power internal sensors and external sources, and cool the surrounding environment through water evaporation. Furthermore, the material used in the modular components, which was created using advanced 3D printing technologies, neutralizes harmful gasses in the surrounding air.
Because cities can initiate systemic change, integrating natural cycles into human habitats through technologies such as sub-irrigation systems, built-in sensors, and digital monitoring can create autonomous and equitable post-anthropocentric environments, allowing the growth of vegetative productive species informed by natural complexity and functionality. Entangled Matter enables such symbiotic relationships by performing at the human scale and demonstrating new urban inhabitation models.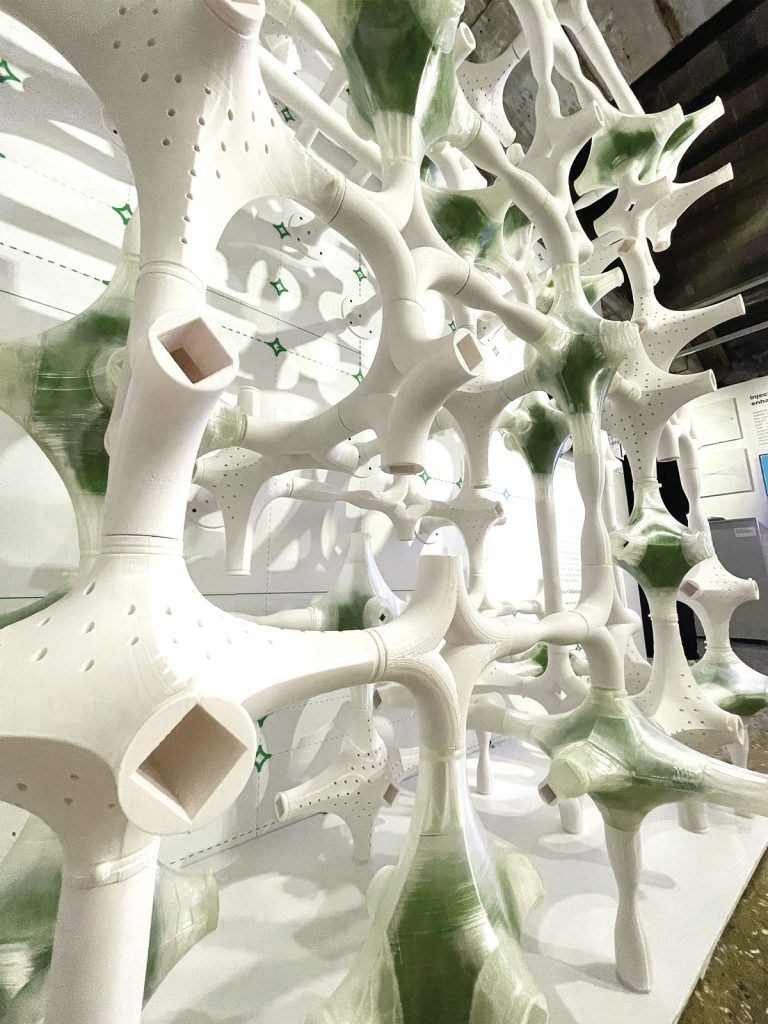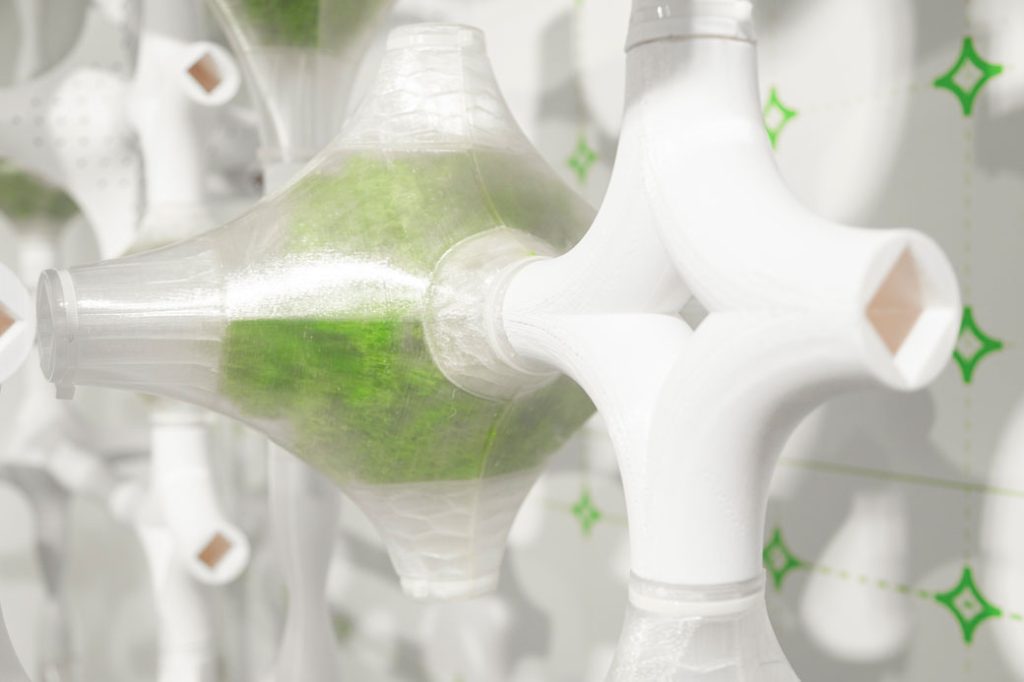 Project Info
Architects: X-Topia + CRGarchitecture
Project Lead: Marcella Del Signore, Cordula Roser Gray, Tatiana Teixeira
Design and Research: Marcella Del Signore, Cordula Roser Gray, Tatiana Teixeira, Marcelo Chaves, Lucas Coelho Neto.
3D Printing and Engineering: LaMaquina by Noumena