Hiking is an experience unparalleled, trudging you on an exploratory journey. Varden, Hammerfest Hiking Cabins, conceived by SPINN Arkitekter for The Norwegian Trekking Association (DNT) built two simple warming timber huts to promote hiking in the mountains around the town. The design team visualized a small cabin with delectable windows, a wood-burning stove and simple benches, crowned on mountainous terrain.
SPINN Arkitekter challenged and drafted "Varden" as an organic timber shell structure secluded into the local terrain, abrading the harsh polar winters, and coping hikers with a warm and alluring rest stop. SPINN collaborated with FORMAT Engineers to weave and transform a doubly curved wooden rock into a manufactured structure built by a group of local volunteers.
The sites for the Hammerfest Hiking Cabins were mapped by a 3D integrated drone and photogrammetry software, generating a detailed map as a baseline for form-finding. The architects devised the initial configurations in Sketchup and Rhino and further optimized using Kangaroo and Grasshopper, with some customized scripting tools developed by FORMAT. The result exposed a wooden cross-laminated timber shell with 77 unique panels, conglomerating like a 3D puzzle.
The designers later tested the proposal against simulated extreme wind conditions and winter arctic storms. They performed snow simulations to ensure that the entrance remains snow-free as envisioned. Structural forces between the panels ingeniously specified the points to screw and fasten the construction. The extensive use of 3D printing tested how the structure fits together and examined exterior cladding options.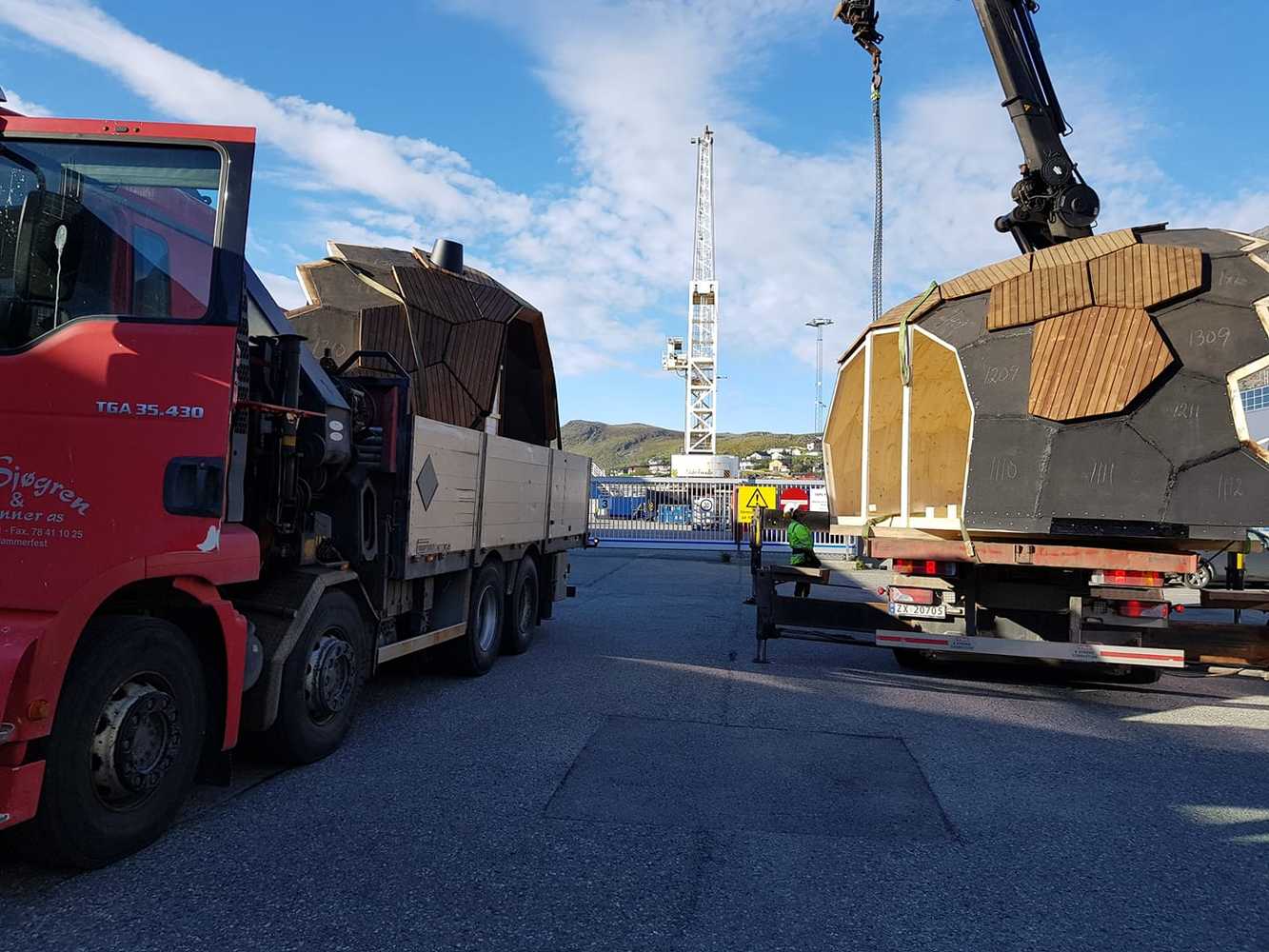 The design of the cabin intriguingly took off beyond expectations. The architects visualized and animated as part of a crowdfunding effort to raise money for the project's realization. Local businesses volunteered materials and services, and Kebony donated materials for the exterior cladding. The hiking association members raised and transported the structure to its site.
The cabin was crafted and assembled in a controlled warehouse environment and partially demounted before transport. The enthusiastic volunteers got the fundamental structure of prefabricated CLT panels mounted together over 4 workdays. Another group cut the frames and panels for the outer cladding based upon 1:1 drawings from SPINN. The volunteers focused on 1500 hours on the construction of one cabin and outer cladding. A two-layer bitumen waterproofing of the shell professionally worked and pouring off the foundation on site.
Arranged as two pieces, the first cabin loaded onto a flatbed lorry and driven to Storfjellet. Then lifted and winched together. Later fitted with window, fireplace, ramp, and interior furniture on site. The first cabin received humongous success and elevated hikers to hike to Storfjellet significantly. They commissioned a second cabin on Tyven, a mountain abutting the other side of Hammerfest. The two cabins now stand, watching over the city and looking after each other across the mesmerising arctic landscape of Hammerfest.