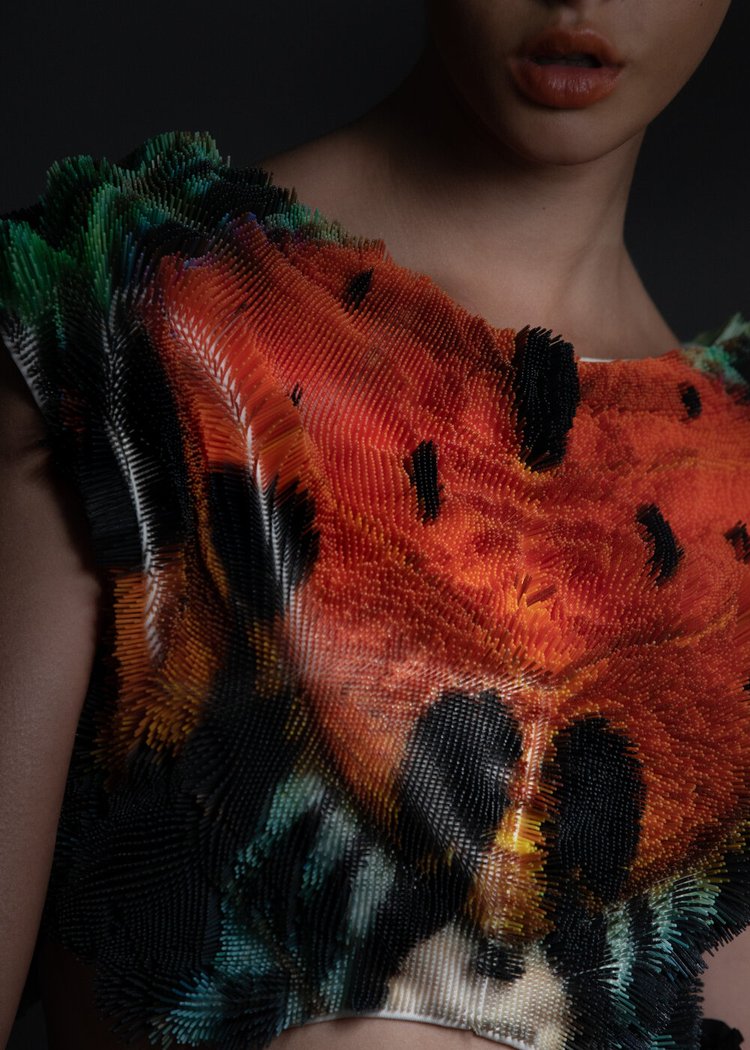 Inspired by tiny butterfly wings, Setae is a 3D printed fashion design project investigating digital setae pattern creation and multi-color 3D printing on cloth. Designed by Julia Koerner, the award-winning Austrian designer, the project consists of butterfly wings made up of membranes that were coated with hundreds of multicolored scales and hairs, which are arranged in a plate-like pattern. Julia Koerner has given a speech at the Computational Design: NEXT 7.0 conference about her design process and fabrication of this project.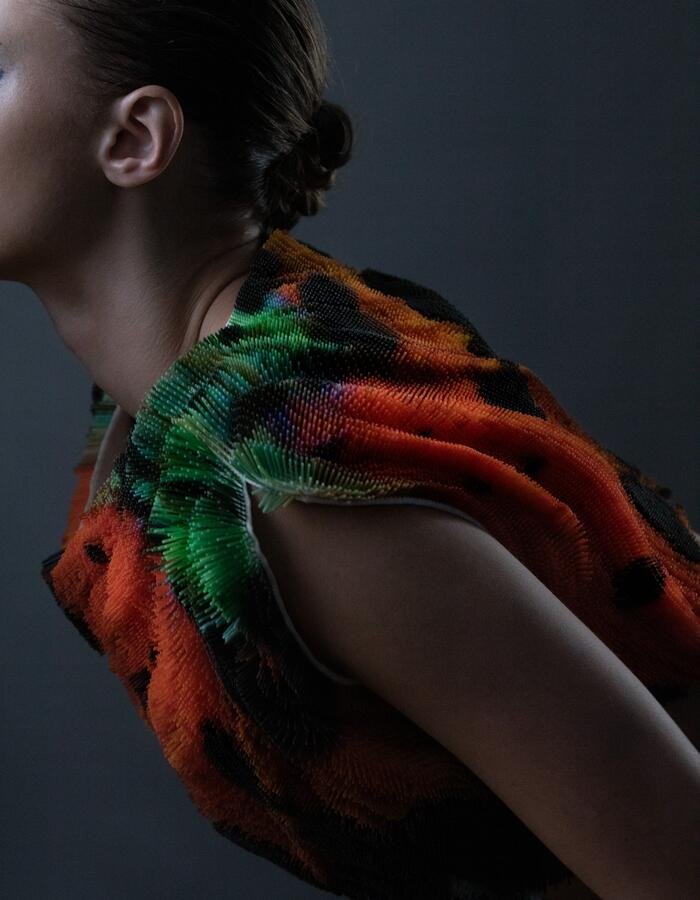 Taken place in the "Design For Different Futures" exhibition in Philadelphia Museum Of Art, US, photographs of the Madagascan Sunset Butterfly wing setae are scanned and sent through a program that converts color pixels into 3D bristle patterns that match the shape of the garment. The digital patterns are 3D printed on fabric in a unique method, without the need for any support material. When the garment is moving, the relationship between the colorful stiff setae and the flexible fabric creates intriguing visual effects.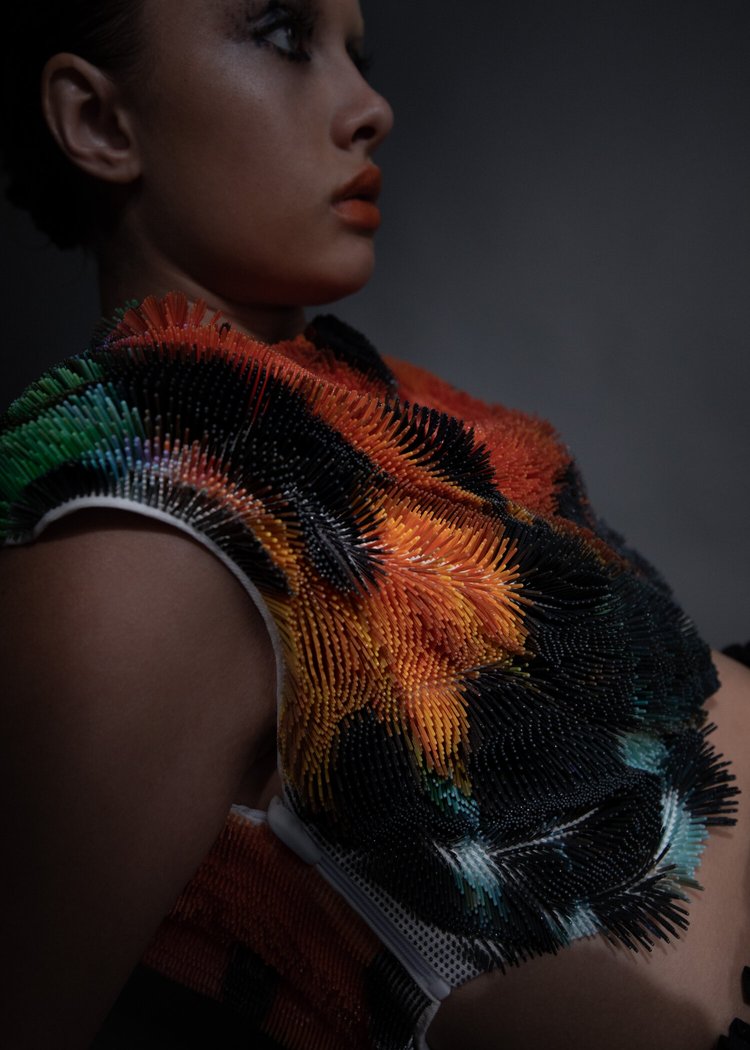 Julia Koerner is particularly concerned about sustainability and the environment and sees 3D printing's benefits as demand-based production and plant-based, biodegradable materials that don't need further experiments or toxic elements to manufacture. Her main message highlights the significance of now, weighing on practicing and implementing now, and carries forward with a focus and attention on producing sustainably not only for humans but for plants and animals, too.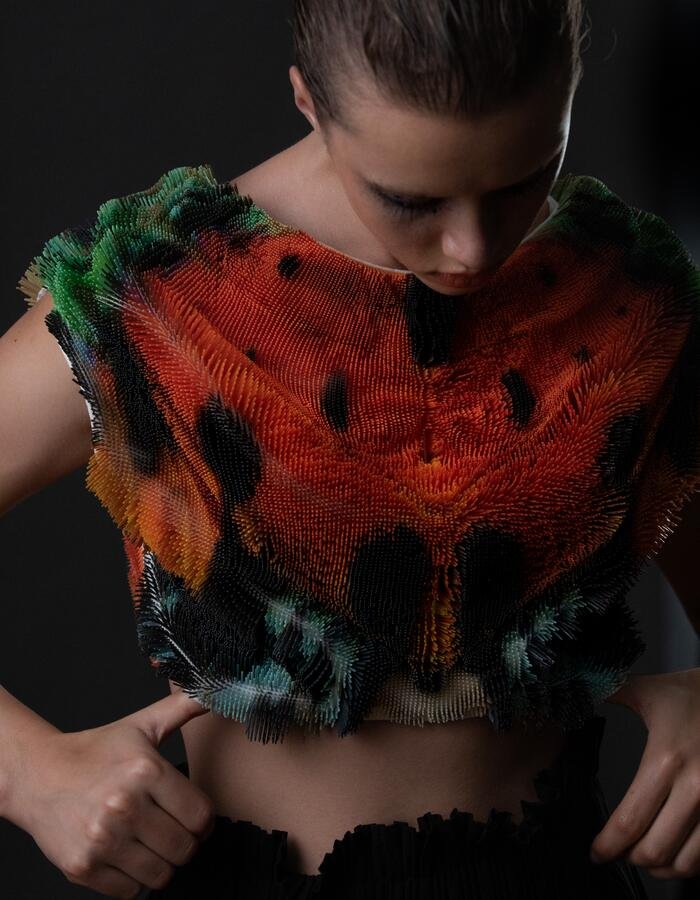 About Julia Koerner
Julia Koerner is an Austrian designer who works at the intersection of architecture, product design, and fashion design. Standing out at the top of these fields, and worldwide recognized for design innovation in 3D-Printing, The Metropolitan Museum of Art in New York (MET), the Art Institute of Chicago, the High Museum of Art in Atlanta, the Philadelphia Museum of Art, the Palais des Beaux-Arts in Brussels, the Museum of Applied Arts MAK Vienna, and Ars Electronica, among others, have all shown her work.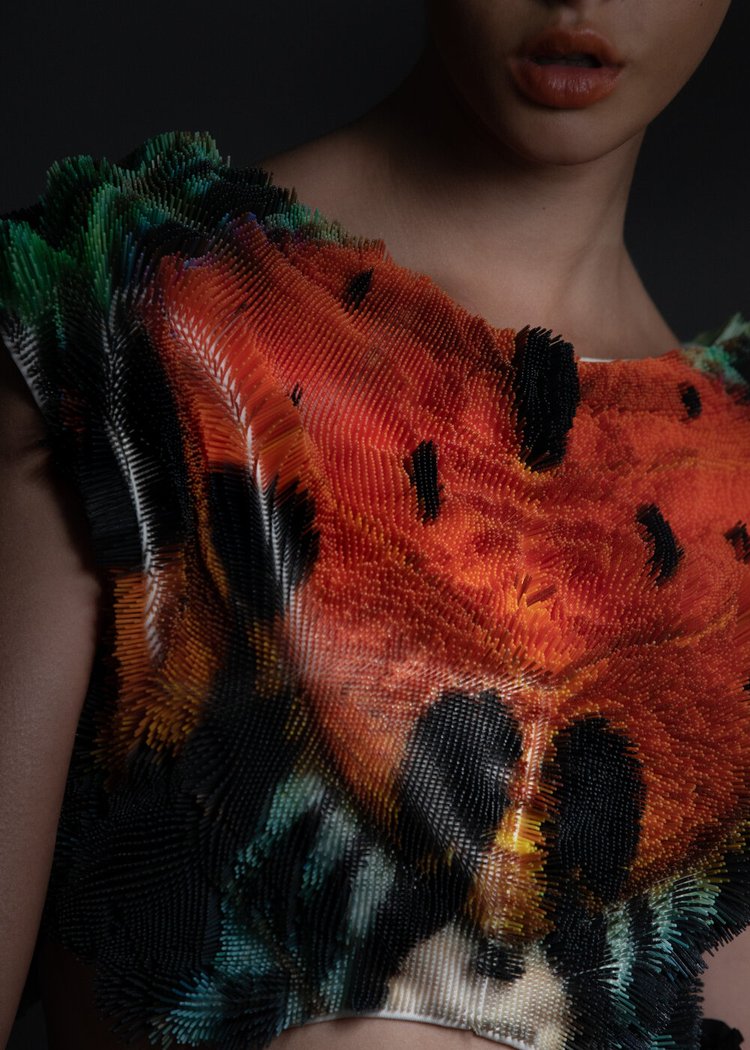 Julia is the creator of JK Design GmbH, a digital design firm specializing in 3D printing. Julia debuted her 'Sporophyte' ready-to-wear collection in 2015, which was totally 3D-printed. Her collaborations included 3D-printed fashion designs created in partnership with Haute Couture Houses for Paris Fashion Week and 3D-printed costumes for Hollywood entertainment projects such as Marvel's Black Panther, which received an Oscar for Best Costume Design recently. She has recently partnered with Swarovski on a showcase that highlights the company's ongoing commitment to innovation as well as the early advancements of 3D-printing technology with glass.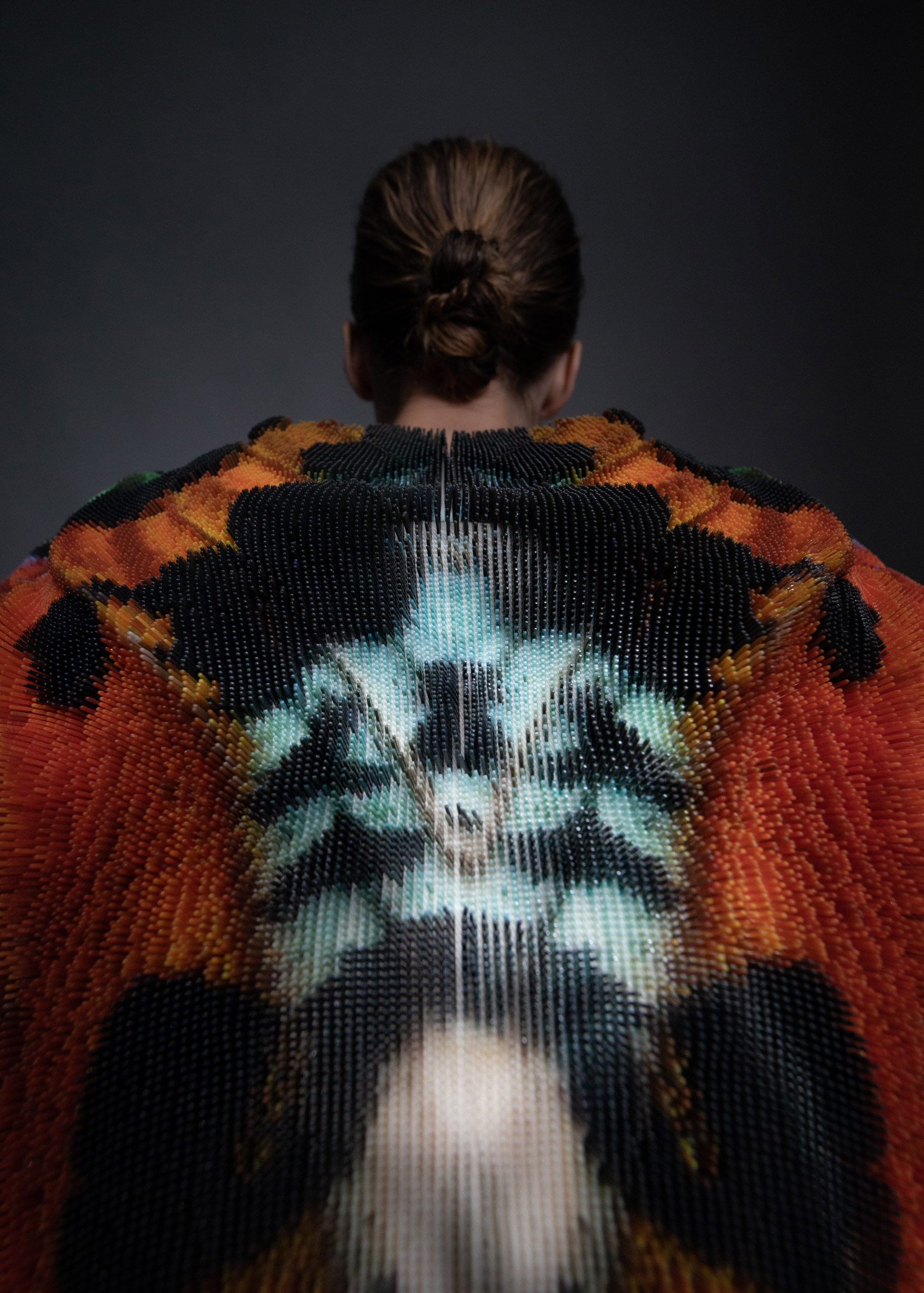 Julia got a master's degree in architecture from the University of Applied Arts in Vienna and the Architectural Association in London. She was born in Salzburg, Austria. She presently divides her time between Los Angeles and Salzburg, having previously worked in London and New York. Julia has been a professor of architecture and urban design at UCLA since 2012. She formerly worked at the Vienna University of Applied Arts, Lund University in Sweden, and the Architectural Association Visiting Schools in France and Jordan.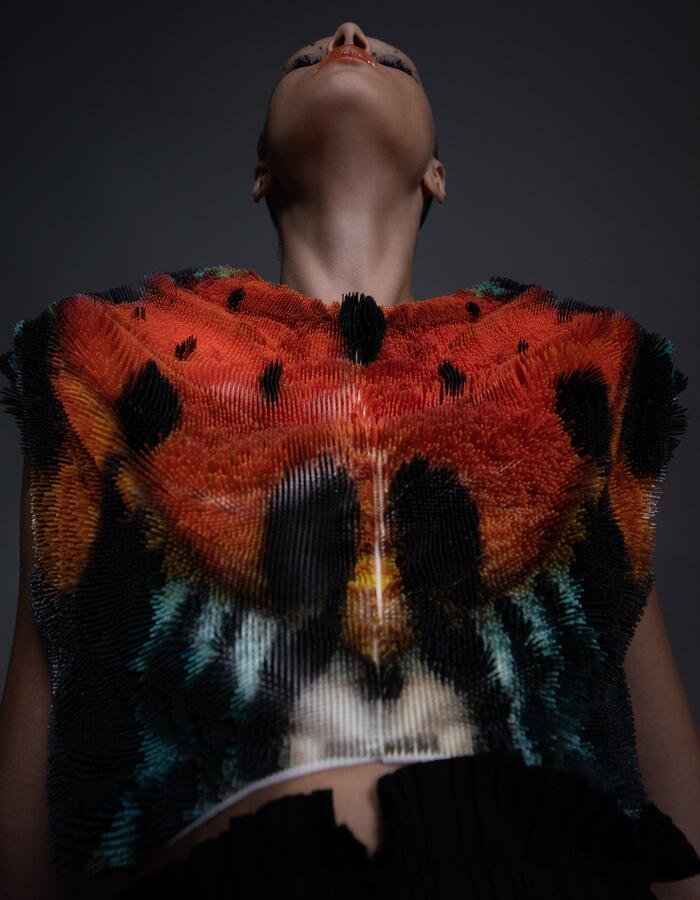 You might reach Julia Koerner's speech at the Computational Design: NEXT 7.0 conference.
Project info:
Designer: Julia Koerner | JK Design GmbH
Director of Operations: Kais Al-Rawi
Design Team: Eunice Han, Chenming Jiang, William Qian
3D Printed by: Stratasys
Creative Director Stratasys: Naomi Kaempfer
Photography: Ger Ger
Model: Amelia Grace Zerbe