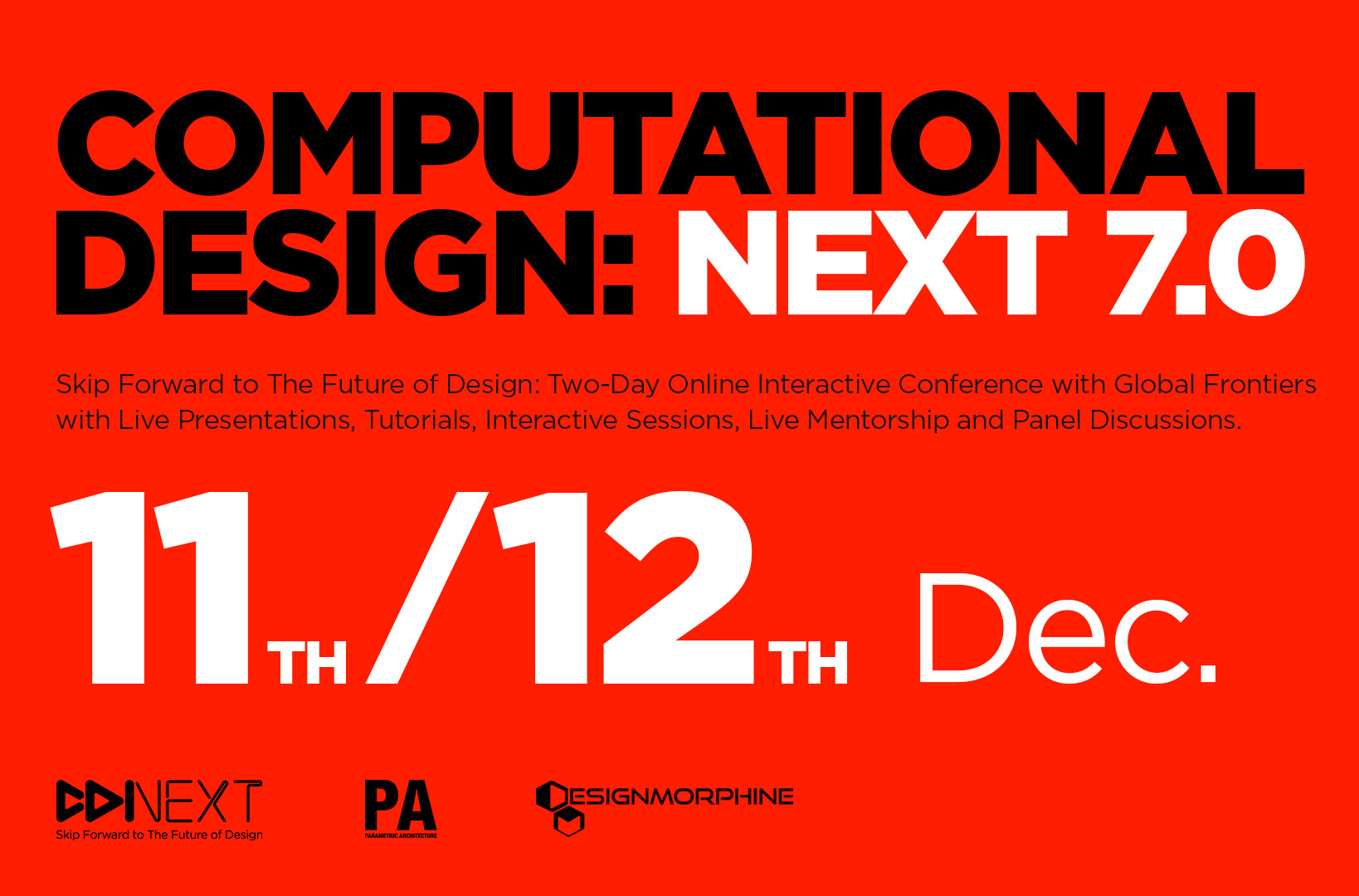 Topic: COMPUTATIONAL DESIGN: NEXT 7.0
Time: 11th & 12th December 2021, Saturday and Sunday
Day 1 Starts: 11th December, 12:00 GMT
Day 1 Ends: 11th December, 20:30 GMT
Day 2 Starts: 12th December, 12:00 GMT
Day 2 Ends: 12th December, 20:30 GMT
Where: Zoom, hosted by PA
Duration: Two Days Conference
Format: Online
Total Hours: 18 Hours
Hosts: Hamid Hassanzadeh, and Michael Pryor
Collaborators: ParametricArchitecture and DesignMorphine
Early-bird Registration: €52 (Till 23:59 GMT, 30th October 2021) (Closed)
General Registration: €65
Computational Design: NEXT 7.0
THE PAST, PRESENT & FUTURE: An Online Interactive Conference with global frontiers. Two-Day Online Conference with Live Presentations, Tutorials, Interactive Sessions, Live Mentorship & Panel Discussions. A collaborative initiative by ParametricArchitecture (PA) with DesignMorphine. Computational Design: NEXT 7.0 brings together pioneers and professionals from all industries to meet and discuss new emerging technologies in art, architecture, design, and manufacturing.
Computational Design: NEXT is a collaborative initiative by some of the global frontiers of computational design to open up an Online Learning platform as a comprehensive ONLINE CONFERENCE comprising of discussions, dialogues, tutorials, and mentorship to a worldwide audience through thought-provoking and meaningful dialogues curated by ParametricArchitecture (PA), one of the leading media platforms focussing on Computational Design and its various subsets.
After a successful round of CD Next 1-6, Computational Design: NEXT 7.0 takes another step to delve into new-age design technologies by global advocates of technology and is scheduled to take place on11-12 December 2021 (Saturday & Sunday) as a 2-day conference with workshops, panel discussions, tech demonstrations, and discussions.
Important Notes:
The entire conference will be recorded and videos will be available for participants just a day after the conference.

A certificate of attendance will be provided to all participants of the conference.
We will send the ZOOM link just a week before the conference starts.
Tickets are non-refundable and non-transferable. Please read before you register.
Guest Speakers:
Jan Knippers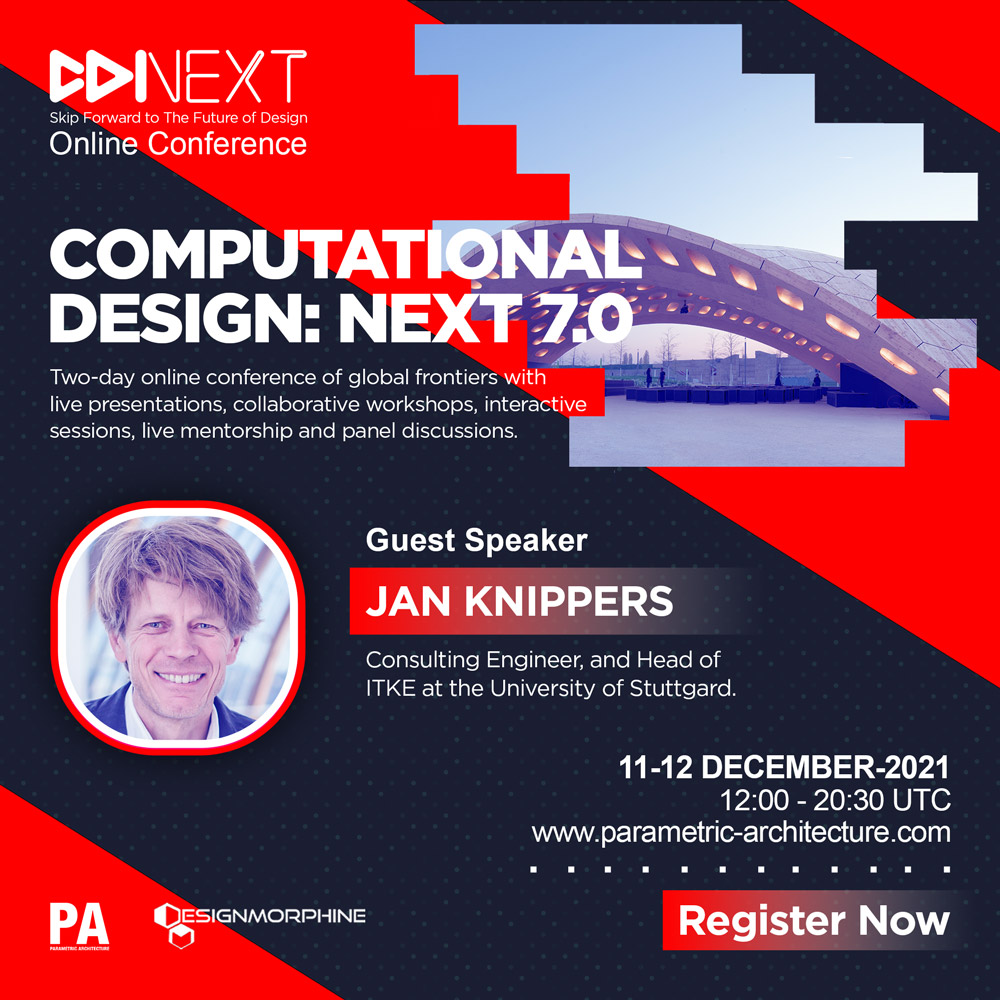 Jan Knippers, a consulting engineer and the head of ITKE at the University of Stuttgart, will be giving a lecture at the Computational Design: NEXT 7.0 conference. Jan's interest is in innovative and resource-efficient structures created at the intersection of research, development, and practice. In 2001 he co-founded "Knippers Helbig Advanced Engineering" in Stuttgart, Berlin, and New York and also were co-led the first years of the practice's growth. His key projects are the EXPO Axis for Shanghai in 2010, the Thematic Pavilion at EXPO 2012 in Yeosu, South Korea, and the Gallery at the Staatsoper Berlin, completed in 2017.
From 2014 to 2019, Jan Knippers was the lead coordinator of the DFG collaborative research center TRR141 "Biological Design and Integrative Structures, a collaboration between the Universities of Stuttgart, Tübingen, and Freiburg. Since 2019 he has been the Vice-Rector for Research at the University of Stuttgart and the Deputy Director of the Cluster of Excellence "Integrative Computational Design and Construction for Architecture." In 2018 he founded "Jan Knippers Ingenieure" to give more personal attention to innovative projects from concept to completion. The current focus of the practice is on the design and construction of novel fiber composite and timber structures.
Julia Koerner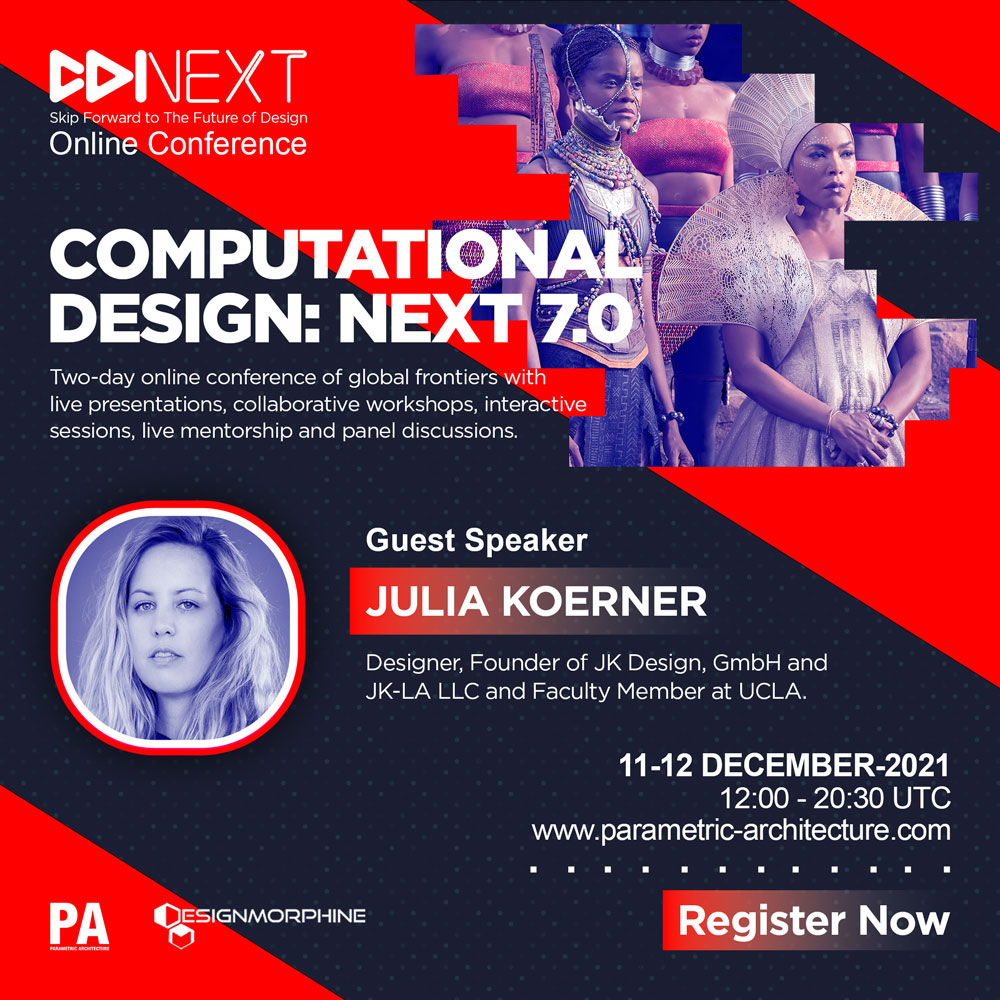 Julia Koerner, an Austrian designer who works at the intersection of architecture, product, and fashion design, will give an oration to the audience at the Computational Design: NEXT 7.0 conference. Julia is the founder of JK Design GmbH and JK-LA LLC and a faculty member at UCLA. Her recent collaborations include 3D-Printed Haute Couture and costumes for the Hollywood blockbuster Black Panther. Born in Salzburg, Austria, Julia received a Master's degree in Architecture from the University of Applied Arts in Vienna and the Architectural Association in London. She is currently based between Los Angeles and Salzburg and has previously practiced in London and New York.
She is known worldwide for her 3D-Printing design innovation; Julia's work stands out at the top of these disciplines. Her work has appeared in magazines like National Geographic Magazine, VICE, WIRED, and the New York Times. In 2019 ARCHINECT named Julia Koerner "Architecture's Queen of 3D Fabrication". The Metropolitan Museum of Art (MET), the Art Institute of Chicago, the High Museum of Art in Atlanta, the Palais des Beaux-Arts in Brussels, and the Museum of Applied Arts MAK Vienna, are just a few of the museums and institutions that have shown her work. The constantly intriguing aspect of Julia's work is its embodiment of a beautiful organic aesthetic.
Vishu Bhooshan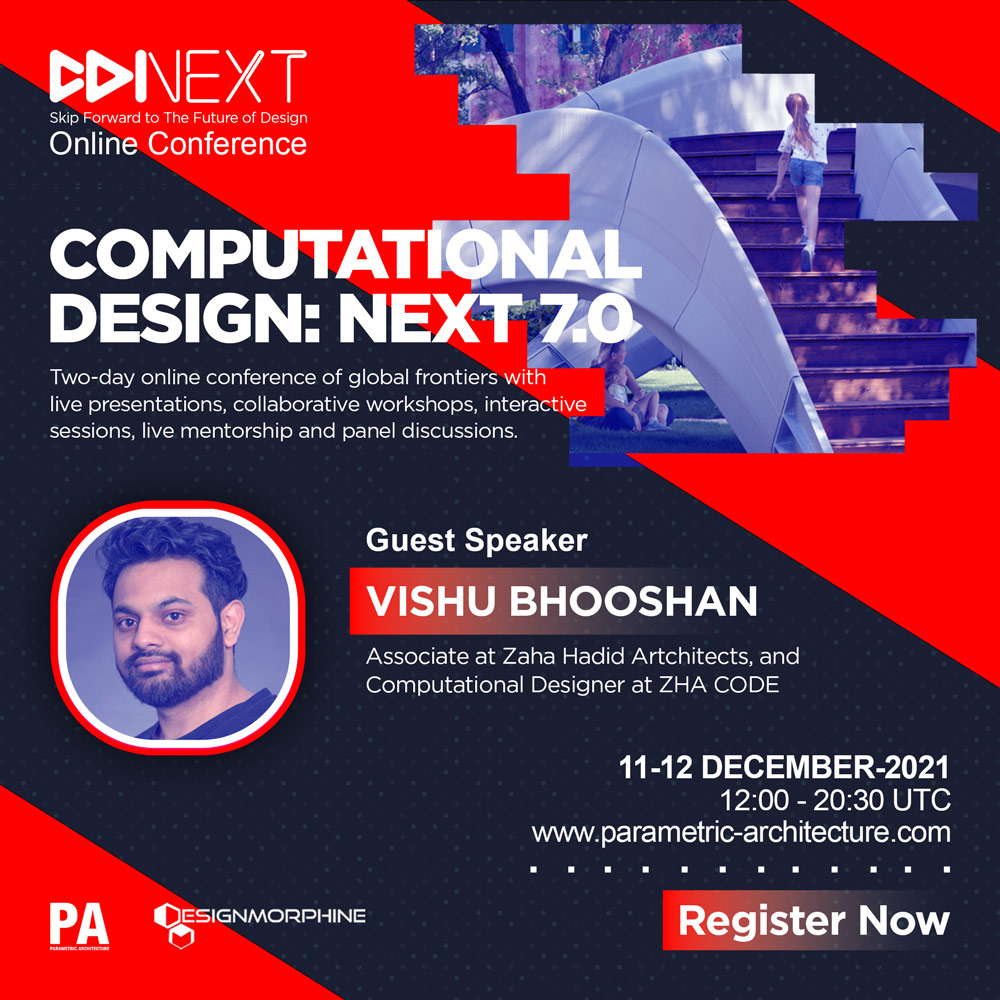 Vishu Bhooshan, an associate at Zaha Hadid Architects and computational designer at ZHA CODE, will deliver a speech at the Computational Design: NEXT 7.0 conference. Vishu completed his Bachelor's degree from Pune University, India, in 2010 and his Master's degree at the Architectural Association Design Research Lab, London, the UK, in 2013. He previously worked as an architect in India at B.S Bhooshan & Associates, Mysore & MindSpace Architects, Bangalore.
He leads the design research with computational geometries with a specific interest in structure and fabrication-aware tectonics, which incorporate digital form-finding, topology optimization, statistical learning, etc. He also leads the development of a software agnostic computational framework to explore the above. Since joining ZHA in 2013, he's worked on research prototypes, product design, galleries, stadiums, metro stations, residential structures, and master plans, among other projects.
Giuseppe Fallacara Chirico
Giuseppe Fallacara Chirico, an architect, and architectural Professor will be giving a speech at the Computational Design: NEXT 7.0 conference. Giuseppe is a Full Professor at the Polytechnic School of Bari – Department of Civil Engineering and Architecture, where he teaches Architectural Design and Stereotomy. He is a Doctor in Architectural design for the Mediterranean countries and author of numerous full-size prototypes and practical workshops connected to updating stone architecture.
Giuseppe is the Coordinator of the "CESAR" (Cours de Enseignement Supérieur en Architecture et Restauration). He has a master's in Higher Applied Training Course in Architecture and Restoration of the School of Specialization of the Polytechnic of Bari. He exhibits at the Venice Architecture Biennale in 2006 and annually, since 2005, at the Marmomac in Verona in the University and Research sector. He is visiting professor, among other universities, at NYIT (New York Institute of Technology) and MISIS (National University of Science and Technology) in Moscow.
Stephanie Chaltiel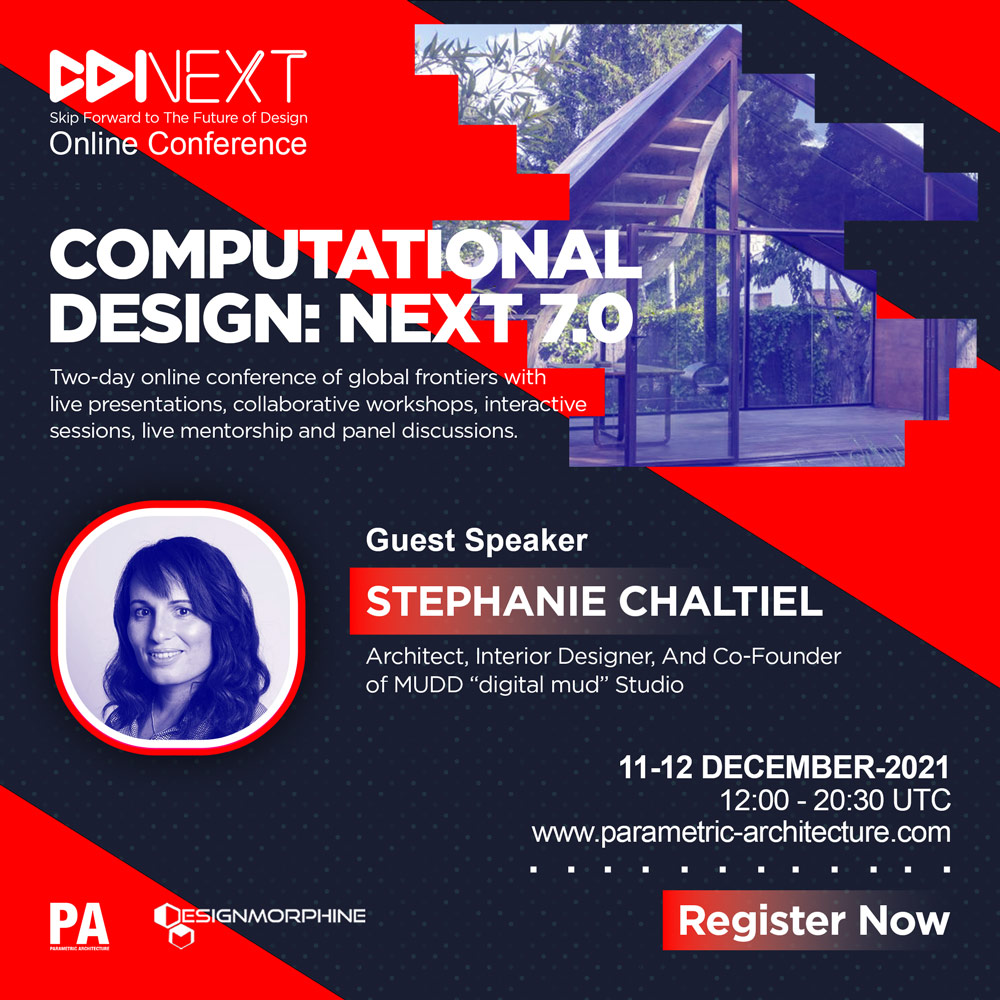 Stephanie Chaltiel, an architect, interior designer, and co-founder of MUDD Architects, will address the audience at the Computational Design: NEXT 7.0 conference. Stephanie has spent the last several years researching and experimenting with new methods of constructing and living in the city that incorporate nature. During her brief, passionate, and fascinating career, she has worked in Mexico, French Guiana, New York, and now Barcelona. Bernard Tschumi, Zaha Hadid, and OMA are among her collaborators.
Her architecture is deeply committed to assisting the disadvantaged in cities, rural regions, and refugee camps. Her current projects and progressive vision of new technology, such as the use of drones in conjunction with traditional building processes, have received widespread acclaim and multiple awards worldwide. Her award-winning projects, which combine cutting-edge technology and raw materials (ACADIA, MIT 2017, ICON Design 100 talents 2019, and Dezeen Awards Winners Highly commended mention), have been presented and displayed worldwide. She has taught at SUTD Singapore, Westminster London, AA London, Ravensbourne London, Brighton Architectural School, and, most recently, Elisava Barcelona. She also received an EU Marie Curie scholarship for four years, during which time she developed drone spray technology for sustainable design and renovations.
Zixiong Wei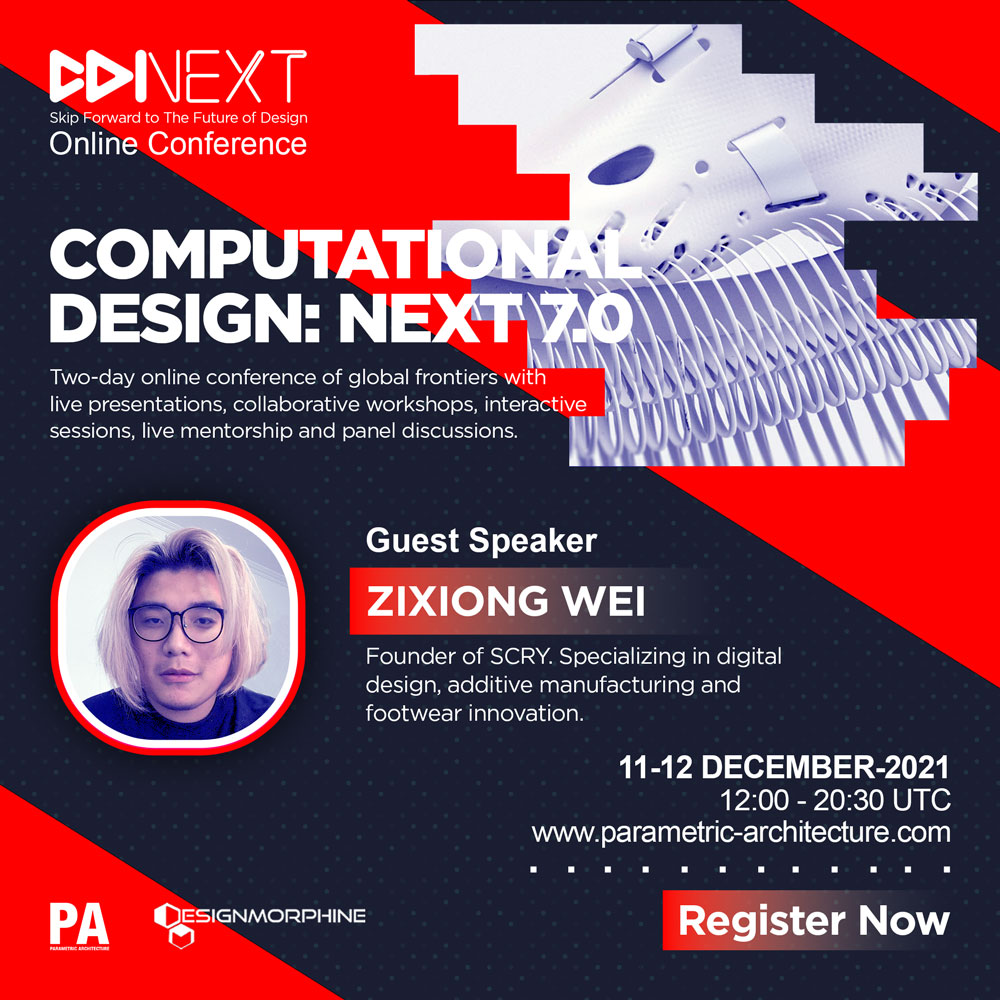 Zixiong Wei, Founder of SCRY will be giving a speech at the Computational Design: NEXT 7.0 conference. Zixiong specializes in digital design, additive manufacturing, and footwear innovation. Graduated from the Central Academy of Fine Arts in China.
Mark Nixon and Viliina Koivisto
Mark Nixon is ARB chartered architect and Viliina Koivisto is a Finnish visual artist with an education in fine art and arts management. Mark and Viliina are the founders of NEON Studio, UK. NEON was founded to elevate the everyday. They empathize and listen to ensure their projects resonate with people who use them. They manipulate familiar materials in ways previously unimagined. They, design with every sense in mind. They deliver once in a lifetime emotional experience.

NEON is an award-winning design practice based in the UK. The studio was founded to investigate the territory between architecture, art, and design. NEON has worked on projects ranging in scale from objects up to monumental art installations. Alongside the team in the studio, they work with a highly skilled team of engineers, interaction consultants, and fabricators to deliver their projects.
Roland Snooks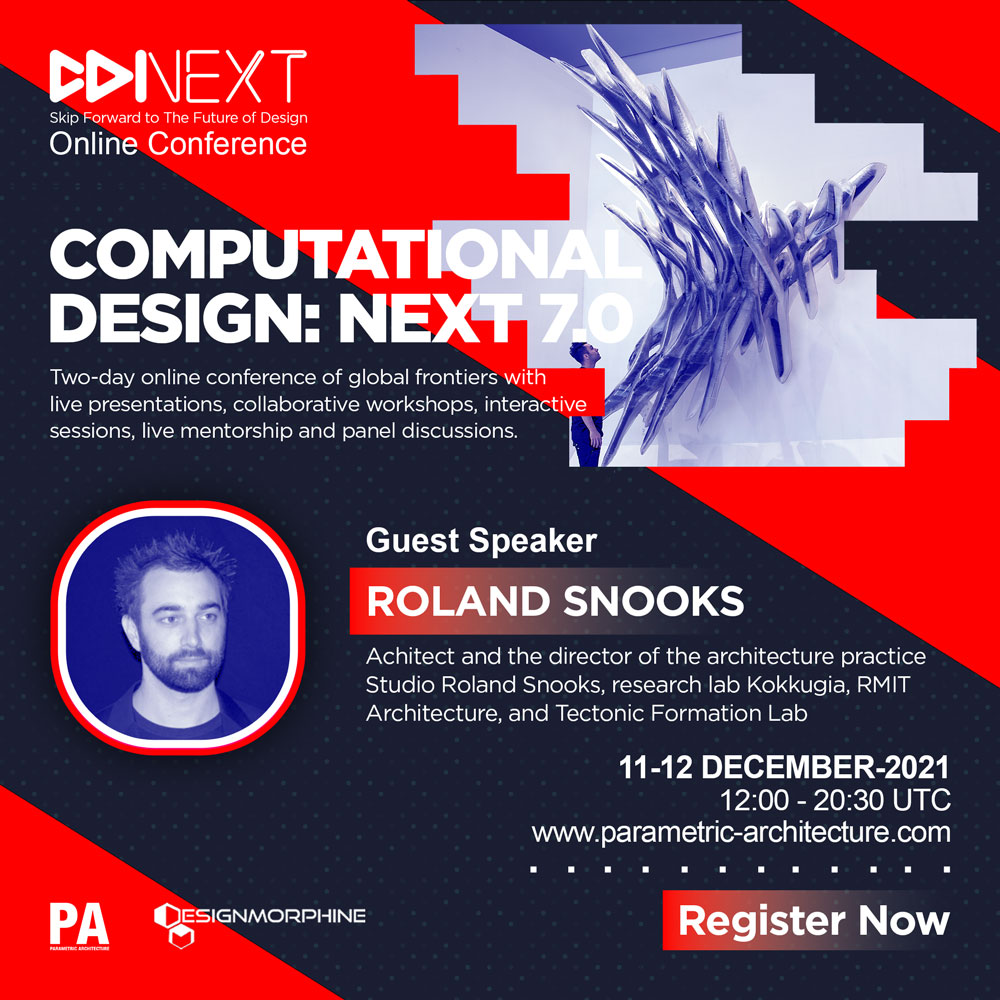 Roland Snooks, the director of the architecture practice Studio Roland Snooks and research lab Kokkugia, will deliver a speech at the Computational Design: NEXT 7.0 conference. Roland received a Ph.D. from RMIT University, focused on behavioral processes of formation that draw from the logic of swarm intelligence, and the operation of multi-agent algorithms. He holds a master's in advanced architectural design from Columbia University where he studied on a Fulbright scholarship. In addition to his work with algorithmic design, Roland directs the Architectural Robotics Lab at RMIT University.
He is a senior lecturer at RMIT University having previously taught widely in the US, including at Columbia University, the University of Pennsylvania, SCI-Arc, and the Pratt Institute. Roland's work has been published widely including recent articles in AD, Domus, L'Arca, World Architecture, and Urban Environment Design. His work has been exhibited internationally at venues in London, New York, Paris, Melbourne, Moscow, Kyiv, San Francisco, Shanghai, and Beijing. Roland was nominated for the Chernikhov Prize in 2006 and 2010 and was the Australian Curator for the Beijing Architecture Biennale in 2008 and 2010. Studio Roland Snooks is currently working on projects in the US and Australia.
Guest Tutors:
Daniela Atencio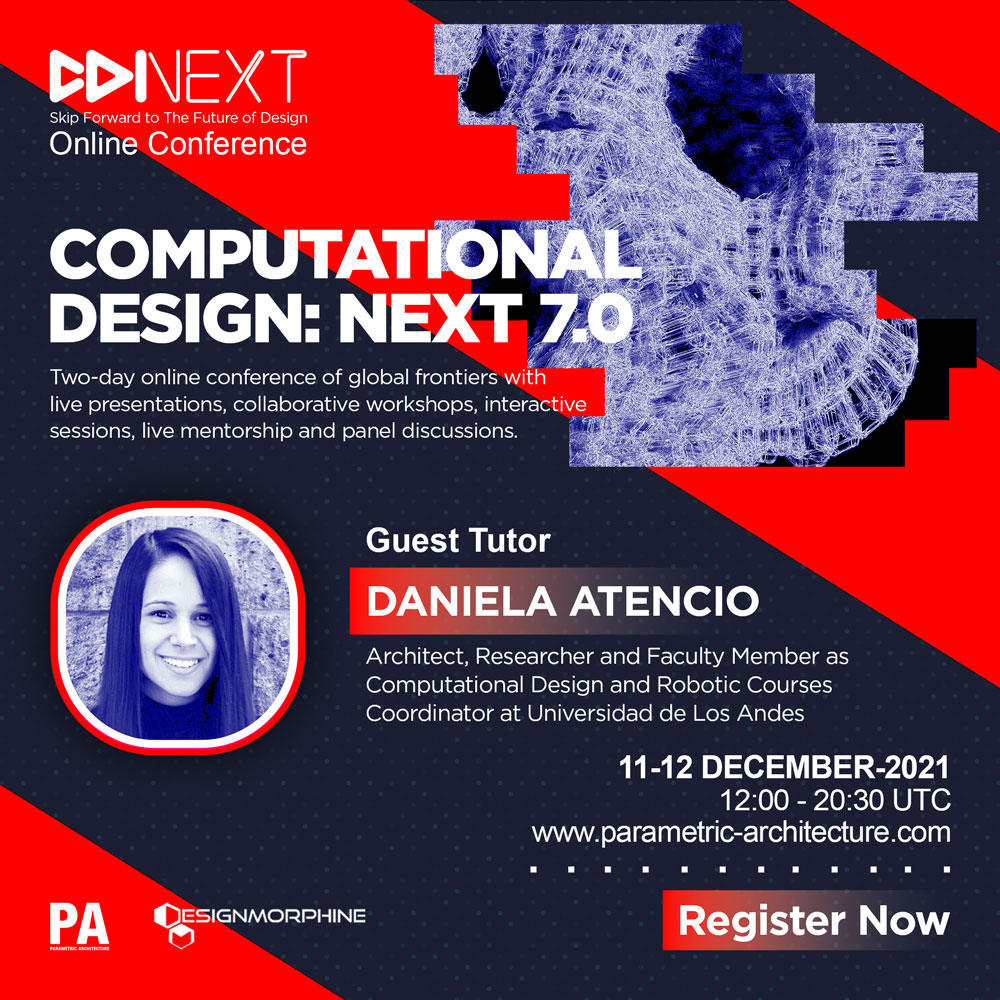 Daniela Atencio, an architect, researcher, and Faculty Member as Computational Thinking Coordinator at Universidad de Los Andes will demonstrate a Rhino 3d + Grasshopper 3d workflow for about 90 minutes at the Computational Design: NEXT 7.0 conference. Daniela completed her professional degree in Venezuela (Summa Cum Laude). Subsequently, she completed her Post-Graduate degree (Master of Design Research in Emerging Systems, Technologies, and Media) at SCI_Arc in the United States (graduated with Distinction).
She was a Senior Associate at PATTERNS, where she managed a diverse range of projects across America, Europe, and Asia and a talented multinational team of architects and designers. Her work has been published by platforms and associations such as the International Association for Robots in Architecture ROB | ARCH and the Association for Computer-Aided Design in Architecture on advanced technologies in architecture, representation, computational design, and computer controlled-robotic fabrication (ACADIA). She had taught at UCLA and SCI-Arc as Assistant Teacher and has been a critic reviewer at SCI_Arc, UCLA, University of Melbourne, Pontificia Universidad Católica de Chile, and Kent State University Universidad del Rosario. Her ongoing research project "Programmed Materialism" is exhibited at the 17th Venice Architecture Biennale Italian Pavilion Sezione del Padiglione Italia—CITYX Venice.
Aaron Porterfield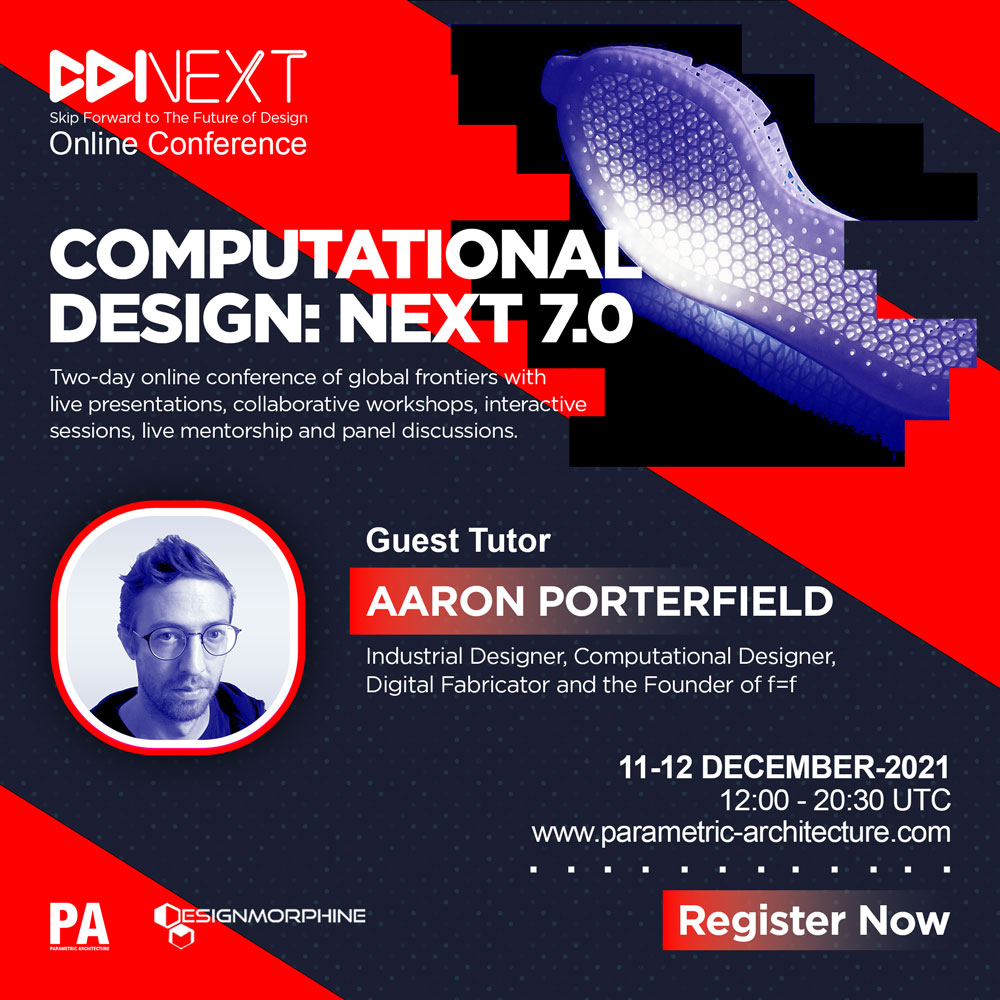 Aaron Porterfield, an industrial designer and the founder of his own consultancy F=F, will demonstrate a Rhino 3d + Grasshopper 3d workflow for about 90 minutes at the Computational Design: NEXT 7.0 conference. Aaron focuses on computational design and digital fabrication. He studied Industrial Design at the Academy of Art University in San Francisco, CA. He has worked in additive manufacturing for eight years with Autodesk, FATHOM in Oakland, CA. He was an Artist in Residence at Autodesk Pier 9 in San Francisco, CA. He is also the developer of the Grasshopper plugin, Crystallon for designing lattice structures for 3d printing.
Value_Exe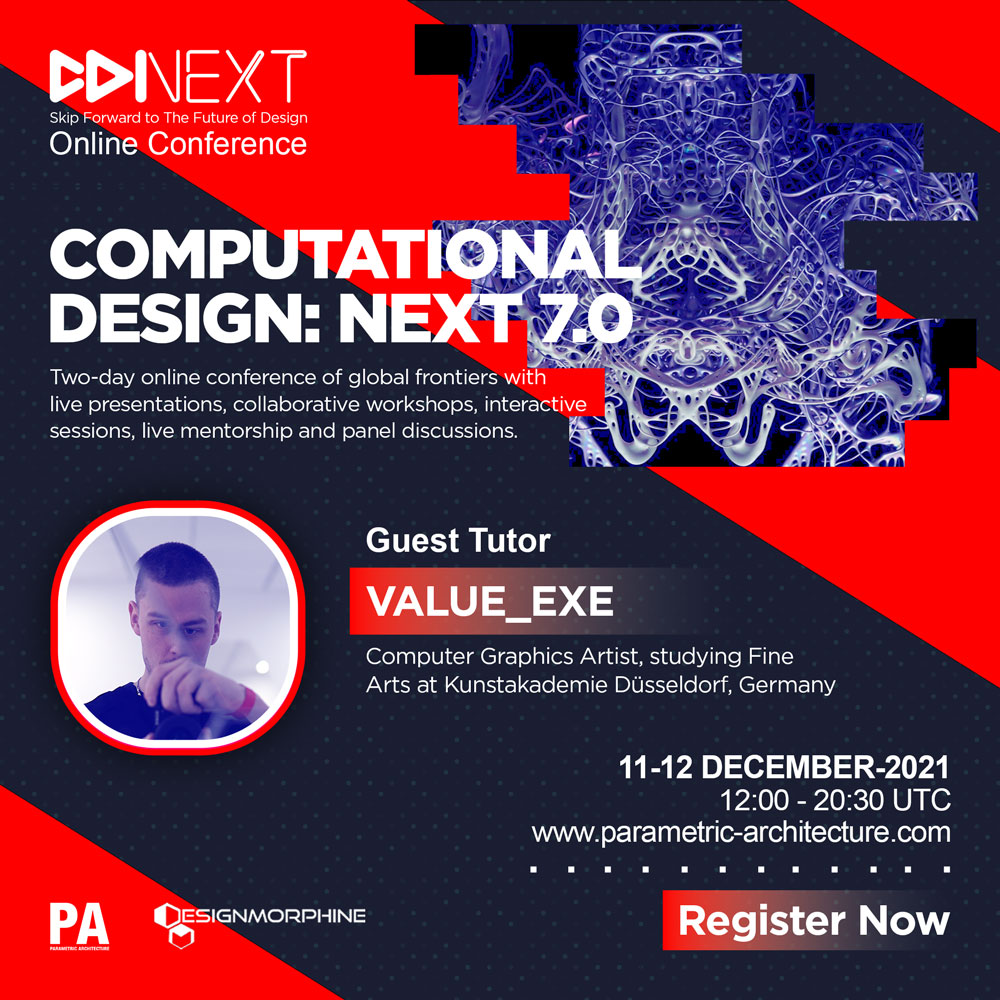 Value_Exe, a Computer Graphics artist who in 2020 started to exclusively create CG art, will demonstrate a Houdini Software workflow for about 90 minutes at the Computational Design: NEXT 7.0 conference.
Program Outline for Computational Design: NEXT 7.0
Day 01: Saturday, 11th December 2021
[Time Zone: GMT]
All sessions/tracks are led by the following panelists unless specified otherwise:
– Hamid Hassanzadeh (Turkey/Iran) – Founder & Editor in Chief, Parametric Architecture
– Michael Pryor (USA) – Design Director & Computational Designer, DesignMorphine
Welcome Note & Set-up
12:00 PM – 12:30 PM (GMT or UTC)
Guest Speaker 1: Jan Knippers / Jan Knippers Ingenieure (Lecture + Q&A)
12:30 – 13:30 UTC
Duration – 60 Minutes
Break time for 15 minutes.
Workshop 1: Aaron Porterfield (Grasshopper 3D + Rhino)
13:45 – 15:15 (GMT or UTC)
Duration – 90 Minutes
Break time for 15 minutes.
Guest Speaker 2: Stephanie Chaltiel / MUDD (Lecture + Q&A)
15:30 – 16:30 (GMT or UTC)
Duration – 60 Minutes
Guest Speaker 3: Zixiong Wei / SCRY (Lecture + Q&A)
16:30 – 17:30 (GMT or UTC)
Duration – 60 Minutes
Break time for 15 minutes.
Workshop 2: Value_Exe (Houdini Software)
17:45 – 19:15 (GMT or UTC)
Duration – 60 Minutes
Break time for 15 minutes.
Guest Speaker 4: Mark Nixon & Viliina Koivisto / NEON Studio (Lecture + Q&A)
19:30 – 20:30 UTC
Duration – 60 Minutes
End of Day 1: Endnote by Hamid Hassanzadeh
20:30 – 20:45 (GMT or UTC) Duration – 15 Minutes
Day 2: Sunday, 12th December 2021
Welcome Note & Set-up
12:00 PM – 12:15 PM (GMT or UTC)
Guest Speaker 5: Roland Snooks / Studio Roland Snooks (Lecture + Q&A)
12:15 – 13:15 (GMT or UTC)
Duration – 60 Minutes
Workshop 3: Daniela Atencio (Grasshopper 3D + Rhino)
13:15 – 14:45 (GMT or UTC)
Duration – 90 Minutes
Break time for 15 minutes.
Guest Speaker 6: Vishu Bhooshan / ZHA Code (Lecture + Q&A)
15:00 – 16:00 (GMT or UTC)
Duration – 60 Minutes
Guest Speaker 5: Giuseppe Fallacara Chirico / Politecnico di Bari (Lecture + Q&A)
16:00 – 17:00 (GMT or UTC)
Duration – 60 Minutes
Break time for 15 minutes.
Workshop 4: Michael Pryor (Grasshopper 3D + Rhino)
17:15 – 18:45 (GMT or UTC)
Duration – 90 Minutes
Break time for 15 minutes.
Guest Speaker 8: Julia Koerner / JK Design (Lecture + Q&A)
19:00 – 20:00 (GMT or UTC)
Duration – 60 Minutes
End of Day 2: Vote of thanks by organizers & speakers
20:00 – 20:30 (GMT or UTC) Duration – 30 Minutes
Recap: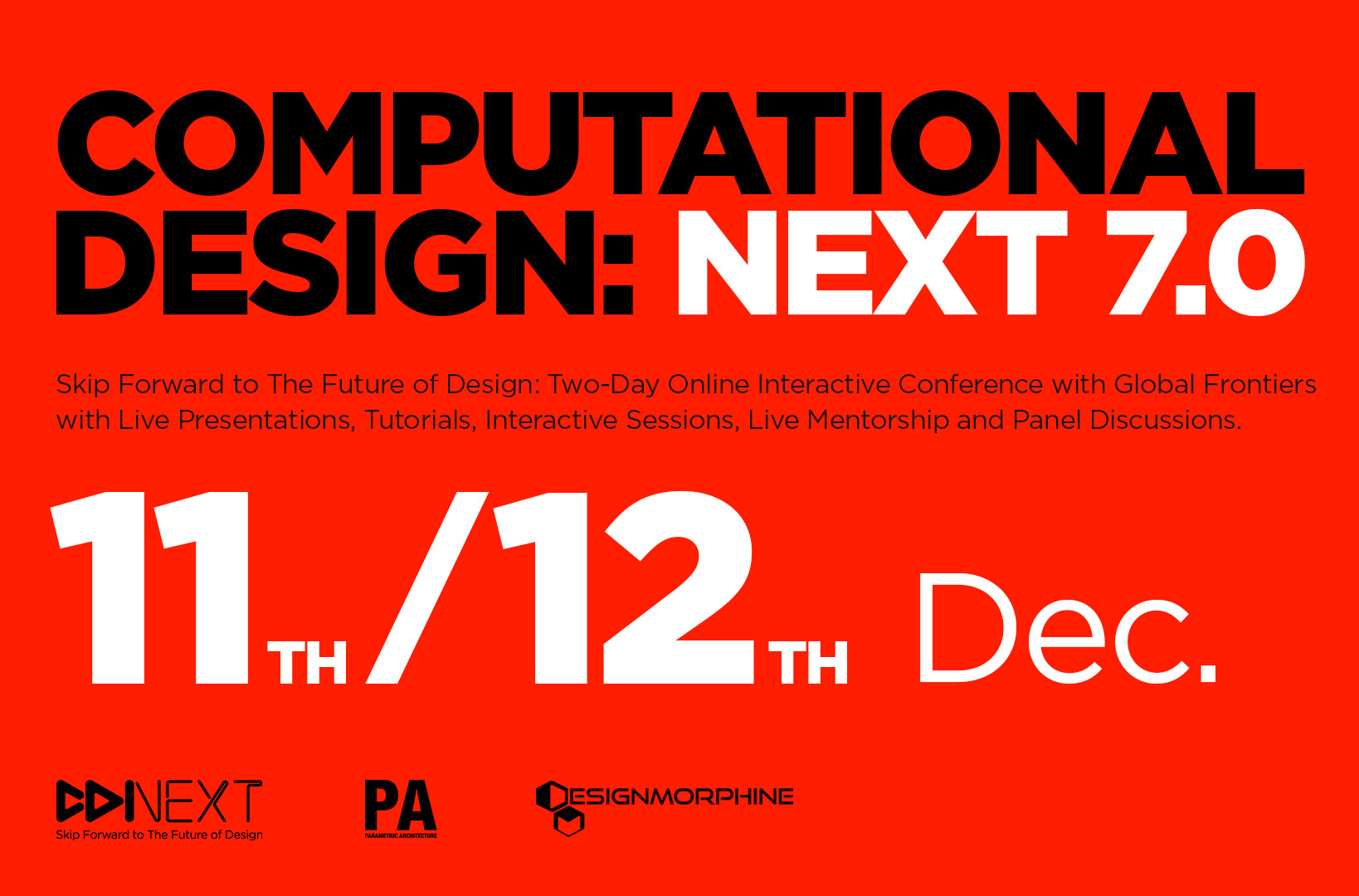 Topic: COMPUTATIONAL DESIGN: NEXT 7.0
Time: 11th & 12th December 2021, Saturday and Sunday
Day 1 Starts: 11th December, 12:00 GMT
Day 1 Ends: 11th December, 20:30 GMT
Day 2 Starts: 12th December, 12:00 GMT
Day 2 Ends: 12th December, 20:30 GMT
Where: Zoom, hosted by PA
Duration: Two Days Conference
Format: Online
Total Hours: 18 Hours
Hosts: Hamid Hassanzadeh, and Michael Pryor
Collaborators: PA, and DesignMorphine
Early-bird Registration: €52 (Till 23:59 GMT, 30th October 2021) (Closed)
General Registration: €65