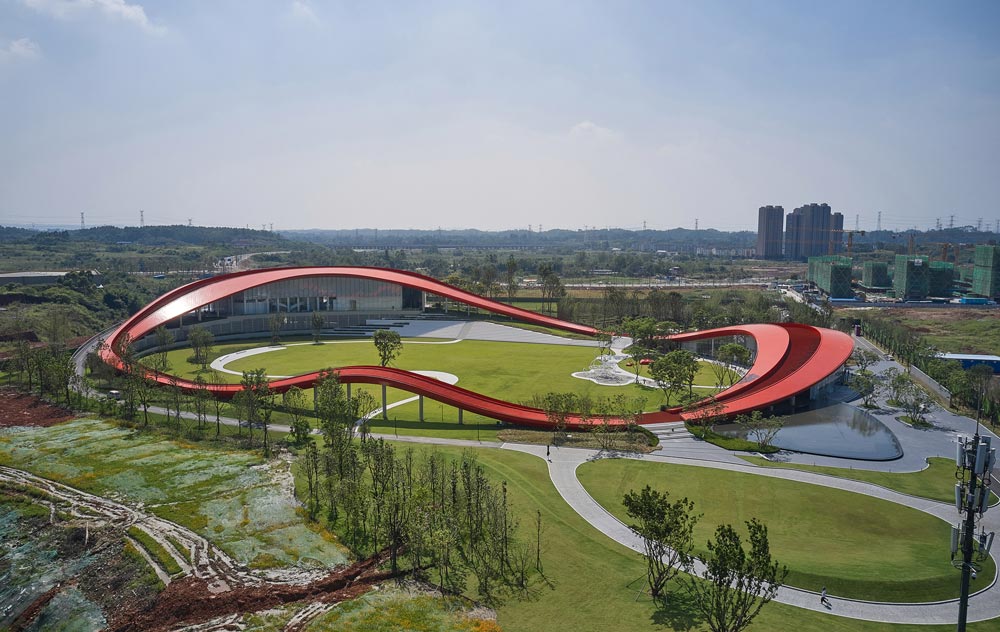 Witness the top 10 most liked and trending projects on ParametricArchitecture Instagram that are inspiring the readers on the future of Computational Design. These projects provide an innovative insight into futurist architecture in the new age.
10. Ummara Resort By Rojkind Arquitectos & Amasa Estudio
Stunning 28 Villas of the Ummara Resort Carved into the Mexican Hills by Rojkind Arquitectos & Amasa Estudio. A sparkling jewel shines atop the serenading stone hills.
9. Panda Pavilions By EID Architecture
The Panda Pavilions at Chengdu Research Base of Giant Panda Breeding. Designed by EID Architecture, the panda pavilions are devoted to foster a cross-disciplinary collaboration as a care center for the giant pandas. Read more by clicking here.
8. Loop of Wisdom By Powerhouse Company
Powerhouse Company Weaves a Walkable Red Loop of Wisdom. An undulating walking trail has been created by the Rotterdam based architecture studio Powerhouse Company as part of the development plan in Chengdu, China. This informal icon, also known as the Loop of Wisdom twists, twirls, curls, folds and follows the lush green terrain, winding and lacing through a vivid park promoting healthy relationships in an aesthetic balance. Read more by clicking here.
7. Hyperlane by ASPECT Studios
Hyperlane: A Renascence in Urban Commercial Thinking. ASPECTStudios have completed the first phase of the HyperLane development in Chengdu, Sichuan, China. A 2.4km multi-level linear sky park, the HyperLane is a youth culture and lifestyle destination at the heart of the city's music and arts university district. It establishes a vibrant and fun orientated linear space, linking the local transportation hub with the university community and campus in Chengdu.
6. Illuminated cities by InwardSound
Gallery of artworks by Italian artist, InwardSound, who blend science-fiction and futuristic cyberpunk, speaking volumes through expansive imagery that seems to create a pleasant abyss for viewers to find themselves lost in. His works enlighten sublime worlds never thought before. Illuminated cities submerged, technological vortexes suspended in space, and dystopian style facades are among the splendorous images found within Inward's artistic mind.
5. Staircase in Hamburg
Astonishing photo by Peter Rajkai from a wooden staircase in Hamburg, Germany.
4. Waterfall Temple a proposal by AntiReality
3. CopenHill by Bjarke Ingels Group
CopenHill: The Iconic Waste-to-Energy Plant by Bjarke Ingels Group in Copenhagen, Denmark. Located in an industrial area near the city center, the new waste-to-energy plant aspired to become an exemplary model in the field of waste management and energy production, as well as an architectural landmark.
2. LAND-MARK by OF Studio
OF Studio's winning proposal for the "LAND-MARK" international competition at the Dubai Creek Harbour in UAE organized by Emmar Dubai in 2019. The intervention was conceived to be a public, social environment on the coast for pedestrians to enjoy Dubai Creek Harbour.
The geometry of LAND-MARK presents a gentle composition of paths and walls that invite users to wander along its extensions, reflecting the horizontal properties of the desert. It's calm yet complex geometry appears to be the result of erosion as if carved out of water to create open, shaded environments. The use of innovative technologies makes this urban oasis an iconic reference for the innovative city of Dubai.
1. Brick Facade By Behet Bondzio Lin Architekten
The undulating brick façade of this building in Germany, designed by Behet Bondzio Lin Architekten, imitates the movement of draped fabric. The intention of the architecture firm was to allude to the association's work with fabric of which the structure houses.