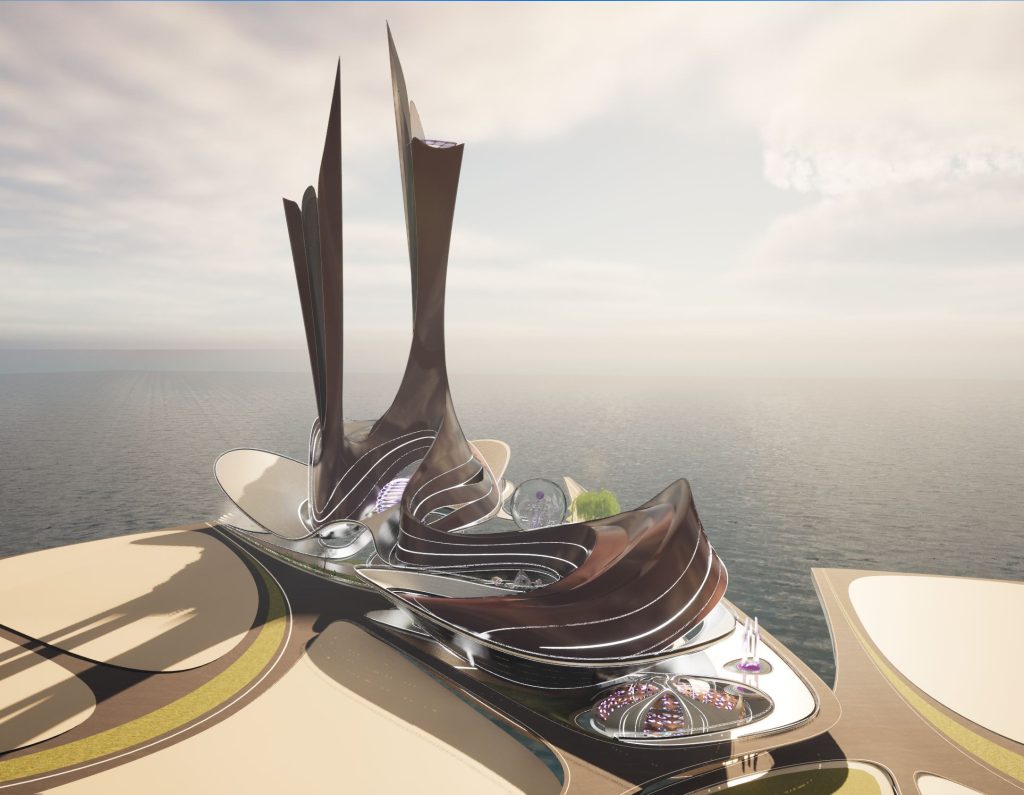 Illuvium Clubhouse and Sanctuary project was designed by a team named Violluviaries by Leah Deniz and Giovanna Pillaca as part of PAACADEMY's "Meta-Fluid Studio 2.0" with Mariana Cabugueira.
Violluviaries is an interdisciplinary team with different perspectives on architecture and metaverses. On the one hand, Leah Deniz has an understanding of how NFTs and virtual architectures have the potential to revolutionize our economy. And on the other hand, Giovanna Pillaca explored metaverses, virtual platforms, and typologies built for towers, monuments, and temples in futuristic and biomimetic environments.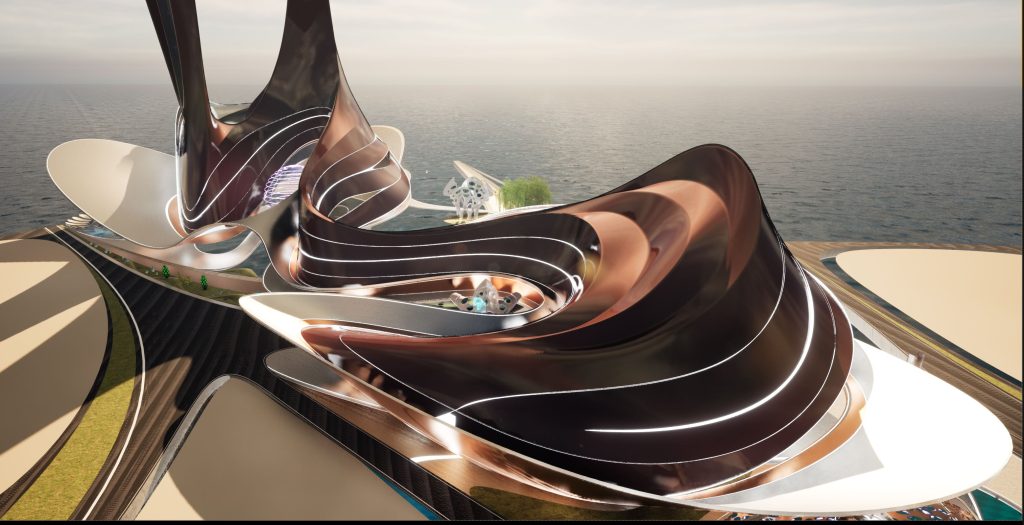 In this project, Violluviaries asked ourselves questions that led us to work on a narrative that flows with the identity of Illuvium but also allows users to have a sensory and formal architectural experience. Initially, they identified the topologies of natural and virtual ecosystems. Supported by technology and the possibilities of working with a certain visual realism of virtual worlds, they wanted to incorporate natural biomes and architectural biomes.
'Illuvium' is a creature collector and auto battler game that integrates alien natural ecosystems into open landscapes, where collectors could meet to freely share knowledge. They asked, do we want another space in the metaverse or do we want to create sensory experiences to connect with the new alien creations of Illuvium? They created this project for Illuvium recognizing the power of the topology of biological and ecosystems in the architecture.
Concept and Inspiration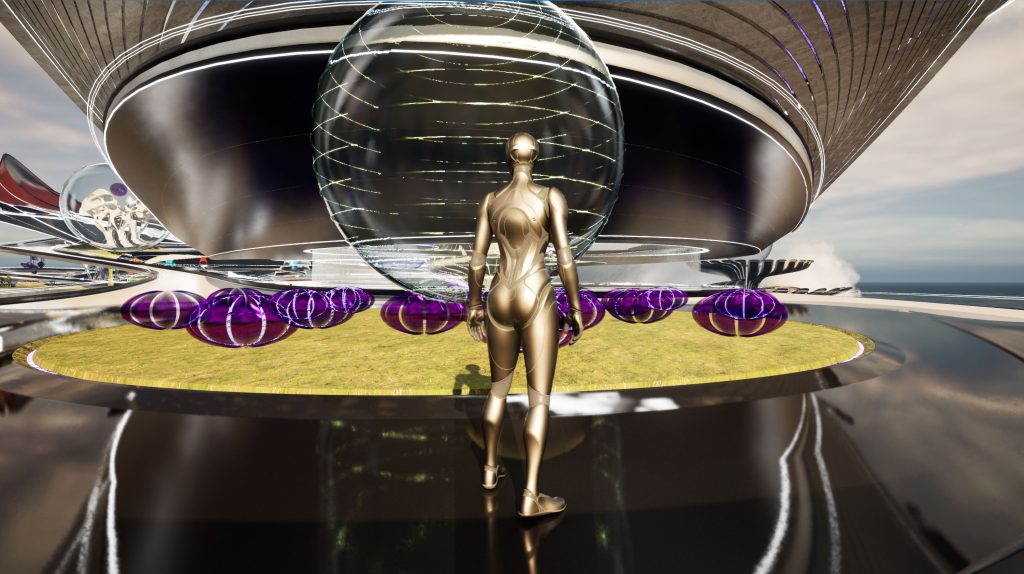 Violluviaries started the design process with questions to investigate. Do the open and explorable landscapes of the alien world of Illuvium have references to natural landscapes familiar to us?
In the beginning, we began referencing the alien landscapes of 'Illuvium' with the natural ones. Violluviaries began to investigate and geometrize uneven terrains such as desert dunes and their patterns eroded by the force of the wind. It was decided to architect and inhabit the interior proposing various biological ecosystems. This was our first starting point and inspiration. Natural patterns of water states and eroded land were also investigated. In addition, they investigate the use of quartz as an element that generates sensory-emotional balance in people and the impact of its use in architectural spaces to generate a spatial balance.
Finally, in the search for hallucinated inspiration, prompts were worked on in Midjourney under natural concepts and inspirations.
Design Process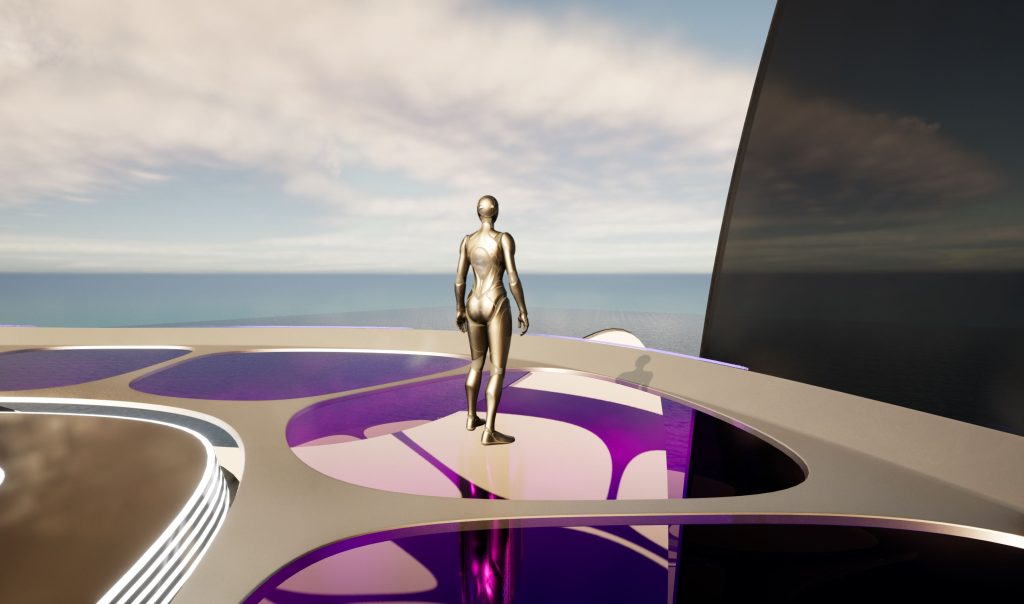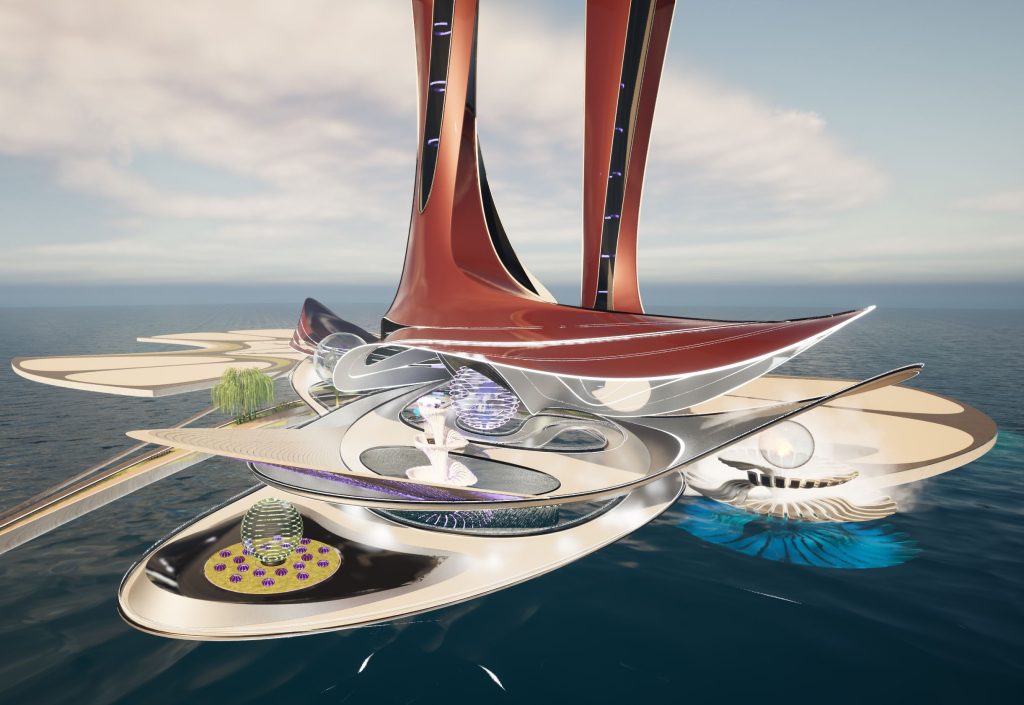 We begin with a discussion on the topics of interest and conceptual referents. After that, sketches were generated to direct the ideas and let the imagination flow. For the modeling process, the generation of biological patterns of erosions was investigated. Later, a geometric synthesis of the forms was made. This process required generating varied geometric interactions, seeking forms that integrate the concept, drawings, and sensations when inhabiting known natural ecosystems.
The process was accompanied by critiques that allowed us to generate updates and continue to pursue our bio-inspired narrative for Illivium.
Visualization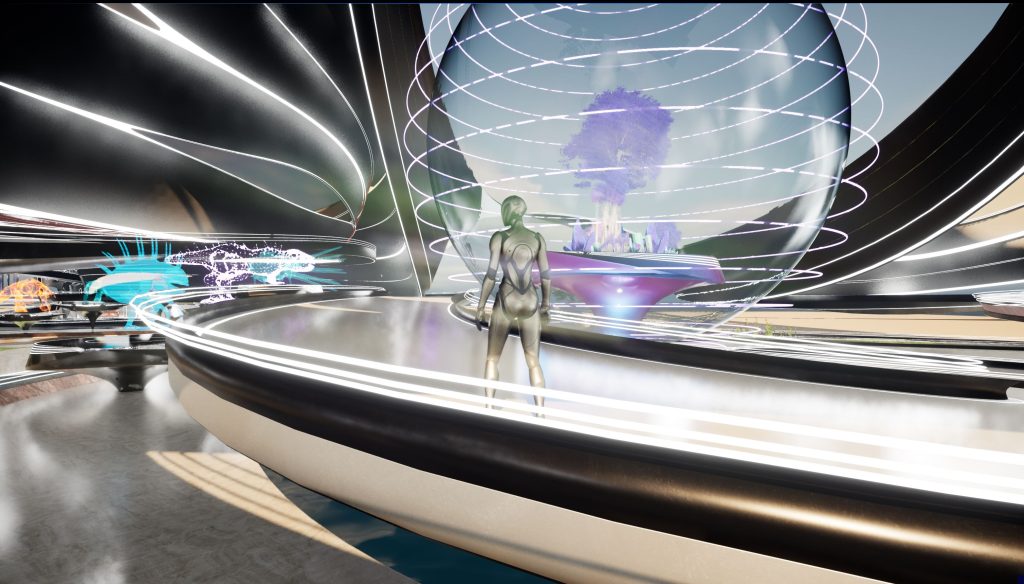 Violluviaries used Autodesk Maya for all project designs. This software has a very appropriate interface for the geometrization of organic and fluid forms. It allows handling fluid curves with few control points. They managed to control the generation of zones at different scales and levels adjusted to the user's journey with minimal surfaces.
The aesthetics achieved in the MAYA model, thanks to integrated software tools, allowed us to differentiate 'ecosystems' by their unique interior perspectives, and to connect them through circulations and a covering type mesh that becomes the totemic reminiscence of the Illuvium logo.
They used the Unreal Engine for the visualization of the project. Unreal Engine 5 has a higher level of photorealism than other software they used before and the best thing is that its updates to improve it are constant.
Unreal Engine has the option of detail in architectural visualization and makes you feel the sensation of habit in the real world. The quality of architectural projects is needed in the metaverse experiences and the blockchain economy.
Key Features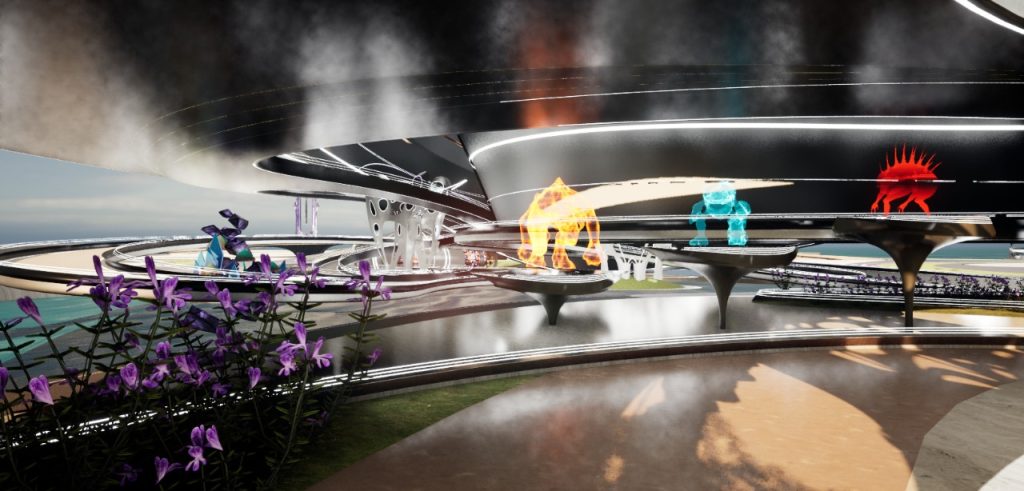 The proposal sought to generate spaces designed as unique ecosystems that allowed the user to immerse himself in order to connect him with the elements inside, in this way they proposed random ecosystems integrated into a landscape.
Violluviaries also wanted to reconstruct Buckminster Fuller's geometric schemes or the tensions of Tomás Saraceno's spatial installations. Later, their iterations of drawings and digital geometrization, learning Maya, revealed situations connected by a single sinuous circulation that the Amazon channels recorded for us. And perhaps the Amazon as such is not already a sanctuary in itself?
In Conclusion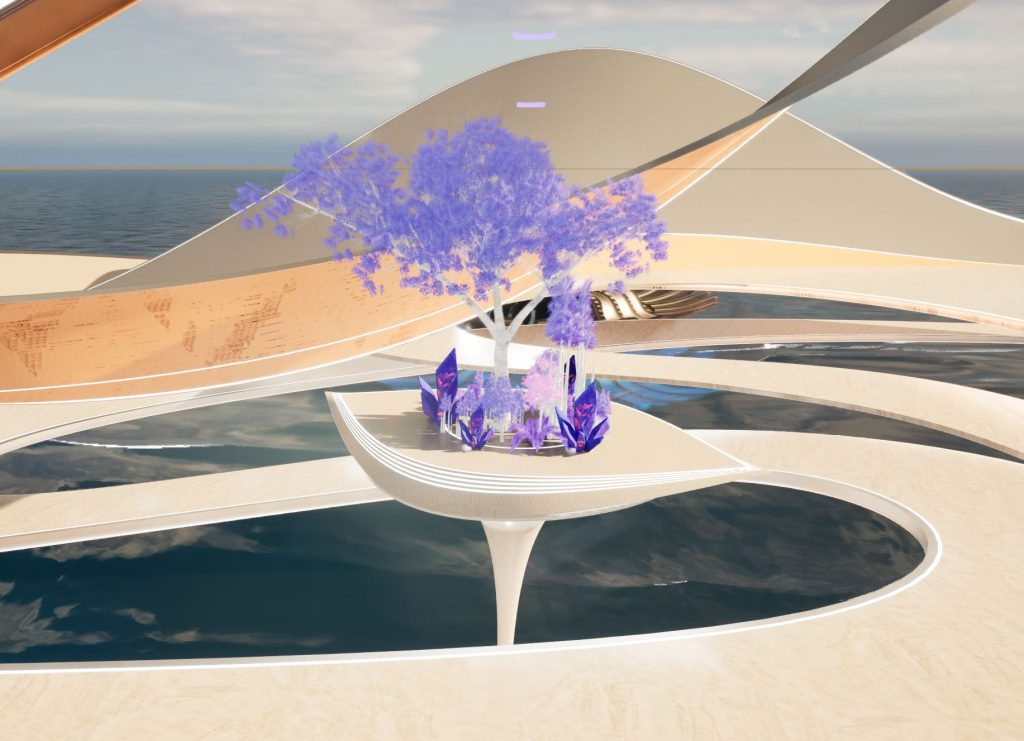 In conclusion, Violluviaries was able to create a unique clubhouse for Illuvium fans, collectors, and NFT holders that incorporates the natural organic elements that represent the different biomes of Illuvioum land while still designing functional future-forward virtual spaces. They came together and used their different skills to create a virtual space that portrays the aesthetic of Illuvium and integrates the stunning meta-architecture that we learned during this course with the incredible realism and amazing effects that Unreal Engine 5 offers.