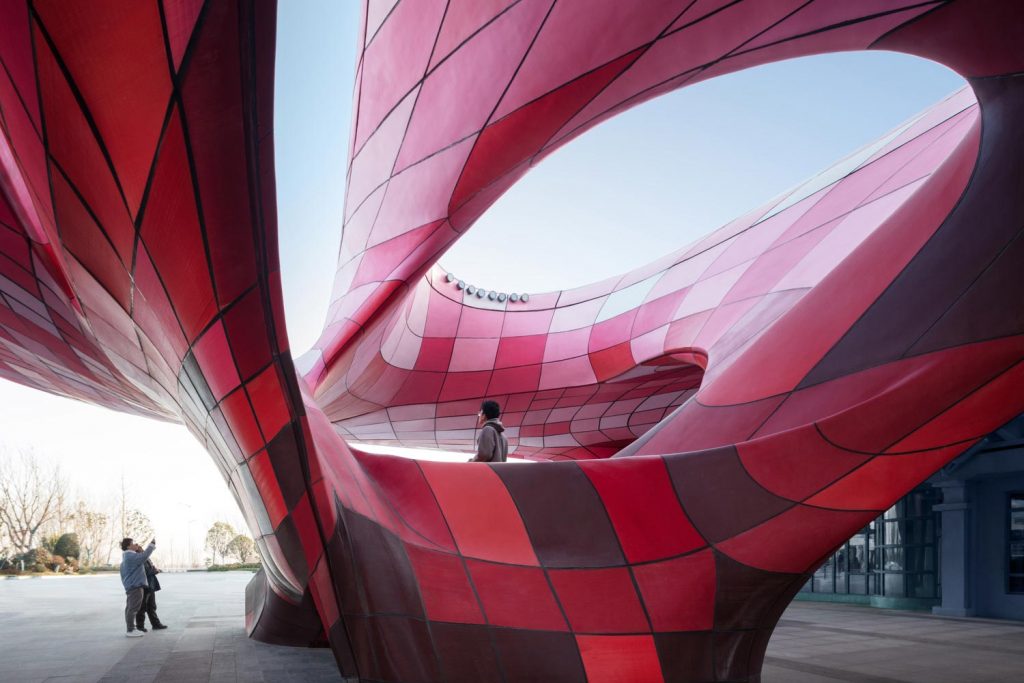 The pavilions are designed as single-bodied structures within the park, garden, etc. They can be an extension of buildings like museums, galleries, and historical buildings or can be part of an exposition, exhibition, etc.
The pavilions invited the architects, designers, and the public to observe, enter, experience, and think about the architecture. Temporary structures like pavilions are really important for architectural research and discussion. By making temporary structures like pavilions, architects/designers are experimenting with new fabrics and techniques to improve architectural practice and discourse.
Here is a list of 10 outstanding parametric pavilions around the world!
1. Deciduous by MEAN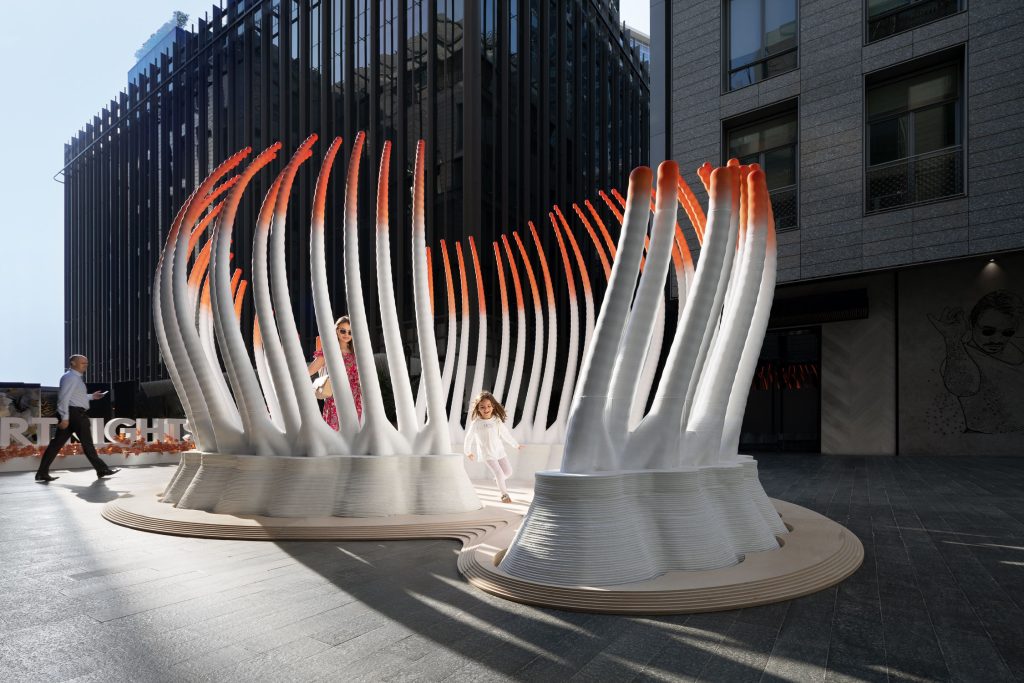 MEAN (Middle East Architect Network) designed the Deciduous 3D Printed Pavilion for the Dubai International Financial center in 2019. Deciduous Pavilion invited us to consider what Autumn means to Dubaians today as part of 2019's 'Art Nights' event at DIFC, which is themed "Autumn."
The Pavilion is researching scaling processes in the architectural realm based on MEAN's 3D printing experiments. It is constructed from three eco-friendly materials: CNC-milled birch plywood flooring, a robotically 3D-printed concrete base, and a series of branching 3D-Printed PETG stem made from 30,000 discarded water bottles.
2. Echoviren by Smith | Allen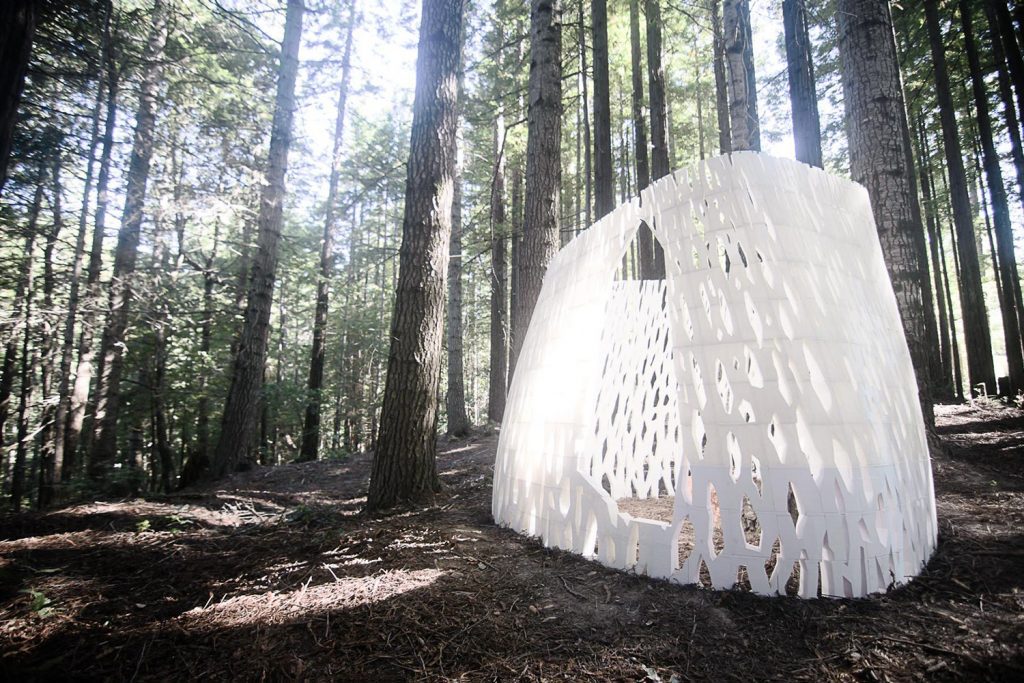 Echoviren, a site-specific modular pavilion designed by the Smith | Allen firm in California in 2013, replicates and abstracts the xylem and phloem of the redwood forest life surrounding the architectural piece in a light-dappled bucolic redwood forest.
The 585 parts were printed on seven Type A Machines Series 1 and the components were assembled on-site after being published by printers for two months and 10,800 hours. The building will dissolve over time and vanish after 30-50 years since each component is composed of PLA bio-plastic derived from plants.
3. STEAMPUNK by Gwyllim Jahn, Cameron Newnham, Soomeen Hahm, Igor Pantic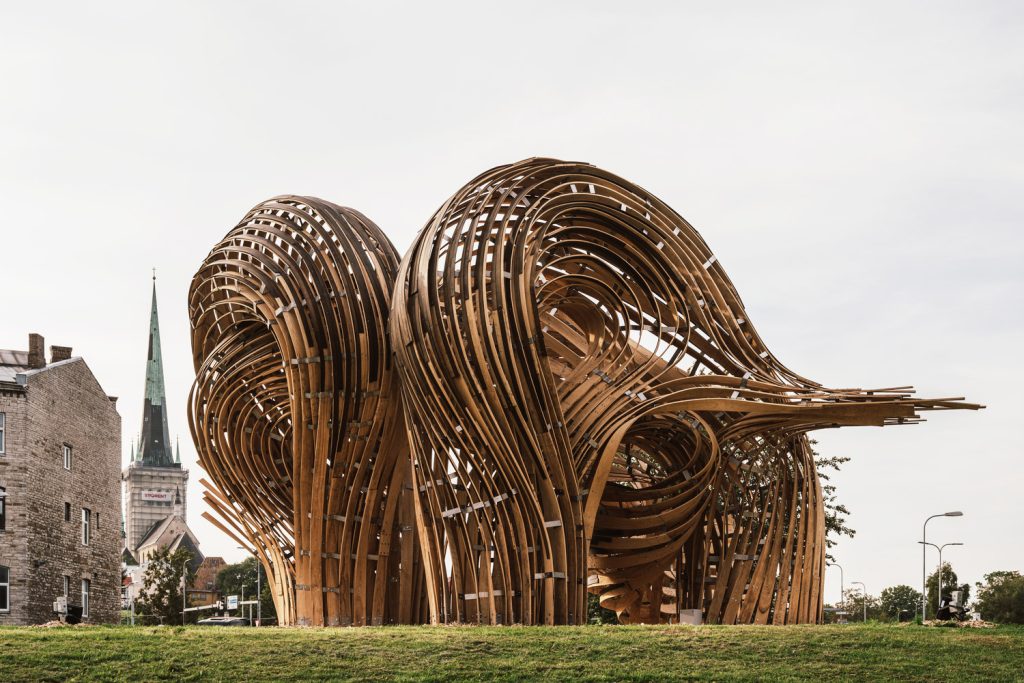 STEAMPUNK Pavilion is built from steam-bent hardwood using primitive hand tools augmented with the precision of intelligent holographic guides. Rather than producing drawings or lines of CNC code from which parts of our design could be cut, printed, or assembled, the designers of Steampunk have developed an experimental approach to materializing architecture that serves as a deliberate controversy in the context of robotic production and mechanization. STEAMPUNK pavilion was built for the 5th edition of the Tallinn Architecture Biennale.
4. Dragon Palace by Cheng-Tsung Feng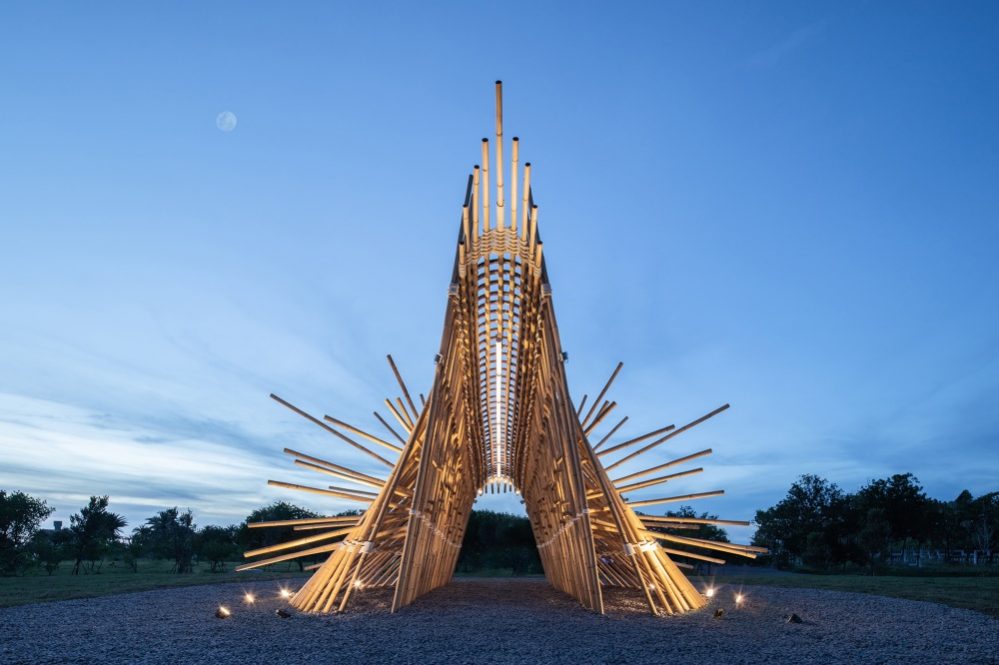 Dragon Palace is a structural play of bamboo and wood lightly woven in white rope by the artist Cheng-Tsung Feng and was built in 2020. The framing of bamboo sculptural mechanics echoes a ritual-like concept in mind. After the sunset, the Dragon Palace pavilion awakens with a warm luminance, matching a breathing rate, just like a monster that wakes up at night.
The curvaceous arrangement, resembling the body of a dragon, weaves a breathtaking, ever-changing advent of curiosity. The installation of the mystic 'Dragon Palace' welcomes islanders to observe, approach, explore, and immerse themselves in an oceanic fantasy world.
5. Zephyr Pavilion by Marc Fornes / TheVeryMany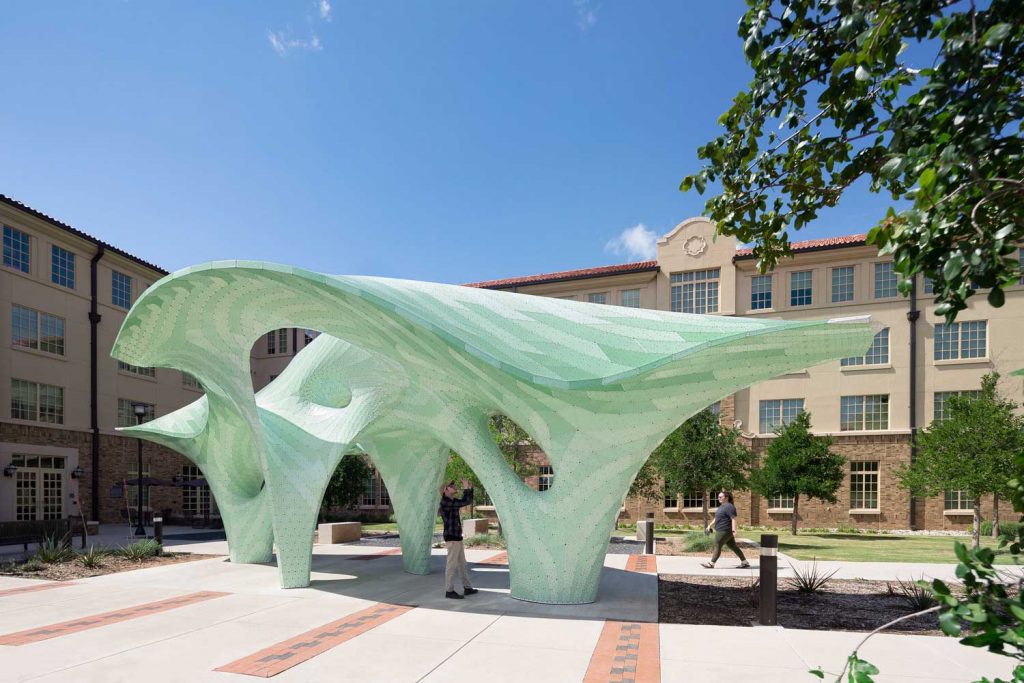 The Zephyr Pavilion represents an anchor in a dynamic campus route and offers a destination for student meetups and study; located in the courtyard of the Honors Residence Hall at Texas Tech University and was built in 2019.
Zephyr is built on a repertoire of carefully curated geometric principles rather than a solely structure-driven design. Two centralized loop columns mirror each other at their center openings, transforming topographical lines into smooth, volumetric rings and providing access to the sky above. Columns expand into branching funneled bridges, giving the overarching canopy strong points of rest.
6. Future Space Pavilion by Peter Pichler Architecture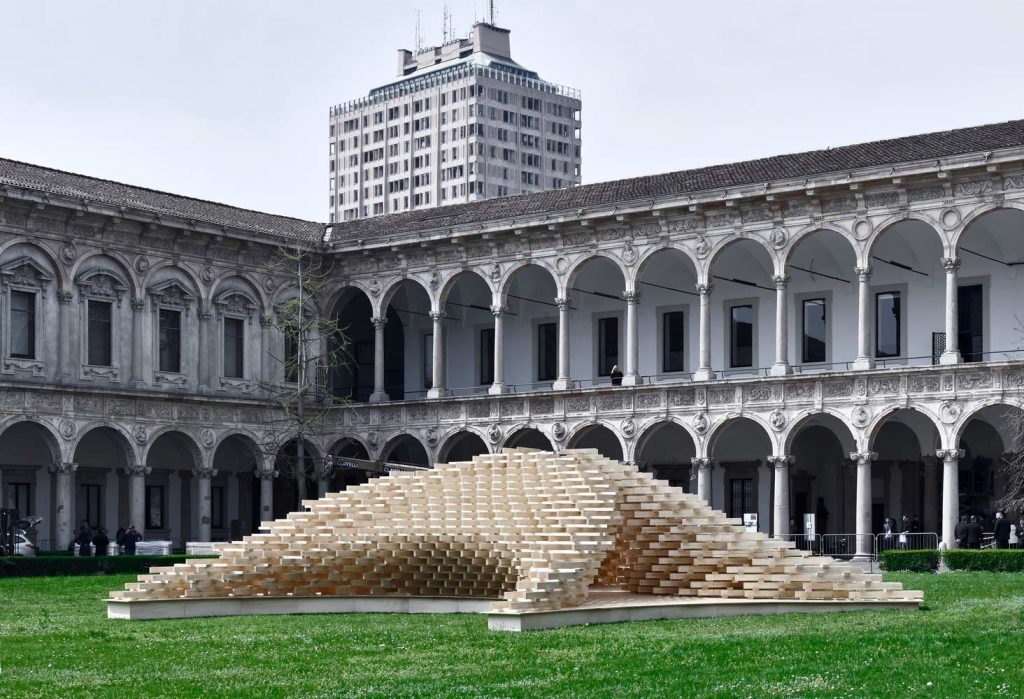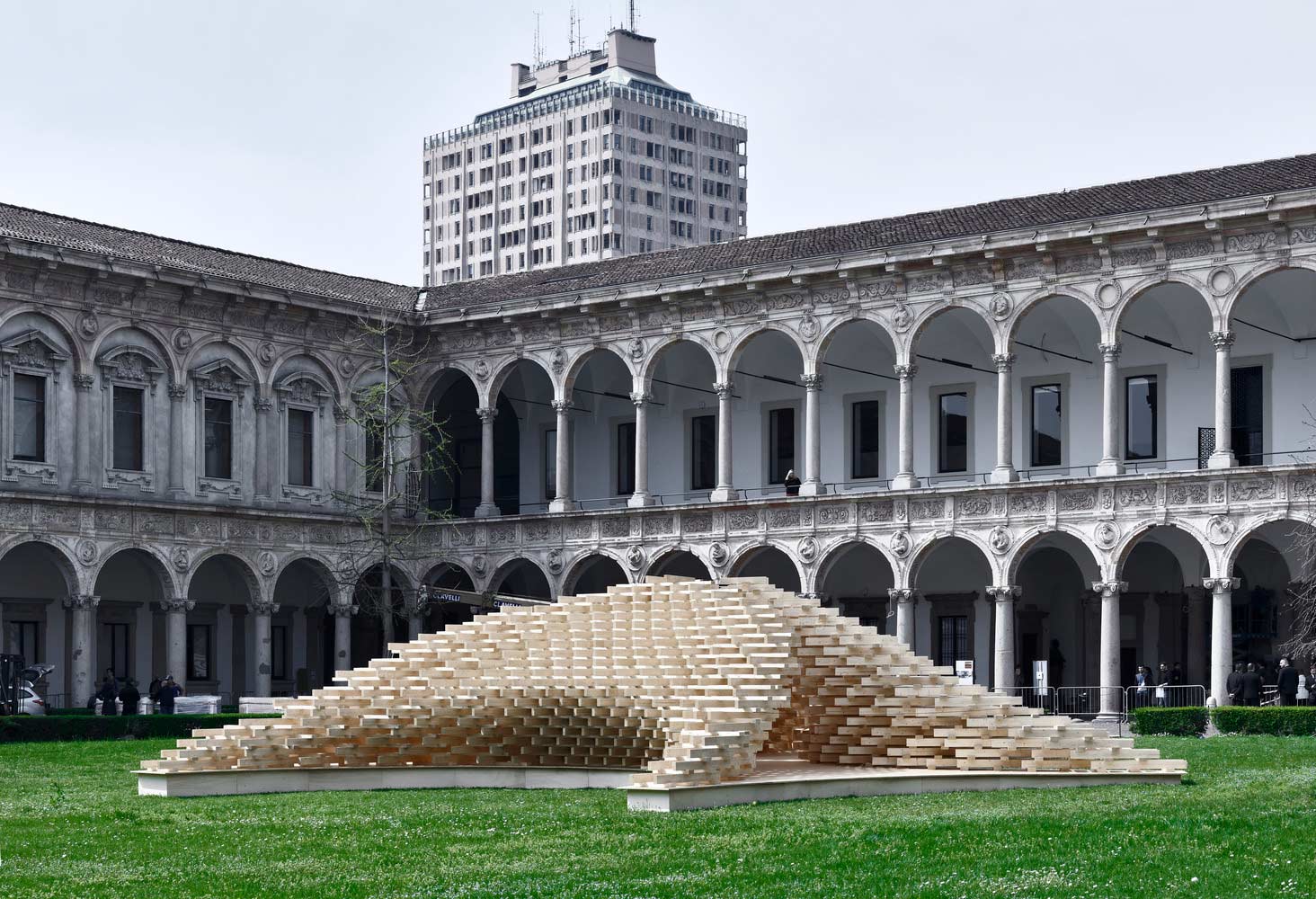 The Future Space Pavilion investigated the material presence of wood in a non-traditional "building" environment as a structure that should transmit a spatial experience and was built in 2018. The installation reflects our studio thoughts about future spaces: sustainability (wood as material), system, and spatial emotions. The symmetrical structure is inspired by the extraordinary quality of the Renaissance proportions of the courtyard of Ca' Granda and plays with the fundamental elements of Renaissance style: Symmetry, proportion, and geometry.
7. livMatS Pavilion by ICD/ITKE University of Stuttgart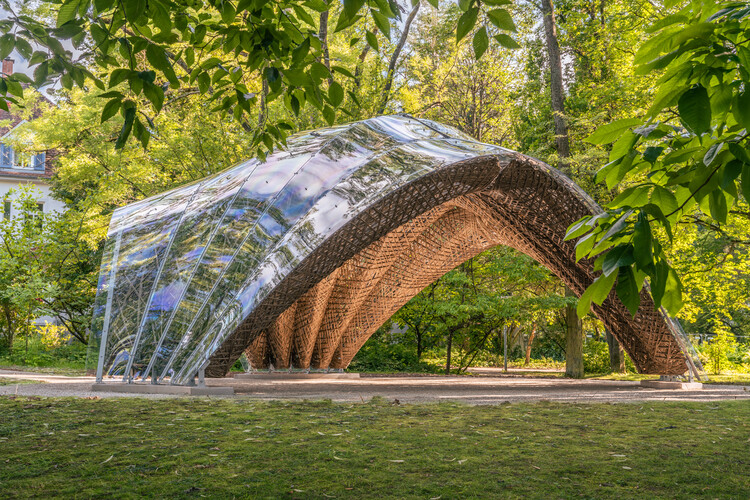 The livMatS Pavilion provides a viable, resource-efficient alternative to traditional construction methods, thus representing an essential step toward architectural sustainability. The structure was completed in 2021 and is located in the University of Freiburg's Botanical Garden.
The bioinspired Pavilion demonstrates how novel co-design processes that account for geometrical, material, structural, productional, environmental, and aesthetic requirements, combined with advanced robotic fabrication techniques applied to natural materials, can produce a unique architecture that is both ecological and expressive.
8. Interchange Pavilion by Studio Chris Fox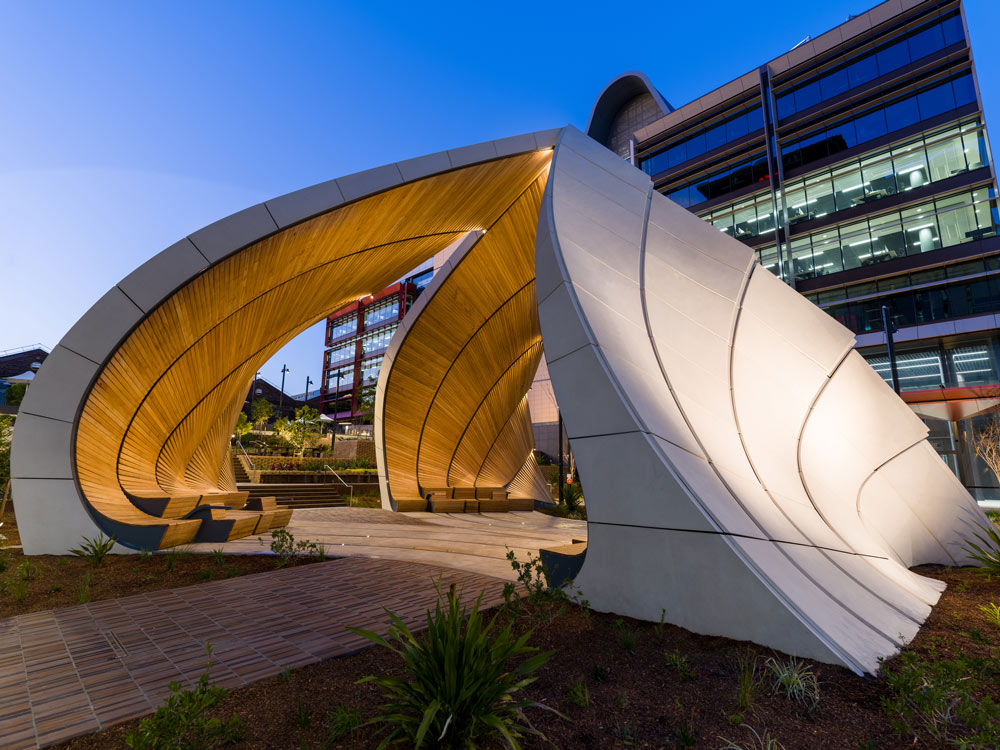 Interchange Pavilion, designed by Studio Chris Fox in 2020, was a point of convergence where paths intersected. Geometries arc overhead, peeling from the ground plane, to create an embracing volume, a point of intersection. The Pavilion pays homage to the various stories and journeys of people associated with the Eveleigh Rail Yards.
Visitors are drawn into the Pavilion by the railway switch tracks built into the Pavilion's floor. They are invited to pause inside the amphitheater, which provides shade from the sun. Timber seats rise around a stage, carefully integrated into the internal cladding system, allowing for both spontaneous and planned events or the ideal spot to sit and have lunch.
9. Mill River Park Carousel Pavilion by Gray Organschi Architecture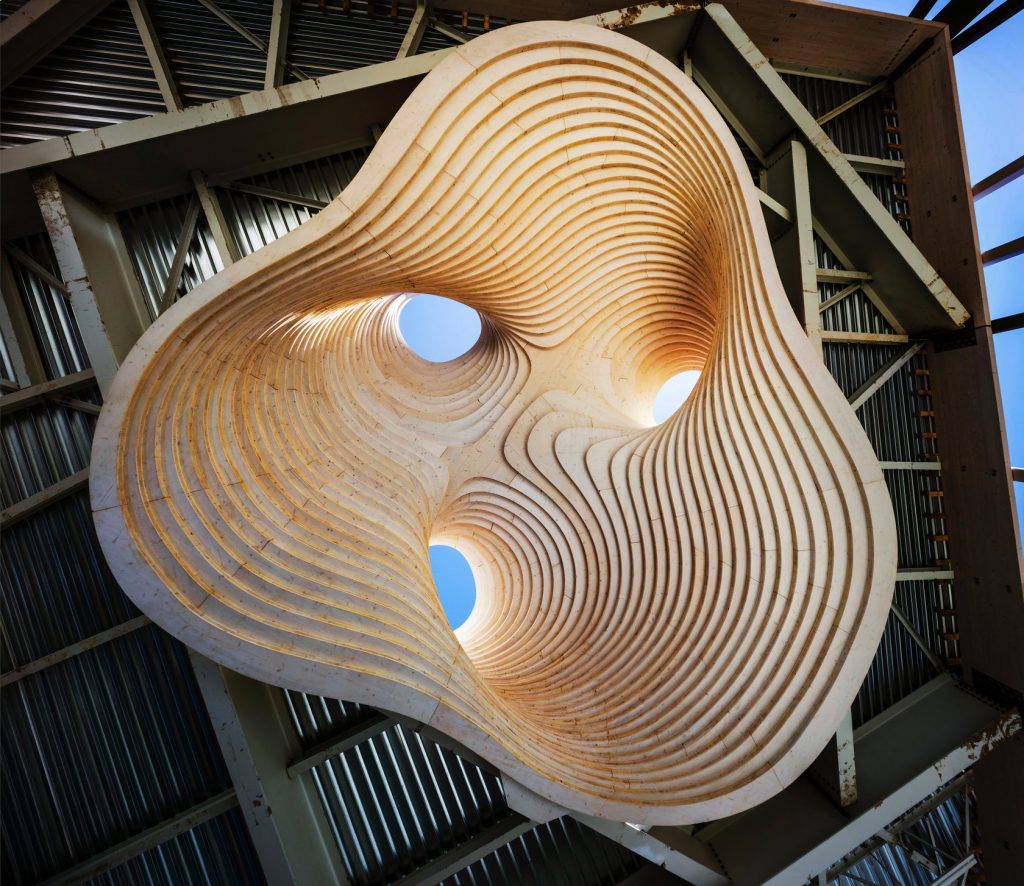 The pavilion is located at the threshold between a restored riverbank and an urban edge in Stamford, Connecticut. The Mill River Park Carousel Pavilion project's structural and manufacturing efficiencies optimize a fabric well known for its capacity to sequester carbon.
Gray Organschi Architecture worked near with the client group, engineers, and design consultants to provide that the repetitive application of basic details produces readily understandable shapes that are easy to assemble, maintain, and, if desired, at any point in the structure's lifespan, alter or dismantle. Also, the Mill River Park Carousel project was awarded the 2018 HOBI Award Winner – Best New Commercial Building Overall.
10. Nanjing Pavilion by Archi-Union Architects & Fab-Union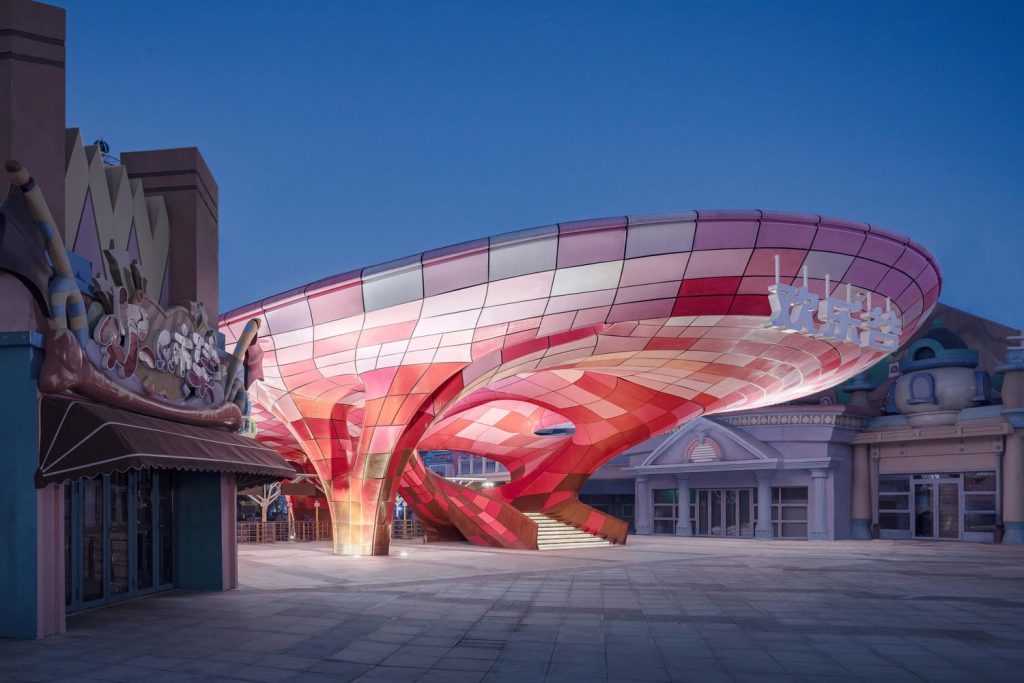 Nanjing Pavilion of Happy Valley Theme Park East Gate was a 3D-printed pavilion designed by Archi-Union Architects and Fab Union, reminiscing a step into another dimension. The design concept elaborates the elements such as Flow, Form, and Field.
The hyperbolic multi-layered surface sculpted using computational geometry stretches infinitely with porous penetration. The structure bends, curves, and folds, racing the spatial experience as the forms weave to attenuate the boundary lines of the building: the pavilion presents a complete steel structure and modified plastic-printed construction system on a colored exterior covered with GRP panels.