Steampunk is a pavilion constructed from steam-bent hardwood using primitive hand tools augmented with the precision of intelligent holographic guides. At the production stage, the designers of Steampunk, have developed an experimental approach to materializing architecture that serves as a deliberate polemic in the context of robotic production and automation, rather than producing drawings or lines of CNC code from which parts of our design could be cut, printed, or assembled. You can watch Soomeen Hahm's lecture at the Computational Design Next: 4.0 conference about the Steampunk Pavilion.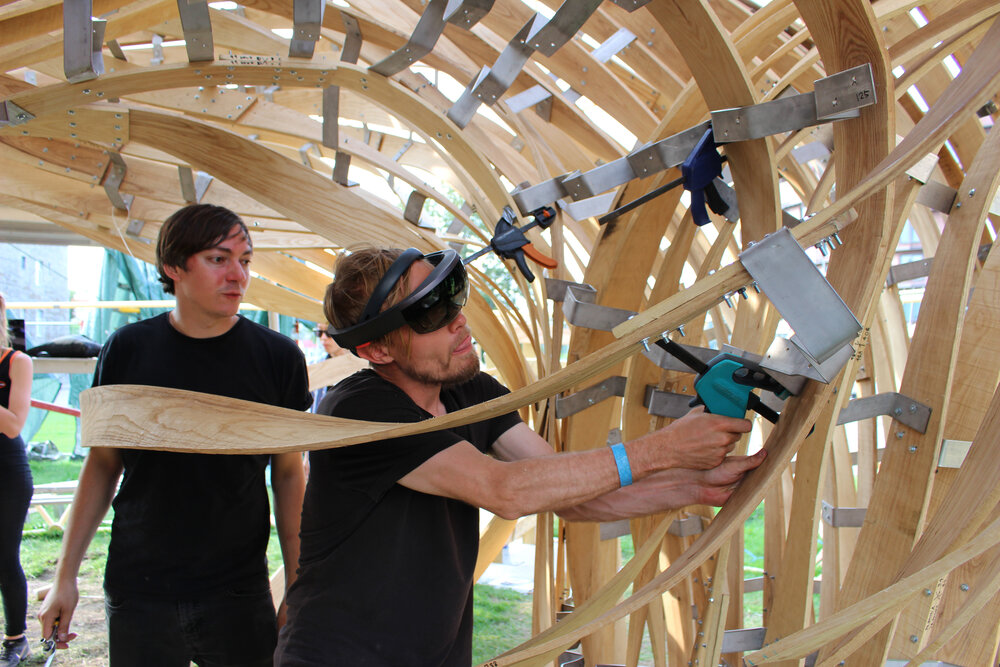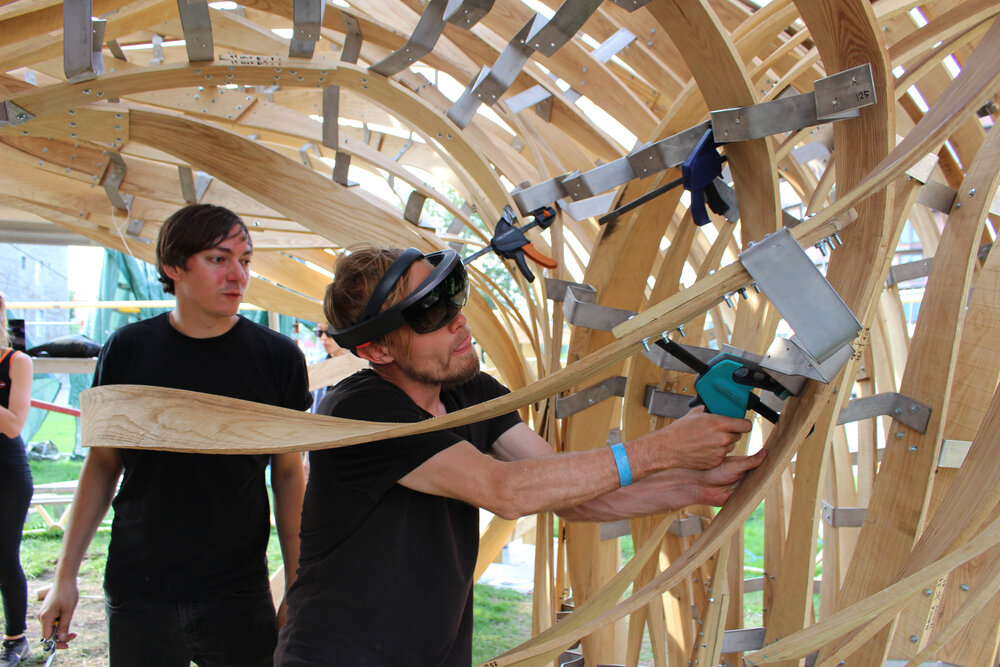 While computer-aided manufacturing and robotics have given architects unprecedented control over the materialization of their designs, the nuance and subtlety found in traditional craft practices is missing from robotic production artifacts because the intuition and understanding of both the qualitative and quantitative aspects of a project is difficult to describe in the deterministic and explicit language of these machines. in order to fulfill this concept of an adaptable design and construction process this technology allowed fabricators of the pavilion to utilize their own knowledge and ingenuity to make incredibly complicated and sophisticated items solely by following these holographic directions with rather crude analog instruments by projecting digital models as holographic overlays directly into construction settings. The pavilion works with the limitation of two main parts of 100 x 10 mm Ash profiles and a 30 mm steel section, molded into position with the aid of holographic models projected through the AR headset.
The Steampunk pavilion design is a cross that splits the Biennial site's grassy mound into four discrete sections that frame views of Tallinn's old city and the Architecture Museum. The pavilion's varying surface effects are the result of bending three-dimensional curves from straight 100x10mm boards, which causes the timber profile to twist along its length. Twisting timber parts add rigidity and compression strength to a composite timber and steel shell, and this endeavor to construct an architecture from specified lengths of material is more comparable to weaving than assembly.
Tracing the woven timber's lines goes from traditional orthogonal surfaces to a total breakdown of common topology, flirting with the ambiguity of knot shape, inside and outside, surface and volume. The pavilion also plays with positive and negative space, distinguishing an intimate interior from a huge poche, in order to produce a strong enough shell structure out of lightweight materials.
The steam bending method is used to create the structure's wood parts, which is a relatively technical and famously difficult operation. Each strip is packed, heated, and bent utilizing a holographic model as a reference to the desired output over an adaptive, moldless formwork. Holographic models give fabricators direct visual input on the precision of the forming process, allowing them to intuitively alter fabrication processes or formwork placements until components match digital models within acceptable tolerances. Physical parts can also be digitized and sent back into the digital model, allowing the design to adapt and accommodate changes as needed.
Project info:
Architects: Fologram, Igor Pantic, Soomeen Hahm Design
Area: 25 m²
Year: 2019
Lead Architects: Gwyllm Jahn, Cameron Newnham, Soomeen Hahm, Igor Pantic
Manufacturers: Fologram, Robert McNeel & Associates
Photography: Peter Bennets, Hanjun Kim, Cameron Newnham, Tõnu Tunnel