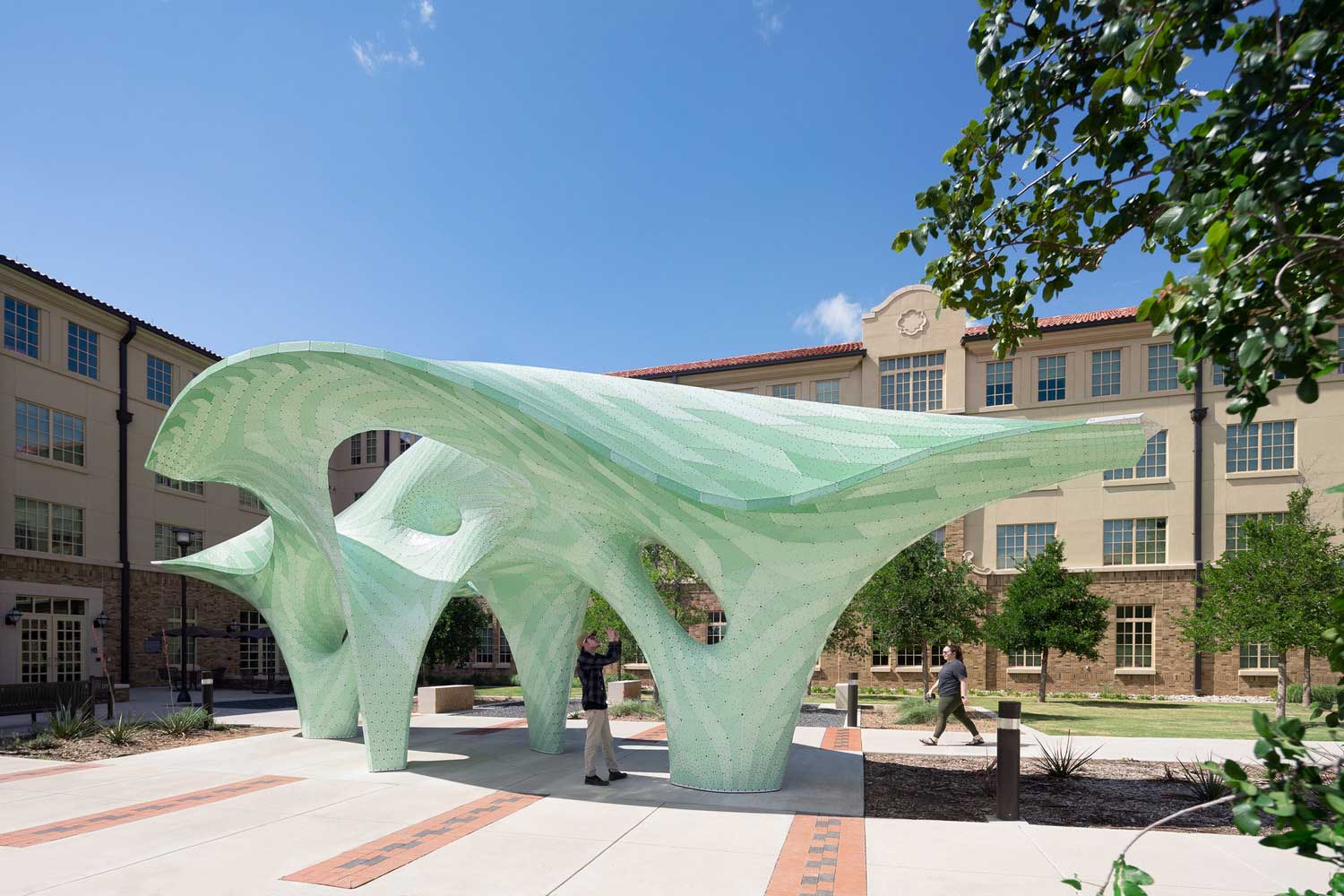 THEVERYMANY, a New York based architecture studio lead by Marc Fornes, created Zephyr as a shaded meetup point for students at the courtyard of the Honors Residence Hall at Texas Tech University in Lubbock, Texas.
Marc Fornes / TheVeryMany is an art and architecture studio specializing in the intersection of unique spatial experience and ultra-thin lightweight structures.
A grounded breeze resides in the courtyard of the Honors Residence Hall at Texas Tech University. The new Zephyr Pavilion defines an anchor in an active campus path and offers a destination for casual student meetups and study breaks. The gentle giant functions as a hybrid between interior and exterior space.
Sweeping cantilevers offer shade between dueling columns and open windows to the sky at the knot-like center. Both a signal of interaction and an experience along the campus path, Zephyr pulls in walking paths like a current.
Freed from a solely structure-driven design, Zephyr is formed on a repertoire of carefully curated geometric principles. Two centralized loop columns mirror each other at the center openings, drawing topographical lines into smooth, volumetric rings and opening to the sky above. Columns expand into branching funneled bridges, giving the overarching canopy strong points of rest.
Zephyr maintains a soft, yet intricate network that builds the foundation for self-supporting cantilevered wings. These effortless but essential moves of exacting capture and release breathe life into the hollow body of the form.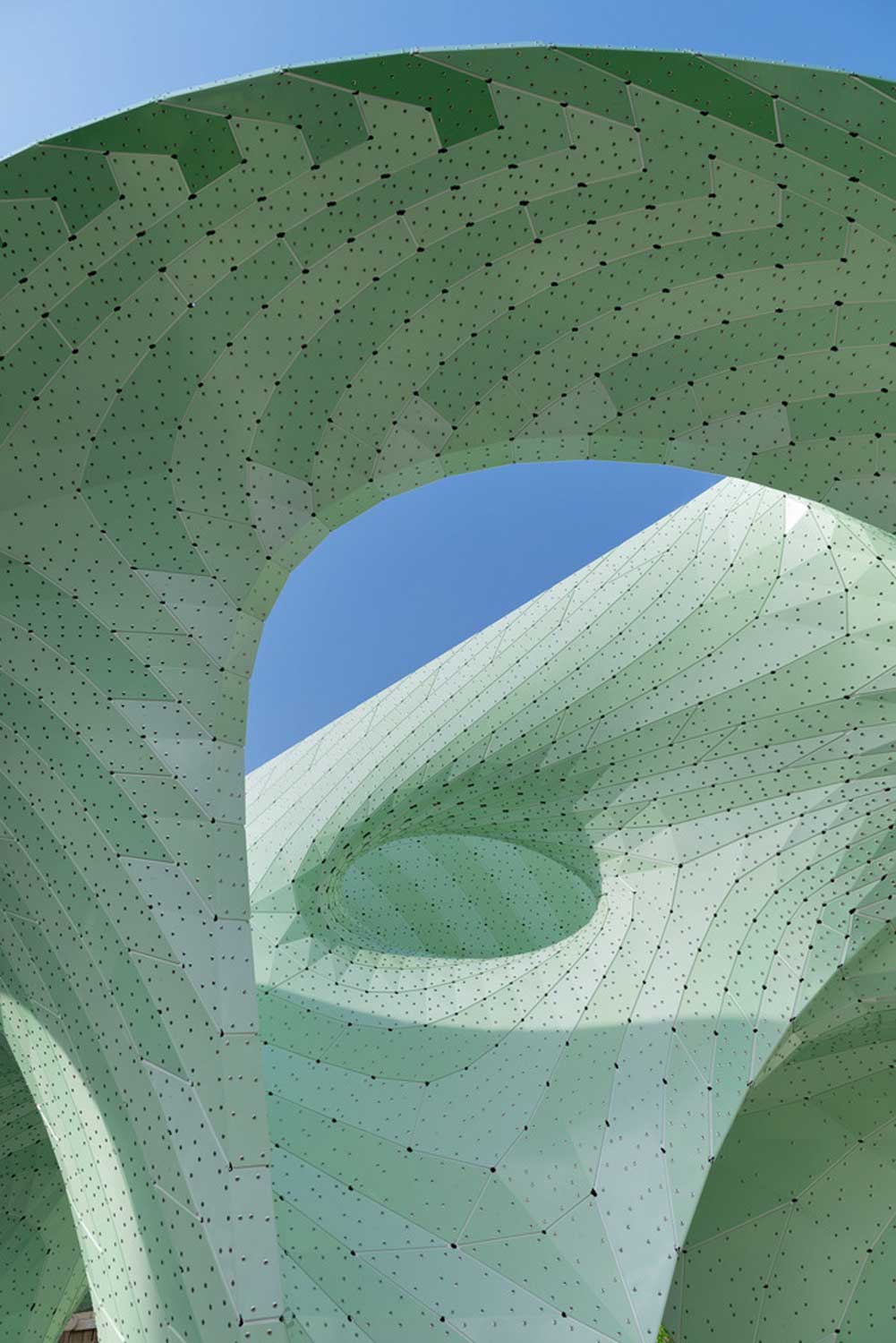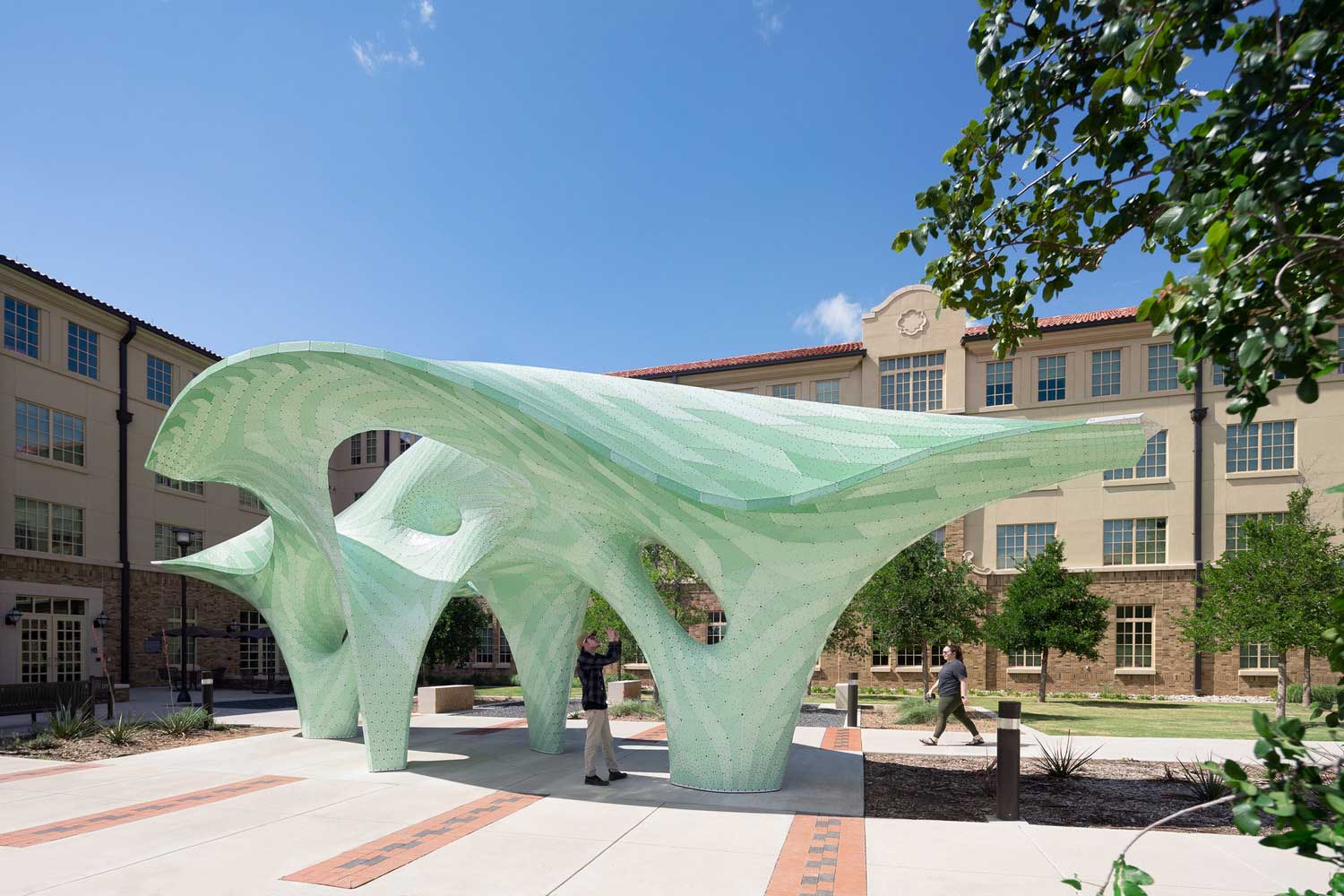 Walking through, graphic coloration dapples the interior condition, gradating in light greens from ground to locked, tapered edge. At a distance, the striped skin mimics a field of softened dazzle camouflage. Coloration blends on a whole to highlight moments in the flowing form as it dips in and out of shadows. The striated system is both coloration and structure. Each stripe holds a single color and distinct role in upholding the double curvature system.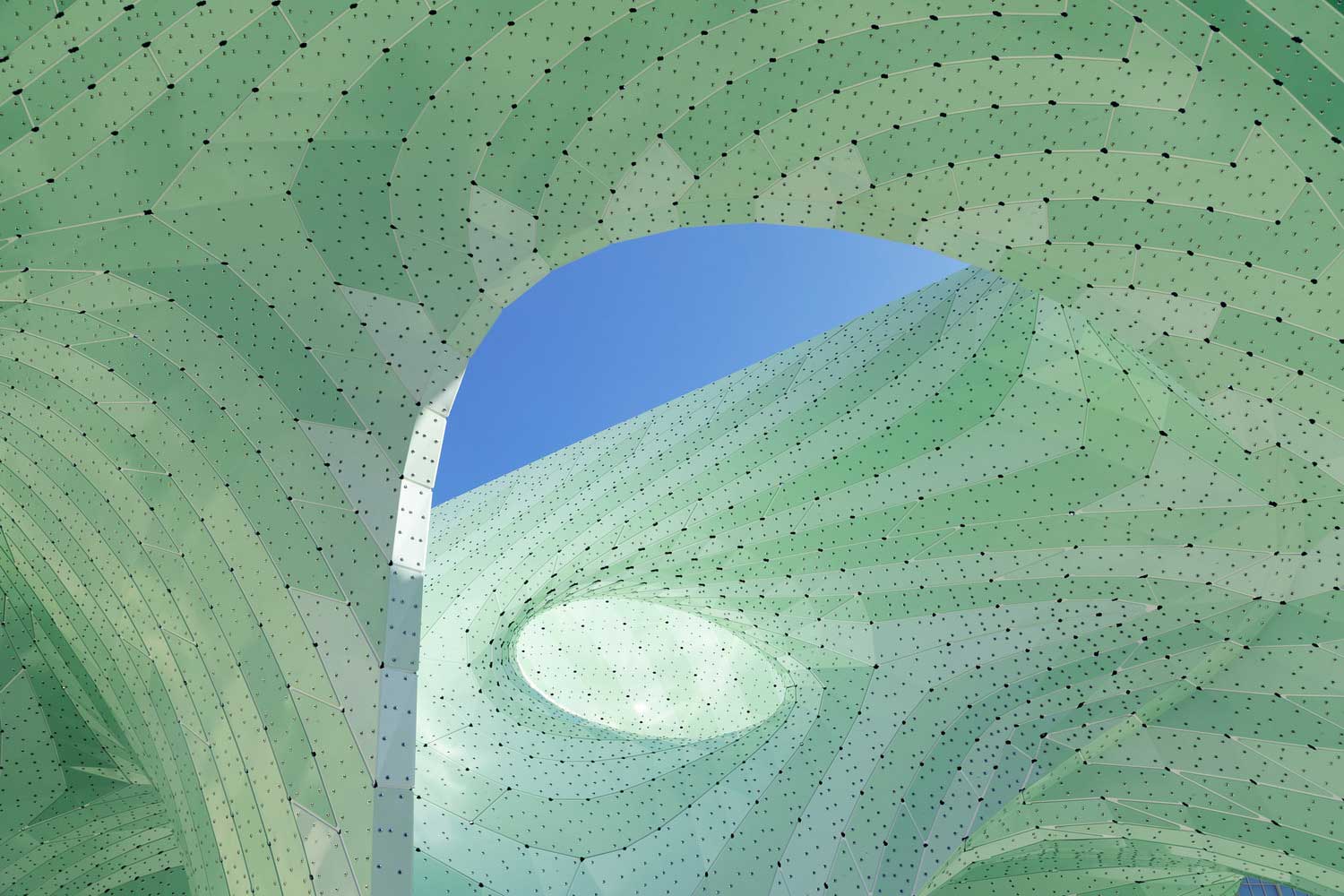 Pillars of Dreams, The Very Many's Cloud Like Sculptural Pavilion in North Carolina Pillars of Dreams is Marc Fornes of THEVERYMANY's cloud like sculptural pavilion made from cross-laminated stripes in Valerie C. Woodard Center – Charlotte, North Carolina, United States Pillars of Dreams by New York based architecture firm, enlivens the plaza of the newly …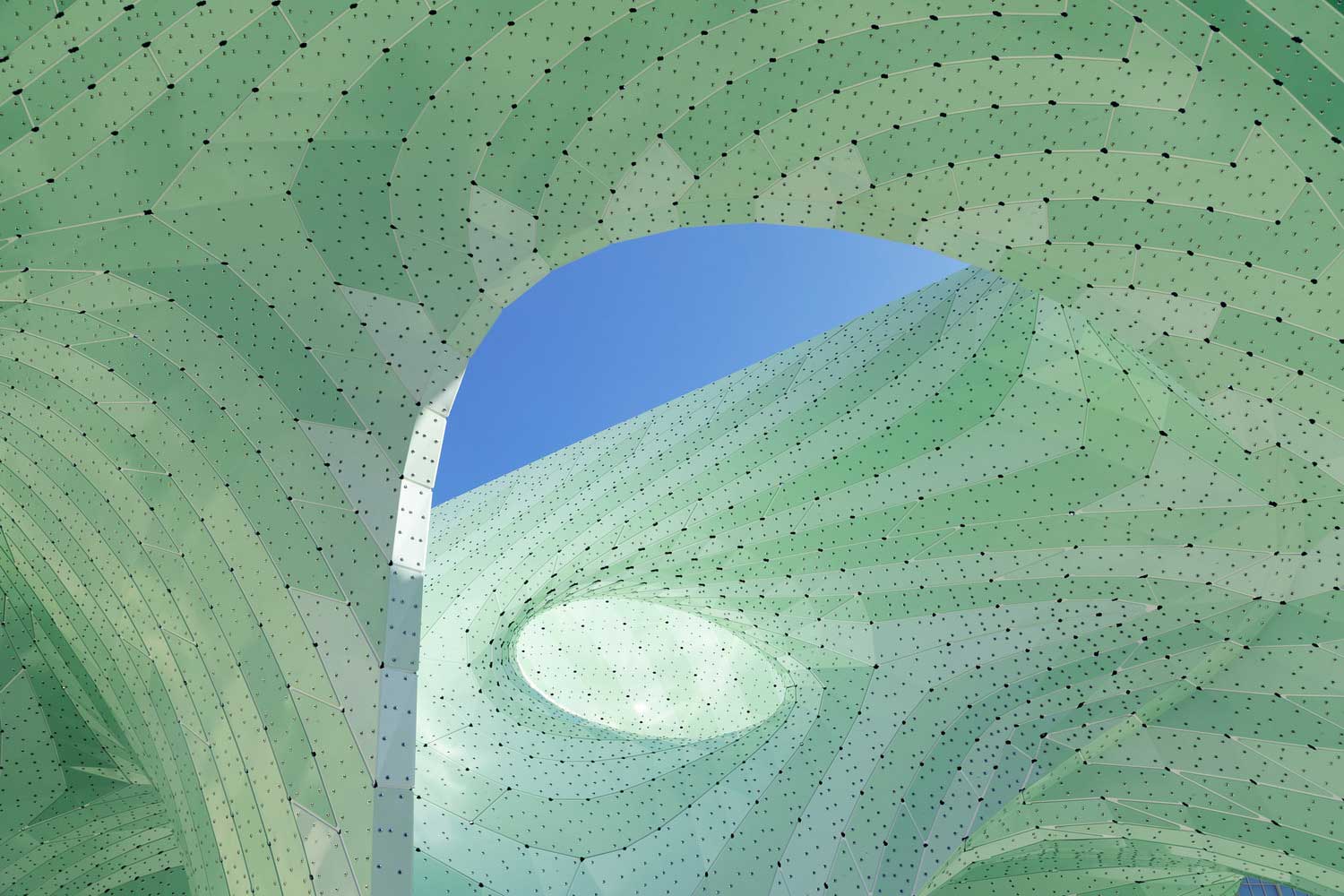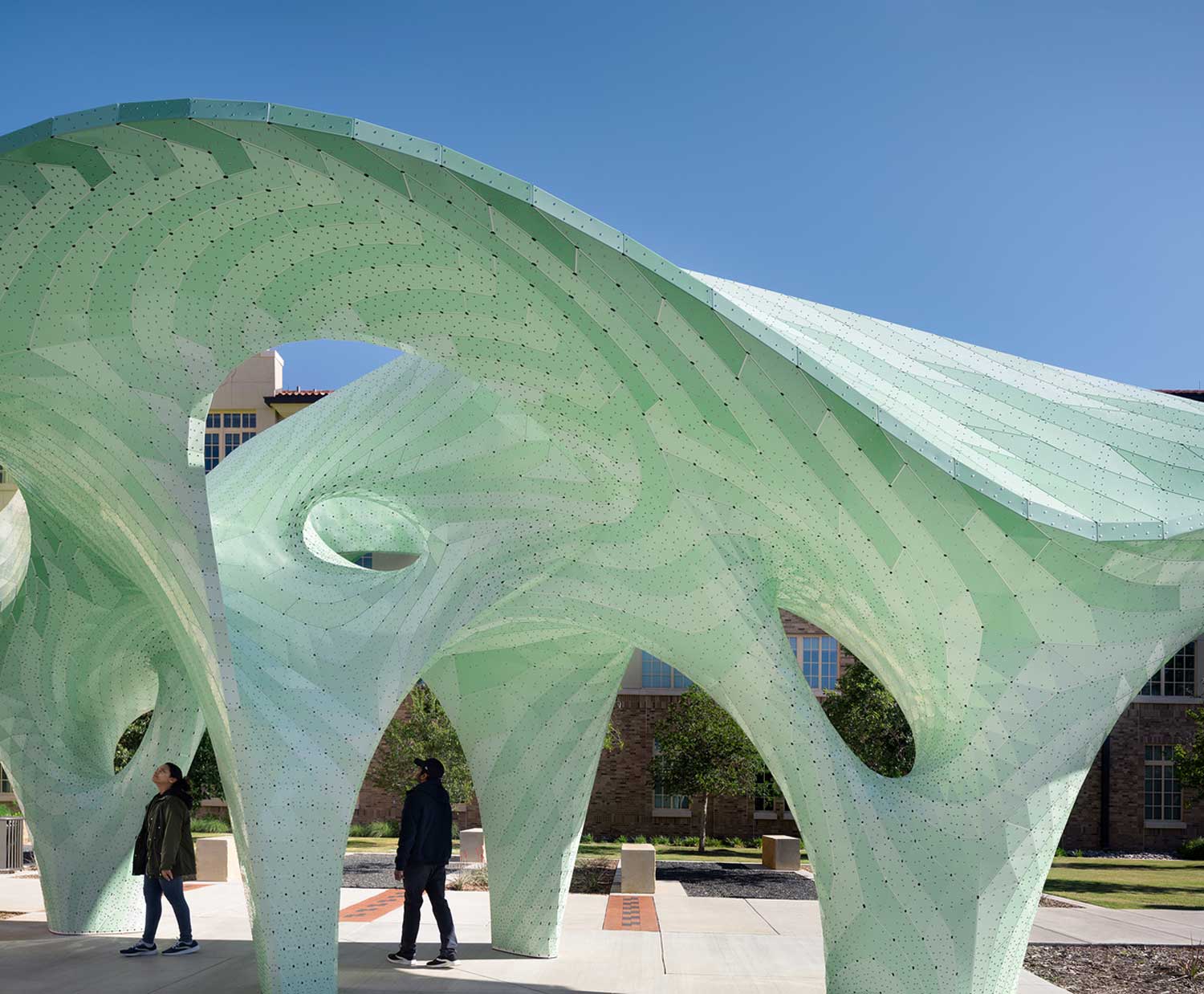 The structure is a carefully balanced ecosystem with each gently bent geometric stripe playing an essential role. Overarching curves are born of many singular parts joining together in sequence building strength into the whole. The overall form takes shape while assembling one part at a time to its neighbor. Progressive assembly requires a very precise sequence in construction; the connection of parts primes the overall form for the next piece. If a part is forced into place out of sequence it will not work. Little by little, one part at a time, the work will come together. Timing has become a vital component of the assembly process as the primary driver for shaping a surface.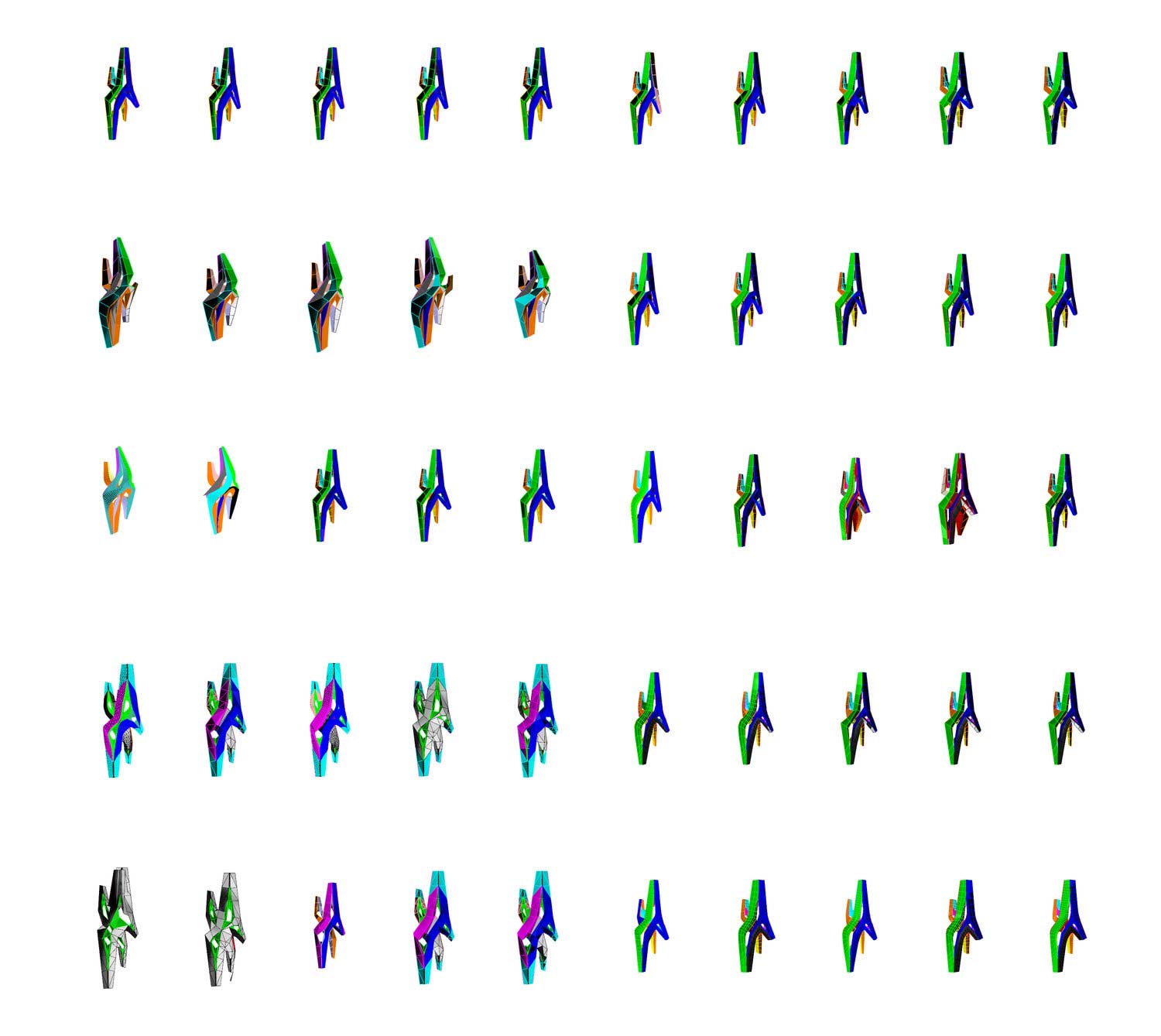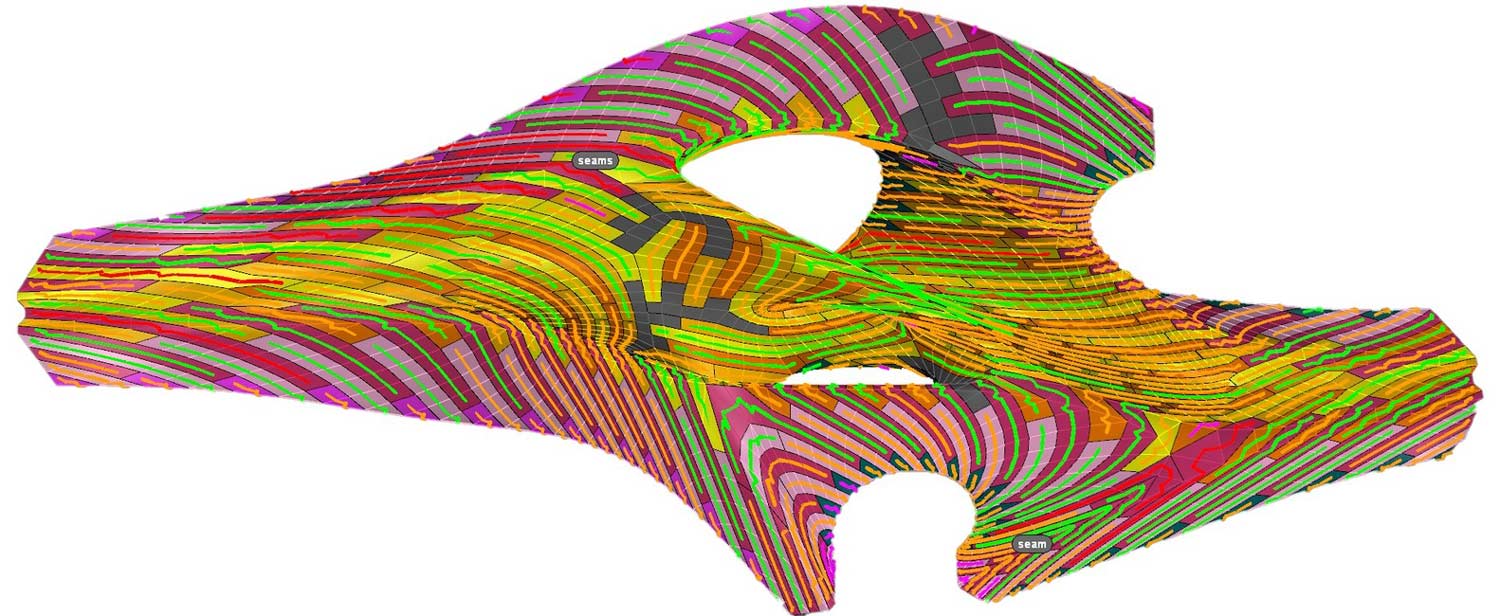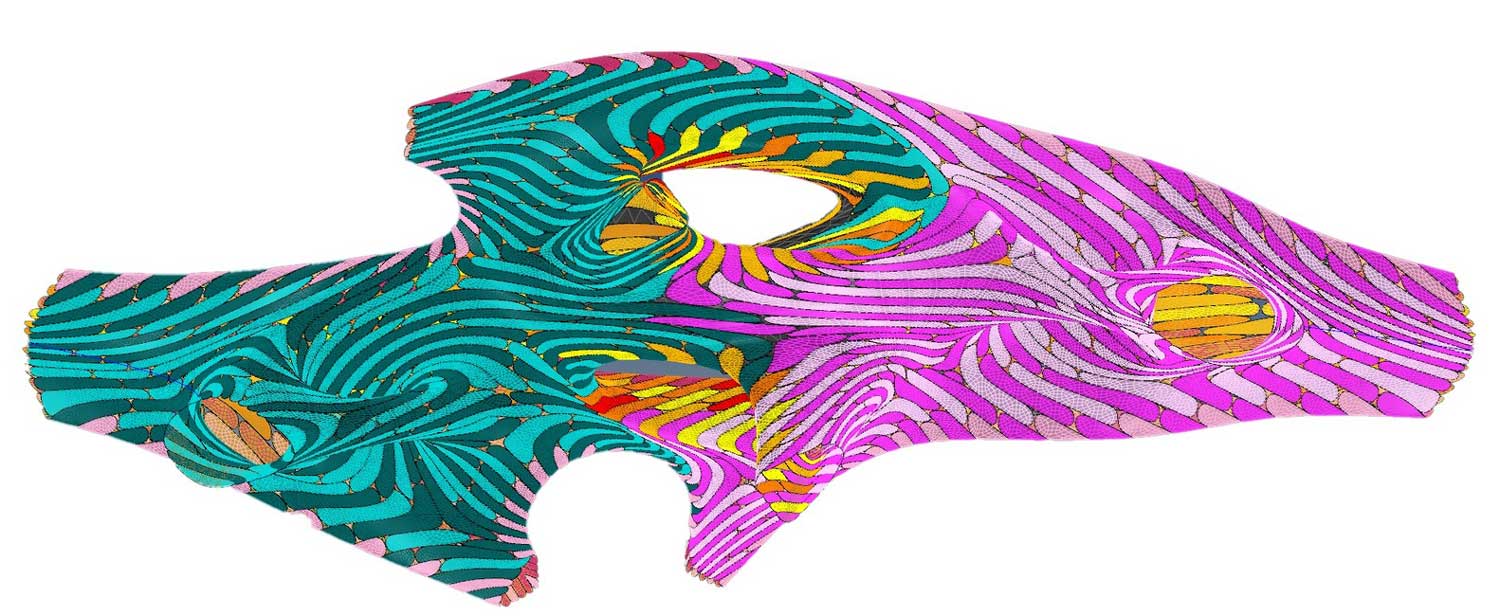 In the past, our approach to structure was based in with layered rings and stripes. Now oriented 45 degrees to the progression of the vertical span, striping parts appear to be interwoven in the description. With this rotation, each layer both carries loads and acts as a connection point for the meeting part, thereby facilitating the thinnest possible material thickness.
The construction logic is pre-programmed at the stripe unit, and with a degree of approximation and tolerance, the piece takes its own geometry. Controlled folds in a range from 6 to 15 degrees produce tangential continuity of the curvature, which yields relaxed movements between the angular underlying geometry.
Zephyr provides an opportunity for connection and camaraderie amidst a bustling microcosm. Inside a wind tunnel, through a colonnade, and under a canopy, the campus community will find a slowed moment of peace, as if carried away by a pleasant, westerly wind. 
Texas Tech University commissioned ZEPHYR Pavillion.
Project Name: Zephyr Pavilion
Architect : Marc Fornes / TheVeryMany
Location: Lubbock, Texas, United States
Type: Pavilion
Photography:  NAARO
Via > TheVeryMany
THE ALUMINIUM PAVILION, NON LIN / LIN BY MARC FORNES AND THE VERY MANY IN BRUGES, BELGIUM Non-Lin / Lin was an invited commission by the FRAC Centre to create a new environment that merges digital and analog modes of experience. Produced in 2011, nonLin/Lin represents an early prototypical work in mesh description that has …
Boolean Operator by Marc Fornes / THEVERYMANY in Suzhou, China, 2018 For the event of the Jinji Lake Biennial, MARC FORNES / THEVERYMANY installed a large-scale outdoor pavilion on the elevated plaza of the Suzhou Center. Its undulating enclosure interrupts the usual traffic, as an unexpected, emergent environment.
Marc Fornes / TheVeryMany is an art and architecture studio specializing in the intersection of unique spatial experience and ultra-thin lightweight structures. The design research of the studio is deeply rooted in the development of computational protocols and means of digital fabrication. Over the last ten years, the studio has invented and further developed "Structural Stripes," a building system by which custom-designed parts form complex, self-supporting curvilinear surfaces.