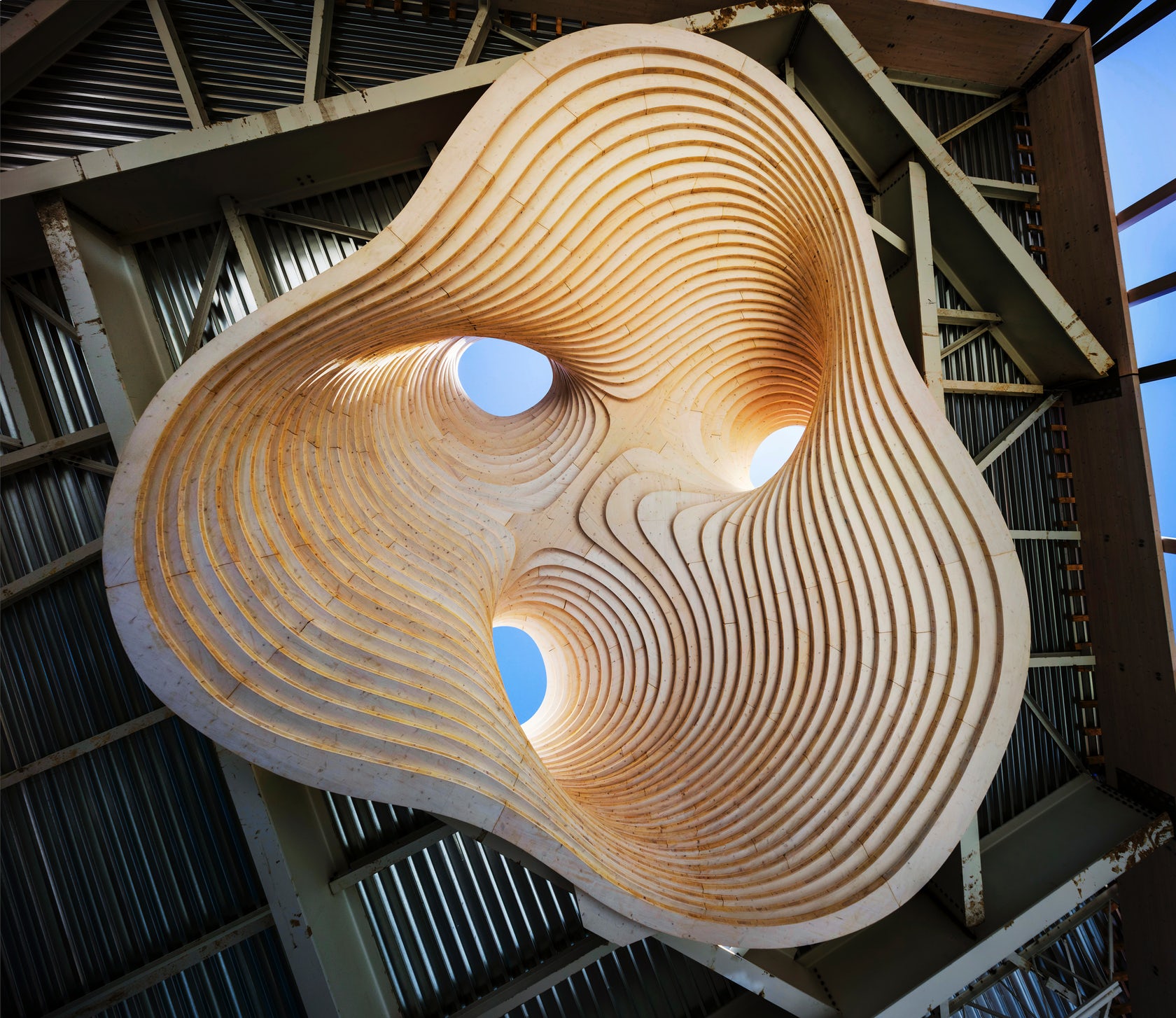 Mill River Park Carousel Pavilion by Gray Organschi Architecture in Stamford, Connecticut.
VISION
Text description provided by the architects. Through an open ideas competition we were awarded the commission to design a threshold between a restored riverbank and an urban edge in Stamford, Connecticut.  This urban porch proposal is composed of a shaded lattice formed from simple framing propped by gangs of timber pilings driven at slight angles to emulate the trunks of the trees in the meadow to the north.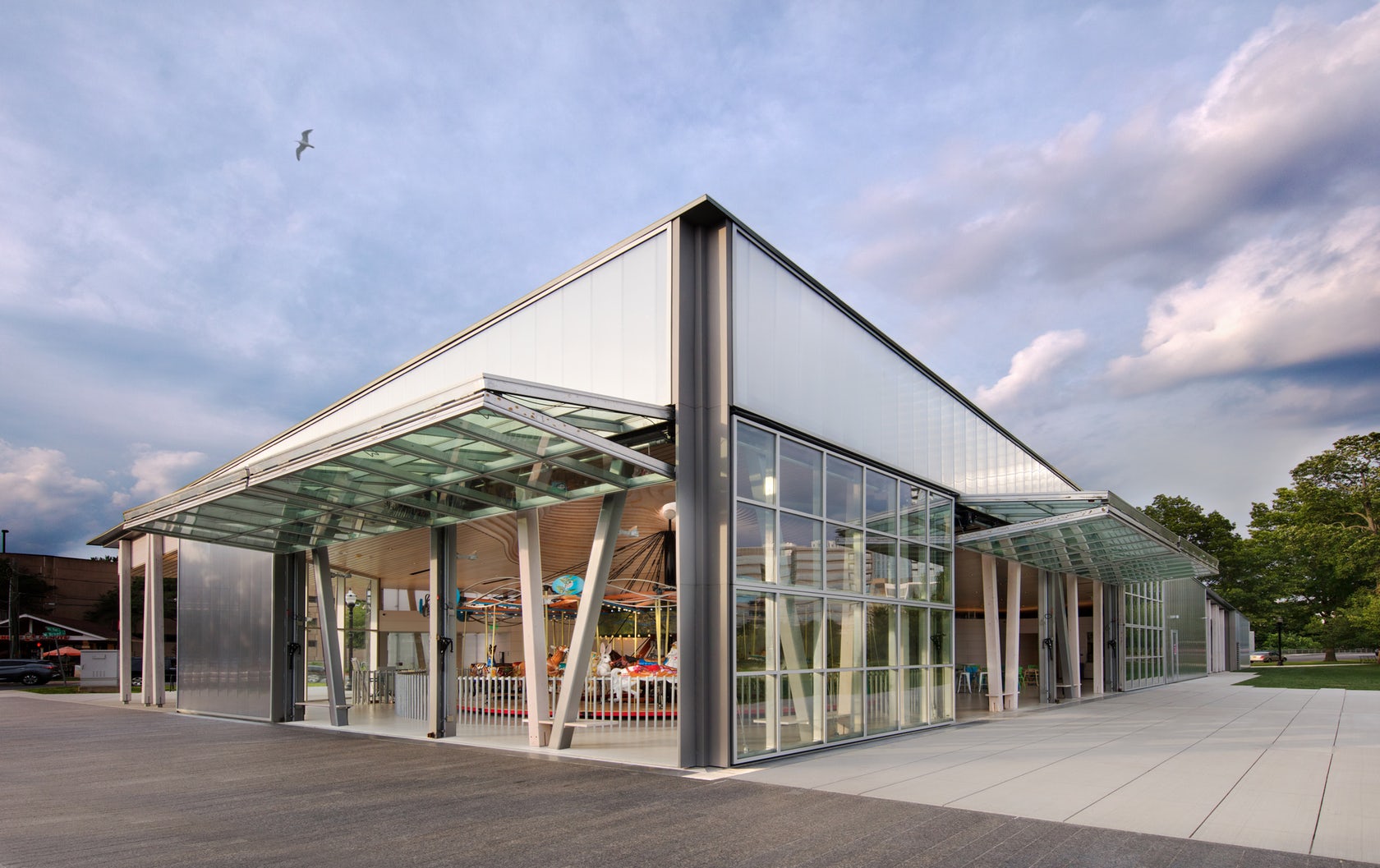 Deep slender joists of standard dimensional lumber, bolted into pre-tensioned units, are aggregated and pulled taut to create an expanded grid of wood, the upward pressure of the timber tripods forcing the trellis to undulate slightly, a torsion fostered by the longitudinal geometries and connection system of the continuous timber frame.
Beneath it, a simple banding of concrete planks, interrupted selectively by broad joints of reinforced thyme and grass, provides a steady surface for strolling, seating and a chess game.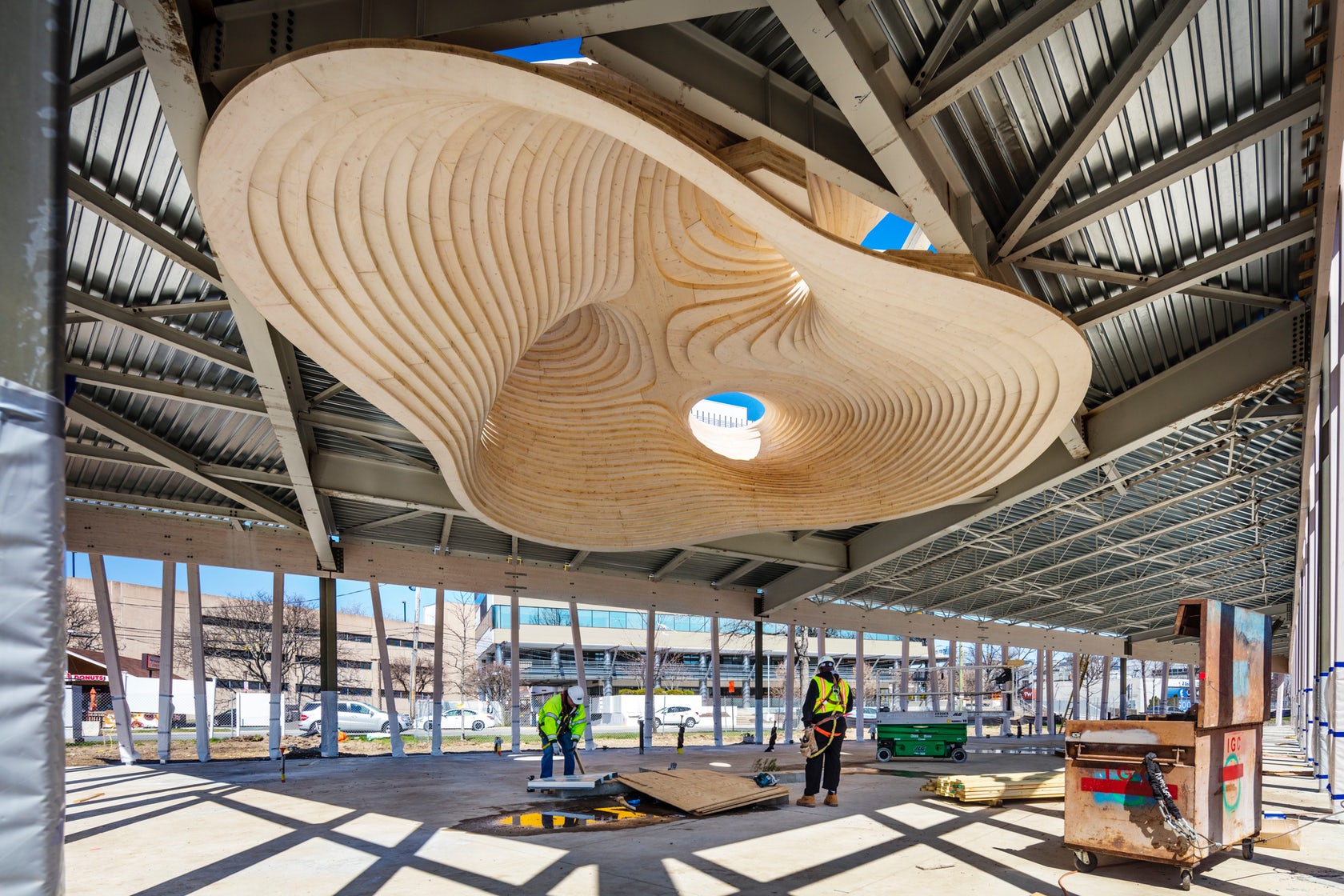 To the north, along the urban edge, a carousel shed stands as a beckoning gateway to the park. The shed, wrapped discretely in translucent polycarbonate panels on an engineered lumber frame, will host various gatherings. A series of pivoting panels will open on the riverside, framing a series of views for whirling carousel riders.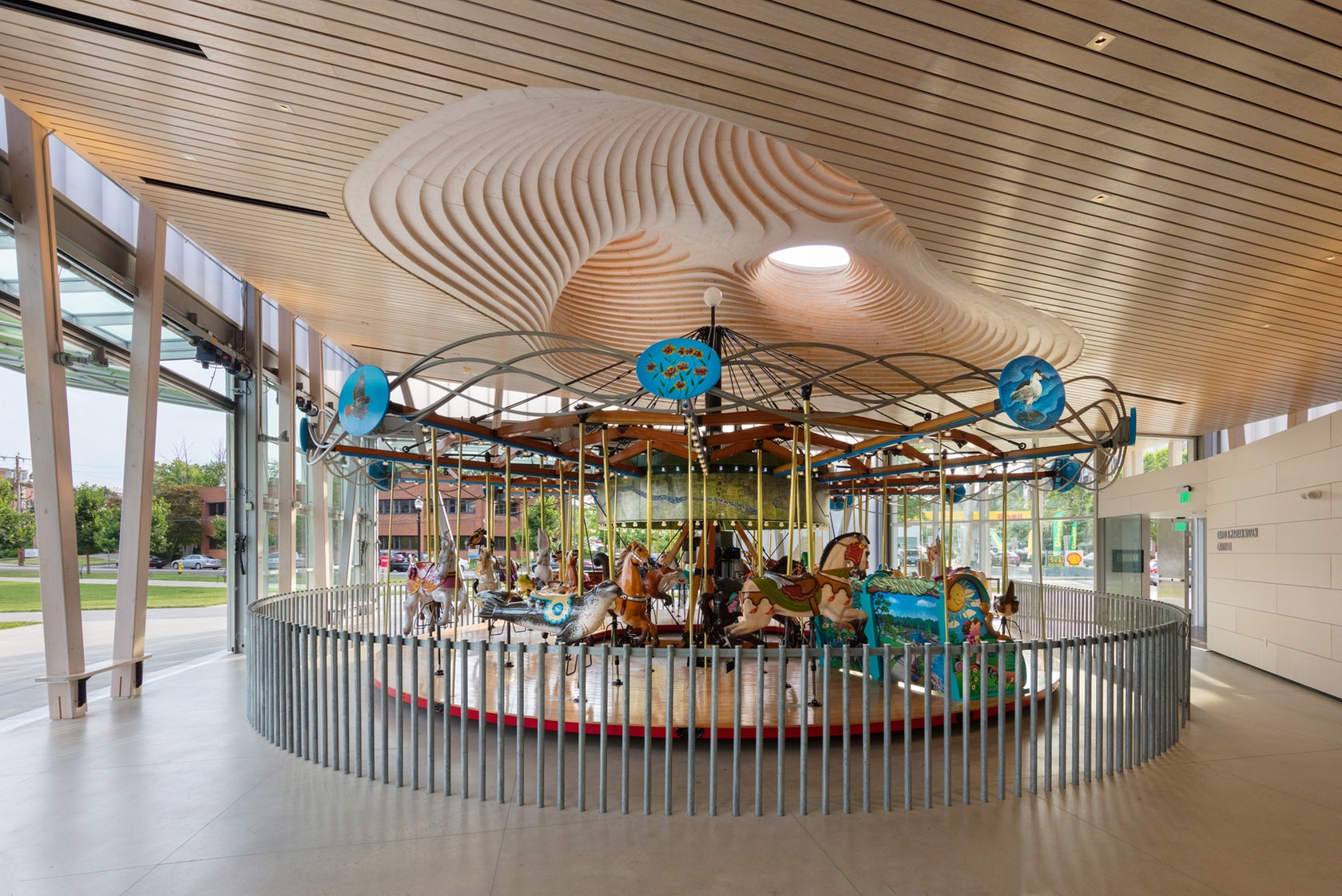 APPROACH
We seek to draw architectural richness from the inventive use of simple materials and assemblies. Intensive design exploration at many scales allows us to test the capacity of the architecture to simultaneously address the city and the body.
By studying the logics of fabrication and erection and using readily available materials and off-the-shelf fastening systems as constraints, we have developed a responsive and economical set of components which can adapt to variable site conditions.
Standard dimensional lumber, safely pressure-treated with aqueous copper quat preservative, is a material extracted from a renewable source.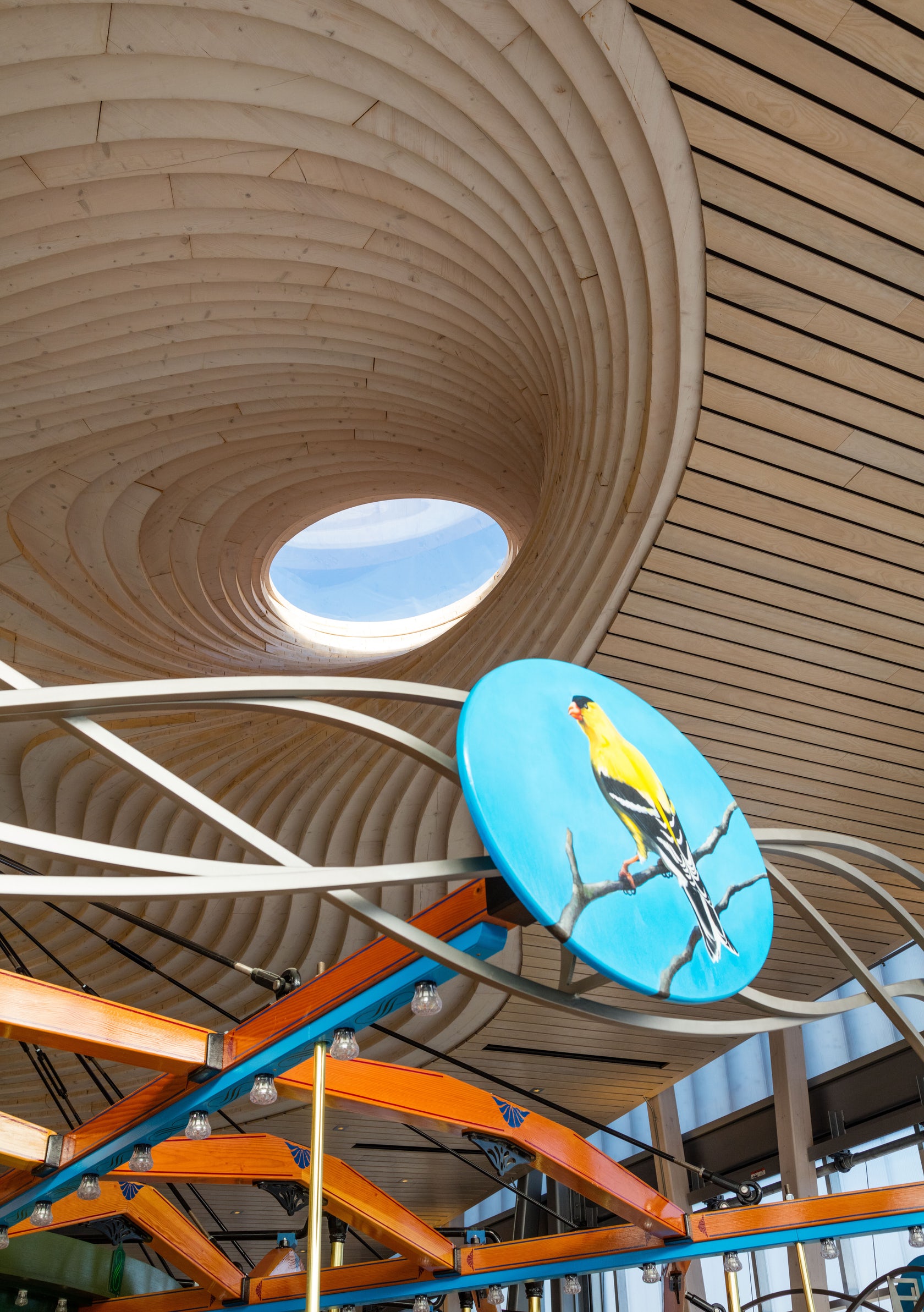 The Mill River Park Carousel Pavilion project's structural and manufacturing efficiencies optimize a material well known for its capacity to sequester carbon.  We are working closely with the client group, our engineers and design consultants to ensure that the repetitive application of simple details produce readily understandable forms that are easy to assemble, maintain, and, if desired at any point in the lifespan of the structure, alter or dismantle.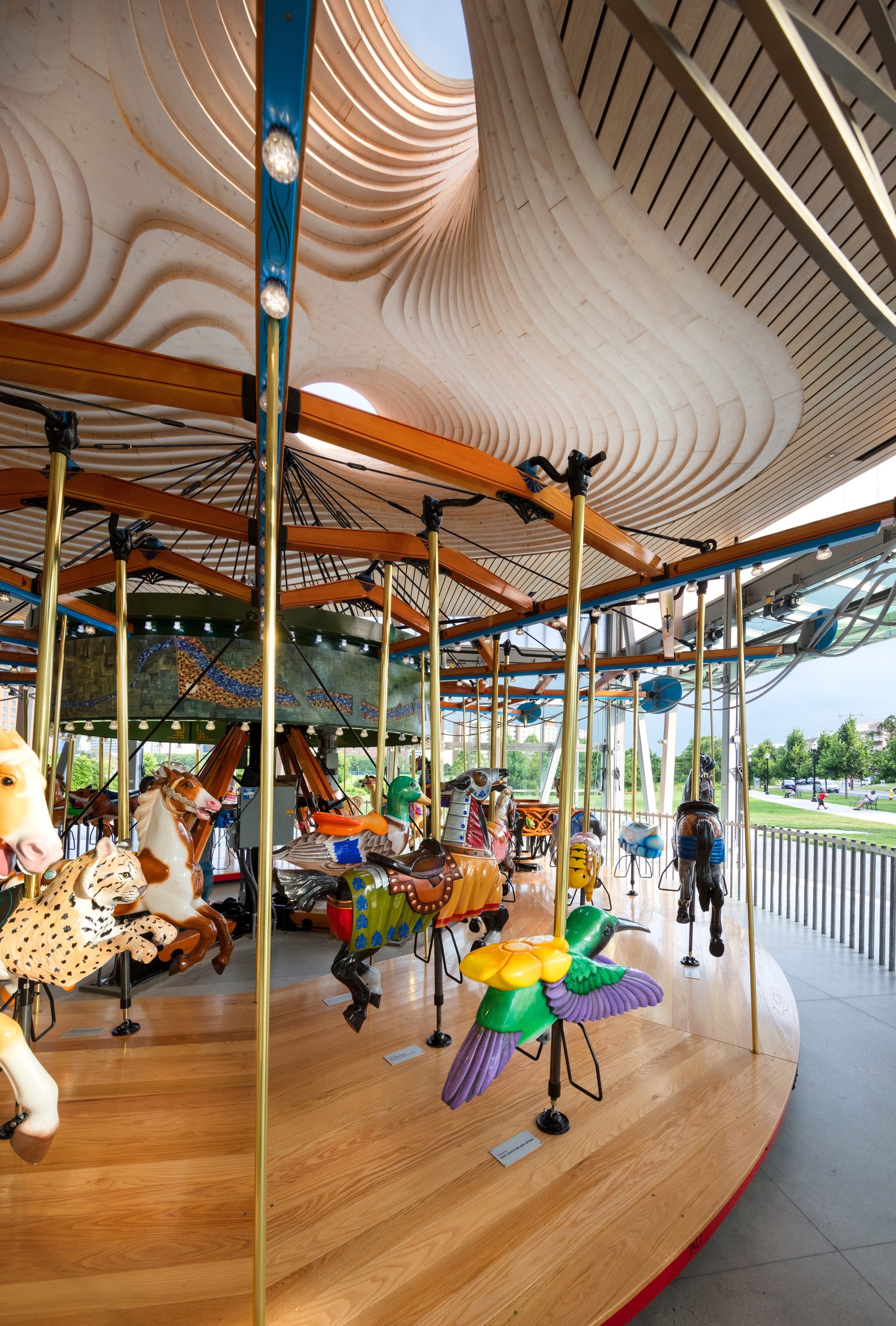 The use of low-impact materials, low-energy systems, and durable assemblies will provide a beautiful and adaptable structure, one that guarantees the ecological, social, economic, and cultural sustainability of Stamford's vision for Mill River Park.