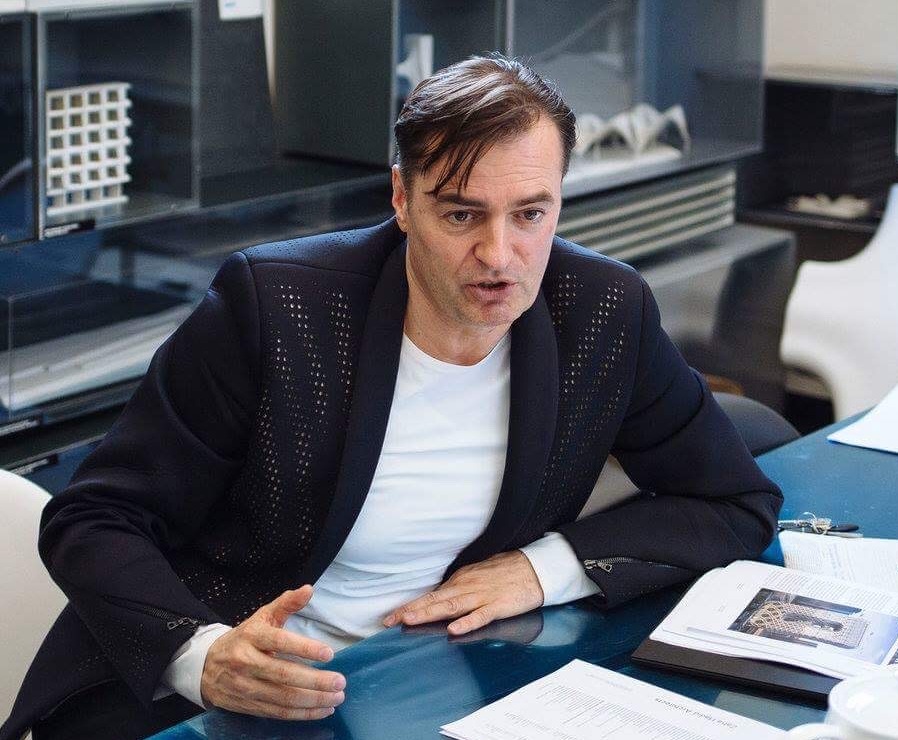 Patrik Schumacher is a leading architect, architectural theorist, and visionary in his own right. Throughout his career, Patrik has ardently challenged the norms of conventional architecture by revisiting the laws of gravity and spatial engineering. His radical ideas and design approach has inspired a new generation of architects to challenge what's possible and believe in the power of futuristic thinking.
Education and Early Career
Patrik's bold approach to architecture did not emerge in isolation, rather it was forged through years of rigorous education and relentless pursuit of knowledge. After completing his education in philosophy, mathematics, and architecture in Bonn, Stuttgart, and London, Patrik obtained his diploma in architecture in 1990. Such a comprehensive educational background provided him with a solid foundation to contribute to Zaha Hadid Architects (ZHA).
Joining the firm in 1988, Patrik Schumacher collaborated closely with the late Dame Zaha Hadid, playing a pivotal role in shaping the company's design ethos. Patrik's dedication and expertise led him to rise through the ranks, becoming a partner at ZHA in 2002 and assuming the role of the principal architect in 2016 following Zaha Hadid's untimely demise. As the principal architect at ZHA, he continues to push the boundaries of architectural innovation.
Here is our interview with Patrik Schumacher on parametricism and ZHA!
Design Philosophy of Patrik Schumacher
Patrik's design ideology weaves together a dynamic symphony of creativity and functionality. He orchestrates spaces that challenge the regular, evoke emotions, and are thought-provoking. His approach transcends the physicality of structures, delving into experiential architecture, where form and function intertwine seamlessly.
As a key figure in the Parametricism movement, he emphasizes the use of technology and computational tools to create adaptive, versatile, and complex structures. Schumacher believes in finding unique solutions that reflect the characteristics of a place and purpose. Therefore, most of his designs are free-flowing forms that effortlessly blend with their surroundings.
Let's have a look at the 10 finest architectural projects that exemplify Patrik Schumacher's distinctive vision and groundbreaking approach to architecture.
1. Opus Tower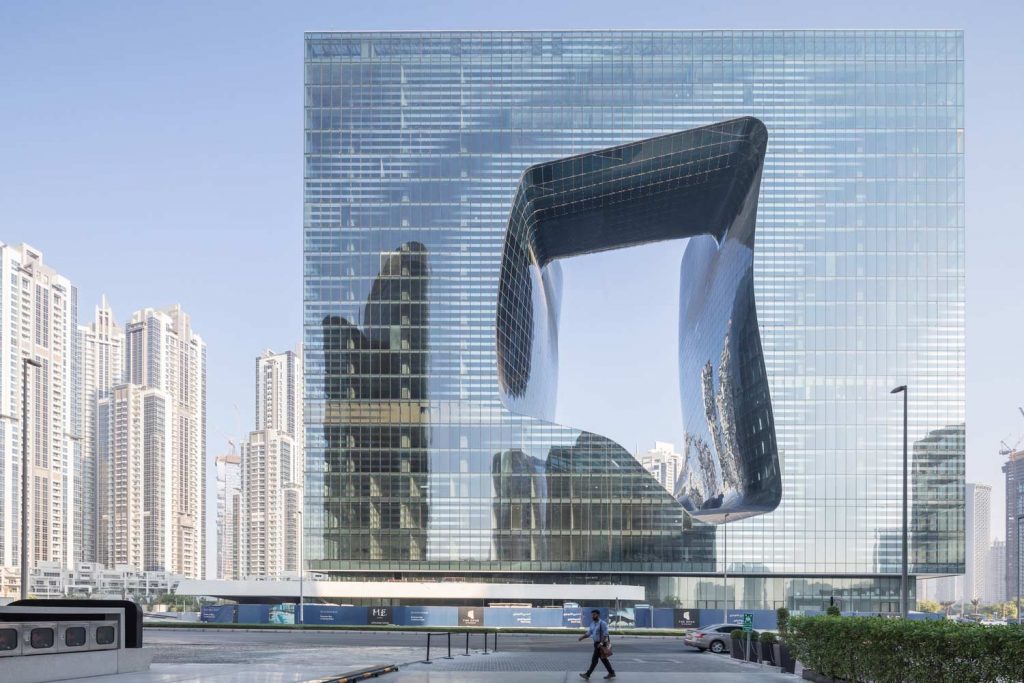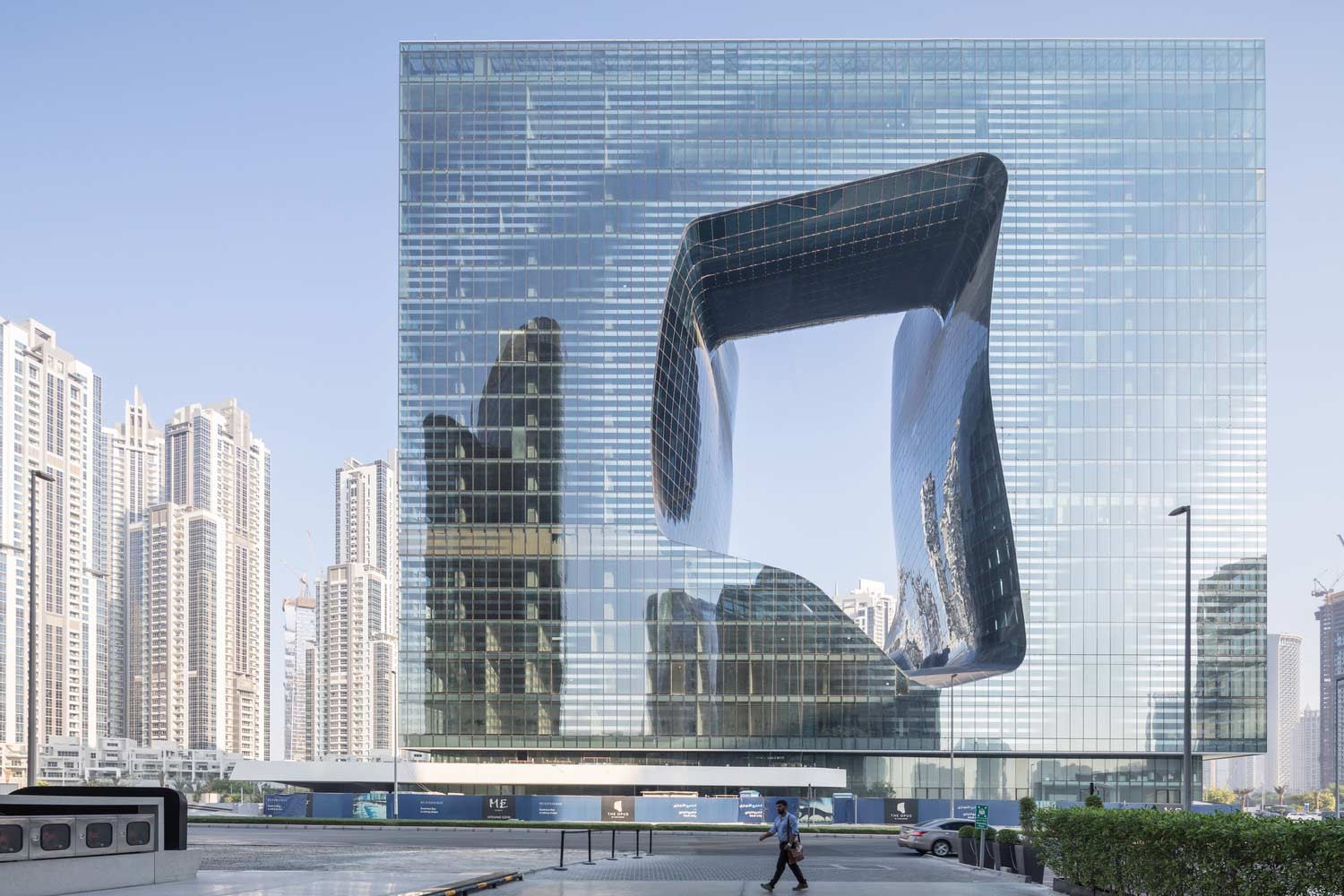 Location: Dubai, United Arab Emirates
Type: Mixed-use tower
Co-designed: Zaha Hadid and Patrik Schumacher
Year: 2019
Spanning 84,345 square meters, the Opus Tower stands at a height of 93 meters. It comprises a 20-story mixed-use building designed to offer luxury residences, office spaces, and a hotel within its infrastructure.
The tower's unique design features a glowing cube with a central void and a reflective glass facade that adapts to changing light conditions, creating a dynamic interplay with the urban landscape. Exploring the relationship between solid and void, the building was designed as two separate towers that seamlessly merge to form a cube. The form of the structure provides the impression of fluidity and creates an interesting play of light and shadows within the building.
2. Morpheus Hotel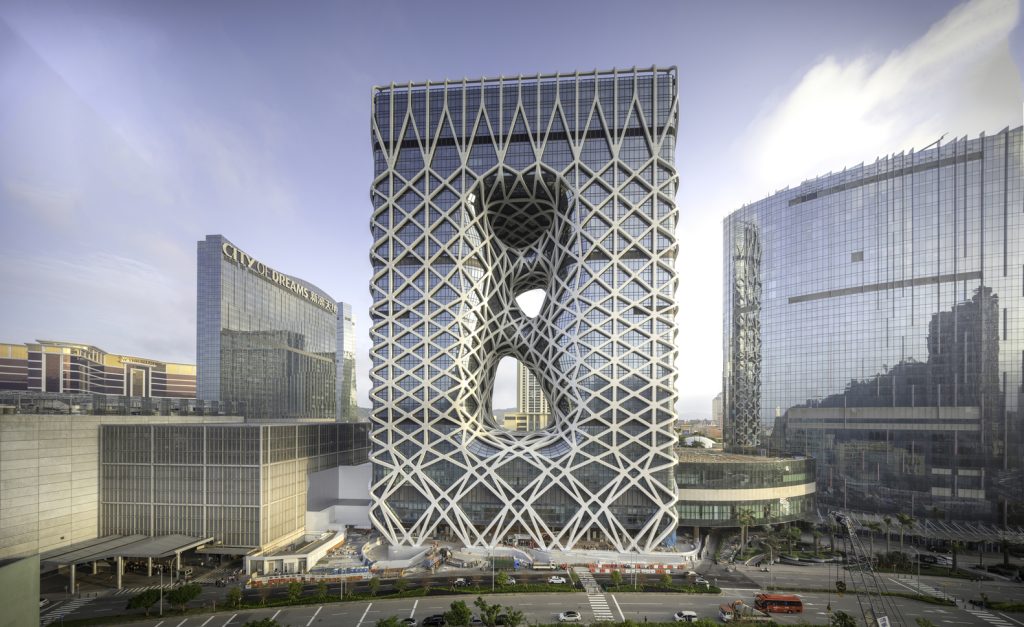 Location: Macau, China
Type: Hotel
Co-designed: Zaha Hadid and Patrik Schumacher
Year: 2018
With a staggering cost of $1.1 billion, the 780-room hotel boasts a seven-story atrium and an exceptionally designed world-first exoskeletal structure that spans 147,860 square meters at the base and 160 meters vertically.
The buildings' fluid form is derived from China's rich traditional history of jade carvings. A series of voids is carved through the center of the building, giving it a sculptural appearance and creating an urban window for community interaction. The exoskeleton, consisting of a series of voids and bridges, virtually eliminates the need for interior walls or columns, bridging the hotel towers to create a self-supporting structure that also houses the facade, restaurants, and a club lounge, contributing to an unparalleled hospitality experience.
3. King Abdullah Petroleum Studies and Research Center (KAPSARC)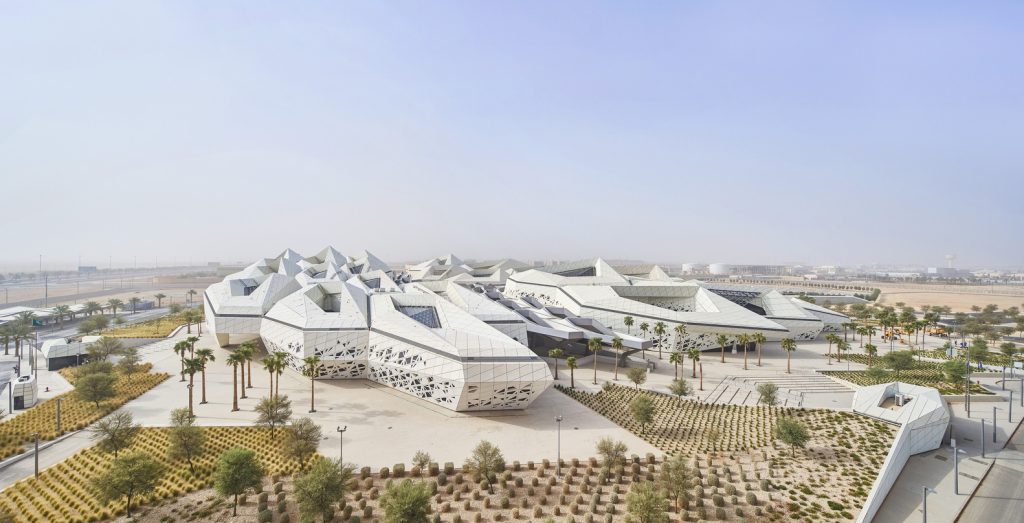 Location: Riyadh, Saudi Arabia
Type: Research center
Co-designed: Zaha Hadid and Patrik Schumacher
Year: 2017
Located in Riyadh, Saudi Arabia, this research center is a combination of 5 buildings: the Energy Knowledge Centre, the Conference Centre with exhibition hall and auditorium, the Energy Computer Centre, the Research Library, and the Musalla (prayer hall). A schematic arrangement of hexagonal prismatic honeycomb structures formulates the entire campus.
Covering an expansive 70,000 square meters, this research center is designed in response to the geological and environmental conditions of the Riyadh Plateau, thereby minimizing energy and resource consumption. Through its form, the building design promotes transparency and encourages dialogue between the researchers and visitors. With staggering floor plates and spatial layering, the designers are able to provide views to the floors above and below, thereby offering better visual connectivity. The building's honeycomb facade provides solar shading, reducing heat gain and enhancing energy efficiency.
4. London Aquatics Centre for the 2012 Summer Olympics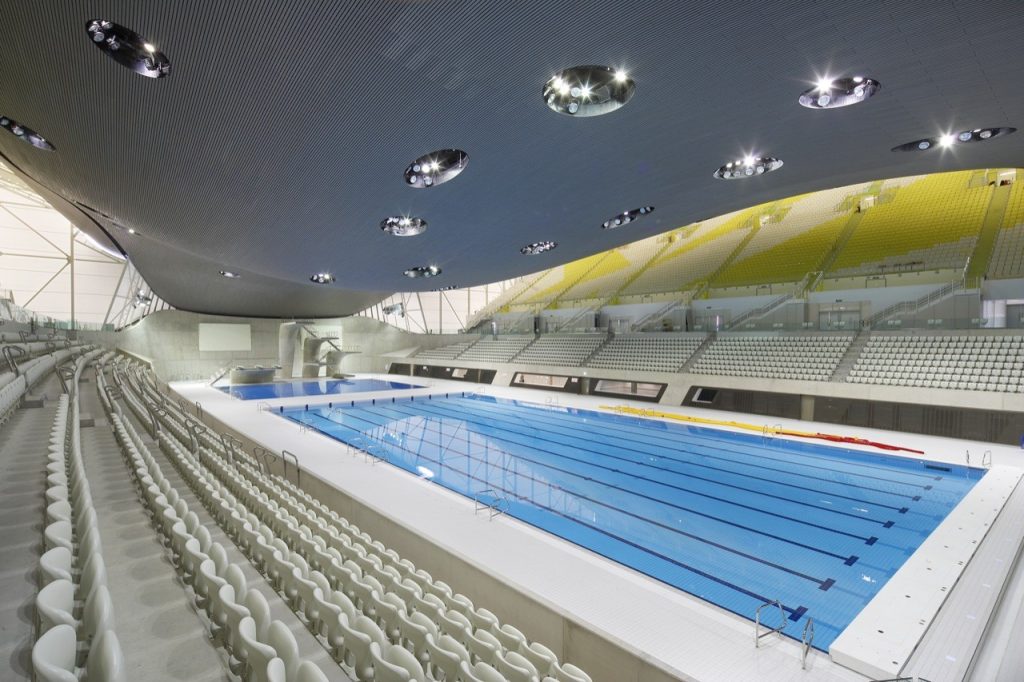 Location: London, United Kingdom
Type: Sports facility
Co-designed: Zaha Hadid and Patrik Schumacher
Year: 2011
The construction of the London Aquatics Centre was aimed at creating an unforgettable venue for hosting the 2012 Summer Olympics, boasting a seating capacity of 17,500. Situated on a site measuring 45 meters in height, 160 meters in length, and 80 meters in width, the facility offers a substantial gross floor area measuring 20,264m².
The architectural concept of this sports facility seeks inspiration from the dynamism and fluidity of flowing water. The undulating roof, composed of steel and aluminum, symbolizes the energy and movement of swimming. The building is planned on an orthogonal axis accommodating three pools (one for training and the other two for competition) aligned along the axis. An emphasis on natural light and ventilation create a comfortable and sustainable environment for athletes and spectators alike.
5. Beijing Daxing International Airport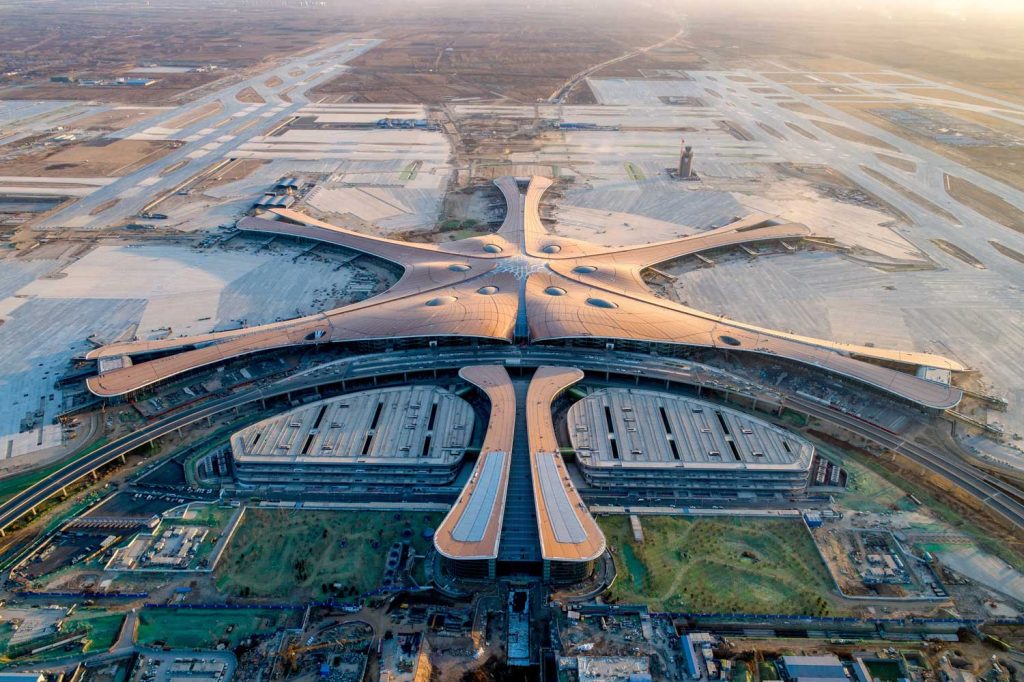 Location: Beijing, China
Type: Airport
Co-designed: Zaha Hadid and Patrik Schumacher
Year: 2019
Spanning 700,000 square meters, the Beijing Daxing International Airport features an iconic starfish-shaped design, serving as a gateway to the bustling city of Beijing. It houses the world's largest single-building terminal, accommodating up to 72 million passengers annually.
The airport's design resembles traditional Chinese architecture that organizes interconnected spaces around a centrally-located courtyard. The terminal's design seamlessly guides all arriving and departing passengers towards the central courtyard that acts as a public meeting space. The building utilizes a series of intersecting steel trusses that support the vast roof structure, allowing for large, open interior spaces and minimizing the need for interior columns. This design approach not only creates a visually striking aesthetic but also provides efficient circulation and ample natural light throughout the terminals, enhancing the overall passenger experience.
6. The Napoli Afragola Train Station
Location: Naples, Italy
Type: Train station
Co-designed: Zaha Hadid and Patrik Schumacher
Year: 2017
With an area of 30,000 square meters, the Napoli Afragola Train Station connects four high-speed intercity lines, three inter-regional lines, and a local commuter line. It is strategically located to facilitate travel between Bari, Reggio Calabria, and the north of Italy and Europe, serving 15 million residents.
The station is designed as an urban public bridge that connects communities on either side of the railway. This public walkway is curated to serve as the station's main concourse equipped with all transportation amenities. The station's overall design focuses on efficient passenger circulation, with an expanded public walkway over the eight railway tracks acting as the main concourse. The structure features a reinforced concrete base supporting an elevated platform made of steel ribs clad in Corian, topped with a glazed roof.
7. Guangzhou Opera House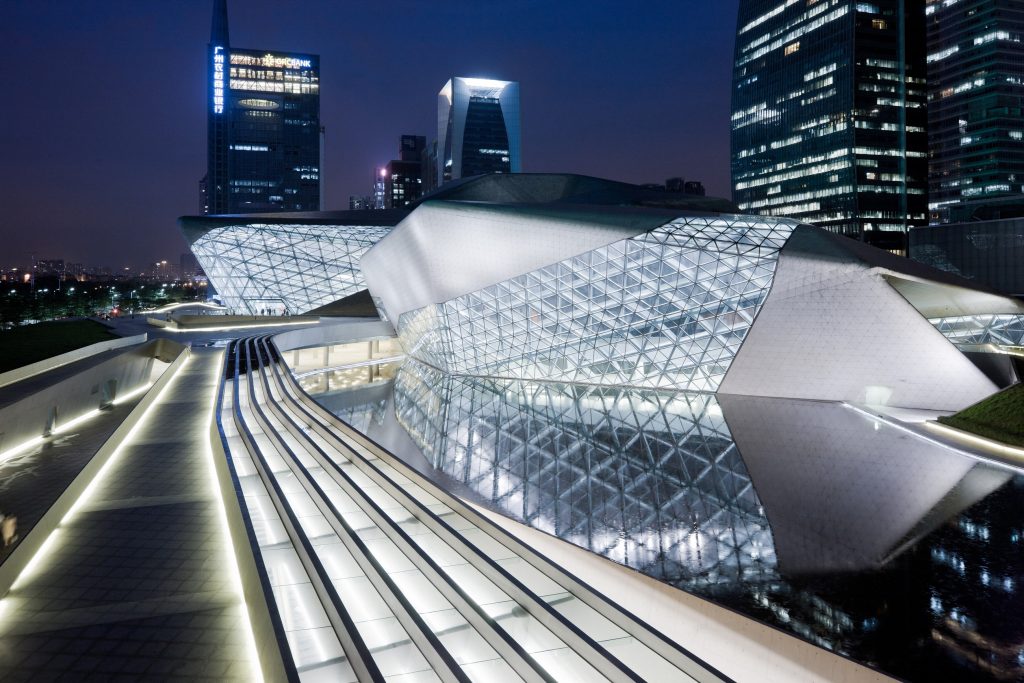 Location: Guangzhou, China
Type: Opera House
Project Director: Patrik Schumacher with Woody K. T. Yao
Year: 2010
Situated on the banks of the Pearl River, the Guangzhou Opera House covers an area of 70,000 square meters and can accommodate an audience of up to 1,800 people. The building's design is inspired by the surrounding natural landscape on site that deals with the principles of erosion, geology, and topography. The design of the Opera House is specifically influenced by river valleys and the manner in which they transformed due to erosion.
The dramatic form of the building resonates with the idea of a performance center. The fluidity of forms allows for smooth transitions between disparate elements and various levels that look similar to a landscape analogy. The structure of the opera house showcases a complex and sophisticated combination of reinforced concrete and steel frameworks, enabling distinctive curvilinear shapes, large spans, and cantilevers while creating spacious interior volumes and breathtaking auditorium spaces.
8. Heydar Aliyev Center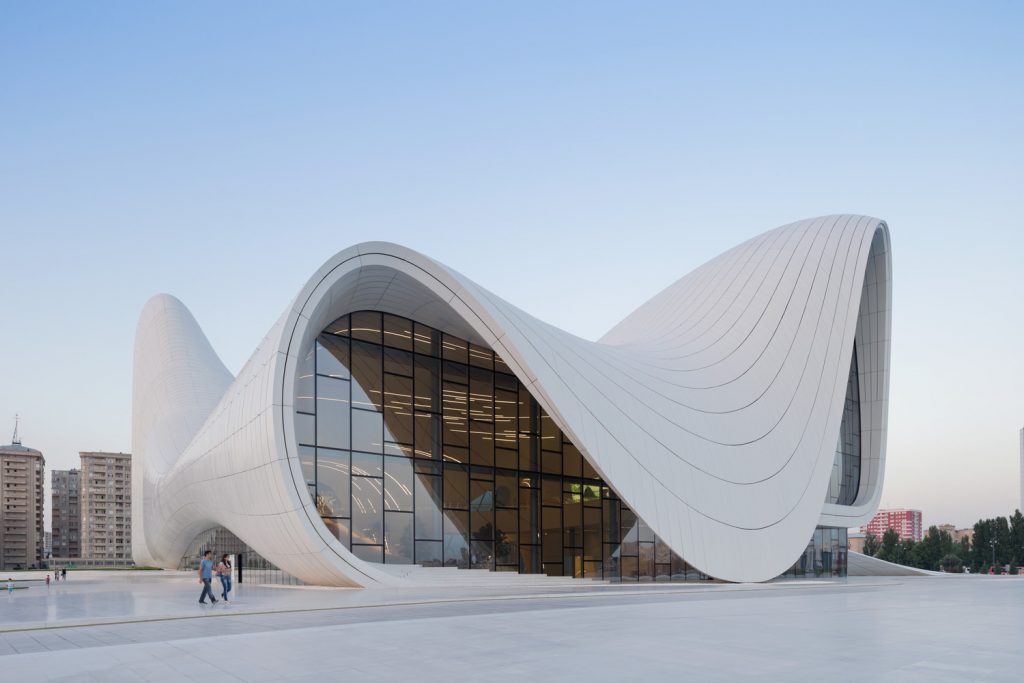 Location: Baku, Azerbaijan
Type: Cultural center
Co-designed: Zaha Hadid and Patrik Schumacher with Saffet Kaya Bekiroglu
Year: 2012
The Heydar Aliyev Center, spanning 101,801 square meters, elegantly embodies Azerbaijan's culture with a flowing curvaceous roof. The building serves as a versatile hub for exhibitions, conferences, and performances.
The center's design establishes a relationship of harmony between its surrounding and the building's interiors, serving as an urban plaza. Donned with elaborate undulations, folds, and bifurcations, the building performs a variety of functions by welcoming, comforting, and directing visitors through different parts of the interiors. Designing according to the site contours allowed the designers to avoid excessive cutting and filling on site. A space frame structure allowed for a free-form building and helped save time during the construction process. The building's skin was developed through the use of advanced computational tools so as to appear homogeneous with the environment.
9. MAXXI – National Museum of Arts

Location: Rome, Italy
Type: Museum
Co-designed: Zaha Hadid and Patrik Schumacher
Year: 2009
Covering an area of 29,000 square meters, the MAXXI Museum houses over 300 pieces of artwork and attracts millions of visitors annually, depicting its cultural relevance in Rome. The museum was designed with the intent of creating a "campus for art" rather than "an object container". Therefore the museum's pathways and circulation patterns are devised so as to have a dynamic and interactive space.
The building is a stunning combination of concrete, steel, and glass, featuring interconnected bridges, ramps, and staircases that create a sense of movement and dynamism. The open and flexible spaces within the museum allow for diverse exhibition configurations, thereby promoting dialogue and interaction between art, architecture, and visitors.
10.Galaxy SOHO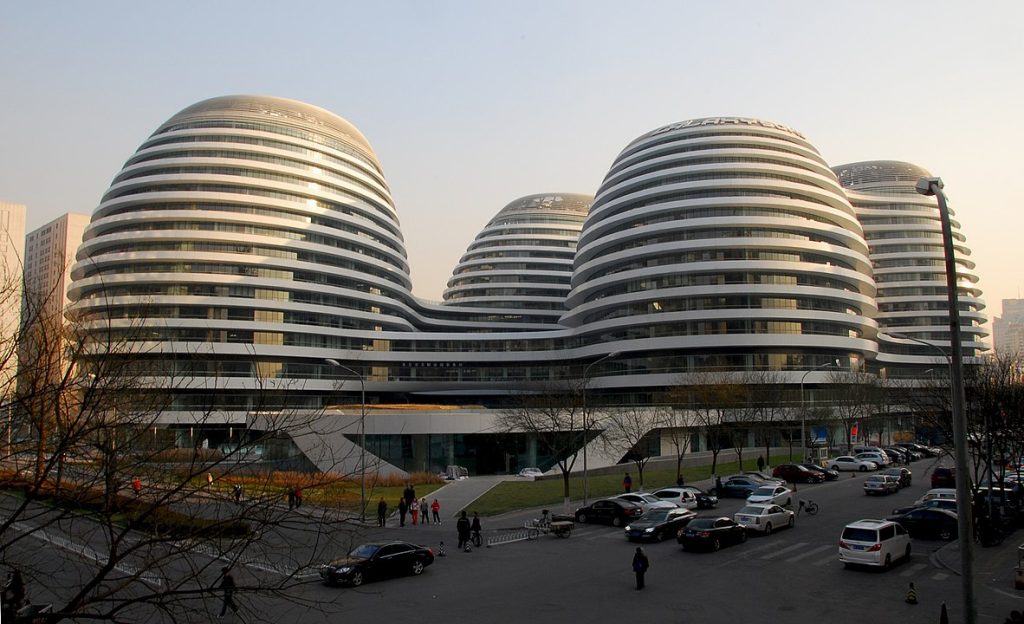 Location: Beijing, China
Type: Mixed-Use Complex
Co-designed: Zaha Hadid and Patrik Schumacher
Year: 2012
Galaxy SOHO, located in Beijing's bustling Chaoyang District, is a retail and entertainment complex that integrates shops, offices, and rejuvenation spaces within 330,000 square meters, making it one of the largest commercial developments in the city.
The complex is a composition of five continuous structures that are all connected through bridges. The interconnected spherical structures redefine the concept of a conventional building, creating a harmonious flow through sweeping curves, large open spaces, and fluid lines. This helps create a dynamic and immersive experience for the visitor. The curvilinear form of the structure helps in developing an interactive and organic space within the interiors.