On 8-9 October 2022, Computational Design: NEXT 11, a 2-day online interactive conference with global pioneers and professionals, featured new emerging technologies in art, architecture, design, and manufacturing. The conference was organized under the collaboration of Parametric Architecture (PA) and DesignMorphine, which had many participants worldwide. You can check the following link to watch the conference: Computational Design: NEXT 11
Day 1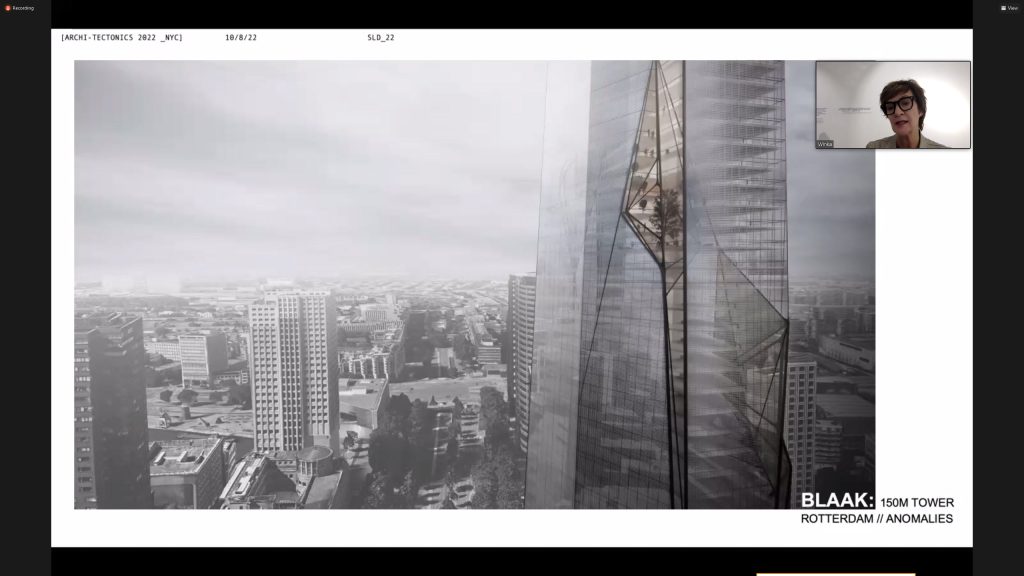 On the first day, the founder and principal of Archi-Tectonics, Professor Winka Dubbeldam, started introducing Archi-Tectonics and her article "Synthetic Natures." Synthetic Natures is an article written for Plan Magazine, which goes deeper into this presentation. She lectured about the Anthropocene, climate skin, and the idea of creating nature-friendly buildings and applications. The term "synthetic nature," which Dubbeldam referenced used for the symbiotic merging of nature with buildings structures.
Dubbeldam also introduced us to Protopark (Asian Games 2022), a stadium complex with a 1.6-kilometer park. According to Dubbeldam, we forget nature when living in the city, but this project reminds us. Many plants, trees, and insects will live in this space; they create wetlands and vegetation for pollutıon. For more about Dubbeldam's projects, you can check her new book, "Strange Objects, New Solids and Massive Things: Archi-Tectonics."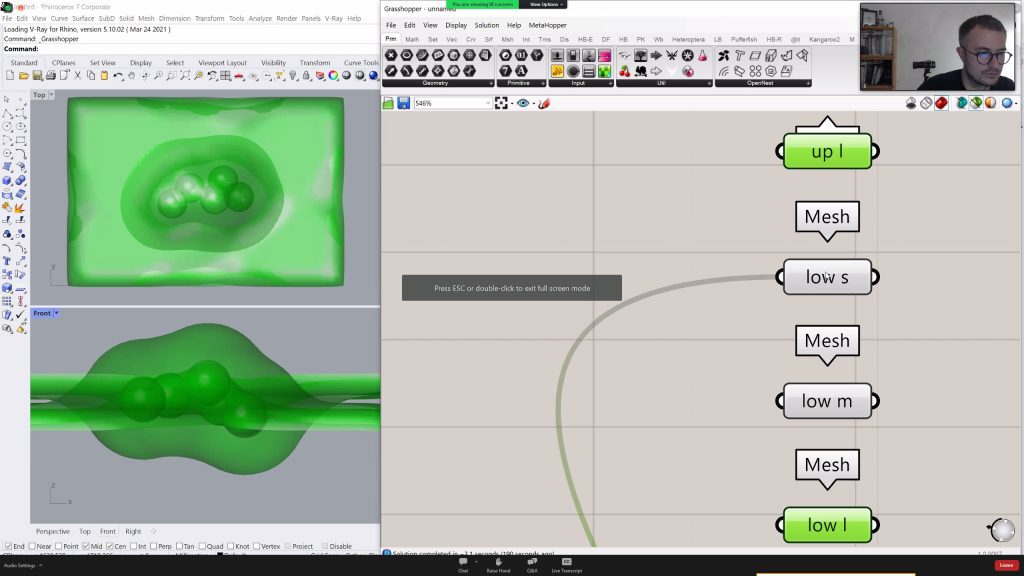 Computational designer, educator, and co-founder at Heracléum Sosnówskyi, Ili Shchanikov started to show his works and his inspiration; he made a calculated architecture concept and redeveloping buildings in Kazakhstan, Russia, and around the world. Shchanikov showed us how to sketch and make a quick form using Rhino3D and Grasshoppe3D without any plugins.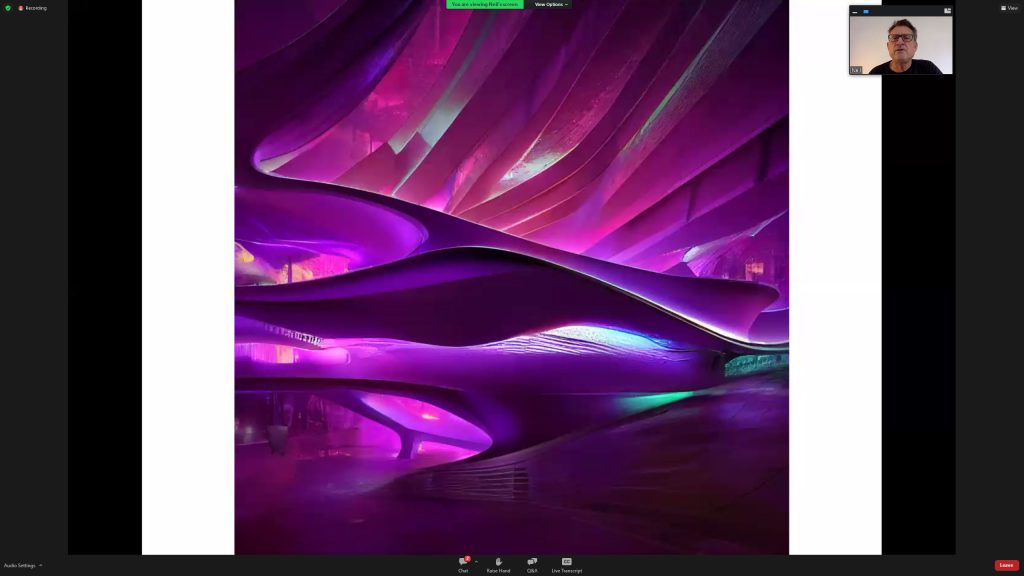 After the Grasshoppe3D tutorial, we stepped into an AI-generated world with Professor Neil Leach lectured about AI, architecture in the age of AI, and his works. He began his presentation with a theoretical discussion about the expectations from AI-generated tools and how we should actually understand AI tools. He explained the differences and connection between "artificial intelligence" and "synthetic intelligence" as a concept, and how we should use the concepts, with examples from today and the past. According to him, AI is not a thing more than a calculator. AI is in every part of our life, more than we think; our phones are AI-generated machines, like Siri and Alexa. He recommended checking Coop Himmelb(l)au and Daniel Bolojan's works, which is also one of the lectures at Computational Design: Next 11.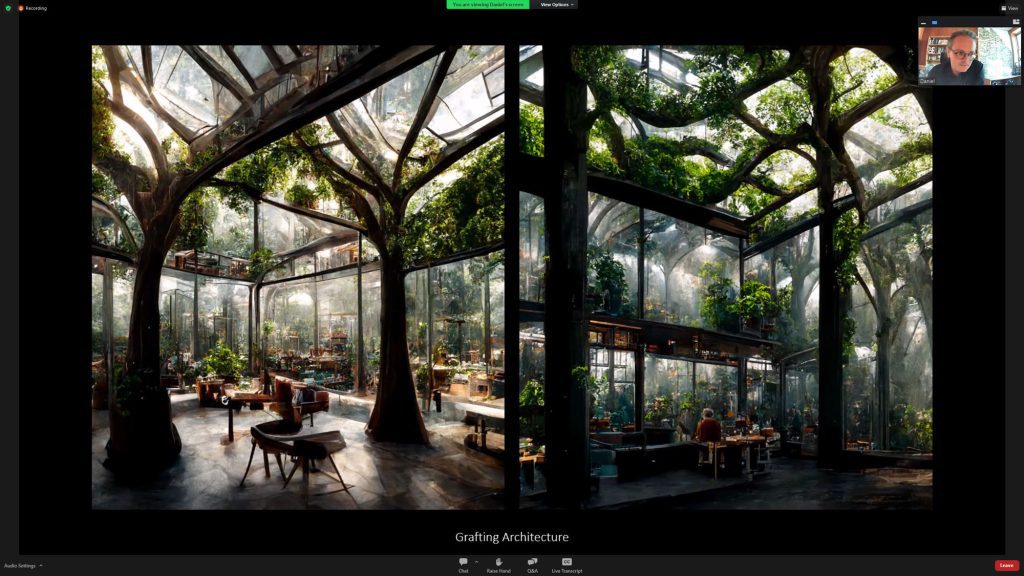 Urbanist, architect, and assistant professor Daniel Koehler started showing us his current research on distributive technologies which are designed utilizing sets, data, interfaces, and their architecture. With AI tools, you can design anything, anywhere, and anytime. What is the relationship between text prompting and building, which is always much more distant? By using AI-based tools like Midjourney, we will blur the boundaries between text and building. You can build a text-to-building and building-to-text.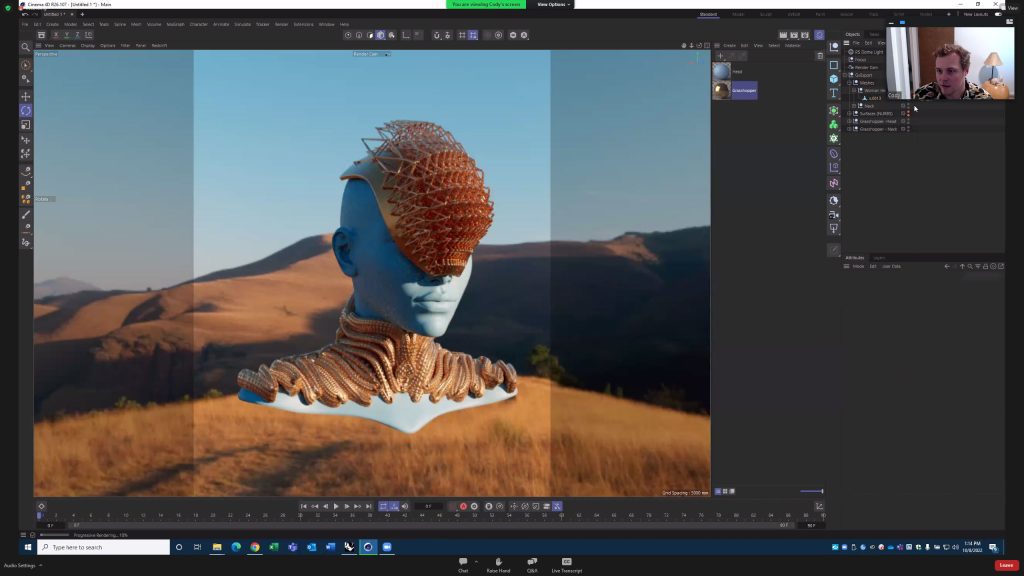 3D visualizer and a member of the 3D design team at DECKERS BRANDS, Cody Thurston, tutored a short mask tutorial using Gravity sketch, Rhino+Grasshopper, and Cinema 4D. He demonstrated how to make a mask model using VR. For the final output, he got a render by using Cinema 4D.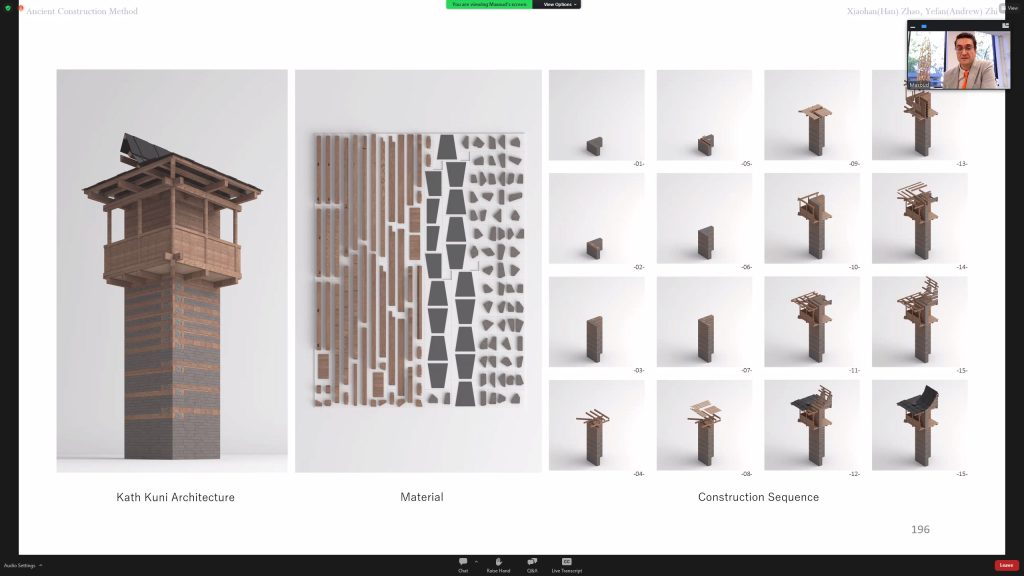 Assistant Professor Masoud Akbarzadeh lectured about global emissions, carbon emissions, and the built environment's impact. We have the operated building carbon, or the building operation can be optimized using different methods to use renewable energy. His team is looking into how we can minimize that embodied carbon and one of the ways that can minimize invited carbon by the government. He explained a series of projects made at the Polyhedral Structures Laboratory at UPenn.
Day 2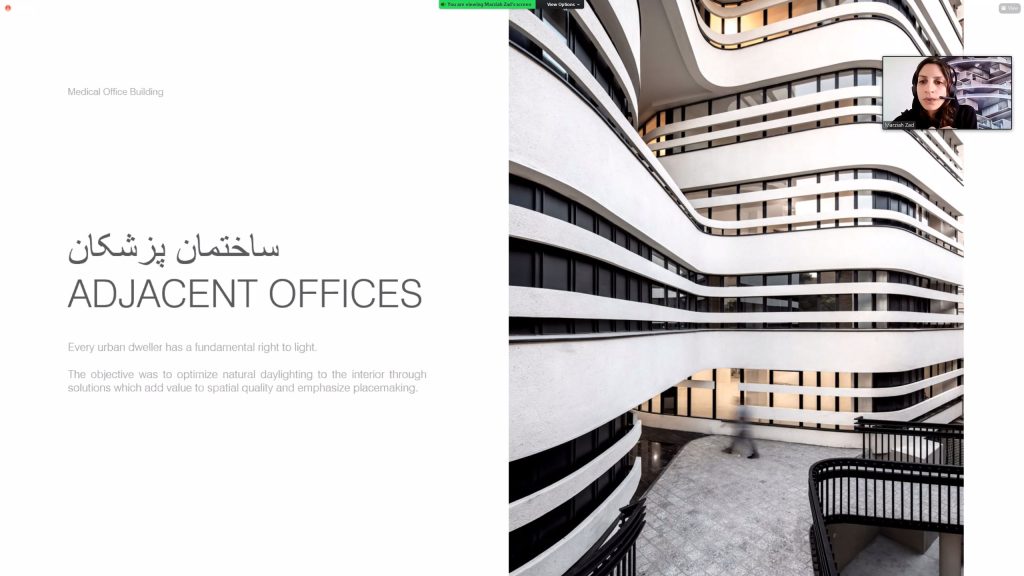 The second day started with Marizah Zad's lecture about her projects, the potential of the space, and selected works from the Institute for Advanced Architecture of Catalonia (IAAC)'s Master in Advanced Ecological Buildings program. She is interested in this theme because she appreciates the parallels between technical and human-centric domains. She professionally focused on how our built spaces have the potential to transform people's perception of and their sense of pride in belonging a throughout this journey. She uses the power of computational design to understand these questions.
Zad shared her office projects and academic research with her IAAC Master in Advanced Ecological Buildings program students. The first project is minimal surfaces on complex geometries. It is focused on how these geometries present beautiful and complex design solutions that thrush the inherent geometric makeup of geometry systems.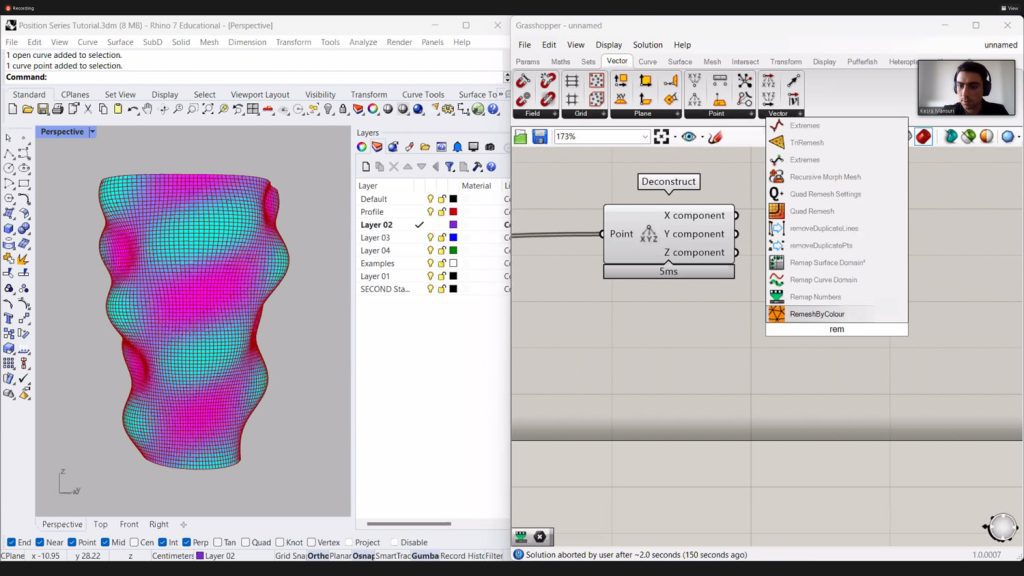 After Marizah, we slowly stepped into the 3D-printing world with Inana Abdelli and Kesra Mansuri, founders of Co.Re. Lab, and they create objects by using computational design tools. Inana Abdelli explained that a noise field algorithm produced their project's patterns. In their projects, they used Grasshopper plugins like Karamba for creating surface quality and structure stabilization. For creating their object in the physical world, they use 3D printers. Kesra Mansuri tutors how they create their objects. He tutored how they prepared one of the objects they produced using Grasshopper3D.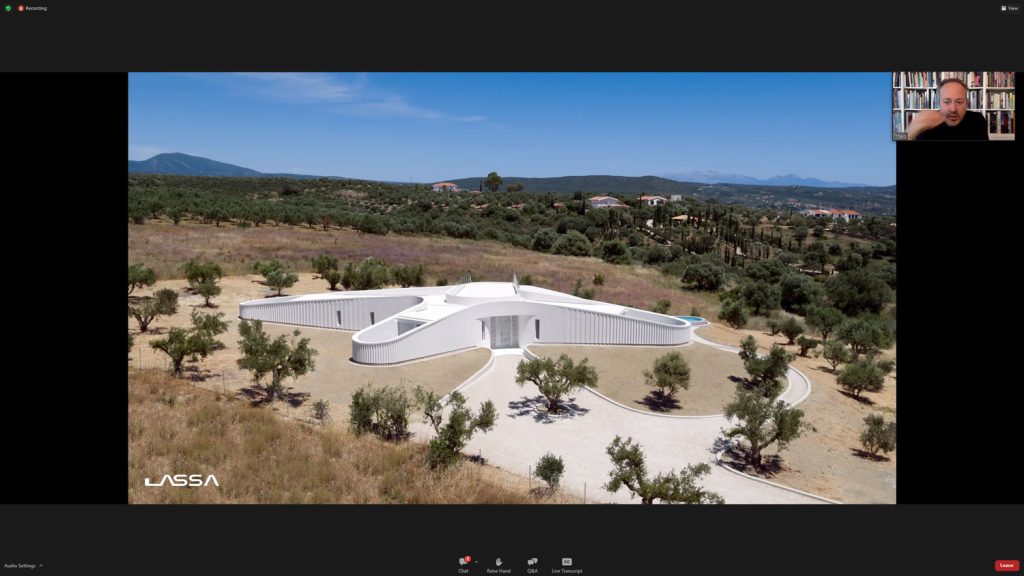 Theo Sarantoglou Lalis began by describing his work. He started his presentation by making a short introduction to the effect of observation on design and architecture. He continued by talking about the connection between technology and architecture. He talked about the difference in the use of technology in architectural education in the past and the present. They started Lassa Architects in 2009. When the financial crisis started, this situation also affected the construction industry. During this period, they start large-scale digital fabrication works.
Lassa Architects carry out projects in different parts of Europe and the world. For example, they have 15 projects in Greece. Most of his research is international projects on digital design and fabrication. Villa Ypsilon is one of them and located in Greece, connects the landscape and works structurally to protect environmentally through it.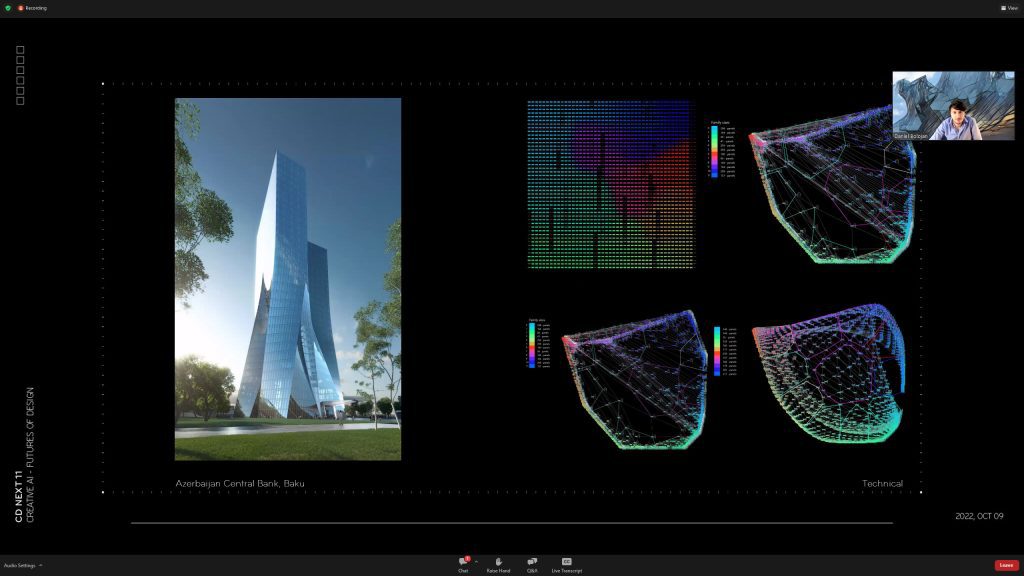 Daniel Bolojan's research, some processes have the capacity to generate artifacts at his team's creative and as his research, teaching machines to interpret space to be creative. Point out this idea AI can exhibit intelligence or creativity. Bolojan trying to combine different possibilities. It is essential for him to produce new things by bringing together different concepts and ideas. For example, combining an ink explosion and a facade design to create a new composition. Designing things with AI is more than prompt-to-image. Your world actually depends on how many words you can use (for the prompt-to-image process).
Daniel is currently working on a research-design project he created using Midjourney. Using 1 million images will create something new with them and move on to the next level, Gaudi+Neural networks. He talked about the project they prepared for the Sagrada Familia. A study of the possibilities of the design of the Sagrada Familia, such as how they are connected and how else. Even if they look similar, all possibilities are very different from each other in detail. Also, he recommended "A Thousand Brains" by Jeff Hawkins and "The Hundred-Page Machine Learning" by Andriy Burkov books.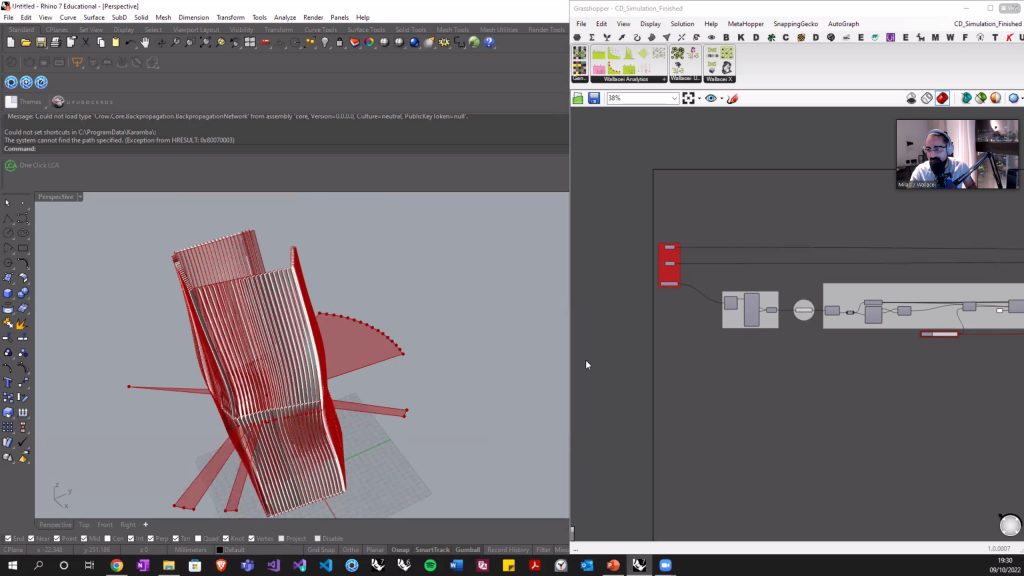 Milad Showkatbakhsh, the Co-Founder of Wallacei, and Studio Master of Emergent Technologies and Design at Architectural Association (AA), London. He led an inspiring and involving tutorial and explained Wallacei and the methodology behind this amazing tool. He mentioned that we need to look at nature and get inspiration from it in the design process. He shared his biomimetic designs with us and reminded us before starting the tutorial design is more than just a good use of the software.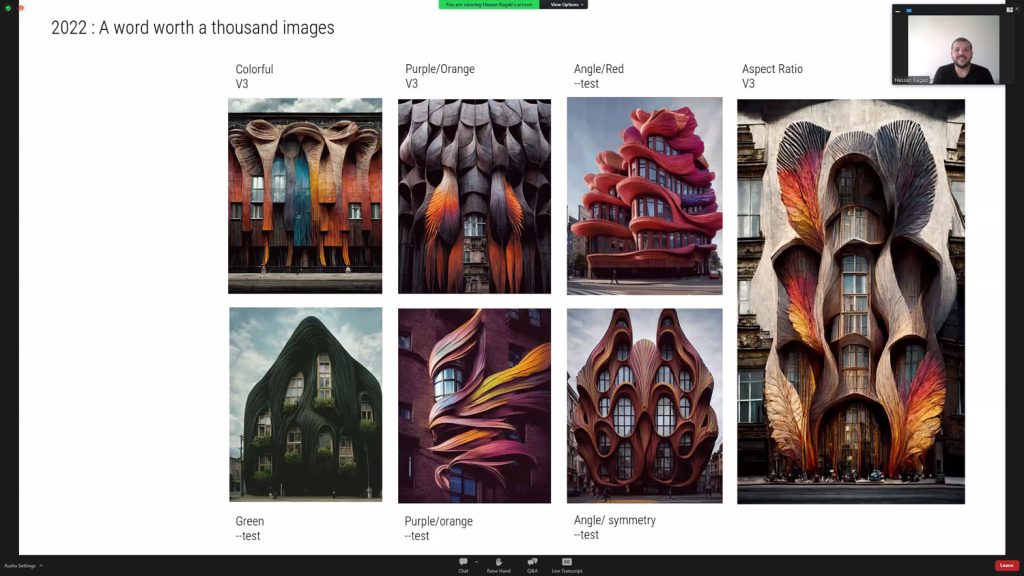 Hassan Ragab became interested in parametric modeling with a workshop held at the school in 2019. He thinks about combining his interest in art and history with computational design. He meets Midjourney out of curiosity. Then he decides that he should start producing work in this field. Jumping down the rabbit hole is actually the most essential step in learning anything. The best he can produce in his life is helping him begin to understand AI.
When he started producing, his results were not satisfactory for him. But as he kept trying and learned to transfer his ideas to Midjourney, he began to understand. To reach a professional point, it is necessary to keep trying. Working with Mijourney makes Ragab realize how wide his brain's limits are. AI actually allows him to discover parts of his brain that he can't see. According to Ragab, increasing your control while using Midjourney shows you how to manage the images and AI you get. The more control you have, the more likely you will get the image you want. It becomes possible to produce visuals or architectural models that Hassan cannot produce using mathematical methods but using AI (Midjourney).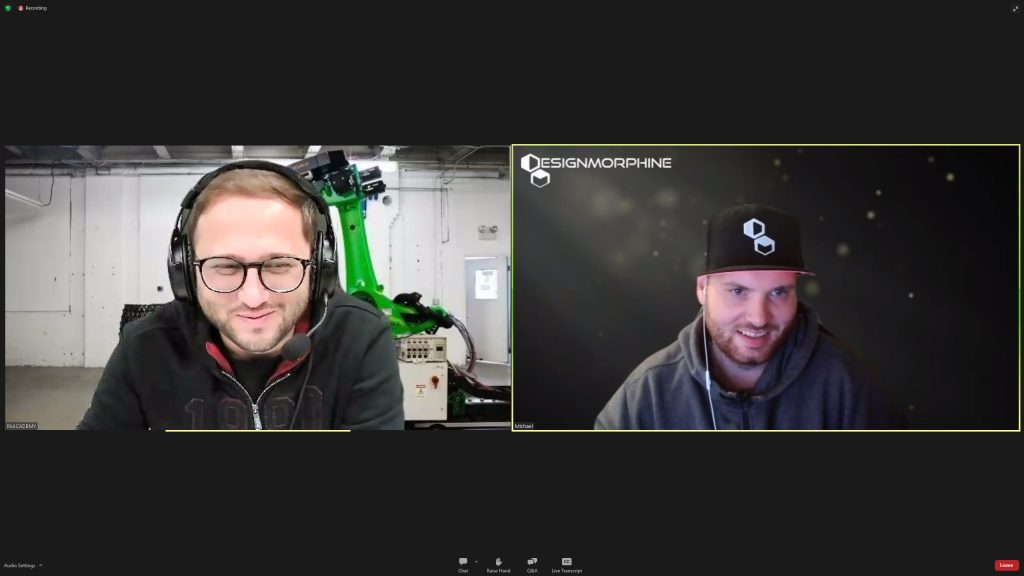 The Founder and Creative Director of PA, Hamid Hassanzadeh, and the Design Director of DesignMorphine, Michael Pryor, announced the Computational Design: NEXT 12 will occur between December 10-11, 2022. Registration is open!
Click here to register and view recordings of the complete Computational Design: NEXT 11 conference.