Topic: COMPUTATIONAL DESIGN: NEXT 12
Time: Saturday and Sunday, December 10-11, 2022
Day 1 Starts: December 10, 12:00 GMT
Day 1 Ends: December 10, 21:00 GMT
Day 2 Starts: December 11, 12:00 GMT
Day 2 Ends: December 11, 21:00 GMT
Where: Zoom, hosted by PA
Duration: Two Days Conference
Total Hours: 18 Hours
Format: Online
Hosts: Hamid Hassanzadeh, and Michael Pryor
Collaborators: ParametricArchitecture and DesignMorphine
Early-bird Registration: €56 (Till 23:59 GMT, November 15, 2022) (Closed)
General Registration: €69 (Till 23:59 GMT, December 9, 2022)
Introduction:
THE PAST, PRESENT & FUTURE: An online interactive conference with global frontiers. Two-day online conference with live presentations, tutorials, interactive Sessions, live mentorship & panel discussions. A collaborative initiative by ParametricArchitecture (PA) and DesignMorphine (DM). Computational Design: NEXT 12 brings together pioneers and professionals from all industries to meet and discuss new emerging technologies in art, architecture, design, and manufacturing.
Computational Design: NEXT is a joint effort by some of the world's leading experts in computational design to create an online learning platform that will also serve as a full-fledged online conference. ParametricArchitecture (PA), one of the leading media platforms concentrating on computational design and its different subsets, will host the event, including conversations, dialogues, tutorials, and mentoring to a worldwide audience via thought-provoking and relevant speeches.
Following the success of CD Next 1-11, Computational Design: NEXT 12 takes another step forward in exploring new-age design technologies by worldwide technology champions. The conference will take place on Saturday and Sunday, December 10-11, 2022, and will include workshops, panel discussions, technology demos, and presentations.
Important Notes:
Details about the guests will be published soon

The entire conference will be recorded, and videos will be available for participants just a day after the conference.

A certificate of attendance will be provided to all participants of the conference.
We will send the Zoom link just a week before the conference starts.
You can make payments in cryptocurrencies. For more details, please email us at [email protected].
The event has a capacity of 400 people, and limited (100) spots are allocated for early-bird registrations.
Tickets are non-refundable and non-transferable. Please read before you register.
Guest Speakers:
Carlos Bañón
Carlos Bañón, the co-founder of Subarquitectura, associate professor of Architecture and Sustainable Design, and director of AIRLAB at SUTD, will deliver a 45-minute lecture followed by 15 minutes of Q&A session at the Computational Design: NEXT 12 online conference. Carlos is an Architect specializing in Digital Processes and Advanced Manufacturing methods. He holds an M.Arch. with Extraordinary Distinction. He also held visiting professorships at MIT and EPFL. His research projects span from 3D Printing in the built environment (3DPA), Geometric Exploration for Sustainable Space Making (GESSM), Artificial Intelligence in structural design, and Affordable Housing. His work has been selected for the Venice Biennale of Architecture in 2018 and 2020 and has won international awards such as the Design of the Year Prize by the London Design Museum, the Gold and Silver Medal given by the International Paralympic and Olympic Committees, two Spanish Biennial Prizes, the Mies Van der Rohe Prize nomination, the German Design Award 2020, four SG Marks (Singapore Good Design), two Singapore Design Awards Finalist, and selected as one of the Iconic designs by the German Design Council in 2020. He is the winner of Singapore's President Design Award 2022.
Rodrigo Etcheto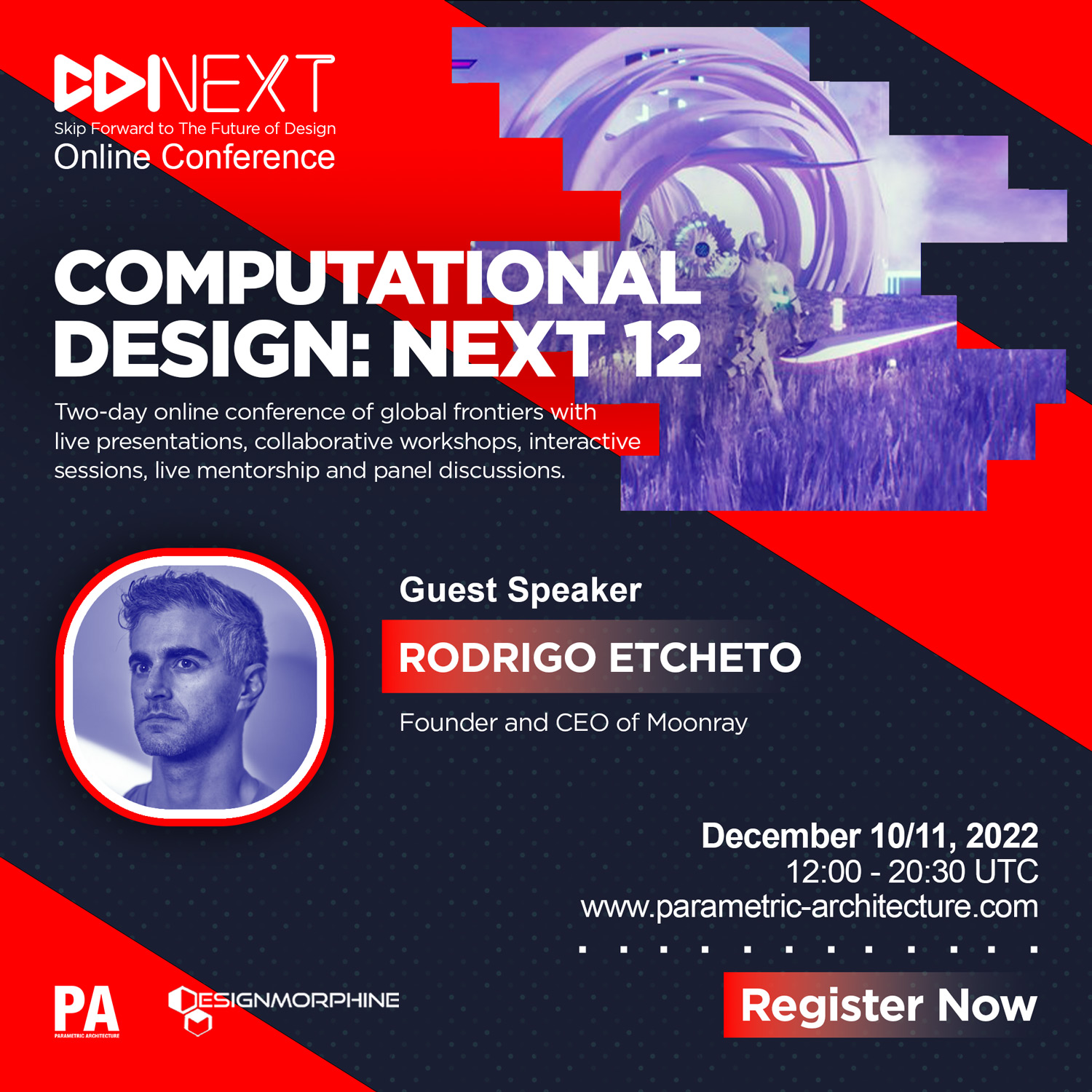 Rodrigo Etcheto, the founder and CEO of Moonray, will address the audience in the upcoming Computational Design: NEXT 12 online conference, where he will contribute with a 45-minute lecture about game development and 15 minutes Q&A session. Rodrigo founded Moonray, a next-generation blockchain game, where he leads a passionate team of game developers focused on bringing cutting-edge gaming experiences to web3. He is an accomplished serial entrepreneur with an insatiable curiosity for exploring the intersection of real-time graphics and blockchain technology. Originally from the Pacific Northwest, Rodrigo now resides with his wife and children in the great State of Texas.
Nikoletta Karastathi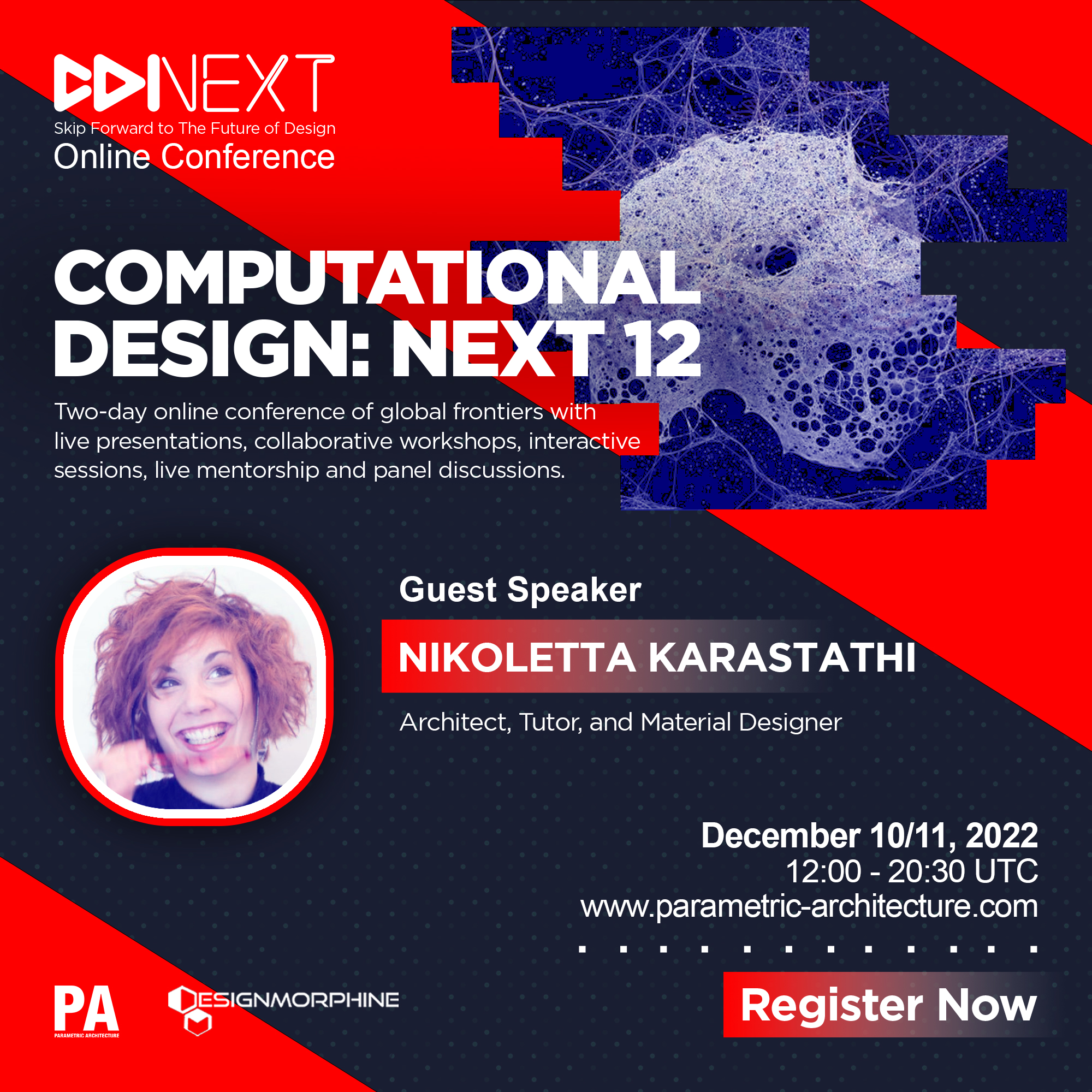 Nikoletta Karastathi, the practicing architect, tutor, and material designer, will lecture for 45 minutes and answer questions for 15 minutes in the upcoming Computational Design: NEXT 12 online conference. Nikoletta is an architect, Ph.D. Candidate and Lecturer at The Bartlett School of Architecture. She has a diverse background, working in the industry as a practicing architect and in academia as a design tutor at Bristol, Cardiff, Newcastle, and Edinburgh. Her work has been exhibited at the London Design Festival, Dutch Design Week, Lakeside Arts Gallery, and the Baltic Centre of Contemporary Arts. Her key interests lie in architecture, textiles, computation, and material programmability.
Mitchell Joachim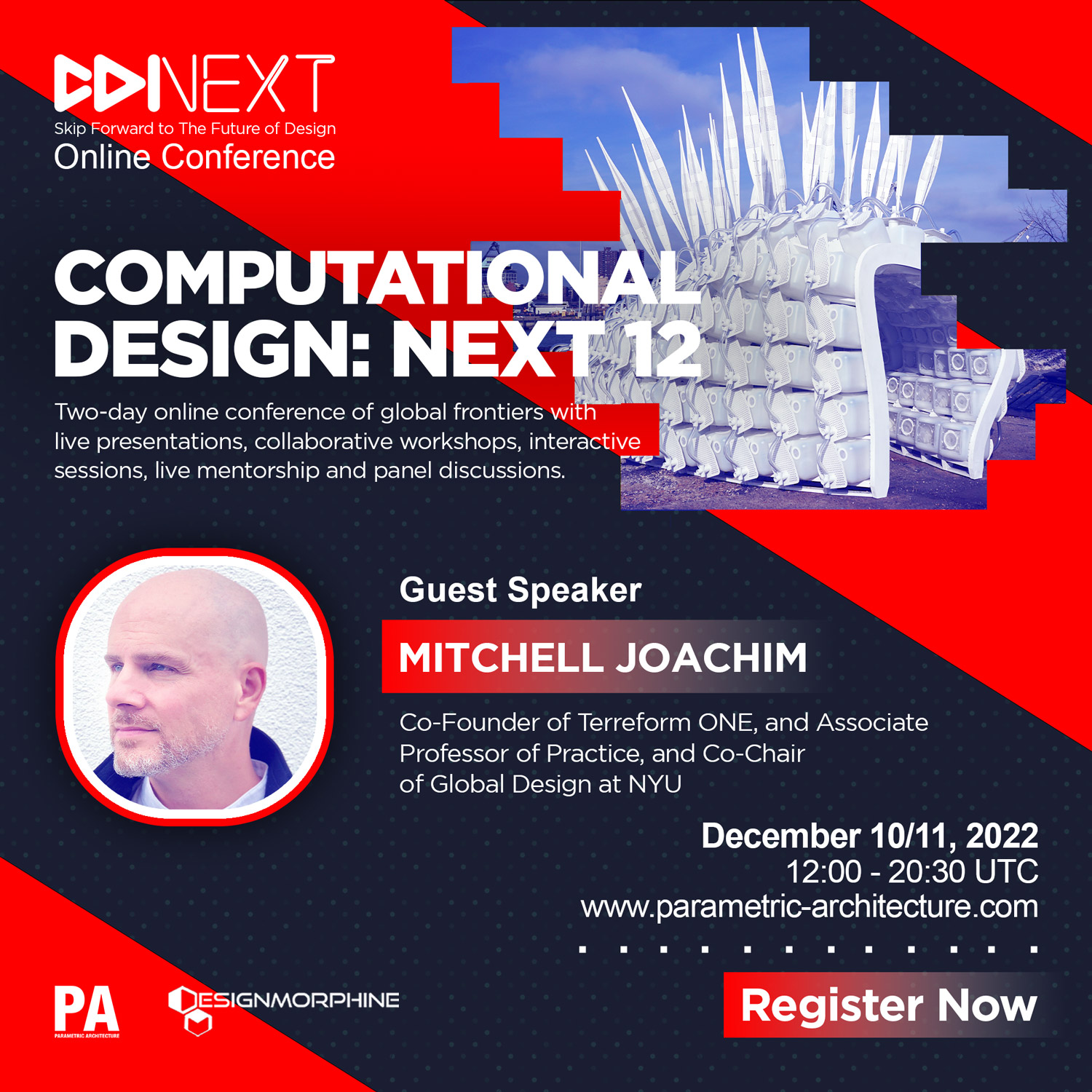 Mitchell Joachim, the co-founder at Terreform ONE, associate professor of practice, and co-chair of global design at NYU, will be addressing the audience for 1-hour lecture and Q&A session about "Terreform ONE: Biology and Computation" at the Computational Design: NEXT 12 conference. Formerly, he worked as an architect at the professional offices of Frank Gehry in Los Angeles, Moshe Safdie in Massachusetts, and I.M. Pei in New York. He has won many awards, including the Fulbright Scholarship, LafargeHolcim Acknowledgement Prize, Ove Arup Foundation Grant, Architect R+D Award, AIA New York Urban Design Merit Award, Victor Papanek Social Design Award, 1st Place International Architecture Award, Zumtobel Award for Sustainability, Architizer A+ Award, History Channel Infiniti Award for the City of the Future, and Time Magazine Best Invention with MIT Smart Cities. Mitchell was featured in numerous articles: "The 100 People Who Are Changing America" in Rolling Stone, "The Smart List: 15 People the Next President Should Listen To" in Wired, "50 Under 50 Innovators of the 21st Century" by Images Publishing Group, "The NOW 99" in Dwell, and "Future of The Environment" in Popular Science. He co-authored four books, "Super Cells: Building with Biology" (TED Books), "Global Design: Elsewhere Envisioned" (Prestel, 2014), "XXL-XS: New Directions in Ecological Design" (Actar 2016), and "Design with Life: Biotech Architecture and Resilient Cities" (Actar 2019). He earned a Ph.D. at the Massachusetts Institute of Technology, a MAUD at Harvard University, and an M.Arch at Columbia University with honors.
Asher Levine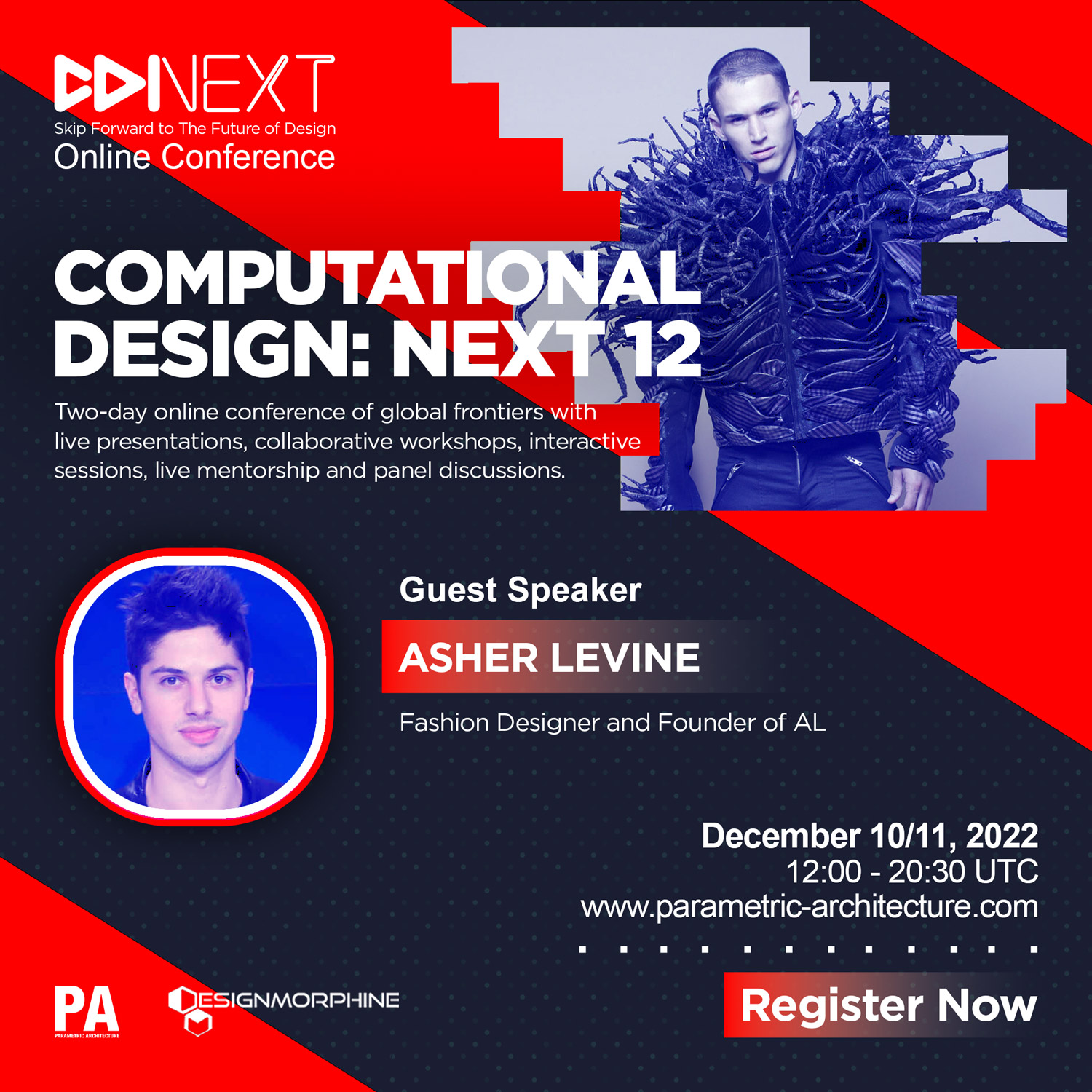 Asher Levine, the fashion designer who has produced one-of-a-kind pieces for celebrities such as Lady Gaga, Will.i.am, the Black Eyed Peas, Taylor Swift, Demi Lovato, Sam Sparro, Beyonce, and Rita Ora, will be showcasing his amazing works at the Computational Design: NEXT 12 online conference. In 2010, Asher Levine founded AL, a label featuring designs and techniques that radically question and reconfigure paradigms of the 21st-century wardrobe. AL has since become known for integrating cutting-edge techniques in fashion and science, implementing 3-D printing devices, illumination technologies, and innovative leather goods. Levine received numerous accolades throughout his career, from the Womenswear Rising Star Award from Fashion Group International to Forbes 30 under 30 ("Art and Style"). He has been invited to various museums to exhibit his work as well, such as MoMA (Museum of Modern Art; "Items: Is Fashion Modern?"), Fashion Institute of Technology ("Fashion Underground: The World of Susanne Bartsch"), and the Mode Biënnale Arnhem ("Fetishism in Fashion").
Yimeng Yu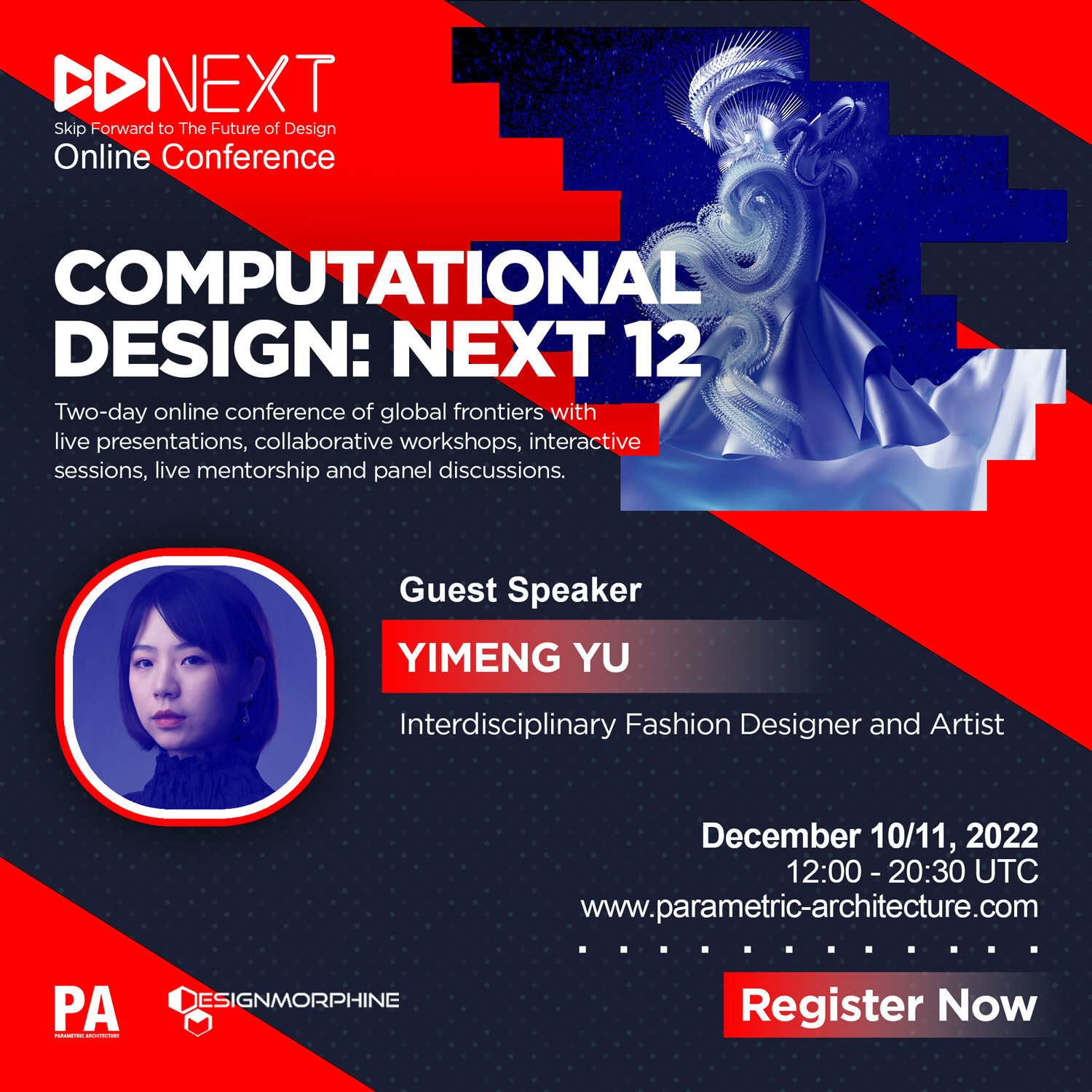 Yimeng Yu, an interdisciplinary fashion designer and artist will be speaking about the use of digital design in fashion design at the Computational Design: NEXT 12 online conference. Yimeng focuses on the future of fashion, accessories, and materials in the context of the digital age. She graduated from the Royal College of Art in London and currently works as the fashion design director at the Central Academy of Fine Arts, School of Design in Beijing, China. Her studio is also based in Beijing. Currently, Yimeng's main research focuses on computational design and digital fabrication. Her work explores avant-garde apparel aesthetics and innovation within the fashion industry.
Jan Contala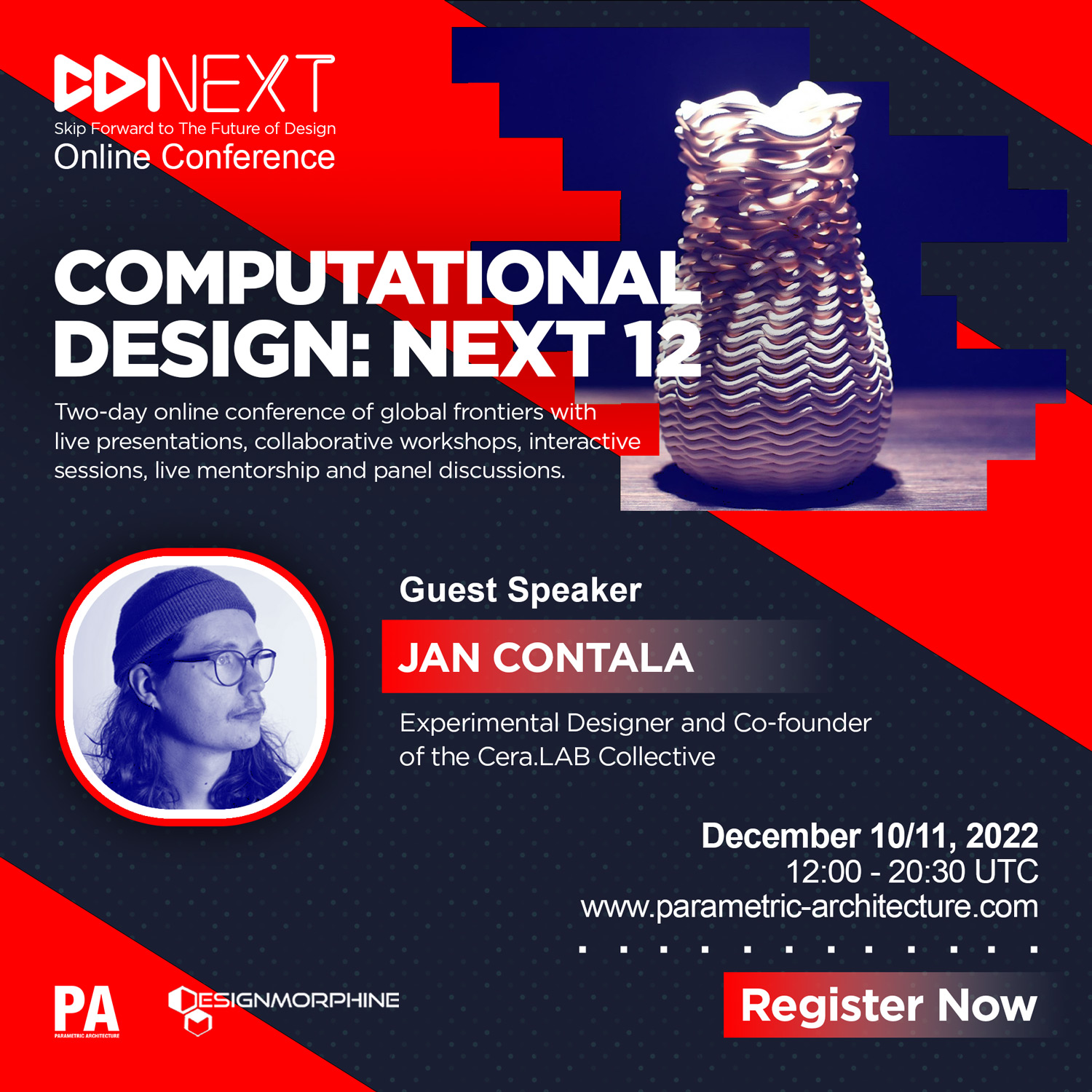 Jan Contala, the experimental designer and co-founder of the cera.LAB collective will be lecturing and showcasing some of his works at the upcoming online conference, Computational Design: NEXT 12. His field of work is the experimental generation of forms, specializing in new technologies. His work includes possible applications for robotics in design, art, and architecture within the dialogues of digital-analog and virtual-real. Jan Contala has completed his bachelor's and master's studies in architecture at the University of Innsbruck. During his studies, he has already worked under the supervision of Prof. Marjan Colletti at REX/LAB (robotic experimentation laboratory) on several large-scale 3D printing projects. Today, Jan, together with Philipp Schwaderer, runs the cera.LAB and researches future potentials of digitally designed and 3D printed ceramics. He also currently teaches at the University of Innsbruck, department for experimental architecture, under the direction of Prof. Marjan Colletti, on the subject of digital ceramics and its potential applications in architecture.
Francis Bitonti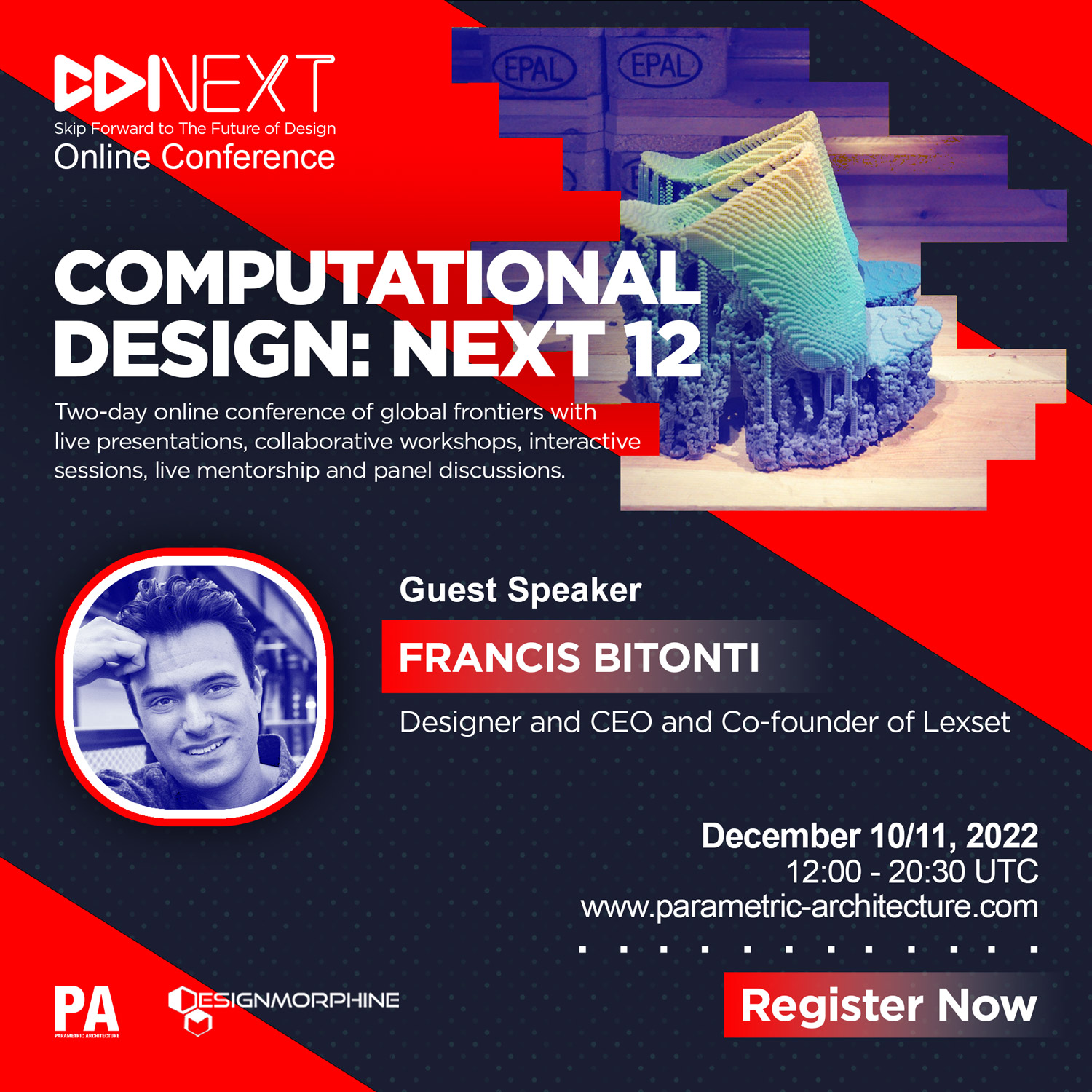 Francis Bitonti, the CEO, and Co-founder of Lexset, will be addressing the audience about the AI applications in design for 45 minutes, followed by 15 minutes Q&A session at the Computational Design: NEXT 12 conference. Lexset uses generative algorithms and procedural computer graphics to train artificial intelligence on simulated datasets. Francis is an early pioneer of Generative Design, to uses computational techniques to find new solutions to design and engineering problems. His landmark work has been included in the permanent collections of the Smithsonian Cooper Hewitt, the Pompidou Centre, and many other prestigious institutions. In 2015 he was selected as a Wired Innovation Fellow and author of "3D Printing Design: Additive Manufacturing and the Materials Revolution."
Guest Tutors:
Edward Meyers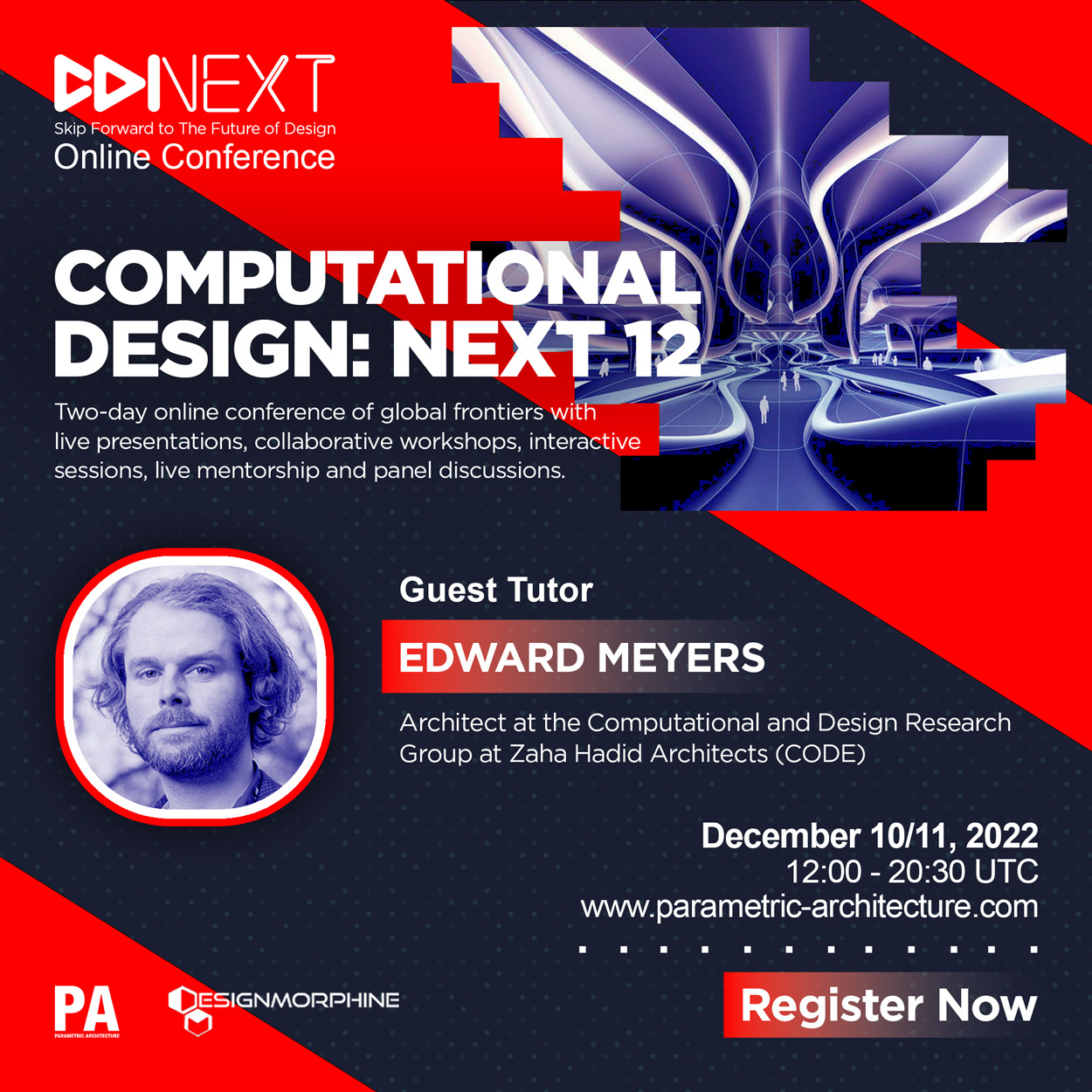 Edward Meyers, the designer at the Computational and Design Research Group at Zaha Hadid Architects (CODE), will be tutoring for 90 minutes as a part of the online conference "Computational Design: NEXT 12." The webinar will be on procedural-based mesh modeling methods in Maya. He is a registered architect in Australia, where he practiced for five years, developing and delivering residential and small hospitality projects alongside large-scale urban design projects in several capital cities over Australia.
Eva Khan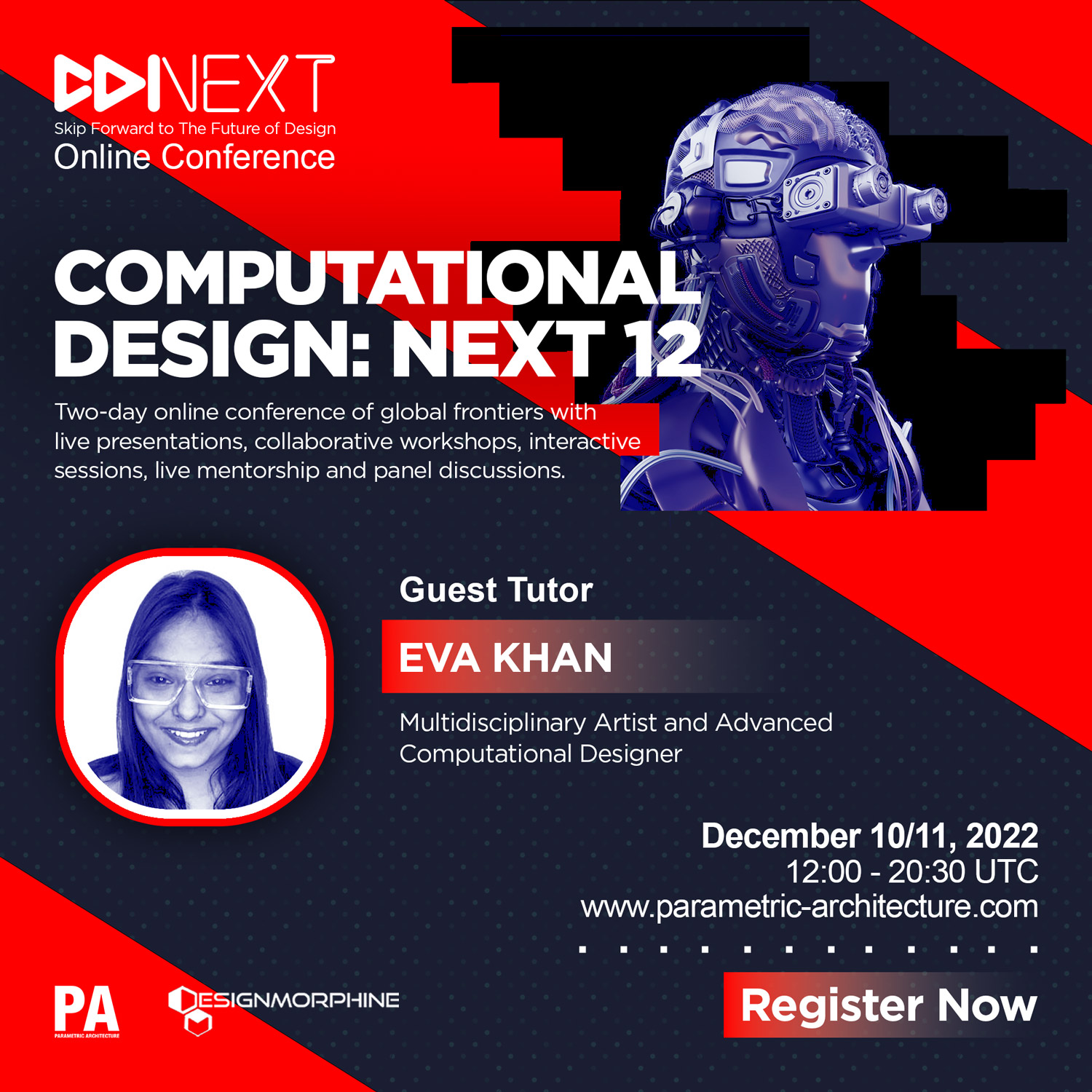 Eva Khan, a multidisciplinary designer artist, and an advanced computational designer will be delivering a 90-minute tutorial at the upcoming Computational Design: NEXT 12 online conference. Eva holds a Master's degree in M.Sc. CAD from DesignMorphine and a B.Arch. degree from the Faculty of architecture and planning, Lucknow India. Her works are inspired by science fiction, dystopian future, and cyberpunk. During her master's studies with DM, she has been looking at 'Architecture as Machine', and takes interest in cybernetics. She looks at architecture as a new perspective of cinema. Her belief is, science fiction is where imagination and fantasy meet and is an endless source of inspiration for designers, artists, filmmakers, and architects to a new narrative. Currently, she is working as a Procedural Generator at Wilder World.
Francisco Bernal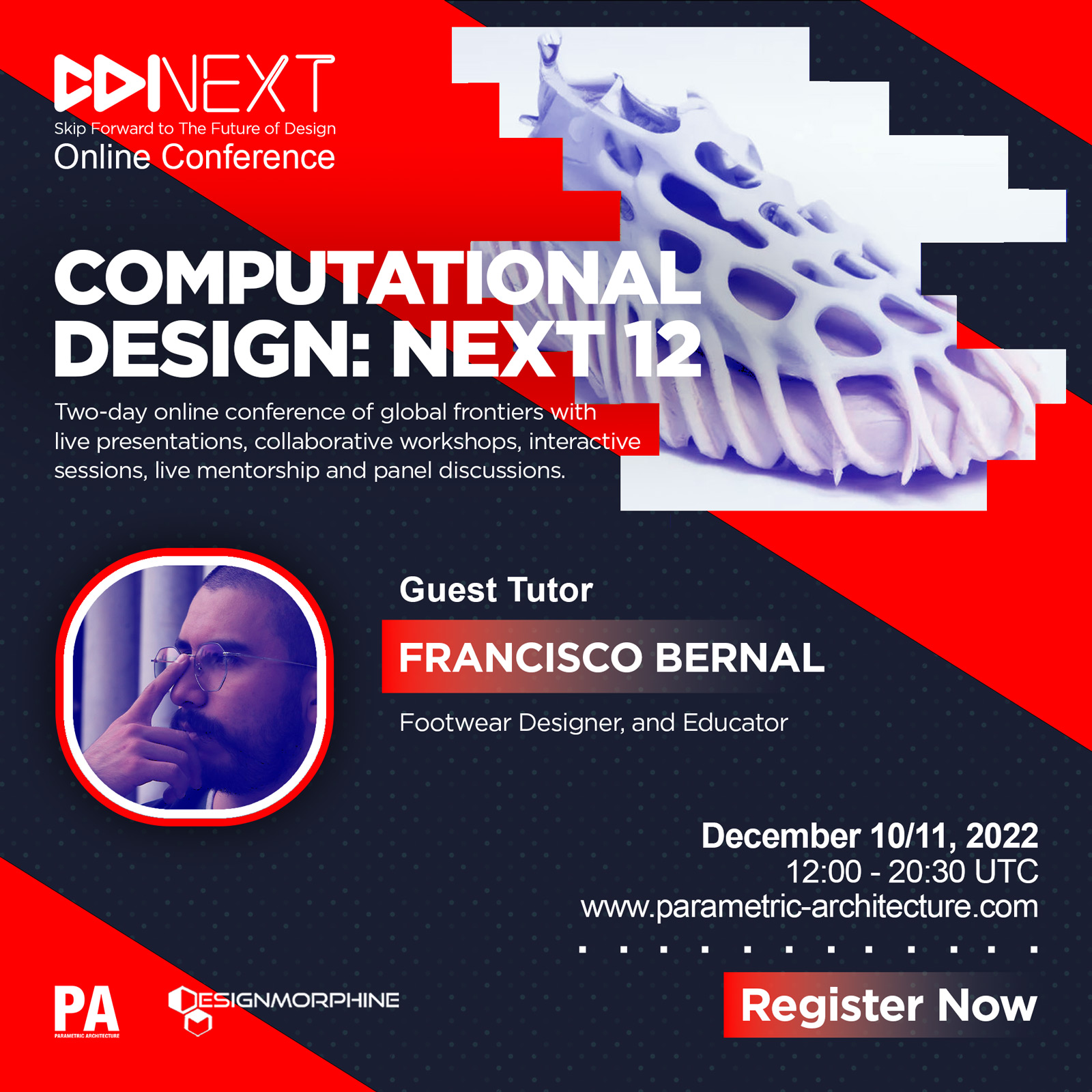 Francisco Bernal, a footwear designer, and educator is going to commence a 90 minutes tutorial showing his creative works and giving tips about gravity sketch and footwear design, at the Computational Design: NEXT 12 online conference. with years of interest in the footwear industry, Bernal has specialized in 3D footwear modeling, parametric and algorithmic design Workflows Mixed with VR, AI, sketching, and Communication skills. Currently working as a Freelance footwear Designer and he is a Certified Gravity Sketch ambassador and occasional Trainer.
Karl-Johan Sørensen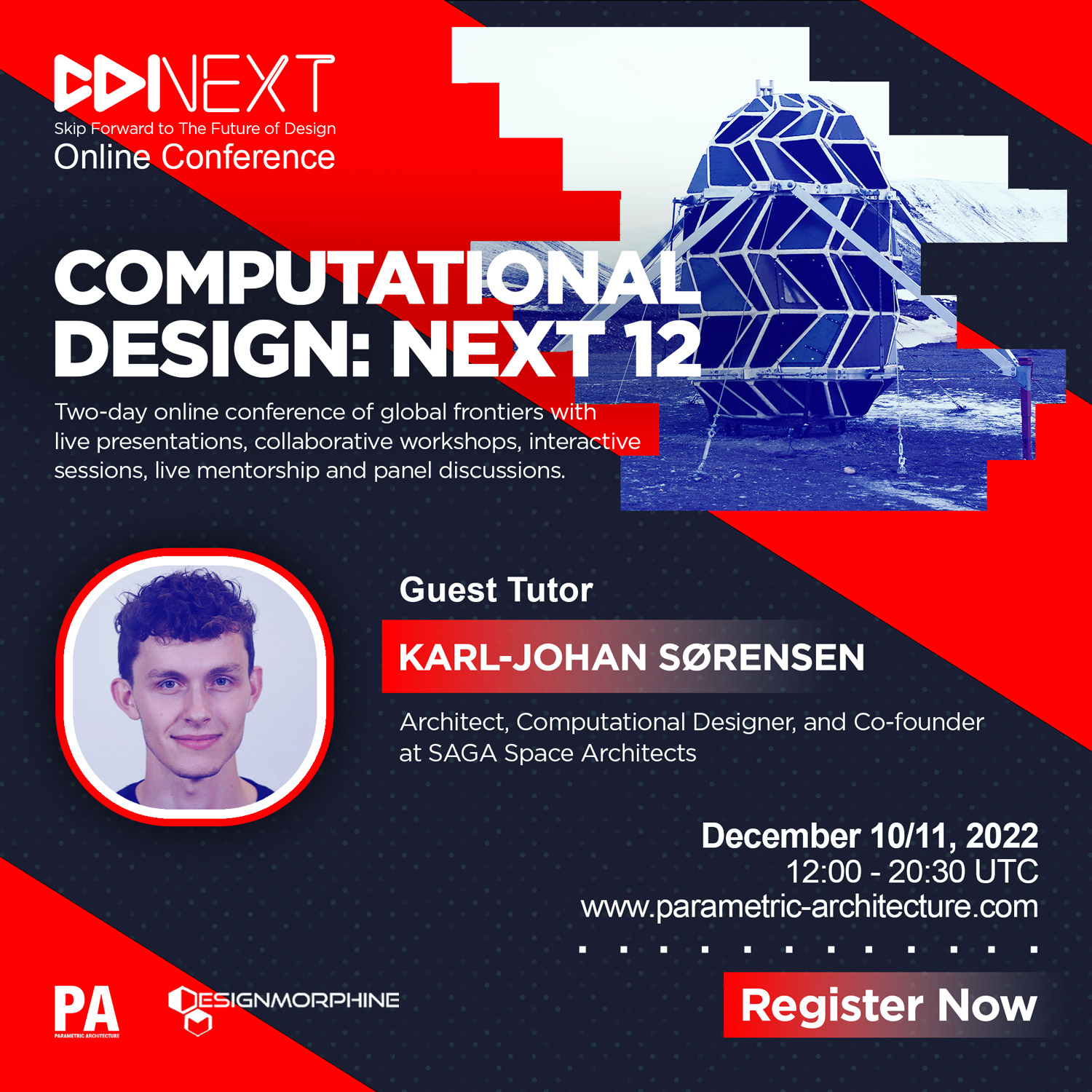 Karl-Johan Sørensen, an architect, computational designer, and co-founder at SAGA Space Architects will be showing different workflows he used in designing for the space, at the Computational Design: NEXT 12 online conference. Karl's interests lie in exploring digital morphogenesis, with a long-standing devotion to origami geometry. In 2020 this materialized into a foldable analog moon habitat, designed, fabricated, and tested by SAGA Space Architects. Since then, his research in computation has shifted towards optimizing for minimal embodied carbon, focusing on sustainable, as much as structural, performance. This brought Karl-Johan to CITA, where he worked on the Fungar project in 2021-2022 before starting his graduate studies at MIT Architecture.
Topic: COMPUTATIONAL DESIGN: NEXT 21
Time: Saturday and Sunday, December 10-11, 2022
Day 1 Starts: December 10, 12:00 GMT
Day 1 Ends: December 10, 21:00 GMT
Day 2 Starts: December 11, 12:00 GMT
Day 2 Ends: December 11, 21:00 GMT
Where: Zoom, hosted by PA
Duration: Two Days Conference
Total Hours: 18 Hours
Format: Online
Hosts: Hamid Hassanzadeh, and Michael Pryor
Collaborators: ParametricArchitecture and DesignMorphine
Early-bird Registration: €56 (Till 23:59 GMT, November 15, 2022) (Closed)
General Registration: €69 (Till 23:59 GMT, December 9, 2022)