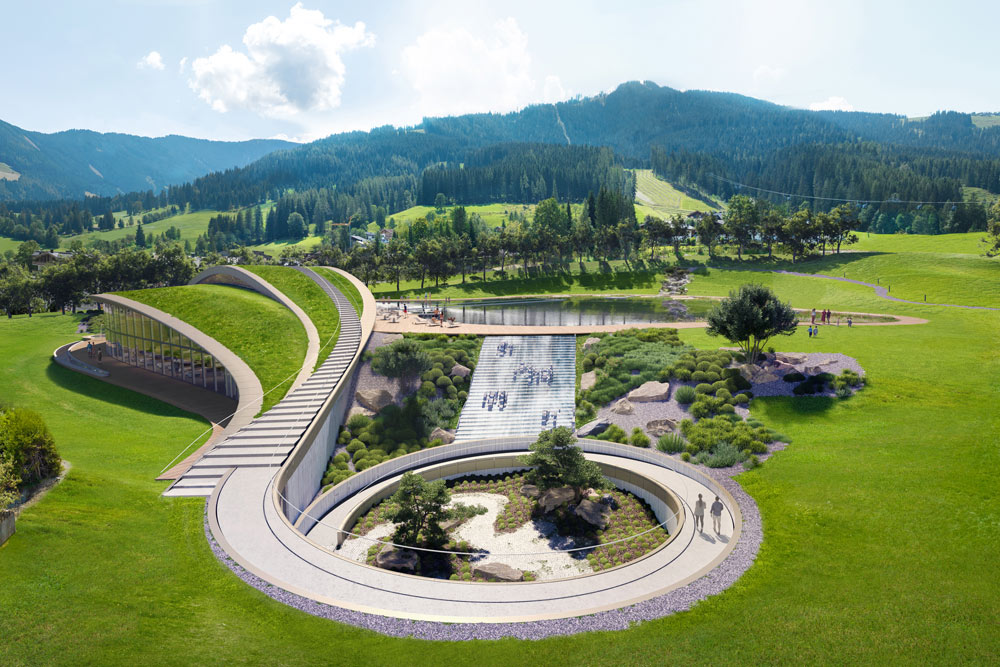 Hadi Teherani Architects has designed "ATMOSPHERE," a new spa and wellness as an expand of the 5-star Krallerhof Hotel in Leogang at the Austrian Alps.
The new design of ATMOSPHERE comprises a curved split-roof structure that arches over 100 meters and an underground connection to the main hotel building.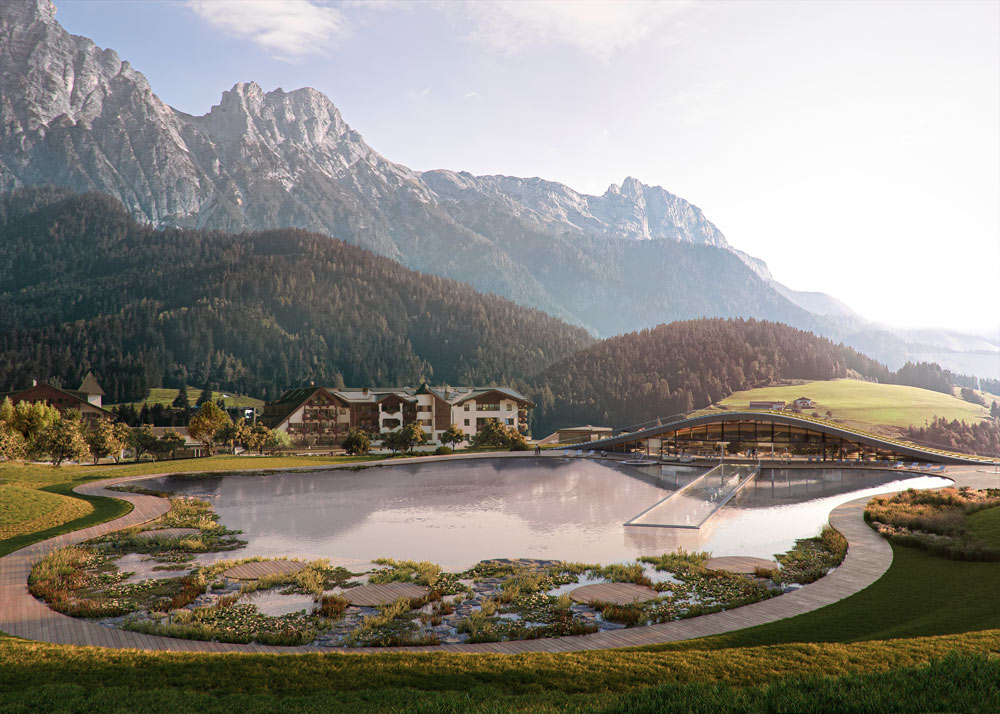 The total space in the new building is organized based on a divided floorplan typology: both levels are covered by the main roof while exhibiting a difference in height of more than 4 meters.
The ATMOSPHERE connects to the main terrace and the 5,500 sqm natural lake's path to the west via a descending glass façade.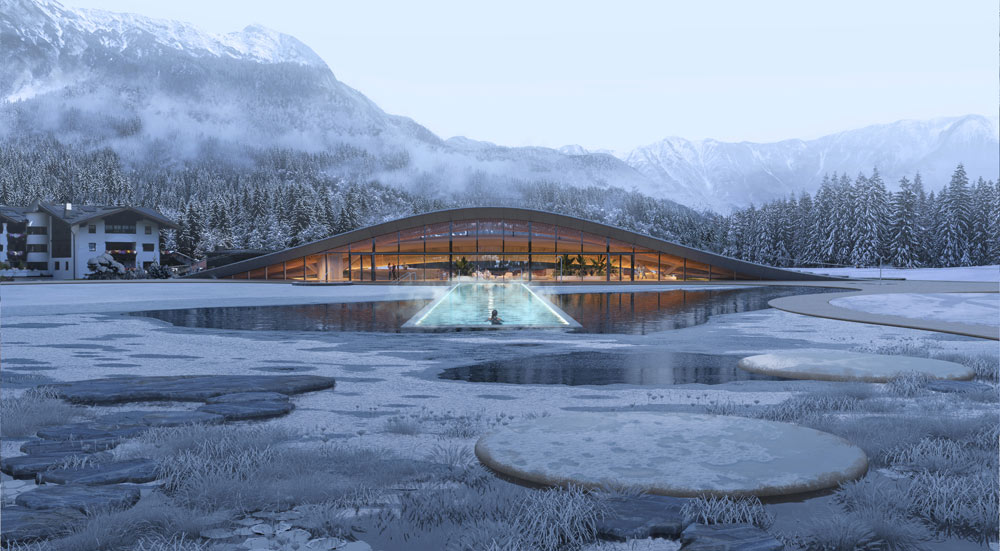 The panoramic opening creates a uniform interior and exterior space between the open plan on the 1st floor. The ground floor houses the various saunas (Finnish Sauna), the locker rooms, a relaxation area, and the main view along the valley. The wooden Finnish Sauna is 21 m long and 4 m high.
A lamella ceiling has been designed to create a solid interior space. It starts from the beginning of the connecting corridor to the hotel and runs almost 175 meters to reach the far end of the main roof. The CNC-milled construction adapts to the ever-changing form of the building along the way and serves to bring all the elements together.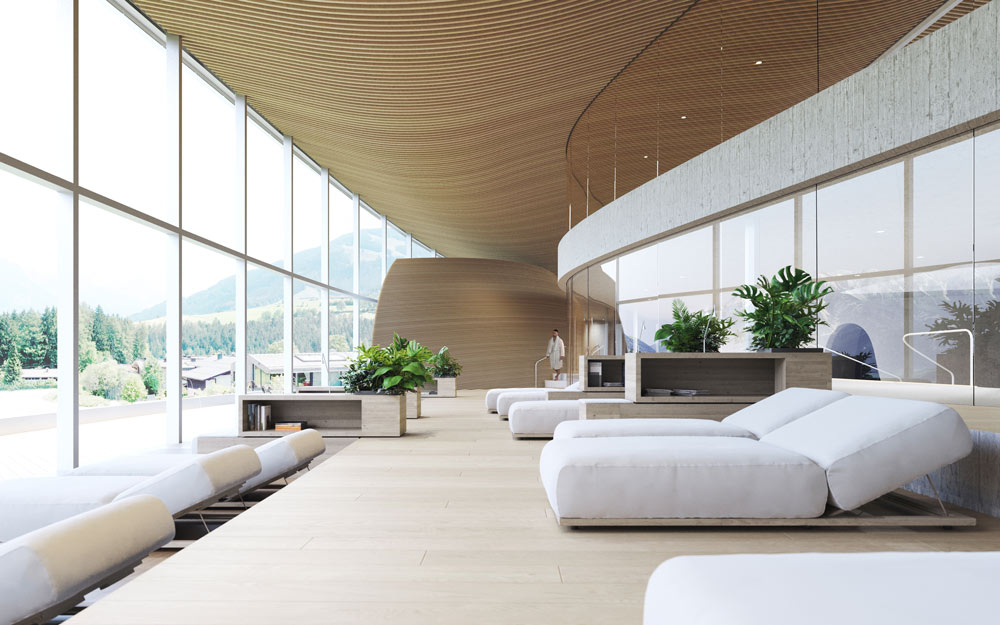 The choice of materials is limited to local products to take the "genius loci," the sense of resource conservation, and short production routes into account. Locally produced wood and glass accompany the exposed concrete walls with vertical boarding, and unique furniture is made of so-called alpine marble from the immediate vicinity.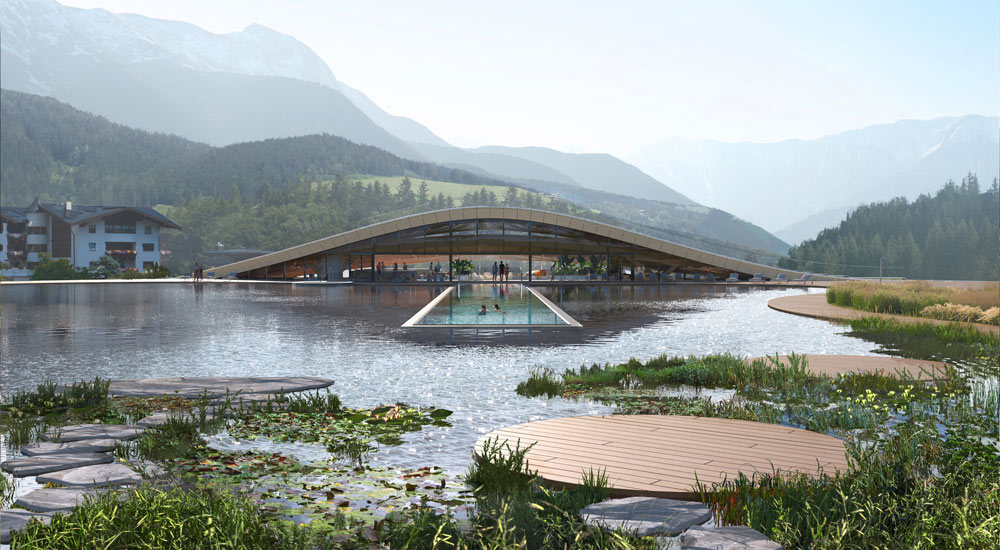 Project Info
Architect: Hadi Teherani Architects
Client: Altenberger GmbH & Co. KG
Principal: Hadi Teherani
Partner in Charge: Sebastian Appl
Project Leader: Patrick Hesse
Head of Design: Kaveh Najafian
3D Development for Construction: Kaveh Najafian, Patrick Hesse
Basic Design & Design Development: Architecture: Patrick Hesse, Kaveh Najafian, Aysil Sahin, Neda Tahouri, Ludwig Ebert
Head of Interior Design: Nicola Sigl
Interior Concept Design & Design Development: Nicola Sigl, Paulina Pucliowska, Nayanika Bahia
Competition & Concept Design: Architecture: Kaveh Najafian, Patrick Hesse, Amir Khazan, Hamidreza Edalatnia / Landscape Concept: Hinnerk Wehberg