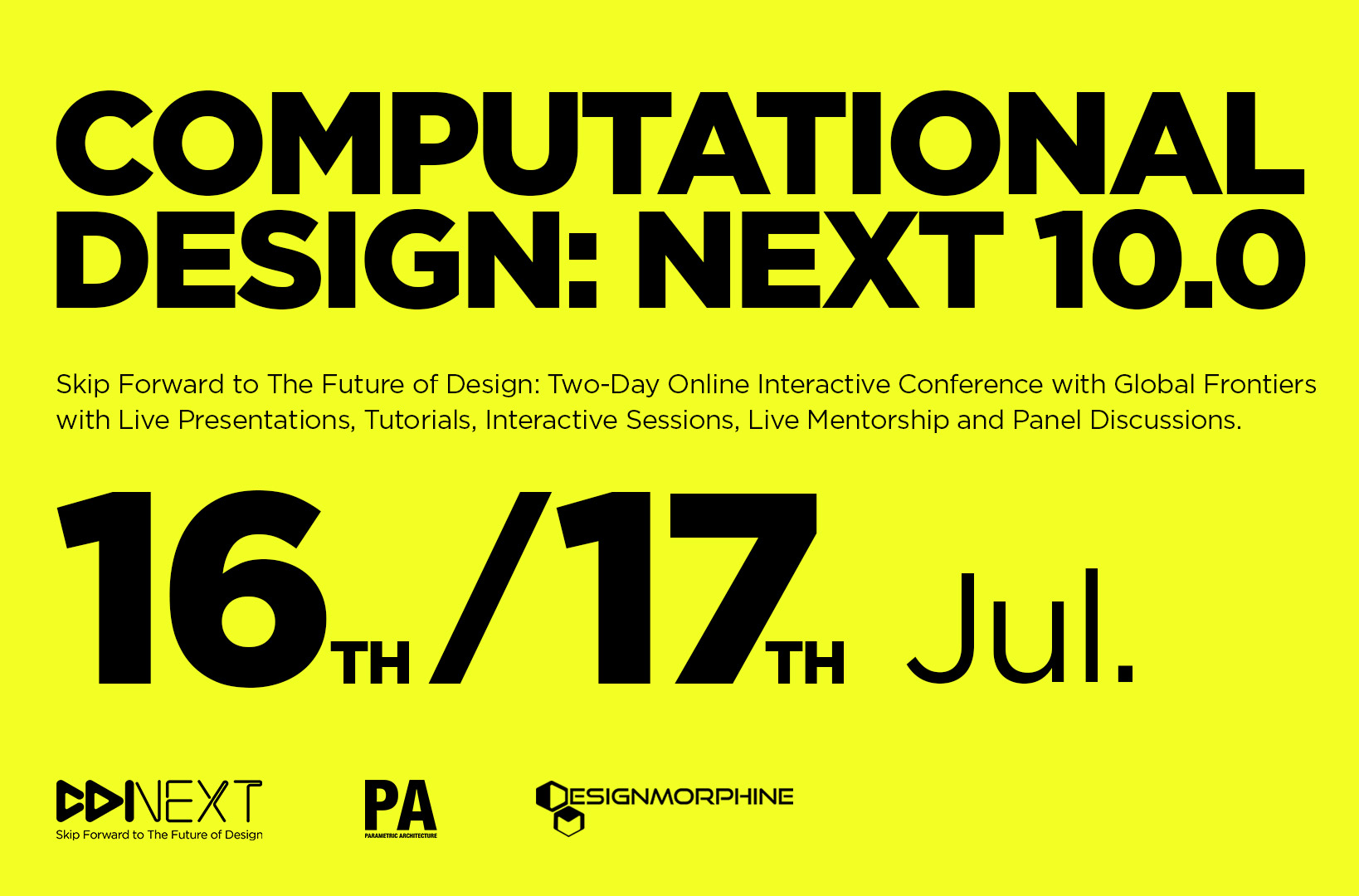 Topic: COMPUTATIONAL DESIGN: NEXT 10
Time: Saturday and Sunday, July 16-17, 2022
Day 1 Starts: July 16, 12:00 GMT
Day 1 Ends: July 16, 20:30 GMT
Day 2 Starts: July 17, 12:00 GMT
Day 2 Ends: July 17, 20:30 GMT
Where: Zoom, hosted by PA
Duration: Two Days Conference
Total Hours: 18 Hours
Format: Online
Hosts: Hamid Hassanzadeh, and Michael Pryor
Collaborators: ParametricArchitecture and DesignMorphine
Early-bird Registration: €56 (Till 23:59 GMT, May 31, 2022) (Closed)
General Registration: €69 (Till 23:59 GMT, July 15, 2022)
Introduction:
THE PAST, PRESENT & FUTURE: An online interactive conference with global frontiers. Two-day online conference with live presentations, tutorials, interactive Sessions, live mentorship & panel discussions. A collaborative initiative by ParametricArchitecture (PA) and DesignMorphine (DM). Computational Design: NEXT 10 brings together pioneers and professionals from all industries to meet and discuss new emerging technologies in art, architecture, design, and manufacturing.
Computational Design: NEXT is a joint effort by some of the world's leading experts in computational design to create an online learning platform that will also serve as a full-fledged online conference. ParametricArchitecture (PA), one of the leading media platforms concentrating on computational design and its different subsets, will host the event, including conversations, dialogues, tutorials, and mentoring to a worldwide audience via thought-provoking and relevant speeches.
Following the success of CD Next 1-9, Computational Design: NEXT 10 takes another step forward in exploring new-age design technologies by worldwide technology champions. The conference will take place on Saturday and Sunday, July 16-17, 2022 (Saturday and Sunday), and will include workshops, panel discussions, technology demos, and presentations.
Important Notes:
The entire conference will be recorded, and videos will be available for participants just a day after the conference.

A certificate of attendance will be provided to all participants of the conference.
We will send the Zoom link just a week before the conference starts.
You can make payments in cryptocurrencies. For more details, please email us at [email protected].
The event has a capacity of 400 people, and limited (100) spots are allocated for early-bird registrations.
Tickets are non-refundable and non-transferable. Please read before you register.
Guest Speakers
Dinara Kasko
Dinara Kasko is a pastry chef, architect, and the founder of Dinara Kasko Pastry Art, a global bakery recognized for its creative cakes and pastries. Dinara will display some of her creative works at the Computational Design: NEXT 10 conference. Dinara studied architecture at the National Academy of Fine Arts and Architecture and worked as an architect and 3D visualizer before discovering her passion for pastry baking and utilizing her design abilities in this industry. Kasko's primary baking method entails creating a silicone mold with a 3D printer and then using them to shape a cake. Her works of confectionery art incorporate Voronoi diagram and biomimicry mathematical ideas without sacrificing taste. Unfortunately, during the Russian invasion of Ukraine in 2022, Kasko's studio in Kharkiv was attacked.
Arian Hakimi
Arian Hakimi is the founder and principal of Arian Hakimi Architects, a multidisciplinary studio for architecture, urbanism, and design, rooted in systematic design strategies. He also is a former lead designer at Zaha Hadid Architects. Arian Hakimi will be commencing a lecture at Computational Design: NEXT 10 conference. Arian has given lectures on parametricism and systematic design methods and tutored several workshops worldwide, encouraging bottom-up design approaches to open up new design areas. Including in the ZHA intern summer program, which resulted in an exhibition of the extraordinary process," the late Zaha Hadid's final show at Maison Mais Non-London. Arian joined ZHA in 2013 and has been involved in more than 26 projects, ranging from residential, mixed-used buildings to transportation infrastructure and masterplan development, including two projects under construction. Unicorn Island in Chengdu and KAFD, an-award winning Metro Station in King Abdullah Financial District in Riyadh. He has contributed to implementing advanced parametric design strategies and automation in architectural workflow on these projects.
Elif Erdine
Elif Erdine is an Architect and Director of the Emergent Technologies & Design Post-Graduate Programme at the Architectural Association. Elif will be presenting at the upcoming conference Computational Design: NEXT 10 conference. EmTech's research program focuses on exploring new architectural and ecological synergies through the key convergence of computational design and fabrication. Elif Erdine's Ph.D. thesis, ' Generative Processes in Tower Design: Algorithms for the Integration of Tower Subsystems,' was completed at the Architectural Association Ph.D. in Design Programme. She has been directing AA Visiting School programs (AA Istanbul VS, AA Summer DLAB) since 2010, focusing on generative design and the integration of algorithmic design processes with large-scale digital manufacturing equipment. Between 2006 and 2010, she worked with Zaha Hadid Architects.
Marcela Spadaro
Marcela is an Architect and Architectural photographer, founder of NAARO studio, and former lead Architect at Zaha Hadid Architects. Marcela will be delivering a lecture at the Computational Design: NEXT 10 conference. Marcela and NAARO, a London-based studio, specializes in documenting the narrative of innovative design in pictures and film and offers compelling visual storytelling of creative architecture from across the world. Marcela teaches Architectural photography at the London College of Communications in addition to her work with NAARO, an academic practice she claims is inextricably linked to her professional practice.
Roberto Naboni
Roberto Naboni is an architect, Ph.D., Associate Professor in Computational Design and Digital Fabrication at SDU, and Director of SDU CREATE. Roberto will be our guest speaker at the Computational Design: NEXT 10 conference. He graduated from Politecnico di Milano with a Master of Architecture and just earned his doctorate in Architecture, built environment, and construction engineering program. Roberto published papers at international conferences and authored articles for journals and magazines. He is the author of "Advanced Customization in Architectural Design and Construction" (2015). He previously collaborated with international research centers and offices for architecture, such as ICD Stuttgart, ETH Zurich, Skidmore, Owings and Merrill, Enric Miralles & Benedetta Tagliabue Associates, and Stefano Boeri Studio.
Andrea Rossi
Andrea Rossi is an architect, researcher, and creative coder. He is the developer of WASP, an open-source Grasshopper plug-in to design discrete aggregations of modular elements. Andrea will be giving a lecture and Q&A session at the Computational Design: NEXT 10 conference. Wasp is a Python-based Grasshopper plug-in that provides combinatorial tools for designing with discrete pieces. Each part's description contains the information required for the aggregate process (part geometry, connections location, and orientation). The connections create the part's topological network, which determines aggregation possibilities with other factors. Wasp provides a set of aggregation algorithms that enable the creation of structures based on geometry and data. It also includes utilities for visualizing and processing the resultant aggregate and tools for restricting it both locally and globally.
Sina Mostafavi
Dr. Sina Mostafavi is a Senior Lecturer (Associate Professor) in the Department of Architecture and 3D Design in the School of Arts and Humanities at the University of Huddersfield, UK. As an experienced researcher, practicing architect, and educator with computational design and architectural robotics expertise, Mostafavi's research focuses on the innovative application of emerging materials and technologies for integrated design and circular production. He holds a doctoral degree from TU Delft, where he has been a senior researcher and the manager at the robotic building lab of Hyperbody Research Group. He has led several research projects at TU Delft Faculty of Architecture and the Built Environment in the Netherlands and Dessau Institute of Architecture at Bauhaus in Germany. In DIA, he has been the initiator of the DARS.hub unit, [Design, Architectural Robotics & Systems], delivering interdisciplinary projects such as Bioplastic Robotic-3D-Printing and Adaptive City Car sponsored by AUDI. As a practicing architect, he has been the founder of SETUParchitecture, an award-winning studio aiming to adapt digital design-to-production technologies to geo-cultural specificities.
Mostafavi's projects are featured at international exhibitions, such as the V2 gallery Rotterdam, NAi, Dutch Design Week, and Print the World Exposition in Centre Pompidou Paris. Lectured and published internationally, he has presented his work in institutions such as ETH Zurich, AA-London, UT-Sydney, TU-Vienna, Paris Malaquais, and KNAW-Amsterdam. Mostafavi is the recipient of 2A awards in IAAC for Softstone Building, Architizer A+ Award 2020, and the Digital Futures Emerging Scholar Award 2021. He has been a member of the scientific committees of various journals and conferences such as eCAADe, ACADIA, ROB|Arch, CAAD Futures, and Journal of 3D Printing and Additive Manufacturing. He is currently elected to the Board of Directors in ACADIA and Editorial Board member in IJAC Journal.
Matias del Campo
Matias del Campo is an architect, designer, associate professor at Taubman College of Architecture and Urban Planning, University of Michigan, director of the AR2IL, and co-founder of the architecture practice SPAN. Matias will deliver a lecture for 45 minutes and answer questions at the upcoming Computational Design: NEXT 10 conference. He conducts research on advanced design methods in architecture, primarily through the application of Artificial Intelligence, collaborating with Michigan Robotics and the Computer Science department. His firm SPAN gained wide recognition for the design of the Austrian Pavilion at the 2010 Shanghai World Expo and, more recently, for the Robot Garden at the Ford Robotics Building. SPAN's work was featured at the Venice Architecture Biennale in 2012 and 2021, ArchiLab in 2013, and the Architecture Biennale in Vienna and Buenos Aires in 2019. Solo shows include "Formations" at the MAK in Vienna and the exhibition "Sublime Bodies" at the Fab Union Gallery in Shanghai, China. Matias del Campo was awarded the Accelerate@CERN fellowship, the AIA Studio Prize, and was elected to the boards of directors of ACADIA and IJAC, the International Journal of Architectural Computing. In 2016 and 2020, Matias del Campo co-chaired the ACADIA conference and chaired the 2020 DigitalFUTURES edition. SPAN's work is in the permanent collection of the FRAC, the MAK in Vienna, the Benetton Collection, the Albertina, the Pinakothek Munich, and several private collections.
His publishing work includes two editions of AD – Evoking through Design and Machine Hallucinations (co-edited with Neil Leach) as well as the books Neural Architecture – Design and Artificial Intelligence (ORO Editions 2022) and Sublime Bodies (co-authored with Sandra Manninger, Tongji Press 2017).
Guest Tutors
Laura Maria Gonzalez
Laura Maria Gonzalez is an interdisciplinary designer and architect whose work includes design, computation, synthetic biology, and additive manufacturing. Laura will lead a 90-minute session at the Computational Design: NEXT 10 conference. Laura is presently a community biotechnology researcher at the MIT Media Lab. Her current research uses developing computational and synthetic biology technologies to design and create living materials that address the building sector's environmental effect by encouraging a collaborative conversation between people and microbes. Laura previously worked as an architect at Skidmore, Owings, and Merrill in New York City and London. She possesses a Master of Science in Design from MIT and a Bachelor of Architecture from Carnegie Mellon University. Several fellowships and grants, including the W.
ELshareef Kabbashi
Elshareef Kabbashi, Sudanese architect, artist, and computational designer will be giving a 90-minute tutorial using (Rhino3D and Grasshopper) at the Computational Design: NEXT 10 conference. Elshareef is currently working as an Architect at an award-winning firm, Wael Al-Masri Planners and Architects (WMPA), Amman. Jordan. He focuses on creating a design synthesis through a comprehensive approach to planning and architecture. He received his Bachelor's degree (with honor) in Architecture and Environmental Planning from Hadhramout University, Yemen. He has also achieved the Medal of Scientific Excellence. Elshareef believes that architecture is an idea of construction in the head of the designer. He also sees that parametricism is an idea that pushes the thoughts of innovative exploration with the help of technology/algorithms.  Elshareef aims to break boundaries and limits of design, helping to innovate how the city image could be and how spatial experiences continue to be explored. He calls himself a Rhino+Grasshopper Nerd.
Ignacio Revenga
Ignacio Revenga, Spanish architect, artist, and computational designer, will be tutoring a 90-minute workshop at the upcoming Computational Design: NEXT 10 conference. Ignacio has a Bachelor's Degree and a Master's in Architecture from the Superior School of Architecture at the Polytechnic University of Madrid, Spain. Specialized in parametric design and computational protocols applied to architecture, he develops architectural solutions throughout the parametrization of geometry and its behaviors. He collaborated with CAZA as designer on several projects including Delgado Mausoleum, BCDA Iconic Building, Cartagena Airport, Camsur Capitol, La Salle Academic Complex, The Cocoon, New Supreme Court, La Vega, among others. Many of his works have been featured on several websites and got awards.
Dimitar Pouchnikov
Dimitar Pouchnikov, architect, computational designer, and educator, will be conducting a live workshop for 90 minutes at the Computational Design: NEXT 10 conference. Dimitar has worked on large-scale projects worldwide, combining computational design knowledge to create architecturally significant places. In his daily practice, he explores how open-source digital tools can democratize and further advance design processes to create better environments to live, work, learn, and play.
Program Outline for Computational Design: NEXT 10
Day 01: Saturday, July 16, 2022
[Time Zone: GMT]
All sessions/tracks are led by the following panelists unless specified otherwise:
– Hamid Hassanzadeh (Turkey) – Founder & Editor in Chief, Parametric Architecture
– Michael Pryor (USA) – Design Director & Computational Designer, DesignMorphine
Welcome Note & Set-up
12:00 PM – 12:30 PM (GMT or UTC)
Guest Speaker 1: Elif Erdine / AA EmTech (Lecture + Q&A)
12:30 – 13:30 UTC
Duration – 60 Minutes
Break time for 15 minutes.
Workshop 1: Ignacio Revenga
13:45 – 15:15 (GMT or UTC)
Duration – 90 Minutes
Break time for 15 minutes.
Guest Speaker 2: Arian Hakimi / Arian Hakimi Architects (Lecture + Q&A)
15:30 – 16:30 (GMT or UTC)
Duration – 60 Minutes
Guest Speaker 3: Dinara Kasko / Dinara Kasko Pastry Art Studio (Lecture + Q&A)
16:30 – 17:30 (GMT or UTC)
Duration – 60 Minutes
Break time for 15 minutes.
Workshop 2: Elshareef Kabbashi
17:45 – 19:15 (GMT or UTC)
Duration – 60 Minutes
Break time for 15 minutes.
Guest Speaker 4: Sina Mostafavi / SETUParchitecture (Lecture + Q&A)
19:30 – 20:30 UTC
Duration – 60 Minutes
End of Day 1: Endnote by Hamid Hassanzadeh
20:30 – 20:45 (GMT or UTC)
Duration – 15 Minutes
Day 2: Sunday,July 17, 2022
Welcome Note & Set-up
12:00 PM – 12:15 PM (GMT or UTC)
Guest Speaker 5: Marcela Spadaro / NAARO Studio (Lecture + Q&A)
12:15 – 13:15 (GMT or UTC)
Duration – 60 Minutes
Guest Speaker 6: Andrea Rossi / WASP (Lecture + Q&A)
13:15 – 14:15 (GMT or UTC)
Duration – 60 Minutes
Break time for 15 minutes.
Workshop 3: Dimitar Pouchnikov
14:30 – 16:00 (GMT or UTC)
Duration – 90 Minutes
Break time for 15 minutes.
Guest Speaker 7: Roberto Naboni / CREATE SDU (Lecture + Q&A)
16:15 – 17:15 (GMT or UTC)
Duration – 60 Minutes
Break time for 15 minutes.
Workshop 4: Laura Maria Gonzalez
17:30 – 19:00 (GMT or UTC)
Duration – 90 Minutes
Break time for 15 minutes.
Guest Speaker 8: Matias Del Campo/ SPAN Architects (Lecture + Q&A)
19:15 – 20:15 (GMT or UTC)
Duration – 60 Minutes
End of Day 2: Vote of thanks by organizers & speakers
20:15 – 20:45 (GMT or UTC)
Duration – 30 Minutes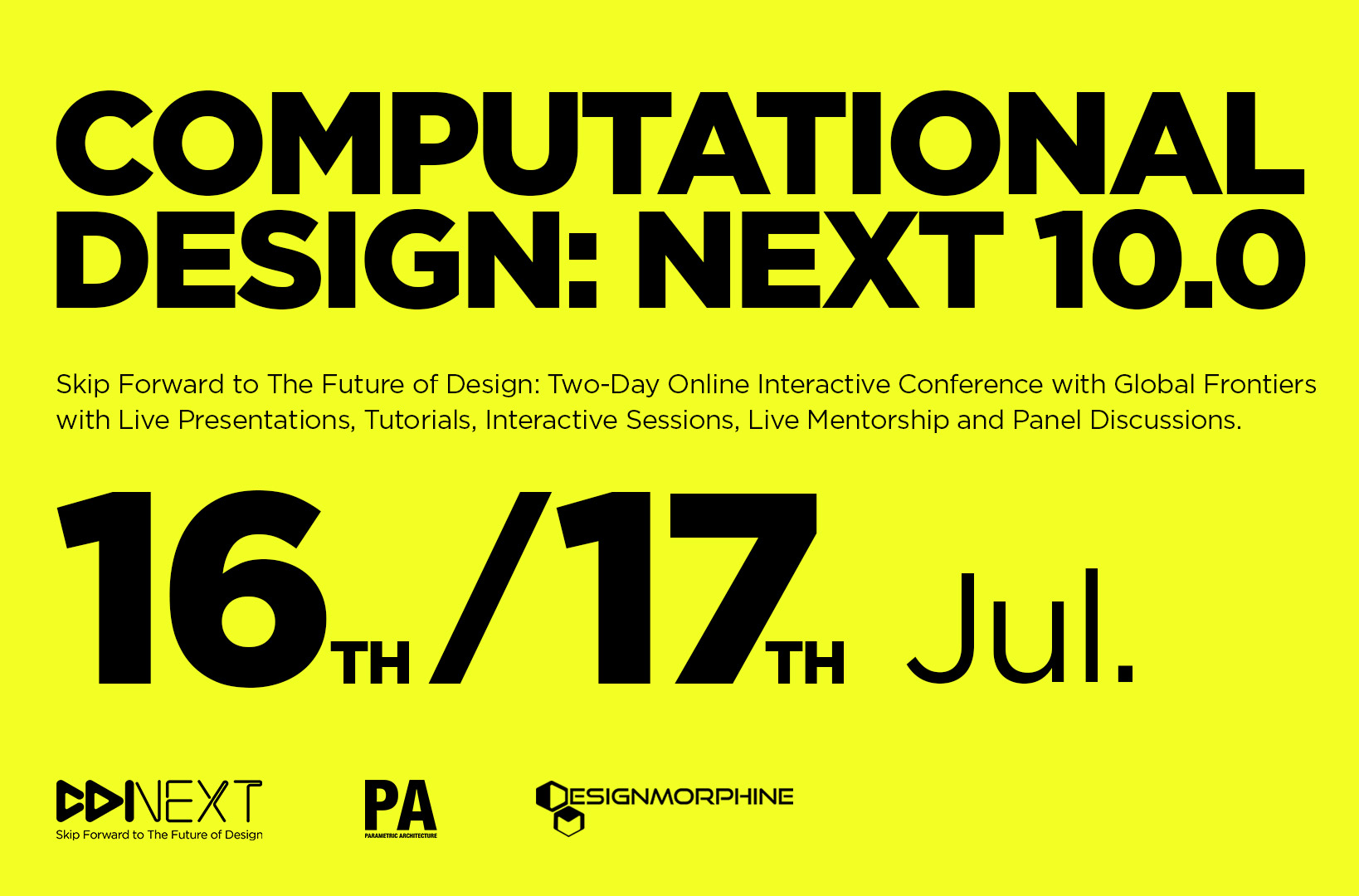 Topic: COMPUTATIONAL DESIGN: NEXT 10
Time: Saturday and Sunday, July 16-17, 2022
Day 1 Starts: July 16, 12:00 GMT
Day 1 Ends: July 16, 20:30 GMT
Day 2 Starts: July 17, 12:00 GMT
Day 2 Ends: July 17, 20:30 GMT
Where: Zoom, hosted by PA
Duration: Two Days Conference
Total Hours: 18 Hours
Format: Online
Hosts: Hamid Hassanzadeh, and Michael Pryor
Collaborators: ParametricArchitecture and DesignMorphine
Early-bird Registration: €56 (Till 23:59 GMT, May 31, 2022) (Closed)
General Registration: €69 (Till 23:59 GMT, July 15, 2022)