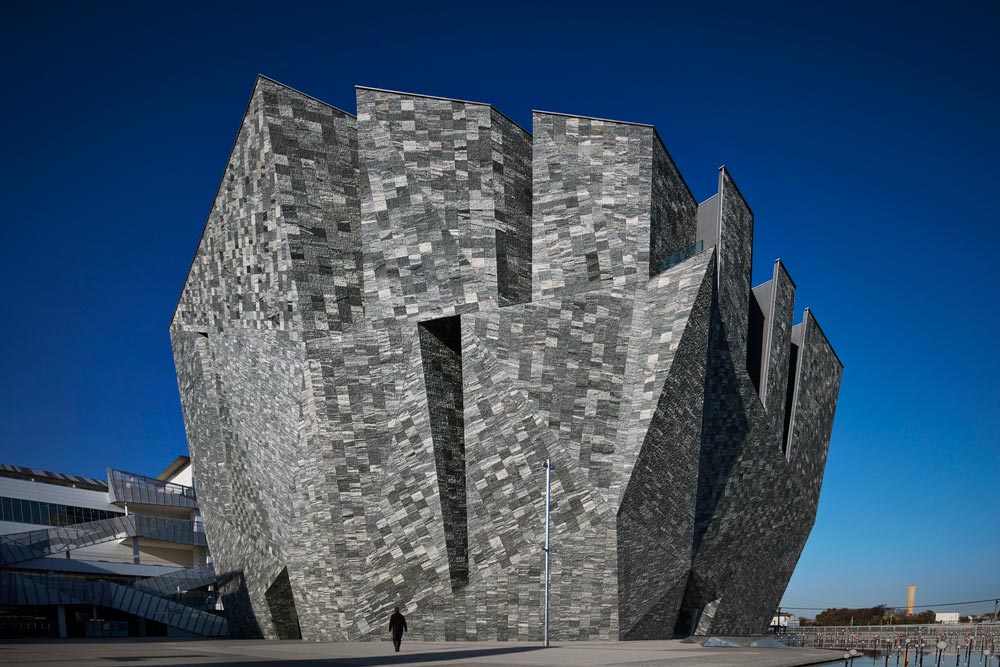 A futuristic cultural labyrinth imitating binary oppositions visualized by Kengo Kuma & Associates and Kajima Design distressed by modern cities and suburbs, high culture and low culture, in a three-dimensional sculpture. The Kadokawa Culture Museum, located at the Musashino Plateau site, was created by the collision of four tectonic plates bordering Japan.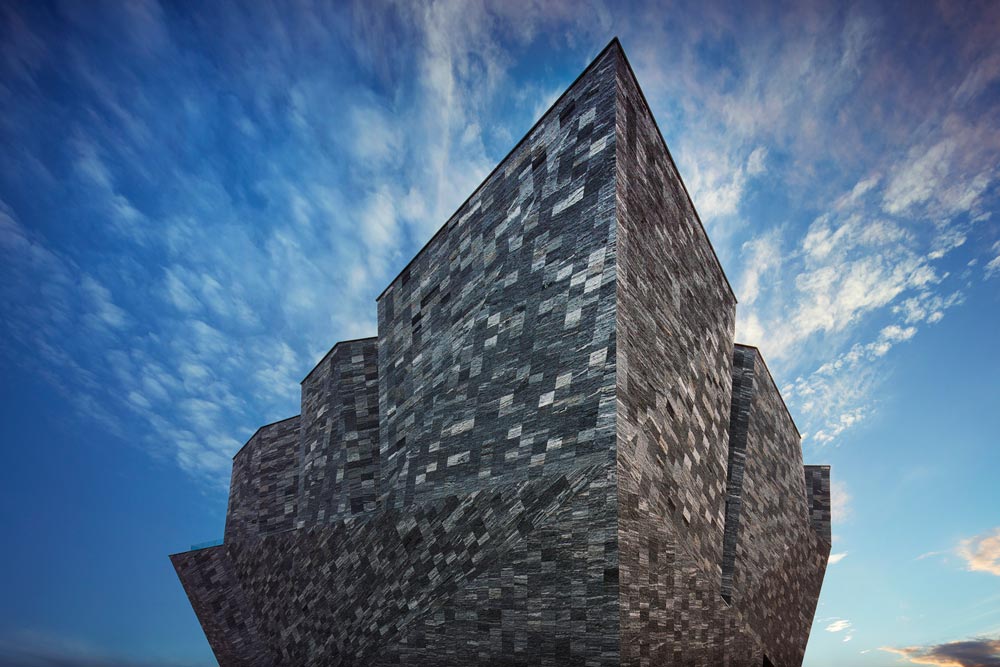 The architecture's aim constituted granite, a component of magma that solidifies while mounting from tectonic fissures. The astound mass rekindles with the modern factories on the north, suburban houses on the south, and Higashi Tokorozawa Park on the east.
Named Black Fantasy, quarried in China- an enormous set of 20,000 granite pieces envelopes the outer wall. The towering features are rippling solid shades of white on a black facade. The design team adopted a rough texture coupled with breaking thick stones and details that don't align at the junctions. The acquiring particles are suitable for the rugged neighbouring setting to coexist between the natural and artificial.
Structuring the Mass
The structure entirely wraps in steel, later encased by an outer wall of steel-framed reinforced concrete. This withstands the hefty stones achieving an ambiguous appearance of multiple elevated floors. The integrating naturally blends objects beyond the typical architectural scale.
The chaotic interiors invoke contemporary art of high and low anime culture, white and black spaces, and accurate and false reveals. The team assimilated into a single area by adjusting the material particles of cedar plywood, cypress and stainless mesh.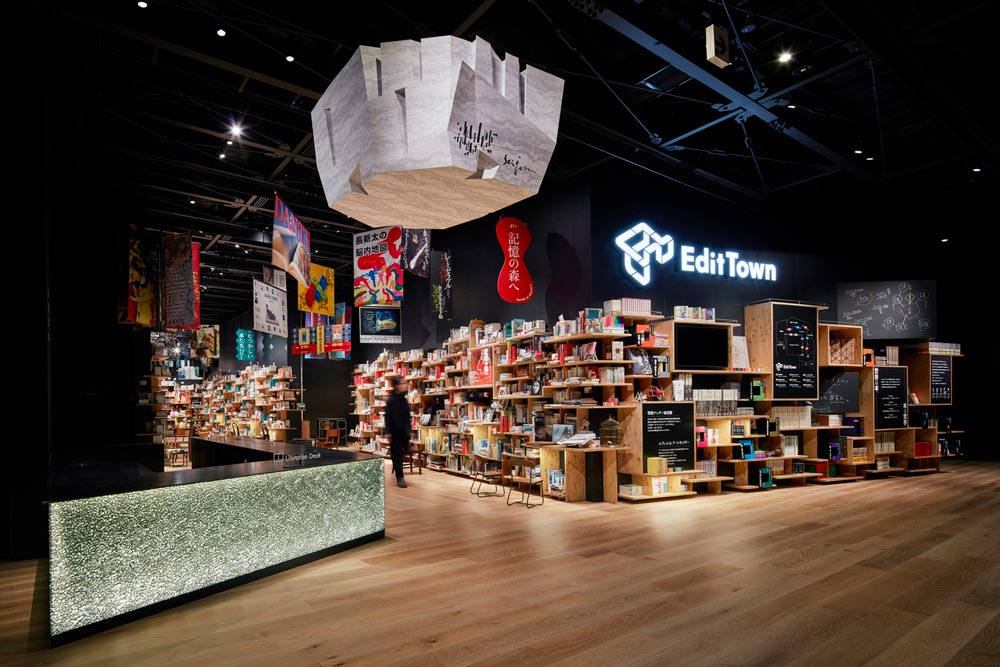 "Edit Town" represents a fusion of museums and libraries, with a gallery in the epicentre. Six walls slashed along different angles separates the museum from the library, and free holes summon each program's impression. "Book Street," of bookshelves in cedar plywood, branches off nine large headlines forming a network resembling the brain.
The designers combine three shelves casing various depths as the books stack flat and objects display in front of the back cover. A random rhythm infused into a chaotic street stretches 85 metres containing forty-four units exhibited in a six-pattern arrangement.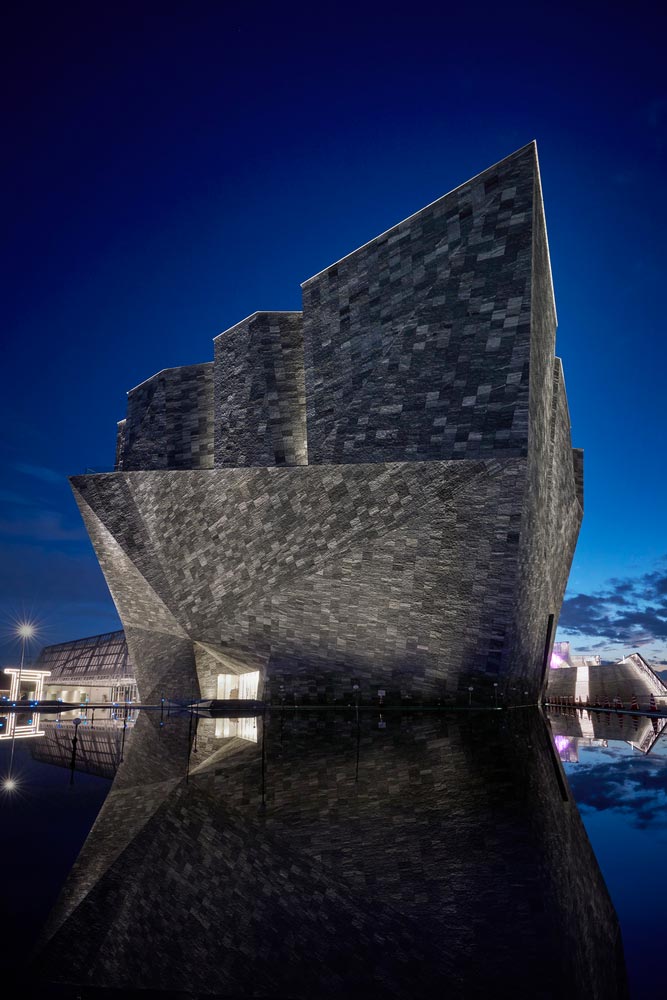 Enhanced verticality of "Bookshelf Theater" at the end of Edit Town relates to the same depth of shelves. Yet changing the depth of vertical cedar plywood, makes it possible to become a bookshelf cliff. The dynamic bookshelf rises above the ceiling height of 8 metres to distribute and stretch out to the ceiling louvre. Multiple programs attach onto the upper floor of Kadokawa Culture Museum in three dimensions, envisaging a labyrinth of particles.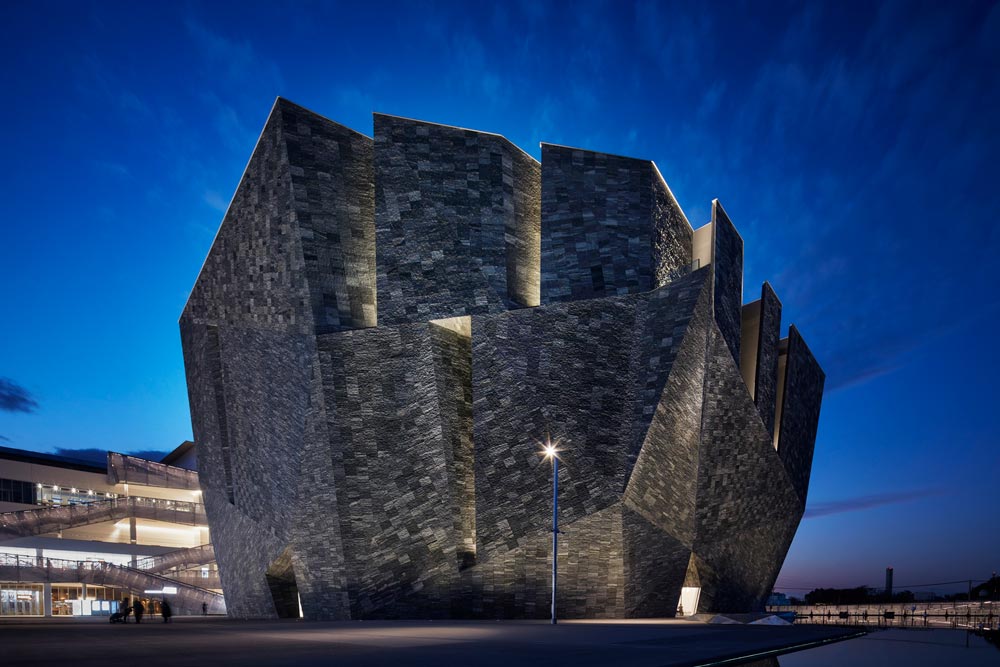 Architects: KAJIMA DESIGN, Kengo Kuma & Associates
Area: 87433 m²
Year: 2020
Photographs: Forward Stroke
Manufacturers: Daiko, Laticrete, Time & Style, FOREST NISHIKAWA, Panasonic, woody world
Design Architect: Kengo Kuma, Suguru Watanabe
Architects: Kengo Kuma & Associates, Koji Motoyama, Tokihiko Hoshino, Hidehito Nojima
City:Tokorozawa
Country:Japan