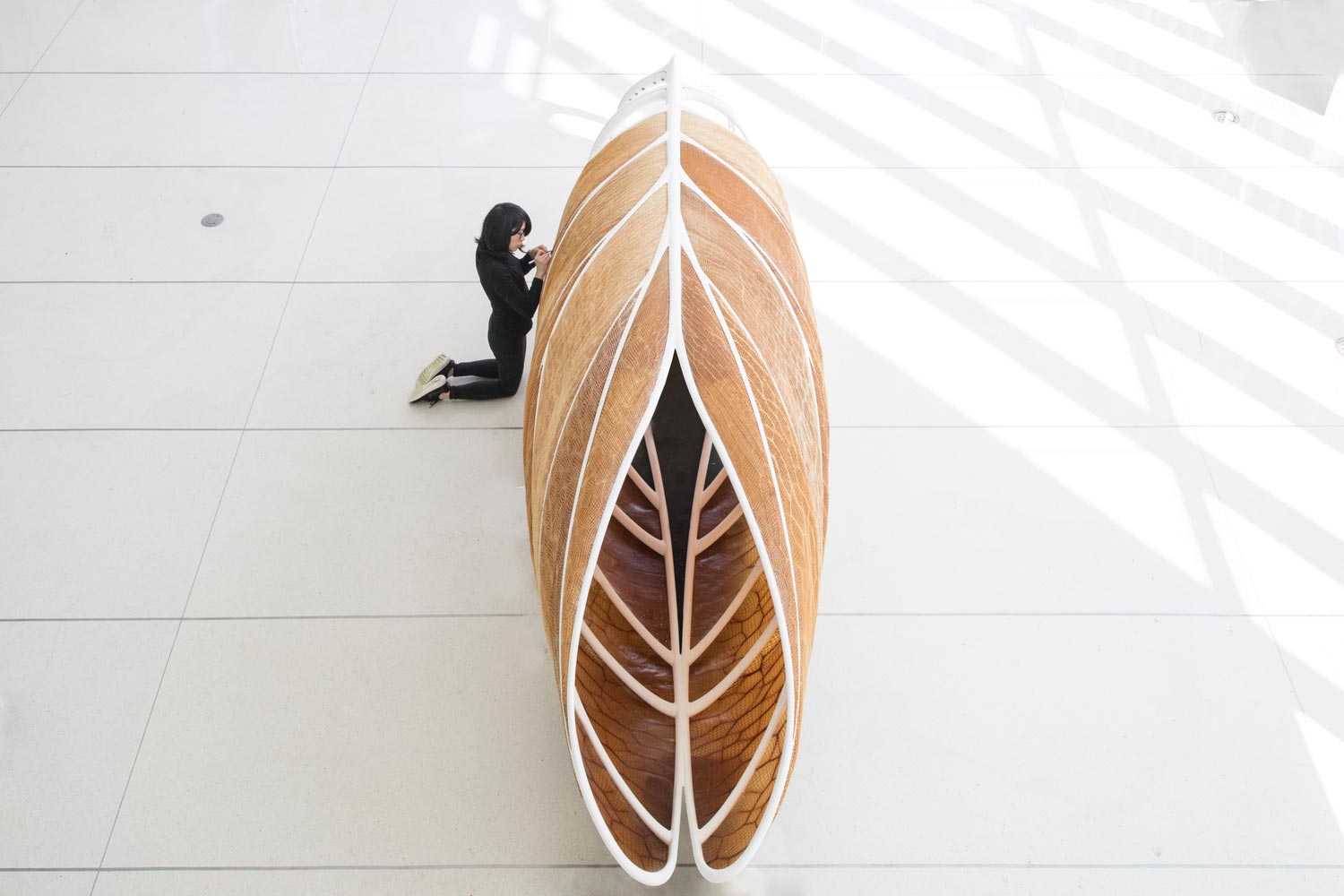 A secondary skin developed and programmed by Neri Oxman and MIT using water-based biocomposites for digital design and fabrication. The Aguahoja project has exhibited a pavilion and a series of artefacts erected from molecular components found in tree branches, insect exoskeletons, and our own bones. They use natural ecosystems, inspired for a material production process that produces no waste.
The Design Approach
The design approach facilitates close integration between material creation and robotic fabrication. The project consents creation of objects across varying scales. Besides it examines the importance of water in Nature's systems, the birth cycle, adaptation and decay. This allows the re-use of materials in the whole composition. Incorporating inspiration of growth forests and coral reefs, waste virtuals non-exists, The design team compared to the waste production rates of current building industries, where objects expire and materials extracted from the earth. Indeed their creation can faster be replenished.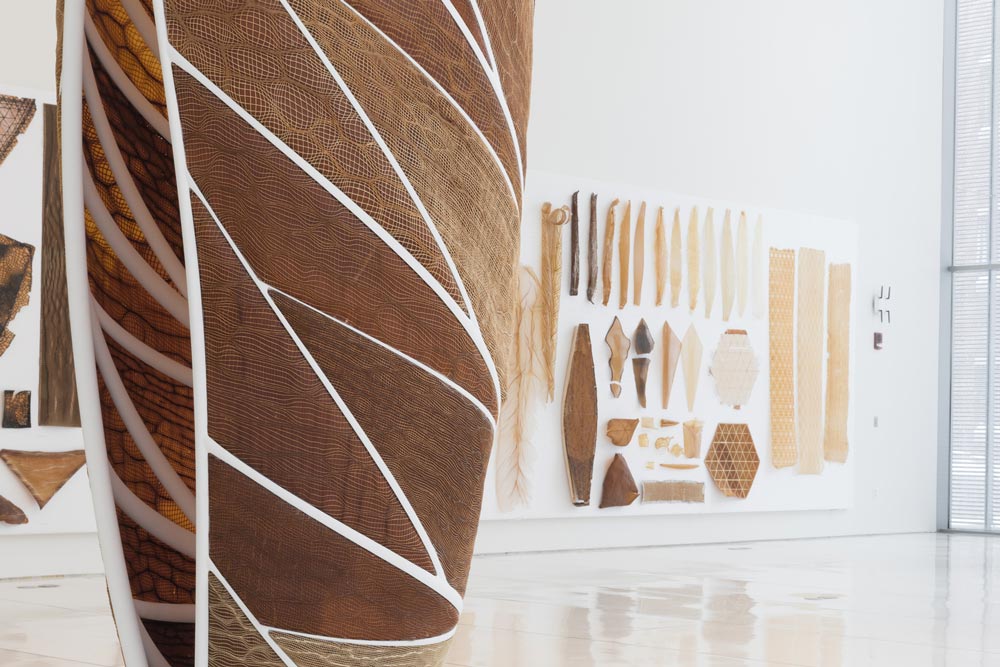 Aguahoja uses biocomposites composed of the widely used materials on our planet: cellulose, chitosan, pectin, and many more. They digitally fabricate particularly to weave materials with specific properties adapting in response to heat and humidity. In death, the materials dissociate in water, thus eliminating production waste and fuelling life.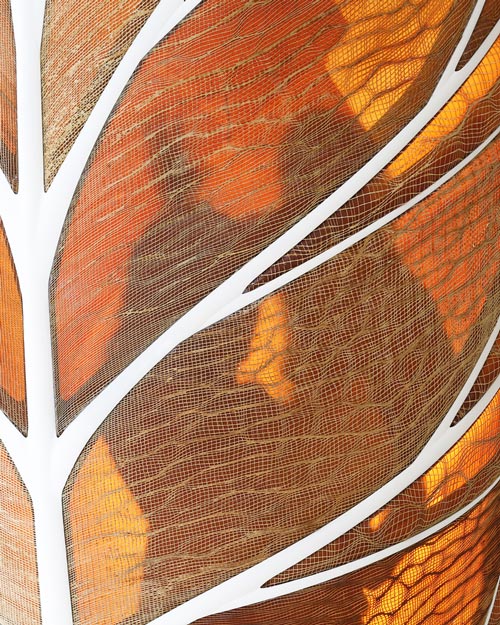 The Aguahoja Pavilion
The Aguahoja Pavilion continues its research on the application of environment-responsive biocomposites leading to the first architectural-scale iteration. Vertically upright in five meters, the structure's skin indeed composes flexible biocomposite with functionally graded mechanical, chemical, and optical properties. Cellulose and chitosan allow for creating a generative surface pattern to additionally alter panels' stiffness and colour by robotic deposition. Moreover, when exposed to rain the skin degrades programmatically. This restores its constituent building blocks to their natural ecosystem. This cycle continues naturally in synthesis.
Minute alterations to the molecular composition of biocomposites induce dramatic impact on their appearance and behaviour. The Aguahoja Artifacts subsequently represent years of exploration into parameterizing material chemistry. Especially developing a library of functional biocomposites. The pieces in the collection appear diverse in presence, yet all compose the same components; chitosan, cellulose, pectin, and water.
The Aguahoja Artifacts
The Aguahoja Artifacts forms an array and behaviours exhibited by these pieces. They reflect their manner of expression in Nature. Furthermore, a material such as chitin can compose both the exoskeletons of crustaceans and fungi' cell walls. In contrast to steel and concrete, the composites indulge in constant dialogue with their environment. Some artefacts exude dramatic changes conforming in response to humidity and heat. Others darken or lighten as the season's transform. Some seem brittle and transparent with glassy texture, while others remain flexible and tough like leather. Despite the emergent diversity, these artefacts share a standard quality mediated by humidity. As in death, they dissociate in water and return to the ecosystem.
"Derived from organic matter, printed by a robot, and shaped by water, this work points toward a future where the grown and the made unite."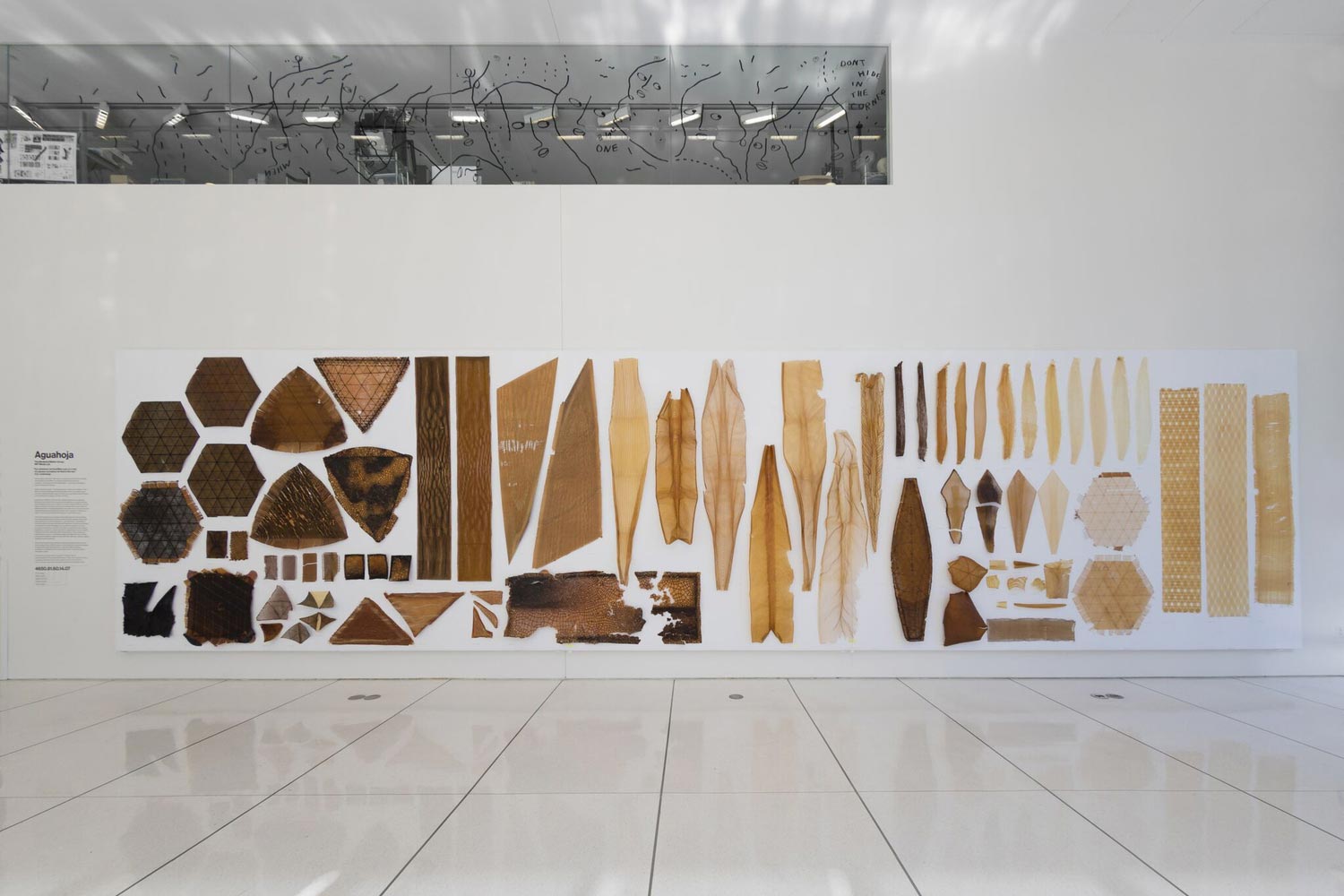 Project Team Members: Jorge Duro-Royo, Laia Mogas-Soldevilla, Daniel Lizardo, Joshua Van Zak, Yen-Ju (Tim) Tai, Andrea Ling, Christoph Bader, Nic Hogan, Barrak Darweesh, Sunanda Sharma, James Weaver, and Neri Oxman
Undergraduate Researchers: Matthew Bradford, Loewen Cavill, Emily Ryeom, Aury Hay, Yi Gong, Brian Huang, and Joseph Faraguna
Special Thanks: The MIT Media Lab, The TBA-21 Academy (Thyssen-Bornemisza Art Contemporary), GETTYLAB, and the Robert Woods Johnson Foundation, and the Autodesk BUILD Space
Collaborators: Zijay Tang, Prof. Tim Lu and the Lu Lab based at the Research Laboratory of Electronics at MIT, and Shaymus Hudson