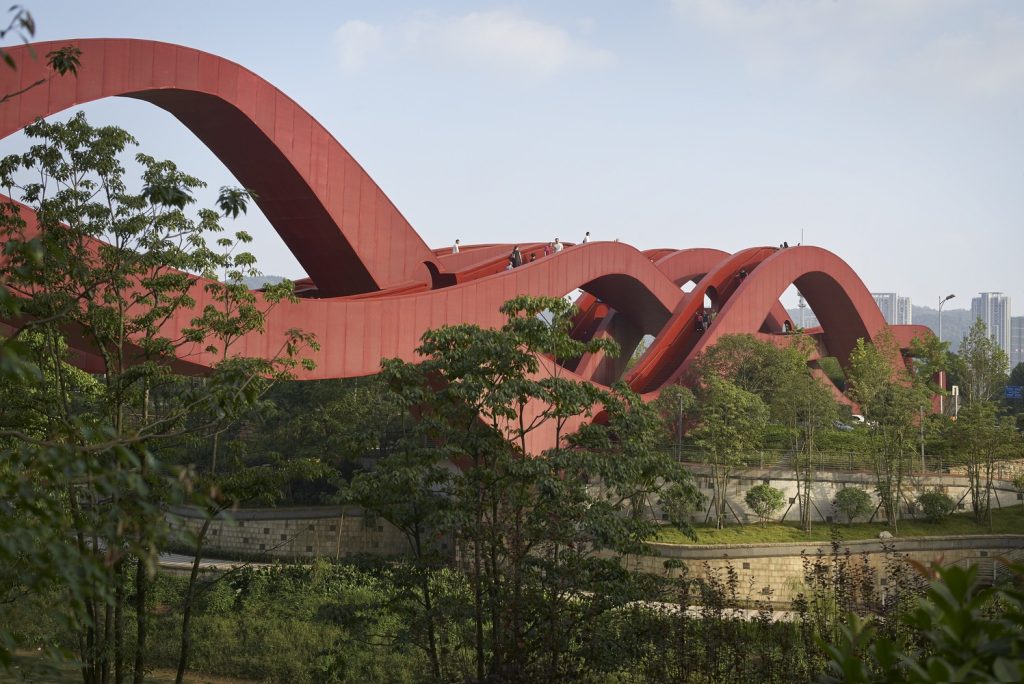 The Lucky Knot Bridge was chosen as the winning project in an international competition 2007. NEXT, an architecture studio with offices in Amsterdam and Beijing designed the proposal. The winning design resulted from the Dutch team's excellent water control and infrastructure knowledge, combined with the Chinese team's excellent understanding of the local context.
Lucky Knot Bridge, located in the 'New Lake District' in Changsha, connects the two banks of the Dragon King Harbor River in Changsha, China, offering a panoramic view of the river, Meixi Lake and the city. The bridge is designed as a steel structure, approximately 185 meters long and 24 meters high. The name Lucky Knot refers to the wavy ribbon shape made of steel.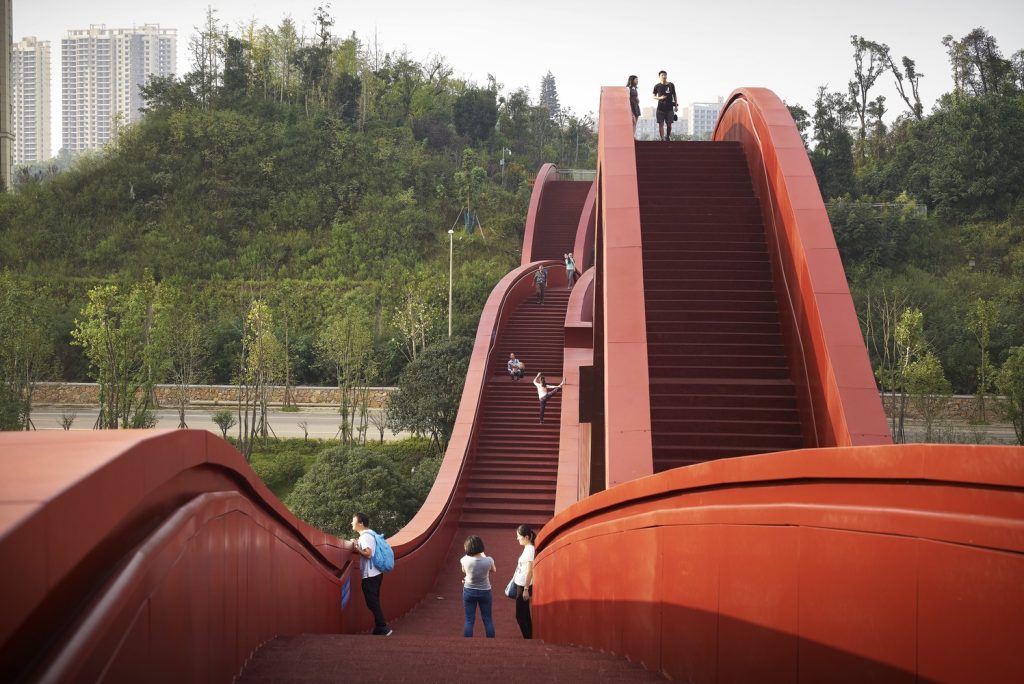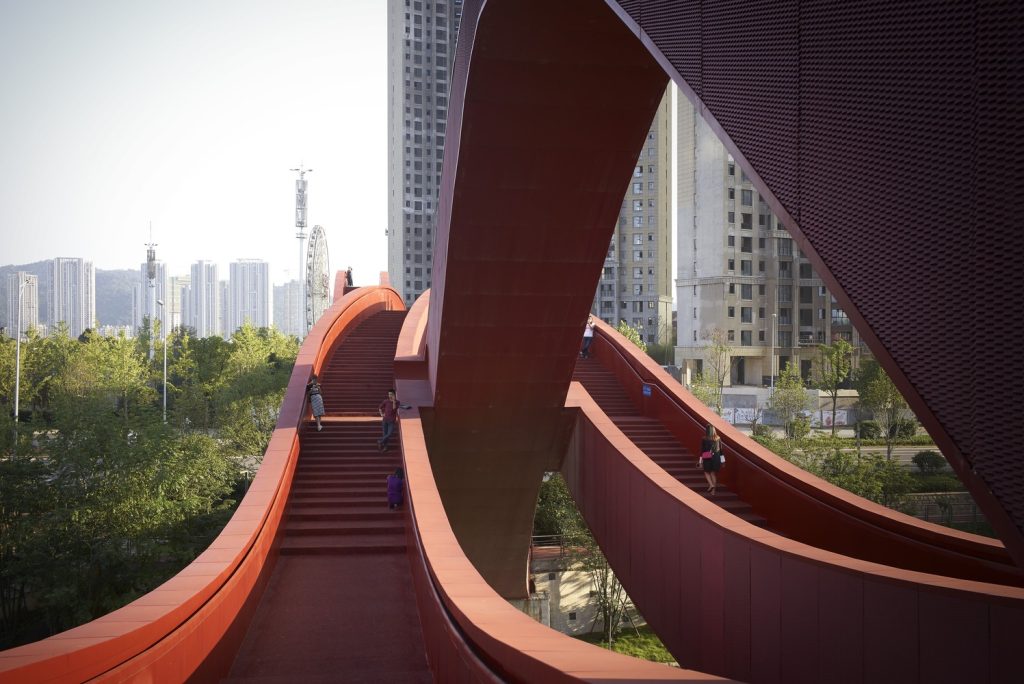 When designing the Lucky Knot Bridge, designers aimed to define a new recreational, ecological and tourist place in the city. In this way, the bridge was intended to define one of the city's public spaces. The three-arm bridge, reaching different heights, is a crucial element connecting the road, the river and the park close to the area. For this reason, it became one of the most important public spaces to be created in the city.
Connecting Changsha's main road, park and river, the Lucky Knot Bridge is schematically created with a knot that metaphorically connects the routes between these three focuses. The result is a bridge with a wavy form, which defines three different routes for users. "The shape of the Lucky Knot was inspired by the principle of the Mobius ring and the Chinese knotting art. In the ancient decorative Chinese folk art, the knot symbolises luck and prosperity," says John van de Water, partner at NEXT Architects Beijing. 
"The Lucky Knot is more than a bridge and a connection between two river banks. Its success lies in bringing cultures together and in the fusion of history, technology, art, innovation, architecture and spectacle," adds NEXT Architects Beijing partner Jiang Xiaofei.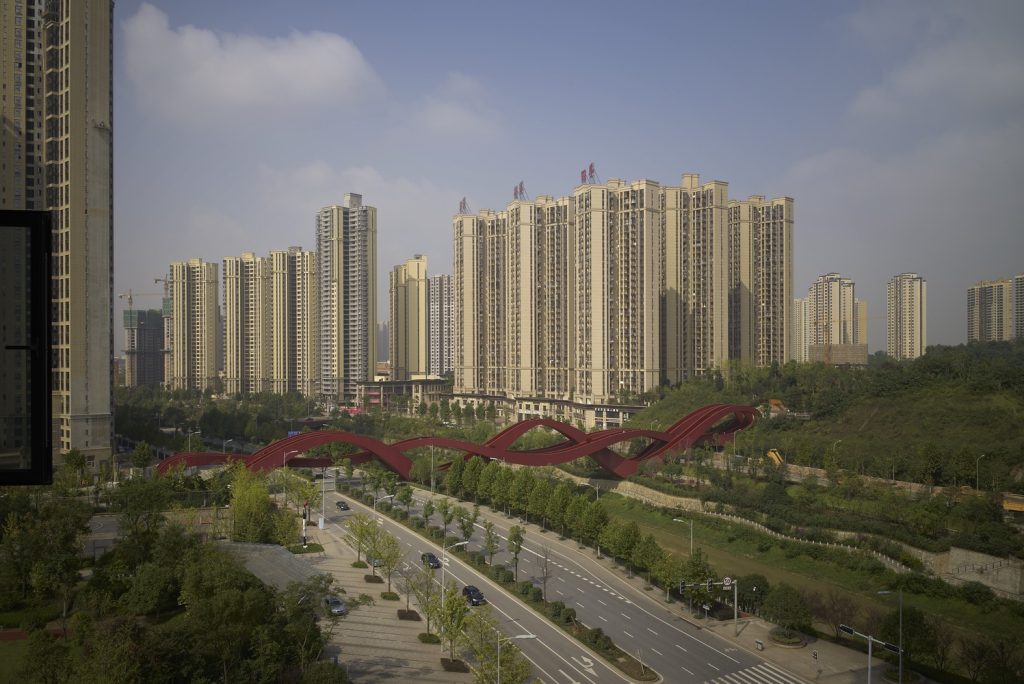 Project Info
Architects: NEXT architects
Area: 185 sqm
Year: 2016
Main Contractor: Capital Engineering & Research Incorporation Company Limited
Advisor Construction: CERI Engineering Technology Co.Ltd
Advisor Lighting: H.G Lighting
Architects In Charge: Bart Reuser, Marijn Schenk, Michel Schreinemachers, John van de Water, Jiang Xiaofei, Jurriaan Hillerström, Luuc Sonke
Photographs: Julien Lanoo