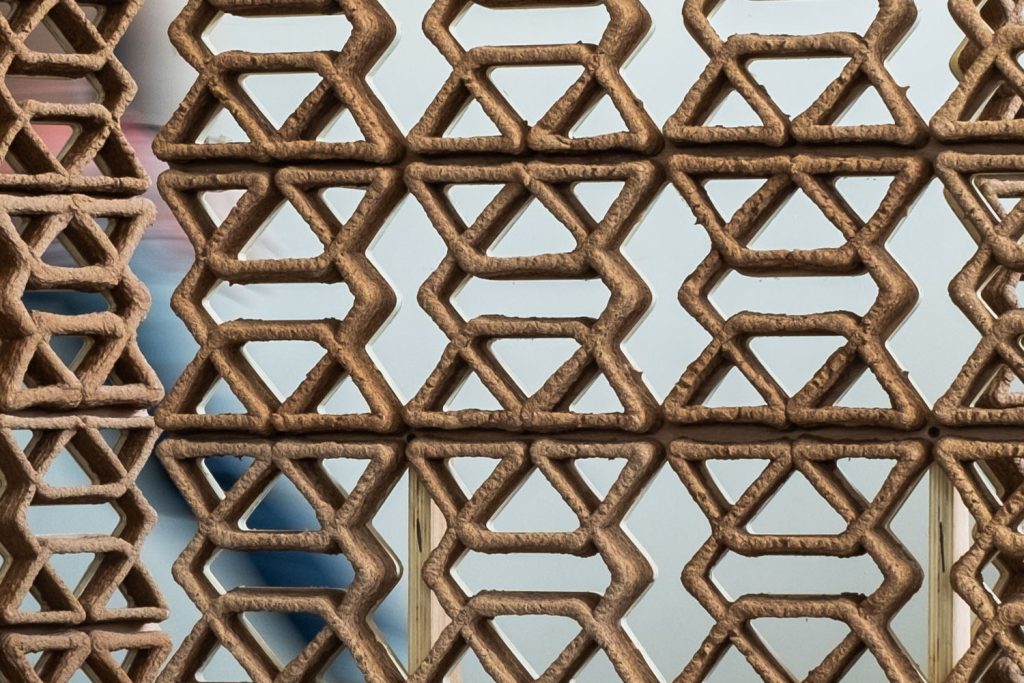 THE WOOD PROJECT / UN PROYECTO DE MADERA is a collaborative research project of Manufactura and La Metropolitana. In its furniture manufacturing processes, the workshop combines traditional woodworking techniques with cutting-edge technology, increasing efficiency while offering high-quality and competitive proposals.
The Wood Project focuses on using wood and developing multiple transformation techniques based on the material's natural processes. In response to the workshop's current problem, the daily production of up to 5-6 bags of sawdust of various species is equivalent to approximately 40 kg per bag per day. The overarching goal is the meticulous construction of 3D printed structures, seamlessly manufactured with the precision of a robotic arm, thereby initiating a circular economy and decarbonization process.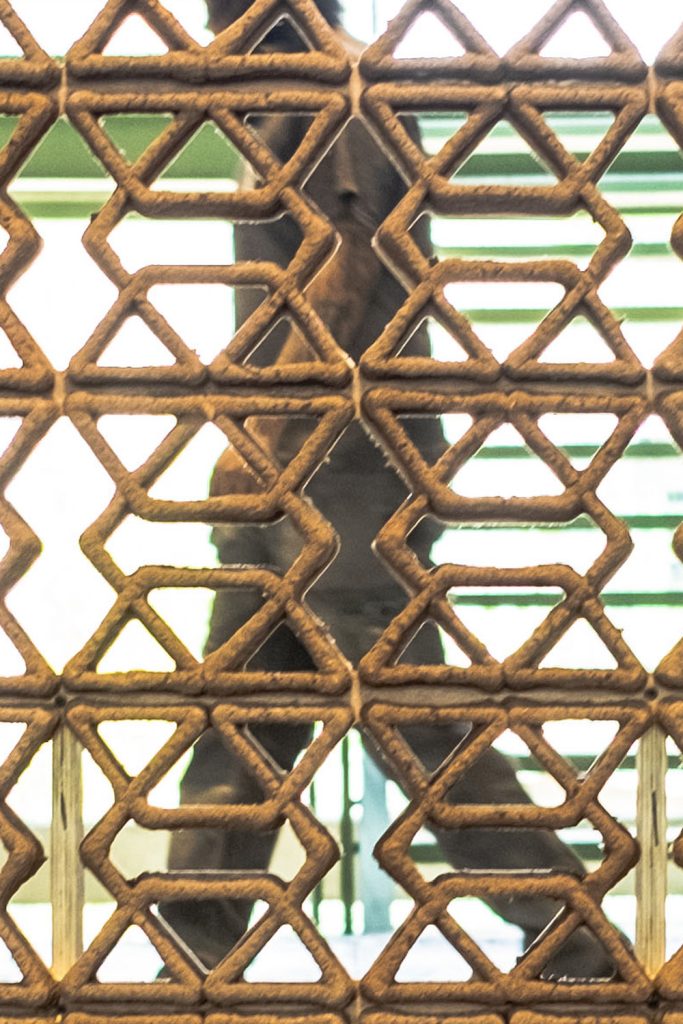 During this process, a bio-composite formed primarily of sawdust was created. The chosen tree species is the Tzalam tree (Lysiloma latisiliquum), which is native to southeast Mexico and is highly valued in the Mayan region for its appearance and hardness. The wood itself is distinguished by its understated appearance, pronounced grains, and an appealing reddish color that complements a variety of design styles. The composite matrix is based on organic binders and lime to avoid humidity and fungal development.
Several mixing experiments revealed changes in the physical state and binding behavior during drying, which were heavily influenced by the machine used to generate the sawdust, as it altered particle sizing. Following a prototyping process, it was determined that sawdust from the calibrating machines and the CNC router provided the best physical conditions for the 3D printing process.
MANUFACTURA's system is built around a semi-liquid extruder mounted on a KUKA KR-150 industrial robotic arm. The 3D printing process is based on a trajectory that allows for precise material laying from the extruder. According to the design team, this process enables the generation of diverse, precise, and intricate geometries based on digitally adjusted parameters, allowing for efficient material use, waste reduction, geometrical freedom, precision, and repeatability, thus opening up new possibilities for the design and architecture fields.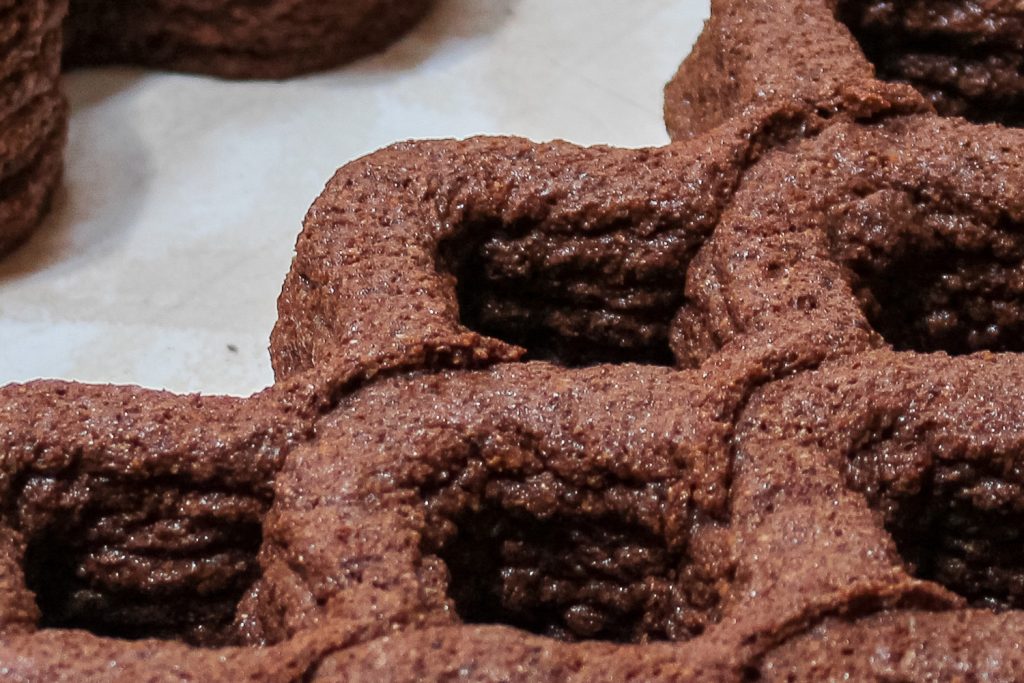 The material demonstrator consisted of three architectural-scale partition walls made up of 72 pieces of 20 x 20 cm fabricated over a three-week period between printing and drying. The pieces are easily replicable and assemblable among themselves, allowing for easy scaling of the elements. These bricks are made in a circular and sustainable manner, with raw materials sourced from waste at La Metropolitana and processed to achieve the best sizing.
The majority of sawdust is high in cellulose, hemicellulose, lignin, and other low molecular weight substances, which are desirable in industrial applications. Furthermore, the resulting components are extremely light, with each brick weighing an average of 207 grams, for a total weight of 15 kg for the entire structure.
The material analysis is a continuing collaboration with Mexico's Autonomous National University's Laboratory of Materials and Structural Systems (LMSE) (UNAM). The material has been subjected to microscopic examinations as well as compressive tests.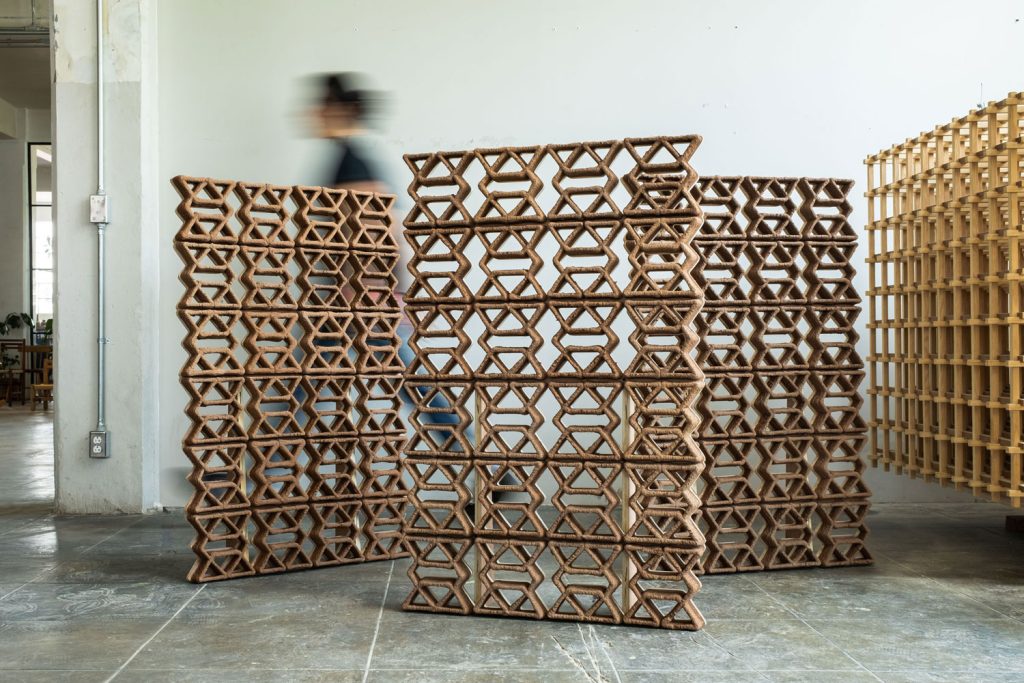 The material exhibited limited flexibility under compression, resulting in failure before reaching the fracture point due to defragmentation. It did, however, have an average resistance of 836.5 kg and a maximum average resistance of 20.15 kgf/cm2. These values are comparable to fired clay brick resistances, which typically range from 13.34 to 39.50 kgf/cm2 (Piscal Arévalo et al. 15). Further investigation and refinement are required to fully comprehend the material's properties and potential applications.
The application of these materials and processes opens up new avenues for current sustainability, culture, and economies. The Wood Project proposes an innovative production focus through circular systems. This strategy includes several stages, beginning with the extraction of recycled raw materials derived from collaborations with multiple industries, followed by the generation of new materials based on natural additives with biodegradability potential, and concluding with the use of a method based on modern technology that optimizes the quantity of material and precision, giving new life to the residues and establishing new circular durability that trajectories.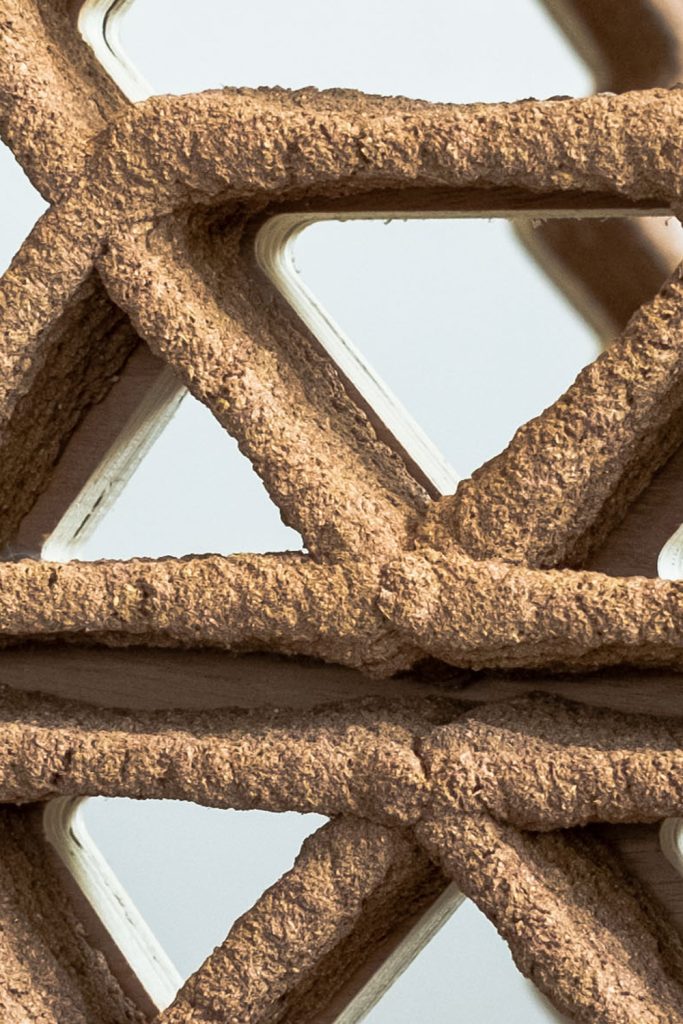 Furthermore, the versatility of this method extends to the construction industry, opening up new opportunities for thermal isolation, semi-structural elements, furniture, and other architectural systems. The integration of diverse talents and abilities has proven critical throughout the process, spanning from recycling and cleaning to robotic fabrication and element installation, creating new training and job opportunities. This system's innovative potential opens the door to new architectural space construction, resulting in a new dialogue between humans and machines.
Finally, The Wood Project was made possible by the synergistic combination of computational design, digital fabrication, technology, material innovation, and creativity to transform "waste" into new valuable materials. These tools not only facilitate a circular system that unlocks new possibilities in architectural construction and design, but they also promote consciousness, questioning of our manufacturing methods, and the opportunity to redefine our perspective on waste. With this ongoing research, we hope to increase environmental awareness, job creation, and resource efficiency, thereby contributing to a more sustainable and conscious future.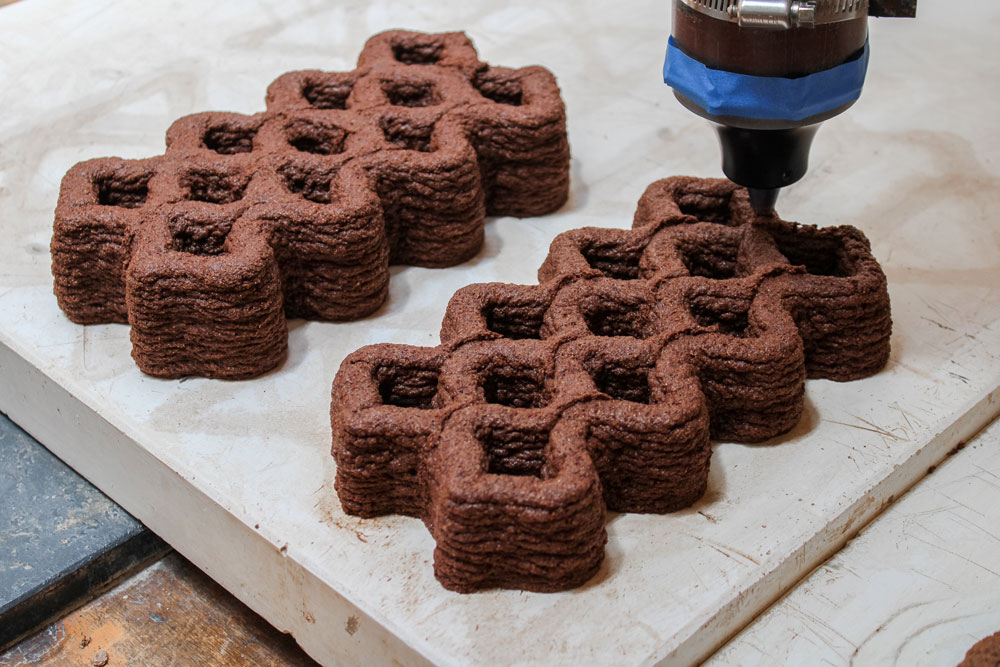 Project Info
Team of Manufactura + La Metropolitana
Dinorah Schulte (Co-Founder / Co-Project Director) / Manufactura
Rodrigo Escobedo (Co-Founder / Co-Project Director) / La Metropolitana
Edurne Morales (Co-Founder / Computational Designer) / Manufactura
Fabricio Vazquez (Colaborator) / La Metropolitana
Brando Marín (Colaborator) / La Metropolitana
Eduardo Barba (Co-Founder) / Manufactura
Material Development: Montserrat Ayala In Collaboration With La Metropolitana
Manufactura Collaborators: Santiago Rangel, Jared Zarate
Material Donations: La Metropolitana
Photography: Enrique Aguilar, Sebastian De Casa, Dinorah Schulte