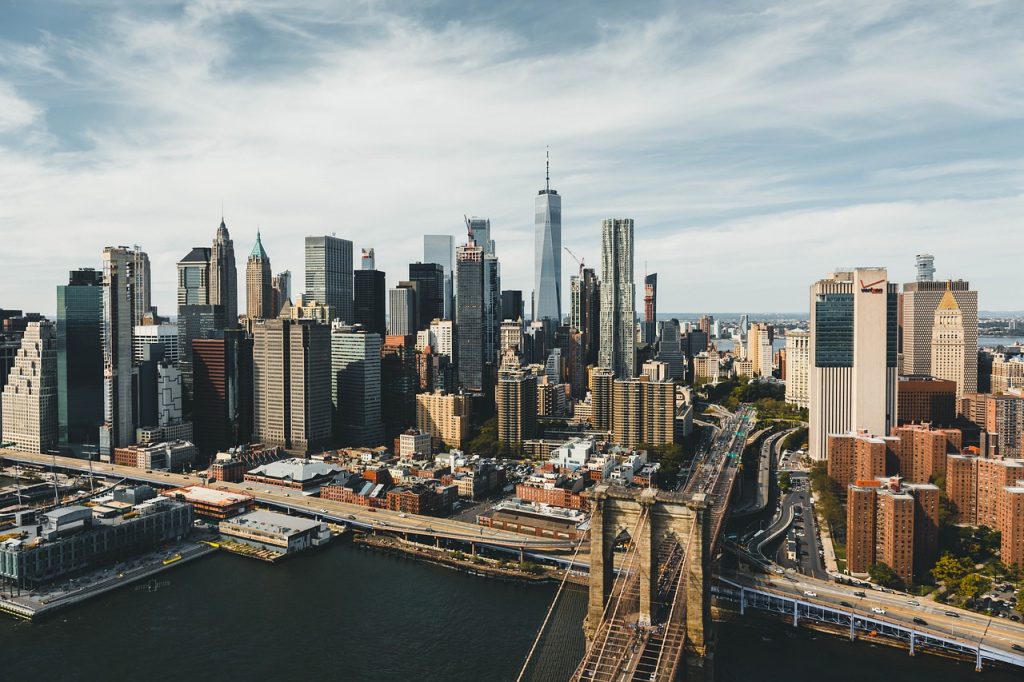 New York has an expressive skyline of towering glass structures. Pioneering rapid vertical construction, this city has always attracted the gaze of many for its innovative use of advanced technology and materials.
Besides being recognized for its delicious hamburgers and the prominent Statue of Liberty, this place has built for itself an illustrious identity with state-of-the-art infrastructure comprising skyscrapers, bridges, roadways, and more. It has actively pursued to practice and propagate alternatives to the changing developmental demands of the 21st century.
Origin of the 'tall-buildings' phenomenon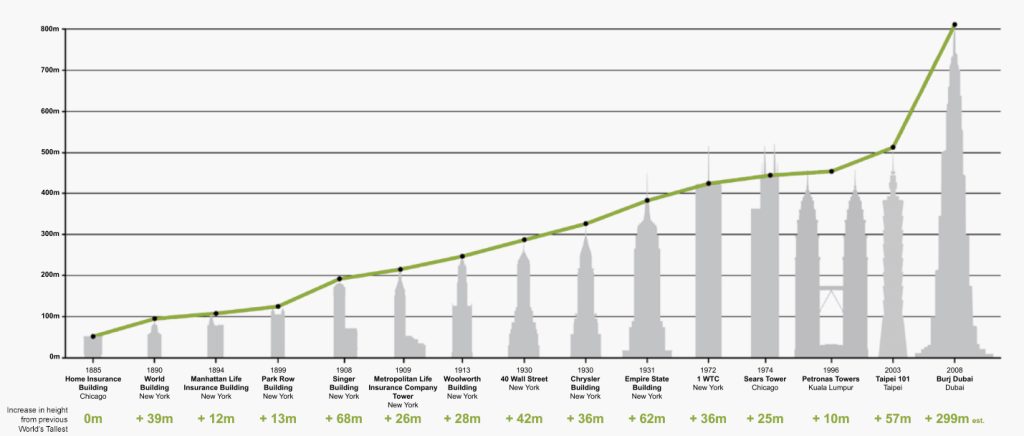 Mass steel production at an inexpensive rate and a growing understanding of complex building engineering concerns is what stimulated skyscrapers to be born. The first skyscraper ever built around the world was the Home Insurance Building in Chicago, Illinois in 1885. It was planned to stand at the center of Chicago's Business District, acting as a leading example of modern construction trends.
Statistics broadcast by the Council of Tall Buildings and Urban Habitat (CTBUH) have recorded that nearly 97 buildings of 200m+ height were completed in the world in 2014; 11 supertall buildings were accomplished between 2010- 2012.
Why has New York become a Hub for Skyscrapers?
New York, being by far the largest city in North America, has exhibited certain factors that have facilitated the construction of tall buildings here:
1. Commercial Centre
A key reason why developers favor New York for building tall is because it has been a major industrial and commercial hub in the US ever since the late 19th century. Moreover, the city experienced rapid urbanization on account of immigrant influx at the turn of the century, wherein the census grew to five and a half million by 1920 from just 700,000 in 1850.
2. Limited Land Availability
New York is a rapidly expanding metropolis experiencing a population explosion; it is important for developers to make the most of the land at their disposal. Therefore, vertical expansion seems ideal, ensuring the happiness of both people and urban planning authorities.
3. Technological Advancement
As New York was extensively expanding around the late 19th century, it was boosted by technological inventions and advancements like elevators, lighting, and the availability of non-conventional materials like steel and iron frameworks, which encouraged the erection of such assemblies.
4. Befitting Geology
New York City sits upon an extremely hard bedrock. The density of rock underneath supports digging deep for solid foundations and can support the humongous weight of the skyscrapers above, which is what makes it an ideal place to have tall buildings.
9 Examples of Diverse Skyscrapers in New York City
While Chicago may be credited with the invention of the skyscraper, it is New York City that popularized this concept and took it forward. Termed the 'city of skyscrapers', New York has more than ample examples to endorse its grandeur.
1. One World Trade Center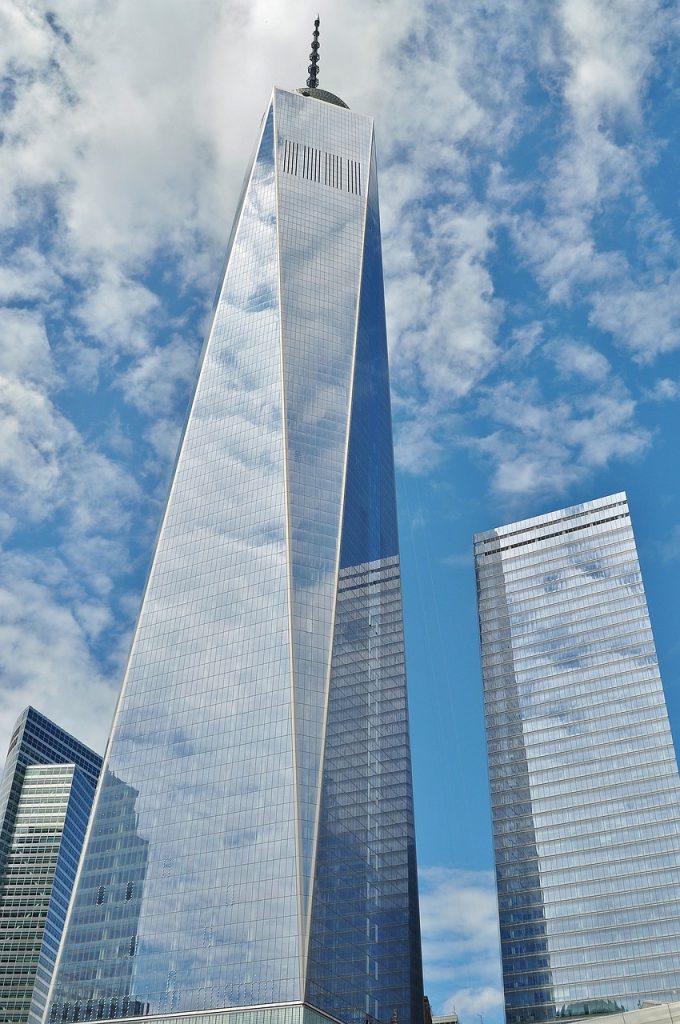 Architect: David Childs of Skidmore, Owings & Merrill
Opened: 2014
Also called the 'Freedom Tower', this skyscraper is the centerpiece of reconstruction at the site of the former World Trade Center complex. Acknowledging the adjacent memorial, the construction of the One World Trade Center began in 2006 and the building officially opened its doors in 2014. Following the master plan by Daniel Libeskind, it was further developed by the firm of Skidmore, Owings & Merrill. As an ode to the year in which the US Declaration of Independence was approved, Libeskind envisaged the overall building height to be 1776 feet (540 meters).
Replicating the footprints of the original Twin Towers, this building rises from a cubic base that measures 200 feet on each side. At the middle, the tower forms a perfect octagon and is capped by another smaller square, measuring about 150 feet per side, rotated 45 degrees from the base. Its edges are chamfered back, and the building moves on to taper at the top. As a result, this monolithic shaft results in a prismatic faceted form composed of 8 elongated isosceles triangles. The surfaces appear to act like a kaleidoscope that changes with the light and weather conditions of the day.
2. One Vanderbilt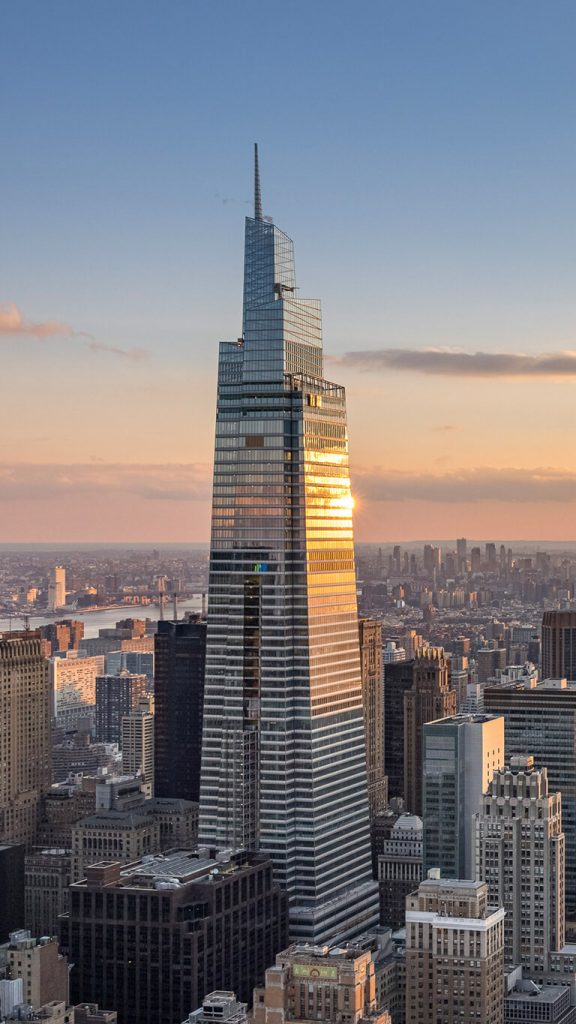 Architect: Kohn Pedersen Fox
Opened: September 14, 2020
One Vanderbilt is a 93-story skyscraper in Manhattan, New York. Designed and developed as a collaboration between Kohn Pedersen Fox and SL Green Realty, this structure is a full-fledged commercial building. At the base of One Vanderbilt, a grand transit hall forms a dynamic nucleus, establishing a dialogue with Grand Central Terminal.
The interplay of form and function is showcased through its state-of-the-art transit connections, designed to enhance the commuter experience. The facade, adorned with a textured grid of terra cotta and glass, offers a modern interpretation of New York's iconic masonry architecture. This fusion of old and new resonates throughout the tower, creating a harmonious conversation between tradition and innovation, past and present.
3. Empire State Building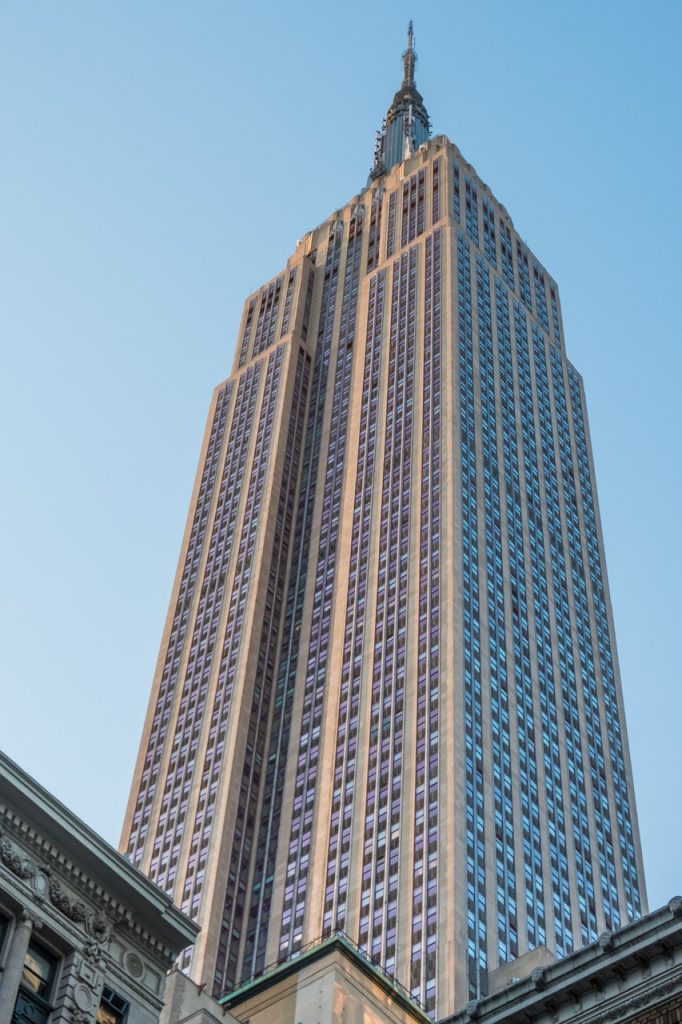 Architect(s): Shreve, Lamb, and Harmon
Opened: May 1, 1931
The Empire State Building is presently the 4th tallest building in New York. It was designed by Shreve, Lamb & Harmon architects and developed by builders John J. Raskob and Al Smith. The construction of this building began in 1930 and was completed in 13 months in 1931. Counting the spire and the antenna above, the building clocks in at a mighty 1454 feet (443.2 meters).
Towering above 100 stories, the first 85 floors of this building are purpose commercial and office spaces and have 2 observatories on the 86th and 102nd floor, respectively. One of the best examples of modernist Art Deco design, this building has a symmetrical massing because of its large and relatively short base. The facade of the Empire Tower Building is clad in Indiana limestone panels and features geometric embellishments.
4. Central Park Tower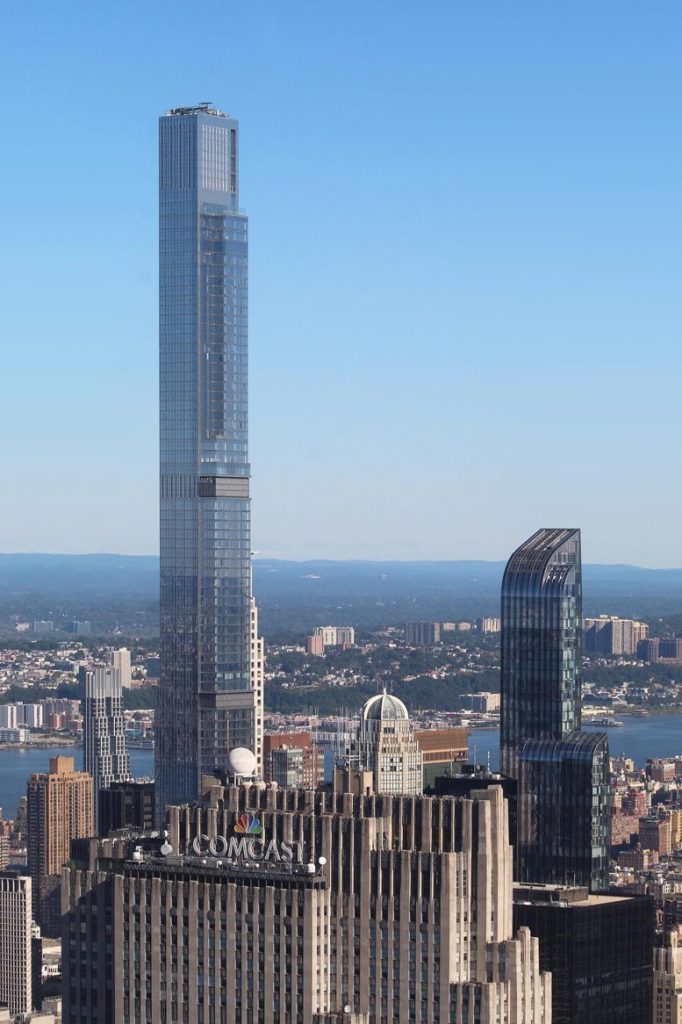 Architect: Adrian Smith + Gordon Gill Architecture
Completed: 2020
Also known as the Nordstrom Tower, this skyscraper in New York is the second tallest in the city. With a striking height of 472 meters, the construction of this building was completed in 2021. The Central Park Tower was jointly developed by Adrian Smith + Gordon Gill Architecture and Extell Development Company; this building has 98 floors above ground.
The lower section of the tower bordering 57th and 58th Streets showcases an innovative use of glass in its design. This glass is meticulously arranged into textured, fluted panels that are both insulated and laminated for enhanced performance. The arrangement of these panels follows a captivating serpentine pattern, imbuing the base with a dynamic sense of movement.
5. The Spiral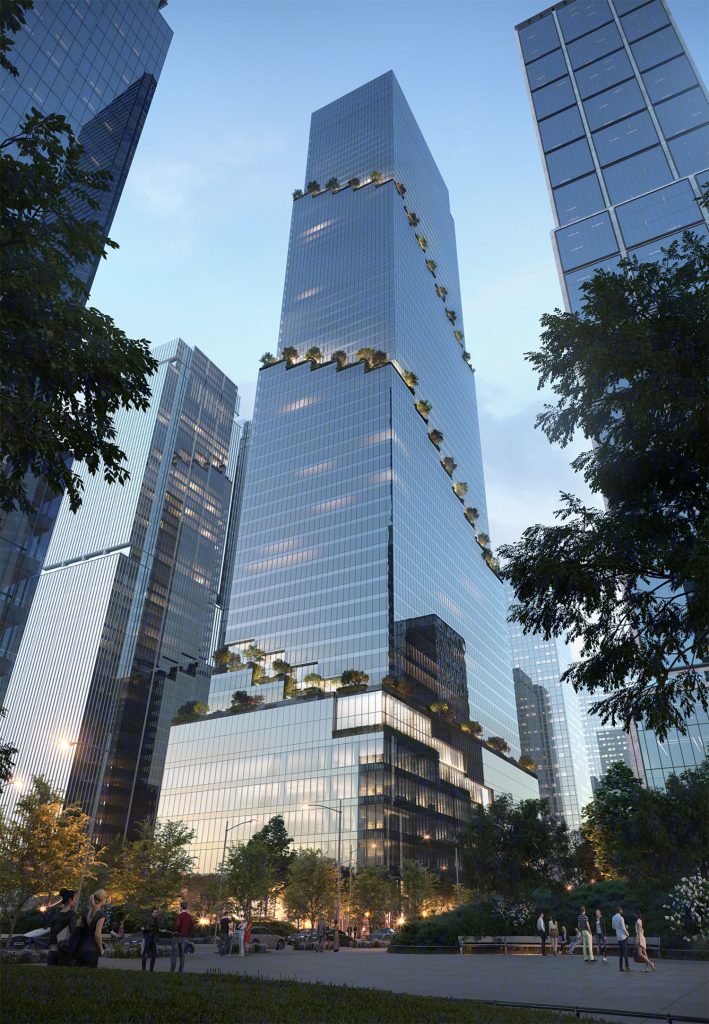 Architect: Bjarke Ingels Group – BIG
Completed: 2022
Also known as 66 Hudson Boulevard, The Spiral is a 66-story skyscraper defining the skyline of New York. Completed in 2018, the building was designed by Bjarke Ingels Group and was developed by Tishman Speyer, a prominent real estate developer. The building stretches to a height of 314 meters, accommodating an expansive 2.85 million square feet (265,000 m2) of space across its 66 floors.
At the heart of The Spiral's design is a commitment to fostering a collaborative and vibrant work environment. The tower's innovative features, including its cascading terraces with lush greenery, encourage interaction and engagement among its occupants, redefining the traditional notion of a corporate workspace.
6. Flatiron Building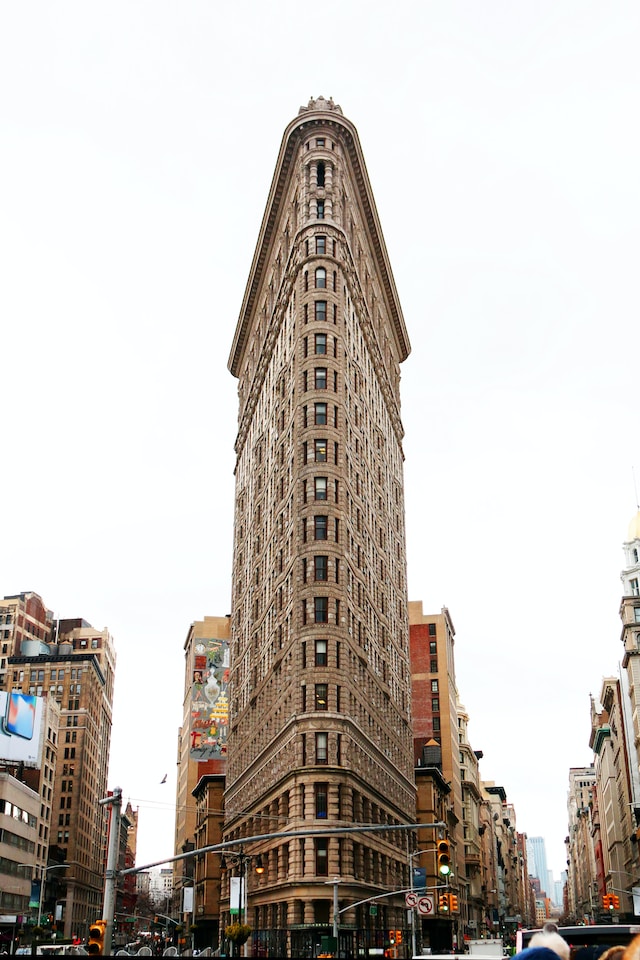 Architect: D. H. Burnham & Co. – Daniel Burnham and Frederick P. Dinkelberg
Completed: 1902
The architect Daniel Burnham's iconic Flatiron Building is a triangular, steel-frame marvel. It was completed in 1902 and was declared a National Historic Landmark in 1989.
Its distinct triangular shape emphasizes the building's unique positioning, while oversized windows frame unobstructed views in all directions. Similar to the parts of a classical Greek column, the building's facade is divided into a base (made of limestone), shaft, and capital while the elevations are divided into several bays. At its narrowest point at the top (87-meter) structure, the building is unusually narrow- just 2 meters wide.
8. Chrysler Building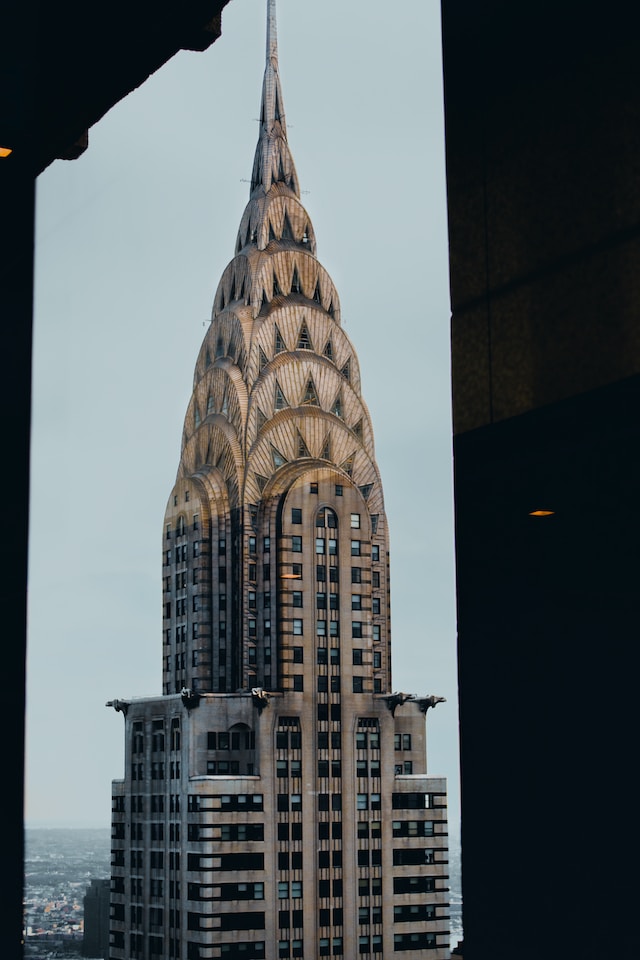 Architect: William Van Alen
Completed: 1930
This office building in New York City was designed by William Van Alen and is often cited as the epitome of Art Deco construction. It was built from 1928 to 1930 and briefly claimed the honor of being the tallest in the world at a height of 1046- feet, topped off with a 180-foot spire, until before the Empire State Building.
The decorative scheme of the facade and interior is largely geometric, and distinctive Art Deco elements such as horizontal black and white stripes are included between floors. The Chrysler Building attracts attention for its great crown with seven layers of crescent setbacks inset with triangular windows.
9. The Brooklyn Tower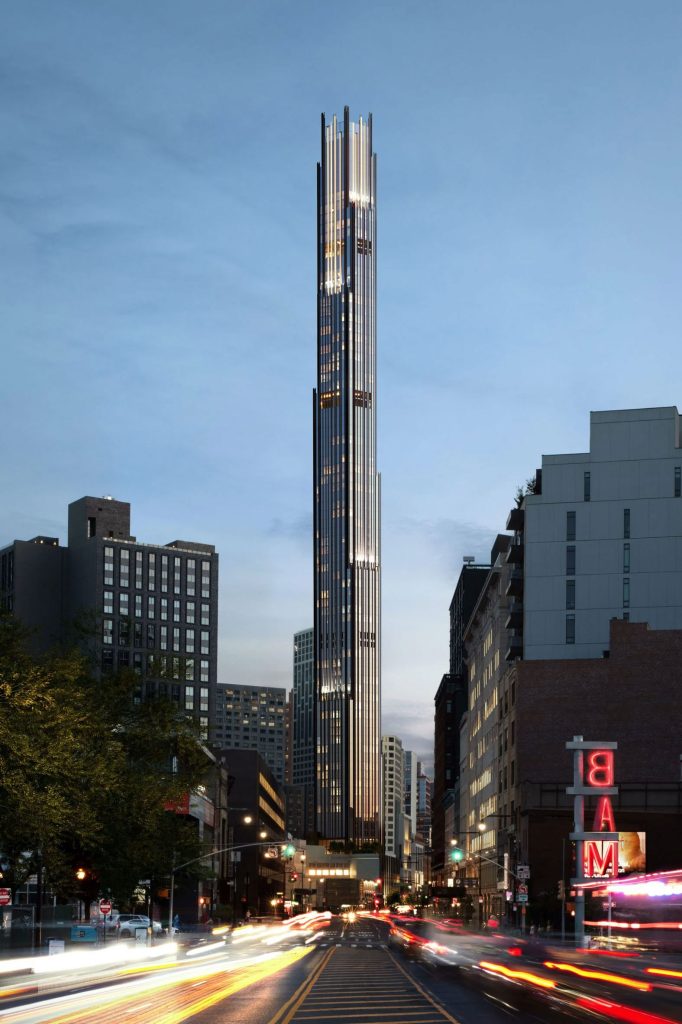 Architects: SHoP Architects (residential tower) and Mowbray and Uffinger (original structure)
Completed: 1908 (bank) and 2022 (residential tower)
At 1066 feet (325 meters), this 93-story supertall skyscraper from Brooklyn is the most recent addition to the skyline. Designed by the New York studio SHoP Architects, this building topped out in March 2023 after commencing construction in 2017. It is the tallest structure in the borough of Brooklyn and rejoices in the analog of the Empire State Building of Brooklyn.
Appearing even across all its elevations, it has a base clad in white marble. The skyscraper darkens upwards and is cladded in blackened steel, and defined with bronze and copper pilasters running its length. On account of the winds in Brooklyn, it has a large, wide base accommodating retail functions and tapers skywards, housing more than 500 residences. It also has wind floors that allow heavy gusts to pass through without rocking the massive structure.
The New York Times Building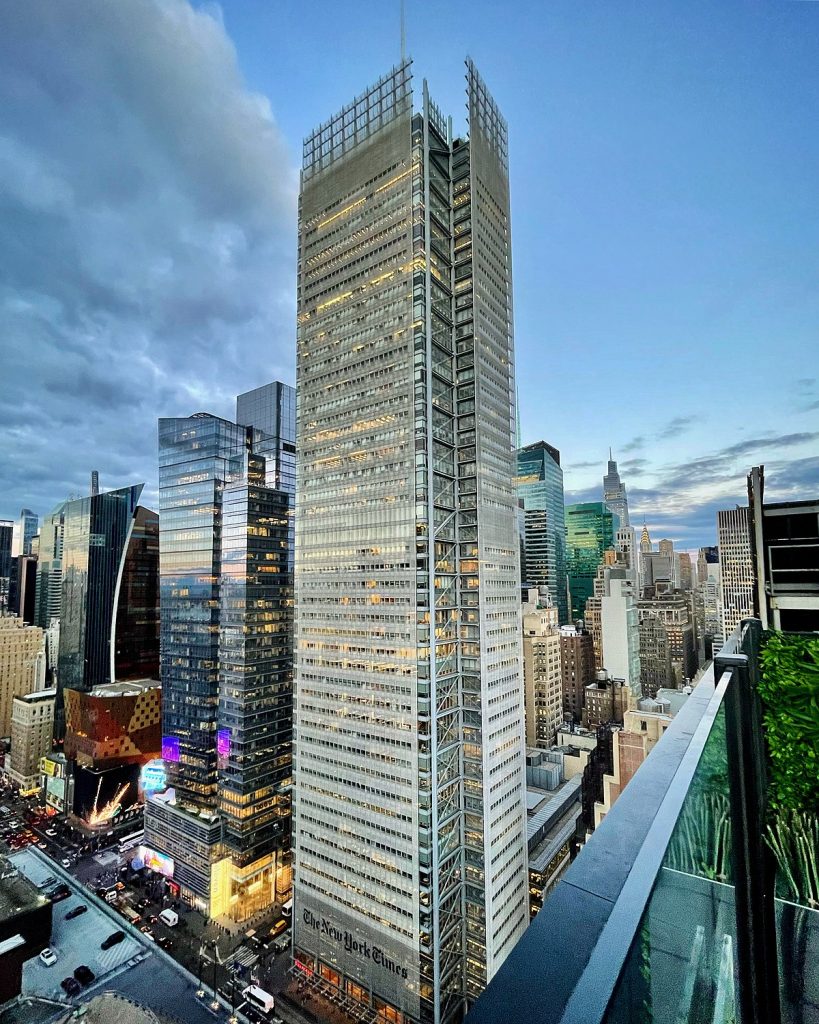 Architects: Renzo Piano Building Workshop, FXFOWLE Architects
Completed: 2007
Between 40th & 41st streets near Times Square, the headquarters of the New York Times newspaper is a 52-story skyscraper measuring 1046 feet (318.8 meters) tall to its pinnacle. Designed by Renzo Piano and Fox and Fowle, the building was constructed between 2004- 2007.
In contrast to the usually opaque design of urban office buildings, this one is designed to be as permeable and dramatic as possible. It achieves a high level of transparency and incorporates many transcendental themes in good architecture- volumes, views, daylight, and respect for context. The building has a distinctive double facade, wherein the second skin has cleverly spaced ceramic rods that reduce heat load by acting as energy-efficient sunscreens, thereby allowing the inner face to be made of highly transparent glass.
Rapid urbanization trends saturate the availability of space and allied resources, and the emergence of vertical habitation seems like a befitting solution to address this challenge. Skyscrapers today are being designed to accommodate not just housing and commercial functions, but have evolved to also provide for several unprecedented purposes of community spaces, planning flexibility, enhanced energy- efficiency, and sustainability. Hence, skyscrapers seem to be the indispensable solution to a future of overwhelming demographics and evolving developmental necessities.