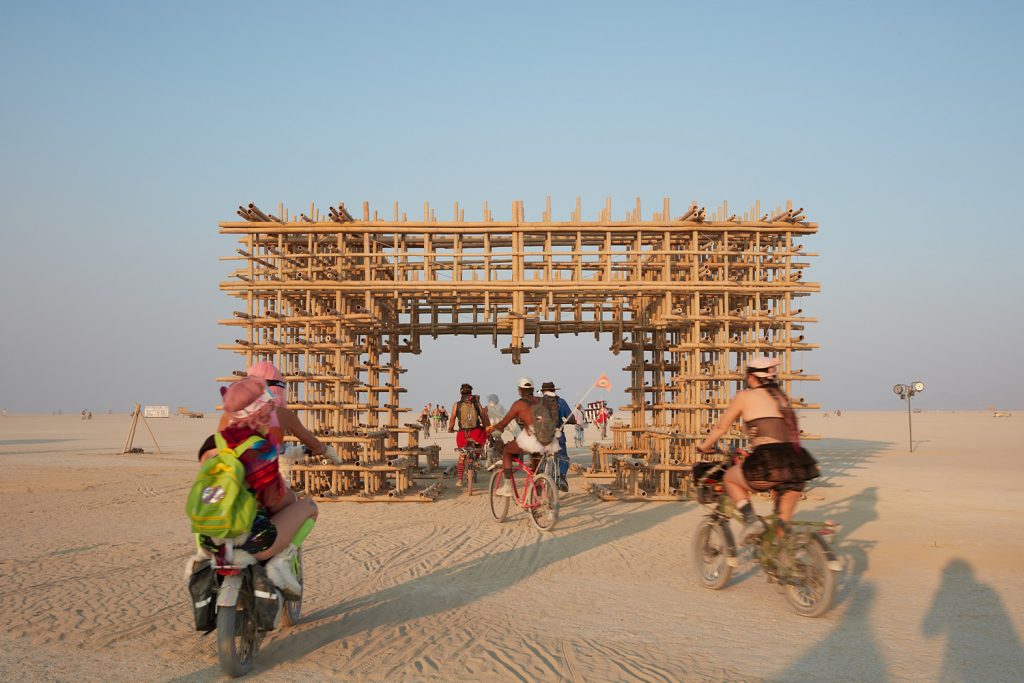 Heartburst was created for Burning Man 2023 by OFFICEUNTITLED co-founders Benjamin Anderson, Christian Robert, and Shawn Gehle. Heartburst inspires burners to pause, engage, and explore a deeper connection with themselves and their surroundings.
Heartburst is a 30′ × 30′ x 15′ spectacular built with hand-assembled bamboo pole scaffolding. Heartburst shows four giant heart-shaped voids on each side of the structure when burners move around it, firmly entrenched in the power of material selection, assembly, and material reduction. The openings frame both the famed sunrises and sunsets of Black Rock City (BRC) and the huge playa beyond.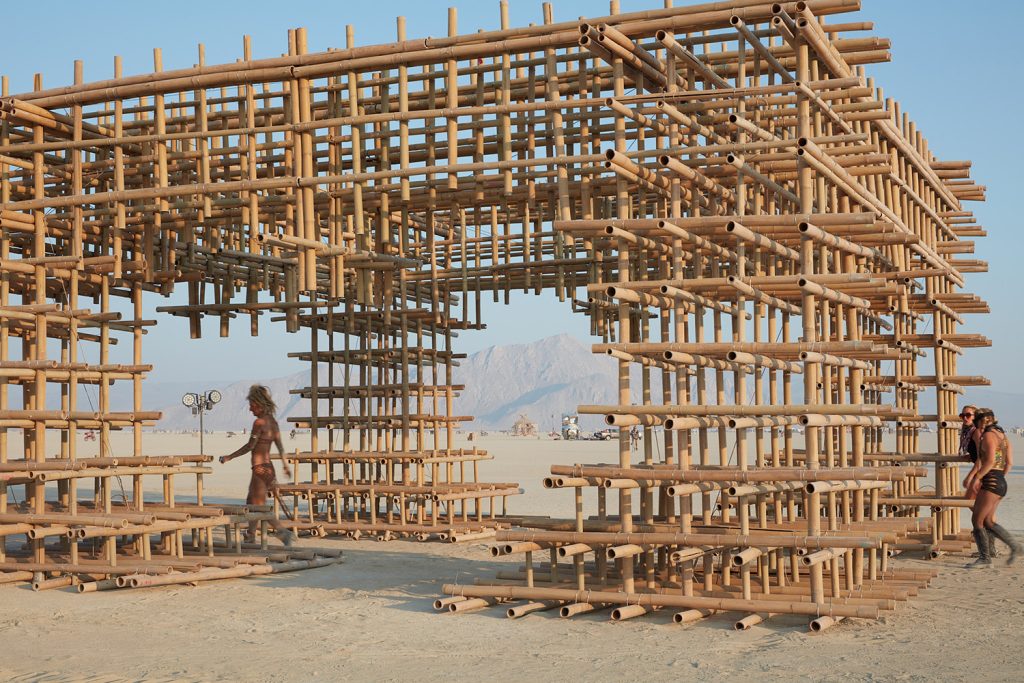 Heartburst was created to induce physical, psychological, and community coherence and healing, thus it invites visitors to slow down, be present in their surroundings, and achieve a level of awareness. Aside from being environmentally friendly, bamboo adds to the grounding sensation of Heartburst, improving human understanding of materiality in the built environment. Natural material celebrations have a relaxing and centering effect, enabling a closer connection to the natural world and a greater sense of stability.
The use of bamboo, one of the most eco-friendly and fastest-growing materials available, reflects OFFICEUNTITLED's dedication to sustainability at Burning Man. Heartburst improves Burning Man's commitment to environmental stewardship and highlights the possibilities of producing magnificent spatial experiences without harming the world by employing bamboo in the installation's construction. OFFICEUNTITLED collaborated with SEAD Build, a Malaysian bamboo company led by Lucas Loo, to ensure that Heartburst was built with environmentally benign, sustainable, ecologically positive, and structurally durable materials. The bamboo utilized is not only more sustainable than other types of wood, but it is also "carbon negative."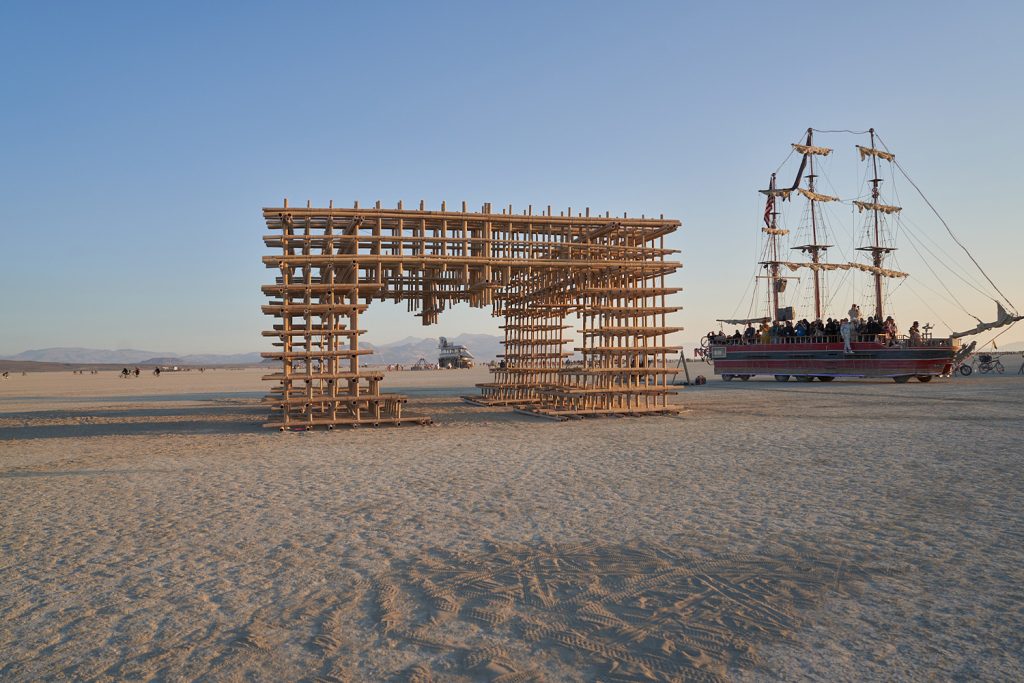 Heartburst was meant to endure 75 mph wind gusts while allowing for inadvertent climbing. The design incorporated bolted connections and metal wire lashings with typical rebar wire tying equipment, as well as helical ground anchors anchored by diagonal aircraft cables and turn buckles. Each gridline or "slice" consists of up to six prefabricated panel portions that fit into ordinary 26-foot box trucks.
For installation, the bamboo was classified into three systems. The Malaysian team utilized the first to indicate the lengths of bamboo pieces and if they were structural components. The second marked the pre-made panels in order to arrange them in the overall sequence. The third approach used color coding to separate loose poles based on the height level at which they were to be put.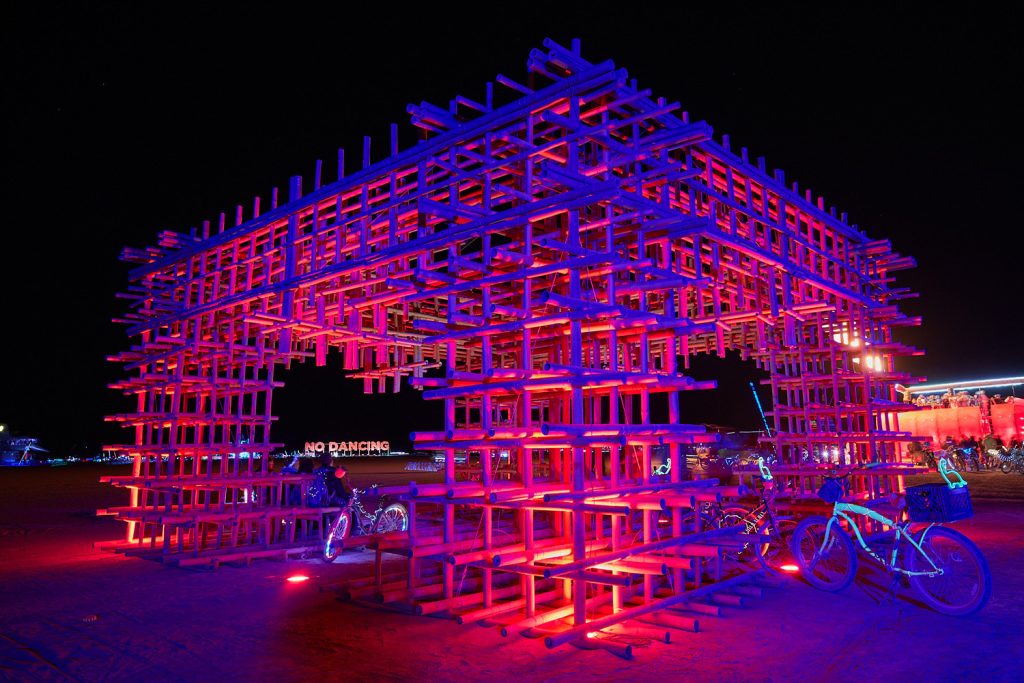 Project Info
Designer: OFFICEUNTITLED
Location: Black Rock City, Nevada, US – Burning Man 2023
Animalia Size: 30′ x 30′ x 15′
Status: Completed 2023