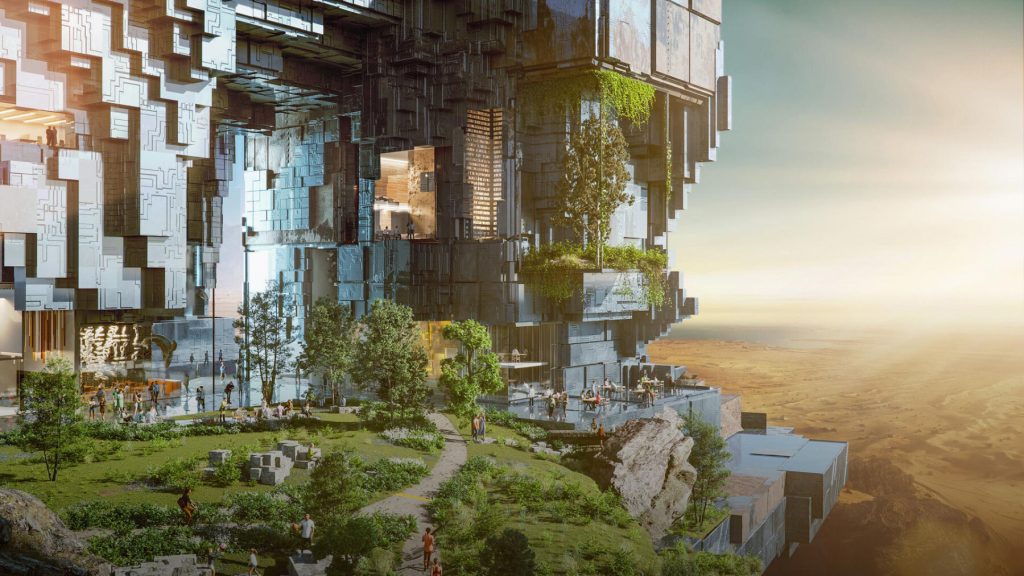 The Line is a humancentric futuristic city concept created by NEOM in Saudi Arabia. The project is considered a revolution for traditional urban life and urbanism. The name of the NEOM combines the Greek word neos (νέος), or new, with the Arabic word mustaqbal (مستقبل) , or future. The first plan of "The Line" was published on January 2021 by Prince and Chairman of the NEOM Board of Directors Mohammed bin Salman.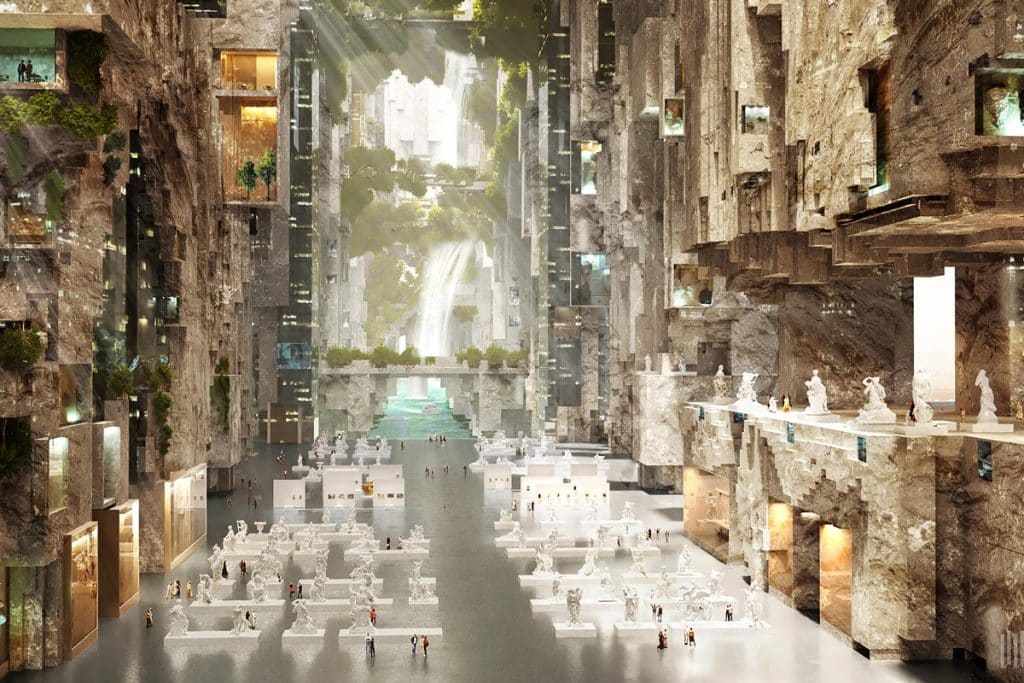 Concept
The Line was designed for approximately 9 million residents and built a footprint of 34 square kilometers. The cost of the project is $500 billion. Residents will have access to all facilities by walking and a high-speed rail with 20-minute transit. The project was designed with a model where residents can reach the facilities they need by walking for 5 minutes.
The Line location is imagined as a link between the Red Sea coast and northwest Saudi Arabia.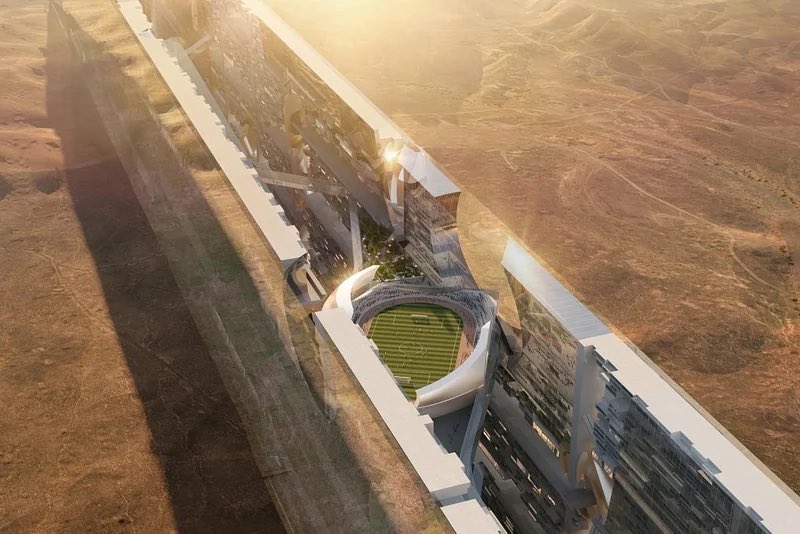 The Line is a part of Saudi Arabia's 2030 Vision plan. In addition, NEOM said that AI could monitor The Line and find methods to enhance daily living using data and prediction models.
The Line would be powered by renewable energy. According to bin Salman, the entire development will be net-zero and pollution free. According to NEOM, "No roads, cars or emissions, it will run on 100% renewable energy and 95% of the land will be preserved for nature. Unlike traditional cities, people's health and well-being will be prioritized over transportation and infrastructure. Only 200 meters wide, but 170 kilometers long and 500 meters above sea level."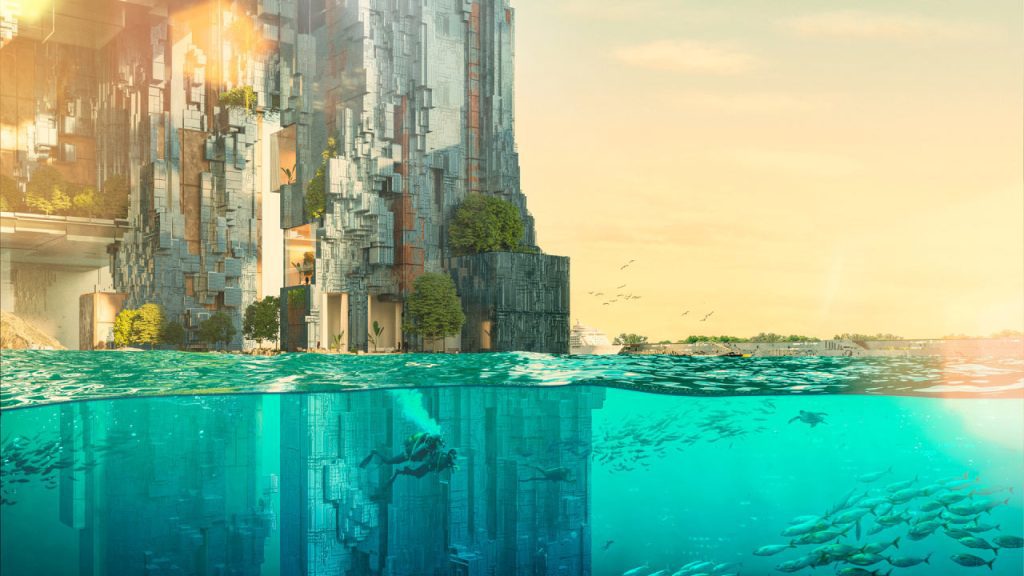 Structure
The images of the project show two parallel wall-like constructions enclosing a space between them. According to its planners, The Line will be encased in a mirror façade on the outside, giving it a distinct character. The inside will be constructed to house buildings, layers of public parks, pedestrian spaces, schools, houses, and workplaces. Urbanization develops horizontally, not vertically like traditional urban planning models.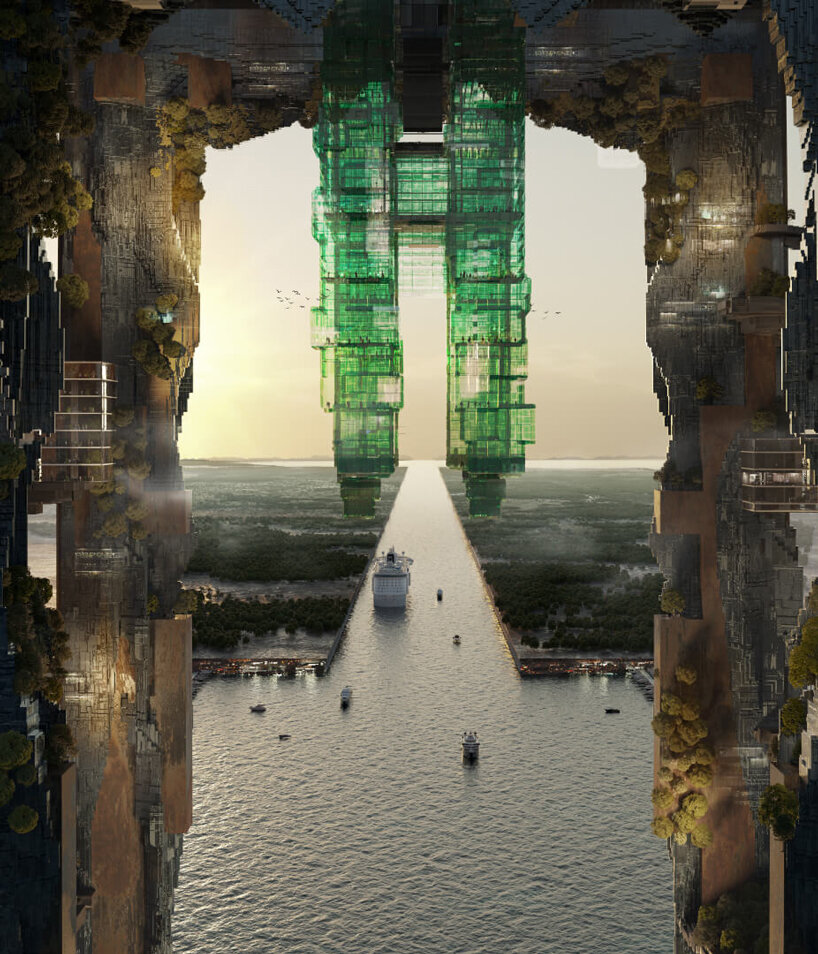 Mohammed bin Salman, crown prince of Saudi Arabia and Chairman of the NEOM Board of Directors, "The designs revealed today for the city's vertically layered communities will challenge the traditional flat, horizontal cities and create a model for nature preservation and enhanced human livability. The Line will tackle humanity's challenges in urban life today and will shine a light on alternative ways to live."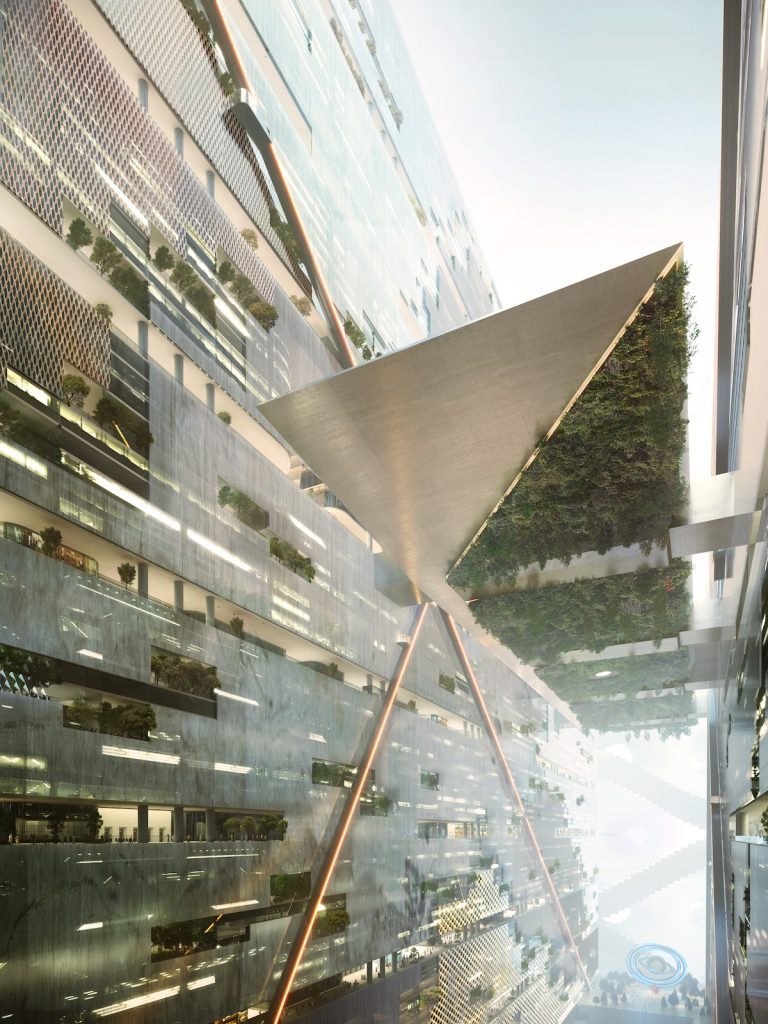 According to NEOM's executive director for urban planning Tarek Qaddumi, NEOM also researches sustainable building materials and methods. Their research continues what they can do to make a city of 9 million people carbon-zero.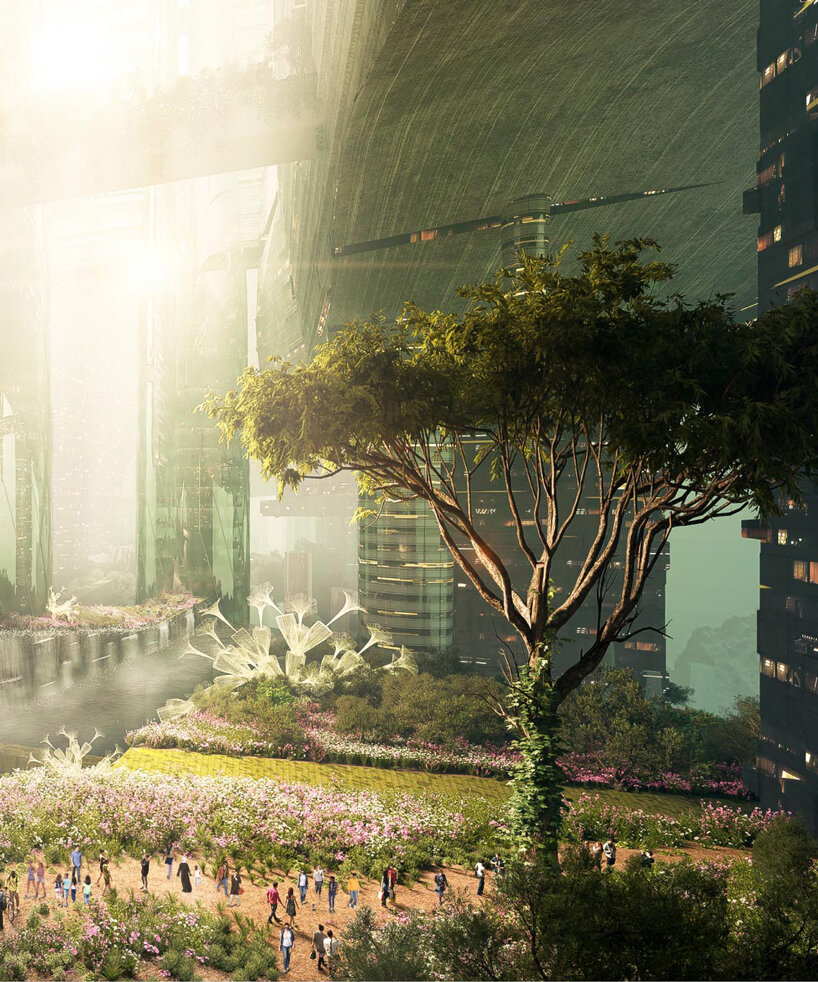 The developers refer to the concept as "Zero Gravity Urbanism." Rising 500-meters above sea level, this construction means walls are planned higher than many skyscrapers like the Empire State building. Urban life in "The Line" has 3-dimensional organization; two derivatives of Zero Gravity Urbanism are Hyper-proximity and Hyper mixed-use. Hyper-proximity city model prioritizes multimodal transportation rather than car-centric design.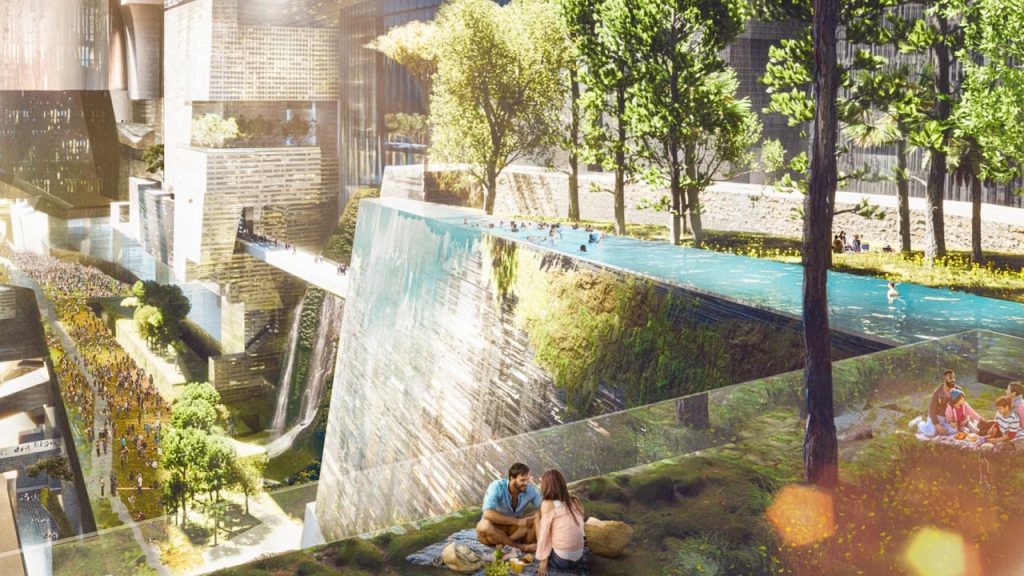 According to Tarek Qaddumi, The concept of "Zero Gravity Urbanism" releases us from the limitations of the ground plane and the necessity to demolish it. The "Zero Gravity Urbanism" model enables us to locate functions nearby. This brings up a whole new realm of previously tricky or unattainable adjacencies. For example, a school can be a museum.
Through this project, Saudi Arabia will create 380.000 jobs and ad approx. $50 billion to the country's GDP.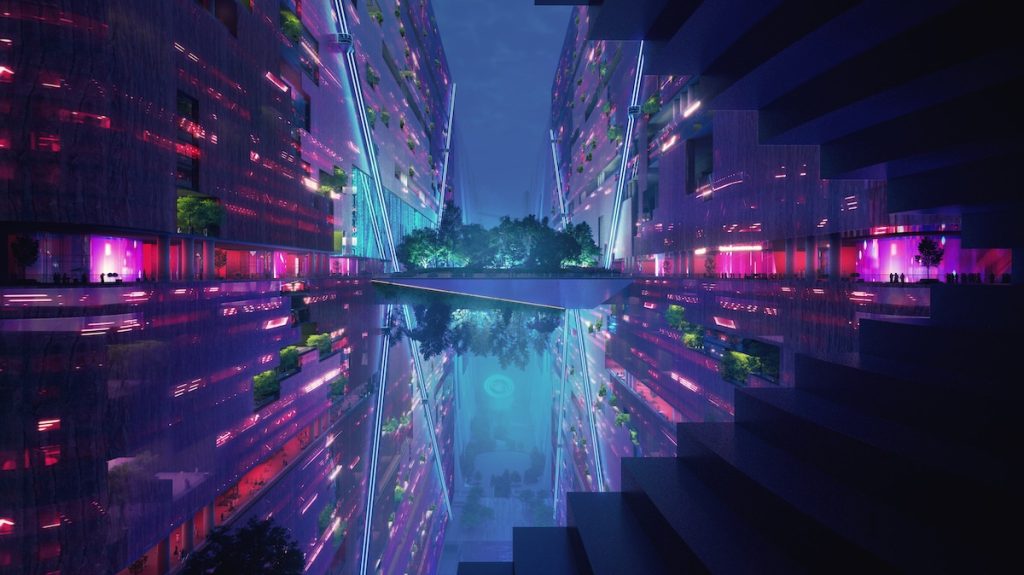 Critics
The concept generally comes from critics of traditional city design and life quality in big cities. As mentioned before, the footprint of the project is 34 square kilometers. It means less than 4 square meters per person. NEOM calls the model of The Line is an eco-city and carbon-zero, but the scale and social goals create serious questions that the project can deliver on its environment.
Urban Planning and design experts have questions about the sustainability and feasibility of the project for today's civilization. Can such a megastructure be carbon-zero with today's technology?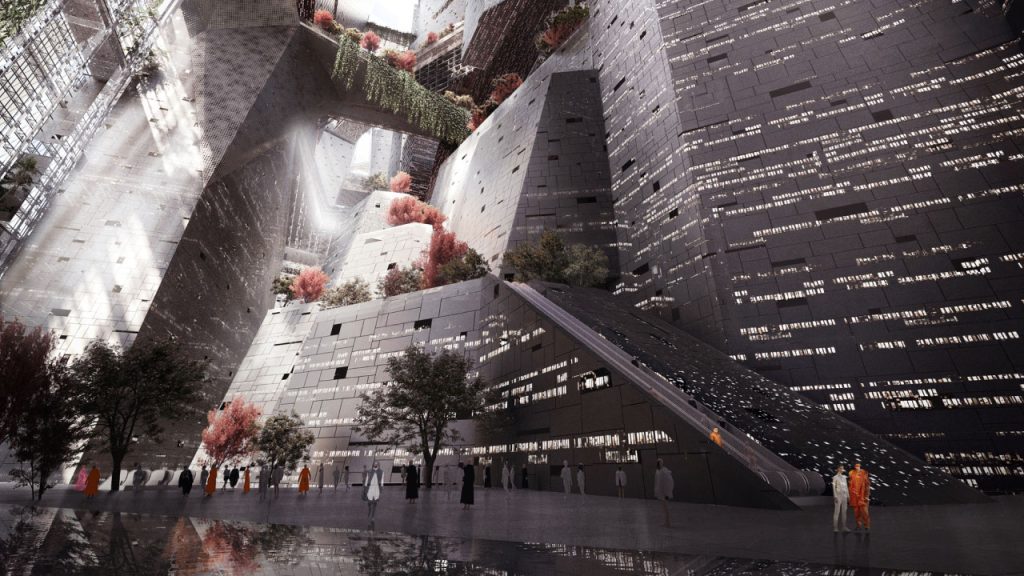 According to Philip Oldfield, head of the built environment school at the University of New South Wales (UNSW), approximately 1.8 million tons of carbon emissions will occur with the materials used to construct such a project. This is more than the annual carbon emissions of many European countries. With today's technology, unfortunately, it is not possible to make carbon zero for a huge structure by using concrete, steel, and glass.
Regarding biodiversity, the project's connection with the outside is cut by 500-meter mirror walls. It is not good for the environment (especially for animals) to have huge parallel mirrors in the middle of the desert, even if the birds could fly in and out. Also, the city is defined horizontally. However, it is perceived as a 170-kilometer street with 500 meters high walls and skyscrapers around it; maybe it is horizontal as an urban model but still, the buildings are vertical.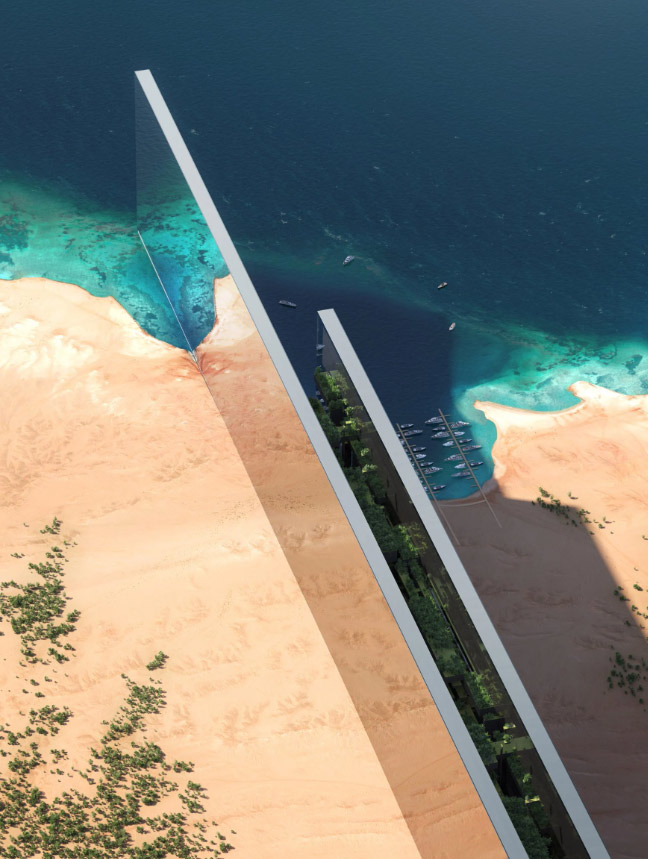 On the other hand, the linear city concept is not new, as represented by NEOM. Firstly, in 1882, Spanish urban planner Arturo Soria y Mata developed it. Also, he is best known for the linear city concept. After Soria y Mata, Soviet planner Nikolay Alexandrovich Milyutin in the 1950s and German functionalist architect Ernst May formulated this concept. Also, In the 1960s, American architects Michael Graves and Peter Eisenman designed a 35-kilometer linear city between Boston and Washington. Just Soria y Mata's classical linear city idea was implemented in Madrid, Spain.
However, turning these ideas to real-world will significantly win for Saudi Arabia.