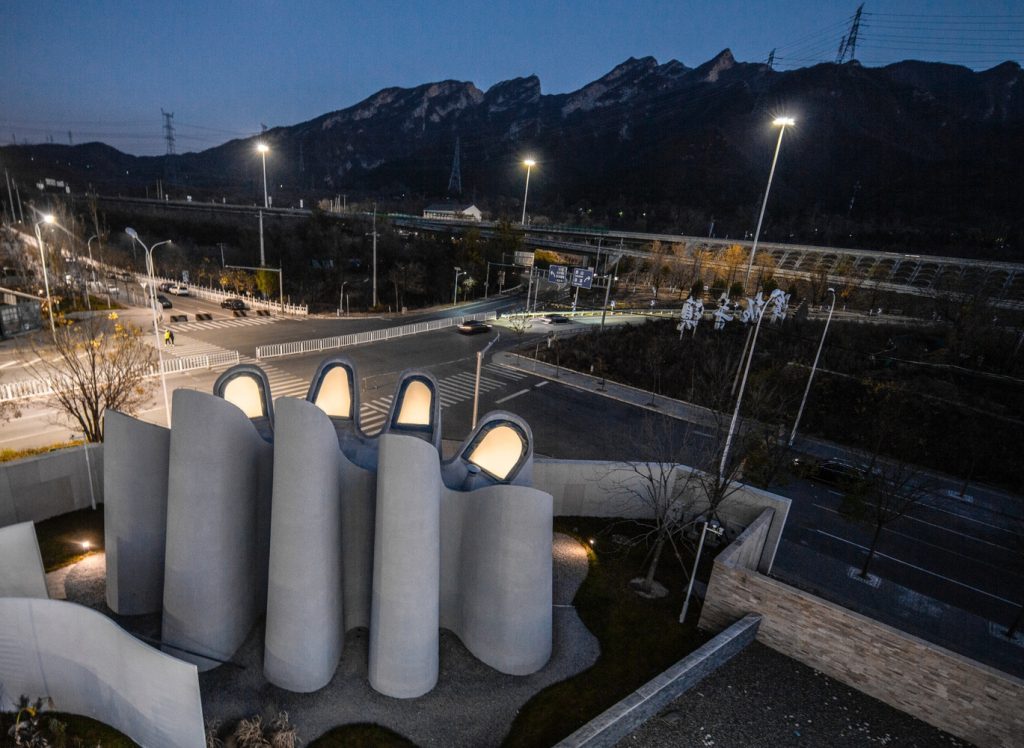 Designed by the People's Architecture Office, Sky Light Public Restroom is an all-female facility designed to meet the needs of women and mothers with children; and is located in Moofland, a popular tourist destination in Mentougou, Beijing. The public park is a bustling center for various social events, including markets, forums, exhibitions, music, and theatrical performances.
A meandering wall encloses various compartments, resulting in an irregularly shaped space. The circulation space in the middle has a lower ceiling, while the cubicle spaces on both sides are higher to allow for more light. The entrances at either end are also higher than the central area—the lighting in the interior shifts and changes in response to the interior's curvilinear shape.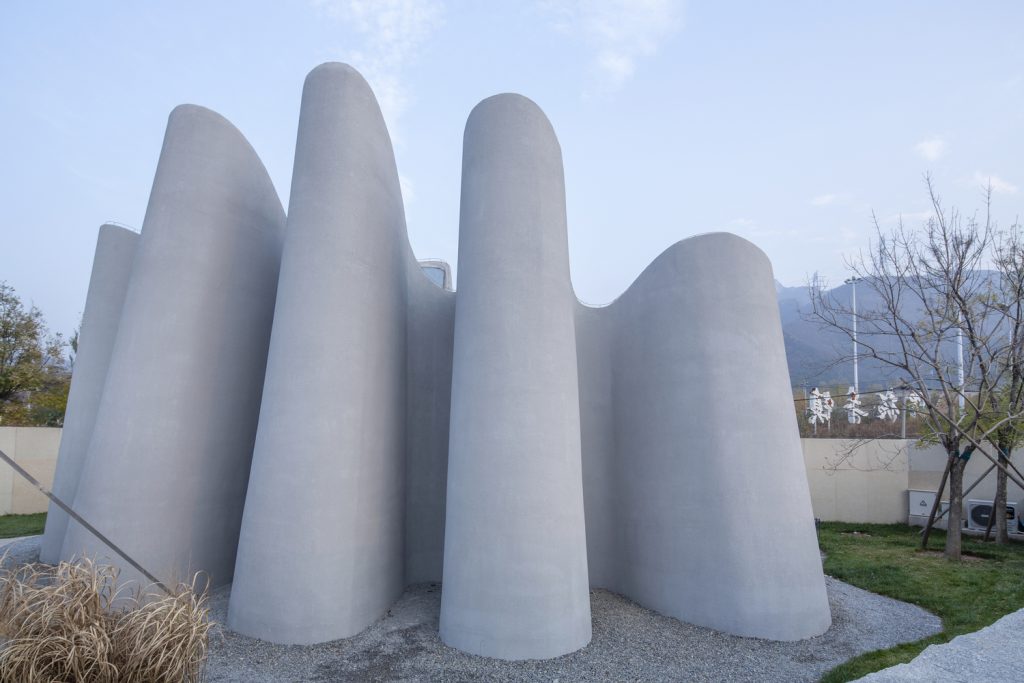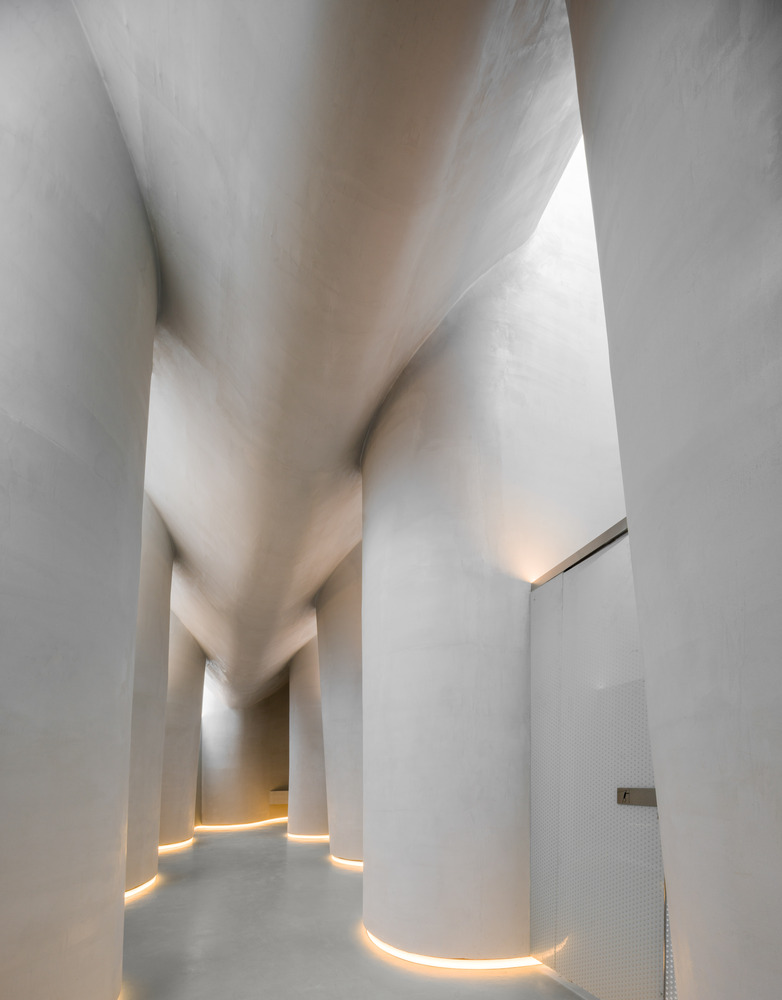 Each compartment is a tapered space with a light well on top. The interior is flooded with light, creating a sacred space that elevates even the most profane acts. The Sky Light Public Restroom has separate compartments for mothers and babies and separate washbasins in each compartment, emphasizing inclusivity. For the convenience of visitors, hand washing stations are located at each end of the common area.
To emphasize the flow of light in the space, the interior wall and ceiling interfaces are all made of micro-cement. The partition doors have a painted glass finish contrasting nicely with the textured micro-cement wall surfaces. The upper and lower sides of the compartment door are not sealed, allowing the space inside and outside the compartment to be continuous.
The skylights flood the interior with light and emphasize its organic shape. The play of light and shadow is articulated across the space's curvilinear folds.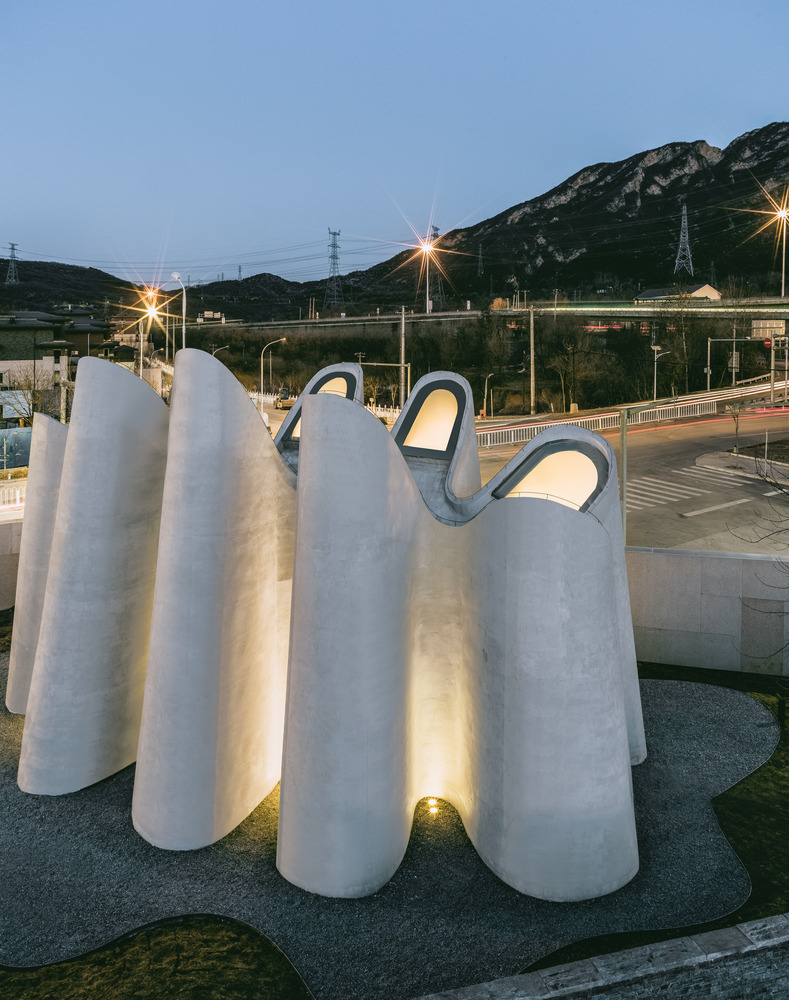 Project Info
Architects: People's Architecture Office
Area: 80 sqm
Year: 2022
Chief Curator Of Moofland: Rong Zhou
Principals: Zhe He, James Shen, Feng Zang
Design Team: Yang Quanyue, Wen Hao, Lu Boge
Structural Consultant: Su Liu
Lighting Consultant: X Studio, School of Architecture, Tsinghua University
Landscape Consultant: Farmerson Architects
Drawings: Yingzi Yuan, Quanyue Yang, Hongdou Zhang
Client: Metro Land Corporation Ltd.
Location: Beijing
Photographs: People's Architecture Office, Yumeng Zhu