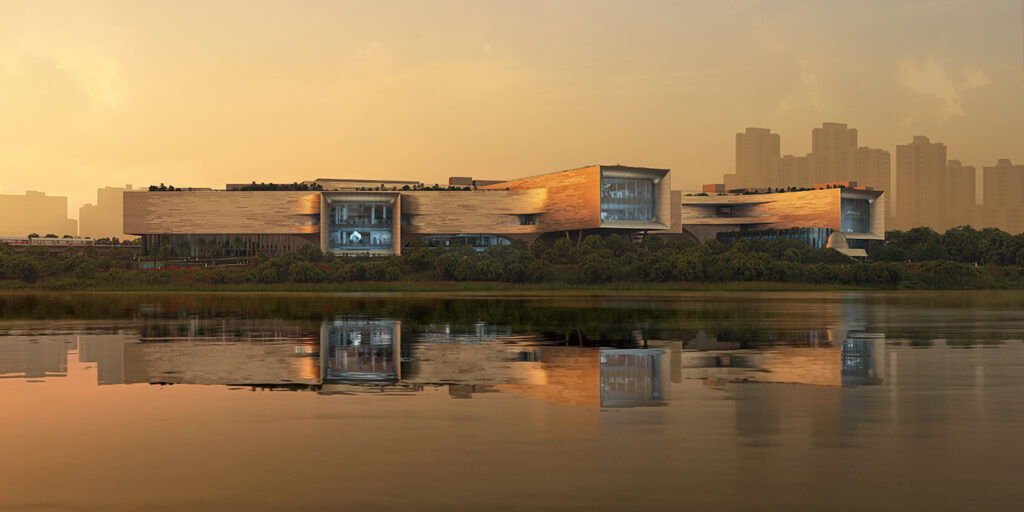 Designed by Zaha Hadid Architects (ZHA) in collaboration with Architects 61 unveiled, the design for the new Singapore Science Center. The new Science Centre, inspired by the natural landscape of Singapore's Jurong Lake Gardens, looks to the future and maximizes opportunities for visitors to interact with the surrounding gardens and lake.
The center comprises five interlocking rectangular volumes that house a variety of exhibition galleries, interactive labs, event spaces, visitor facilities, administrative offices, archives, and service areas.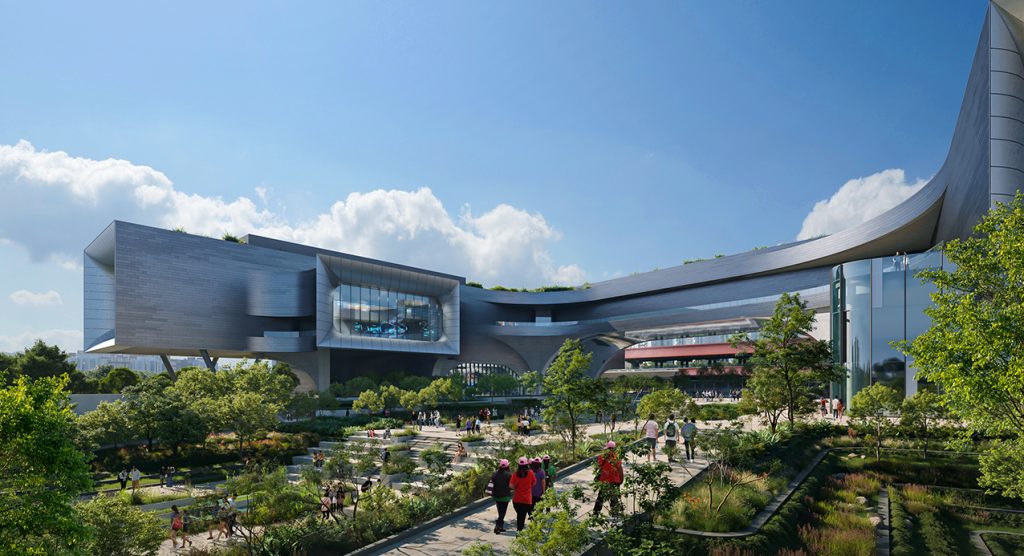 Each of the new Science Centre's five volumes is uniquely oriented to enhance the relationships between the center's indoor and outdoor spaces, with large windows serving as "monocles" offering strategic views of the lake. The design, which appears to float above the surrounding parkland, defines a series of courtyards and gardens that lead from the adjacent MRT station to the pagoda within the Chinese Garden.
The new Science Centre will have a Children's Gallery more than twice the size of the current one and its own interactive outdoor waterplay area. Also, older students can expect to visit specialized labs and workshops that promote hands-on learning of scientific concepts.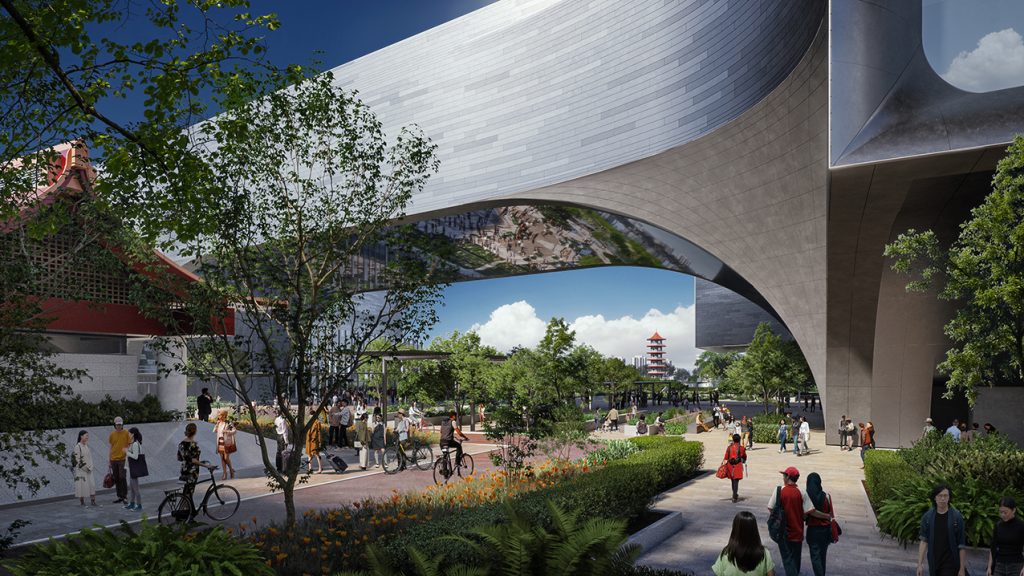 The new Eco-Lab will assist students in scientific investigations by allowing them to retrieve and analyze samples taken directly from the Eco-Garden and continue to monitor the data collected from the samples using Internet of Things (IoT) equipment in school or at home, extending their learning experiences beyond their visit. Through its programs and exhibitions, the center will also educate visitors on sustainable practices, such as vertical farming systems.
The new Science Centre incorporates sustainable design principles and energy performance strategies to reduce net carbon emissions following the Singapore Green Plan 2030. The center was designed in collaboration with Atelier Ten, ZHA, and Architects 61 to achieve the BCA Green Mark Platinum Super Low Energy certification, with outdoor zones shaded from the sun but exposed to the prevailing winds.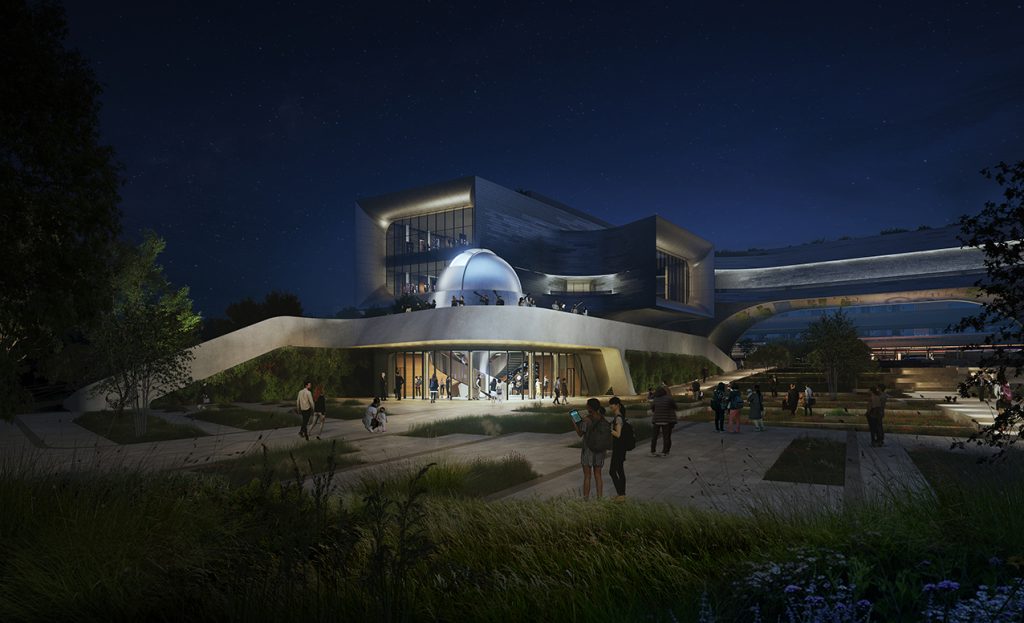 The new Singapore Science Center, located next to the Chinese Garden MRT station, is expected to open its doors in 2027, coinciding with the institution's 50th anniversary.
Associate Professor Lim Tit Meng, Chief Executive of the Science Centre Board, said, "Our ambition for the new Science Centre is to be a truly rewarding destination for all ages and abilities. The universal design principles of the new building will facilitate equal opportunities for all visitors, regardless of demographic or learning abilities. We have also been experimenting with new programs and exhibition formats at the current site, taking note of the best practices we can apply to provide enhanced experiences to our audiences. Top of the list is to seek community partnerships to ensure we co-create a place that individuals will not only want to visit but also leave feeling more curious about science."
Ms. Tan Yen Yen, Chairman of the Science Centre Board, said, "We have great confidence in the new Science Centre's potential to drive growth in STEM education and exploration across the region, as STEM industries play a key role in shaping our post-pandemic future. I'd like to express my appreciation to the Ministry of Education and all our partners for their belief in the Centre's ability to inspire generations and their unwavering support in helping to deepen the impact of our work."