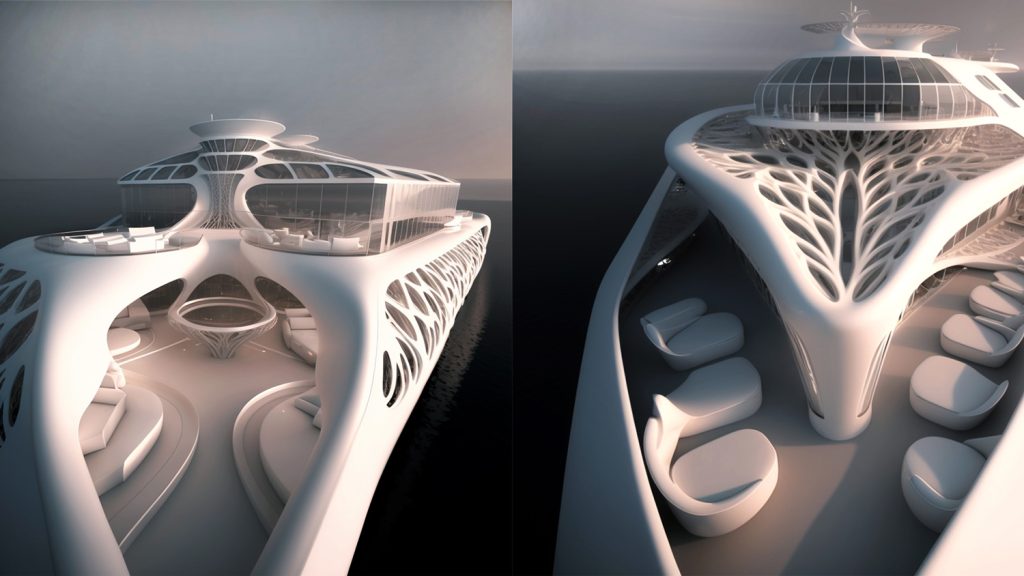 Ross Lovegrove has created a series of spectacular over-100-meter SuperBiomorphic yachts that challenge traditional notions of yacht design. The SuperBiomorphic yachts' are structurally created through 'netification', a design principle that adopts net and web-like structures to achieve complexity and light penetration throughout the vessels, resulting in a final aesthetic that is both visually stunning and highly parametric.
The yachts' biomorphic shape is inspired by the natural world and creates a flowing and dynamic form that interconnects different floor levels and deck spaces.
Those intricate, web-like structures are a testament to Lovegrove's innovative design philosophy. The modular netification of the yacht not only creates a stunning visual effect but also enhances the vessel's living experience: the use of net-flows allows for greater penetration of light, creating a sense of space and openness to the outdoors while on board. Lovegrove's SuperBiomorphic yachts are an algorithmic and generative platform that integrates specific hydrodynamic, biomimicry, and structural demands with an innovative approach to spatial and architectural conception.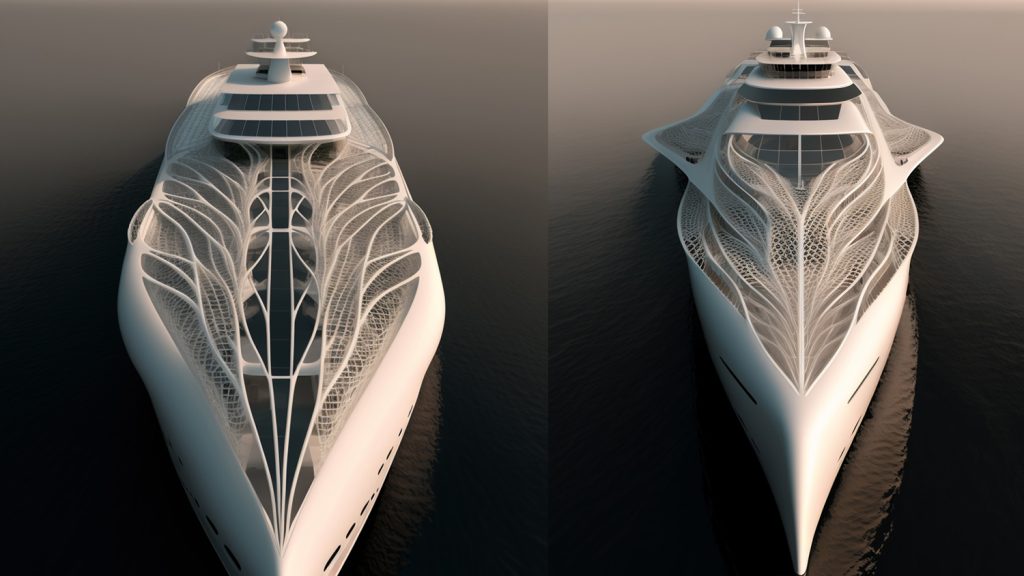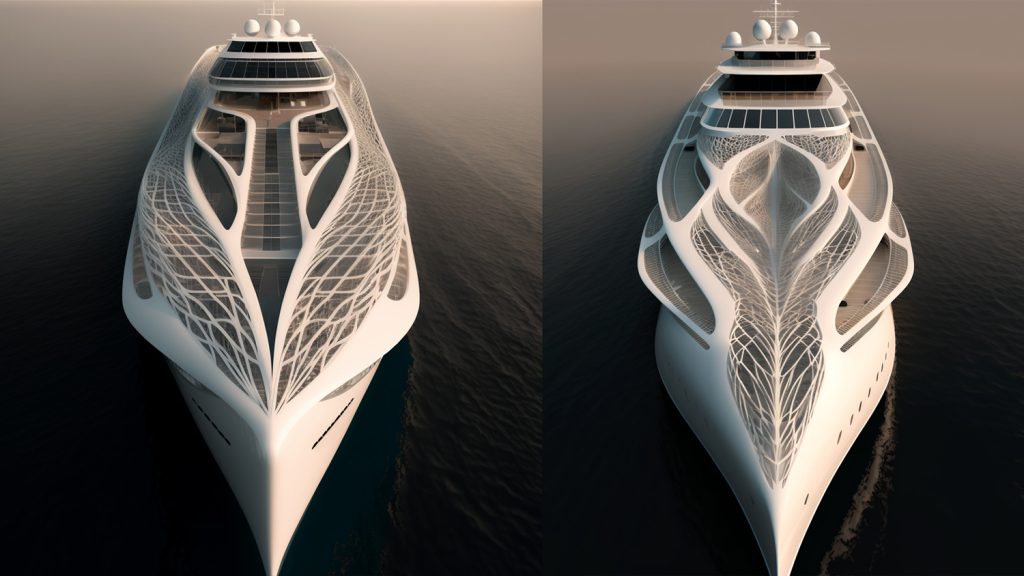 This series of SuperBiomorphic yachts was achieved with the use of cutting-edge text-to-image AI software. This augmented R&D process of design has been a game-changer for the studio, allowing the team to prompt and refine natural language descriptions to create intricate, web-like architectural structures that are both visually interesting and potentially manufacturable.
According to Ila Colombo, the Design Strategist and Prompt Technician at Ross Lovegrove, "The use of text-to-image AI software has revolutionized our entire design process, allowing us to create complex and detailed designs within a very efficient timeframe that were once beyond our immediate visual capability." We are particularly proud and happy about this project because it showed us the path towards finding a unique way to control the AI models and collaborate with them, aiming at a specific volumetric outcome. We started with what was an incredibly inspiring yet totally not realistic close-up image, and we were able to morph that into elaborate and refined renderings of almost complete 3D-dimensional objects. By dozens of steps of refining iterations of the actual prompting language and using all of the features available on systems like Midjourney V5, we are able to create complex bio-organic structures that are as optimized as they are beautiful," and added, "The software has allowed us to push the boundaries of what is possible in design, and we are excited to see where this technology can take us in the near future."
By harnessing the power of AI technology, Lovegrove's superyachts have pushed the boundaries of what is possible in boat design. The combination of biomimicry, modular netification, and cutting-edge technology has resulted in a series of yachts that are both experimental and extraordinary in their aesthetics.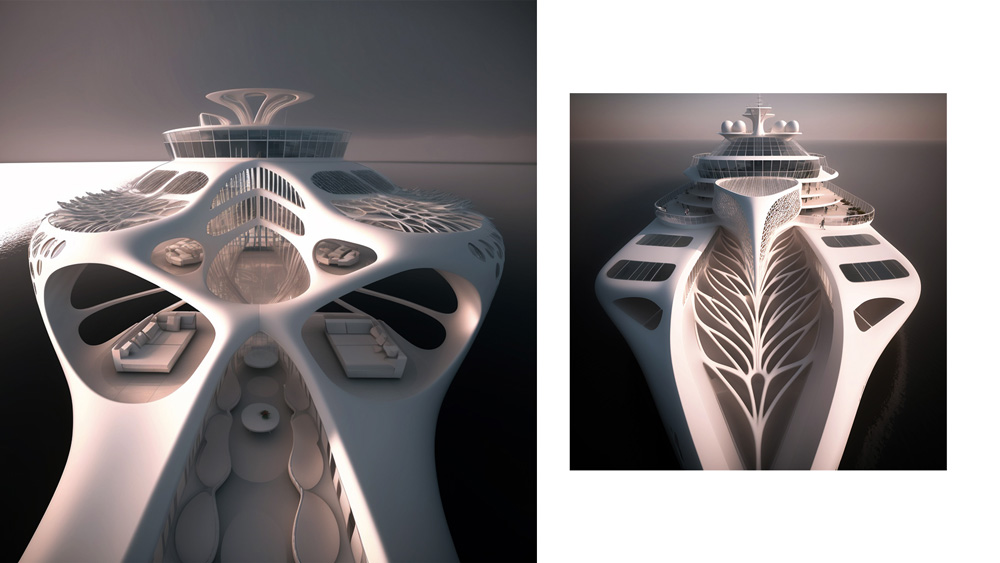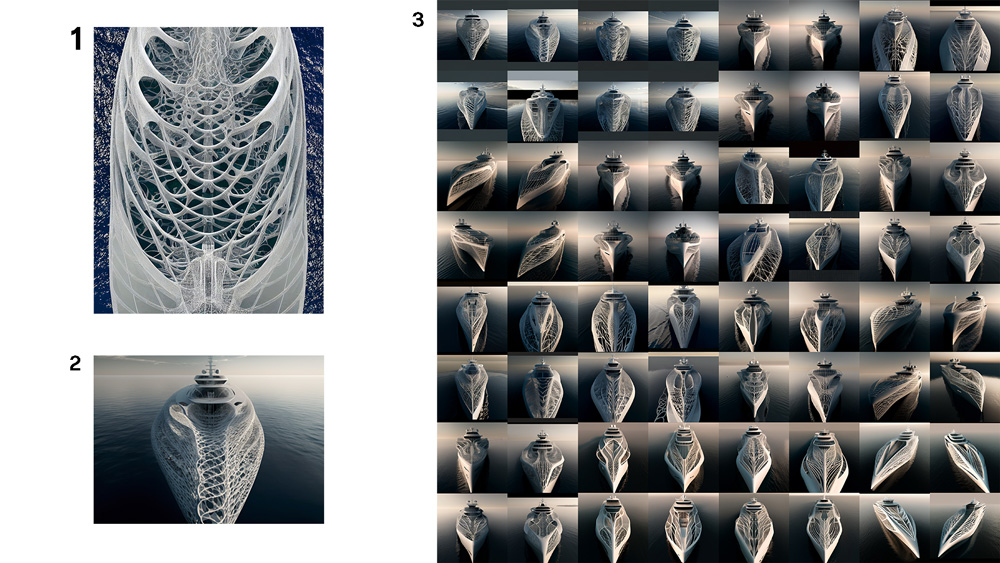 Ross Lovegrove, the artist, and an industrial designer will lecture for 45 minutes and answer questions for 15 minutes in the upcoming Computational Design: NEXT 13 online conference. Ross graduated from Manchester Polytechnic with 1st Class BA Hons Industrial Design in 1980 and took a Master of Design at the Royal College of Art, London in 1983. In the early '80s worked as a designer for Frog Design in West Germany on tech projects for companies like Sony and Apple; he later moved to Paris as a consultant to Knoll International, for which he created the highly successful Alessandri Office System.
He has been invited to join the Atelier de Nimes in 1984, alongside Jean Nouvel and Phillipe Stark, he consulted amongst others: Cacharel, Louis Vuitton, Hermes, and Dupont. In 1986 he has since worked on projects for Airbus Industries, Kartell, Ceccotti, Cappellini, Moroso, Luceplan, Driade, Peugeot, Apple, Issey Miyake, Vitra, Motorola, Biomega, LVMH, Narciso Rodriguez, Yamagiwa, Tag Heuer, Swarovski, Herman Miller, Artemide, Renault, Japan Airlines, Toyo Ito Architects, Kenzo, Valextra, GH Mumm, LG, F1, Samsung, and KEF. He is also a winner of numerous international awards his work has been extensively published and exhibited internationally including the Museum of Modern Art in New York, the Guggenheim Museum NY, and the Centre Pompidou, in Paris.
Project Info
Project Name: SuperBiomorphic Yachts
Architecture Firm: Ross Lovegrove
Architect: Ila Colombo & Ross Lovegrove
Project Year: 2022-2023
Built / Unbuilt: Unbuilt