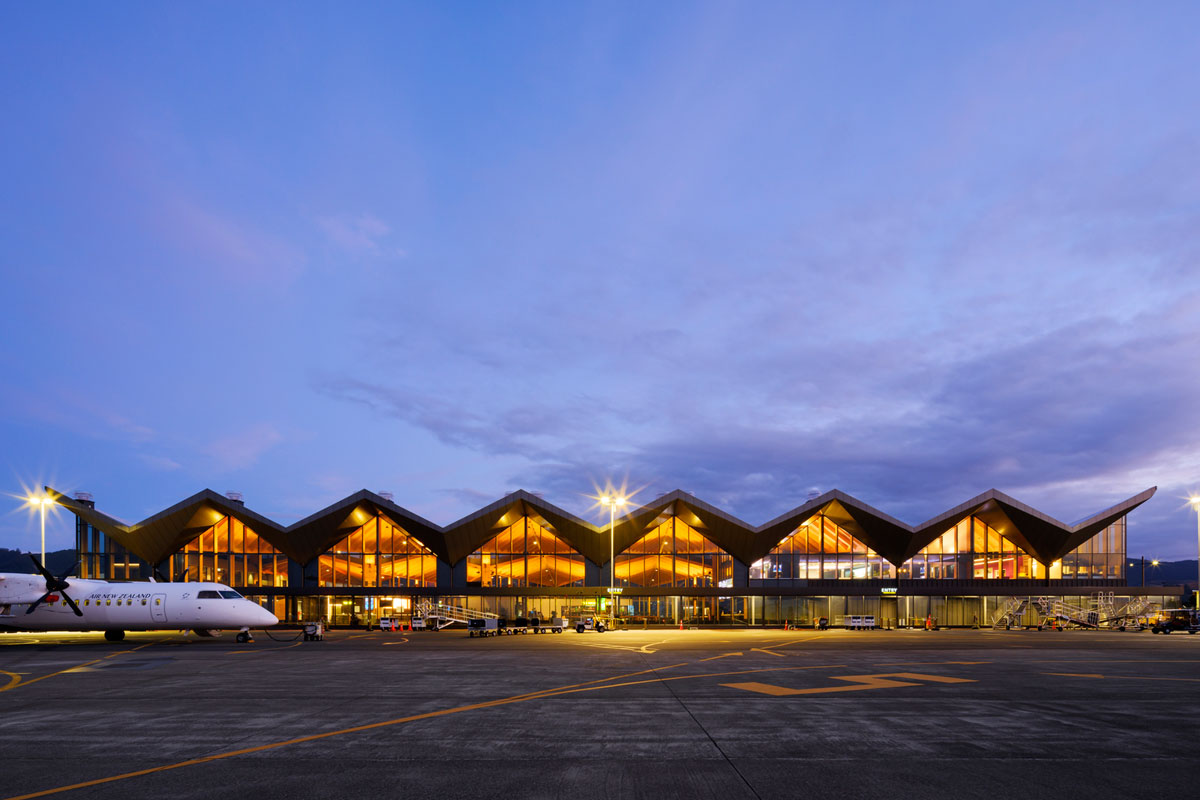 A series of recurring sloping roofs define the new Nelson Airport Terminal designed by Studio Pacific. An enhanced gateway experience for travellers, the building, reflects the region's locally sourced timber elements framing the compelling structure. They are crafted as a unique structure elating the concept of flights taking off.
Nelson Airport meets the requirements of the airport's anticipated growth. The new terminal engages with the travellers and the aeroplanes in visual connectivity. Subsequently, The surrounding landscape with the thrilling sky and mountains add to the emotional aura generated in the spaces. Also, it resonates with the folded roof rising up and down with the beams of timber plates adjusting and locking in harmony to the behaviour of the parametric form.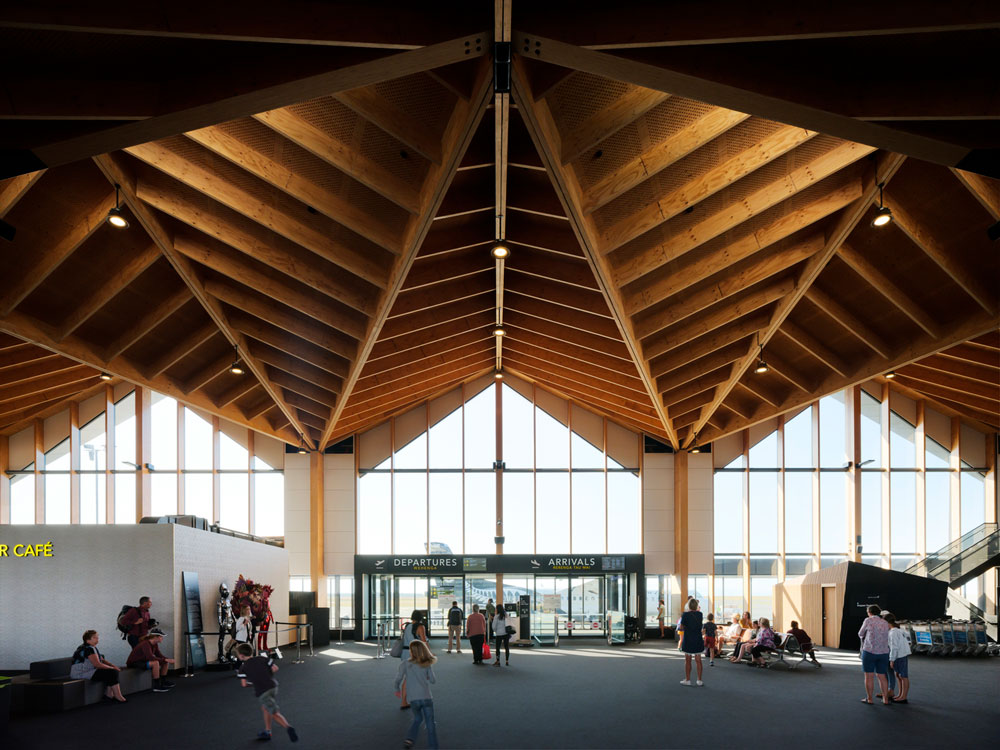 The designers conducted a feasibility study in the beginning to redevelop the possibilities at Nelson Airport. They came up with a new proposal that was chosen as a feasible option. Additionally, by following the terms on a comprehensive review, the new terminal abated with the cost and time frames thus minimizing the jargon of extensive materials that fall into the designing of a usual airport.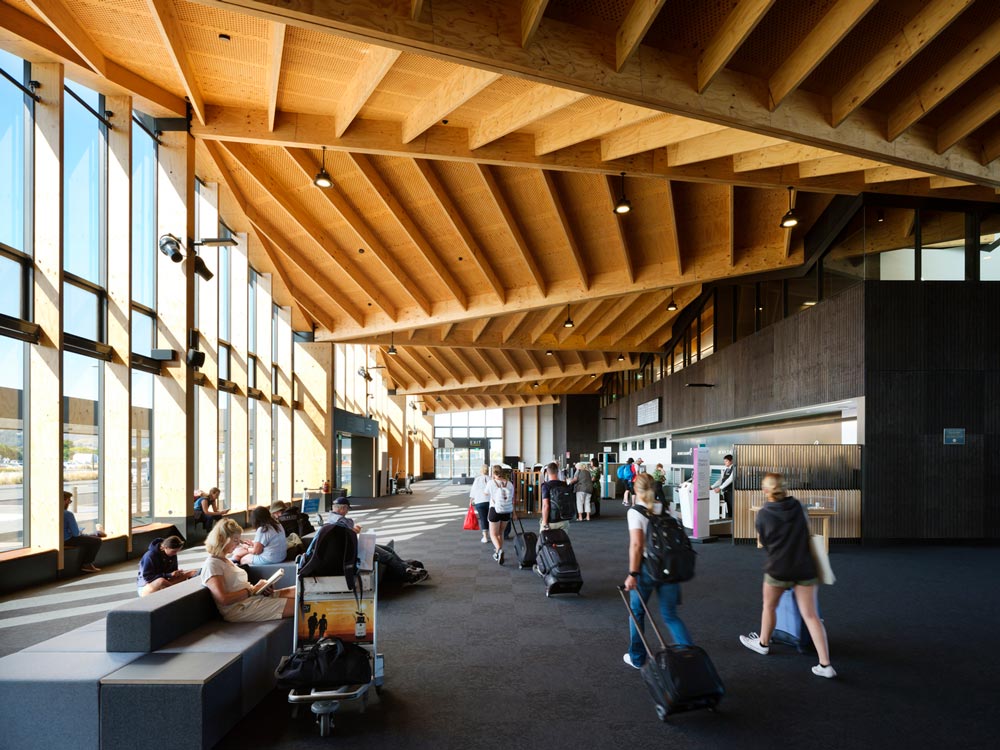 The large span of the new terminal stunningly backdrops the Tasman Bay and the western ranges of Nelson. The design indeed arouses out of the reality that the existing 1975 building no longer met building code requirements or functioned efficiently with the ever-increasing passenger number travelling through Nelson.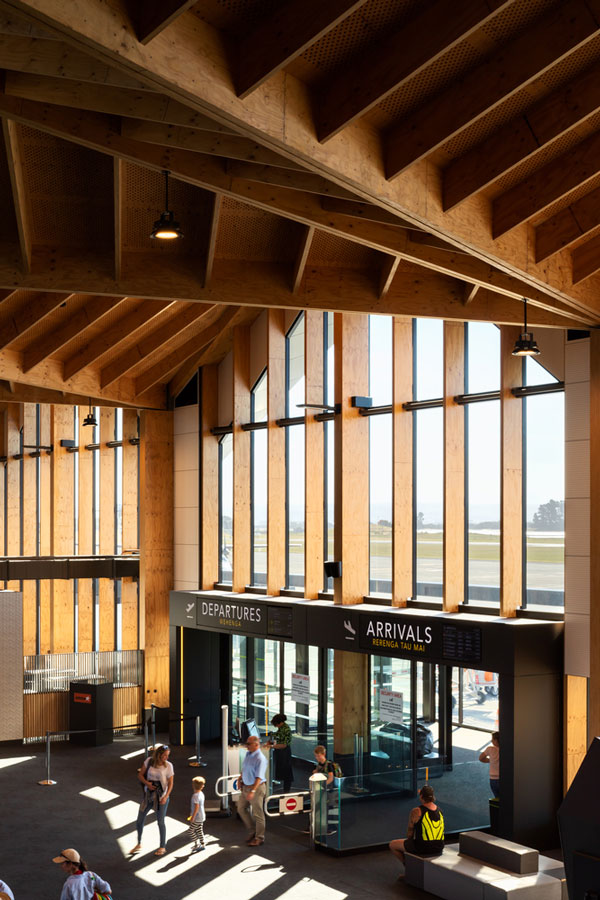 The airport aspires to transform the experience of travelling. The efficiency of operations, along with viable businesses running alongside the main structure. The two main strategies, such as environmentally sustainable design, natural ventilation and use of timber coupled with a resilient seismic solution.
The airport takes a sophisticated and straightforward approach to achieve natural ventilation into the terminal spaces. The architecture flexes cordially with the building plan, volume, and roof form to maximize the airflow and utilize air buoyancy. Lower level windows usher the wind into the building and clerestory at the roof level invokes daylight at the same time allowing the release of hot air through glazed louvres.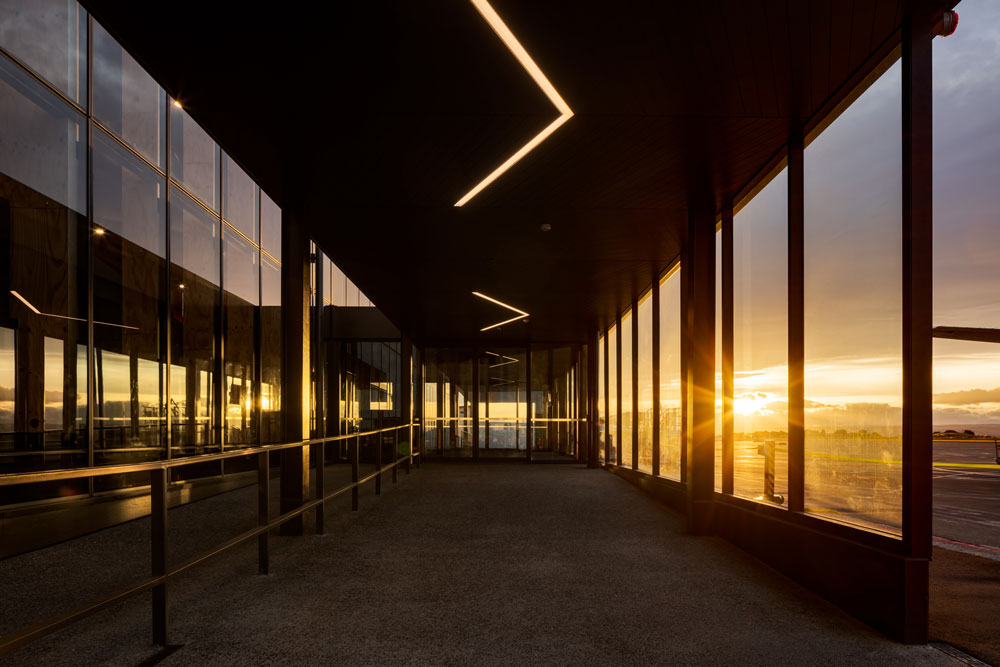 Chevron faced external canopies benefits from the large chambers discharging warm air drawn in from the solar chimneys below all the while providing solar shading to the interiors. The roof is highly complex and visually striking, it folds across the building's length in a rhythmic pattern. The roof also captures and lingers a natural warmth, texture, and scale into the interiors.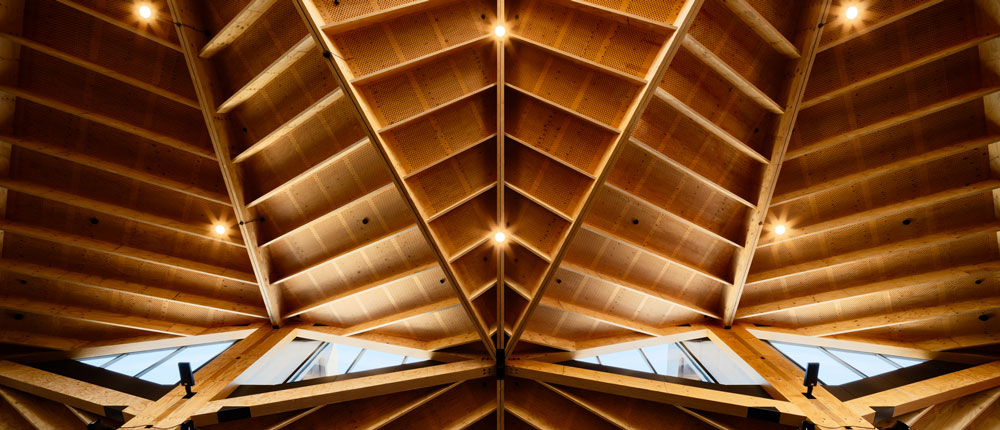 The timber as a material performs an authentic and tactile response reinforcing the material connection and relevance into the surrounding forestry. The expansive open footprint allows flexibility with minimal columns. Furthermore, the internal pods float beneath the roof, and it includes operational requirements, retail, food and beverages.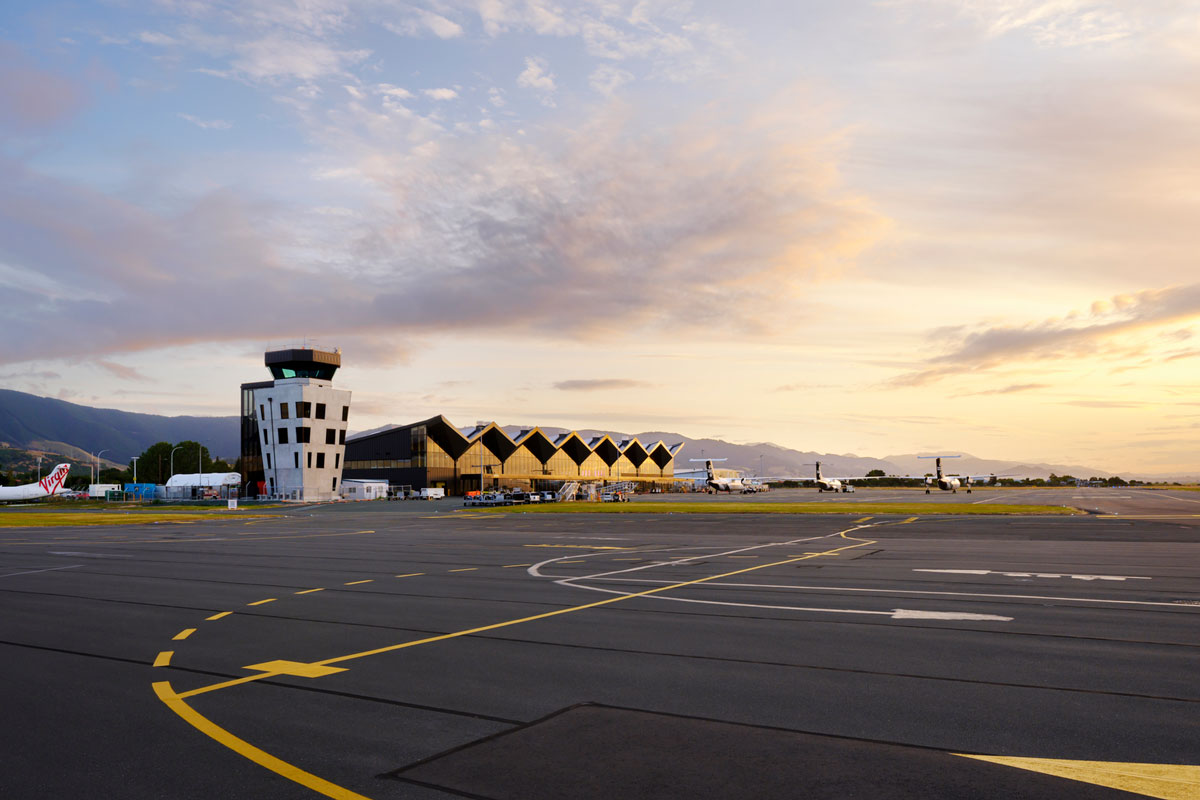 The regionalism of the airport brings a humanistic appeal to its context. The simple striped material palette in addition creates a calming backdrop for the mix of spaces within. In this manner, the terminal uniquely differentiates from other airports.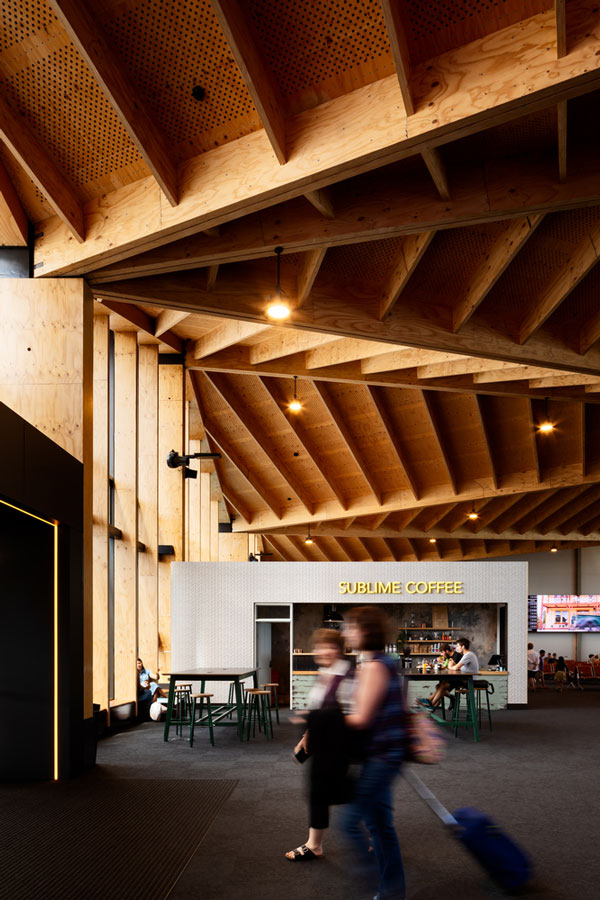 Architects: Studio Pacific Architecture
Location: Nelson, New Zealand
Area: 5300 m²
Year: 2019
Photographs: Jason Mann Photography