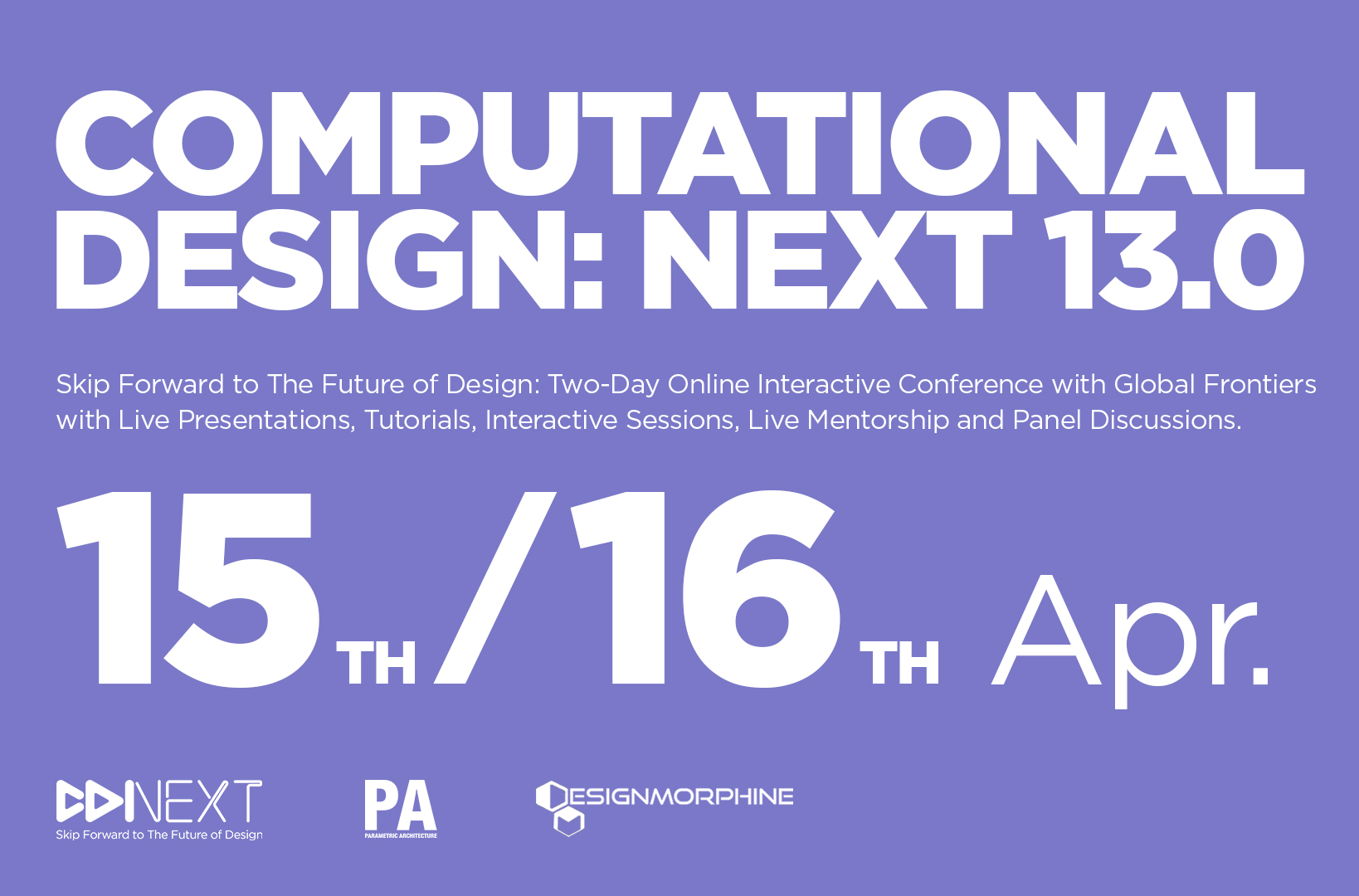 Topic: COMPUTATIONAL DESIGN: NEXT 13
Time: Saturday and Sunday, April 15 – 16, 2023
Day 1 Starts: April 15, 12:00 GMT
Day 1 Ends: April 15, 20:45 GMT
Day 2 Starts: April 16, 12:00 GMT
Day 2 Ends: April 16, 20:45 GMT
Where: Online – Zoom, hosted by PA
Duration: Two Days Conference (18 Hours)
Hosts: Hamid Hassanzadeh, and Michael Pryor
Collaborators: ParametricArchitecture and DesignMorphine
Early-bird Registration: €56 (Till 23:59 GMT, March 15, 2023)
General Registration: €69 (Till 23:59 GMT, April 14, 2023)
"Skip Forward to the Future of Design"
COMPUTATIONAL DESIGN: NEXT
Introduction:
THE PAST, PRESENT & FUTURE: An online interactive conference with global frontiers. Two-day online conference with live presentations, tutorials, interactive Sessions, live mentorship & panel discussions. A collaborative initiative by ParametricArchitecture (PA) and DesignMorphine (DM). Computational Design: NEXT 13 brings together pioneers and professionals from all industries to meet and discuss new emerging technologies in art, architecture, design, and manufacturing.
Computational Design: NEXT is a joint effort by some of the world's leading experts in computational design to create an online learning platform that will also serve as a full-fledged online conference. ParametricArchitecture (PA), one of the leading media platforms concentrating on computational design and its different subsets, will host the event, including conversations, dialogues, tutorials, and mentoring to a worldwide audience via thought-provoking and relevant speeches.
Following the success of CD Next 1-12, Computational Design: NEXT 13 takes another step forward in exploring new-age design technologies by worldwide technology champions. The conference will take place on Saturday and Sunday, April 15 – 16, 2023, and will include workshops, panel discussions, technology demos, and presentations.
Important Notes:
Details about the guests will be published soon
The entire conference will be recorded, and videos will be available for participants just a day after the conference.
A certificate of attendance will be provided to all participants of the conference.
We will send the Zoom link just a week before the conference starts.
You can make payments in cryptocurrencies. For more details, please email us at [email protected].
The event has a capacity of 400 people, and limited (100) spots are allocated for early-bird registrations.
Tickets are non-refundable and non-transferable. Please read before you register.
Guest Speakers:
Ross Lovegrove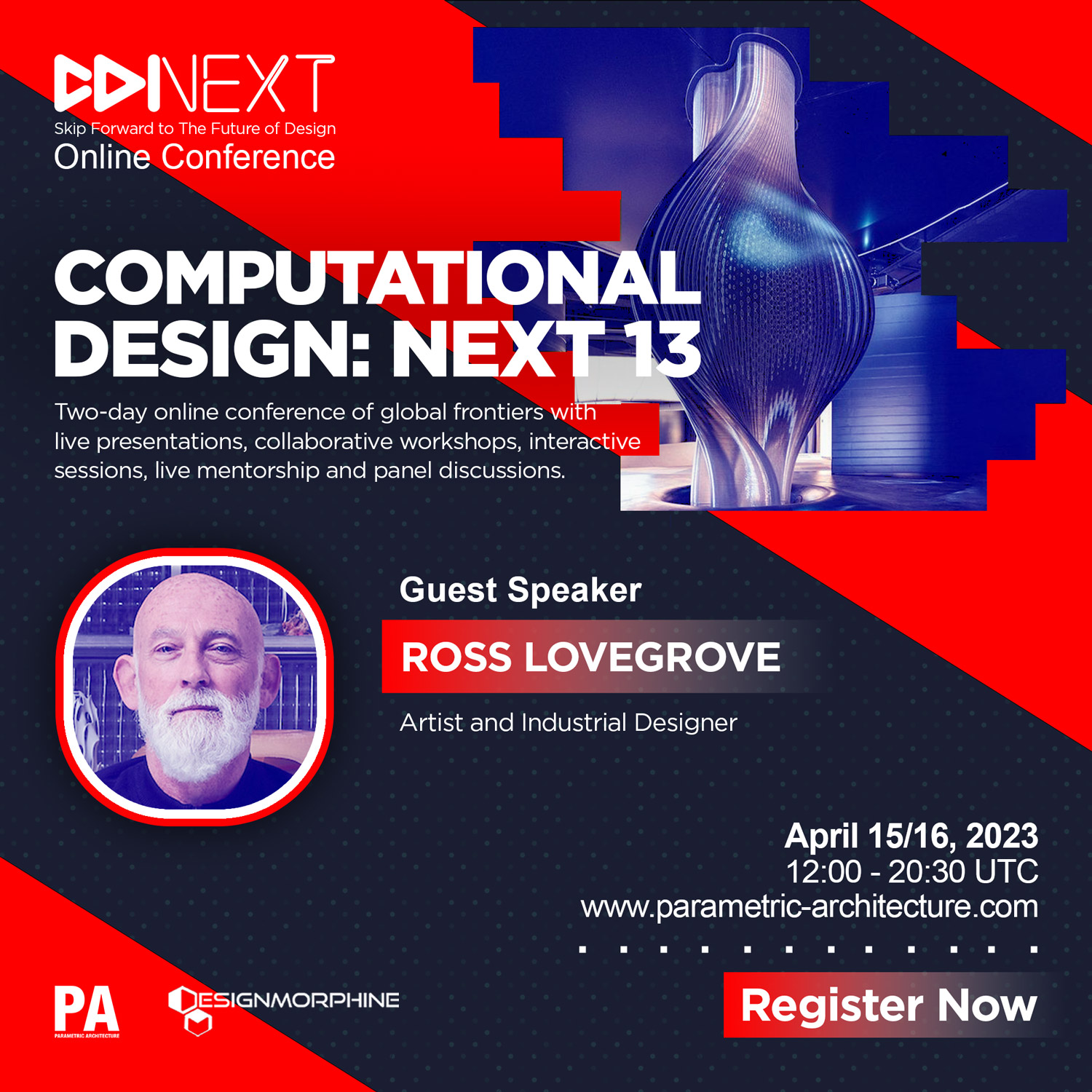 Ross Lovegrove, the artist, and industrial designer, will lecture for 45 minutes and answer questions for 15 minutes in the upcoming Computational Design: NEXT 13 online conference. Ross graduated from Manchester Polytechnic with 1st Class BA Hons Industrial design in 1980 and took a Master of Design at the Royal College of Art, London in 1983. In the early 80's worked as a designer for Frog Design in West Germany on tech projects for companies like Sony and Apple; he later moved to Paris as a consultant to Knoll International, for which he created the highly successful Alessandri Office System.
He has been invited to join the Atelier de Nimes in 1984, alongside Jean Nouvel and Phillipe Stark, he consulted amongst others: Cacharel, Louis Vuitton, Hermes, and Dupont. In 1986 he has since worked on projects for Airbus Industries, Kartell, Ceccotti, Cappellini, Moroso, Luceplan, Driade, Peugeot, Apple, Issey Miyake, Vitra, Motorola, Biomega, LVMH, Narciso Rodriguez, Yamagiwa, Tag Heuer, Swarovski, Herman Miller, Artemide, Renault, Japan Airlines, Toyo Ito Architects, Kenzo, Valextra, GH Mumm, LG, F1, Samsung, and KEF. He is also a winner of numerous international awards his work has been extensively published and exhibited internationally including the Museum of Modern Art in New York, the Guggenheim Museum NY, and the Centre Pompidou, in Paris.
Joshua Vermillion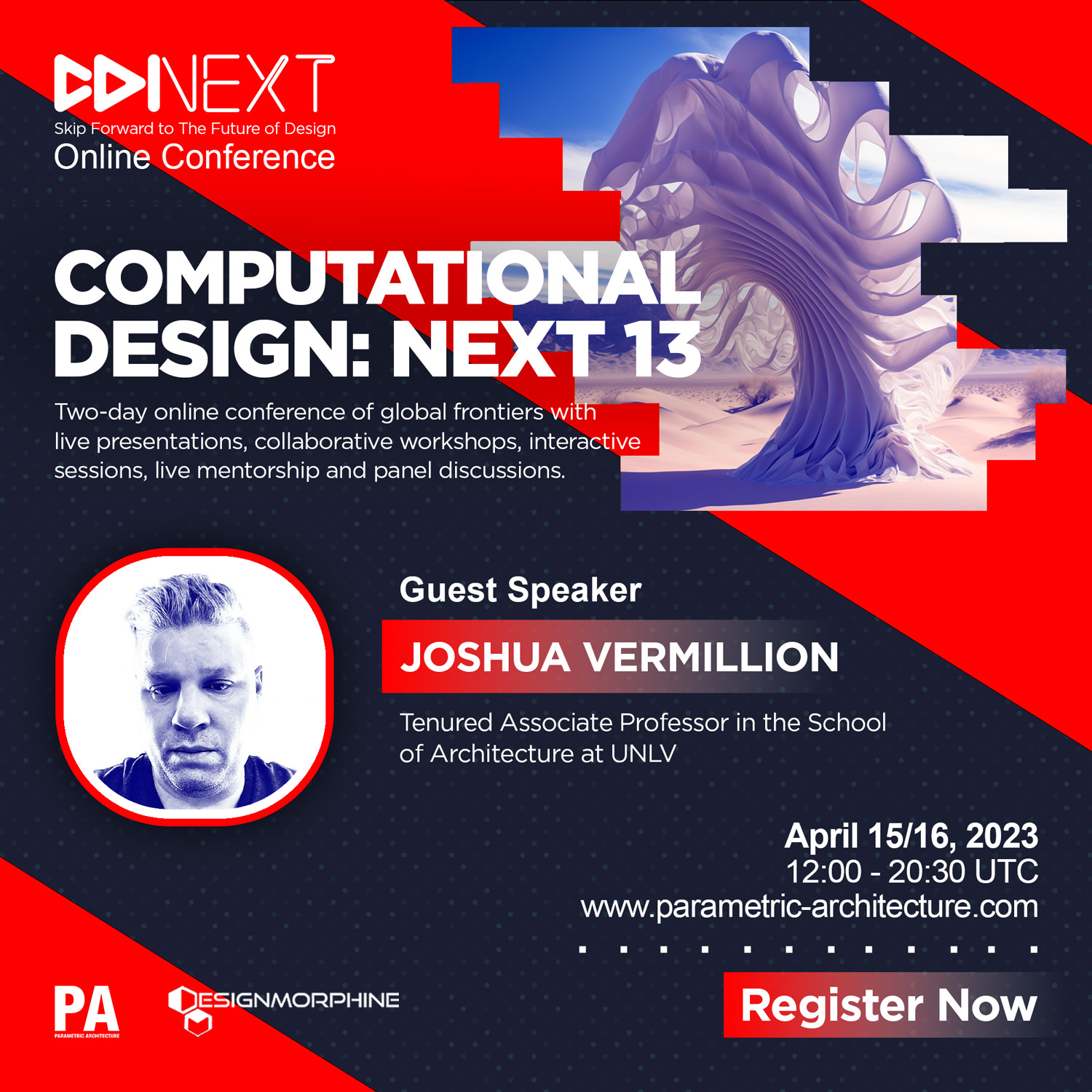 Joshua Vermillion, the tenured Associate Professor in the School of Architecture at UNLV, will address the audience in the upcoming Computational Design: NEXT 13 online conference, where he will contribute with a 45-minute lecture and 15-minute Q&A session. Forging a multi-year career in the exploration, development, and execution of "Digital Craft," Joshua's efforts in research, pedagogy, and practice belong to three primary categories: digital information as medium (computational, parametric, and algorithmic design); digital information as material (digital fabrication tools and techniques); and digital information as method (situated technologies, responsive systems, and robotics). Joshua has published and presented his peer-reviewed research and design work worldwide while continuing to experiment with novel design technologies such as AI diffusion models like MidJourney and Stable Diffusion.
Bárbara Barreda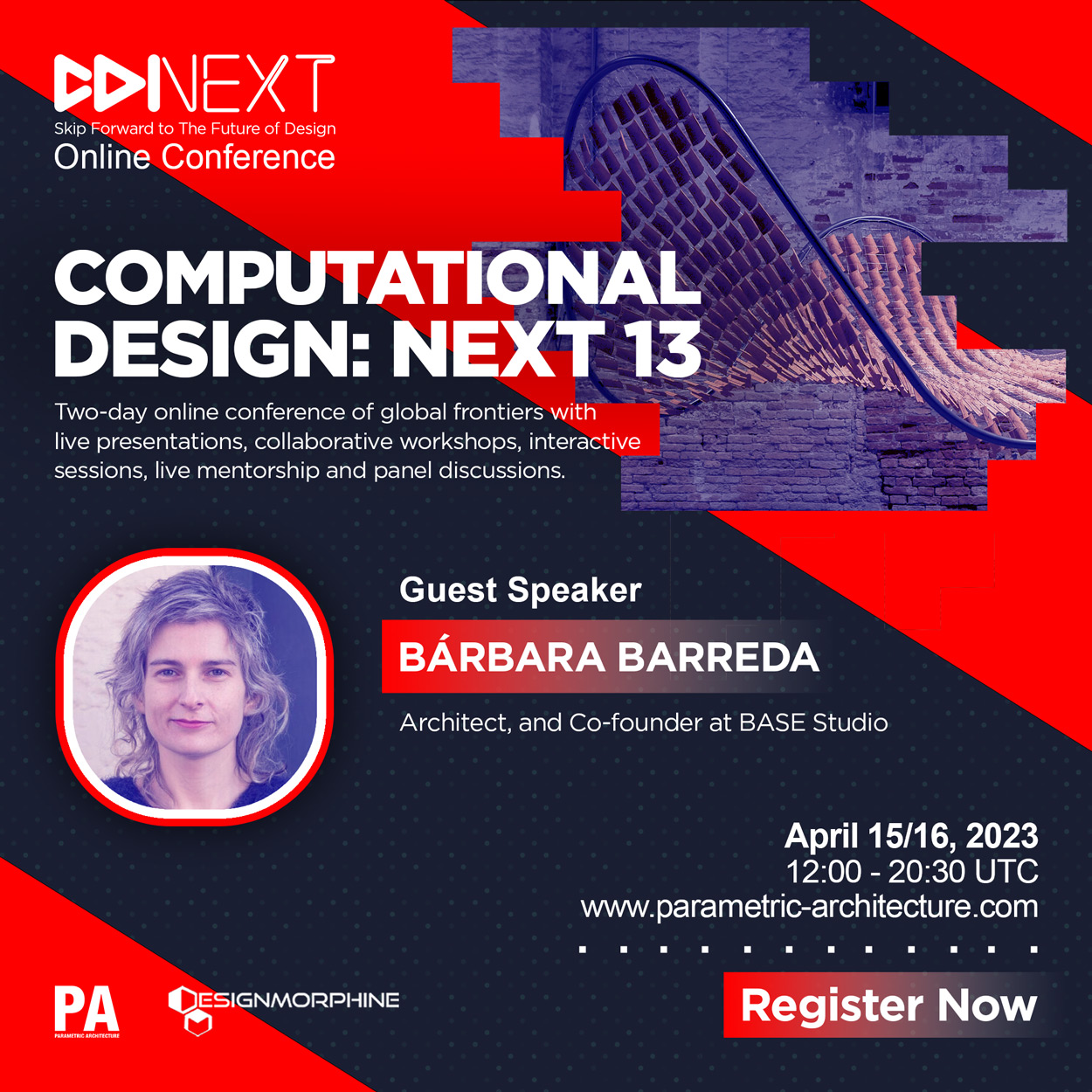 Bárbara Barreda, the artist, and co-founder at BASE studio, Will be lecturing and answering questions at the upcoming online conference Computational Design: NEXT 13. Bárbara is a Chilean architect and holds an M.Arch. in Emergent Technologies & Design from the Architectural Association. In 2016, Bárbara co-founded BASE studio, an architectural systems design research platform. Together with BASE, she has been a finalist for YAP Constructo 8 and 9 (from MoMA´s Young Architects Program) and invited to the Venice Architecture Biennale 2021 main exhibition. She is also the creator and co-director of the Architectural Association's "Ring of Fire" Visiting School program. Bárbara has been Co-Director at Ciudad Emergente and has collaborated with diverse architecture practices in Santiago and London, working on projects for Latin America, the USA, Europe, and Asia. She has been a professor at the UAI Design Lab, UDP, Finis Terrae, UNAB, and UDD Universities in Chile. Currently, she is a Visiting Scholar in Technology and Culture at Rice University, USA. Her architectural research interests are focused on the design of complex geometries using unconventional construction materials and processes.
Evan Greenberg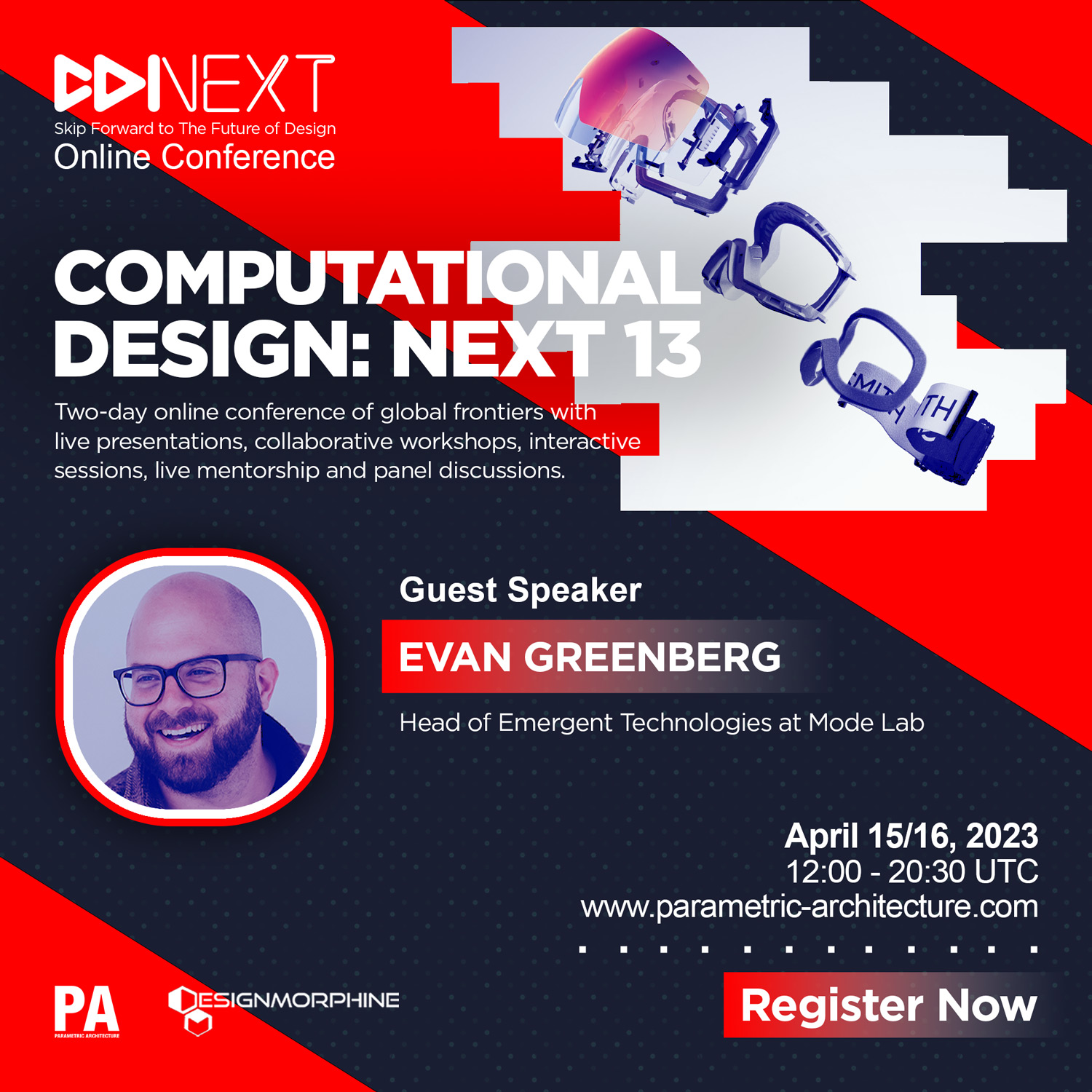 Evan Greenberg, the Head of Emergent Technologies, Partner at Mode Lab, will address the audience in the upcoming Computational Design: NEXT 13 online conference, where he will contribute with a 45-minute lecture and 15-minute Q&A session. Evan researches and explores the ways that emerging technologies will impact how we design, make, and use products in the near future. He is Head of Emergent Technologies at Mode Lab, a team of sustainable design thinkers solving complex problems using very powerful computational tools. He is responsible for shaping research innovation and best practices within the studio and alongside some of the boldest consumer product, automotive, and manufacturing companies worldwide, working to create radical new technologies to help humanity thrive. Evan's interests and expertise lie at the confluence of computation, fabrication, biomimicry, and performance-oriented design.
Siyun Huang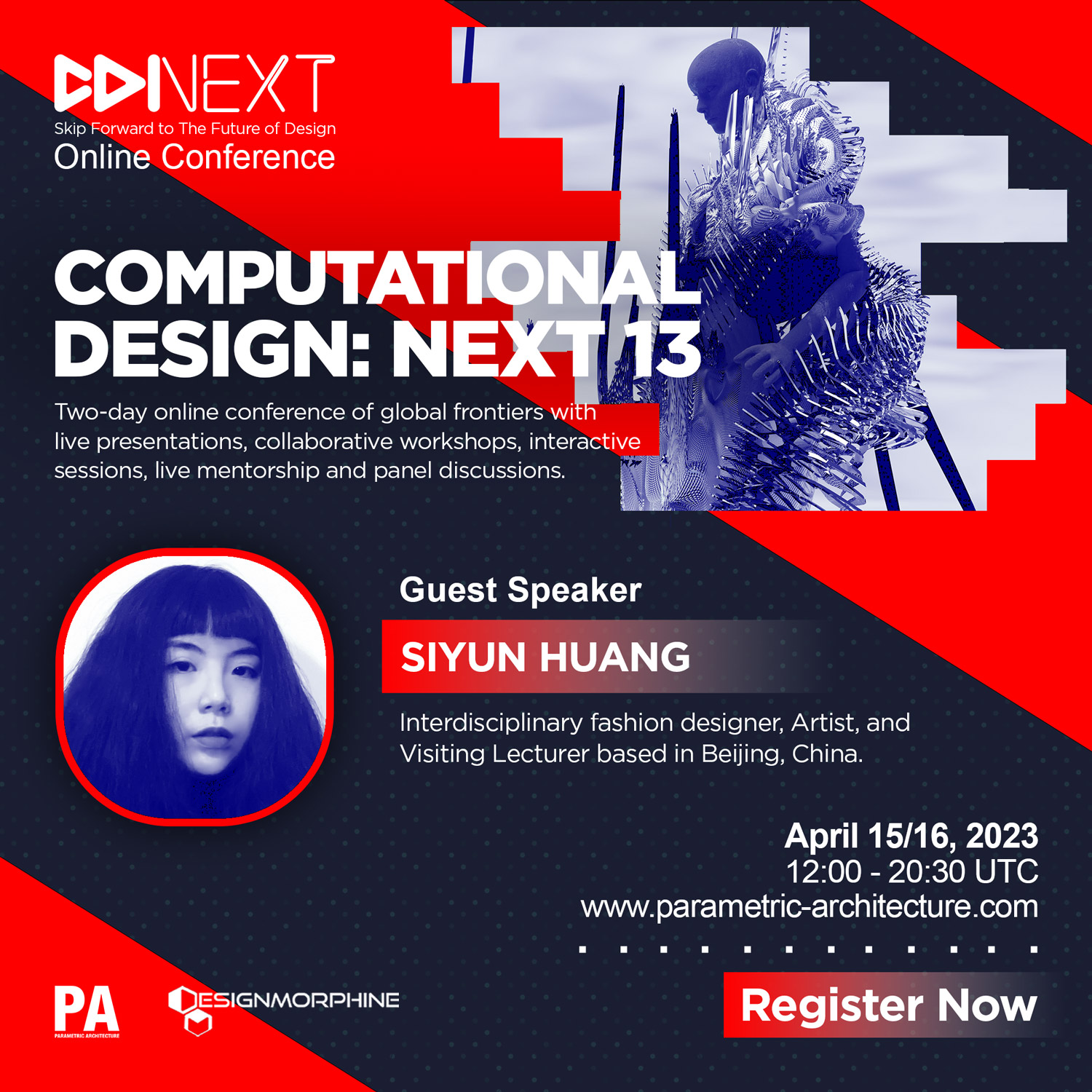 Siyun Huang, the interdisciplinary fashion designer, artist, and visiting lecturer based in Beijing, China, will lecture for 45 minutes and answer questions for 15 minutes in the upcoming Computational Design: NEXT 13 online conference. Siyun Graduated with MA from the London College of Fashion and a BA from the Central Academy of Fine Art. Her research is dedicated to exploring the future of fashion: fashion art, wearable technology, and the sustainable digitalization of fashion to create innovation in the fashion industry, drawing her hybrid avant-garde aesthetic from the symbiotic relationship within the human being, lives, nature, technology, and art. Siyun's works include kinetic & interactive fashion art, digital couture, and Ready-to-wear that have been showcased in multiple international well-known platforms such as London Fashion Week, International Fashion Art Exhibition, China Fashion Week, Beijing Fashion Weeks, GAMMA Young Artist Competition.
Nyxo Studio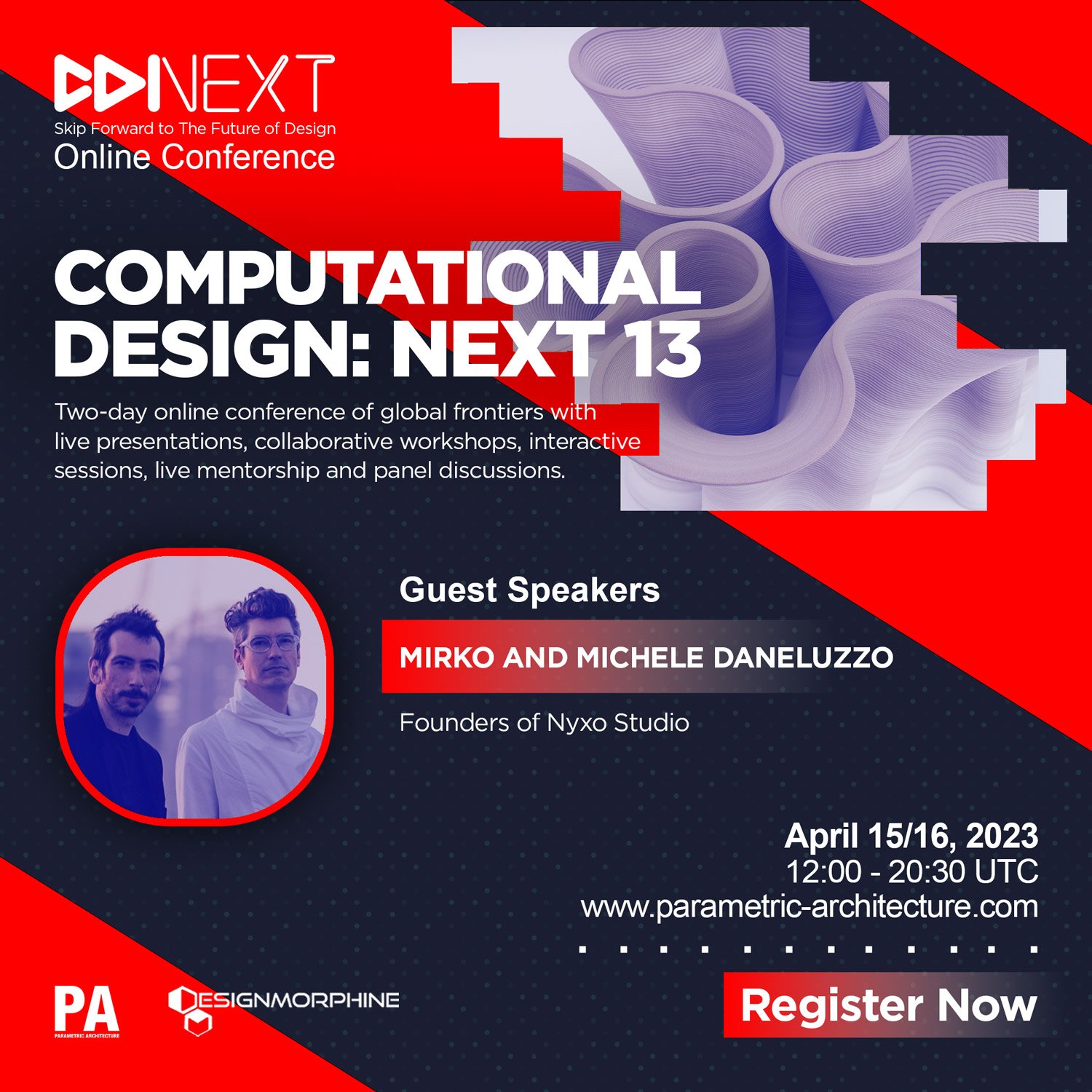 Mirko and Michele Daneluzzo, the founders of Nyxo Design Studio, will be lecturing and showcasing some of the studio's creative works at the upcoming online conference, Computational Design: NEXT 13. NYXO is a design company founded in 2015 by Mirko and Michele Daneluzzo. Their design agenda consists of the understanding and management of intricate transdisciplinary scenarios, using material systems and production processes as mediators. The research interest consists, on the one hand, in the use of digital computational and fabrication tools to set up apparatuses of simulation that can offer new aesthetic languages and are capable of re-territorialize the products in a posthuman, bio-integrated fashion. On the other hand, it is about the impact of the transformation of the artifacts from prostheses to bodies, in other words, from objects that are extensions of the human body to other bodies capable of autonomous agency. NYXO explores various technologies and typologies of artifacts, from serial products to research projects, for companies operating in different fields, from aeronautics to medical devices. The independent research of the studio focuses on the application of additive manufacturing technologies for End-Use productions at different scales. The architectural investigation develops the interweaving of bio-geo-climatic dynamics in the morphogenesis of spaces for a fusion with the local context. NYXO's work has been exhibited internationally in several events including the Architecture Biennale in Venice 2010, Beijing 2010, and Tallinn 2017, in museums like the Cooper Hewitt, Smithsonian Design Museum, and in different Design Weeks, including Tokyo, Dubai, and Shanghai.
Philipp Aduatz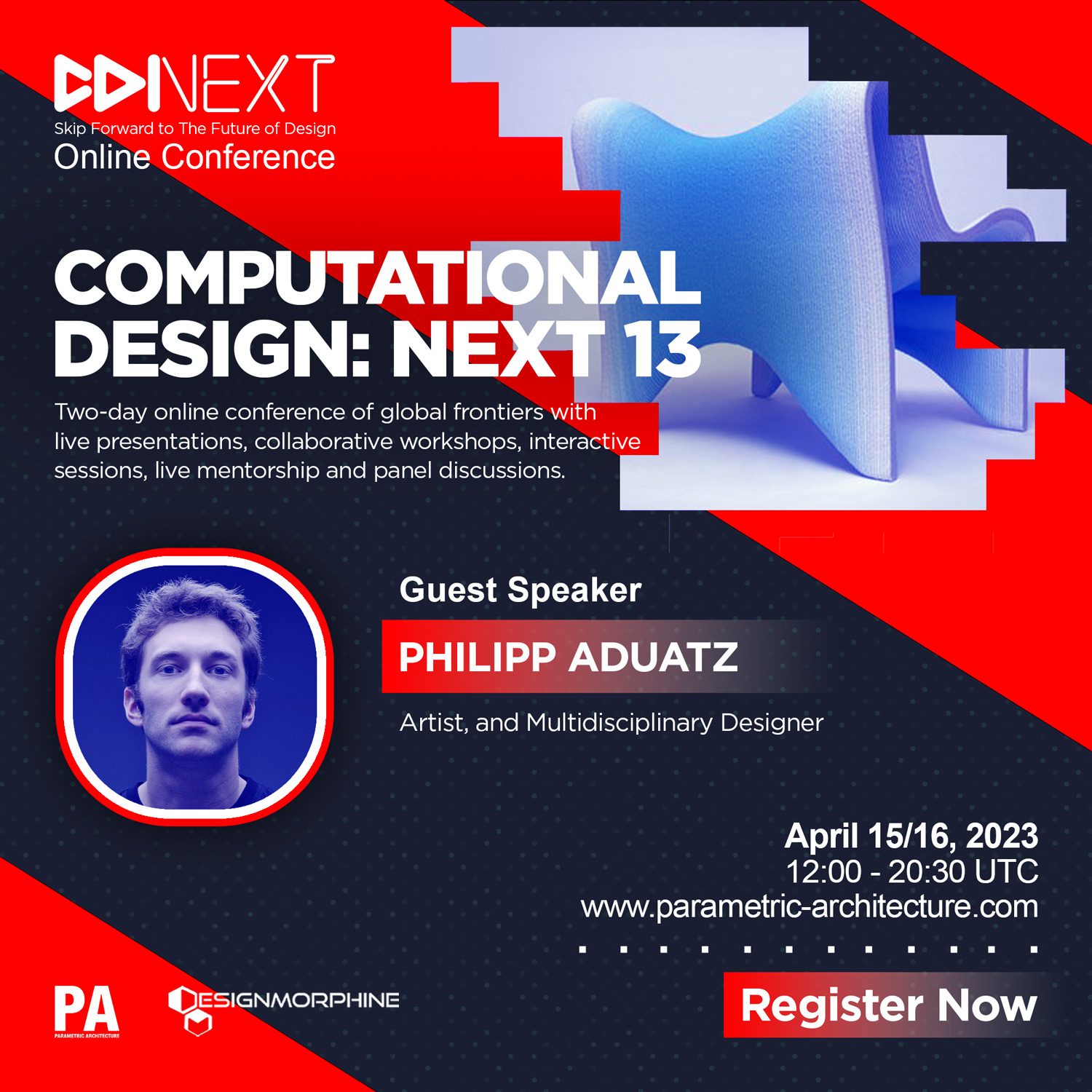 Philipp Aduatz, the artist, and multidisciplinary designer, will lecture for 45 minutes and answer questions for 15 minutes in the upcoming Computational Design: NEXT 13 online conference. Philipp is a Vienna-based designer who creates limited-edition functional objects that are highly sculptural in nature. Working with innovative materials and fabrication technologies, Aduatz is very much influenced by scientific matters such as chemistry, physics, and material technologies. His process combines traditional craft concepts and techniques with cutting-edge implements such as 3D printing, 3D laser scanning, CNC milling, and Rapid Prototyping. The experimentation with different materials and their behavior is an important part of his research at the intersection of design and sculpture. Greatly influenced by sculptors such as Constantin Brancusi and Tony Cragg, the designer aims to develop a distinct language of form in each of his pieces, encouraging a new discourse between the object and its user or viewer.
Joanie Lemercier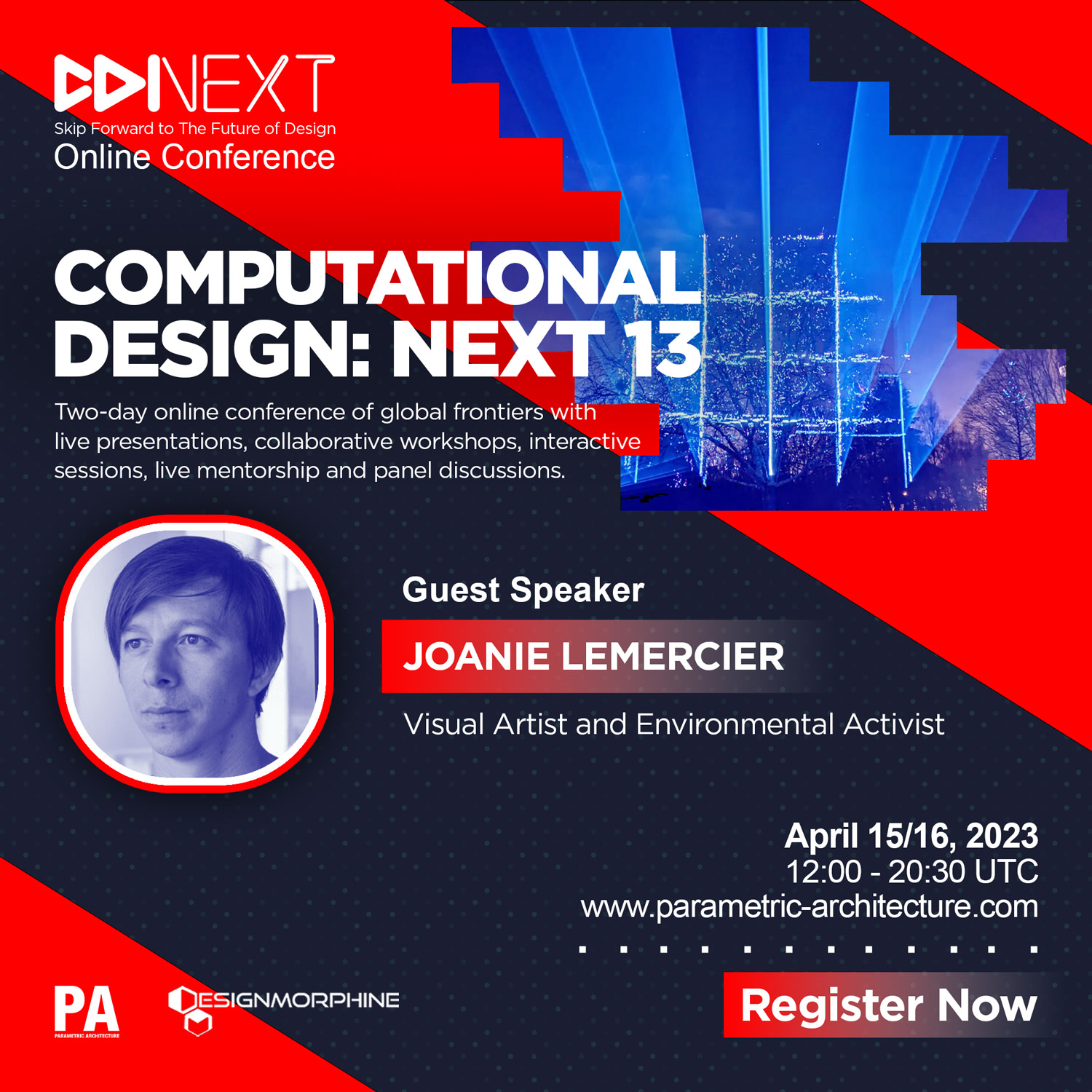 Joanie Lemercier, the visual artist and environmental activist, will be showcasing his amazing works with lights and how he uses generative structures in his works, this will be live at the Computational Design: Next 13 online conference. Joanie is a French visual artist and environmental activist whose work explores human perception through the manipulation of light in space. Working primarily with light projection and computer programming, Lemercier transforms the appearance of everyday objects and forms, bending reality to his imagination. His work transcends the flat surface, extending dimensionality through the interplay of light and shadow on materials such as wood, glass, paper, ceramics, textiles, and water.
Guest Tutors:
Nadia Kutyreva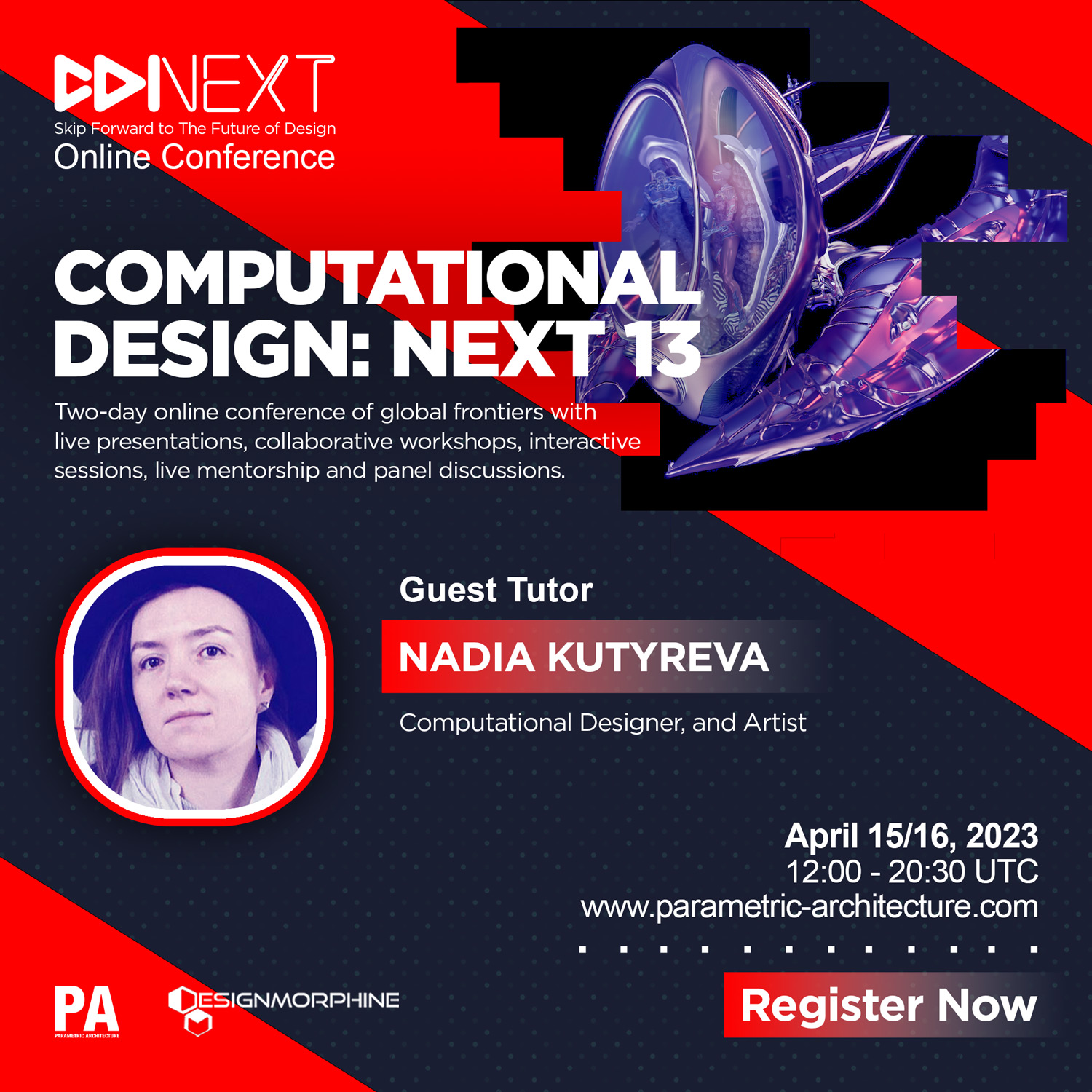 Nadia Kutyreva, the artist and computational designer, will be delivering a beginner-friendly Houdini 90-minute tutorial at the upcoming Computational Design: NEXT 13 online conference. Nadia holds an MSc in Computational and Advanced Design from the DesignMorphine Program. Her interdisciplinary career has evolved from architecture and interior design to industrial and computational design. Her design philosophy and approach are deeply influenced by her interests in science, futurism, deep space exploration, and biology. Nadia strongly believes that we should learn from nature and develop technology that can become an ally rather than being antagonistic to nature, helping humans achieve balance with their environment.
Brian Wu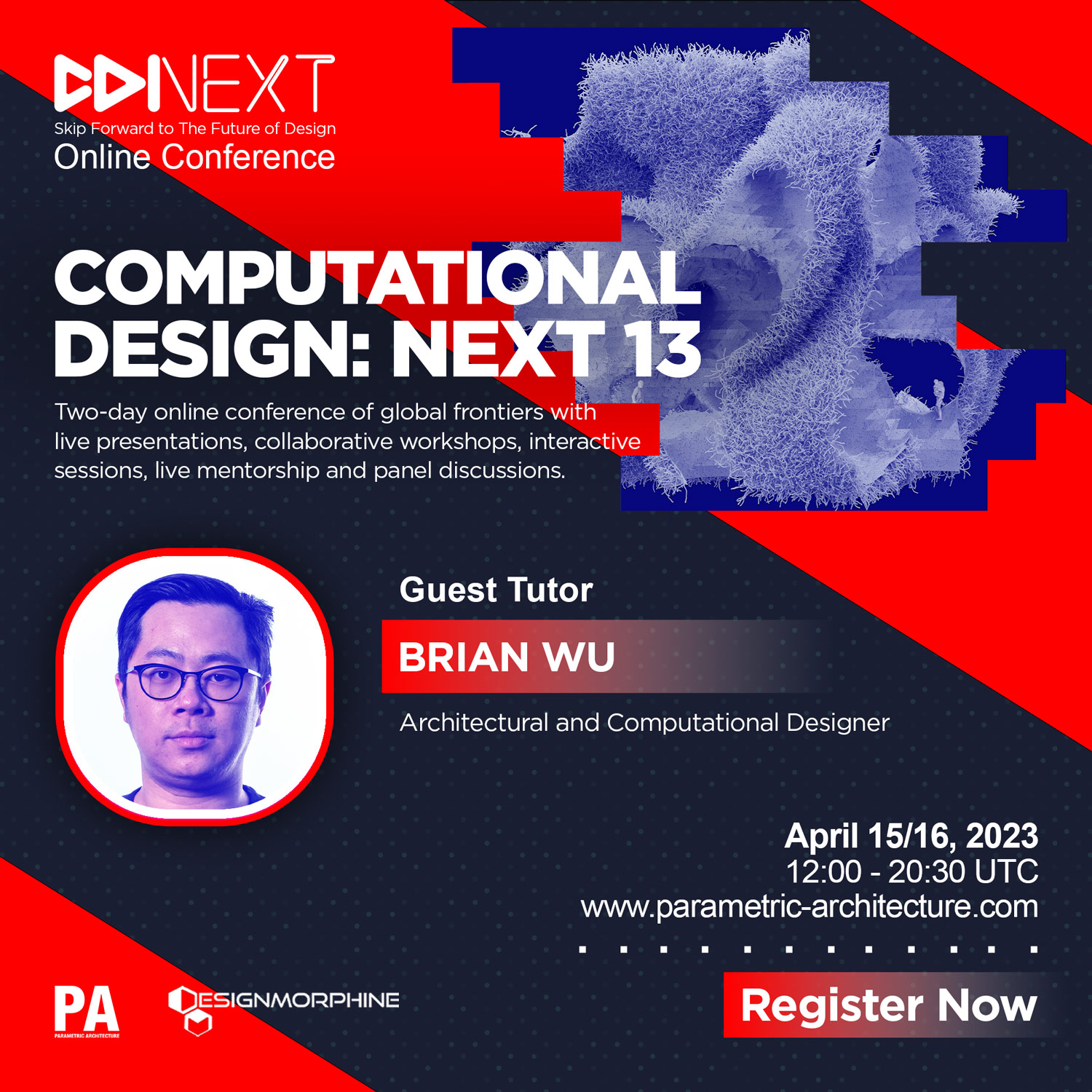 Brian Wu, an accomplished architectural and computational designer, will be leading a 90-minute beginner tutorial on Processing at the upcoming Computational Design: NEXT 13 online conference. With a second postgraduate degree in Architecture from SCI-Arc, Brian has integrated his practical working experience, parametric and computational design skills to tackle complex urban and architectural issues. He is currently employed as an architectural designer at Morphosis, where he participates in various international competitions. Before pursuing higher education overseas, Brian worked for a year at an architectural and construction firm in the UK. He has since spent six years as a freelance architect and interior designer, primarily based in Taiwan. His portfolio includes successful projects in residential, commercial, and machine learning in architecture, where he effectively managed every project phase from early schematic design to completion. Brian has collaborated with other architectural and interior firms, including the international company Autodesk, to deliver outstanding results.
Benedikt Boschert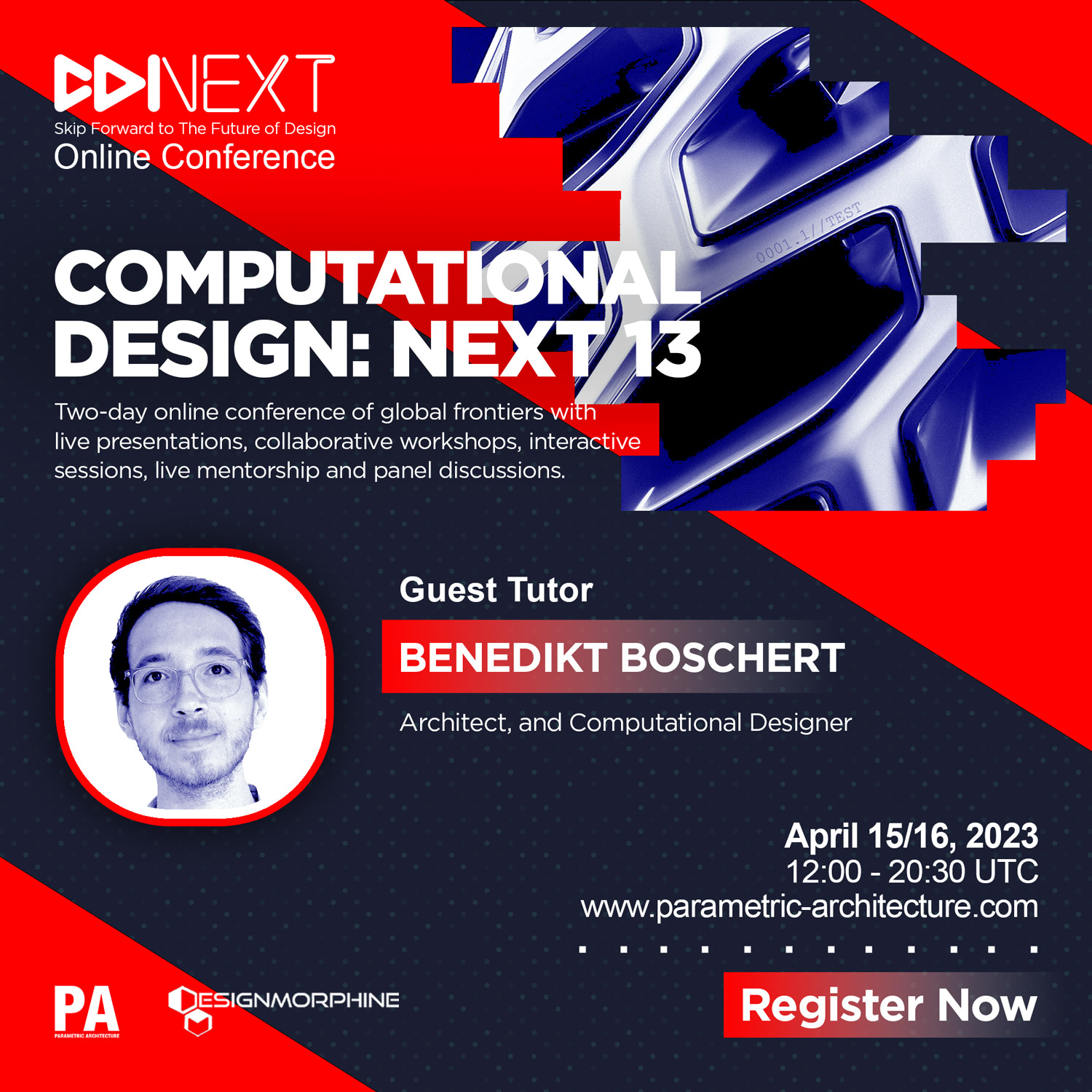 Benedikt Boschert, an architect, and a computational designer will be delivering a 90-minute-long exciting tutorial at the upcoming Computational Design: NEXT 13 online conference. Benedikt studied architecture at the Koblenz University of Applied Sciences, where he also worked as a research assistant in the field of digital design in architecture. During and after his studies Benedikt worked in several architecture offices like ECHOMAR, Cactus, and GRAFT. Currently, he is an architect at LAVA in Berlin. Personally, he is very interested in working with complex geometries. Through this, he gets inspired by new digital techniques in architecture and design.
Kedar Benjamin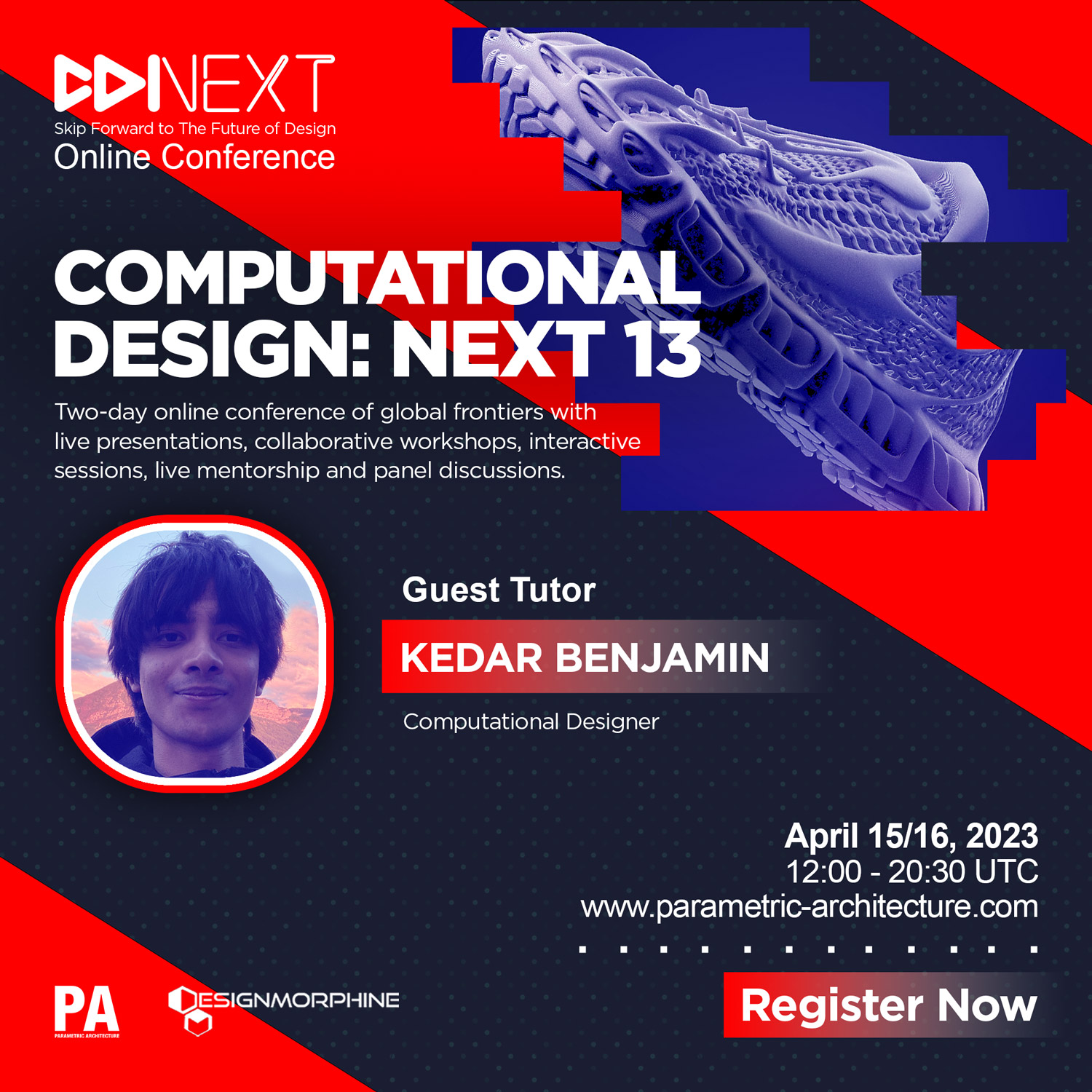 Kedar Benjamin, the computational designer, will teach a workflow involving Blender, Houdini, and Stable Diffusion, in a 90-minute tutorial at the upcoming Computational Design: Next 13 online conference. Kedar is a designer, geometry enjoyed, and AI enthusiast whose work exists in the convergence of computational design and additive manufacturing. He hopes that the future of objects can resemble a historical paradigm when objects were made locally, sustainably, on demand, and customised to the needs of a user or user group.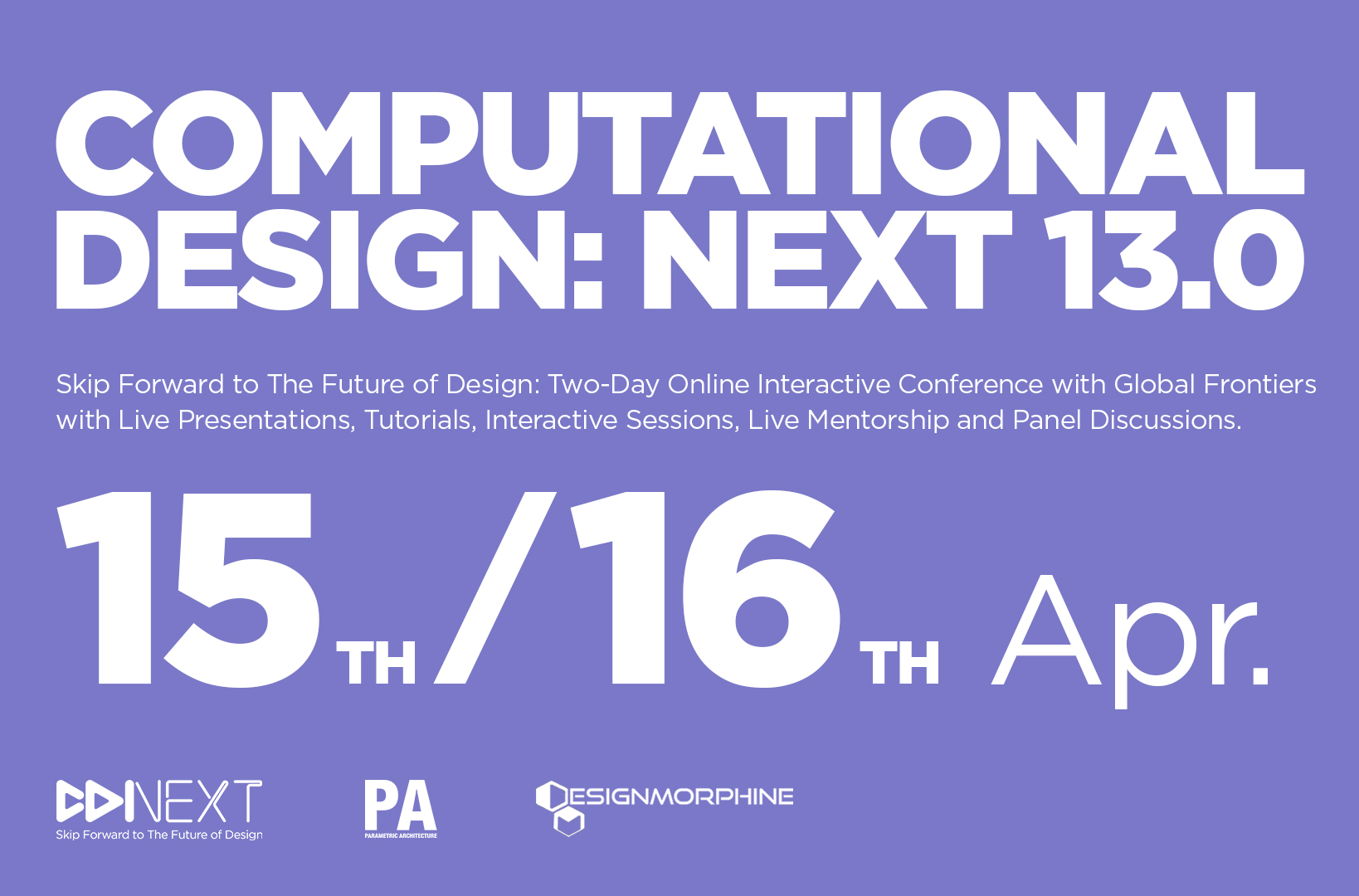 Topic: COMPUTATIONAL DESIGN: NEXT 13
Time: Saturday and Sunday, April 15 – 16, 2023
Day 1 Starts: April 15, 12:00 GMT
Day 1 Ends: April 15, 20:45 GMT
Day 2 Starts: April 16, 12:00 GMT
Day 2 Ends: April 16, 20:45 GMT
Where: Online – Zoom, hosted by PA
Duration: Two Days Conference (18 Hours)
Hosts: Hamid Hassanzadeh, and Michael Pryor
Collaborators: ParametricArchitecture and DesignMorphine
Early-bird Registration: €56 (Till 23:59 GMT, March 15, 2023)
General Registration: €69 (Till 23:59 GMT, April 14, 2023)