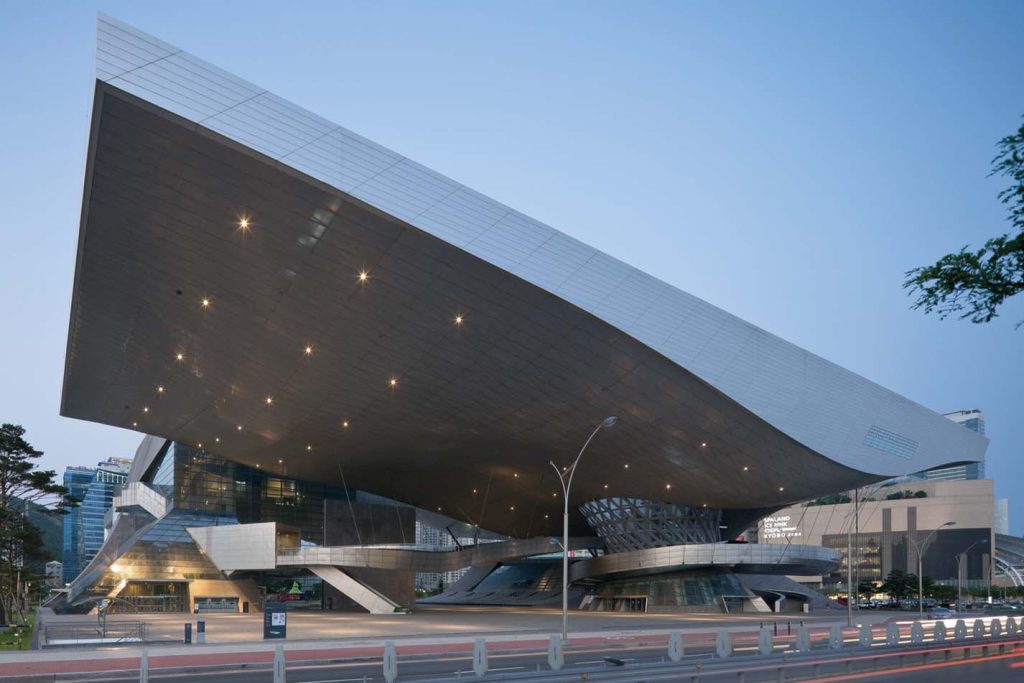 The Busan International Architectural Culture Festival in South Korea held a design competition in 2005 for a new Busan Cinema Center that will host the Busan International Film Festival (BIFF). The unconventional design by Austrian firm Coop Himmelb(l)au won first place, and the building began in late 2008, ending four years later in 2012. The structure was previously awarded the International Architecture Award and the Chicago Athenaeum in 2007, as well as a Guinness World Record for the world's "longest cantilever roof" in such a brief period. The Coop Himmelb(l)au team has effectively realized an architectural idea of a caliber that is rarely seen outside of the drafting board.
The primary concept of this project, as explained by Wolf D. Prix, the firm's Design Principal, was the dialogue related to the overlapping of open and closed spaces, as well as public and private regions. Coop Himmelb(l)au designed the Busan Cinema Center's roofs as a column-free canopy of space that is closest to the concept of a "flying" roof – further distinguished by its spatially articulated ceiling. The Busan Cinema Center's defining iconographic element is the lively LED lighting that covers the wavy ceilings of the outdoor roof canopies. Visual artists can build artistic lighting programs specific to BIFF or Busan Municipality events and display them over the ceiling in kinetic graphics, creating a dynamic urban setting at night but equally visible during the day.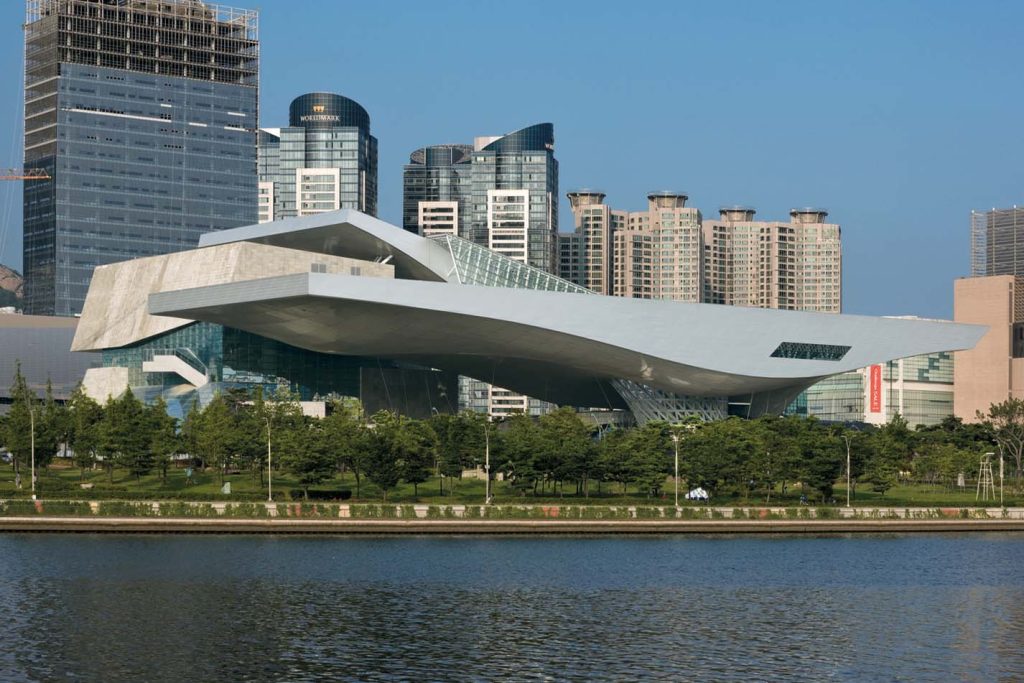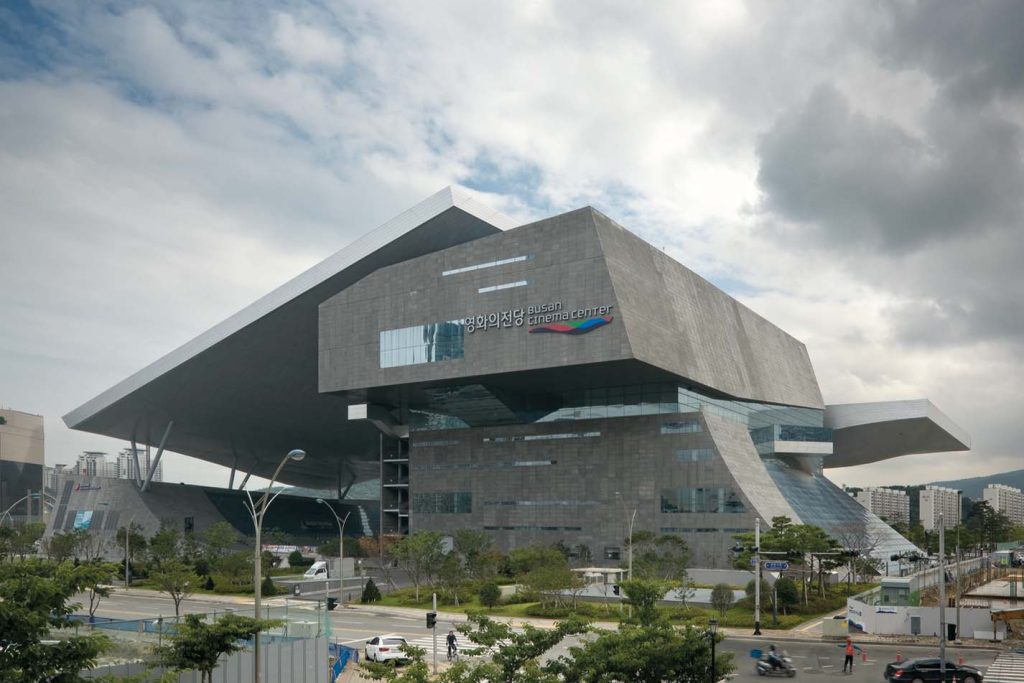 The Double Cone is the symbolic entrance piece to the Busan Cinema Center, connecting the Cinema Mountain and the BIFF Hill. The Double Cone also serves as the sole vertical basis of support for the massive cantilevered roof, operating as a single large column. The Double Cone's lower level houses a public café with seating outside, while the upper level connects to an outstanding restaurant, bar, and lounge beneath the roof volume with views of the APEC park and river beyond. While the movie theatres are located in a mountain-like structure, the public space at the Center is divided into an outdoor cinema and a vast communal space called the Red Carpet Area, which acts as a reception area. Each of the two rooms is protected by a large roof, one of which is 60 x 120 meters (the size of a football pitch) and cantilevers 85 meters.
The Busan Cinema Center is a remarkable example of architectural innovation and artistic quality. The emblematic Double Cone and thoughtfully constructed public places are examples of smart design. The Busan Cinema Center is a model of architectural brilliance and visionary execution.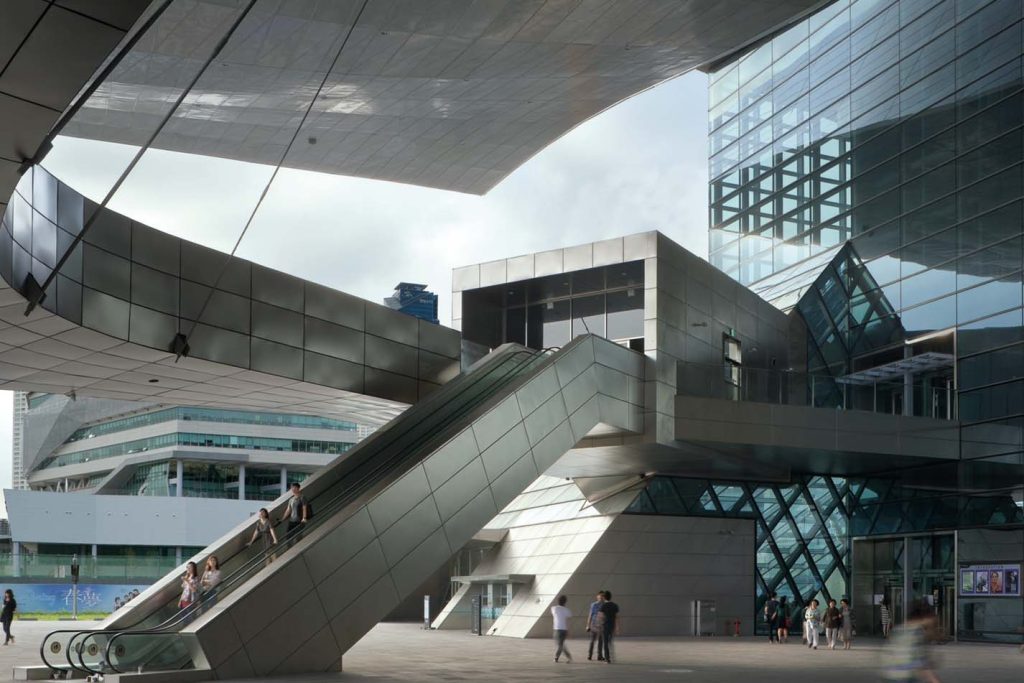 Project Info
Client: Municipality of Busan
User: Busan International Film Festival
Architect + Planning: Coop Himmelb(l)au – Wolf D. Prix / W. Dreibholz & Partner ZT GmbH
Design Principal: Wolf D. Prix
Project Partner: Michael Volk
Design Architects: Martin Oberascher, Jörg Hugo
Project Architect: Günther Weber
Project Team: Markus Baumann, Jan Brosch, Jasmin Dieterle, Sergio Gonzalez, Halstein Guthu, Rob Henderson, Veronica Janovska, , Ivana Jug Matt Kirkham, Jana Kucerova,
Dieter Segerer, Anja Sorger
3D Design: Renate Weissenböck, Jan-Ruben Fischer
Model: Paul Hoszowski, Markus Erhardt, Vincenzo Del Monaco, Johannes Spiesberger, Ernst Stockinger, Hyoung Sub, Marc Werner
Photography: Markus Pillhofer
Competition Team: Burcu Bicer, Etienne Chanpenios, Victoria Coaloa, Monika Heliosch, Rob Henderson, Jörg Hugo, Irakli Itoni, Alex Jackson, Matt Kirkham, Shannon Loew, Mona Marbach, Jens Mehlan, Akvile Rimantaite, Tom Wiscombe
Renderings: Armin Hess/Isochrom
Local Partner: Heerim Architects & Planners, Seoul / Korea
Consultants
Structural Engineering: B+G Ingenieure, Bollinger und Grohmann GmbH Frankfurt / Vienna; Jeon and Partner, Seoul
Mechanical, Electrical Engineering: Arup, Berlin
Lighting Design: Har Hollands, Eindhoven
Wind Studies: Wacker Ingenieure, Birkenfeld
Façade Consulting to CHBL: Face of Building, Oberpullendorf
Theater Consulting to CHBL: Artec, New York / USA
Project data
Site Area: 32,100 sqm
Net Floor Area (interior spaces): 51,067 sqm
Gross Floor Area (interior spaces): 57,981 sqm
Built-up Area: 10,005 sqm (without roofs)