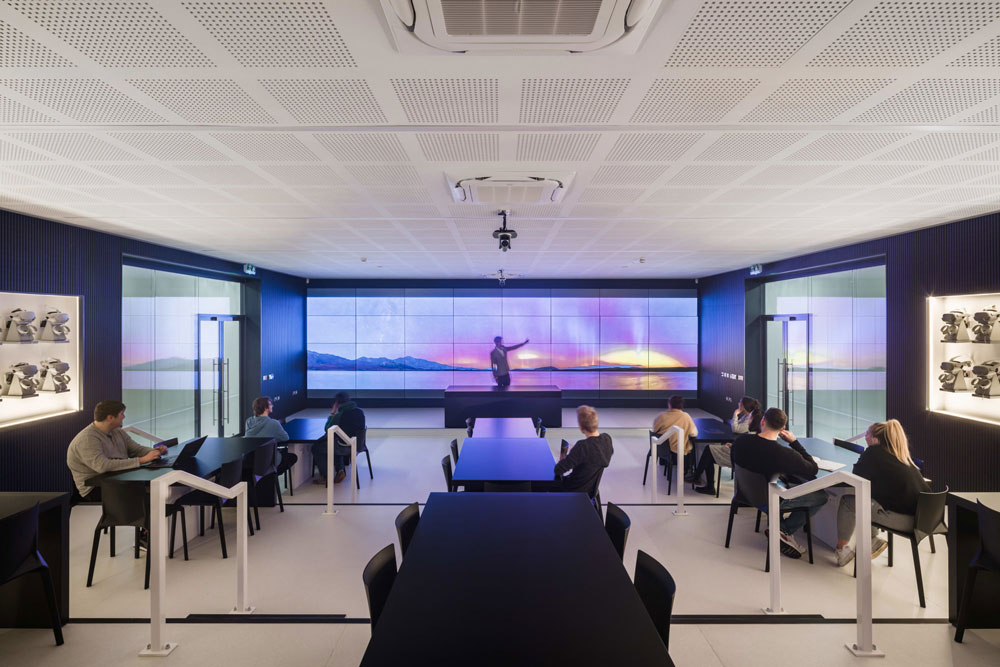 Eastern Colleges Group selected WindsorPatania to design and build the Extended Reality Lab (XR Lab), a cutting-edge teaching venue with four distinct areas: an Immersion Lab, a Collaboration Theatre, a Green Room, and a Conference Room. The project aims to build a cutting-edge educational facility in the East of England that includes AI (Artificial Intelligence), Virtual, Augmented, and Mixed Reality technologies for next-generation teaching and learning.
The outside of Hangar 02 has undergone a dramatic metamorphosis and is now an important component of the entire project. Prior to the renovation, the building had an obsolete light grey finish and a huge entrance that was blocked by a roller shutter. The roller shutter was removed and replaced with a curtain wall as part of substantial remodeling work to improve natural light entry into the hangar.
Pod-Shaped Design for Energy Efficiency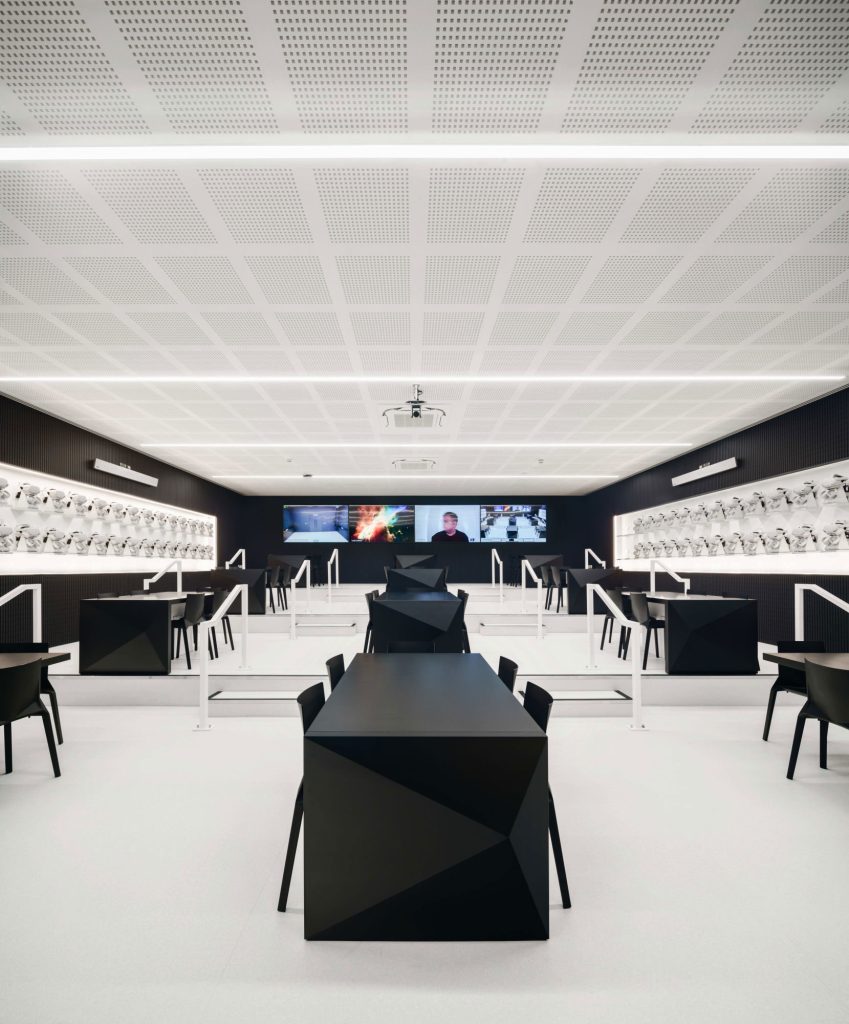 The XR Lab is housed in Hangar 2, one of the 7200 sqm STEM complex's five Hangars. Previously, engineering students utilized this room as a workshop. A pod-shaped design was chosen over utilizing the entire hangar space to encourage energy-saving techniques and to minimize the deployment of construction material. The ability to confine thermal insulation just to the size of the pod, which was regarded as the primary thermal envelope, avoided thermally insulating and thermally regulating the entire hangar.
Polished Plaster
The steel structure of the XR Lab incorporates thermal and acoustic insulation. The outside has a high-spec polished plaster finish, giving it an enigmatic sci-fi presence. A 3D triangular mesh establishes a visual connection with virtual surroundings, resulting in a fascinating and futuristic design that compliments the cutting-edge technology inside the XR Lab.
Students Hub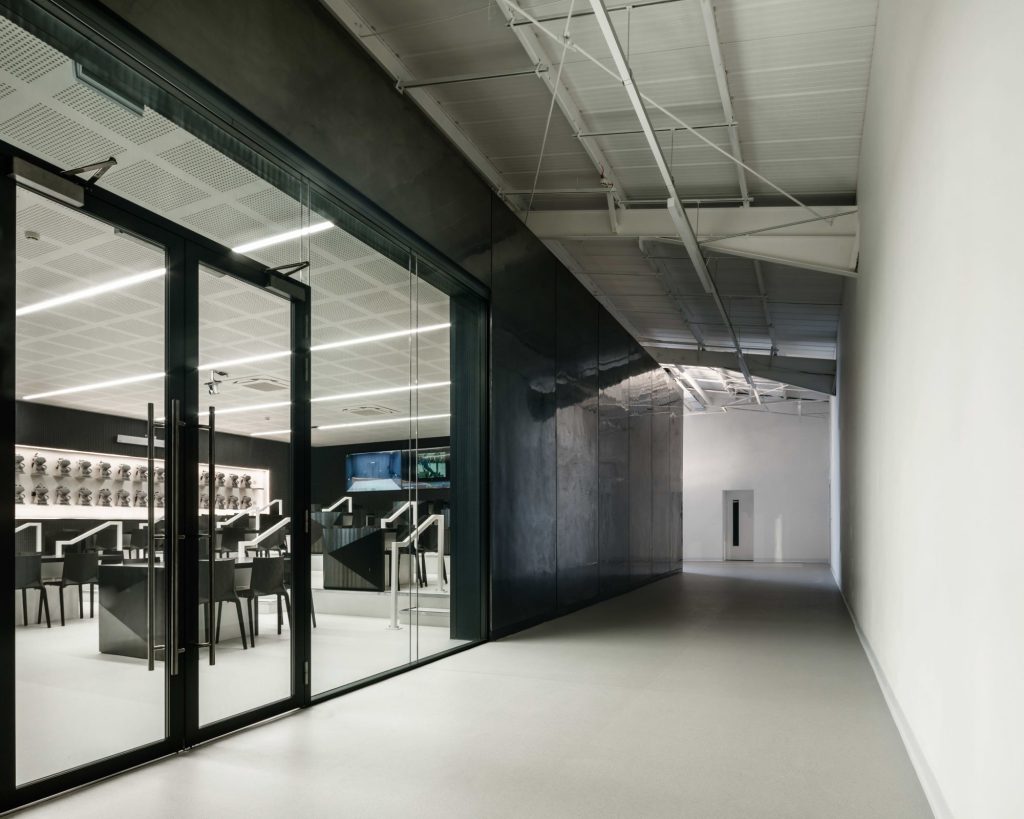 The area around the XR Lab is adaptable and serves as a vibrant hub for students. It not only functions as an exhibition gallery, but it also provides adequate room for social interactions and serves as a student breakout place. The pod's glass walls and open doors provide a glimpse into the activities taking place within, encouraging social interaction and collaboration. Activities catering to different age groups add to the space's adaptability, delivering unique experiences for all. Its dynamic atmosphere promotes teamwork and social interaction, making it a vital component of the STEM complex.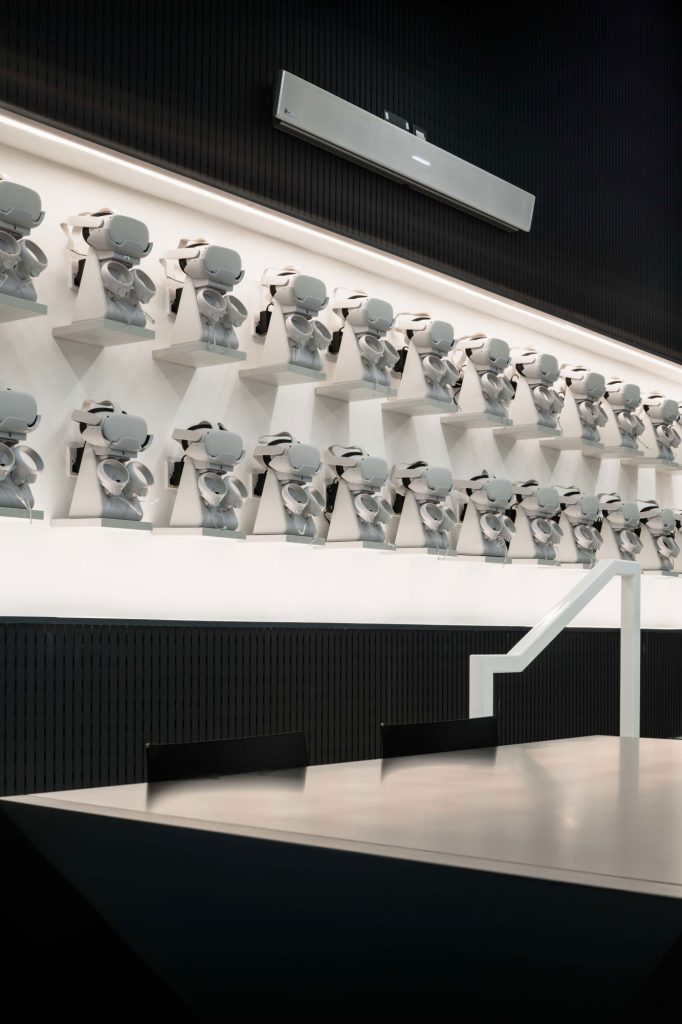 Project Info
Project name: Extended Reality Lab (XR Lab)
Architecture firm: WindsorPatania
Principal architect: Giovanni Patania
Project Location: Suffolk, UK
Built area: 311 sqm
Site area: 722 sqm
Photography: Credit: ©WindsorPatania, Mark Hadden Photography
Visualization: 3DS Max, Vray
Tools used: Microstation
Design team: Giovanni Patania, Fares Issa
Collaborators: Giovanni Patania, Fares Issa
Interior design: WindsorPatania
Design year: 2022
Completion year: 2022
Landscape: N/A
Civil engineer: N/A
Structural engineer: Gawn Associates
Environmental & MEP engineering: G&G Design Services
Lighting: PHOS, Commercial Lighting
Construction: Coulson Building Group
Supervision: Fusion Project Management
Materials: Polish Paster, Steel Structure
Client: Eastern Colleges Group
Status: Completed
Typology: Education Facilities
Key Supplier Links:
Contractor: Coulson Building Group
Sustainable Polished Plaster: Armourcoat
Architectural Lighting: Phos
Lighting Design: Commercial Lighting
Acoustic Ceiling: Gyptone
Flooring: Forbo
Acoustics: Stil Acoustics