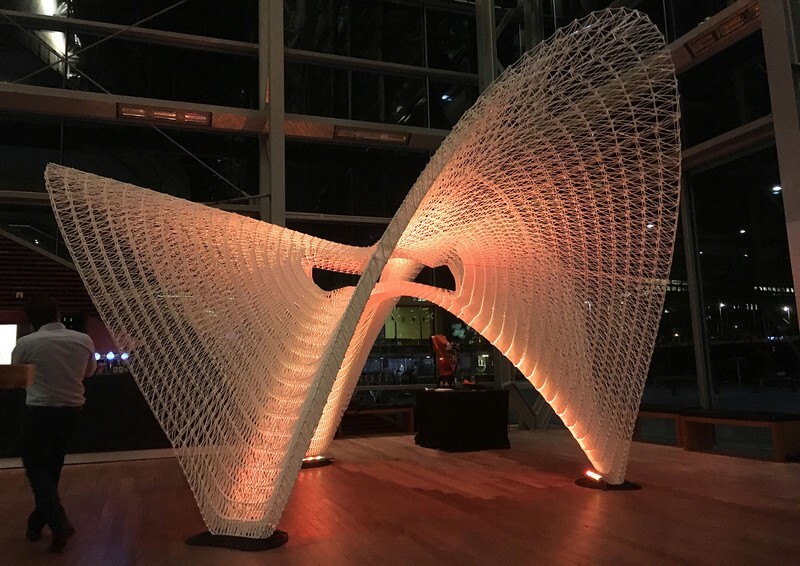 The London-based Artificial Intelligence and robotic 3D printer Developer firm Ai Build integrate robotic systems in the world of 3D Printing to enable large-scale 3D Printing with precision and finesse. The firm was awarded a 3D Printing Industry Award in the '3D Printing startup of the year' category in 2018.
Ai Build's Journey
In 2015, Ai Build started their innovative practice of collaborating robotic systems in 3D Printing and later launched Ai Build Bundle for its autonomous additive manufacturing. It was an amalgamation of AiSync, its cloud-based software song with the Ai Maker, the robotic extruder, and Ai Cell which is the enclosure for Ai Maker. Ai Maker is a 'smart' extruder that can be used as a robotic arm whereas AiSync helps in keeping the temperature of the build area consistent for a smooth flow in work. Ai Sync is used for the extruder and collecting feedback. The technology is such that an entire fleet of Ai Makers can be managed with the help of the Ai Sync from anywhere around the world, making this a highly efficient asset in the world of 3D Printing. 
"Even though 3D printing has come a long way, it is still extremely difficult to produce large, complex parts with the consistency required by the manufacturing industry," said Ai Build C-founder and CEO, Daghan Cam.
He continues, "At present, parts that only take a few hours of printing time, take manufacturers weeks or months to prepare. Lack of automation is the barrier." (3D Printing Industry)
Ai Build unique and futuristic take on amalgamating Artificial Intelligence in the world of the 3D Printing industry, soon gave them a partnership with the Dubai Based 3D printing service known as 3DVinci Creations. This was for dIstributing their Factory-as-a-service subscription bundle all across the UAE. Since then, Ai Build has only increased their outreach by making improvements in their platform by upgrading their Ai Maker's build size and another 3D Vision scope. In 2019, the company made a partnership with Hans Weber Maschinenfabrik, a German Industrial equipment supplier who used their technology in his large-scale extrusion system.
Raising $1 Million for commercialization of Ai Sync
Later, the company even raised $1 Million to accelerate its commercialization for the Ai Sync Platform. With collaborations from the venture capital firm SuperSeed and William Tunstall Pede, the inventor behind Alexa's Voice Assistant. With this Ai Build is envisioning growing its outreach to a global tier-one manufacturer in the domains of aerospace and automotive systems.
"Daghan and his team at AI Build are already doing business with some of the world's leading automotive and industrial companies, but this is just the first step of what they can do," said Mads Jensen, Managing Partner at SuperSeed.
He further adds, "Additive manufacturing has the potential to change how things are made, and as the technology matures, there is an ever-growing demand for automating and optimizing the process. Ai Build is well-positioned to capitalize on this opportunity based on the more than five years of R&D that has gone into the platform. (3D Printing Industry)
Ai Build's unique technology is rapidly adopted by multiple manufacturers in a wide range of sectors from automotive, defense to aerospace with collaborations like Formula One, GKN Aerospace, Rolls Royce, etc.
Projects by Ai Build
Daedalus Pavilion
Exhibited by GPU Technology Conference held in Amsterdam, this pavilion is a five-meter high and 4.5 meters in height structure constructed by the Ai Maker from Ai Build.
Its design finesse lets it create an intricate pattern with a rapid speed with 48 pieces created in just two weeks rather than the average of a month which a generic printer would take.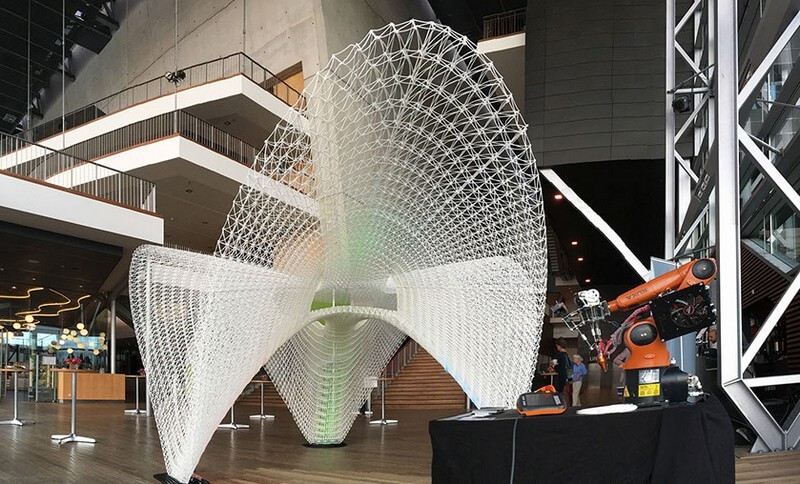 "The main innovation was to create a feedback loop for fabrication. It's not blind, it can see what it's printing and adapt to conditions," he adds. "If there's a mistake it can adapt the next layer to compensate by using advanced computer vision algorithms to detect how the printing is going." (Forbes)
Bottletop: A London based flagship store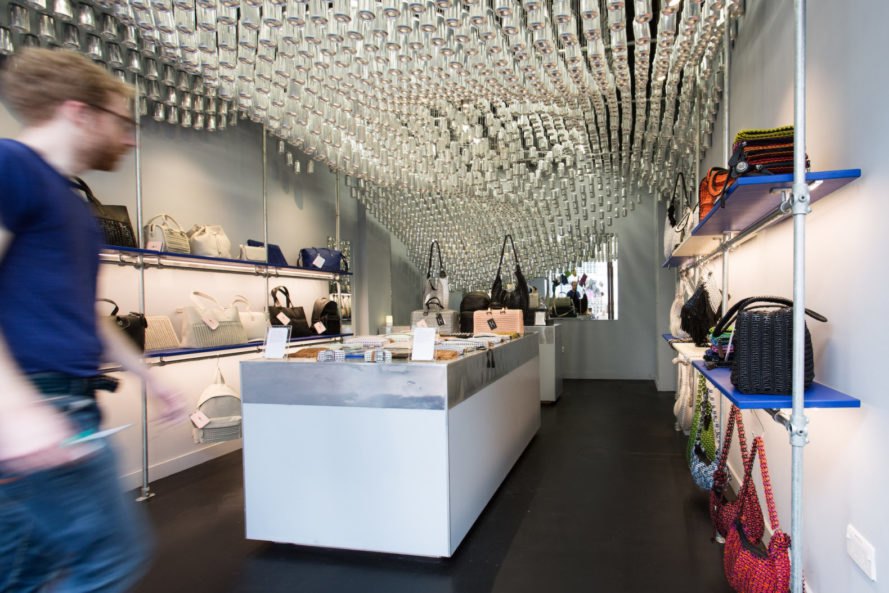 The Luxury Label Bottletop collaborated with Ai Build and Krause Architects to create an ecological design store in London's shopping go-to Regent street. The shop is the world's first zero-waste store design and uses waste plastic. The store envisions targeting a broader positive ecosystem.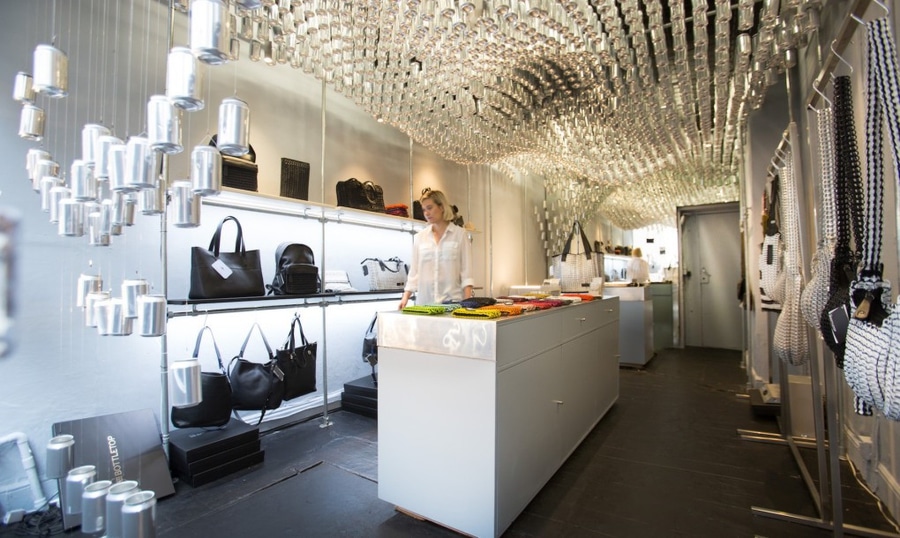 "For the first time, visitors to our store will be able to witness the sustainable use of this technology first hand while shopping the Bottletop collection and learning about the mission of the brand," notes co-founder Oliver Wyman. (Wonderland Magazine)
About the Founders
Michail Desyllas
The co-founder and COO of Ai Build Desyllas is a trained architect who has previously worked with Zaha Hadid Architects since 2012 as a Project Associate and Lead Designer. He was involved in various international projects on a varied scale from aviation to cultural centers to product design.
"Build Different, Build Smart, Build Autonomously", says Michail Desyllas, CEO of Ai Build.
Daghan Cam
The Co-founder and CEO of Ai Build Cam share a common vision to make manufacturing easy, sustainable, smart as well as affordable.
"This saves time and, as a result, it saves money – so 3D printing at large scale becomes feasible," says Daghan Cam, CEO of Ai Build. (Wired)
About the Series
ParametricArchitecture in this series explores global 3D Printing organizations and firms that are building the future of computational design most astoundingly and innovatively. From ICON to WASP, AI SpaceFactory, Nagami Design, and much more. Stay Tuned!
About the ParametricArchitecture
Parametric Architecture is a reputed publishing platform that has taken an innovative approach to reach and inspire our thoughts of a future, where we design to co-exist in functional, productive, and comfortable surroundings. PA is a media company that researches art, architecture, and design that are visualized through computational, parametric, and digital design paradigms. These tools define and distinctly delineate how a system interacts in a coded language that will lead to envisage better environments for a better tomorrow.