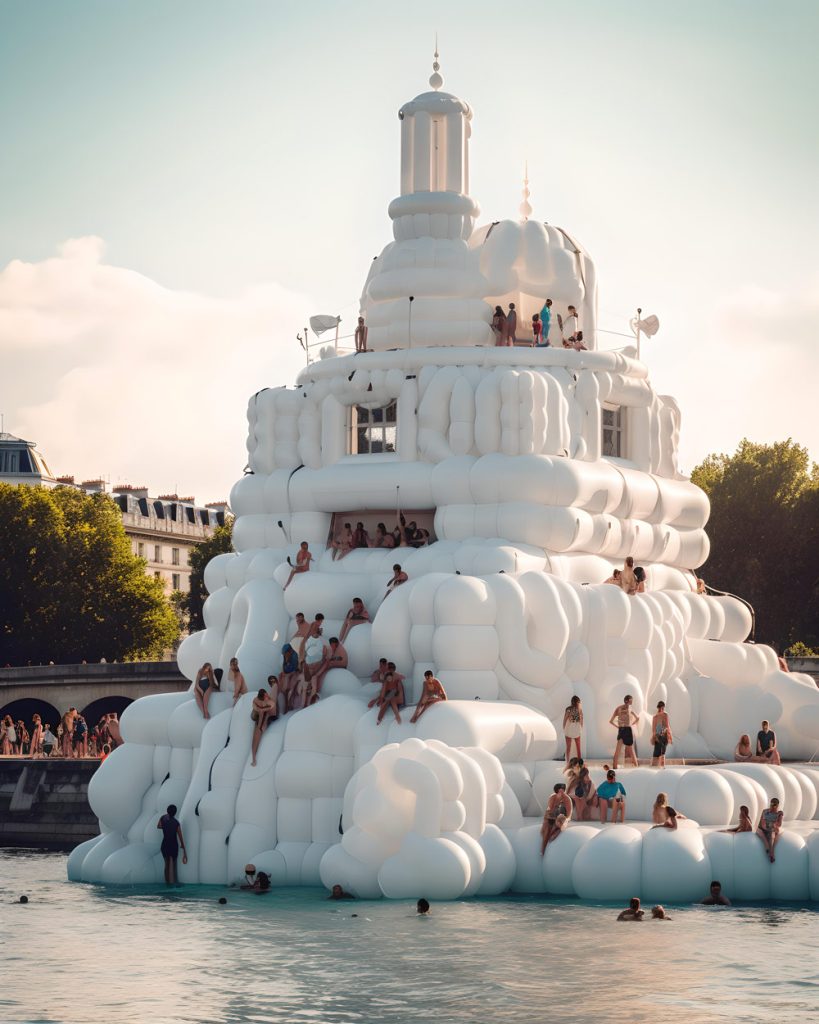 For over 200 years, inflatable objects have fascinated architects, artists, and designers with their seemingly simple yet playful and sometimes bizarre technology. Today, many artists, architects, and engineers continue to experiment with inflatable architecture, pushing boundaries and creating awe-inspiring and delightful spaces. The ephemeral and organic nature of inflatable architecture has inspired these creators to develop installations and spaces that transform with place and time, adding to the wonder and charm of these unique structures.
Designers still find experimental inflatable architecture to be a useful tool for exploring modern social issues and pushing the boundaries of form and space. In fact, this type of architecture is now inspiring AI artists as well.
Here are seven cool AI-generated inflatable architecture designs.
Floating Fantasies by Ulises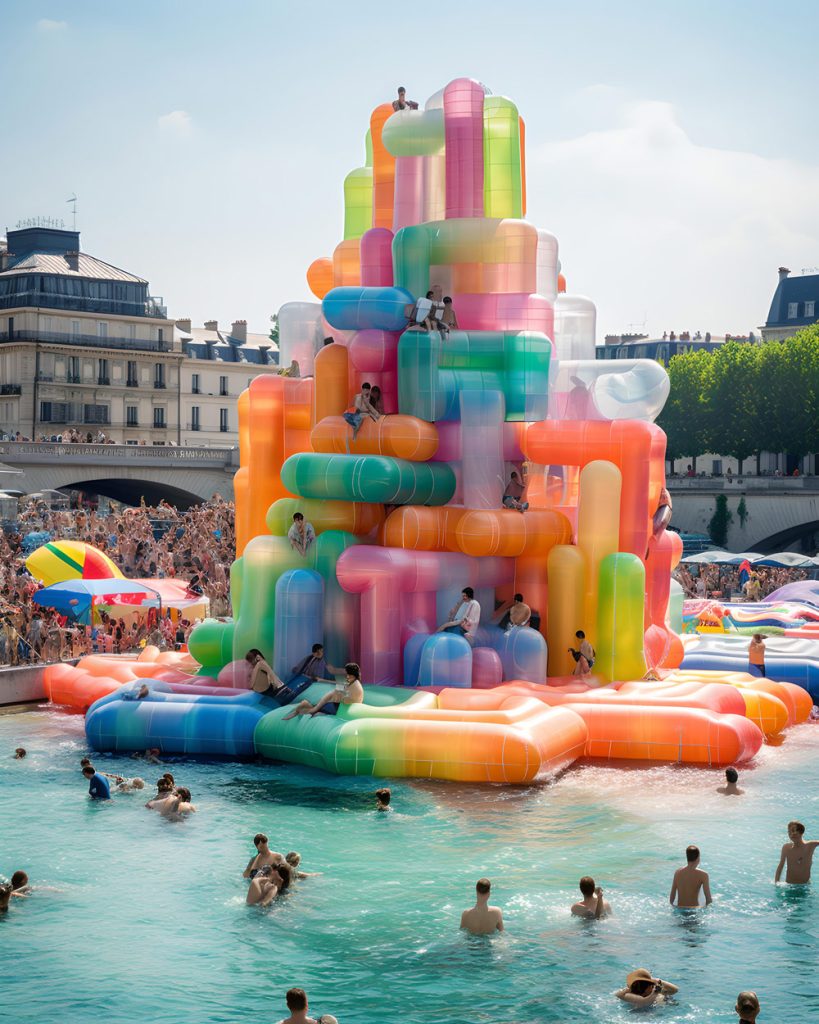 Floating Fantasies, the latest project of Ulises, the Berlin-based digital design studio, is a beautiful and poetic exploration of the power of art to transform public spaces. Floating Fantasies is a series of images generated with Midjourney that include giant inflatable constructions floating in the Seine River in Paris, inspired by the innocence of bouncy castles. The installations are made of recycled plastic, emphasizing the project's eco-friendliness and sustainability.
Inflatable Wonders by Joann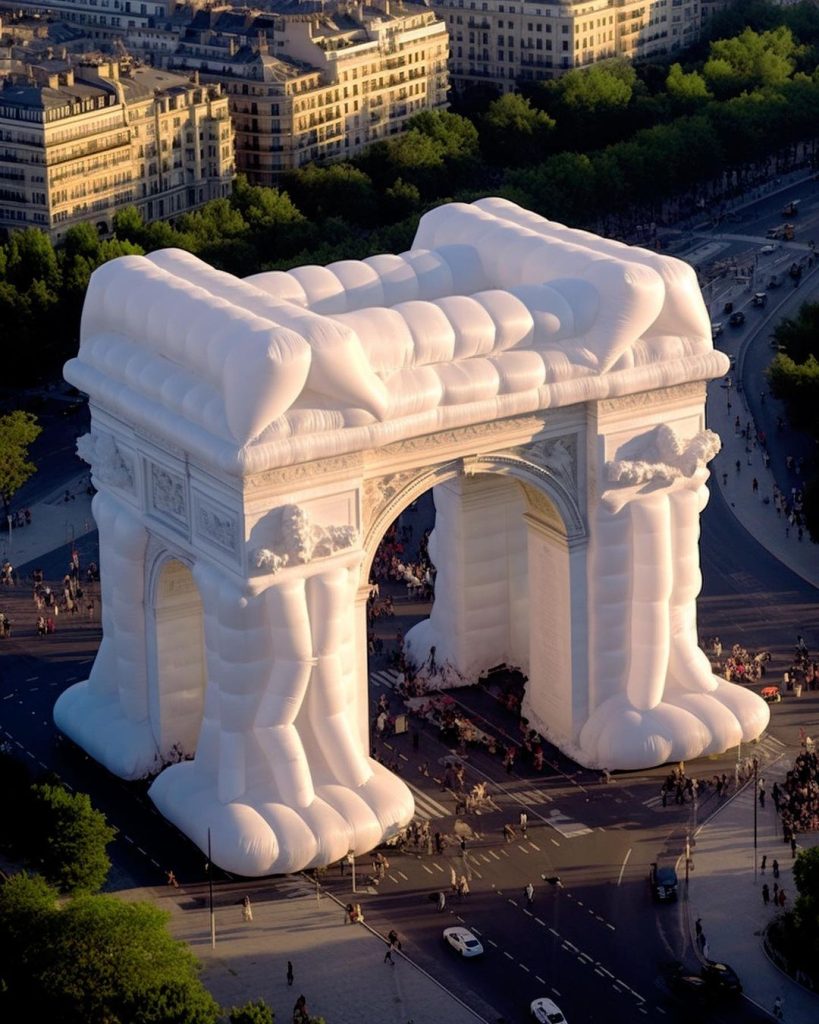 Joann, an artist specializing in Artificial Intelligence, has created a unique series of images titled "Inflatable Wonders" on Instagram. The artwork showcases renowned landmarks made entirely of inflatable material, such as the Eiffel Tower, the Roman Colosseum, Stonehenge, the Pyramid, the Leaning Tower of Pisa, and Christ the Redeemer.
Sliding straight into bed by Carlos Banon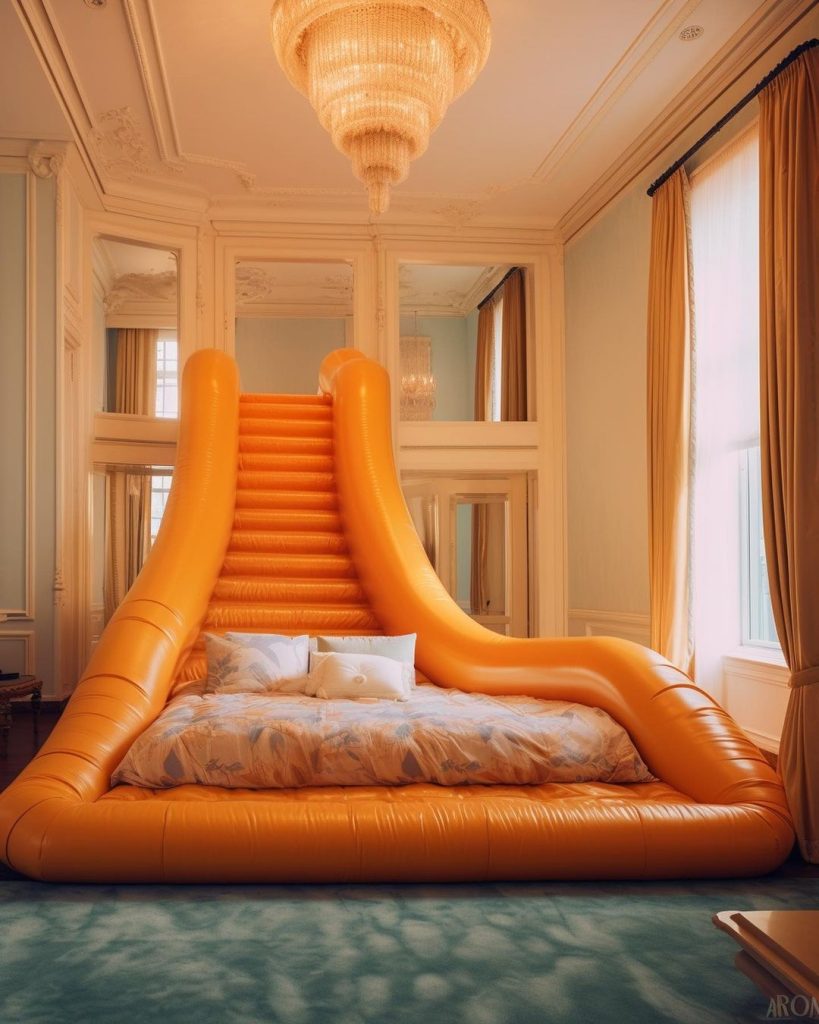 Carlos Banon's designs are characterized by vibrant and imaginative interiors. Each space is a visual feast, featuring playful balloon-shaped stairs, beds, and furniture. Banon is an artist who champions unconventional, creative processes, where chance occurrences lead to unexpected outcomes and fresh perspectives. He notes that partnering with Midjourney has expanded his design horizons, enabling him to work seamlessly and collaboratively with his team. Working with this platform is akin to having a second self, and it has opened up new dimensions in his design workflow.
Great Wall by Ahmet Eren Keskin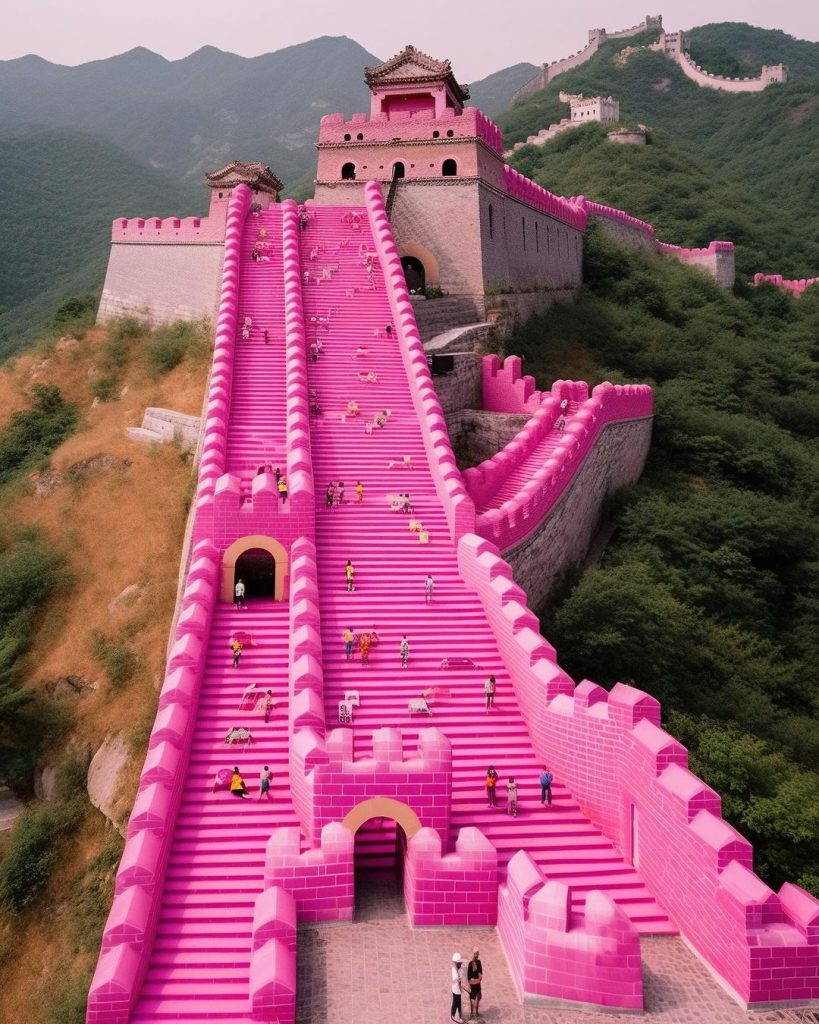 The designer, Ahmet Eren Keskin, created a stunning piece of art with his magnificent inflatable pink stairs and sliders. The way they weave around the historic building is truly a sight to behold. The playfulness of the pink color contrasts beautifully with the building's old-world charm, creating a striking blend of past and present.
Haveli love by Hajar Ali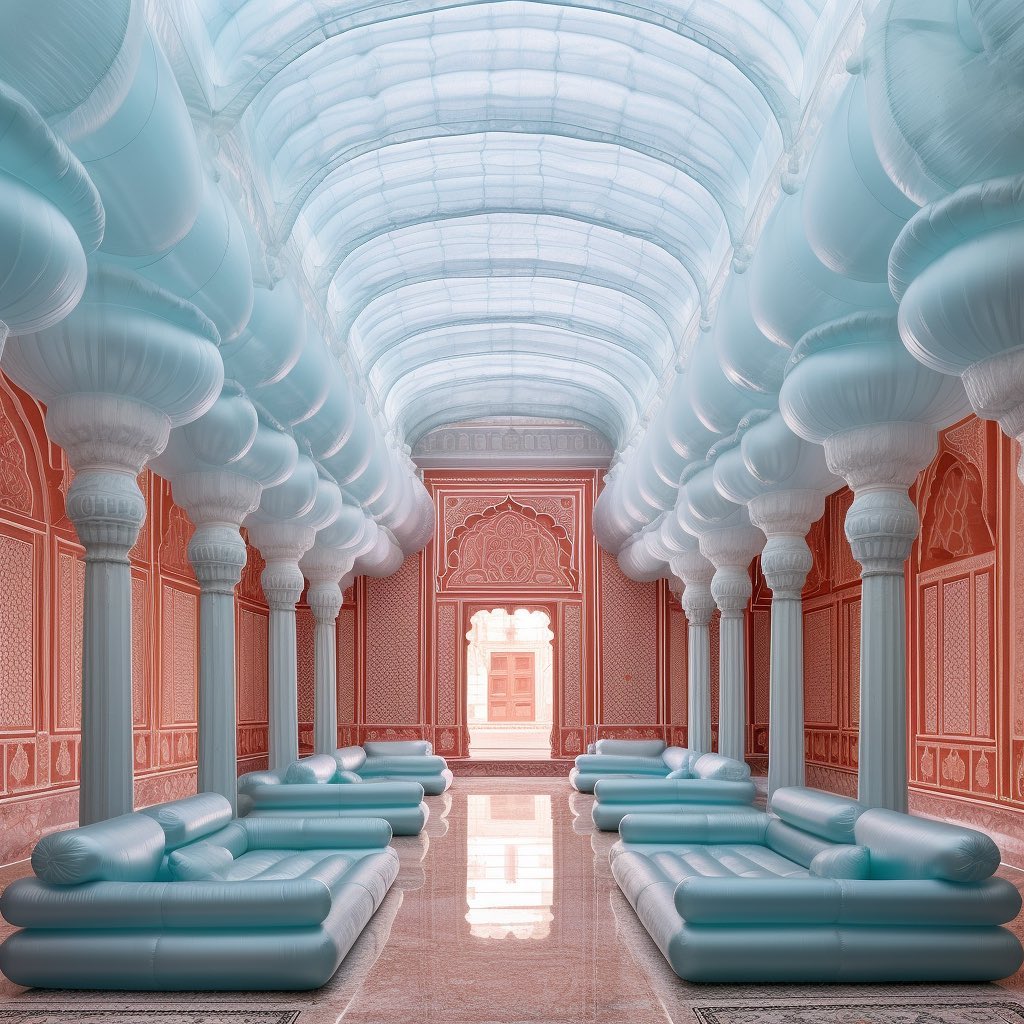 Hajar Ali has created fascinating designs featuring historic buildings and their surroundings, all made with inflated balloons. The mind-blowing sculptures were crafted using Midjourney. Notably, Hajar Ali holds the distinction of being the first recorded woman to cross the Rub' al Khali, the "Empty Quarter" of the Arabian Peninsula. Hajar Ali believes that our experiences are often filtered through screens, keeping us at a safe distance and presenting a narrative that may be propagandistic in nature.
Vertical Playgrounds by Shail Patel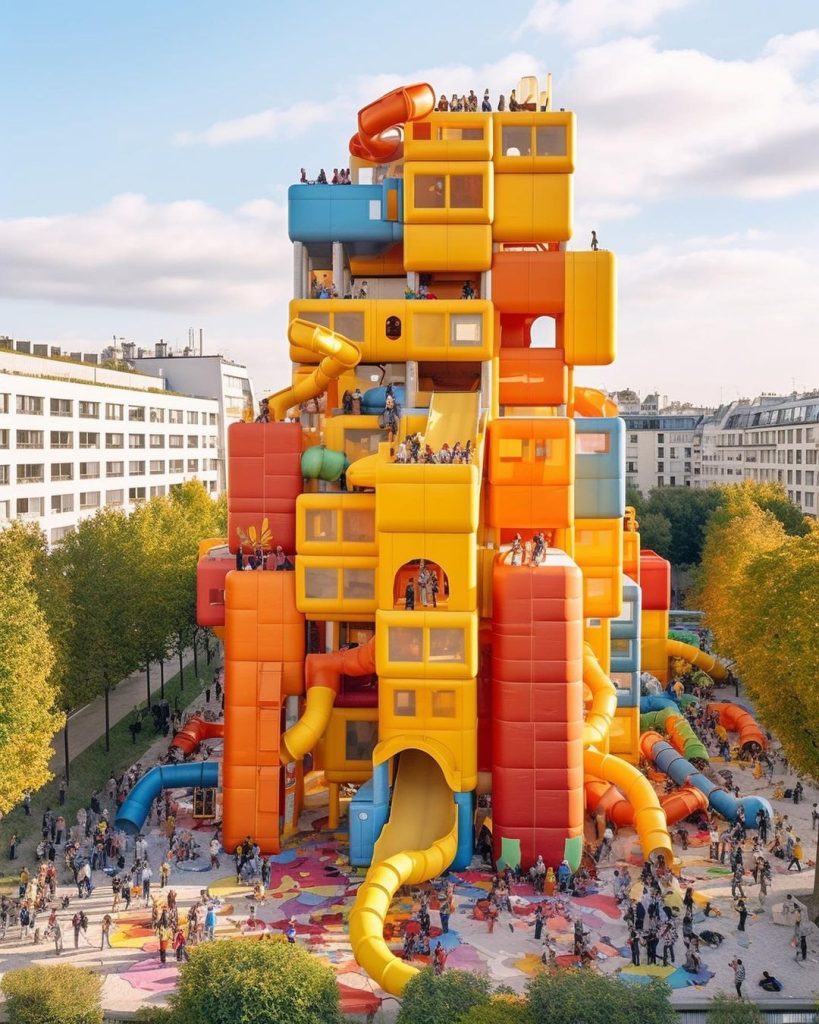 A huge colorful playground welcomes us in Shail Patel's "Vertical Playground" work. Shail, an advocate for integrating AI in the field of architecture, consistently challenges the limits of what can be achieved. He has delved into the innovative uses of Artificial Intelligence (AI) in diverse areas, such as art, fashion, architecture, automobiles, and retail. The vibrant colors and unique design make it a one-of-a-kind playground that kids and adults alike will love.
Waterside Fun by Ken Kelleher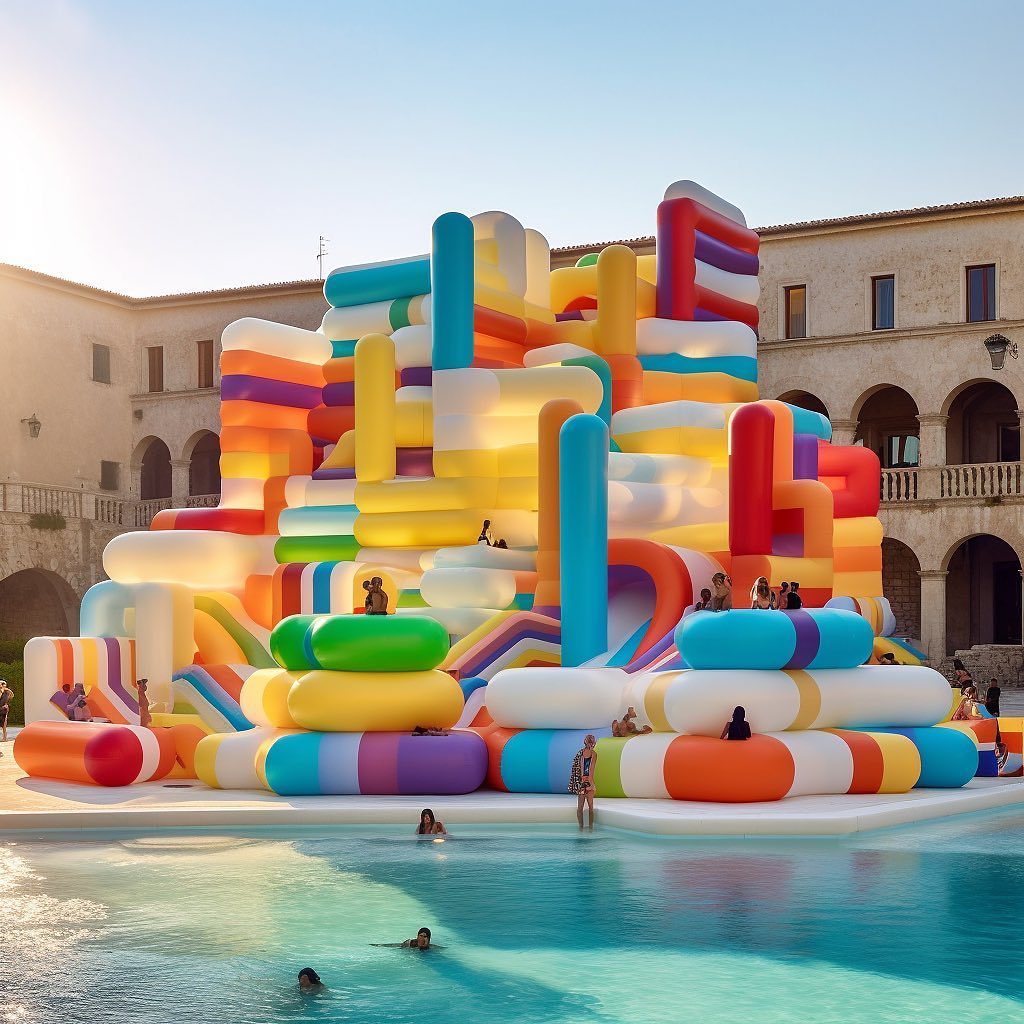 Ken Kelleher's designs are reminiscent of vibrant, colossal inflatable playgrounds. According to Ken, his work can initiate a conversation about the essence of creation. His designs' presence in space engages the audience and adds meaning to an otherwise random setting. Ken's designs are purposeful and a result of intelligent thought. Ken believes sculpture is a continuous exchange between elements such as material, form, substance, light/shadow, time/space, and content. The sculpture is an embodiment of curiosity manifested in three dimensions, with the added dimensions of time and imagination. It's intriguing to ponder when a shape or form exists not only in the physical world but also in the viewer's imagination.