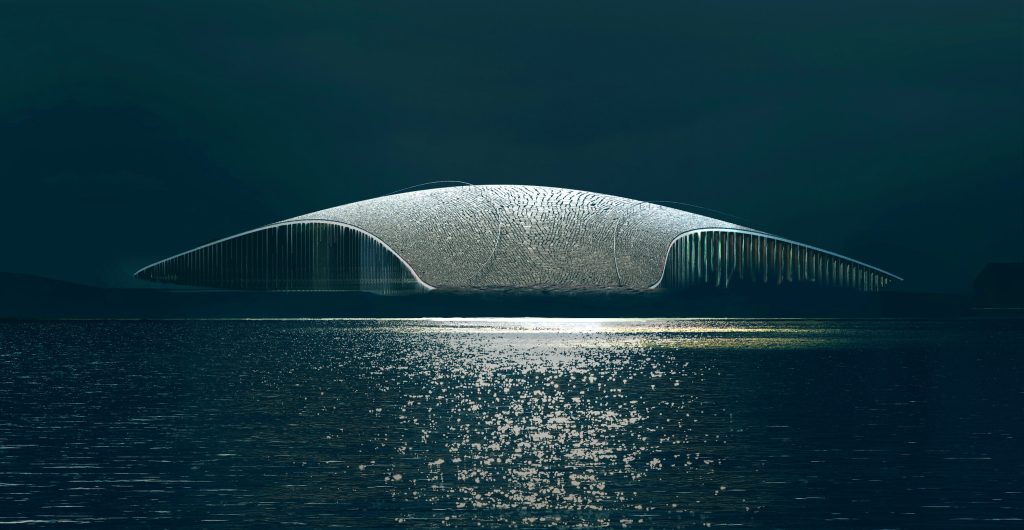 The Whale is currently under construction 300 kilometers north of the Arctic Circle in northern Norway and was designed by the Danish architecture studio, Dorte Mandrup, after winning an international competition. This competition to create a new attraction on the island of Andya in Northern Norway has been won by Dorte Mandrup A/S, along with Marianne Levinsen Landskab, JAC Studios, Thornton Tomasetti, Nilsien, and Anders Kold. This is one of the best spots in the world for whale watching, and the new structure, The Whale, will convey the story of this legendary creature through art, science, and design.
The Whale is not a typical art gallery, natural history museum, or wildlife preserve. Also, it cannot be regarded as a research institute or a knowledge hub, but it mixes the greatest elements from all these establishments to create something entirely unique. Children, teenagers, and adults can learn interesting new things at The Whale, where the greatest achievements of science and art merge. At the same time, there are also spaces for experience, contemplation, fresh knowledge, and old wisdom.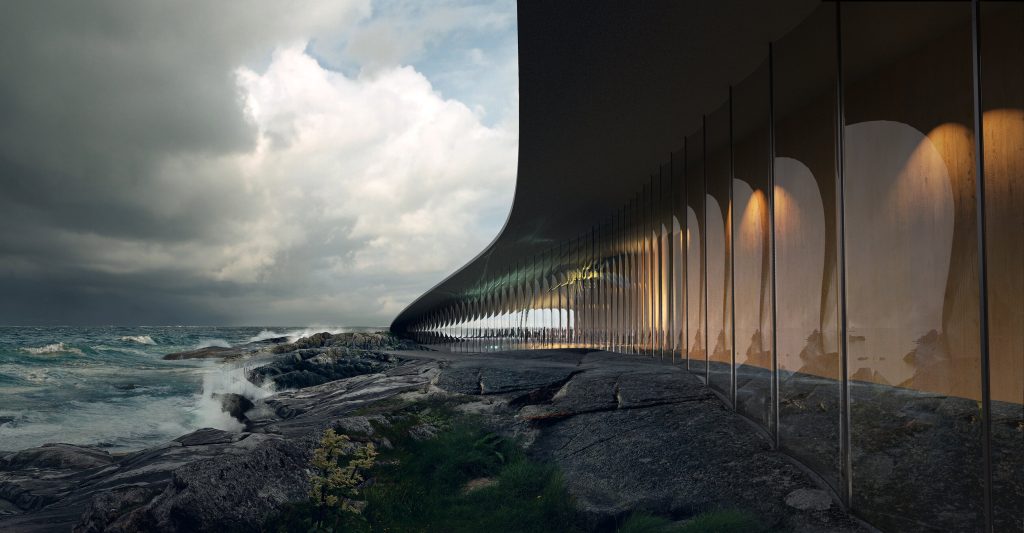 "The Whale" was designed for a unique setting and intended to be an extension of the natural site, physically rising like a hill and creating cavities beneath it. The building, when viewed as an experience in and of itself, provides a variety of perspectives. The surrounding landscape served as the initial catalyst for the Danish architecture studio's idea of a parabolic-shaped roof. Even the natural boundary of the land is mimicked by the curved, stone-covered roof. By adding a complementary purpose, the structure reflects the surroundings while simultaneously enhancing them.
The surrounding scenery greatly influenced the building's design. Three high points on the site influence the roof's parabolic shape, while the ground beneath it provides guidance for the foundation. A visual connection is made between the exhibition spaces and the extensive natural surroundings thanks to the large windows that open toward the archipelago, which emphasize the relationship between the landscape and the building.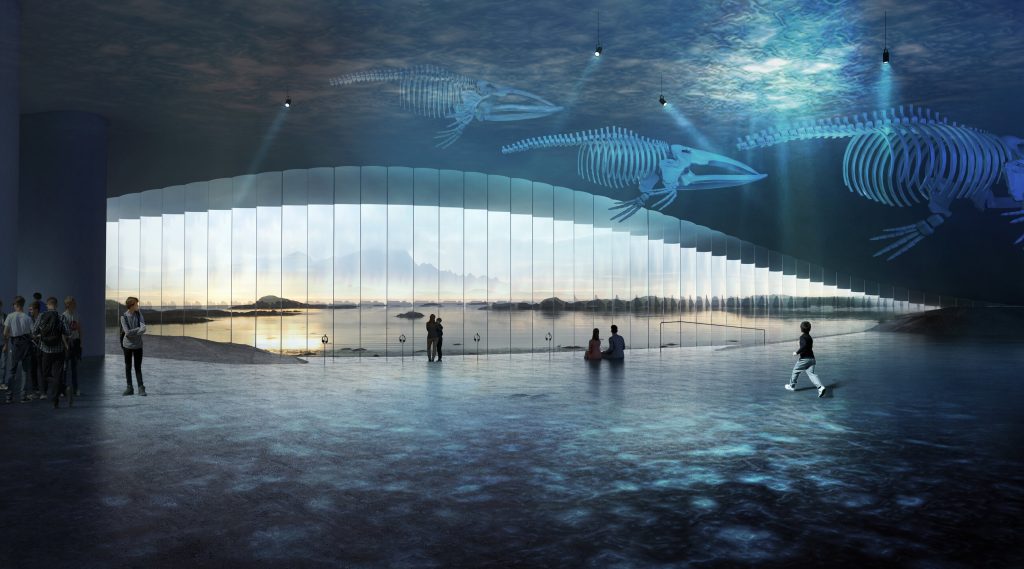 Inside The Whale, a wide space naturally opens up towards the mountains and the sea. A lengthy panoramic view of the mountains and archipelago provides a clear visual connection between the environment and the exhibition, which is enhanced by the rocks that repeatedly enter the structure. A dialogue between whales and humans, as well as nature and culture, is curated through the exhibition. A meticulously designed network of paths, platforms, and viewpoints around the attraction highlights the surrounding countryside. The building will feature exhibition spaces, offices, a café, and a store.
A trip to The Whale will be a beautiful study of various underwater and terrestrial universes through art and science, inspired by the journey of the whales around the world. A journey where borders are not drawn by culture or nationality. Through this innovative structure, Dorte Mandrup proposes an approach that effectively connects the waterfront with the ambitious objective of protecting the maritime ecosystem and its wildlife.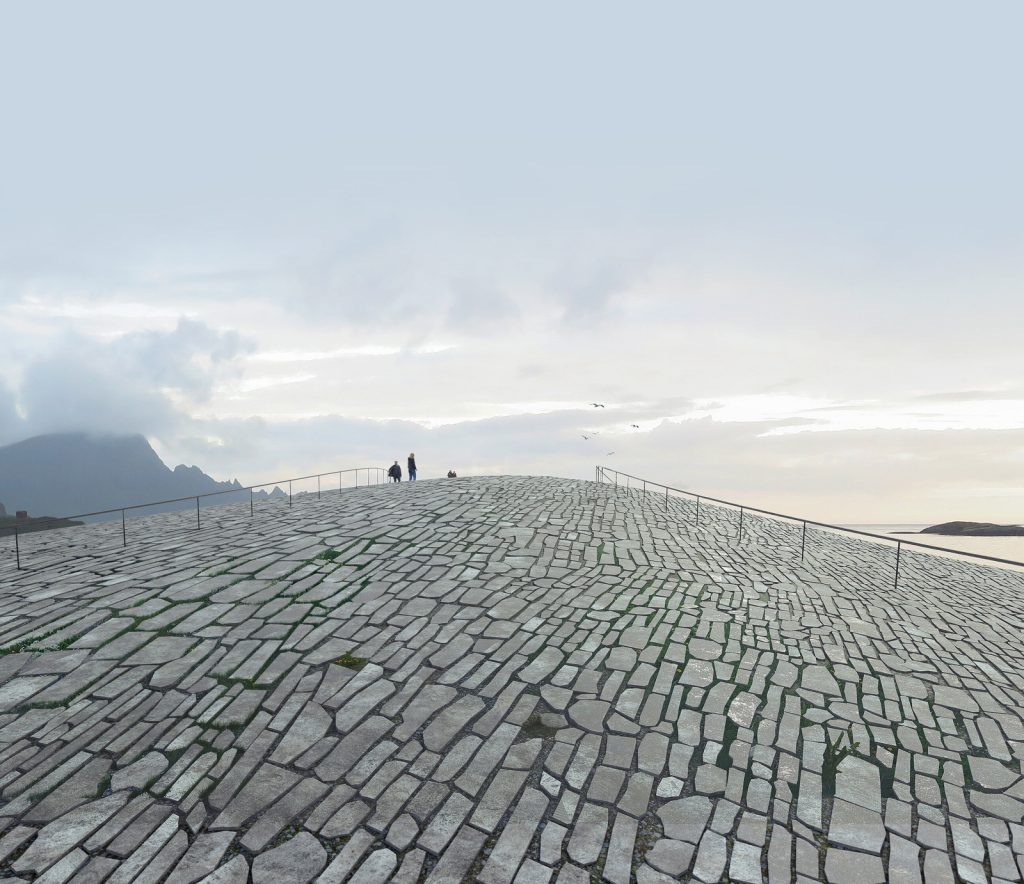 Project Info
Project name: The Whale
Client: The Whale AS
Typology: Cultural Building
Location: Andenes, Norway
Gross floor area: 4500 sqm
Completion: Expected 2023
Architect: Dorte Mandrup A/S
Landscape Architect: Marianne Levinsen Landskab
Exhibition Design: JAC Studio
Engineering: Thornton Tomasetti
Art Consultant: Anders Kold
Whale researcher: Nils Øien