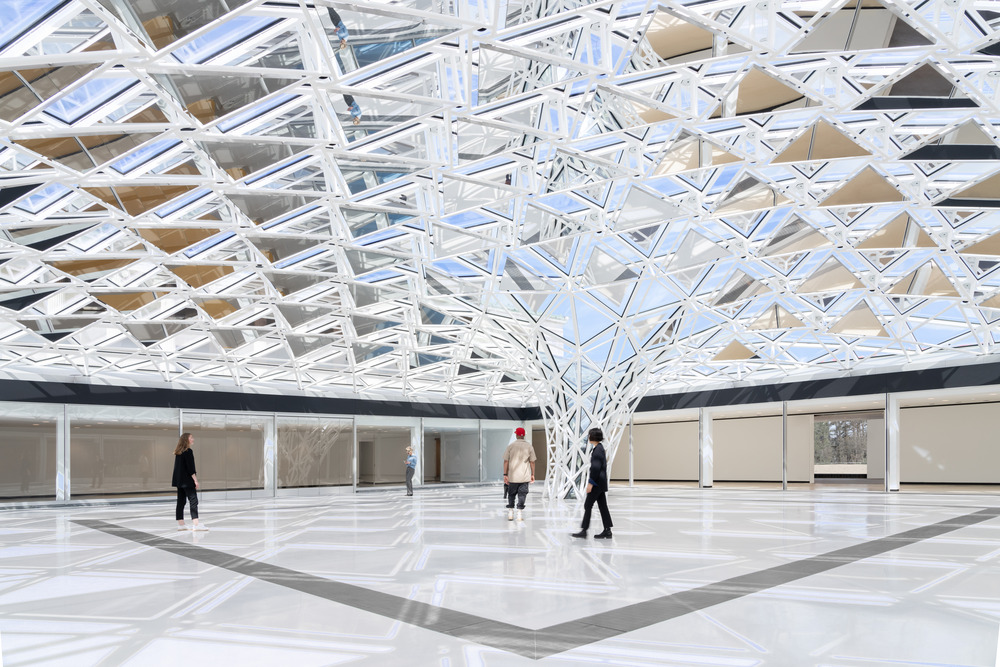 Common Sky, a canopy of glass and mirrors enveloping the courtyard of the Seymour H. Knox Building, is designed by Studio Other Spaces. Common Sky is a free and open-to-the-public space that reflects the museum's vision of a 21st-century art institution of inclusion.
The glass roof acts as a lens, inviting people to connect with their immediate surroundings while focusing on the ephemeral qualities of the atmosphere: changing seasons, dappled light, and cloud formations. The alternating mirror and transparent glass panels emphasize physical movement as a means of shaping space, allowing visitors to become visible within the work and prompting them to co-create fragmented inward and outward perspectives.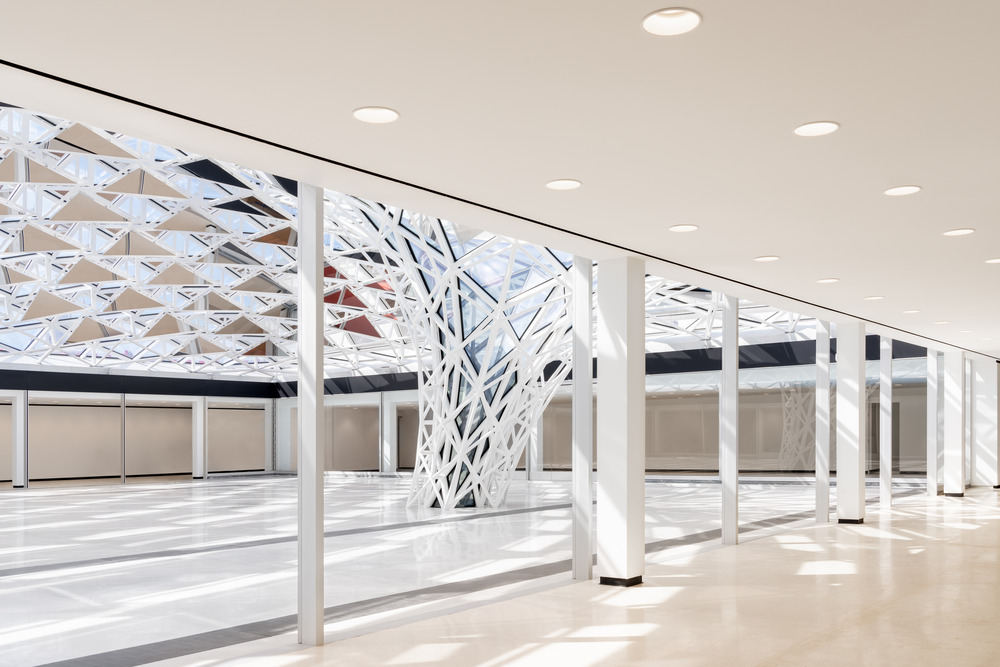 The canopy's geometry follows a path across the courtyard, transitioning from a triangular pattern at the roof's edges to a hexagonal pattern in the center. The roof structure has two levels in cross-section, which are covered by alternating mirror surfaces. These reflect sunlight and reduce heat gain, which is important for the environment.
"Common Sky is a dynamic, sculptural statement that combines a geometric language and a playful, poetic approach," says Olafur Eliasson from SOS. "As an artwork, it sensitizes you to the world outside, to the surrounding environment of Buffalo. It draws your attention to things that are difficult to measure, and to things that depend on emotion and on your active involvement. If you don't get involved, nothing will change."
The structure curves and reaches down to the ground from a single off-center point of support, preserving spatial asymmetry. This funnel-like column marks the location of a single hawthorn tree planted in the 1960s, serving as a memorial to what came before. Because of this feature, the roof structure does not require a new support system for the building. It also adds movement and, like a hollow tree trunk, draws in the elements from outside, whether rain, snow, leaves, or light.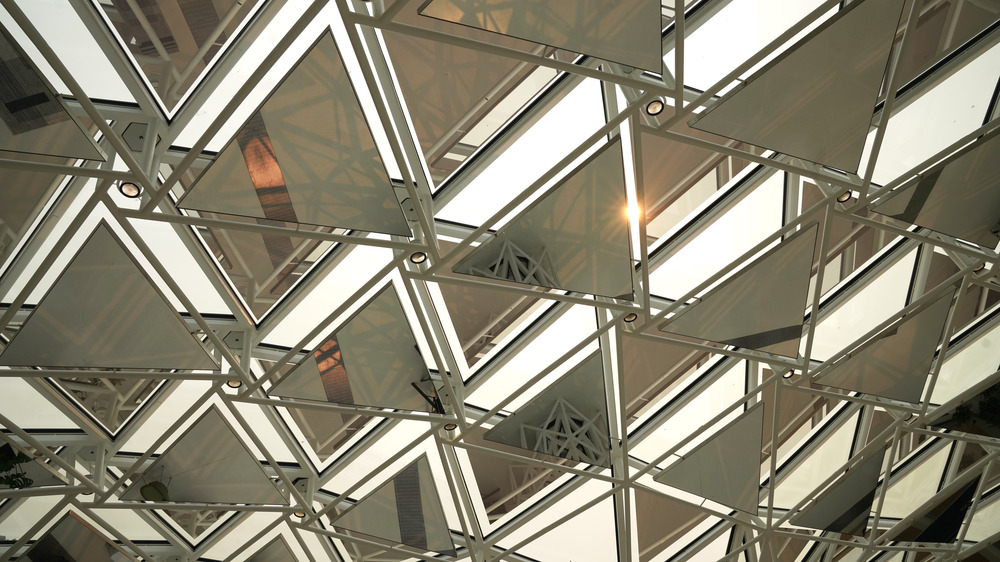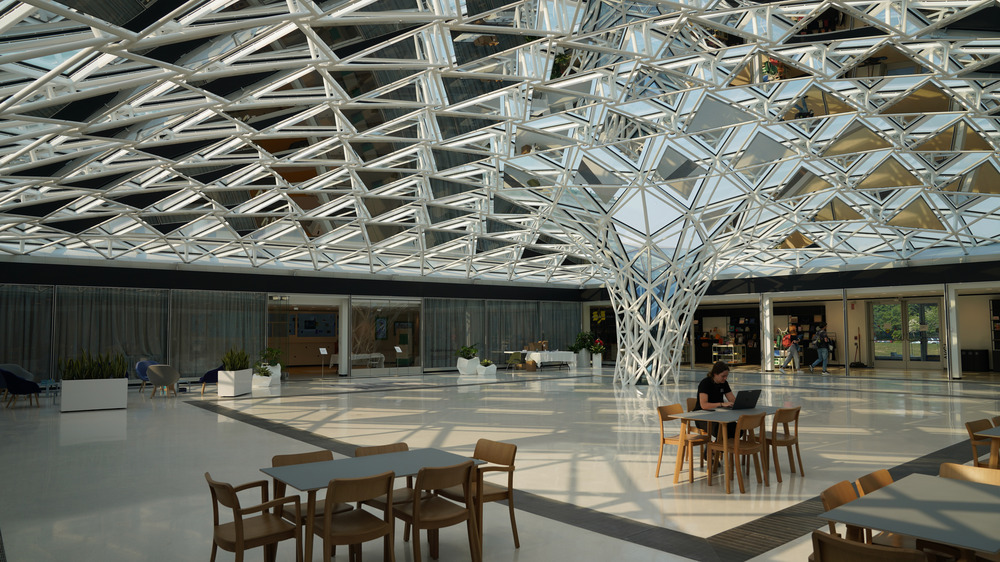 "The structure forms a unique design that considers all of the surrounding elements from the Buffalo AKG Art Museum, including the park, and neighboring buildings," explains Sebastian Behmann from SOS. "We created a site-specific artwork that amplifies the existing situation and combines it with the idea of a modern courtyard. We hope visitors enjoy this new space accessible to everyone all year round, in all weather conditions, without a ticket, and where public events can be held."
Inspired by Buffalo's intense weather patterns and Frederick Law Olmsted's lush park, it strives to form space with non-classical architectural elements that are already inherent to the site, while also honoring the original architecture.
Each canopy element was designed specifically for the Buffalo AKG Art Museum in collaboration with ArtEngineering engineer Herwig Bretis and Petersberg-based steel constructor Hahner Technik.