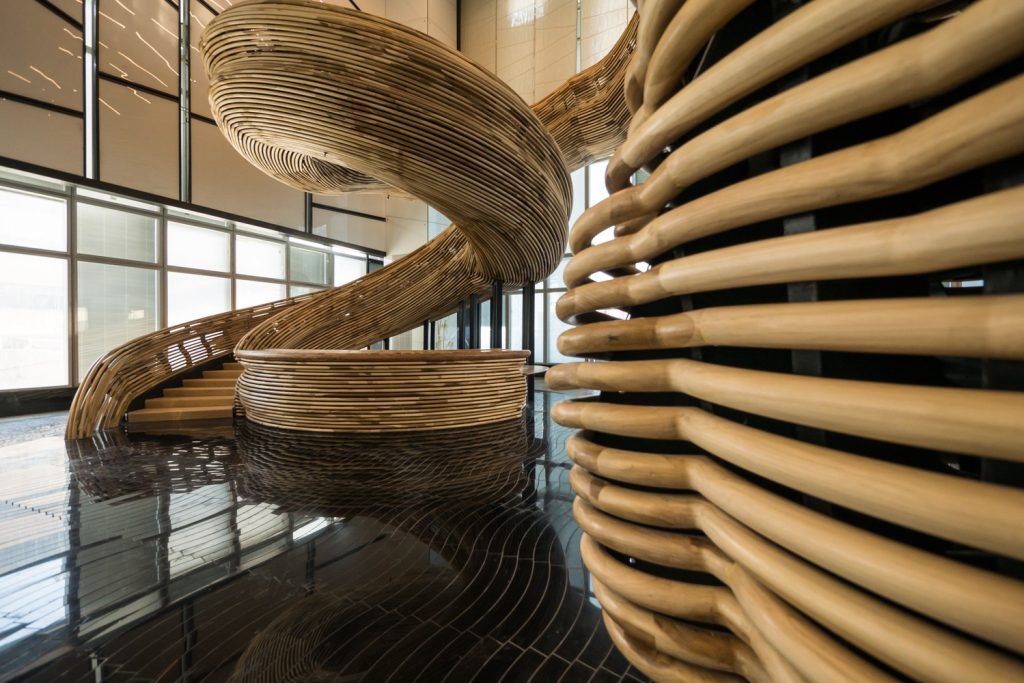 Israel's Diamond Exchange District has gained yet another new addition with the completion of the Amot Tower, designed by renowned architect Moshe Zur. Situated at the entrance to Tel Aviv's Ramat Gan major business district, it greets visitors with a beautifully detailed and lively façade. The glass skyscraper, which stands 158 meters tall and contains 38 floors of retail space, has received LEED platinum certification, making it the first of its sort in Israel.
Every floor of the Amot Tower is divided into two wings that surround a central elevator core visible from the outside. The north-facing atrium volume spans the whole height of the skyscraper, giving controlled streams of natural light onto the floor lobbies. This provides building users with a panoramic view while waiting for and using the lift.
The building derives its name from the atrium entrance hall, which was designed by Oded Halaf. Halaf came up with the idea to build a tornado-shaped staircase, a sculptural component that would provide movement and intrigue to the orthogonal, glass-encased, four-story lobby. Halaf also desired that the staircase be devoid of all visible support – a hard and seemingly impossible task that needed to be outsourced to a specialist with the perfect combination of knowledge, experience, and enormous inventiveness.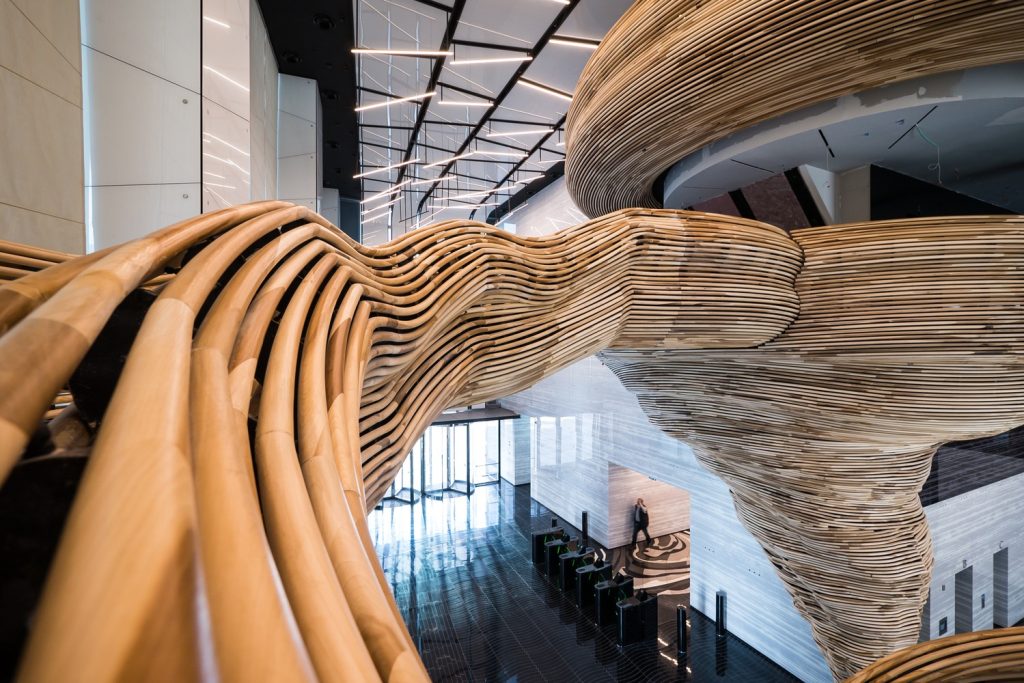 Tomer Gelfand is a skilled artisan who specializes in providing design solutions to engineering challenges. Gelfand has been practicing design implementations in wood, stainless steel, and glass since inheriting his father's 1976-founded studio. Halaf gave his preliminary drawings of the stairs to Gelfand 18 months ago, who was then able to design, execute, supervise, and finalize all stages of construction, making Halaf's dream a reality. Two interlocking parts make up the stair structure: a metal skeleton staircase and a hardwood envelope. From the reception desk, they soar fourteen meters into the first-floor mezzanine, appearing as an expressive whirlwind. Gelfand designed an arrangement of continuous hardwood profiles that appear fluid and flexible but are exceedingly strong and stable.
He began by scanning the skeleton with an MRI scanner, cutting vertically across the framework, and generating sections the width of the given wooden profile. The resultant number of cross-sections, each exported with a different radius requirement, resulted in an apparently infinite number of arches. This prompted Gelfand to limit it to "master arches," whose radius and angle were determined by their average bending tolerance, which was calculated from the wooden profile.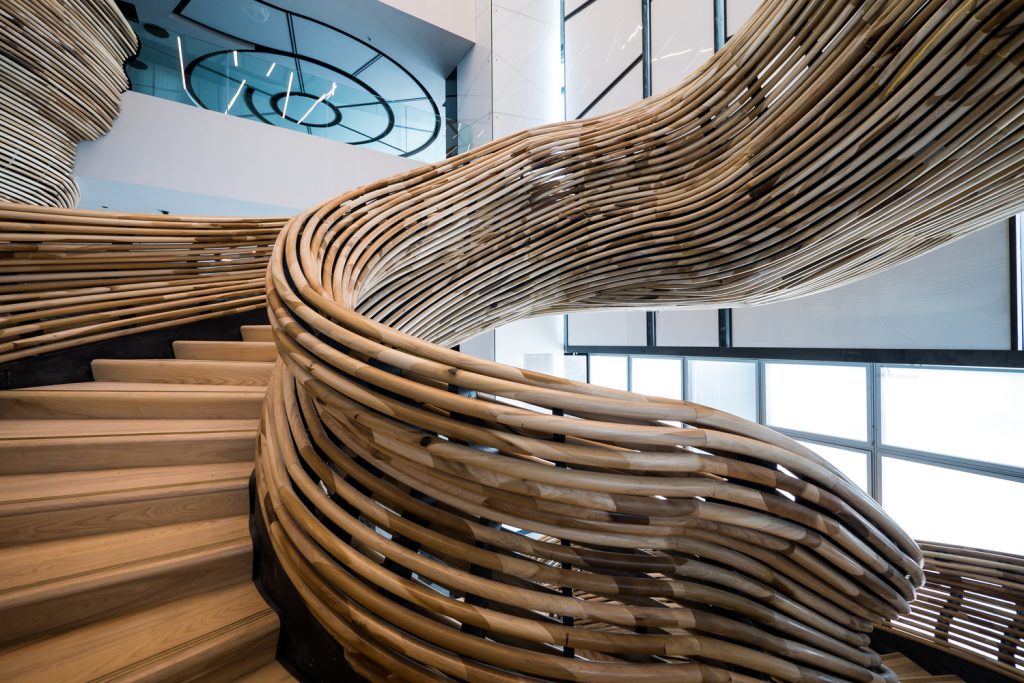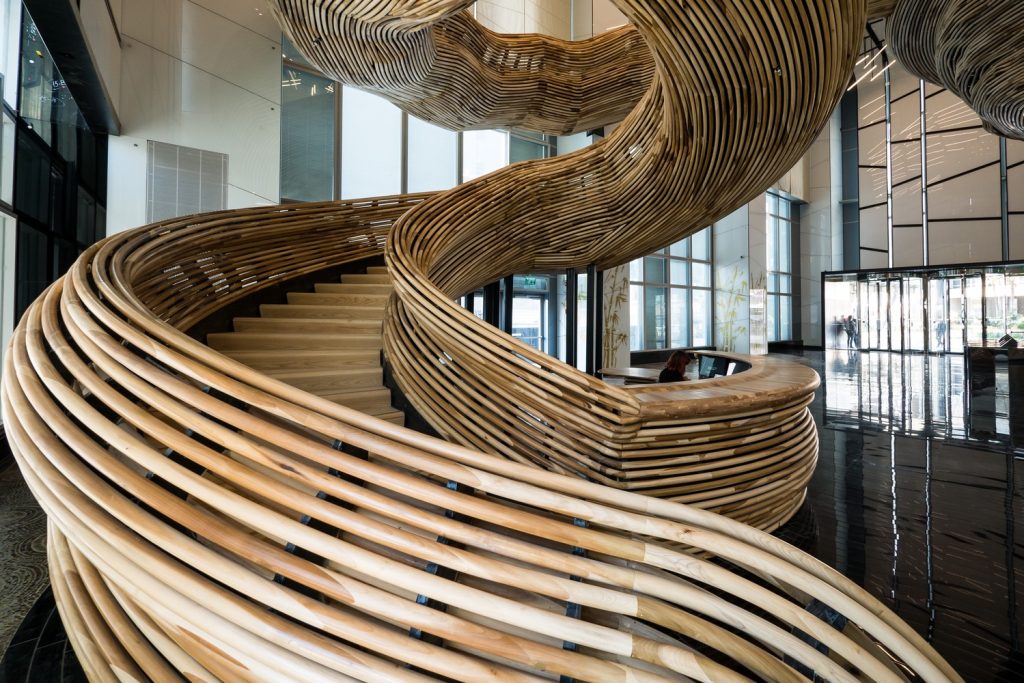 The radial shapes were then cut from the material itself. 9,000 linear meters of tulipwood were cut by CNC machines to generate the stock for the master arches, each coded and labeled to fit precisely in the grand design. As no single item was interchangeable, each measurement had to be done beforehand to ensure the final installation's success. A seamless transition was achieved by completing each connecting point between the modules with a reversed radius.
Halaf and Gelfand chose American tulipwood for the project because it met the color requirements. Other considerations included the material's cost, performance, and workability. This project required 120 cubic meters of tulipwood, which was obtained from local sources.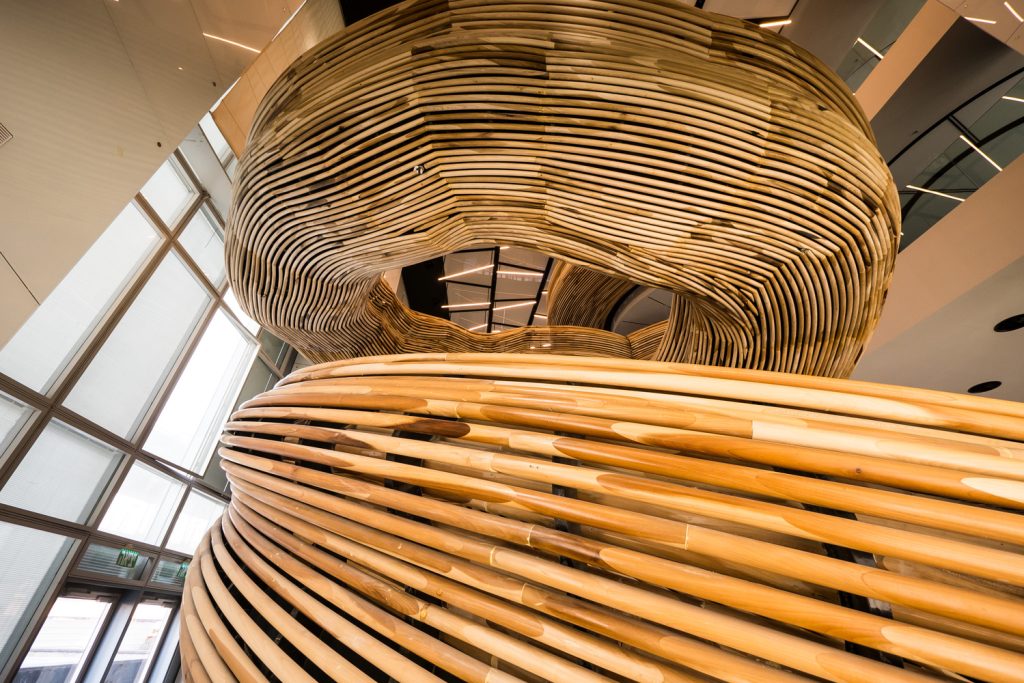 Gelfand contends that freshly cut tulipwood displays a range of natural colors, which would have compromised the seamless nature of the structure. For the modules, 12 average colors from the tulipwood pieces were chosen and applied. Finally, the coded profiles were brought to the site for the final puzzle work: a precise, four-month-long delicate assembly overseen and coordinated by Gelfand himself. The end result reflected the contradiction of modern creation: what looks to be an aesthetic, hand-drawn gesture is, in fact, the outcome of computational data processing and the output of numerous interchangeable bits.
Nature's matter harnessed by today's true artists of technology, seemingly arbitrary yet completely computerized Halaf and Gelfand have produced a remarkable building that is not only a work of art due to its distinctive shape but also demonstrates how modern design and traditional woodwork can coexist for modern use. Their vision has resulted in a structure that is as resilient as it is aesthetically pleasing, providing a glimpse into a future where engineering and art come together to create something truly unique.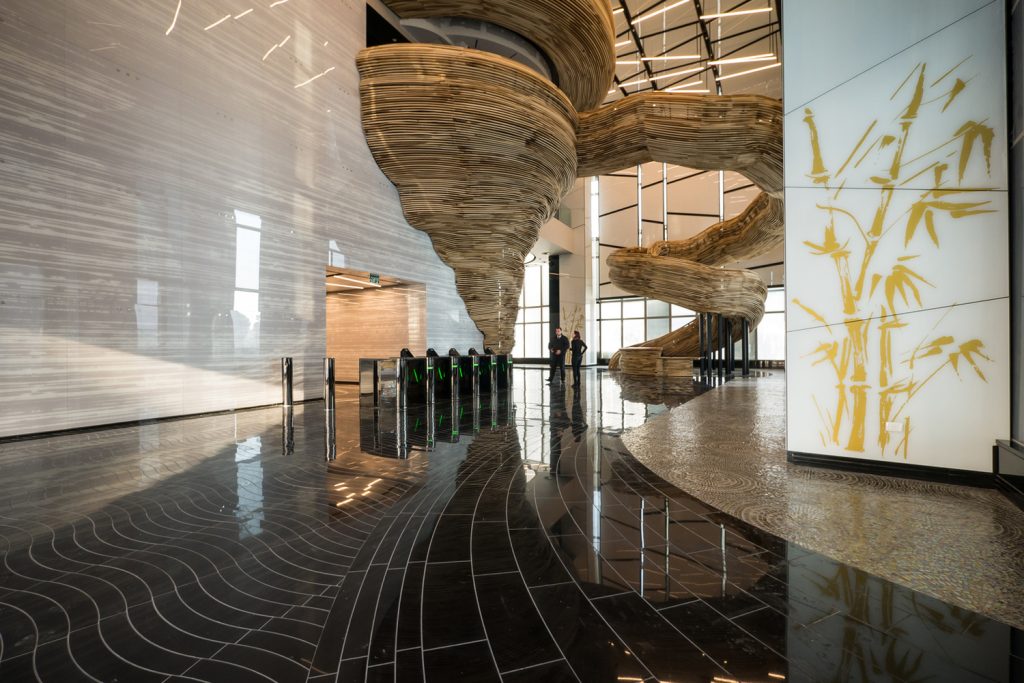 Project Info
Project Name: Amot Tower
Architects: Oded Halaf, Tomer Gelfand
Year: 2016
Photographs: Itay Sikolski (NUMSIX)