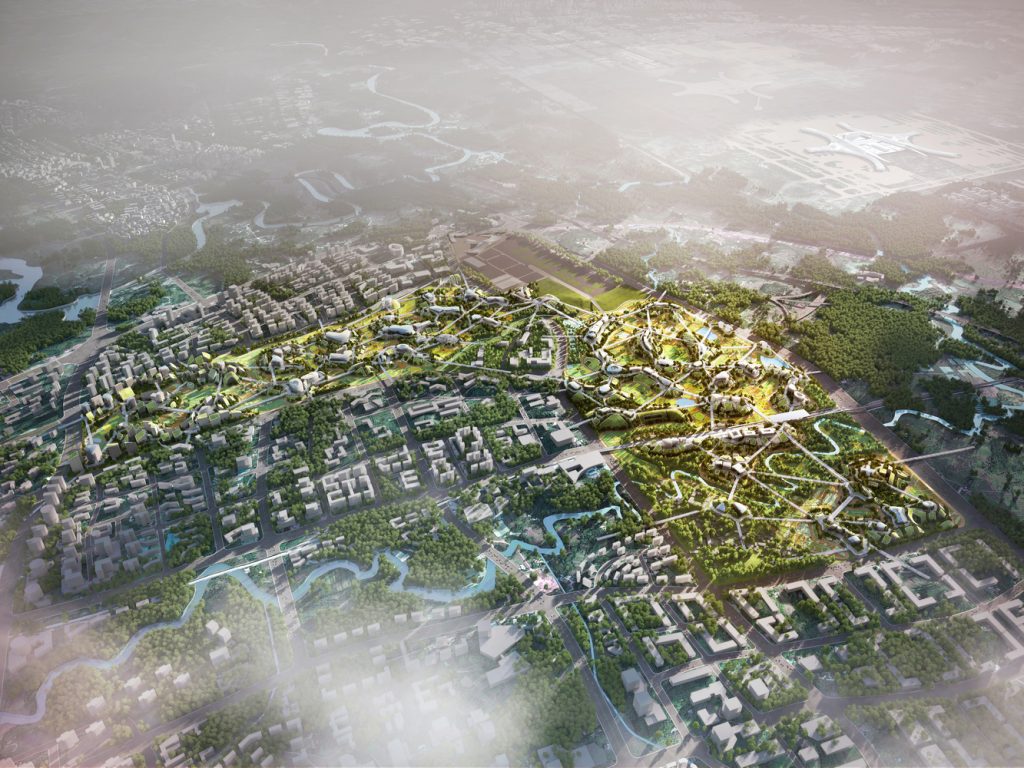 As our world changes, our cities continue to change. Sustainable, smart, futuristic city concepts began to appear frequently. Designers, planners, and architects are working to create more sustainable and livable city concepts. The futuristic smart city proposals usually have a high level of global preservation, advanced telecommunications, and artificial intelligence.
We have listed for you 10 futuristic smart city projects that are expected to be built in the near future.
1. The Line / Saudi Arabia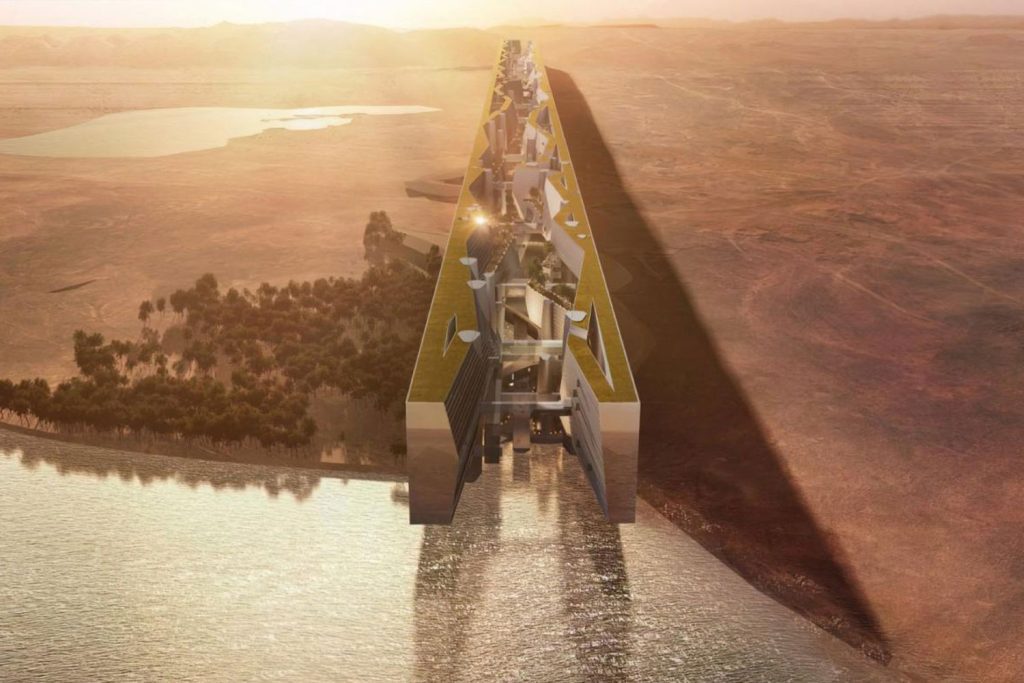 NEOM created The Line, a humancentric futuristic city concept in Saudi Arabia. The Line plans to build with a footprint of 34 square kilometers and was designed for approximately 9 million residents. The project will cost $500 billion in Saudi Arabia.
The project was designed as residents could walk for 5 minutes to the required facilities. Walking will provide residents access to all facilities, as will a high-speed rail system with 20-minute transit.
According to its designers, The Line will be encased in a mirror façade on the outside, giving it a distinct character. Buildings, layers of public parks, pedestrian spaces, schools, houses, and workplaces will be built on the inside. Traditional urban planning models predict that urbanization will develop horizontally rather than vertically.
On the other hand, the project got many critics. According to Philip Oldfield, approximately 1.8 million tons of carbon emissions will transpire with the materials used to build such a mega project. This is more than the annual carbon emissions of many European countries. With today's technology, unfortunately, it is not possible to create carbon zero for a huge structure by using concrete, steel, and glass.
2. Telosa / United States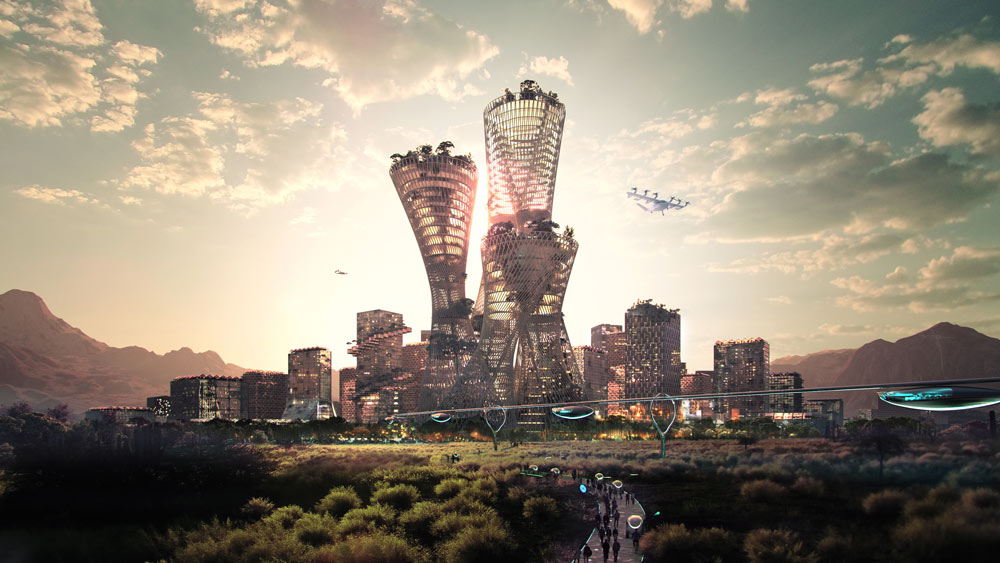 Telosa is a proposed utopian planned futuristic city in the United States developed by American billionaire and Walmart president Marc Lore and announced in September 2021. The project aims to house 5 million people by 2050, with the expectation of constructing houses for 50,000. The project planners intended to build the city in the American West desert; Utah, Idaho, Nevada, Arizona, Texas, and Appalachia were suggested as potential locations.
Lore has hired the architectural firm Bjarke Ingels Group (BIG) to construct a "city of the future" based on a "reformed version of capitalism." He states is "a new model for society, where wealth is created in a fair way… It's not burdening the wealthy; it's not increasing taxes. It is simply giving back to the citizens and the people the wealth that they helped create".
Telosa is designed to be a 15-minute city, with workplaces, schools, and basic services within 15 minutes of residents' homes. Vehicles powered by fossil fuels will be prohibited in the city, with an emphasis instead placed on walkability and using scooters, bicycles, and self-driving electric vehicles.
3. BiodiverCity Penang / Malaysia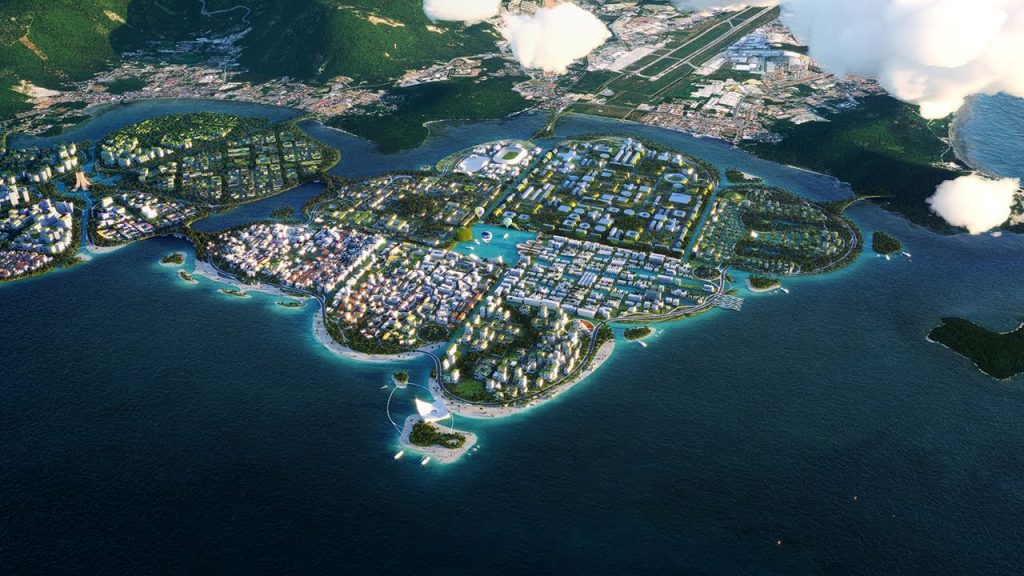 The Malaysian government held a competition to construct a floating city, which was won by Bjarke Ingels Group (BIG)'s BiodiverCity project: a manifesto of biodiversity, sustainability, and social inclusion.
BiodiverCity, designed by BIG in collaboration with Hijjas and Ramboll, is an archipelago city across the bay from the island of Penang, comprised of three large artificial agglomerates, each built around an aquatic plaza and each with its distinct role in the city.
BiodiverCity is divided into three major districts: Channels, Mangroves, and Laguna, each with eight, six, and eight islands. Each district serves a distinct purpose: technological (Channels), commercial (Mangroves), and residential (Laguna).
4. Maldives Floating City / Maldives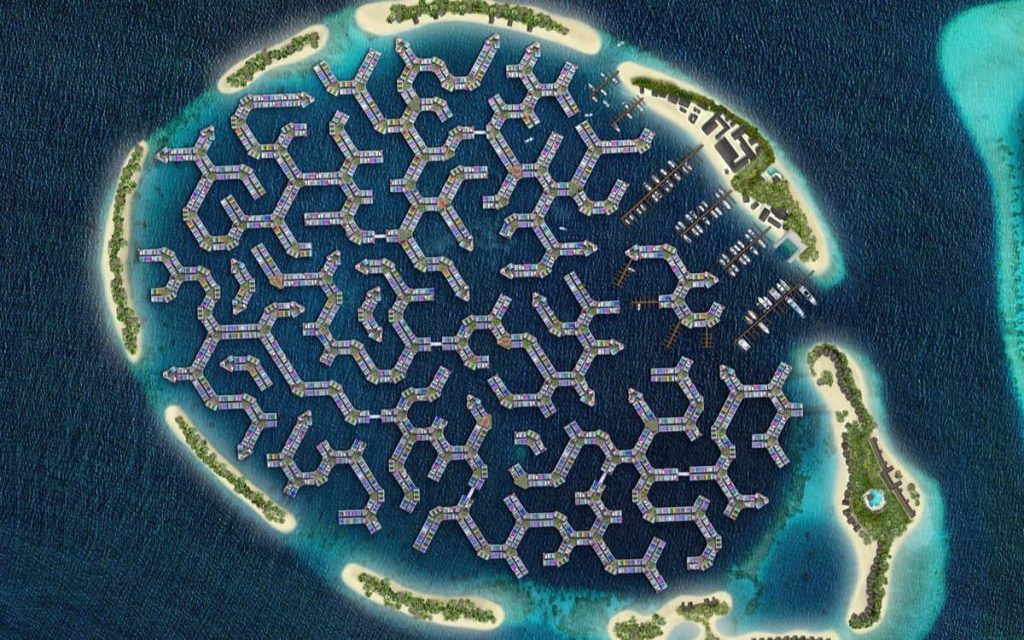 The culture of this seafaring nation inspires the Maldives Floating City, a first-of-its-kind "island city." It is the first floating city with thousands of houses with full governmental backing and is based on a legal framework and title deeds for the owners. Only ten minutes by boat from Male's capital and international airport. The city defines itself as a boating community, with canals serving as the primary infrastructure for logistics and gateways, reducing land-based movements to walking and biking on natural white sand roads. In collaboration with Dutch Docklands, the Maldives government has partnered with Netherlands-based architecture, urban planning, and research firm Waterstudio.
5. Akon City / Senegal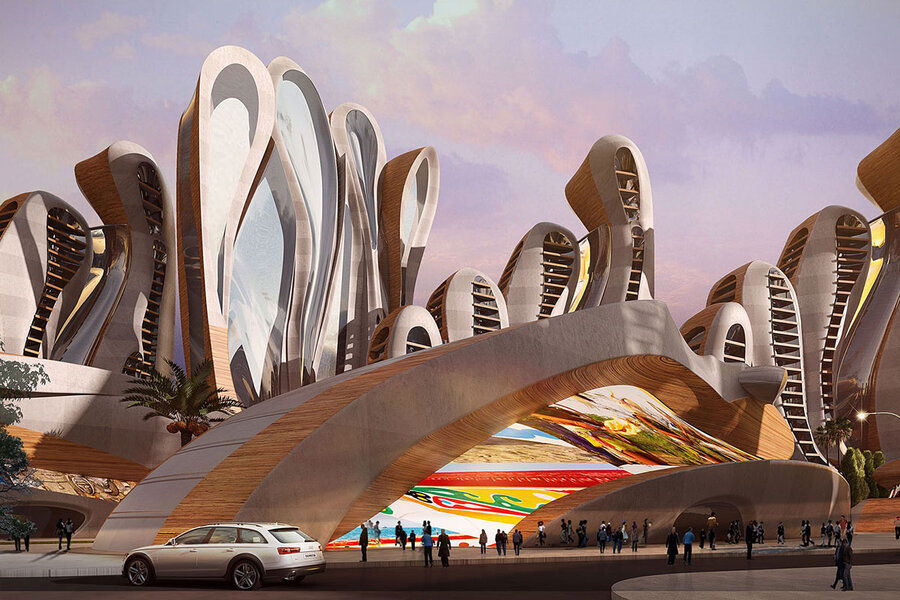 Akon City is a Senegalese singer and entrepreneur Akon's project and was announced on 15 January 2022. Senegal is planning to build Akon City. Akon and Senegal's Minister of Tourism, Alioune Sarrin, first announced the project in Senegal in 2018.
Akon City is also a "real-life Wakanda" that employs blockchain and cryptocurrency technologies.
Condominiums, offices, parks, a university, an ocean resort, and a 5,000-bed hospital are all planned for the planned city. Large skyscrapers, shopping malls, a technology hub, music studios, "Senewood," and eco-friendly tourist resorts are still planned for the project. The city will be a smart, eco-friendly smart city powered by renewable energy.
6. Net City / China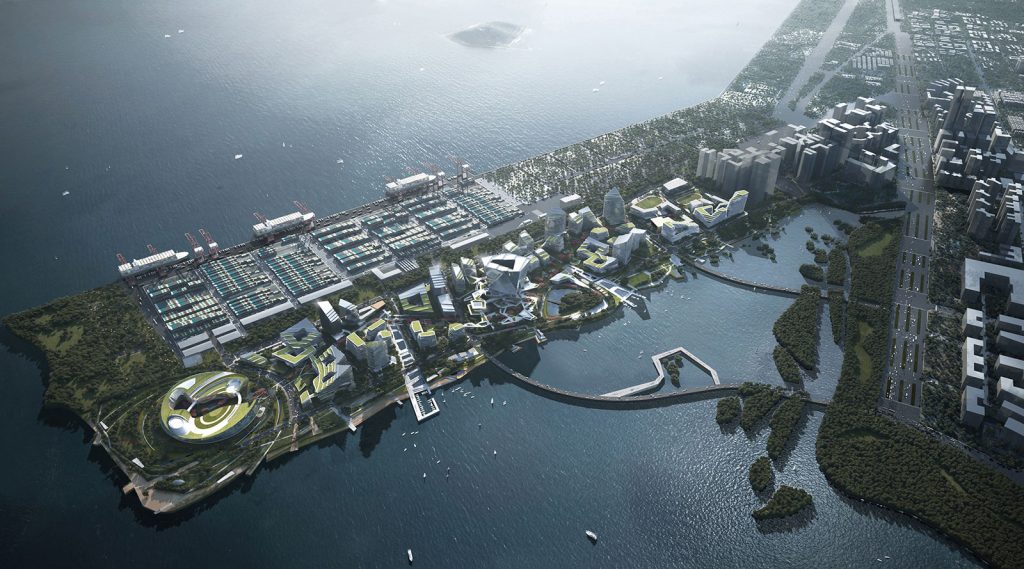 The 2-million-square-meter urban development plan known as "Net City" will prioritize pedestrians, green spaces, and self-driving vehicles. The ambitious city-within-a-city will be built on reclaimed land jutting into the Pearl River estuary. The site, which is designed to serve an estimated 80,000 people, will primarily serve Tencent, the conglomerate behind WeChat and China's popular QQ messaging service.
NBBJ, the American firm behind the master plan, hopes that the new district's entertainment venues, parks, and waterside promenade will draw visitors from other parts of the city.
7. Chengdu Future City / China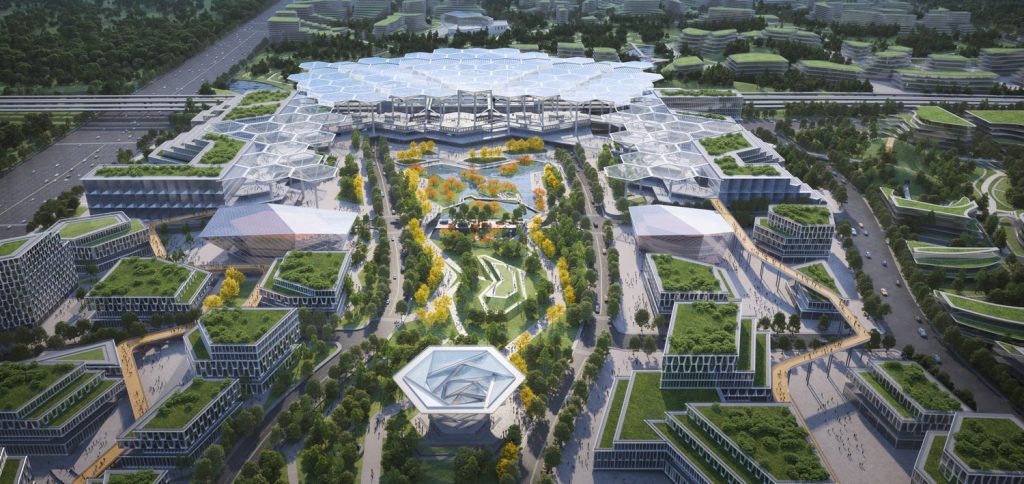 China's planned Chengdu Future City, designed by OMA, challenges urban planning conventions by proposing a master plan that is not based on traditional, car-oriented road networks. Its six distinct zones will be linked by a smart mobility network comprised of automated vehicles. The zones will also be accessible by foot and within a 10-minute walk of one another. The 4.6-square-kilometer site will also include an international education park with landscaped terraces designed to extend the natural landscape and buildings, including a university.
"With this project, we hope to provide an alternative to the typical masterplan based on the traditional car-oriented road network," said Chris van Duijn, project lead and partner at OMA.
8. Innisfil: The Orbit / Canada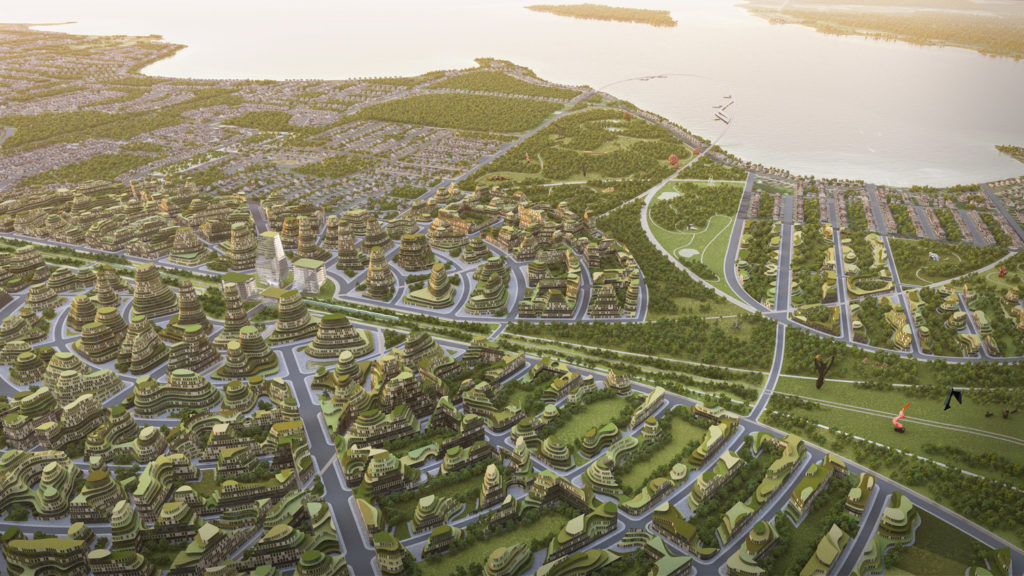 The Orbit is a vision for a new central neighborhood in the Canadian town of Innisfil, conceived in response to the arrival of high-speed mass transit connecting to downtown Toronto.
The project was the announcement of the Province's Transit Oriented Community program, which includes the construction of a new GO Train Station by 2022, connecting the Town to downtown Toronto and inevitably leading to significant population growth. As a forward-thinking community, the Orbit's design incorporates cutting-edge technology to create a more accessible and sustainable city, with a plan for mass fiber optic cable systems that will provide connectivity across sidewalks, streets, and buildings, as well as considering 'future forward' concepts such as drone ports and self-driving cars to anticipate long-term development.
9. Oceanix Busan / Korea
UN-Habitat, the Busan Metropolitan City of the Republic of Korea, and OCEANIX unveiled the design of the world's prototype sustainable floating city today at the UN Headquarters. OCEANIX Busan was designed by the BIG-Bjarke Ingels Group and SAMOO (Samsung Group). It was unveiled at the Second UN Roundtable on Sustainable Floating Cities, a follow-up to the inaugural Roundtable in April 2019. It was agreed to build a prototype with a host city.
The interconnected neighborhoods cover 6.3 hectares and can house 12,000 people. Each neighborhood is intended to serve a specific function, such as living, research, or lodging. Each neighborhood has between 30,000 and 40,000 square meters of mixed-use programming.
10. Chengdu Sky Valley / China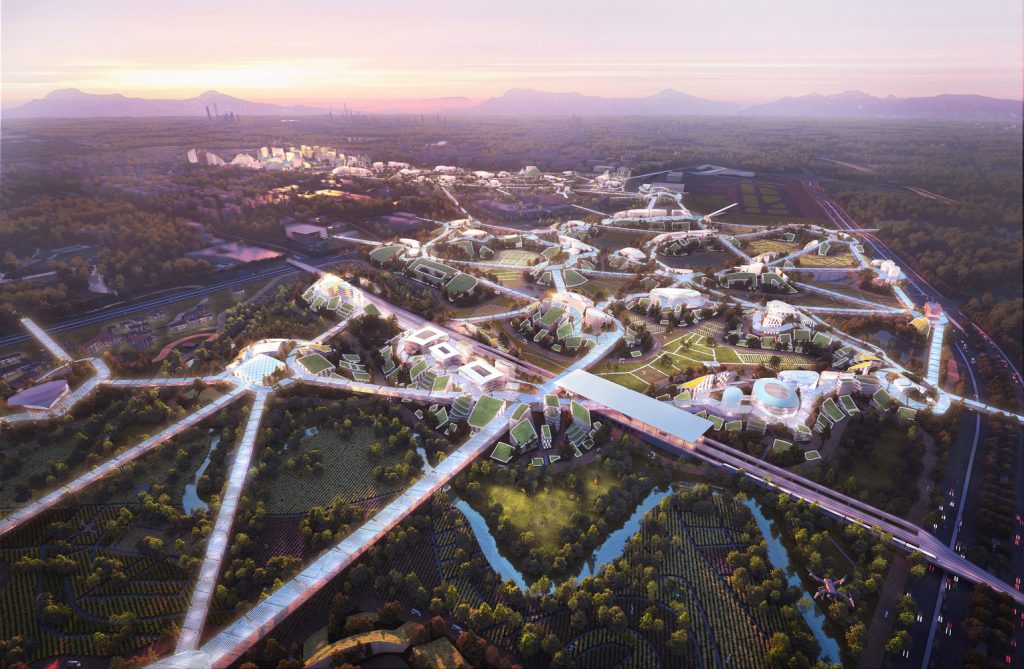 Designed by MVRDV, the futuristic city proposal introduces "a liveable city into the Linpan Landscape" by fusing technology with nature, urban with rural, and modernity with tradition. The Future Science and Technology City, part of Chengdu's Eastward Development Strategy, is located on a rural site with agricultural fields and scattered villages. "The dichotomy between the existing rural landscape and the future science and technology campus necessitates a solution that balances tradition and innovation, past and future, young and old, East and West, technology and agriculture," according to MVRDV.