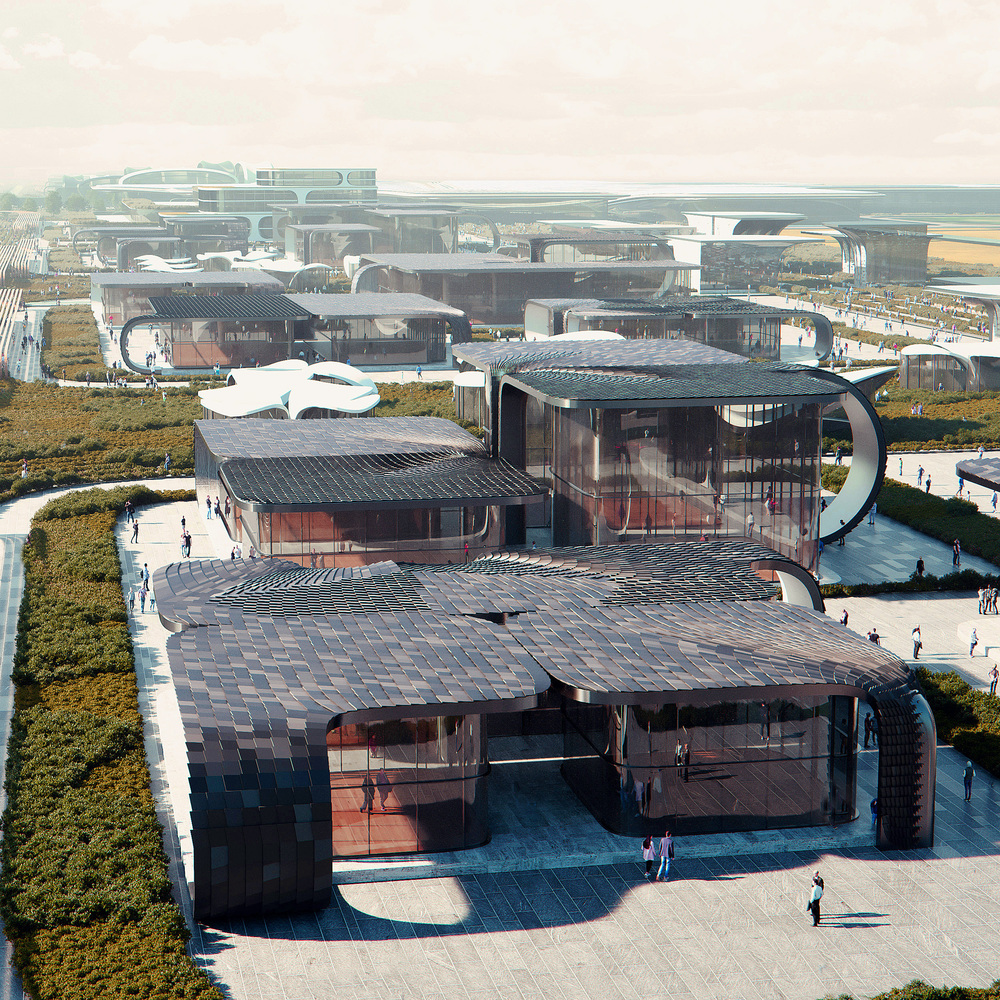 Zaha Hadid Architects' masterplan for Ukraine's World Expo 2030 proposal, the first Expo to be hosted in Eastern Europe, focuses on four large central pavilions that will provide 80,000 square meters of exhibition space.
As part of Zaha Hadid Architects design, each country will be able to individually reinterpret the overarching theme of Odesa Expo 2030 through their own country, by creating modular national pavilions made from various kits.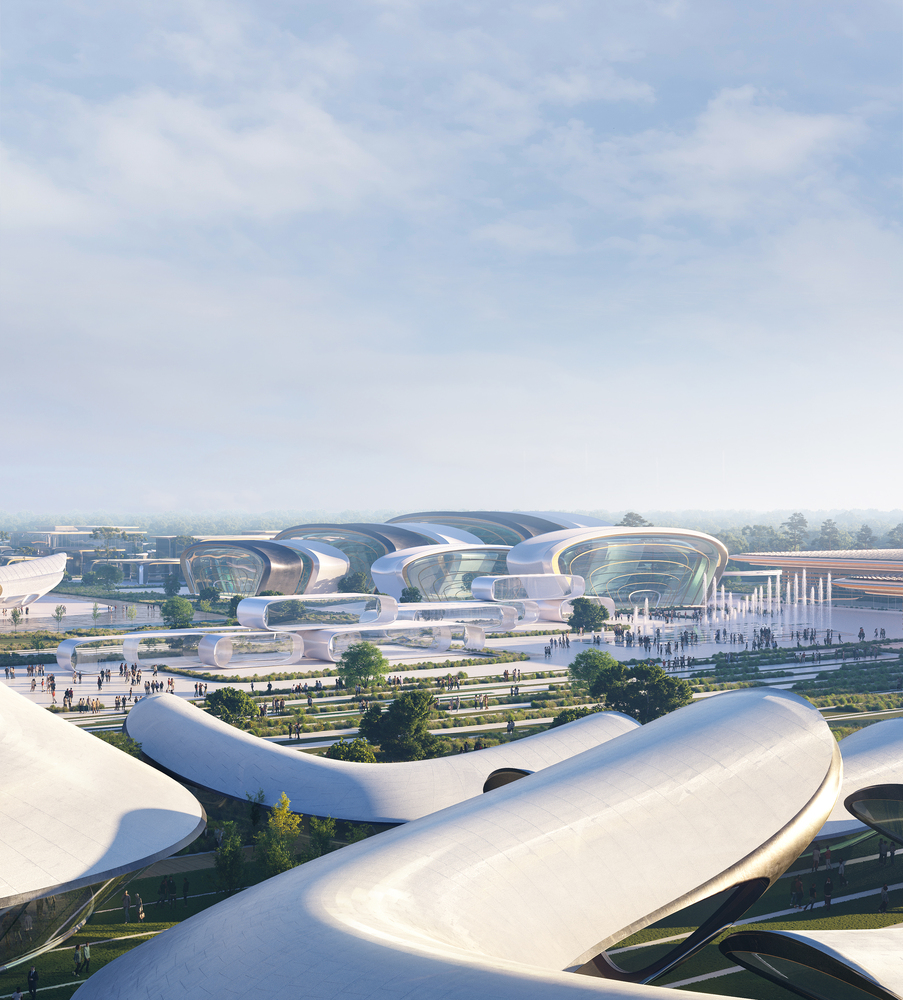 Each of the modular components will make up approximately 25% of a pavilion's standard 1,600 square meter area and can be combined with various other modular elements. Countries will be able to choose modules themselves and design their pavilions using a digital design system.
The masterplan includes a series of squares as well as the main boulevard that will connect all fairgrounds. National pavilions will be lined up to the south of the boulevard, while a coastal eco-park will be located on the Khadzhibey estuary to the north.
Service, accommodation, and logistics areas will be planned for visitors, staff, and exhibitors at both ends of the main boulevard.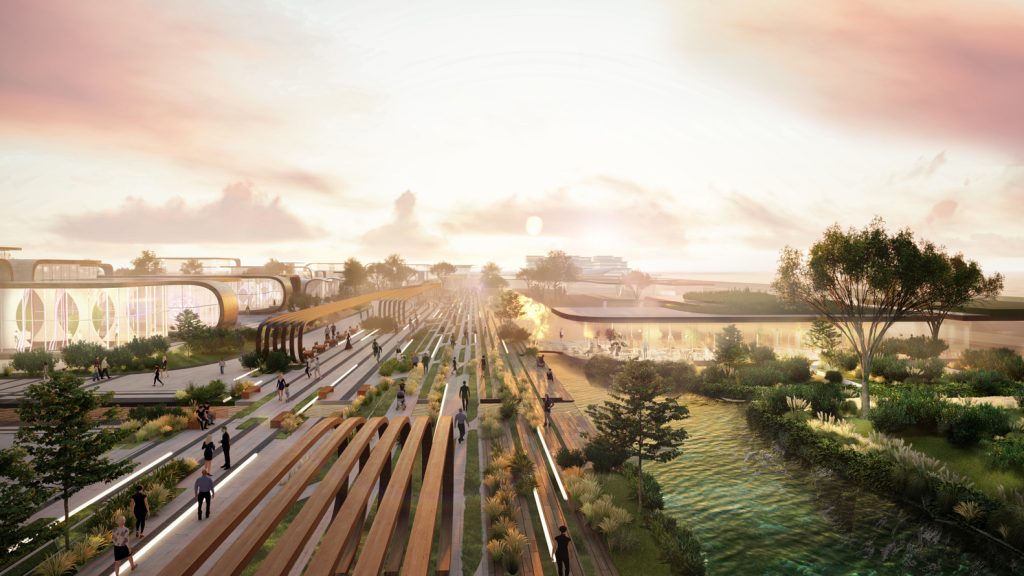 "In a city that has always been multinational and multicultural, a city of diversity with ancient connections throughout the world, when you visit Ukraine and our Odesa in 2030, you will feel the power and culture of not just one country and one city… you will feel the potential of all humanity," said Volodymyr Zelenskyy, President of Ukraine.
Odesa Expo 2030 will be realized as the first world fair to be hosted in Eastern Europe, designed with "old heritage in mind". After the fair, the national pavilions will be dismantled and used as civil buildings throughout Ukraine or can be transported to their own countries by the participants.
After Expo 2030, participants can choose to transport their modules back to their home countries or donate them to be reassembled and reused as kindergartens, schools, medical clinics, or workspaces for creative and digital industries throughout Ukraine. The components are all designed to fit within the shipping barges that transport goods through the Black Sea, Azov Sea, and Dnipro River.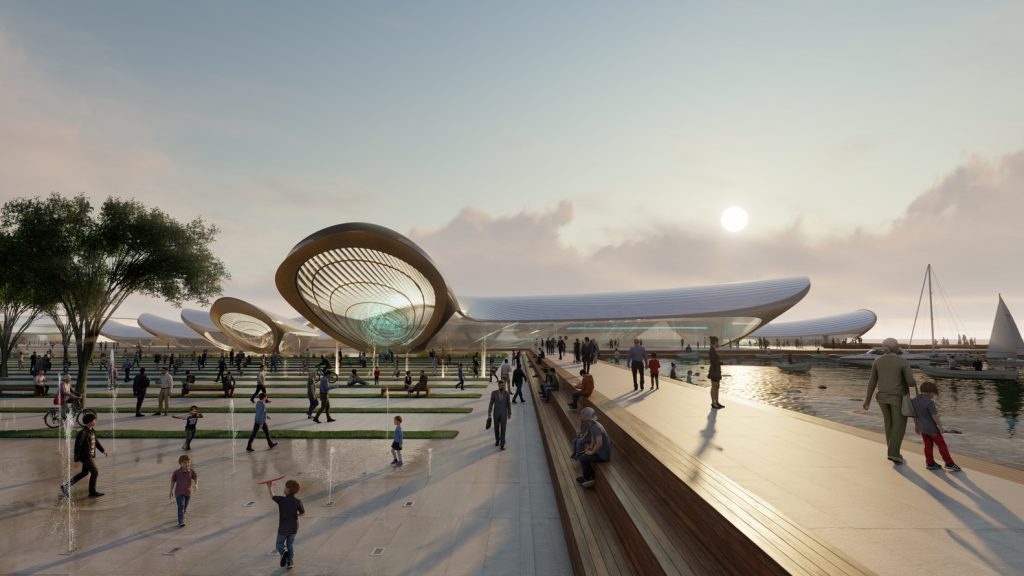 Although Zaha Hadid Architects did not mention the ongoing war in Ukraine, she stated in the masterplan they prepared that they aimed to "minimize the use of concrete by using recycled materials from damaged and destroyed buildings in Southern Ukraine".
Photovoltaics will be added to all roofs and the Expo 2030 microgrid will be connected to wind turbines, thus providing the energy needed for the exhibition itself, while also creating renewable energy for the local community.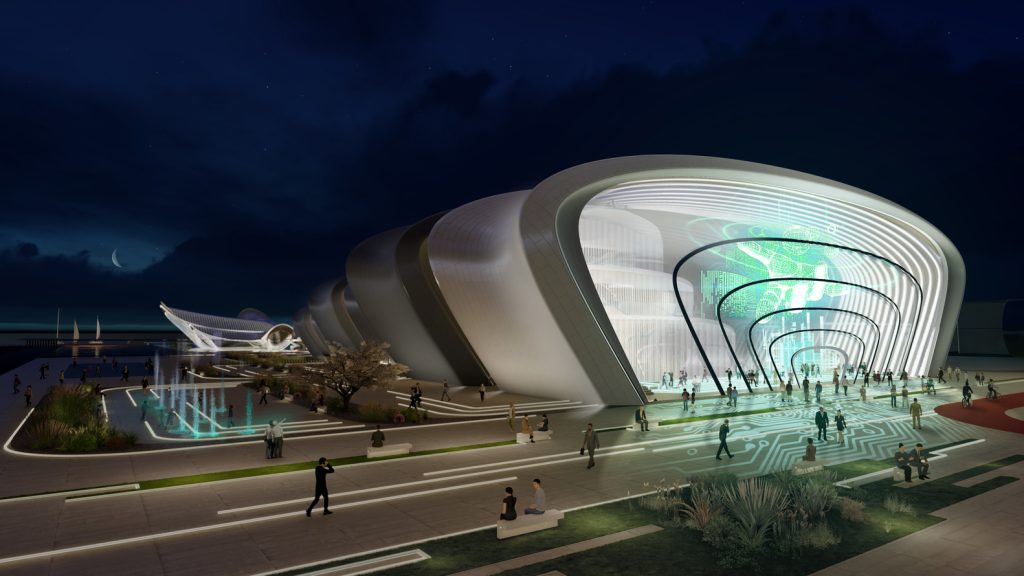 Project Info
Client: NGO 'Civic Council of the EXPO 2030 Odesa'
Architect: Zaha Hadid Architects (ZHA)
ZHA Project Director: Manuela Gatto
ZHA Project Associate: Yevgeniya Pozigun
ZHA Project Leads: Thomas Bagnoli
ZHA Project Team: Ghanem Younes, Yun Yu Huang, Malek Pierre Arif, Zixin Ye, Catherine McCann, Jose Pareja-Gomez, Delyan Georgiev, Bowen Miao, Vera Kichanova, Yaniv Hatiel
General Contractor for Dossier Development: CIVITTA
Designer of the Dossier: TopLead
Masterplan Concept and Design Visualisation: Zaha Hadid Architects
Venue Planning: Lord Cultural Resources
Landscape Design: West 8
On-site Transportation and Mobility: Cundall
Sustainability: Atelier Ten
Urban Planning: Public Urbanism Personal Architecture
French Translation: TaskForce
Smart Expo Strategy: Jaanika Merylo, Atelier Ten
Preliminary Concept Development: Gres Todorchuk
EXPO Theme Ideation and Conceptualization: Gerd Leonard
Communication Strategy Development: GN Consulting
Modularity studies: ZHA CODE
Visualisation: MIR, NORVISKA, JK Lab Architects, Zaha Hadid Architects
Multimedia & Animation: Morean GmbH
Animation: Beehive