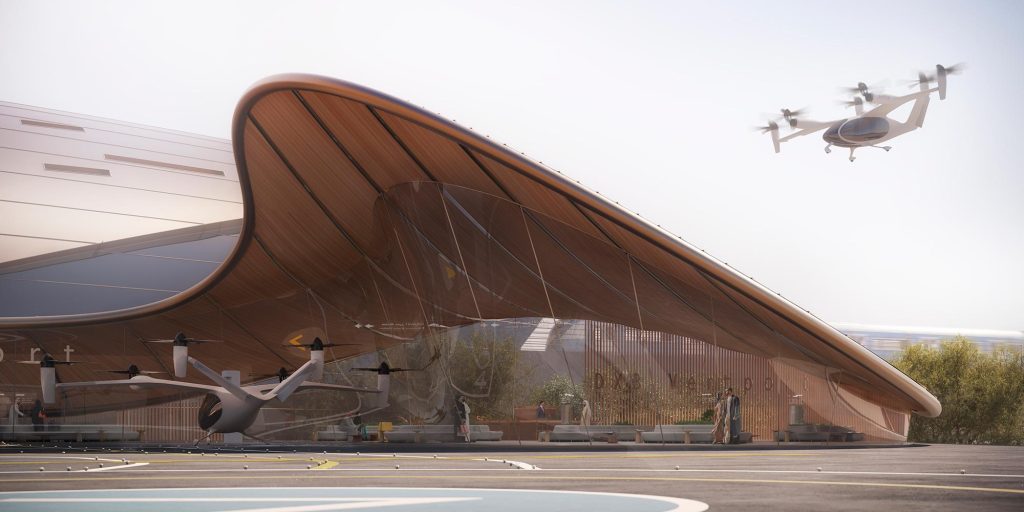 Foster + Partners developed the vertiport terminal concept in collaboration with Skyports Infrastructure which is located next to Dubai International Airport (DXB).
The sites are part of a future electric vertical take-off and landing (eVTOL) infrastructure network that will link Dubai's most famous – and populous – areas while providing high-speed, zero-emissions travel. The vertiport terminal network will connect to current transportation hubs such as the RTA's Dubai Metro system and Dubai International Airport.
David Summerfield, Head of Studio, Foster + Partners, said: "We are delighted to have developed a vertiport concept for the emerging AAM industry, which will transform the way people travel in Dubai. The conceptual vertiport connects with Dubai International Airport and the Dubai Metro, to provide seamless, sustainable travel across the city for international and domestic passengers."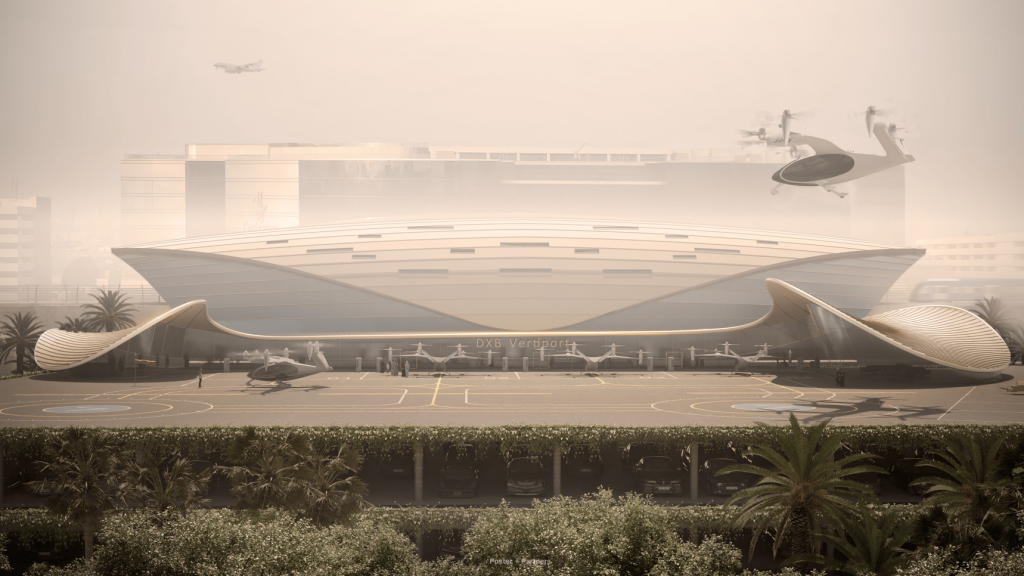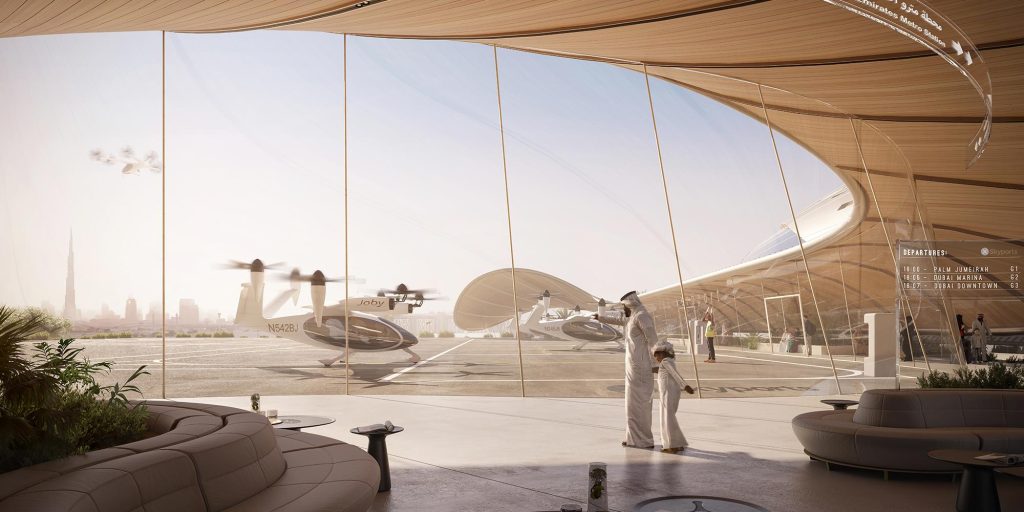 To ease aircraft take-off and landing, the terminal is built on an elevated deck. The structure wraps around the airfield, linking the arrival and exit lounges and providing breathtaking views of the planes and the city beyond. The overhanging roof and inclination of the façade shield the structure from direct sunlight and avoid overheating.
The building's façade matches that of the nearby metro station, and its edges are softened by verdant landscaping. To produce a comfortable and serene atmosphere, the interior spaces are designed with a refined palette of warm, natural materials.
Duncan Walker, CEO of Skyports, said: "We are honored to have received the such strong endorsement of our Dubai vertiport vision from His Highness Sheikh Mohammed. The appetite for technology innovation and infrastructure expansion in Dubai makes it a hugely promising environment for the launch of advanced air mobility. We're excited to continue working with the RTA to make our joint vision of an integrated vertiport network a reality in 2026."
Ahmed Bahrozyan, Chief Executive Officer of The Public Transport Agency at RTA, said, "The RTA's plan for aerial taxis is in line with the Dubai Self-Driving Transport Strategy, which aims to make 25 percent of all trips in Dubai driverless by 2030. The project aims to roll out a new mobility service driven by pioneering technology to ease the mobility of individuals across urban areas in a safe, smooth, and sustainable manner integrated with the public transport network in Dubai." The RTA and Skyports Infrastructure plan to develop the network of vertiports for air taxi services by 2026.
Also, Foster + Partners designed Red Sea International Airport is set to open in 2023. The airport lies on the west coast of the country and is part of the bigger Red Sea Project and tourism development.