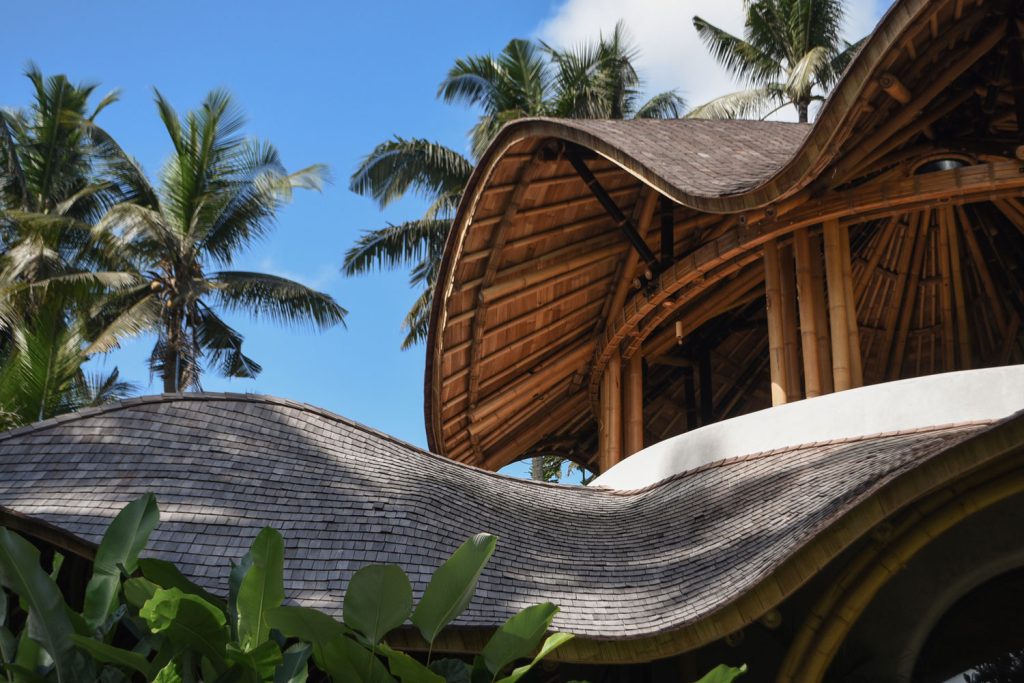 Yoga & Spa Ubud, completed in 2022, is a sacred space created for a family, celebrating the relationship between physical, mental, and spiritual disciplines. The building comprises arched bamboo structures that delicately embrace stunning views inspired by the fluid movements of the surrounding flora and yoga practice.
This 196-square-meter two-story volume has a first floor in a circle enclosed by polished concrete walls ornamented with arched windows with a metal profile and bamboo embellishments. Three main zones within this facility provide distinct experiences. The centre's multifunctional room, which is utilized for massages, dance courses, and art workshops, offers rest and rejuvenation, with a view of the surroundings framed by the window. The pottery section is right next door, an open space dedicated to creative production and education.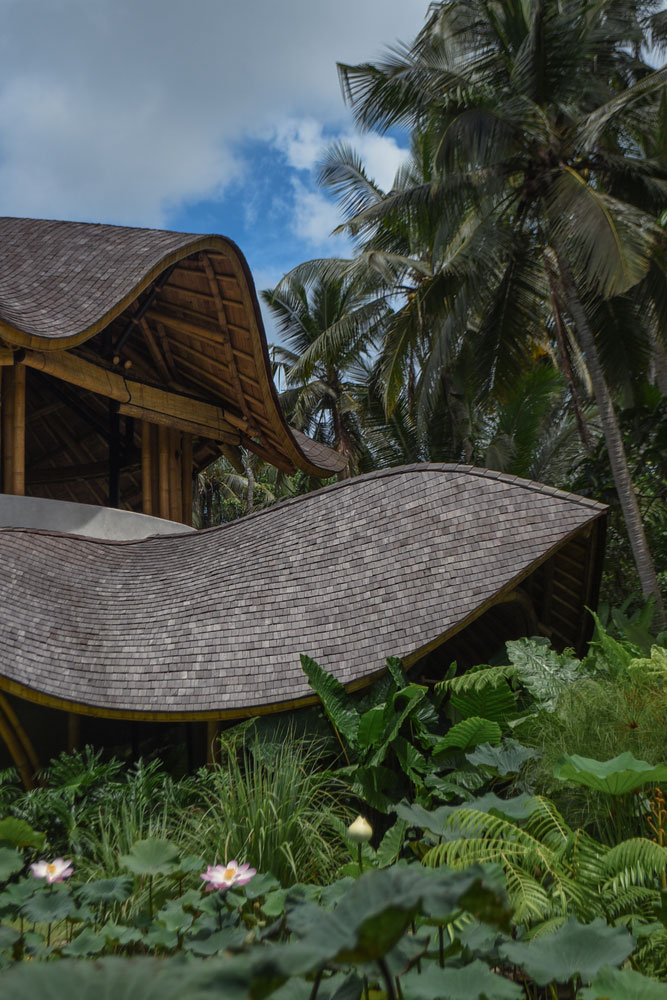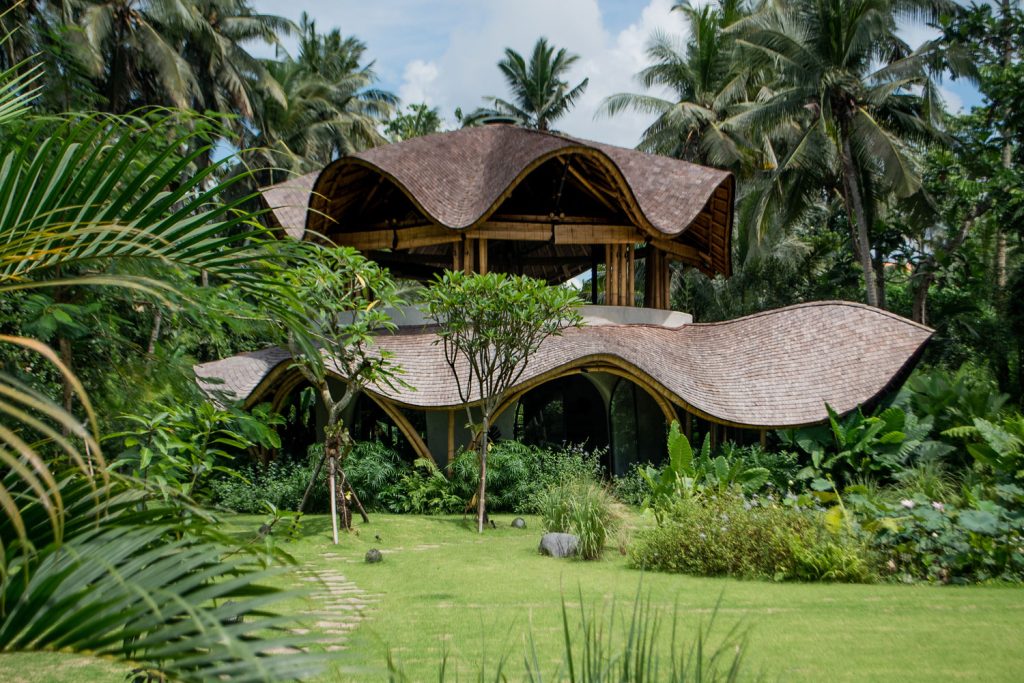 A polished concrete semi-open bathroom with a bamboo frame and stone embellishments completes the second level, offering a harmonic balance of function and beauty, ensuring moments of peace and comfort.
A spiral staircase made of bamboo joins the second level of the building, where you'll find the Yoga Shala. This area is designed with an open concept, featuring beautiful bamboo arches that frame panoramic views of the surrounding nature. This creates a peaceful and serene environment that instils a deeper connection with nature, fostering a sense of compassion and appreciation. The entire space is surrounded by the natural beauty of bamboo, including the roof, which is made of black and yellow bamboo and features a skylight in the centre. The floor is also handmade with carpenter-made bamboo pieces, adding to the serene and eco-friendly ambience of the space.
Yoga Shala transforms into a haven for personal inquiry, where yoga blends with the elements of nature. Visitors are welcome to build mindfulness and balance while appreciating the beauty of the natural environment in Ubud, Bali, amid the breathtaking views of rice terraces and lush wildlife.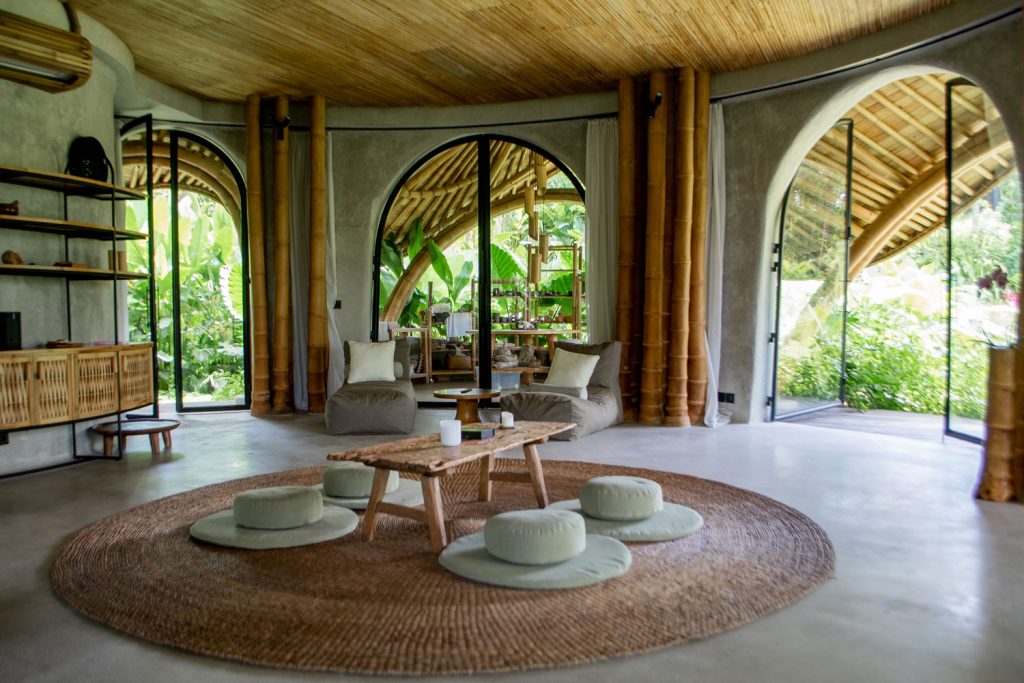 Project info
Architects: Pablo Luna Studio
Area: 196 sqm
Year: 2022
Lead Architect: Pablo Luna
Rendering And 3 D Modeling: I Putu Krisnantara Putra, I Putu Raditya Manggala Hutama
Design Development: Kadek Adhi Guna Dharma
Construction Drawing: Kadek Adhi Guna Dharma
Concept Design: Valentina Gebrie
Site Analysis: Fillologus Iryono
Concept Drawing: Fillologus Iryono
Maquette: I Gusti Ngurah Gunada
Concept, Lighting, Furniture: Maria Jose Naranjo Hofmann
City: Ubud
Photographs:Valentina Gebrie, Tommaso Riva