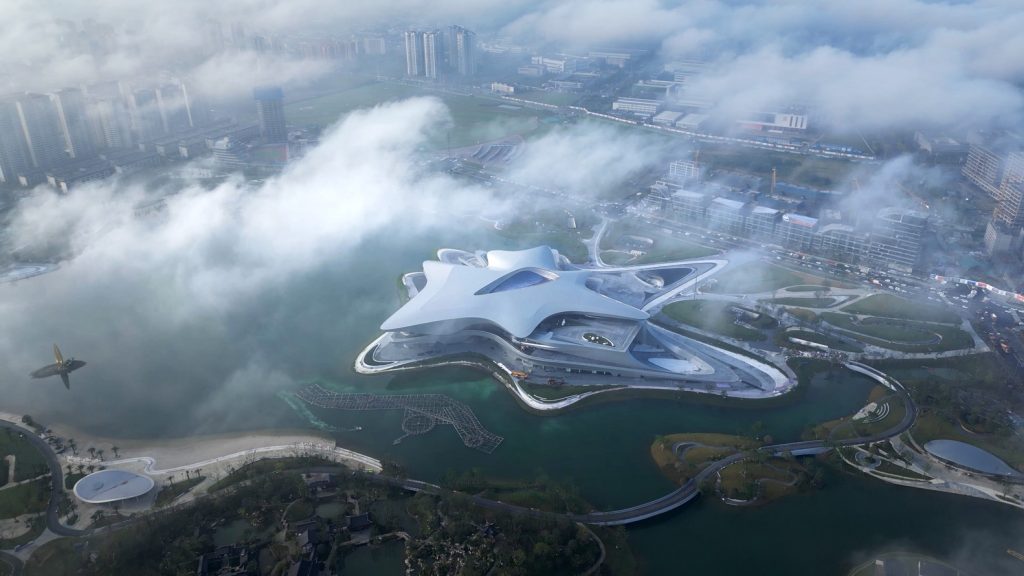 The new Chengdu Science Fiction Museum has opened by hosting the World Science Fiction Convention (Worldcon) and Hugo Awards for the first time in China. Designed by Zaha Hadid Architects, the museum highlights the city's contribution to the genre's evolution and global popularity.
The new Chengdu Science Fiction Museum is located in the Science & Innovation New City of Chengdu's Pidu District, at the center of Jingrong Lake. The museum's design defines nodes of activity connected by pedestrian routes that extend from the city through the surrounding parkland into the heart of the building, creating a journey of discovery that weaves between indoor and outdoor plazas at multiple levels to connect the exhibition galleries, educational facilities, cafes, and other amenities.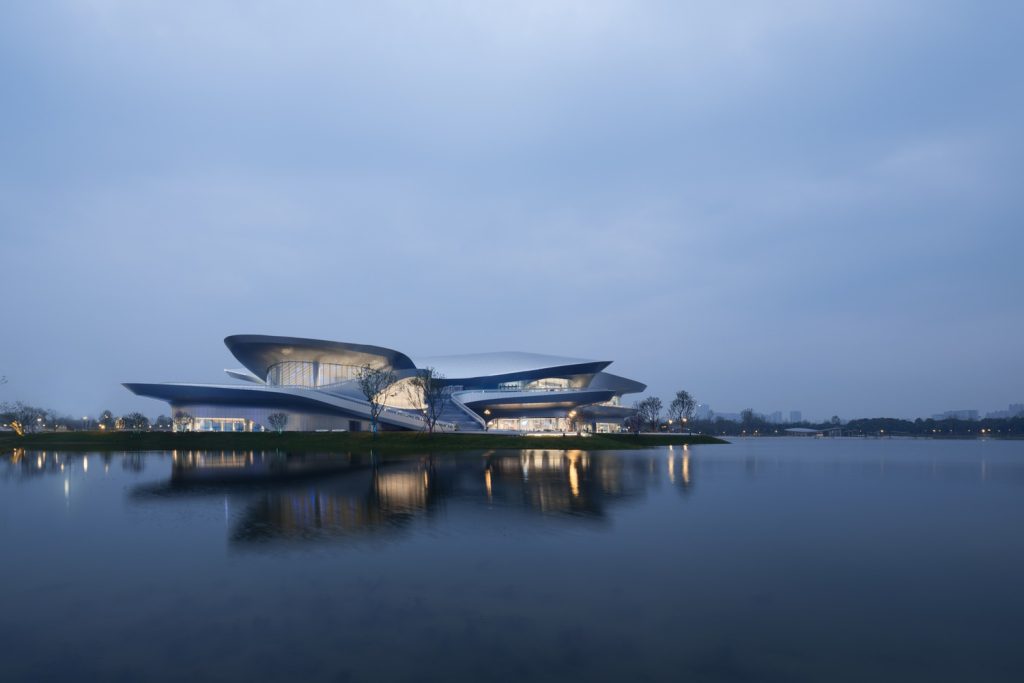 The fluid forms of the museum's roof radiate from a central point within, emulating an expanding nebula cloud with a star at its center – transforming it into a "star cloud" that disperses energy fields into its various zones, guiding visitors through a portal that connects our lived experience with our imagination.
The 59,000 sqm Chengdu Science Fiction Museum includes exhibition galleries, a multi-function hall, a conference center, and supporting ancillary spaces to accommodate the widest variety of exhibitions, conferences, and events. The sky-lit central atrium and its large window overlooking the magnificent Xiling Mountain connect the museum's interiors to their surroundings.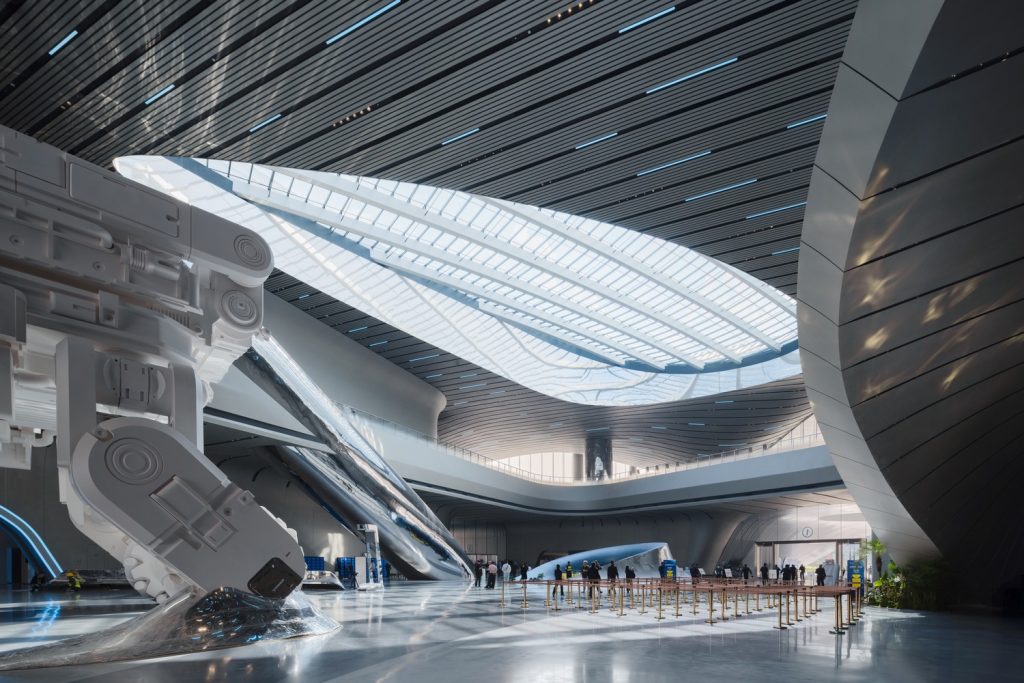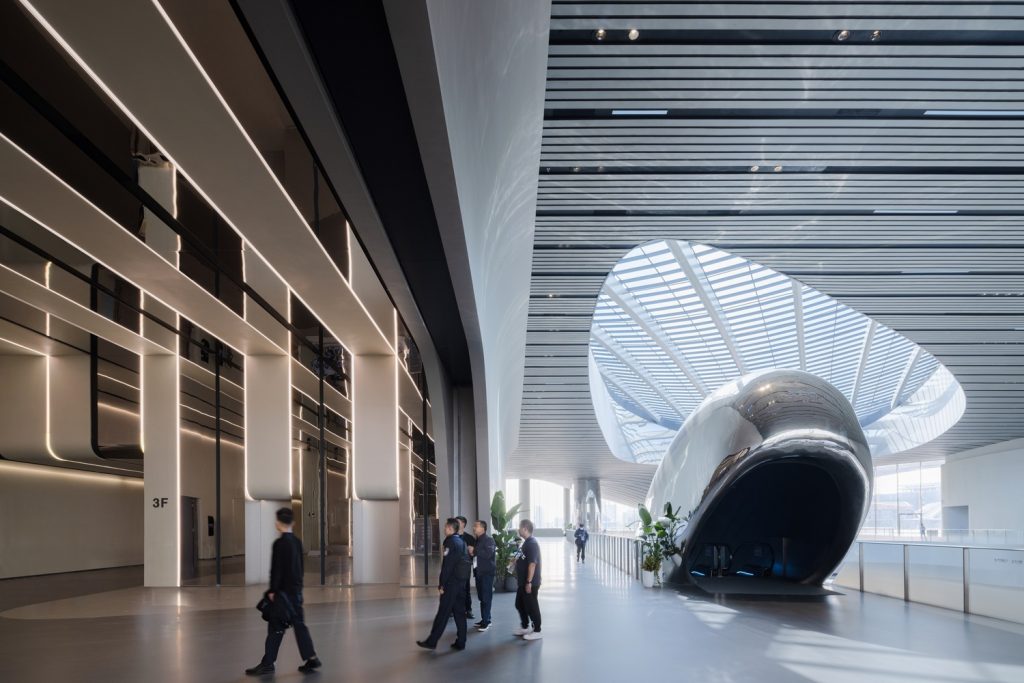 The museum's design was developed using detailed digital modeling analysis to maximize composition, site conditions, solar irradiation, and structural efficiency in accordance with China's Green Building Program's highest 3-star requirements.
Natural hybrid ventilation optimizes Chengdu's mild subtropical climate, providing year-round comfort for museum visitors and staff. In contrast, photovoltaics within the museum's large roof canopy contribute to meeting the building's energy needs.
The park surrounding the museum is landscaped with native plants and collects. Stores rainwater for natural filtration and reuse, allowing Jingrong Lake to become an integral part of Chengdu's sustainable drainage system that will reduce flooding and increase biodiversity.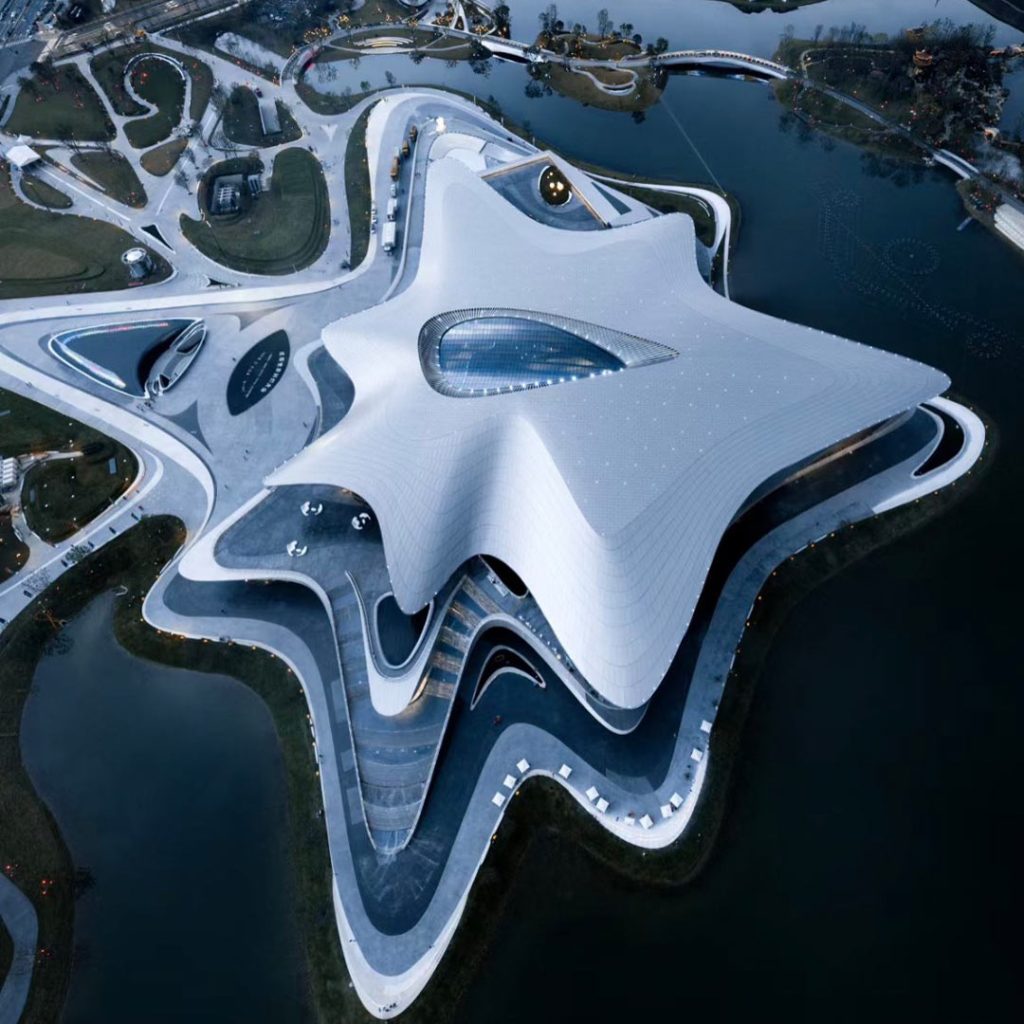 Project Info
Architects: Zaha Hadid Architects
Location: Chengdu, China
Area: 59000 sqm
Year: 2023
Structural Engineering: China South West Architecture Design Institute
M&E Engineering: China South West Architecture Design Institute
MEP Engineering: China South West Architecture Design Institute
Landscape Consultants: Hangzhou Landscape Design Institute
Lighting Design: LIGHTDESIGN, BPI
Acoustics: SIADR
Site Supervision: Sichuan Feihong Engineering Management Consulting
Project Management: CR LAND
Design Architect: Patrik Schumacher
ZHA Project Directors: Satoshi Ohashi, Paulo Flores
ZHA Project Associate: Yang Jingwen
ZHA Project Architects: Juan Liu, Magda Smolinska
ZHA Project Lead: Sven Torres
ZHA Site Team: Chu Zhou, Shang Li, Lianyuan Ye, Meng Zhao
ZHA Project Team: Andrei-Ciprian Cojocaru, Berkin Islam, Chu Zhou, Hao Wen, Jillian Nishi, Lianyuan Ye, Meng Zhao, Shang Li, Stefan Manousof, Sven Torres, Yang Liu, Yuling Ma, Xiaoying Li
Local Architect: China South West Architecture Design Institute
ZHA Competition Project Directors: Satoshi Ohashi, Paulo Flores
ZHA Competition Associate: Yang Jingwen
ZHA Competition Project Architects: Juan Liu, Magda Smolinska
ZHA Competition Team: Andrei-Ciprian Cojocaru, Enoch Kolo, Jillian Nishi, Juan Montiel, Lianyuan Ye, Meng Zhao, Nan Jiang, Nastasja Mitrovic, Stefan Manousof, Yanran Lu, Yimeng Zhao, Yuling Ma
ZHA Competition Sustainability Team: Aleksander Mastalski, Carlos Bausa Martinez
Competition Visuals: Zaha Hadid Architects, ATCHAIN
Interior Local Design Institute: SIADR
Exhibition Design Consultant: Chengdu Science Fiction Society
General Contractor: China Construction Third Engineering Bureau Group
Facade Engineering: China South West Architecture Design Institute
Fire Engineering: China South West Architecture Design Institute
Photographs: ARCH-EXIST, Lan Dongjie