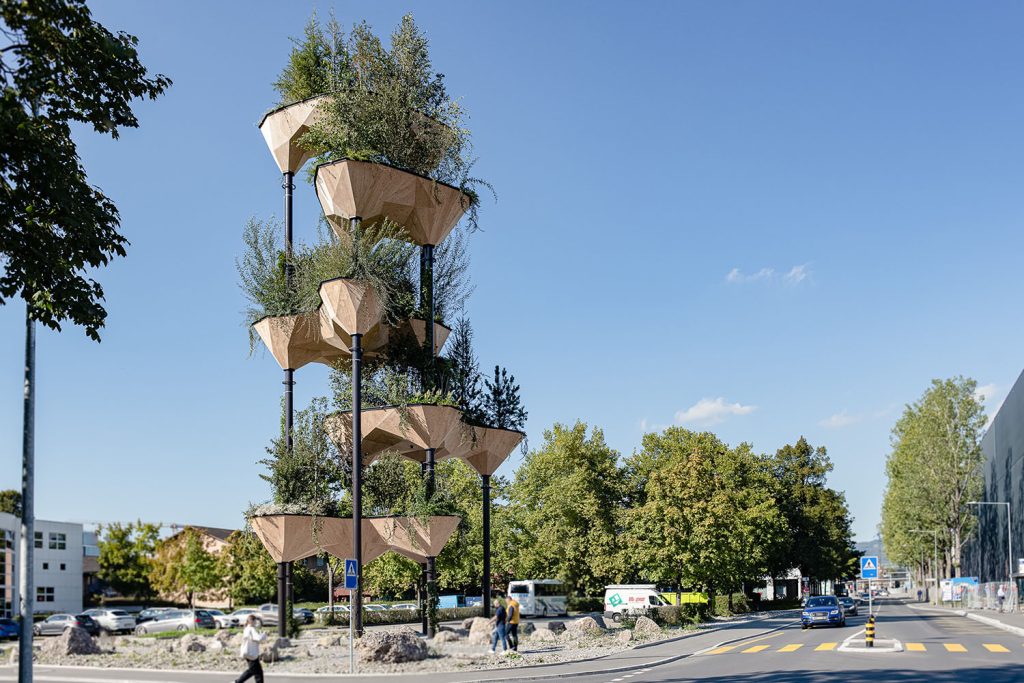 Semiramis is an artificial intelligence-designed architectural installation constructed in 2022 at the entrance to Zug, Switzerland's new Tech Cluster. As a herald for the increasingly interwoven collaboration between machines and humans, it aims to go beyond usual urban programs, and it will rise as a vertical urban habitat reserved for plants and small local animals.
Semiramis has been established through a multitude of synergies and research projects in the fields of interactive computational design, machine learning, and digital fabrication by residing between the artificial and the natural. Formally, the structure has a height of 22.5 meters and is composed of five amorphous wooden pods supported by eight thin steel pillars.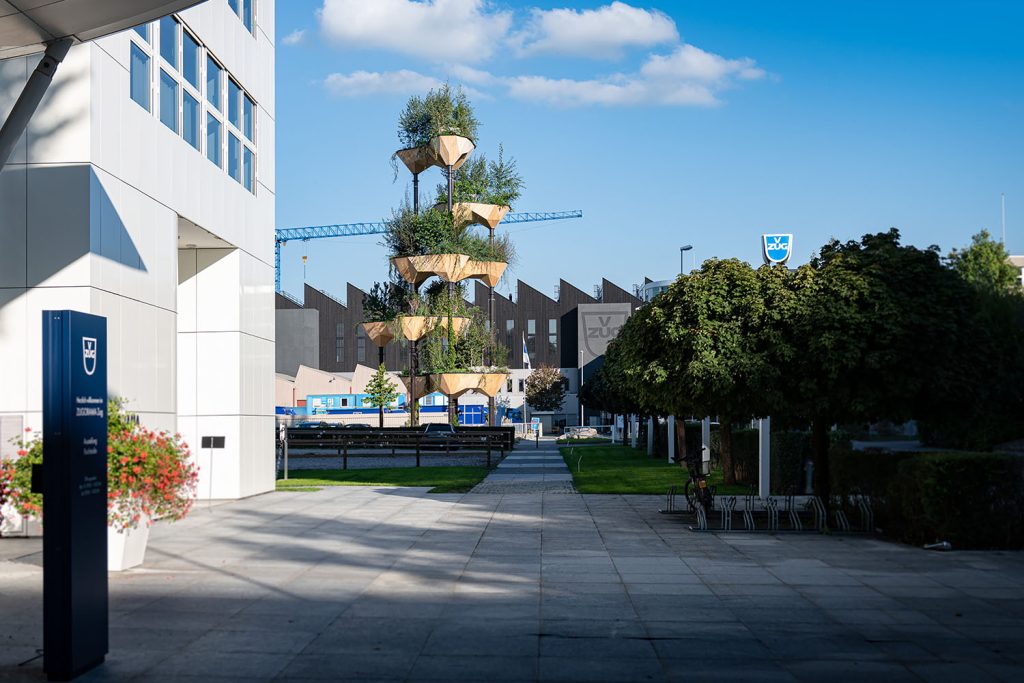 "Thanks to a bespoke machine learning design method created by our chair in collaboration with the Swiss Data Science Center, the team could interactively extrapolate the most effective design variations for the generation of the overall spatial composition of Semiramis. The performance criteria were based on parameters such as sunshade, rain occlusion, and plantable surface." said the research team.
Parallel to this, designers collaborated with the Computational Robotics Laboratory to develop a custom tool that enabled us to optimize the shape of individual pods by interactively controlling their complex geometry while considering relevant material and fabrication parameters. For instance, it maintains the flatness of the individual panels and respects the possible range of their individual sizes, all while increasing the structural load capacity.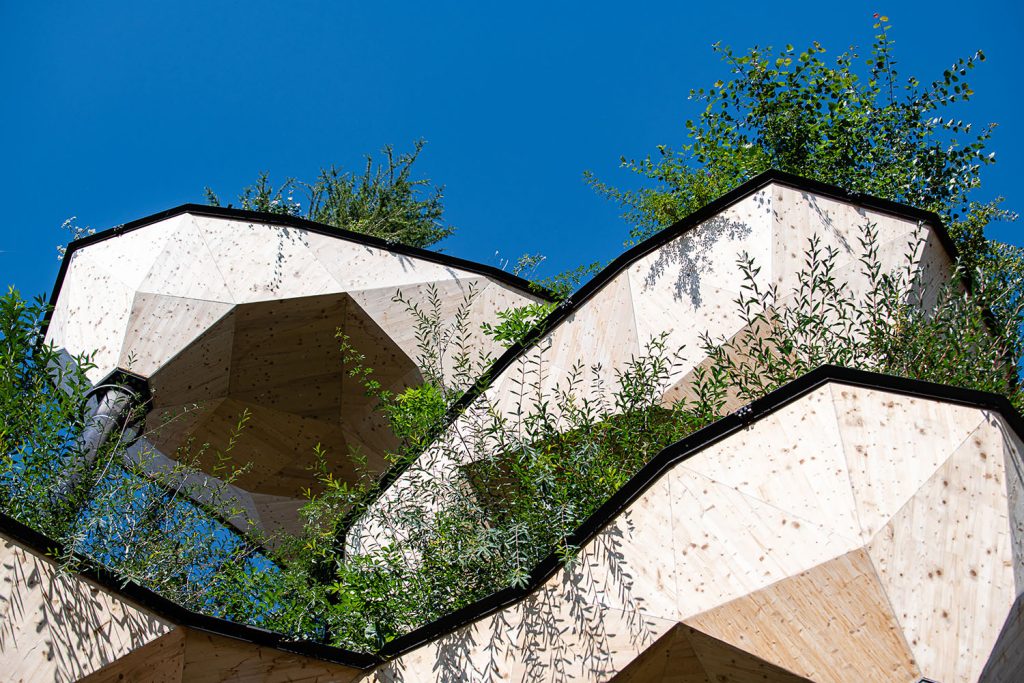 Ultimately, the cross-laminated timber plates are robotically assembled utilizing a novel assembly technique developed by Gramazio Kohler Research, ETH Zurich, in collaboration with TS3 and the Chair for Timber Structures at ETH Zurich. This process enables the butt joint bonding of wood, thereby producing large areas of intricately folded wood structures.
The robotic assembly of Semiramis is a milestone in Gramazio Kohler Research's history. In fact, for the first time ever, four robots will work simultaneously in an additive manufacturing process at the Robotic Fabrication Lab at ETH Zurich. Our team worked closely with Intrinsic to integrate their robot planning technology with our open-source robotic fabrication software, COMPAS FAB.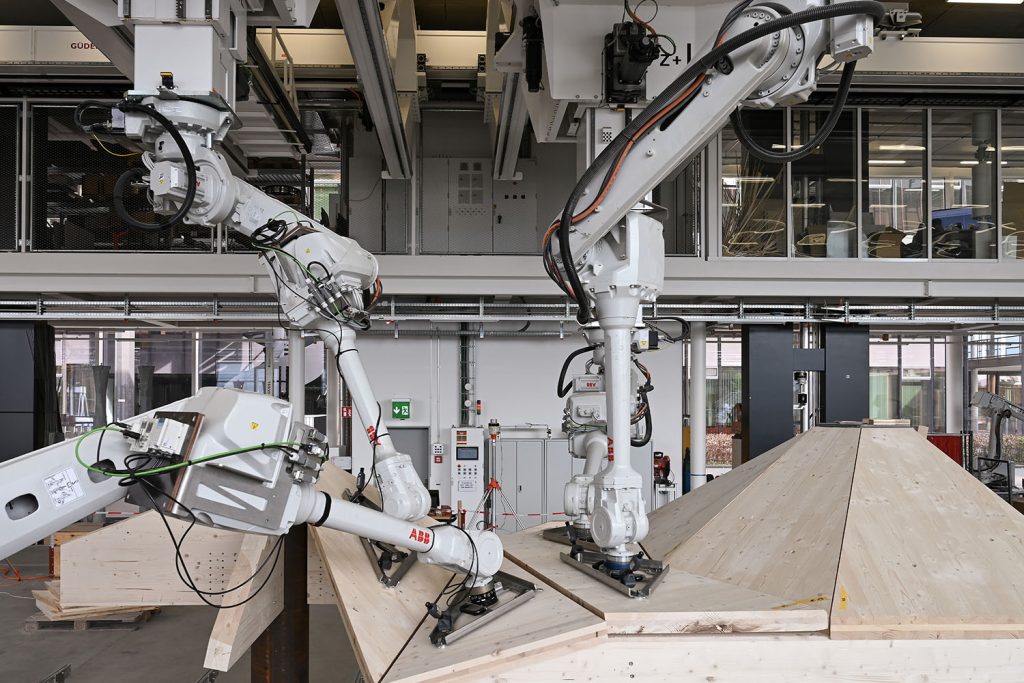 Project Info
Gramazio Kohler Research, ETH Zurich
In cooperation with: Müller Illien Landschaftsarchitekten, Timbatec Timber Construction Engineers Switzerland.
Client: Urban Assets Zug AG.
Collaborators: Sarah Schneider (project lead), Matteo Pacher (fabrication lead), Aleksandra Apolinarska, Pascal Bach, Gonzalo Casas, Philippe Fleischmann, Matthias Helmreich, Michael Lyrenmann, Beverly Lytle, Romana Rust, Ziqi Wang.
Selected experts: Stelian Coros, Krispin Wandel, Bernhard Thomaszewsky, Roi Poranne (Computational Robotics Lab, ETH Zurich), Luis Salamanca, Fernando Perez-Cruz (Swiss Data Science Center), Chair for Timber Structures, ETH Zurich.
Selected contractors: Erne AG Holzbau.
Industry partner: TS3 AG; Intrinsic